Tender and moist Vietnamese-inspired tofu meatloaf! Packed with wood ear mushrooms, carrots, and green onions, this tofu loaf is often served with rice or as an appetizer. Plant-based, 10 ingredients, high-protein, and so easy to make!
If you are looking for another way to enjoy tofu, this tofu meatloaf won't disappoint!
This Vietnamese-inspired side is not only easy to make, but it's also healthy, protein-rich, and delicious! Let's do it!
📘 About This Tofu Loaf
This classic Vietnamese dish, called "Chả trứng hấp", is a steamed meatloaf usually prepared with a mix of ground pork, wood ear mushrooms, eggs, and different seasonings. It is served as a side to rice or as an appetizer.
Here, we are swapping the meat for tofu, giving this loaf a moist and slightly spongy texture! It's tender, peppery, and delicious!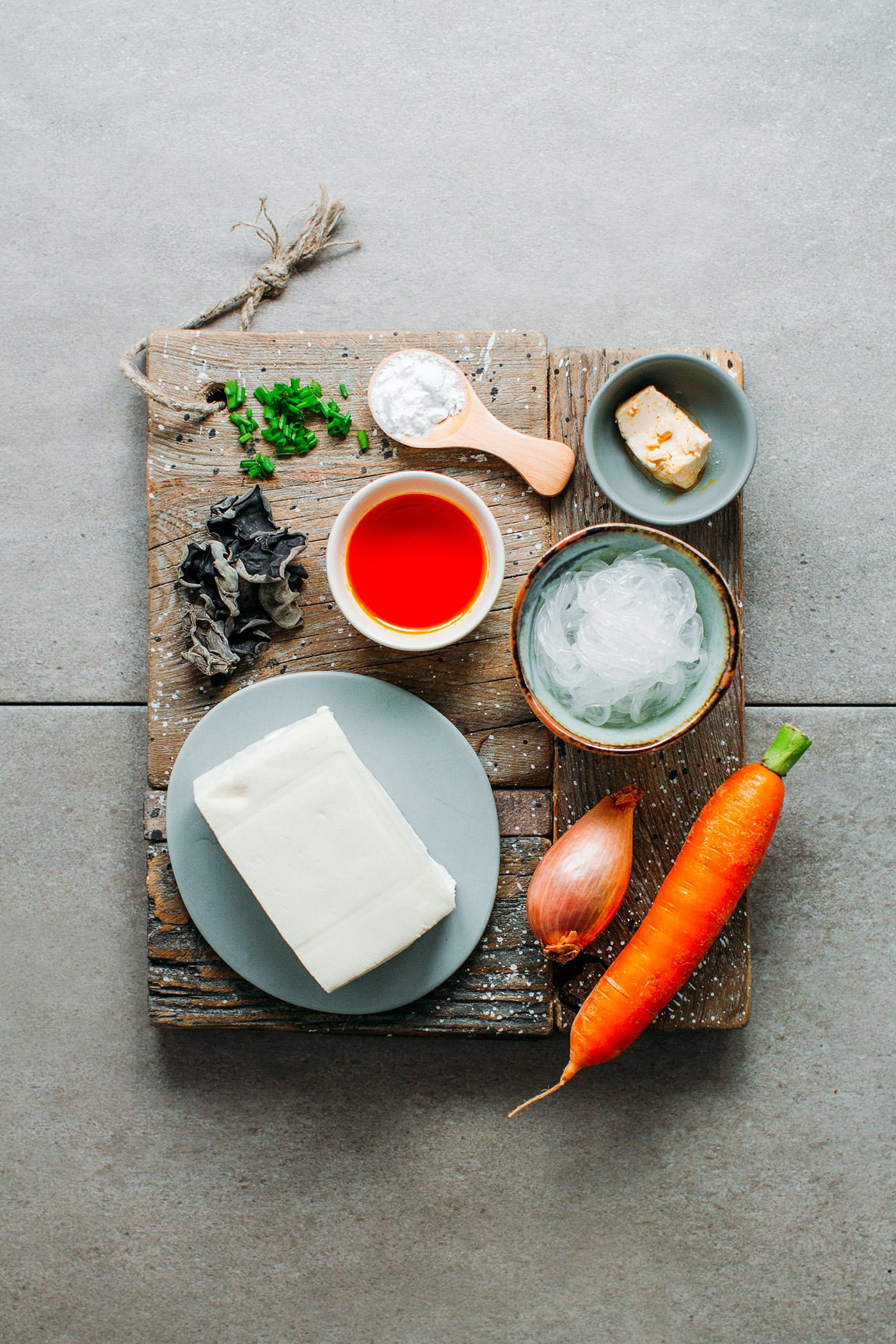 🥣 How to Make Tofu Loaf
This tofu meatloaf requires just 10 ingredients and less than 45 minutes to prepare. Here is what you will need:
Tofu – Use medium or semi-firm tofu. Make sure you are not using silken tofu for this recipe.
Wood ear mushrooms – You can find wood ear mushrooms sold dried online or in most Asian supermarkets. These add texture and an earthy flavor to the loaf.
Carrot – To bring a natural sweetness and more texture.
Shallots
Salt and pepper – For saltiness and spiciness.
Sugar – Just a little bit to balance with the saltiness. Vietnamese cuisine always has a balance of sweet and salty.
Tapioca starch – To help the loaf slightly firm up and hold together.
Annatto oil – We are using annatto oil as a natural coloring for the glaze. You can learn how to make your own annatto oil here.
This recipe is pretty straightforward; we start by processing the tofu in a food processor until it turns into a smooth cream.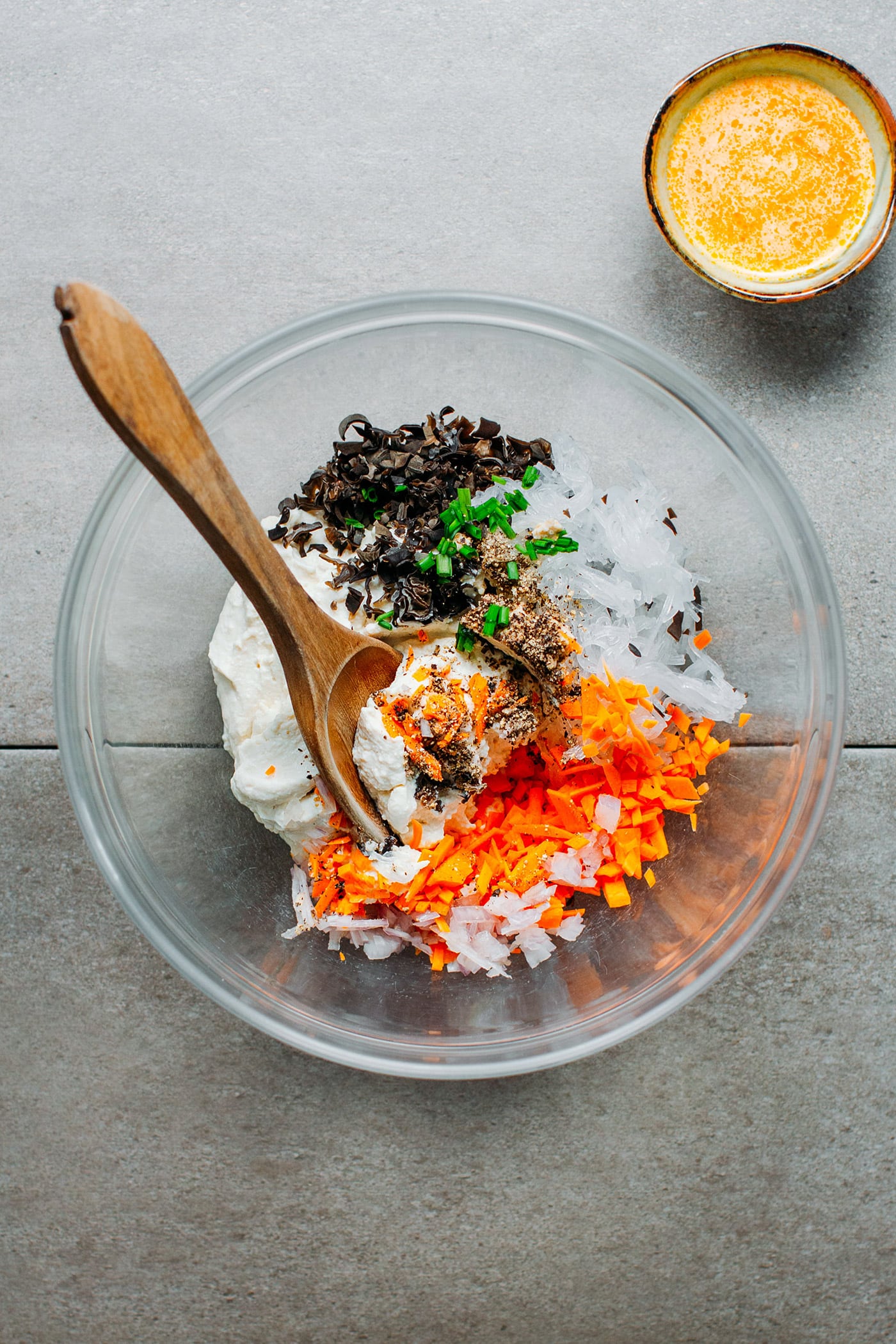 Next, we mix the tofu cream with finely chopped black wood ear mushrooms, carrots, glass noodles, shallots, and seasonings.
Once you have mixed everything together, transfer it to a pan and steam for about 25 minutes.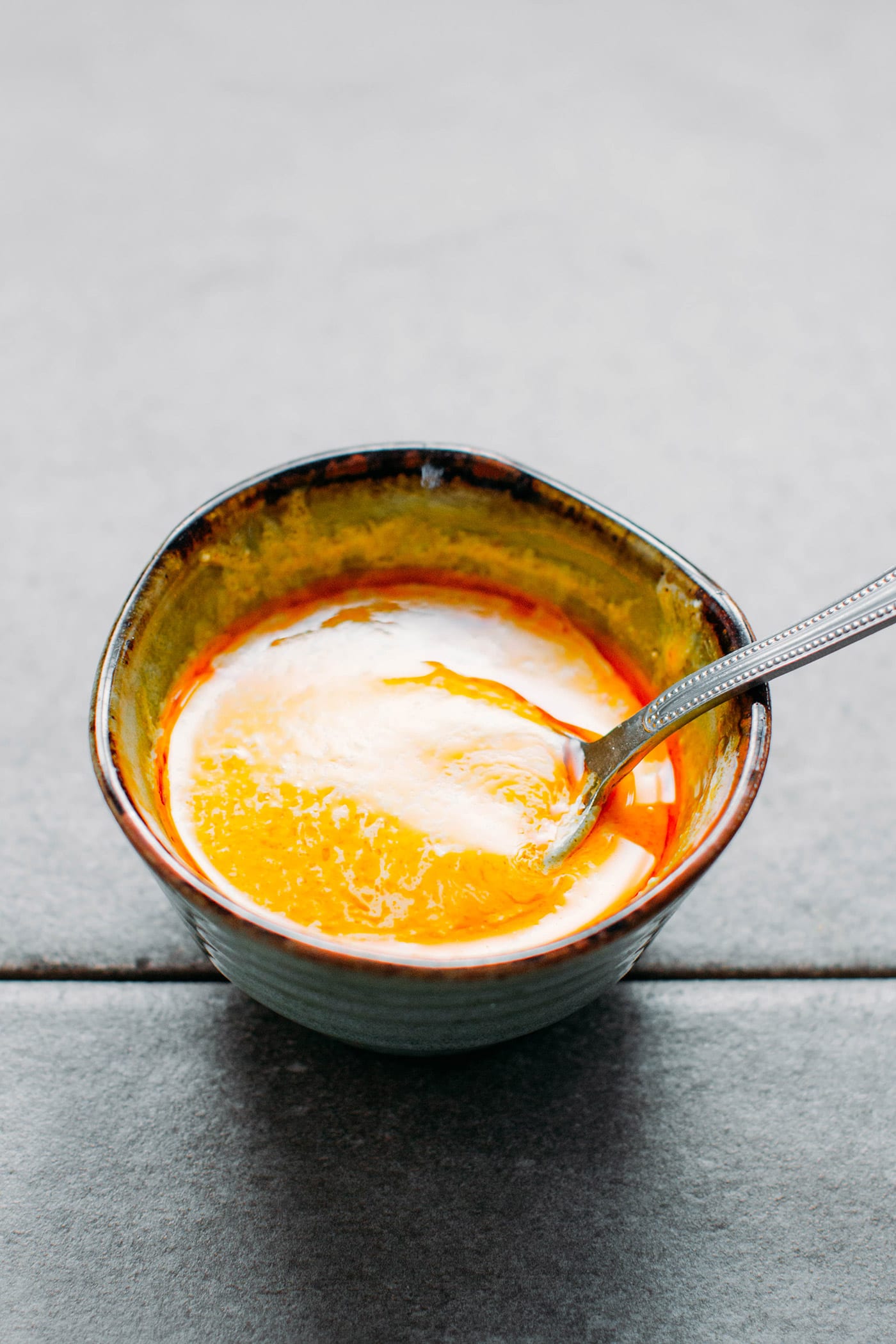 Note: The classic version of this meatloaf usually uses egg yolks for the glaze. Here, we are replacing eggs by combining a couple of tablespoons of the tofu cream with water, tapioca starch to thicken, and annatto oil to give it a bright orange color.
This topping doesn't add much to the flavor. It's mostly for decoration and to add color.
Once your tofu loaf has steamed for 25 minutes, pour a thin layer of the glaze on top of it and steam for another 5 minutes.
Once your loaf is cooked, let it cool for at least 30 minutes before cutting as it will firm up a bit more once cold.
🍚 What to Serve with this Tofu Loaf
You can serve this tofu loaf as a cold appetizer with some soy sauce on the side or serve it as a topping to broken rice or white rice noodles!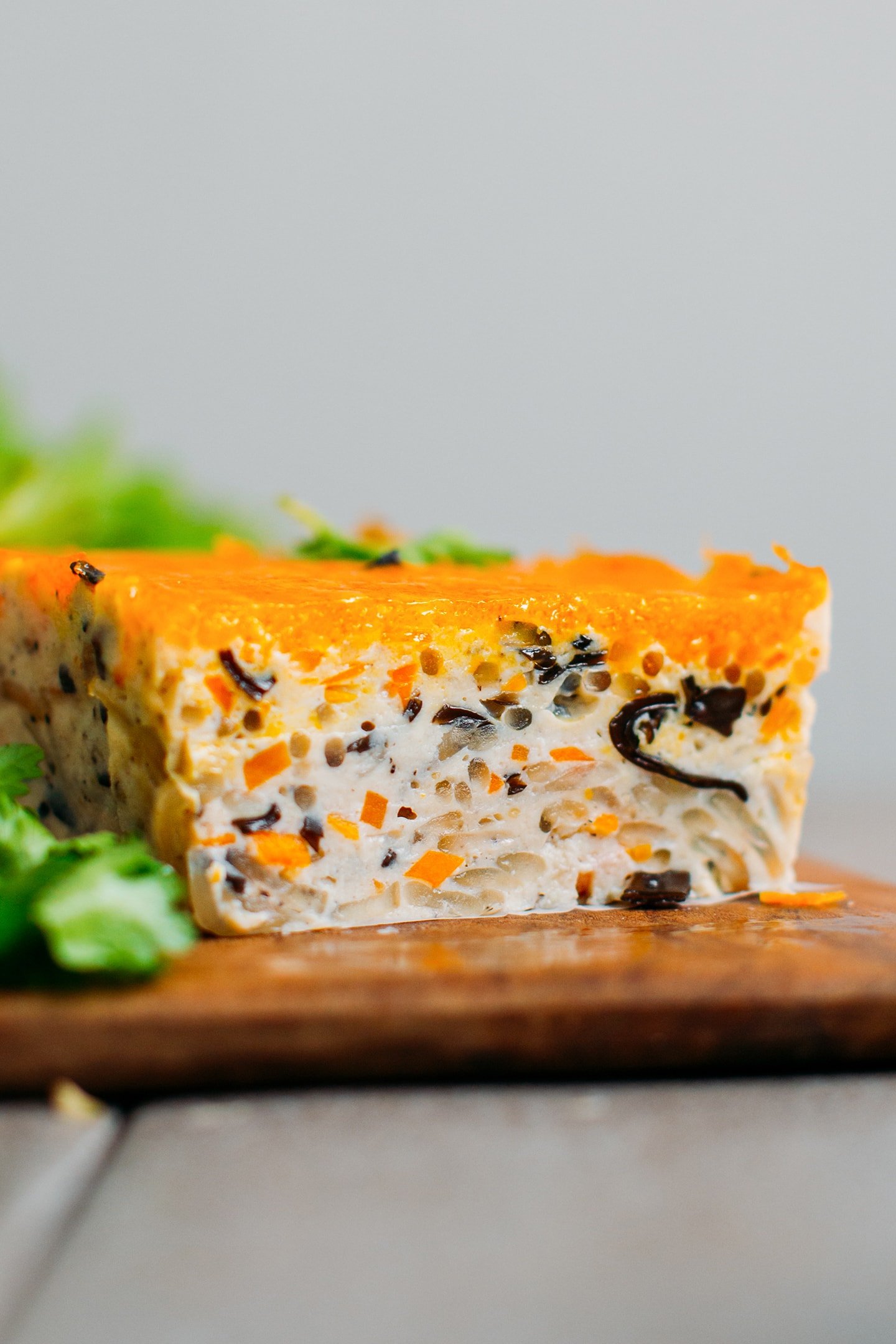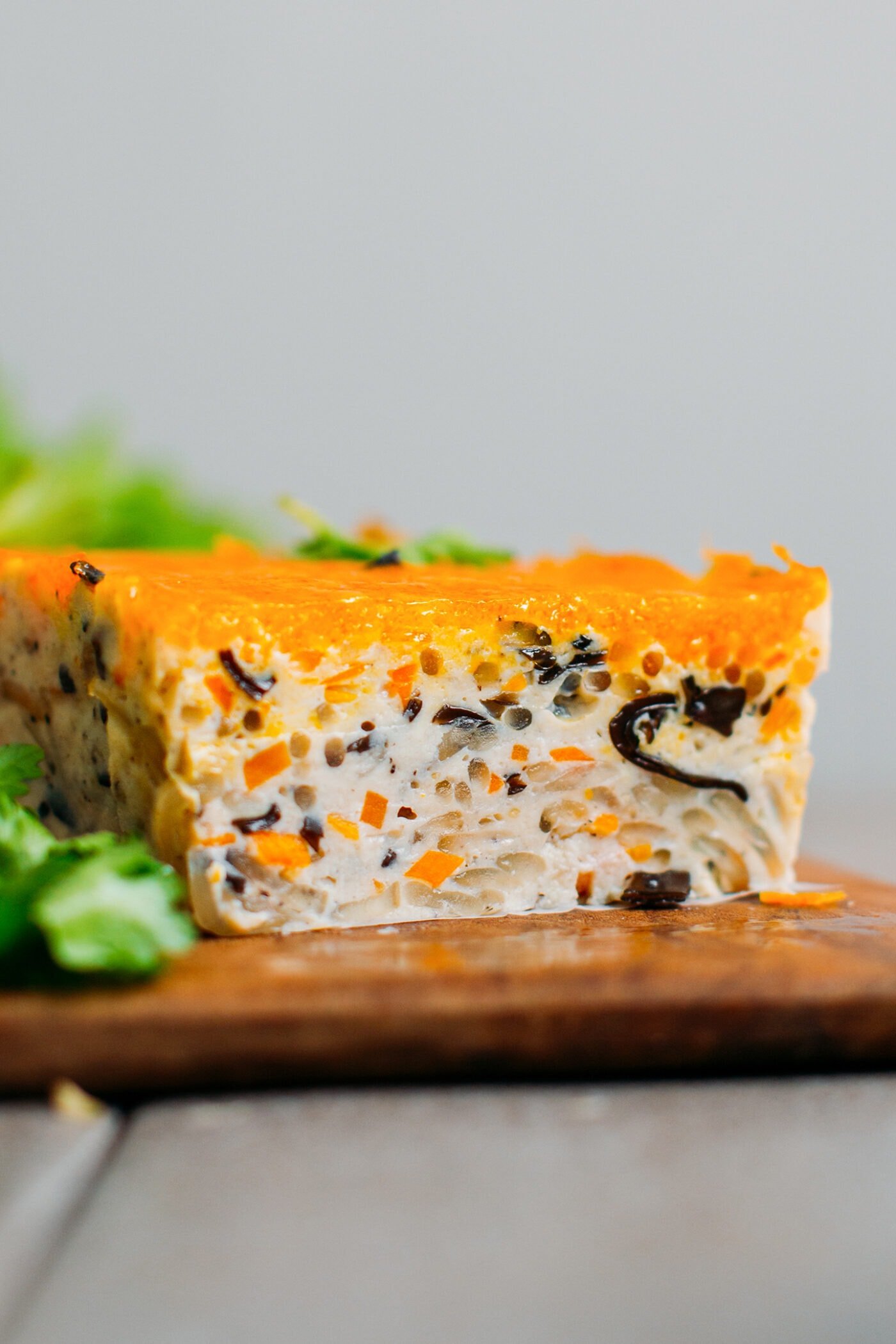 📔 Tips
Very finely chop the carrot, glass noodles, and mushrooms: this will prevent your meatloaf from being crumbly.
Steaming is essential to get a moist and tender texture, I do not recommend baking.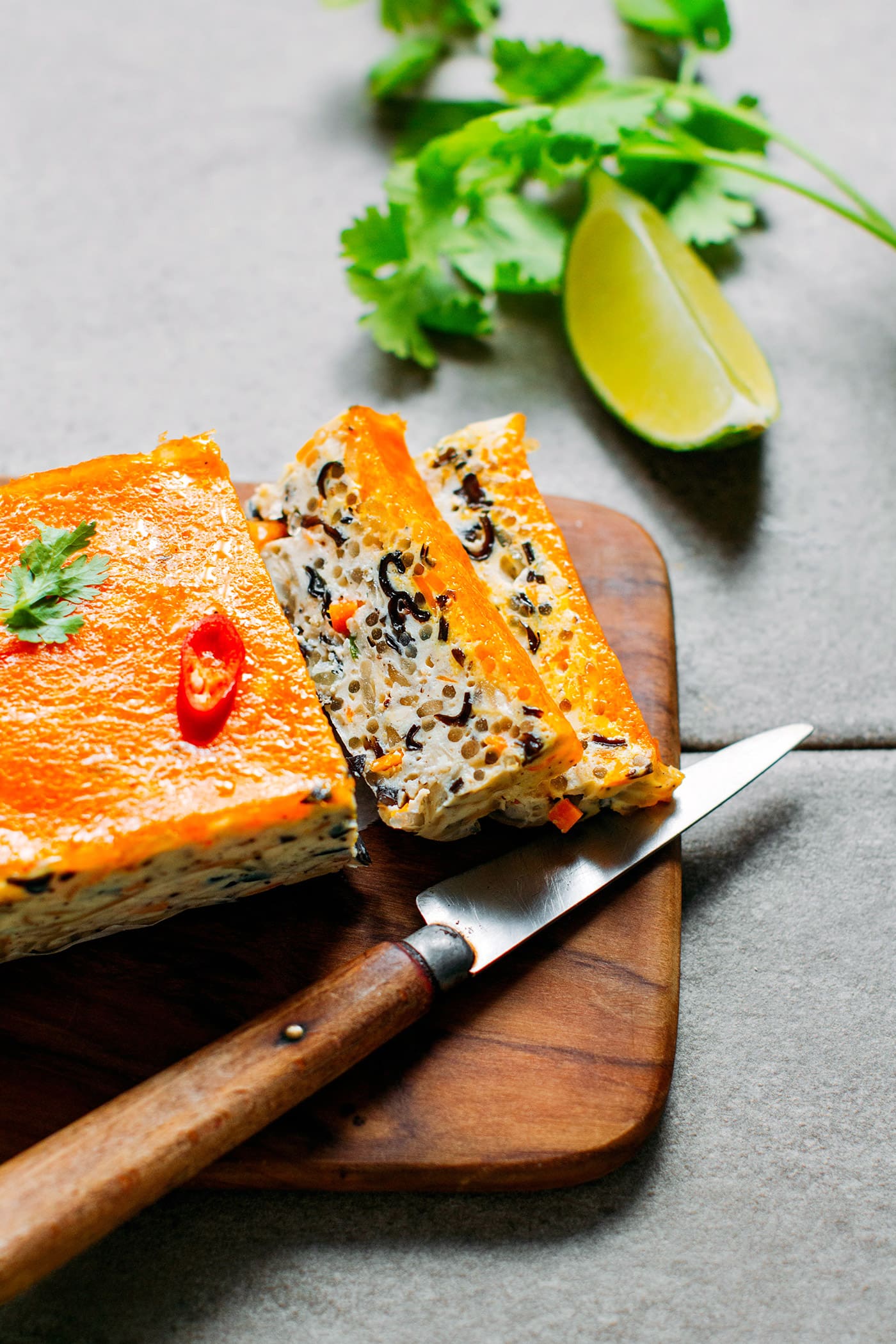 I hope you will love this tofu meatloaf as much as I do! It has a delicate yet slightly crunchy texture and a nice black pepper kick. It's delicious as is, but can also be served on top of white rice for extra flavor and protein!
🇻🇳 More Vietnamese-Inspired Recipes
Let me know in the comments if you try this recipe!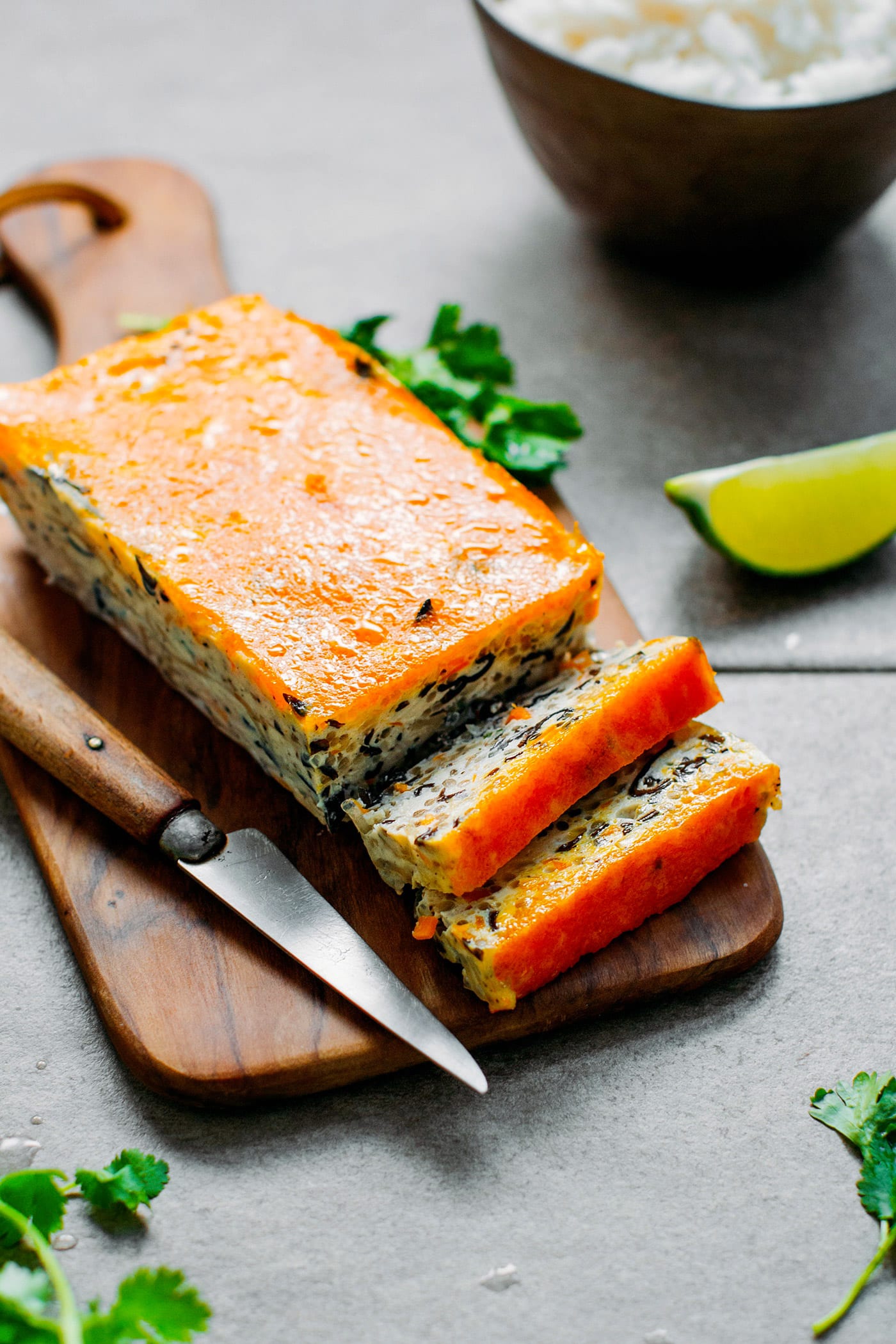 Recipe
Vietnamese Tofu Loaf
Vietnamese-inspired tofu loaf loaded with black mushrooms, carrots, shallots, and glass noodles! A delicious topping to white rice or noodles!
Ingredients
14

oz

medium tofu

3

tbsp

dried black woodear mushrooms

soaked in warm water for 15 minutes

1/2

cup

cooked mung bean noodles

about 30g dry (also called glass noodles)

1

small carrot

shredded and then finely diced

1

shallots

very finely minced

1 and 1/2

tsp

sugar

or maple syrup

1/2

tsp

ground black pepper

3/4

tsp

salt

2

tbsp

finely chopped green onions

(optional)

1

tbsp

tapioca starch
Instructions
Pat the tofu dry with two sheets of kitchen paper towel to remove some of the moisture. Transfer to a food processor and process until you get a smooth cream. Pour the tofu cream into a large mixing bowl. Save two tablespoons of the tofu cream to make the glaze later.

Drain the woodear mushrooms and slice them thinly. Cut the cooked mung bean noodles into 1.5-inch pieces. Add the wood ear mushrooms, noodles, carrot, shallot, sugar (or maple syrup), black pepper, salt, and green onions if using to the tofu bowl. Using a large spatula, mix everything until well combined. If you have gloves, feel free to use one to mix with your hand. Taste and adjust saltiness and sweetness to your liking. Add the tapioca starch and mix again.

Line a 7×4-inch pan with parchment paper. Transfer the tofu mixture into the pan and press it down into an even layer. You can also use small ramequins if you don't have a larger pan.

Place a bamboo steamer on top of a pot of boiling water. Put the pan inside the bamboo steamer and steam the tofu loaf for about 25 minutes.

In the meantime, mix the 2 tbsp of tofu cream with the anatto oil, tapioca starch, and water. After 25 minutes, glaze the tofu loaf with the mixture and steam for another 5 minutes.

Remove from heat and let it cool completely. This tofu loaf is best eaten at room temperature, or cold, on top of white rice. You can also eat it as is with some soy sauce on the side, or use in sandwiches!

This tofu loaf will keep for up to 5 days in the refrigerator.
Notes
*To make your own annatto oil, heat about 1 tsp of anatto seeds in 1/4 cup of oil over medium heat for about 3-5 minutes, or until the oil has turned red. Remove from heat, discard the seeds and store the oil in a clean glass jar.
Nutrition
Serving:
1
slice
|
Calories:
66
kcal
|
Carbohydrates:
8.2
g
|
Protein:
3.9
g
|
Fat:
2.1
g
|
Fiber:
1.2
g
|
Sugar:
0.8
g
Did you make this recipe?
Tag @fullofplants on Instagram and hashtag it #fullofplants