This oil-free kale and carrot salad is fresh, tasty, easy to make, and perfect for a light dinner or an appetizer. It requires just 7 simple ingredients and is infused with ginger for a zesty and spicy flavor!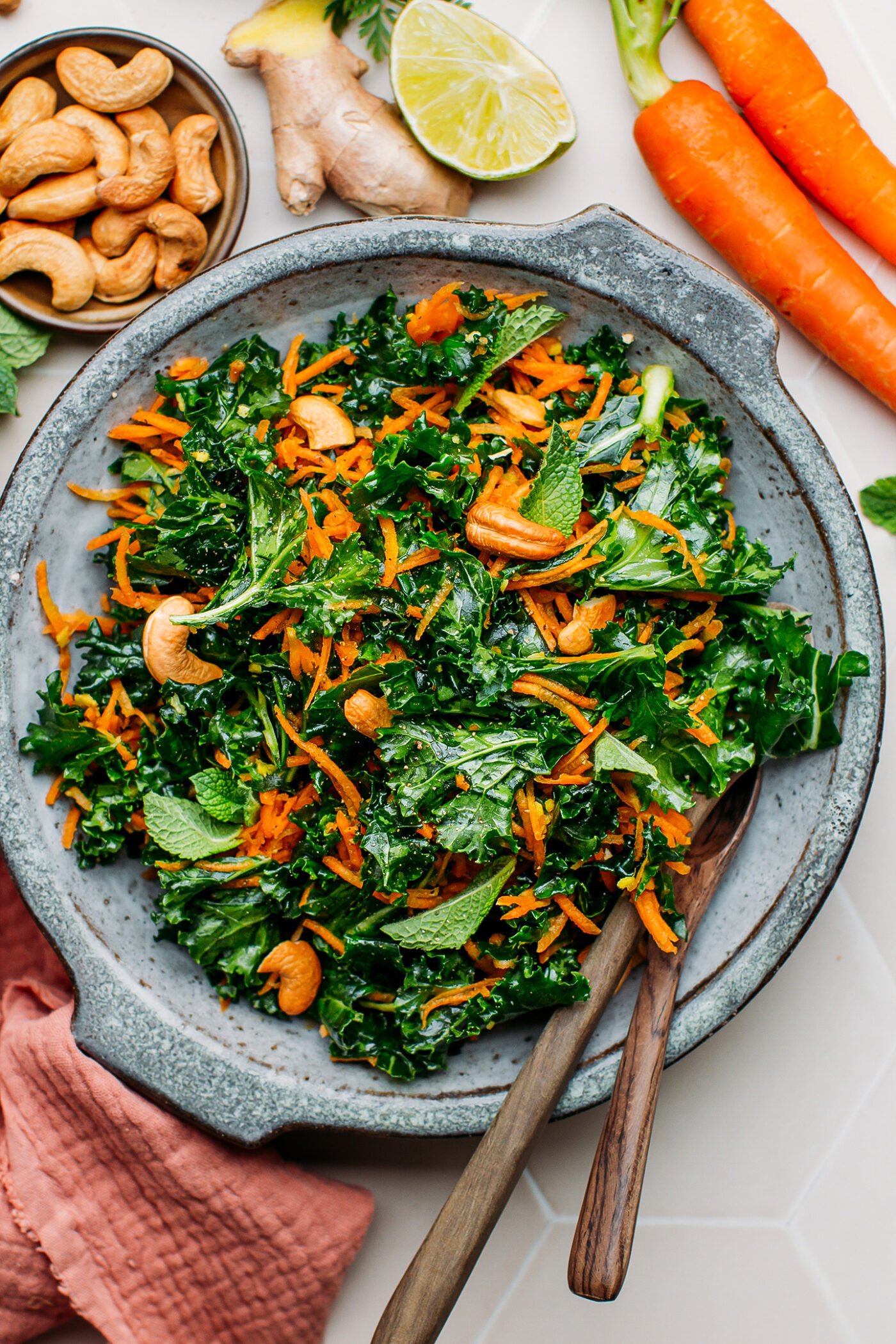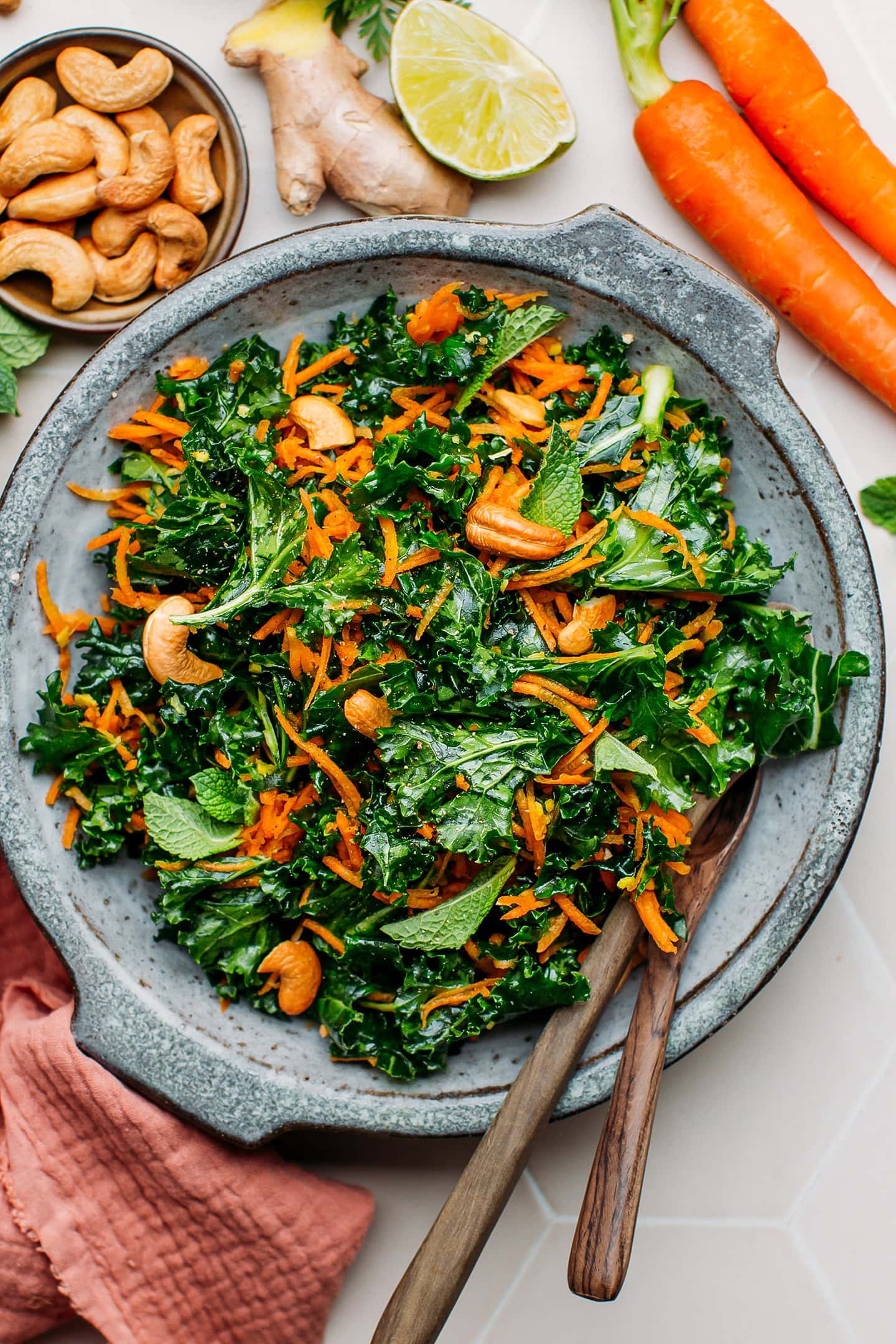 This is the kind of salad that happens when your fridge is almost empty, and you combine what you have on hand to make something fresh and healthy. In my case: kale, carrots, and ginger.
⭐️ Why You Should Try This Recipe
It's super fresh and tasty. The combination of lime, ginger, and soy sauce in the dressing gives this salad plenty of freshness. It's a bit tangy, peppery, and slightly sweet!
Simplicity at its best. Sometimes, the simpler, the better. This salad couldn't make a better example as it requires just 7 wholesome ingredients and about 10 minutes, from start to finish, to prepare.
Charlotte, a reader, said: "★★★★★ It's become a classic at home. So quick and easy to make, so delicious. Sometimes we add rice noodles… this salad has been shared several times among our friends and everyone loved it!
🥬 Ingredient Notes
To prepare this salad, you will only need a bunch of kale, a few carrots, and some pantry ingredients. Here are the ingredients you will need:
Kale – While any variety of kale will work, I recommend using either Curly or Tuscan kale. I personally went with Curly kale here.
Carrots – If using large carrots, you will need about 3, which should give you about 2 cups grated.
Ginger – Use the freshest ginger root for the best flavor. Fresh ginger usually has a light pale color on the inside and pink tips on the outside. It is less fibrous and juicier than old ginger.
Lime – For a tart and sour taste.
Vinegar – Besides the lime juice, vinegar adds an extra tanginess that balances very well with the ginger.
Maple syrup – To make the dressing a bit sweeter. You can replace it with agave or honey if not vegan.
Soy sauce – For umami and saltiness. If you are gluten-free, use coconut aminos instead.
Roasted cashews – Or peanuts, for topping. Optional, it adds some crunch and nuttiness.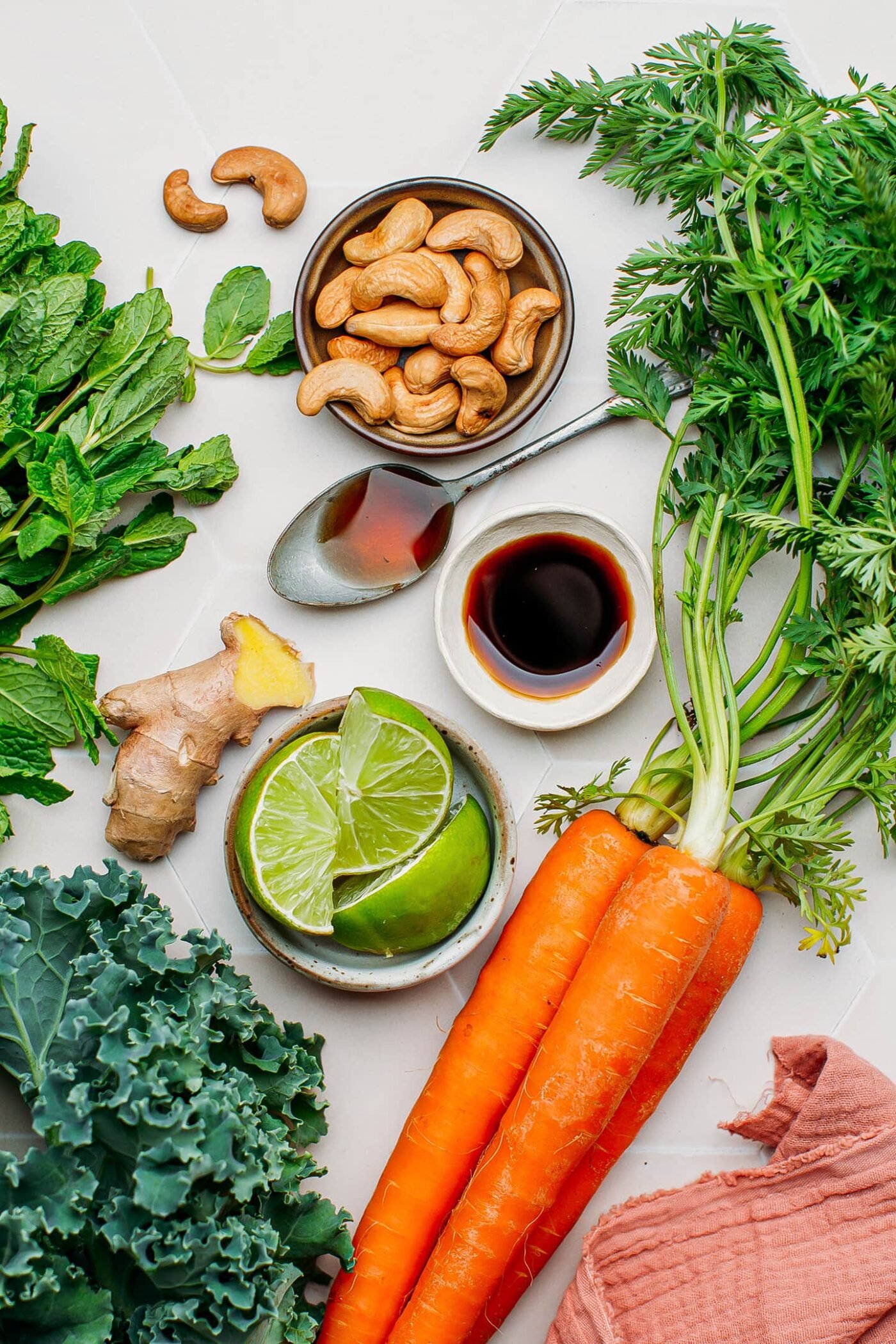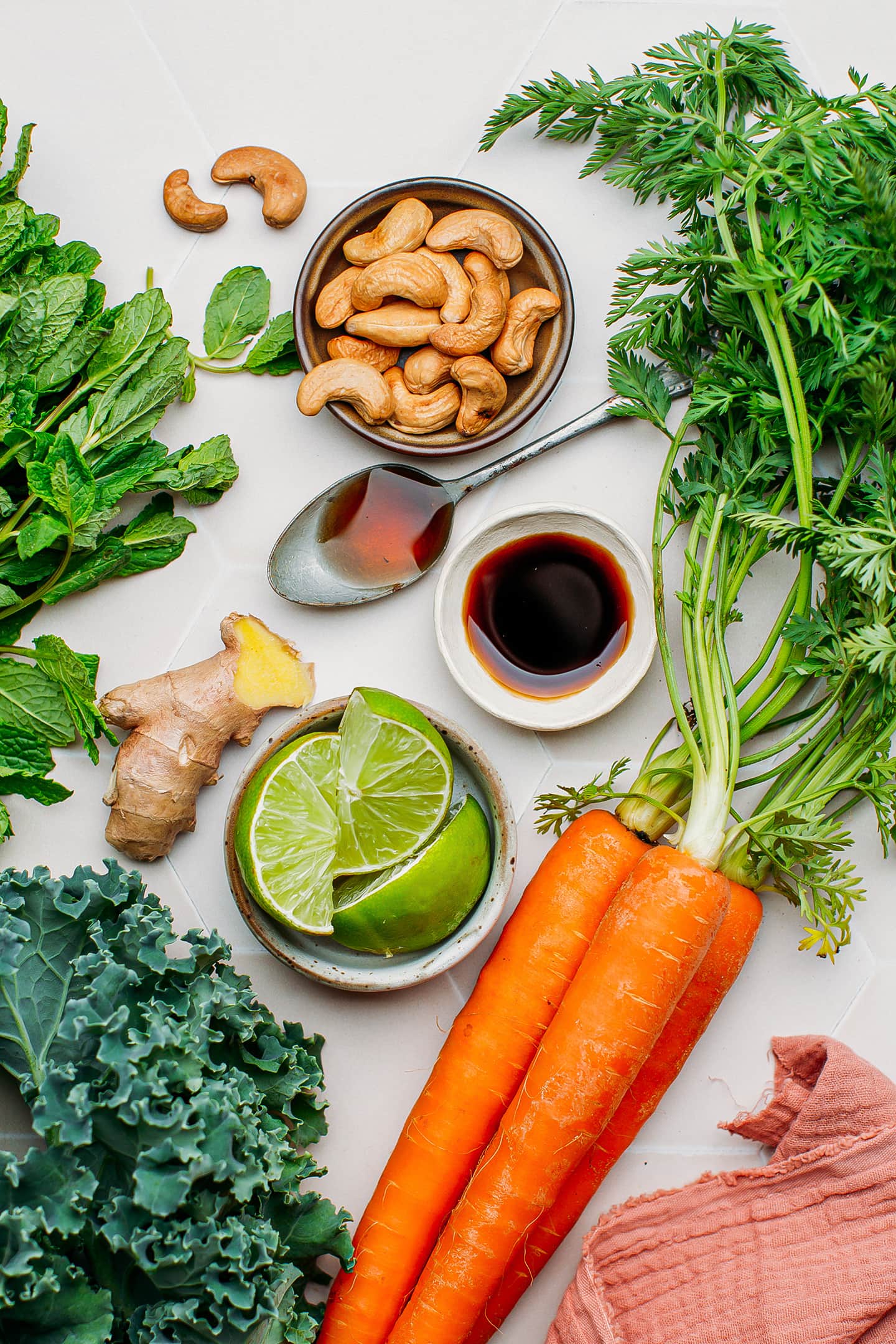 🥣 How to Make Carrot & Kale Salad
Dressing
Start by preparing the dressing. It is simple yet effective: sour, sweet, and salty, with some freshness and spiciness coming from fresh ginger. To make the dressing:
Finely grate the ginger or mince it using a sharp knife. Transfer to a small bowl.
Add the lime juice, white vinegar, soy sauce, and maple syrup.
Stir to combine. Done!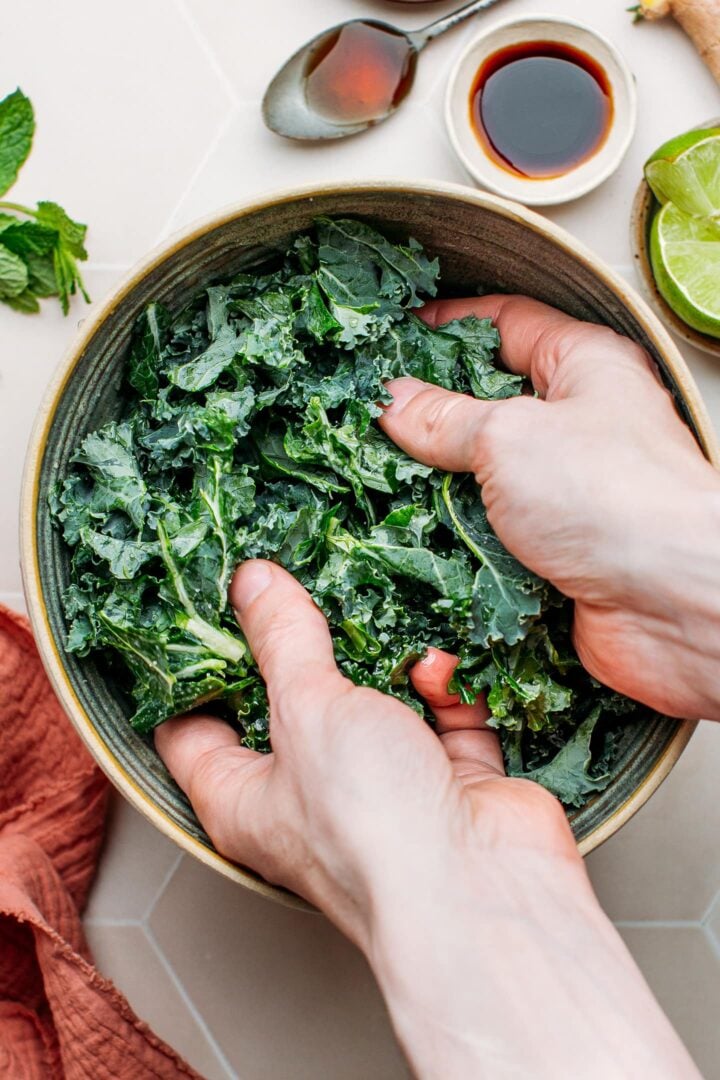 Salad
Once the dressing is ready, it's time to prepare the salad:
Massage the kale with a pinch of salt (and an optional drizzle of oil if you are not making this salad oil-free). After 20-30 seconds, the kale will soften and get a vibrant dark green color.
Grate the carrots using a box grater or a food processor fitted with the grating blade.
Combine the kale and carrots, and toss with the dressing.
To finish, sprinkle some fried onions on top and a handful of roasted cashews! If not oil-free, add a drizzle of sesame oil for extra flavor!
Note: I also like adding a few mint leaves and a pinch of ground black pepper to garnish!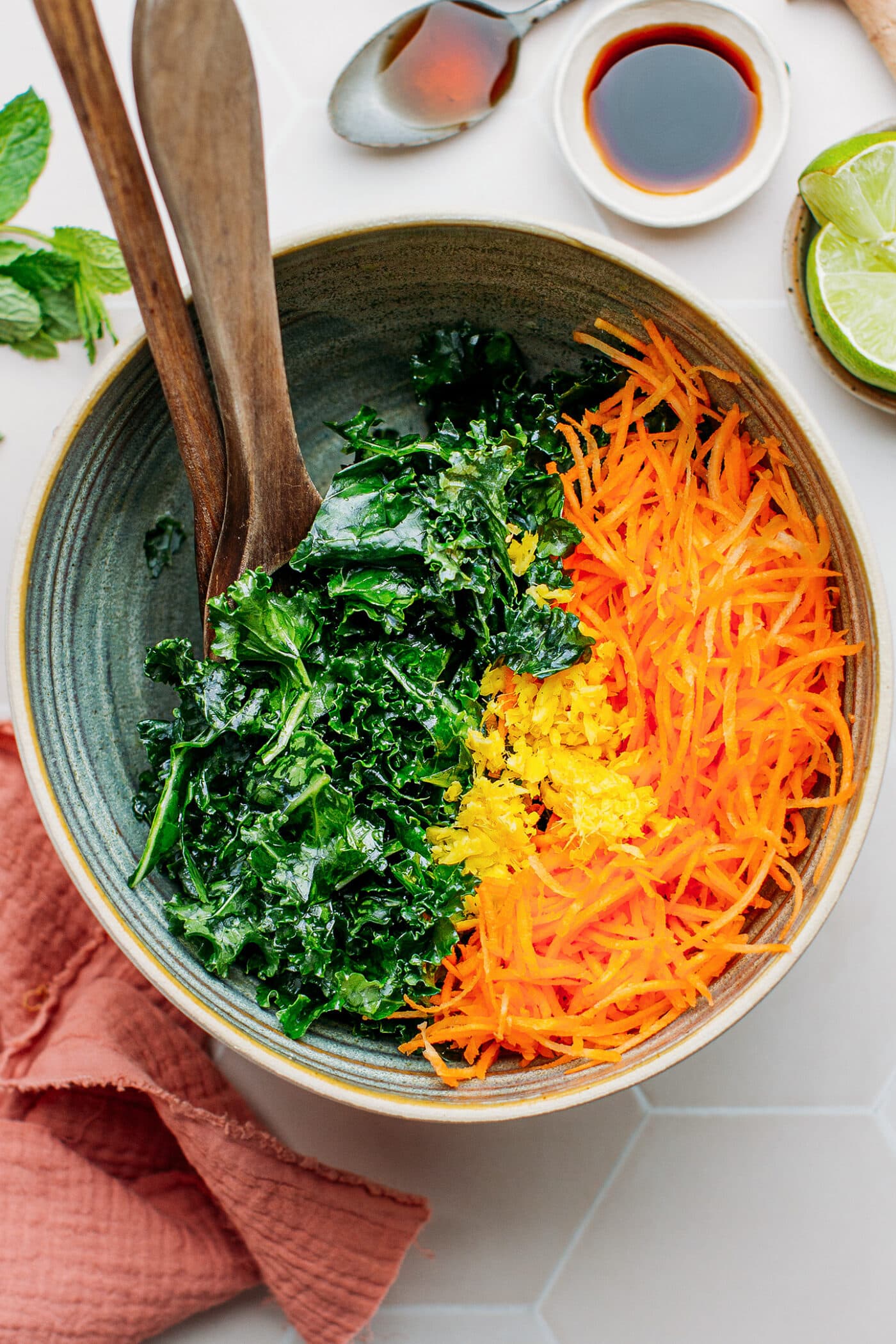 💬 FAQ
Should I cook kale before putting it in the salad?
There is no need to cook the kale as it can be eaten raw!
Why massage the kale?
Massaging the kale helps to soften and tenderize it by breaking down its fibrous texture. It also makes it easier to chew and digest.
How long does this salad keep?
This salad is best served within a few hours but will keep for up to 3 days in the refrigerator.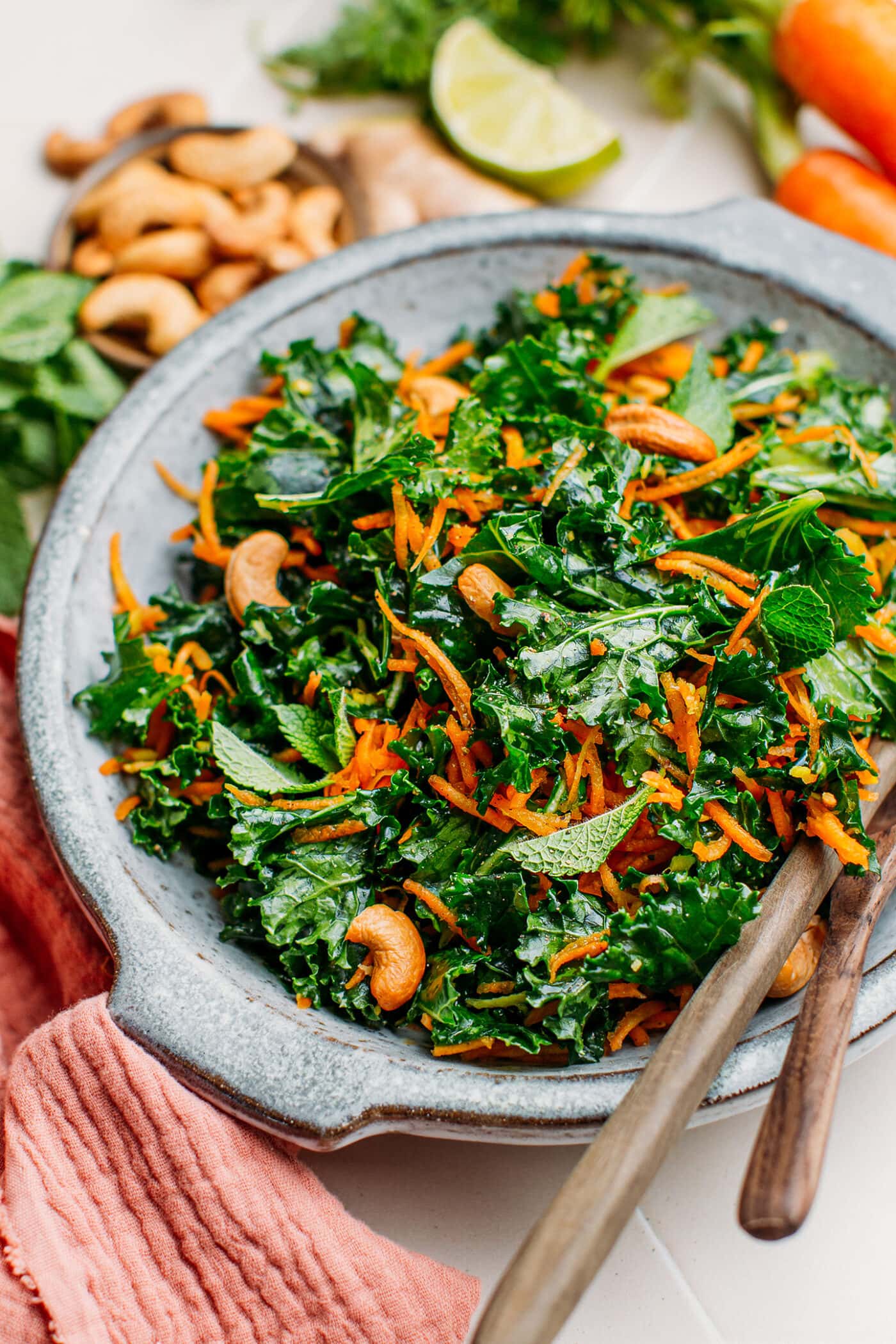 This carrot and kale salad takes basically 10 minutes to prepare and is low-calorie, fresh, tasty, and healthy! Plus, it's loaded with ginger flavor!
🥗 More Healthy Salads
Let me know in the comments if you try this recipe!
Recipe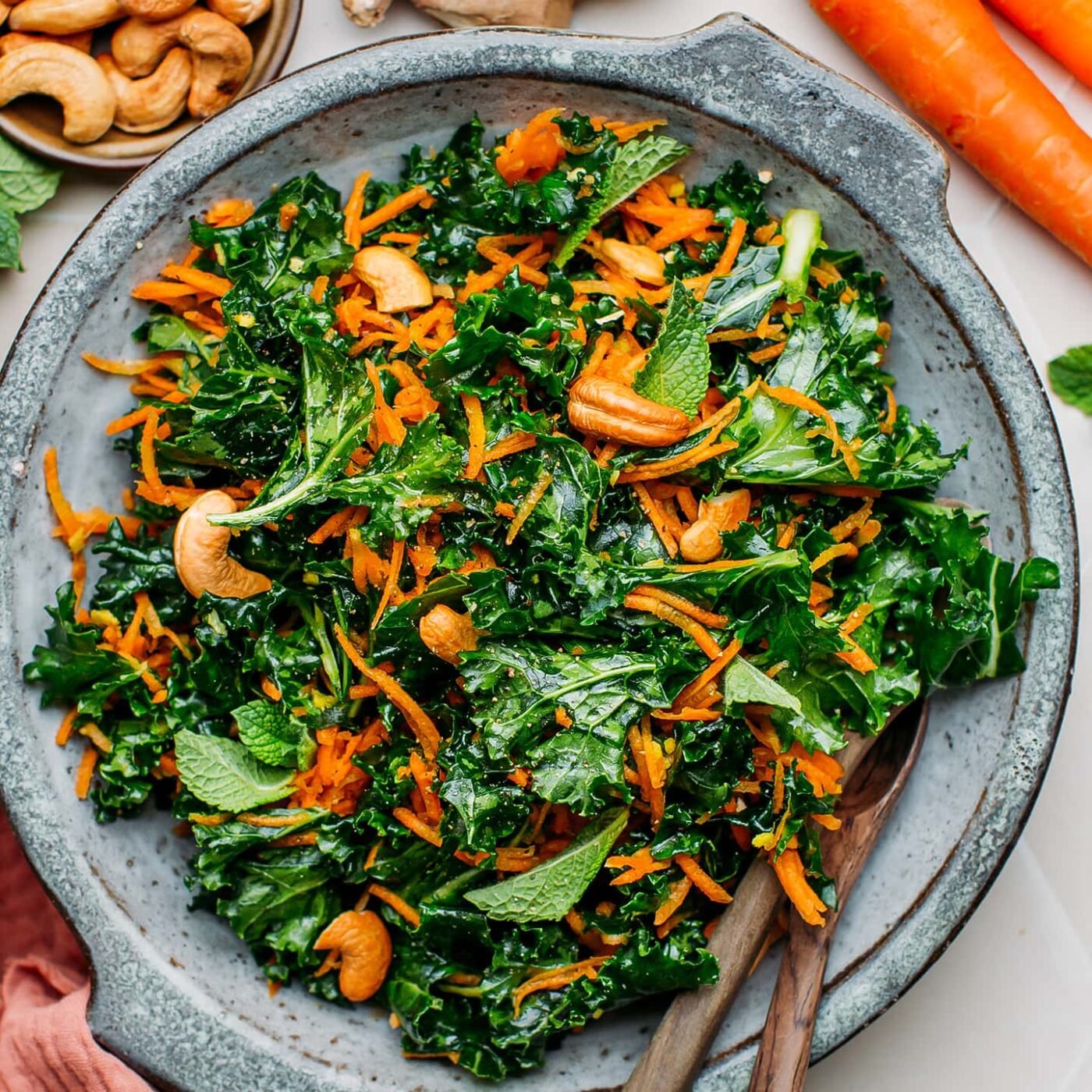 10-Minute Ginger Carrot & Kale Salad
This oil-free kale and carrot salad is fresh, tasty, easy to make, and perfect for a light dinner or an appetizer. It requires just 7 simple ingredients and is infused with a ginger and lime dressing!
Ingredients
3

cups

lightly packed kale

2

cups

grated carrots

2

tbsp

lime juice

1

tbsp

white vinegar

1

tbsp

soy sauce

1

tbsp

maple syrup

2

tsp

grated ginger

for topping: fried onions, roasted cashews
Instructions
Roughly chop the kale and add to a large mixing bowl. Sprinkle with a pinch of salt (and optionally 1 teaspoon of oil) and massage the kale for about one minute, or until it turns darker and becomes tender.

Add the grated carrots to the bowl and stir to mix.

Whisk together the lime juice, white vinegar, soy sauce, maple syrup, and grated ginger in a small bowl. Pour the dressing into the bowl and toss to coat. Taste and adjust the sweetness and saltiness to your liking.

Serve immediately or let it chill for about 1 hour in the refrigerator before serving. Top with crunchy fried onions and/or roasted cashews!
Nutrition
Serving:
1
serving
|
Calories:
103
kcal
|
Carbohydrates:
22.6
g
|
Protein:
2.7
g
|
Fat:
0.6
g
|
Saturated Fat:
0.1
g
|
Sodium:
580
mg
|
Potassium:
592
mg
|
Fiber:
3.4
g
|
Sugar:
11.6
g
|
Calcium:
99
mg
|
Iron:
1
mg
Did you make this recipe?
Tag @fullofplants on Instagram and hashtag it #fullofplants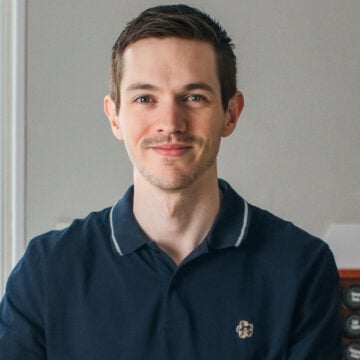 About the Author
Thomas Pagot is the founder, photographer, and recipe developer behind Full of Plants. He created the blog in 2016 as a personal cookbook for vegan recipes. Through years of recipe development, Thomas has successfully grown Full of Plants into a trusted resource for plant-based recipes.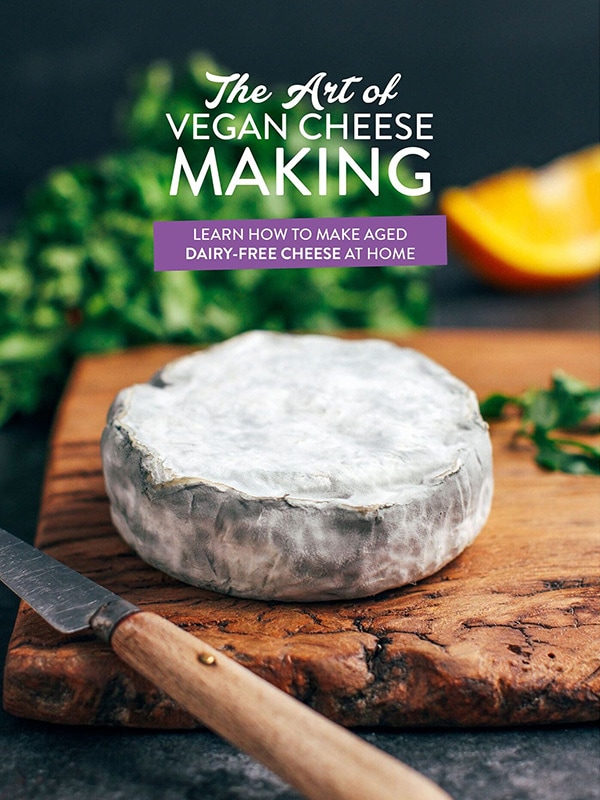 🧀 25 Mind-Blowing Vegan Cheese Recipes!
Sign up for the Full of Plants newsletter and you'll get new recipes delivered by email weekly, PLUS your FREE 100-page printable eBook!