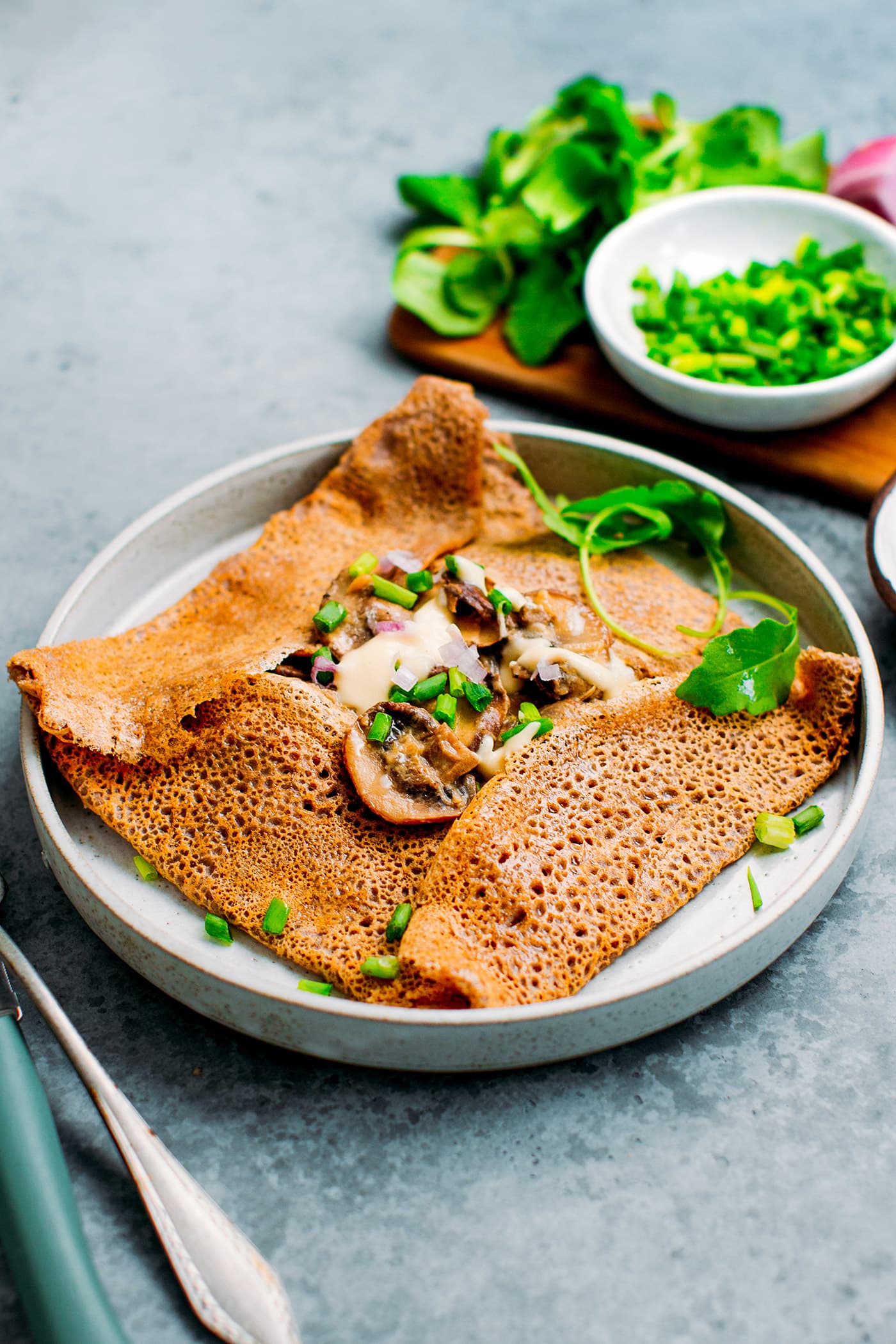 When it comes to dinner, we often look for the perfect ratio of quick and delicious. Let's say the deliciousness of this dish easily exceeds its quickness! Introducing Buckwheat Crêpes with Hummus Mushrooms!
Umami-rich sautéed mushrooms are simmered in white wine and coated with a hummus sauce for the most delicious filling! It's then wrapped up in a thin and crispy buckwheat crêpe. These gluten-free crêpes are light, packed with flavor, and so easy to prepare!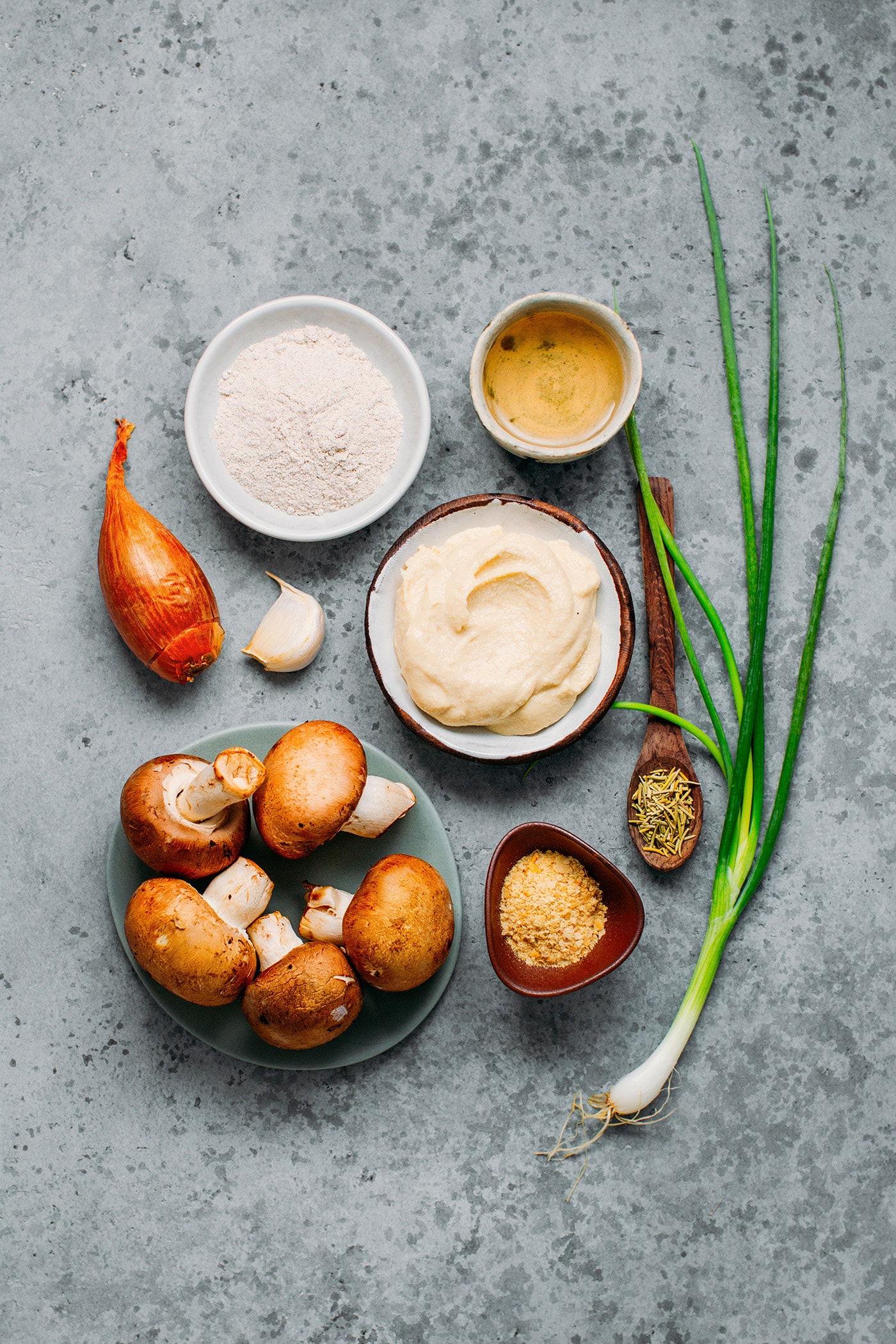 WHAT ARE BUCKWHEAT CRÊPES?
Often called "Galettes Bretonnes", buckwheat crêpes are a very popular dish in Brittany, a region of France. It is a very thin pancake made from buckwheat flour, water, and salt. It is cooked until the edges become crispy, filled with a savory filling, and folded into a square.
The filling is versatile, and the possibilities are endless! Here, we are filling the crêpes with creamy sautéed mushrooms in a delicious hummus sauce!
HOW TO MAKE BUCKWHEAT CRÊPES
A good buckwheat crêpe should be thin and very crispy, especially on the edges. Preparing the batter takes less than 5 minutes: whisk together buckwheat flour, water, and salt, and let it sit for at least 30 minutes. The resting time allows the batter to bind together; it will prevent the crêpes from falling apart.
Here are a few tips:
Resting time: 30 minutes is the bare minimum, but you can let the batter rest overnight in the refrigerator. The next day, it will have thickened. Add a bit more water and whisk until you get a thin consistency.
Do not omit the oil: Firstly, because otherwise the crêpes will stick to the pan, and secondly, to get a golden brown color and a crispy texture. I would even recommend adding some extra butter at the end of cooking for crispier edges!
Note: on the photo above, the crêpe was flipped just to show how thin and golden brown it should be. However, you will not have to flip it and just cook it on one side.
Your crêpes should also have little holes. If you don't have these holes, the batter is probably too thick and/or there is not enough oil in your pan.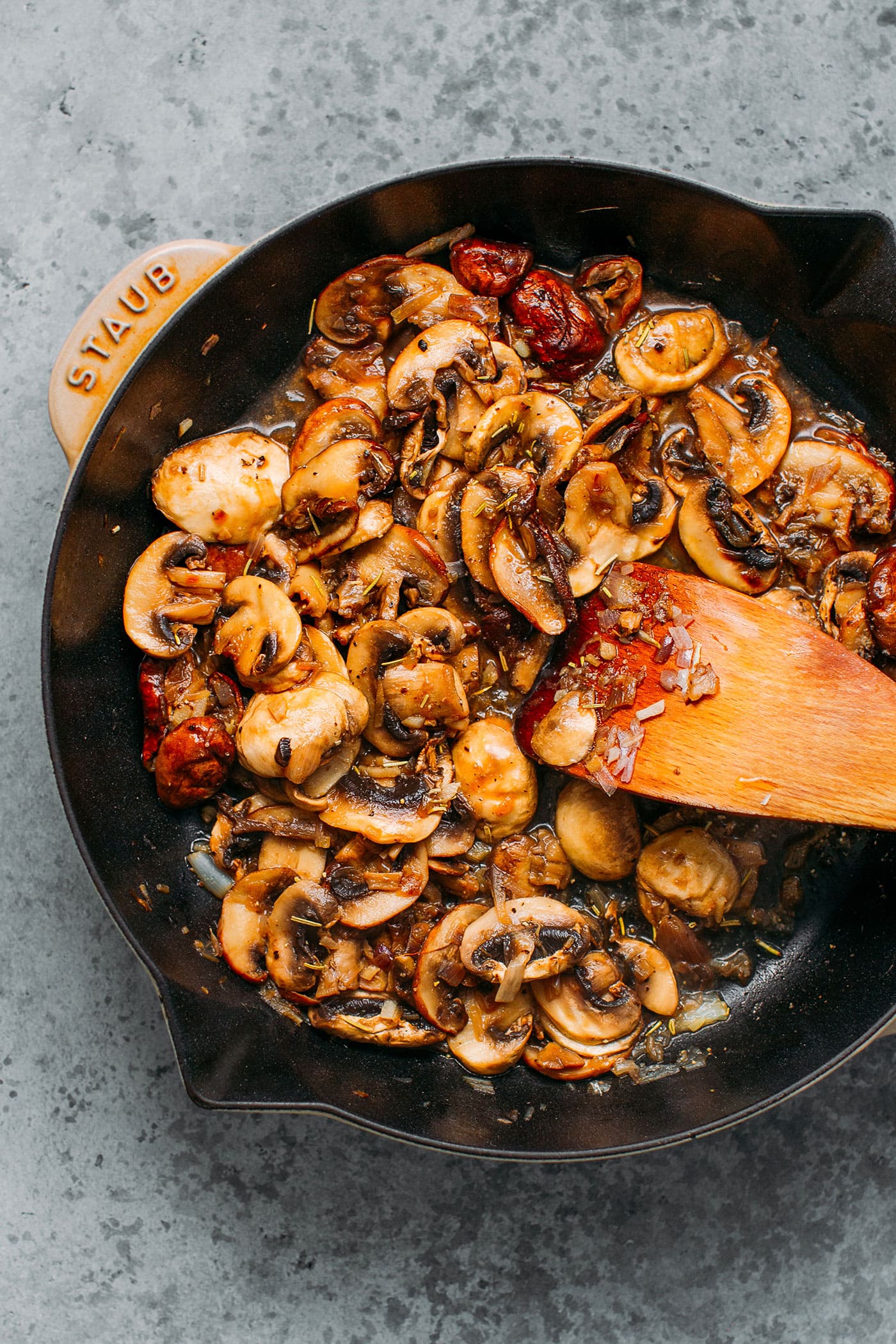 Now let's talk about the filling!
It starts with shallots and garlic that are sautéed until golden brown. Next, add mushrooms and cook for 3-5 minutes. To add a ton of flavor, we deglaze the pan with white wine and soy sauce!
Cook for another 5 minutes, and stir in the aromatics: rosemary, ground black pepper, and nutritional yeast for a subtle cheesy flavor. Finally, to add creaminess, add a couple of tablespoons of hummus!
To serve, place the creamy mushrooms in the center of the crêpe and fold the edges of the filling. Top with green onions and serve hot! These crêpes are best served immediately if you want it crispy.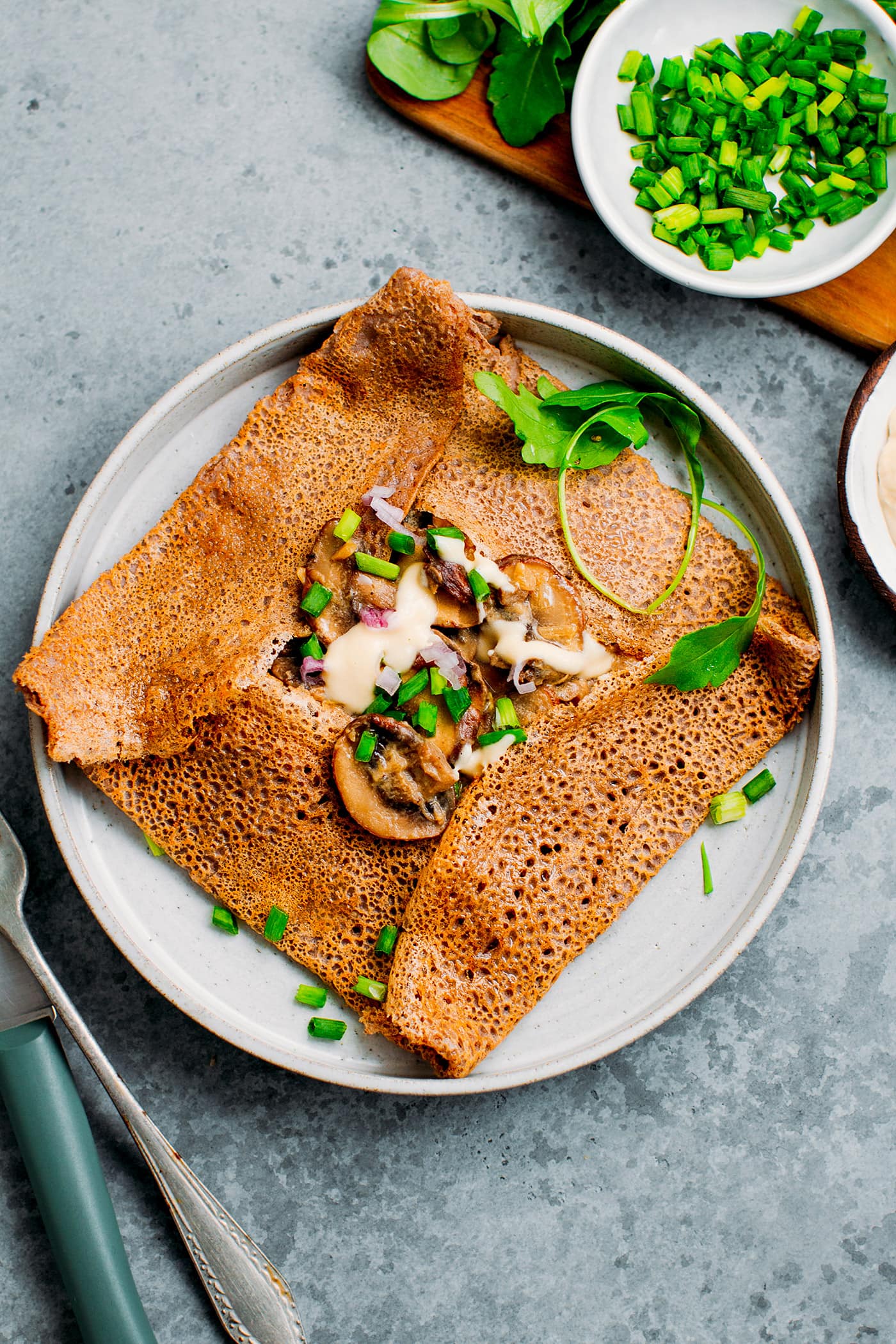 The contrast of the garlicky, umami-packed, and creamy mushrooms with the nutty and crispy galette definitely makes this dish! A delicious and light weeknight dinner!
Looking for more French-inspired savory recipes? Check out this Zucchini Tart, Vegan Paté, or this Vegan Chèvre Chaud Salad!
Let me know in the comments if you try this recipe!
Recipe
Buckwheat Crêpes with Hummus Mushrooms
French-inspired savory crêpes that are thin and crispy! Filled with garlicky and creamy sautéed mushrooms!
Ingredients
Mushroom Filling
1

tbsp

oil

1

shallot

minced

1

clove

of garlic

minced

4

cups

sliced mushrooms

(I used cremini mushrooms)

1

tsp

soy sauce

1/4

cup

white wine

1

tbsp

nutritional yeast

1/4

tsp

dried rosemary

1/8

tsp

ground black pepper

2

tbsp

hummus

or cashew cream
Instructions
Buckwheat Crêpes
In a large mixing bowl, whisk together the buckwheat flour, water, and salt. Cover and let sit for at least 30 minutes at room temperature. You can also prepare the batter the day before and let it rest overnight in the refrigerator.*

In the meantime, prepare the mushroom filling.
Mushroom Filling
Heat the oil in a non-stick pan over medium heat. Once hot, add the minced shallot and garlic, and sauté for about 2 minutes.

Next, add the sliced mushrooms and cook for another 3-5 minutes. Add the soy sauce and cook for one more minute.

Deglaze the pan with the white wine and cook for 5 more minutes, or until the liquid has reduced by about half. Next, stir in the nutritional yeast, rosemary, ground black pepper, and hummus. Stir to dilute the hummus. Remove from heat and cover to keep warm.
Assembling
Heat a non-stick skillet over medium heat. Once hot, add about one tablespoon of oil and use a kitchen paper towel to spread it evenly.

Make sure the batter has the right consistency, it should be pourable and quite thin. Pour 1/3 to 1/2 cup of the batter (depending on the size of your skillet) and tilt the skillet to spread the batter evenly and as thin as possible.

Cook over medium-high heat for 2-3 minutes, or until golden brown. Place about 1/3 of the mushroom filling in the center of the crêpe and cook for another 2-3 minutes, or until the crêpe gets crispy edges. Note: you can add a teaspoon of butter to the skillet and spread it around the crêpe to get crispier edges.

Finally, fold the edges of the crêpe over the filling to make a square pocket. Transfer the crêpe to a plate and serve immediately. Repeat with the remaining crêpes and filling.
Notes
* If making the batter the day before, you will have to add a little bit more water the next day in order to get a thin batter, as it will have thickened.
Nutrition
Serving:
1
crêpe (filled)
|
Calories:
198
kcal
|
Carbohydrates:
22.8
g
|
Protein:
8.1
g
|
Fat:
6.7
g
|
Fiber:
8.8
g
|
Sugar:
2.2
g
Did you make this recipe?
Tag @fullofplants on Instagram and hashtag it #fullofplants