Make use of the abundance of fresh zucchini with this easy and delicious zucchini tart!
It's fresh, herby, loaded with zucchini, and delicious warm or chilled. Plus it's easy and made from simple ingredients. Let's do it!
HOW TO MAKE ZUCCHINI TART
First, we make the cashew cream that will bring creaminess and richness to the batter. Blend soaked cashews with water and it's done!
Next, sauté garlic and grated zucchini for a few minutes, or until the zucchini has reduced by about half, and most of the water has evaporated.
To grate the zucchini: use the coarse side of a box grater, or simply use the grater attachment of your food processor (the easiest and quickest way!).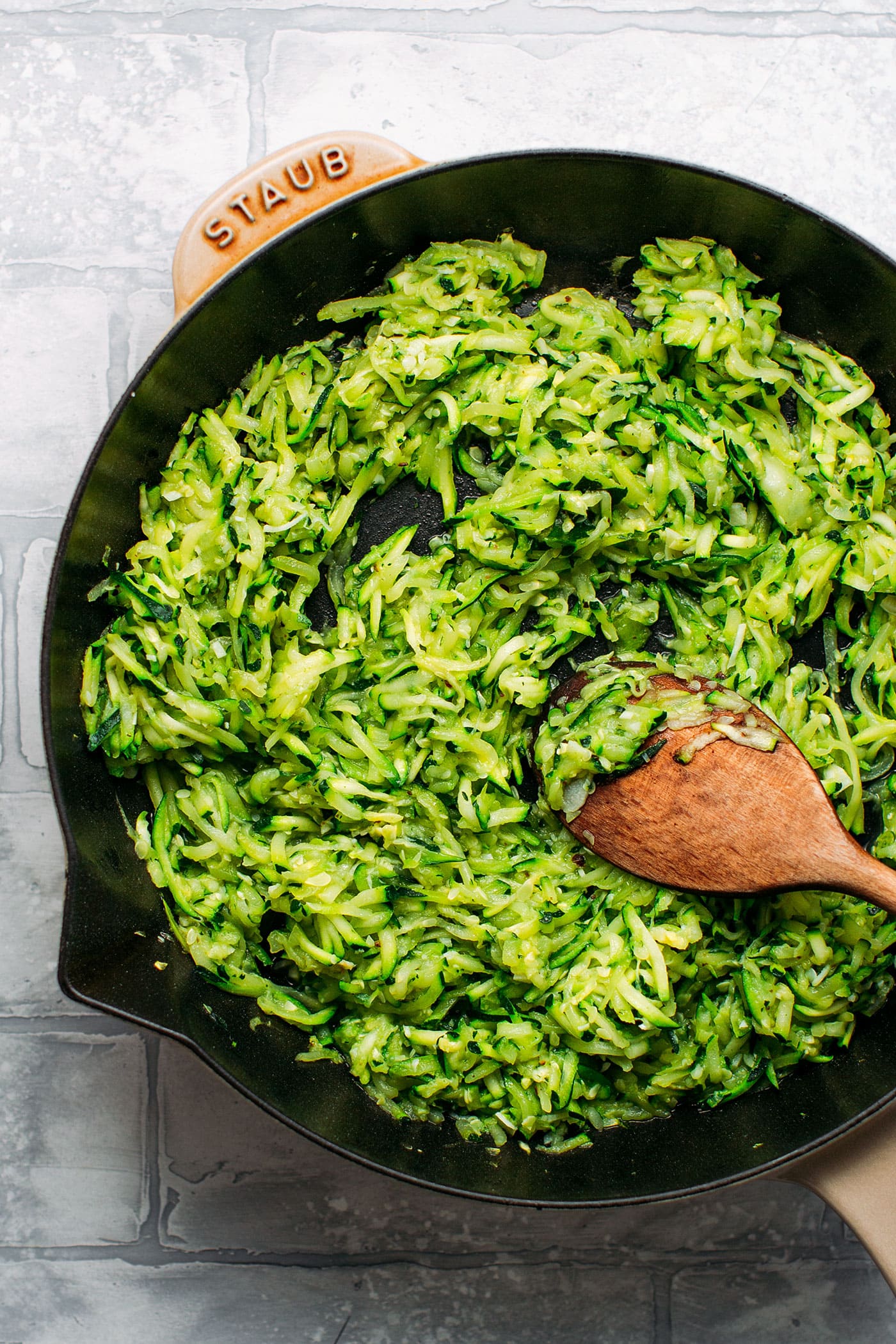 Once the zucchini is cooked, transfer to a bowl and combine with the cashew cream and the seasonings: oregano, rosemary, thyme, black pepper, nutritional yeast, and a tablespoon of vinegar for some tartness.
Transfer the batter to a pie crust and bake for 50-60 minutes, or until the crust is golden brown!
Regarding the pie crust, you can easily make your own like in this recipe or buy it in the refrigerated section of your supermarket. There are now many vegan options available, as well as gluten-free versions.
Quick note: The color of the tart tends to be more yellow than green after baking. If you want a more appetizing green color, add about ¼ of a teaspoon of matcha. It won't affect the flavor at all and is completely optional.
This zucchini tart is not only easy to prepare, but it's also delicious! It's garlicky, herby, and so fresh! Serve warm or chilled, with a salad on the side.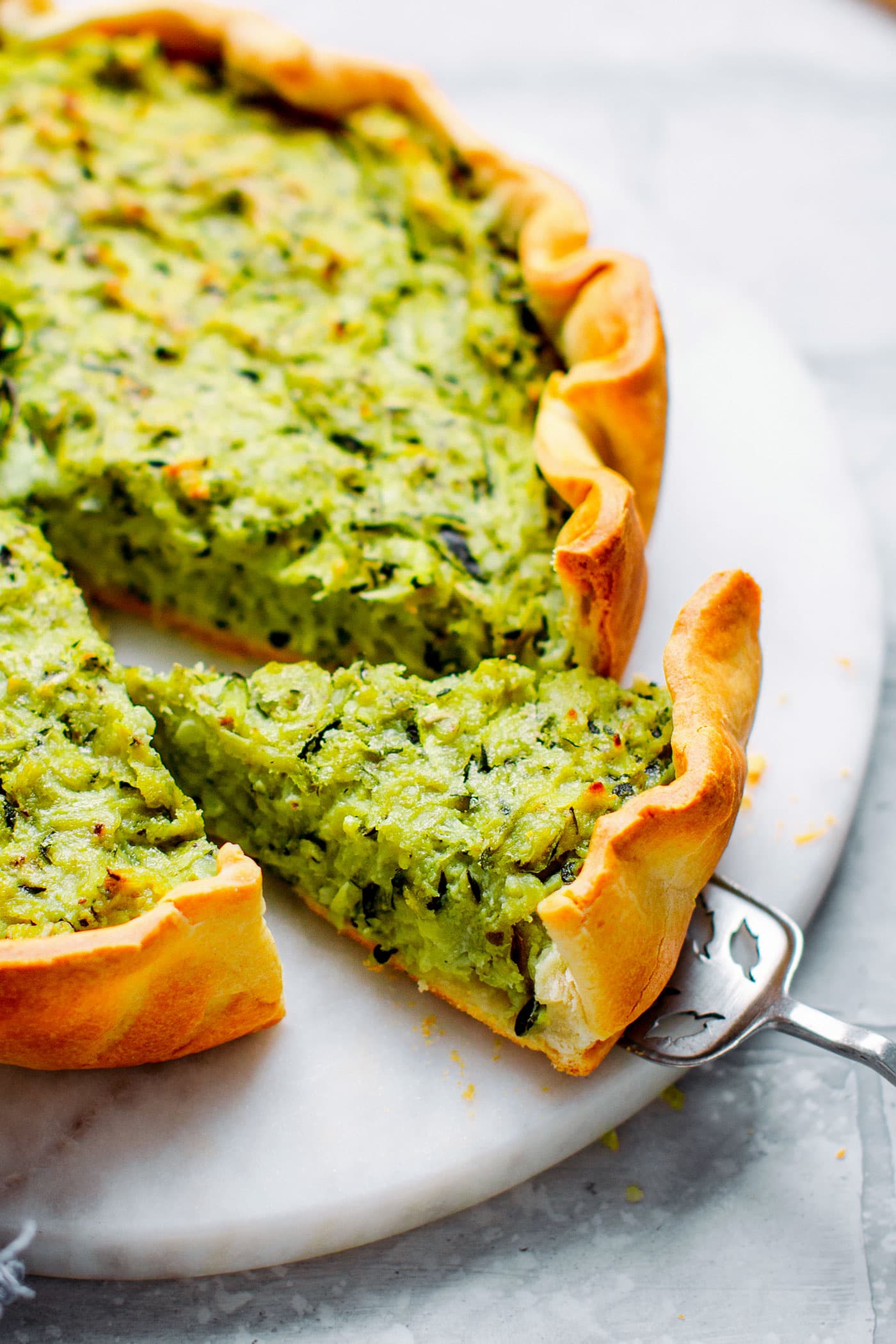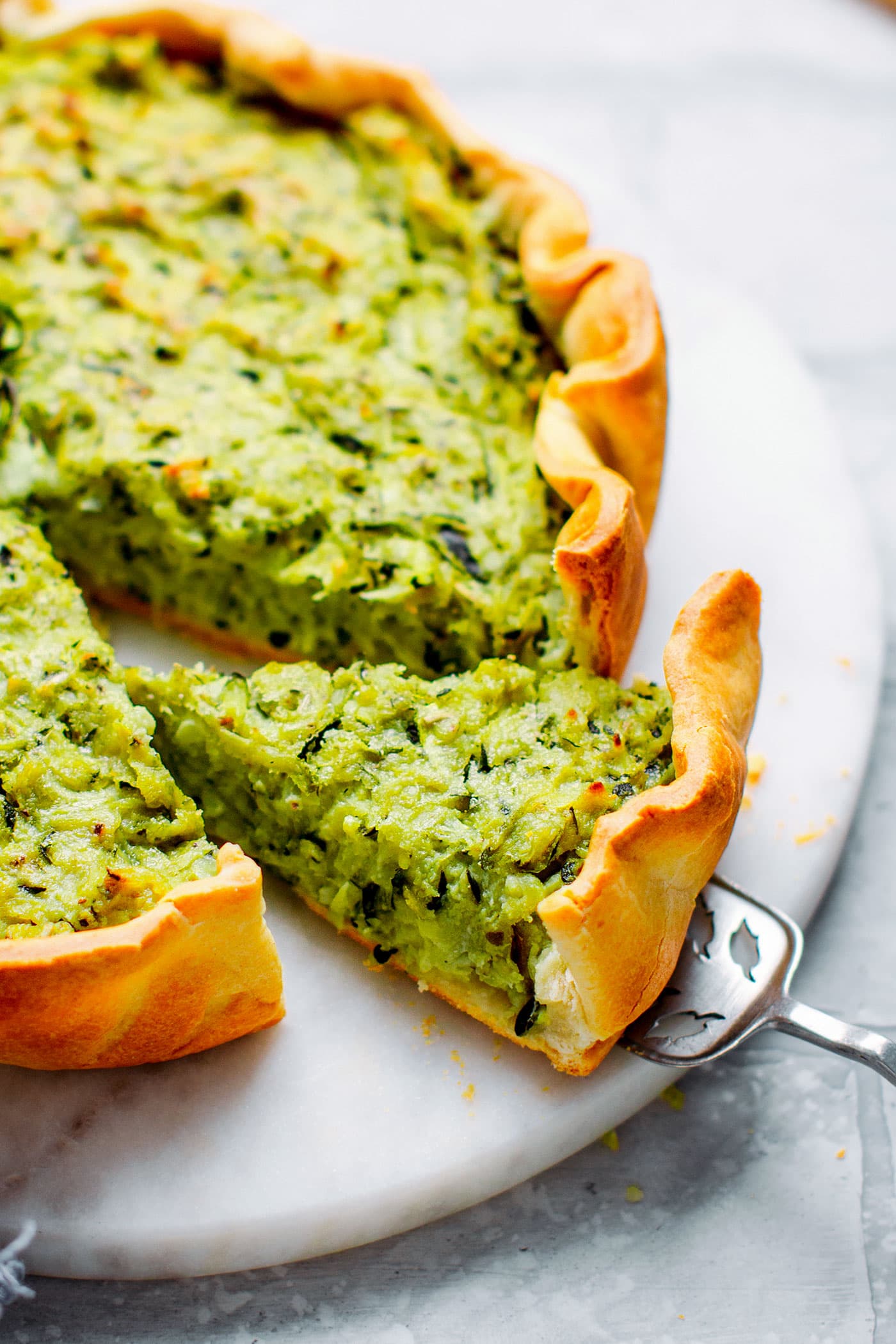 Looking for more zucchini recipes? Check out this Easy Caramelized Zucchini, Three-Grain Enchilada Stuffed Zucchini, or this Vegan Antipasto Platter!
Let me know in the comments if you try this recipe!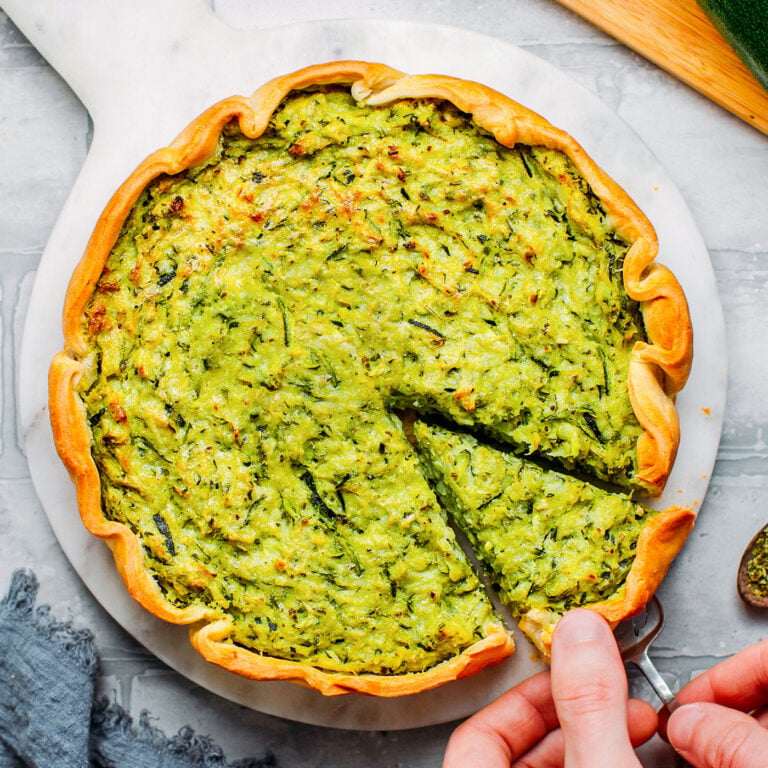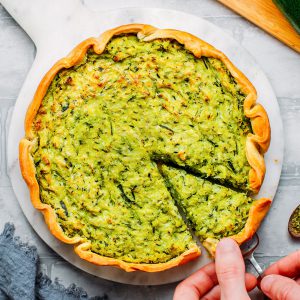 Vegan Savory Zucchini Tart
Fresh, herby, and garlicky zucchini tart that is delicious served warm or chilled. It's quick, easy, and made with simple ingredients!
Ingredients
½

cup

raw cashews

soaked overnight*

⅓

cup

water

1

tablespoon

oil

2

cloves of garlic

minced

2

medium

zucchini

grated

¼ and ⅛

teaspoon

salt

1

tablespoon

white vinegar

1 and ½

tbsp

nutritional yeast

¼

teaspoon

each: rosemary, oregano, thyme

⅛

teaspoon

ground black pepper

¼

teaspoon

matcha

optional, just for color

1

refrigerated vegan pie crust
Instructions
Preheat oven to 345°F (175°C).

Drain the soaked cashews and transfer to a high-speed blender. Add the water and blend on high for 15-20 seconds, or until smooth. Transfer to a large mixing bowl and set aside.

Heat the oil in a large non-stick skillet. Once hot, add the minced garlic and sauté for 2-3 minutes. Next, add the grated zucchini and season with salt.

Cook for 7-10 minutes, or until the zucchini has reduced by about half and there is no more water (the zucchini will release some water during cooking).

Transfer the cooked grated zucchini to the cashew cream. Add the white vinegar, nutritional yeast, herbs, black pepper, and matcha if using. Note: matcha just gives the tart a brighter green color, it's optional and doesn't affect the flavor. Stir well to combine the zucchini with the cream and seasonings. At this point, you can taste it and adjust saltiness to taste.

Unroll your pie crust (or flatten it, if homemade), and press it into a 8-inch pie plate, leaving about 1-inch overhang.

Transfer the zucchini batter to the pie crust and use a spatula to spread it evenly. Bake for 50-60 minutes, or until the crust is golden brown.

Let it cool a few minutes before serving warm! This tart is also delicious chilled! Keep the tart for up to 4 days in the refrigerator and serve cold, or reheat covered with aluminum foil in a 350°F (180°C) pre-heated oven for 20-30 minutes.
Notes
*If you are short on time, simply pour boiling water over the cashews and let it sit 20 minutes.
No nutritional information provided as it all depends on the type of pastry crust used.
DID YOU MAKE THIS RECIPE?
Tag @fullofplants on Instagram and hashtag it #fullofplants