Never have bland zucchini again!
I recently found myself with loads of zucchini in the fridge (thanks Grandpa!). Most of the time they end up in oven-roasted vegetables, but I wanted to mix it up a bit this time. Plus the less I use the oven these days the better it feels, it's still 86°F here!
Can you believe I made this 3 days in a row this week? Yep, it's that good. This recipe is for those of you who have less than 30 minutes to prepare something for dinner. It's flavorful. Low calorie. And so easy to prepare, it's almost a no cooking recipe! Almost.
It requires only one skillet and 8 basic ingredients you probably already have in your fridge/pantry. AND there is basically no prep time, slicing zucchini takes like 2 minutes. Or less, anyone up for a slicing speed contest?
It starts by cooking the onions until slightly brown, then the garlic, ginger, and zucchini and let it color a bit for 5 minutes.
Once golden, stir in the soy sauce and maple syrup. Zucchini will soak up the sauce as well as the aromatics like garlic and ginger, giving it a umami "flavor".
When the zucchini is fork tender, bring the heat to high and let it caramelize! This step enhances the taste and gives the zucchini a nutty flavor, the only thing is that you have to keep an eye on it. You don't want them to burn, they should just start to stick to the pan.
Before serving, top with toasted pine nuts, fresh parsley, and a drizzle of lime juice!
Oh, and kids love it! Maybe it's because of the subtle sweetness and caramelized flavor, who knows!
These caramelized zucchinis would be delicious served with Sesame Glazed Mushroom Noodles, Sweet Potato Coconut Buckwheat Risotto, or Almond Butter Jackfruit Potstickers.
Let me know in the comments if you try this recipe!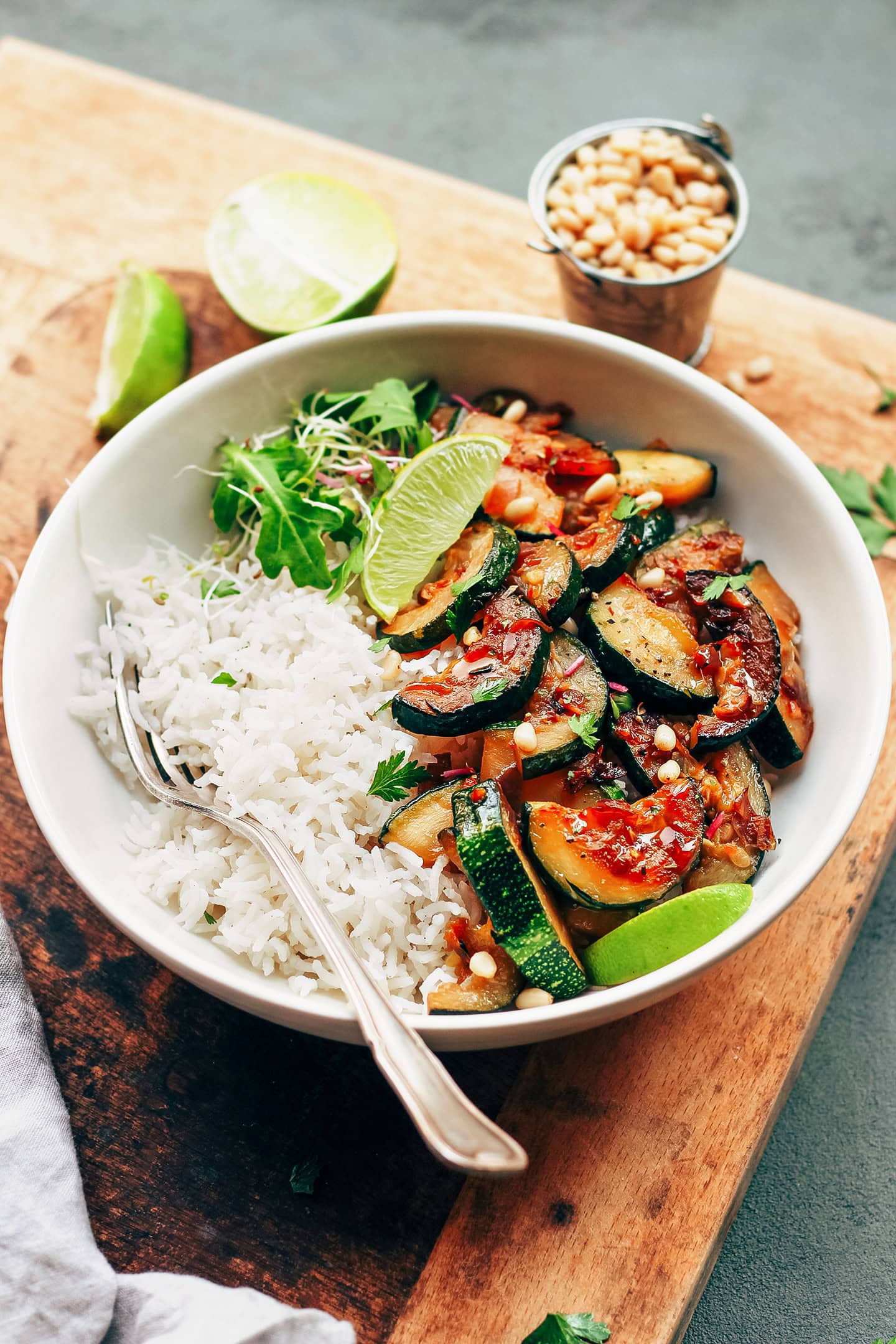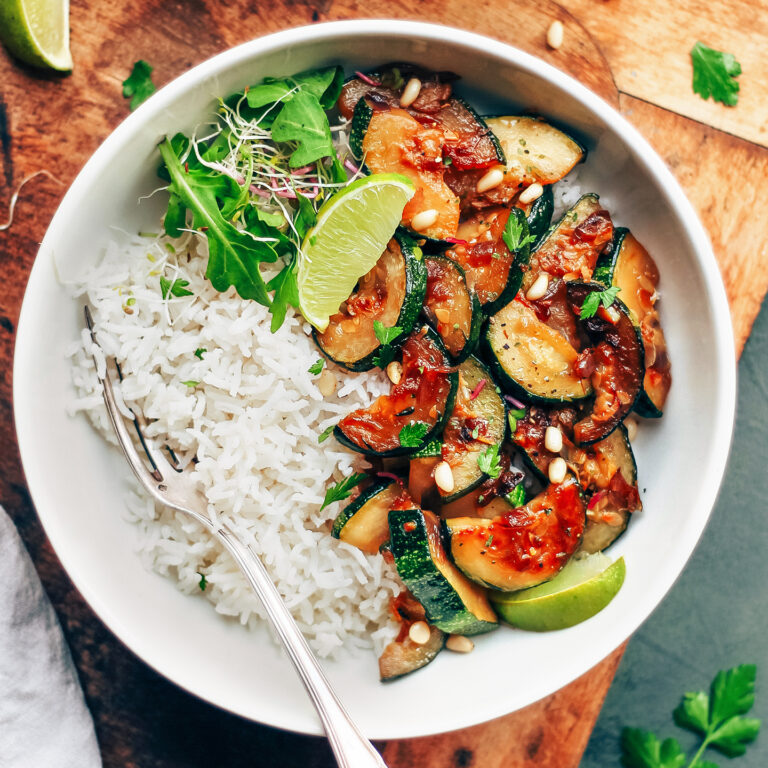 Easy Caramelized Zucchini
Caramelized zucchinis flavored with garlic, ginger and toasted sesame oil. A flavorful, light and super easy 30-minute meal!
Ingredients
1

tablespoon

oil

2

cloves

of garlic

finely minced

1

red onion

diced

1

tablespoon

freshly grated ginger

2

medium zucchini

1

tablespoon

soy sauce

1

teaspoon

maple syrup

½

teaspoon

toasted sesame oil

optional toppings: toasted pine nuts, cilantro or parsley, a squeeze of lime
Instructions
Wash the zucchini and cut it into ½-inch thick slices. Cut each slice in half.

Heat the oil in a large skillet over medium heat. Once hot, add onions and cook for 5 minutes, stirring regularly until golden brown. Then, add garlic and ginger, and cook for another 2 minutes.

Add zucchini slices and sauté 3-5 minutes, stirring regularly.

Stir in the soy sauce and maple syrup, and continue to cook uncovered, about 10-12 minutes, flipping the zucchini slices regularly.

Once zucchinis are golden and tender, increase the heat to high and sauté until they just start to stick to the pan. Make sure to keep an eye on them so they don't burn. When zucchinis are nicely caramelized on both sides, remove from heat and stir in the toasted sesame oil.

Serve immediately topped with pine nuts, fresh parsley, and a squeeze of lime juice. It's delicious served as a side dish with brown rice, noodles or quinoa.
Notes
If you want to double this recipe, I recommend cooking the zucchini in two batches, otherwise, you might have trouble getting a nice caramelization on each slice. It's always better when zucchinis are arranged in a single layer in the skillet.
Nutrition
Serving:
1
serving
|
Calories:
149
kcal
|
Carbohydrates:
16
g
|
Protein:
3.7
g
|
Fat:
9
g
|
Fiber:
3.5
g
|
Sugar:
7.9
g
DID YOU MAKE THIS RECIPE?
Tag @fullofplants on Instagram and hashtag it #fullofplants