Pasta at its best!
This fettuccine pasta dish is served in a rich and creamy three-peppercorn sauce with sautéed mushrooms and topped with fresh basil. Best combo. Ever.
The great thing about this recipe is that it's VERY easy to make. It's the perfect last minute dish, yet it yields a flavorful and fancy main dish. This is now my go-to recipe for pasta and everyone loves it.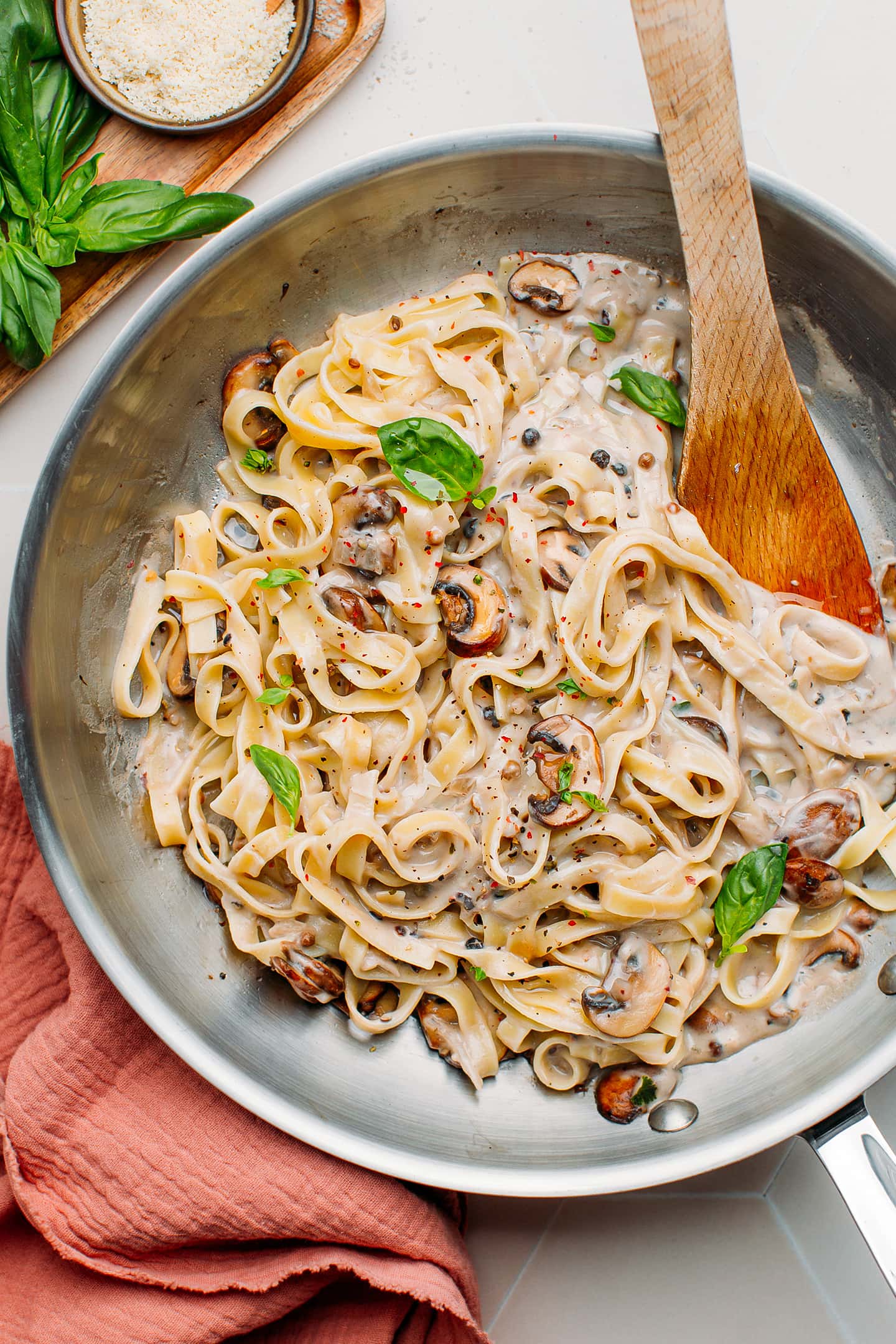 While you may not see the sauce clearly in the photos, it's actually the star of the recipe. This sauce is made with three different peppercorns for a combination of flavors: green peppercorn adds fruitiness as well as a hint of sweetness, black pepper make it more peppery and hotter and white pepper…well I had it on hand so why not use it too?! The smell of white pepper is different than black pepper but it's hard to explain exactly so I will let you try it yourself.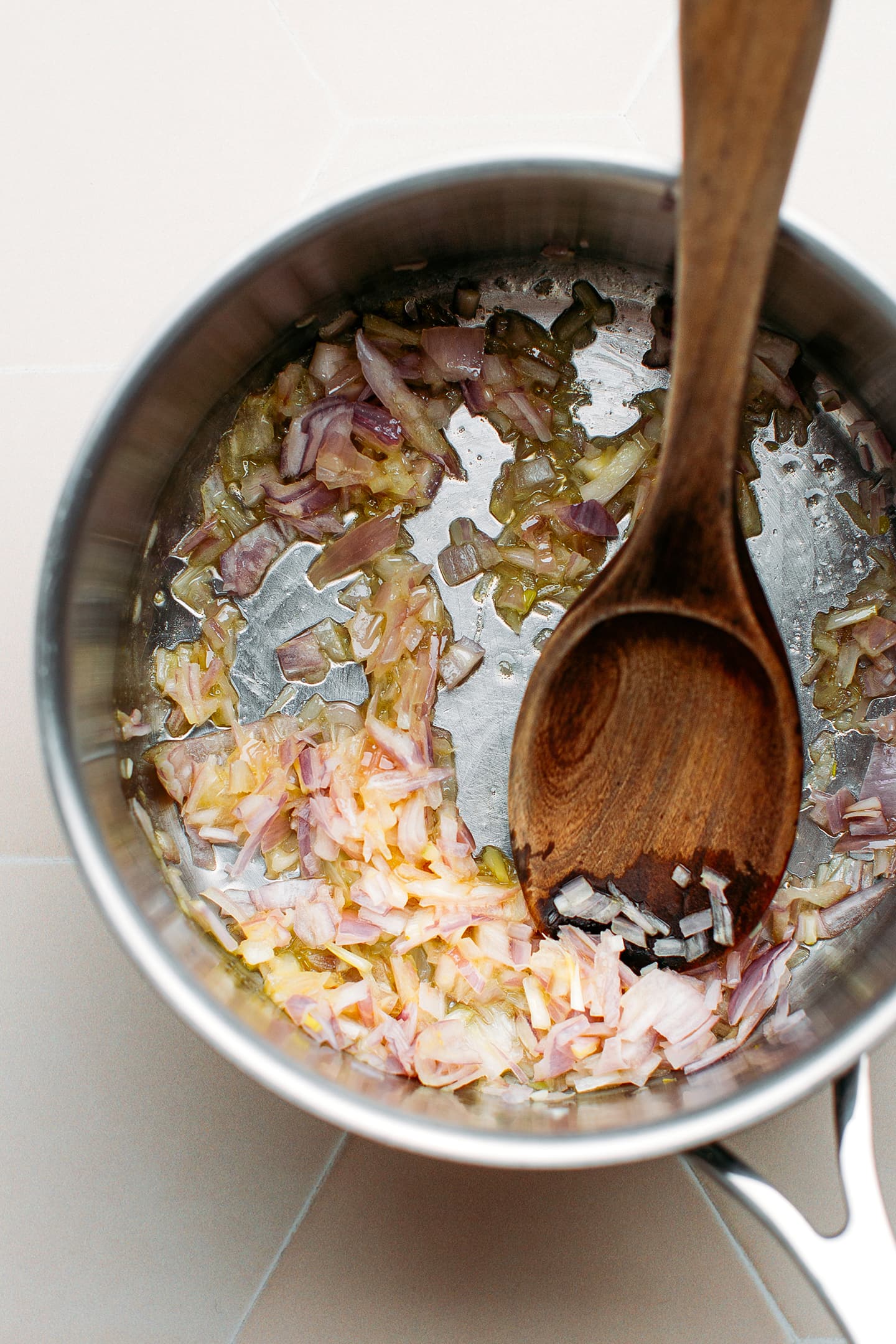 The sauce starts with a roux, it's a thickener made with flour and some kind of fat like butter or oil. I used tapioca starch in place of all-purpose flour to keep the recipe gluten-free. Olive oil works great but feel free to use vegan butter for a richer, nuttier flavor.
Once your roux is ready, you slowly whisk in the soy sauce and 1/4 cup of water until the sauce becomes smooth with no clumps remaining, then you can add the rest of the water, peppercorns and nutritional yeast.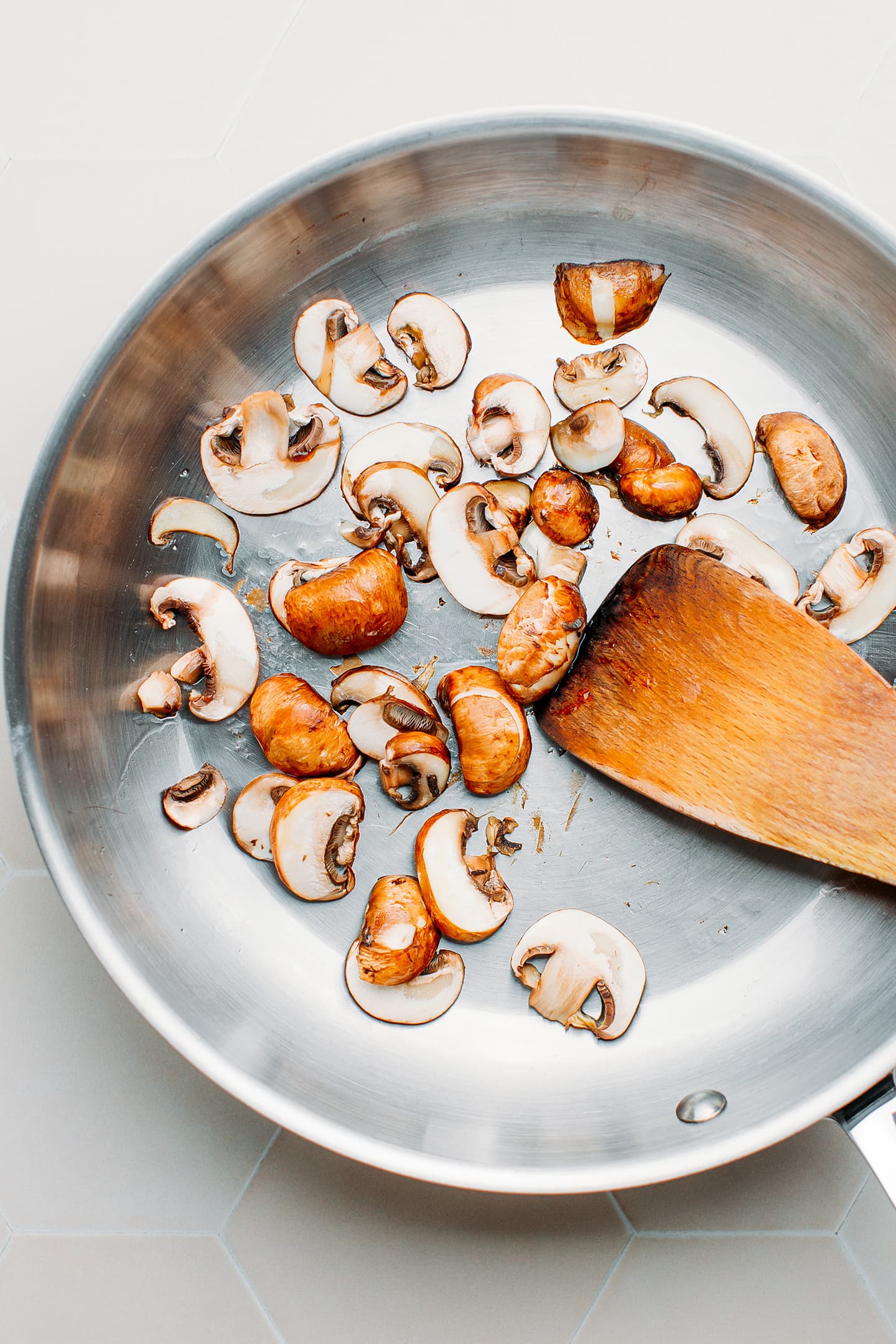 Once thickened, I strain the sauce to remove the peppercorns, this step is not optional, unless you like to cough after each bite. It results in a creamy peppercorns sauce that is not too hot or spicy. When the sauce is ready all you have to do is stir in the pasta, sautéed mushrooms, top with fresh basic and serve.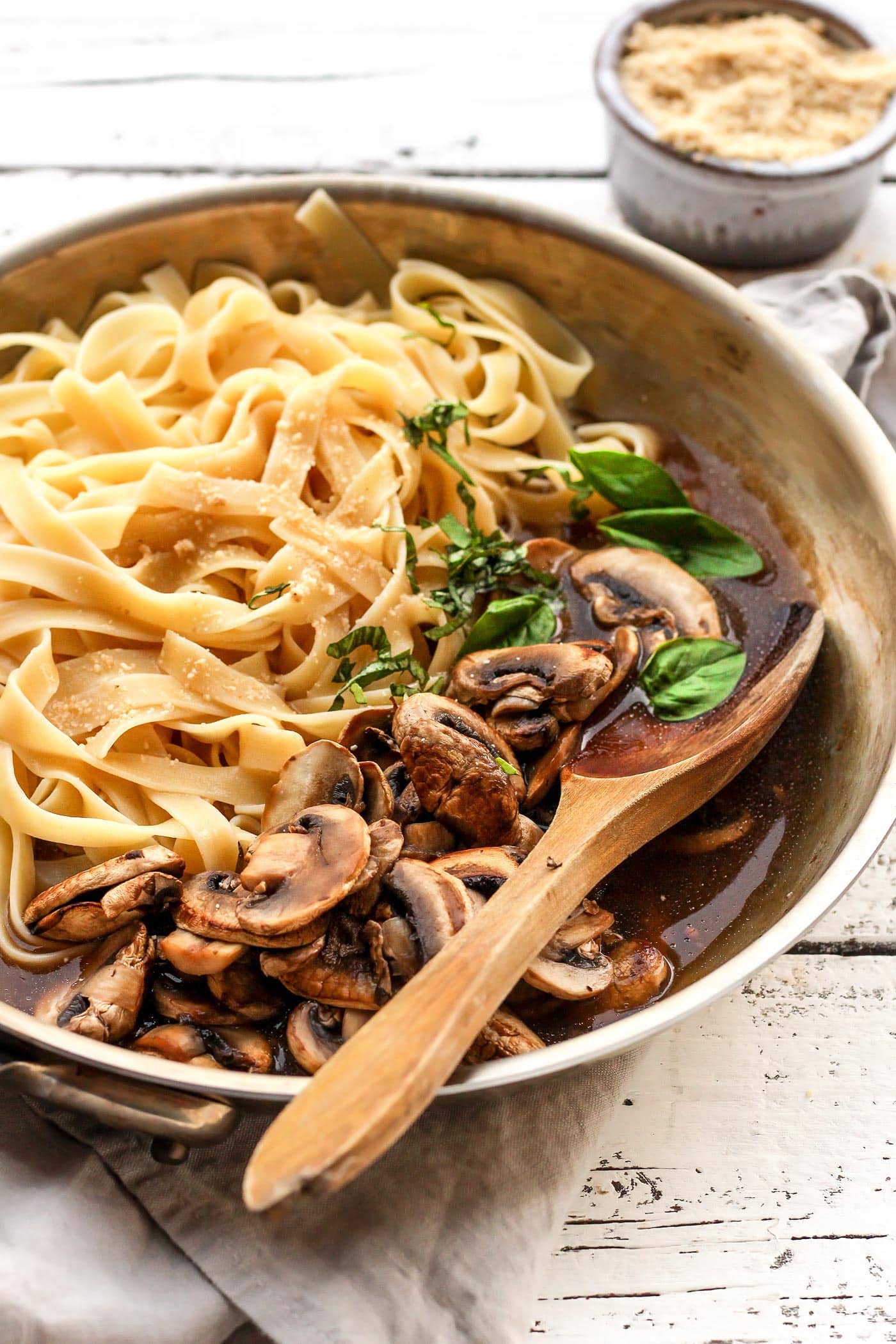 This pasta dish is great on its own, I don't feel the need to add anything else, but I won't stop you from adding your favorite greens on the side! I'm thinking green beans, kale, broccoli, etc…
Let me know if you try this recipe in the comments!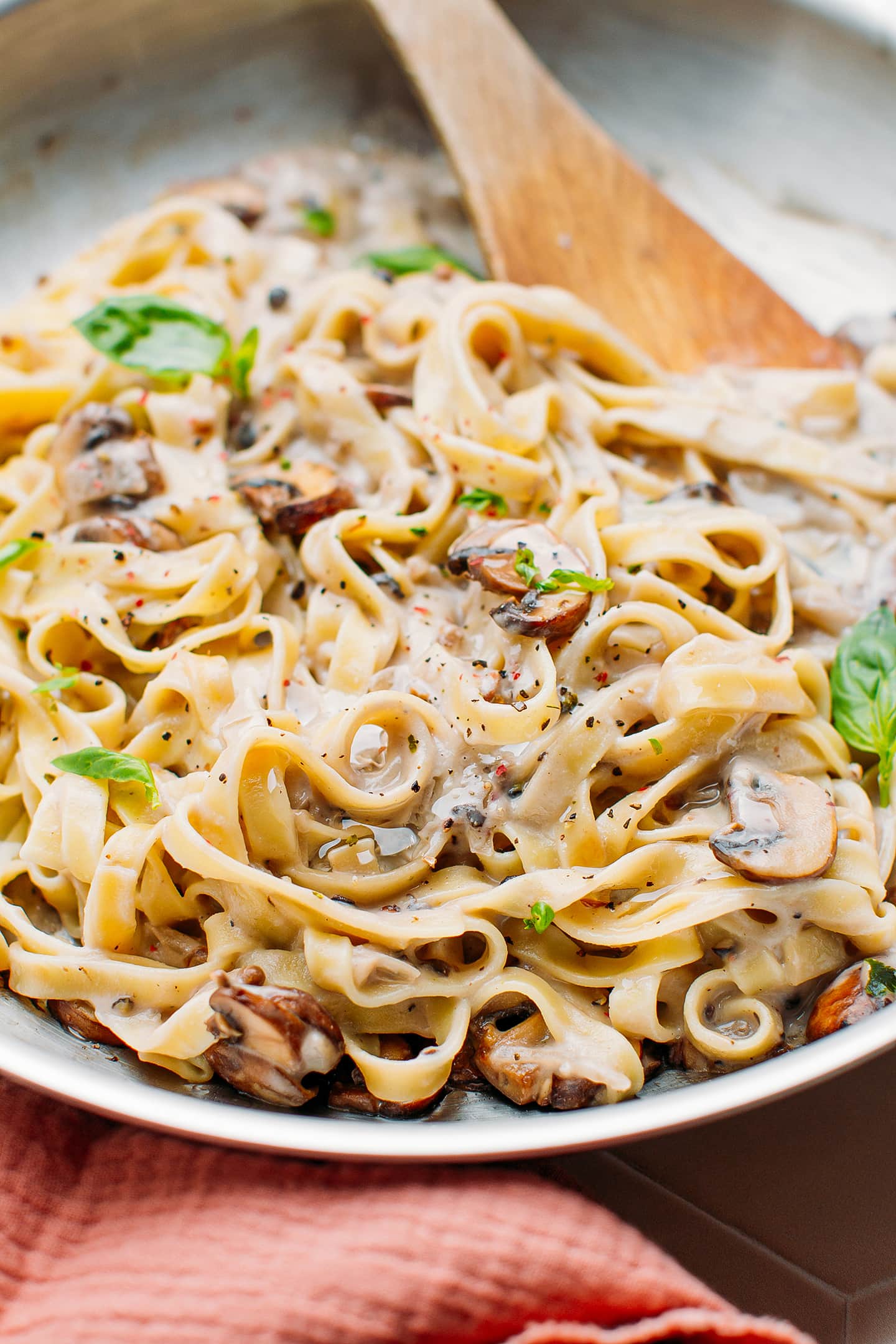 Print
Mushroom Pasta with Creamy Peppercorn Sauce
Three-pepper sauce
2 tbsp

vegan butter (or olive oil)

2 tbsp

tapioca starch (or arrowroot, cornstarch)

1

and 1/2 tbsp soy sauce

1 tsp

black peppercorns

1 tsp

green peppercorns

1 tsp

white peppercorns

1/2 tsp

nutritional yeast

1/4 cup

almond milk

1

and 1/4 cup water
Mushrooms
8

–

10

mushrooms (white or cremini)

1 tbsp

soy sauce
Pasta
8 ounces

gluten free fettuccine
Toppings (optional)
6

–

8

fresh basic leaves
vegan parmesan
crushed red pepper or oregano
Instructions
Bring a large pot of salted water to a boil and add the pasta.
While the pasta is cooking, heat a large skillet or saucepan over medium heat.
Wash and cut the mushrooms and add them to the skillet. Cook for about 5 minutes until they start to release their water, you don't need to add oil to the skillet. Deglaze the skillet with one tablespoon of soy sauce and stir to make sure all the mushrooms are coated. Cook for another 2 minutes until no liquid remains and mushrooms start to caramelize. Transfer the mushrooms to a bowl and set aside.
In the same skillet, melt the vegan butter, or olive oil over medium heat. Once melted, add the tapioca starch and whisk. It will be clumpy at first, continue to whisk for another 1 minute until it becomes smooth.
Reduce heat to low and whisk in the soy sauce. Slowly whisk in the almond milk. Whisk until no clump remains, add the water slowly and whisk again. It will take about 1 minute of whisking until the sauce becomes smooth. Add the peppercorns and nutritional yeast. Cook on low for 5 minutes, then increase the heat to medium-high and whisk constantly until the sauce thickens. Strain the peppercorns through a mesh sieve and put the sauce back into the skillet with the mushrooms.
When the pasta is cooked, drain and add it to the skillet. Stir to coat the pasta with the sauce.
Top with fresh basil leaves and vegan parmesan. Serve immediately.
Notes
I find tapioca starch thickens less than arrowroot and cornstarch, so you might only need 1 tablespoon if using another starch.
If you prefer a thicker sauce, reduce the amount of water to 1 cup.
Nutrition
Serving Size:

1

Calories:

346

Sugar:

1.5g

Fat:

11.3g

Carbohydrates:

51.1g

Fiber:

1.3g

Protein:

11.7g