Khao Soi is a spicy Thai coconut curry soup served with noodles and usually chicken, which we will replace with tempeh for a plant-based version! It's super creamy thanks to the coconut milk, aromatic, and so easy to make!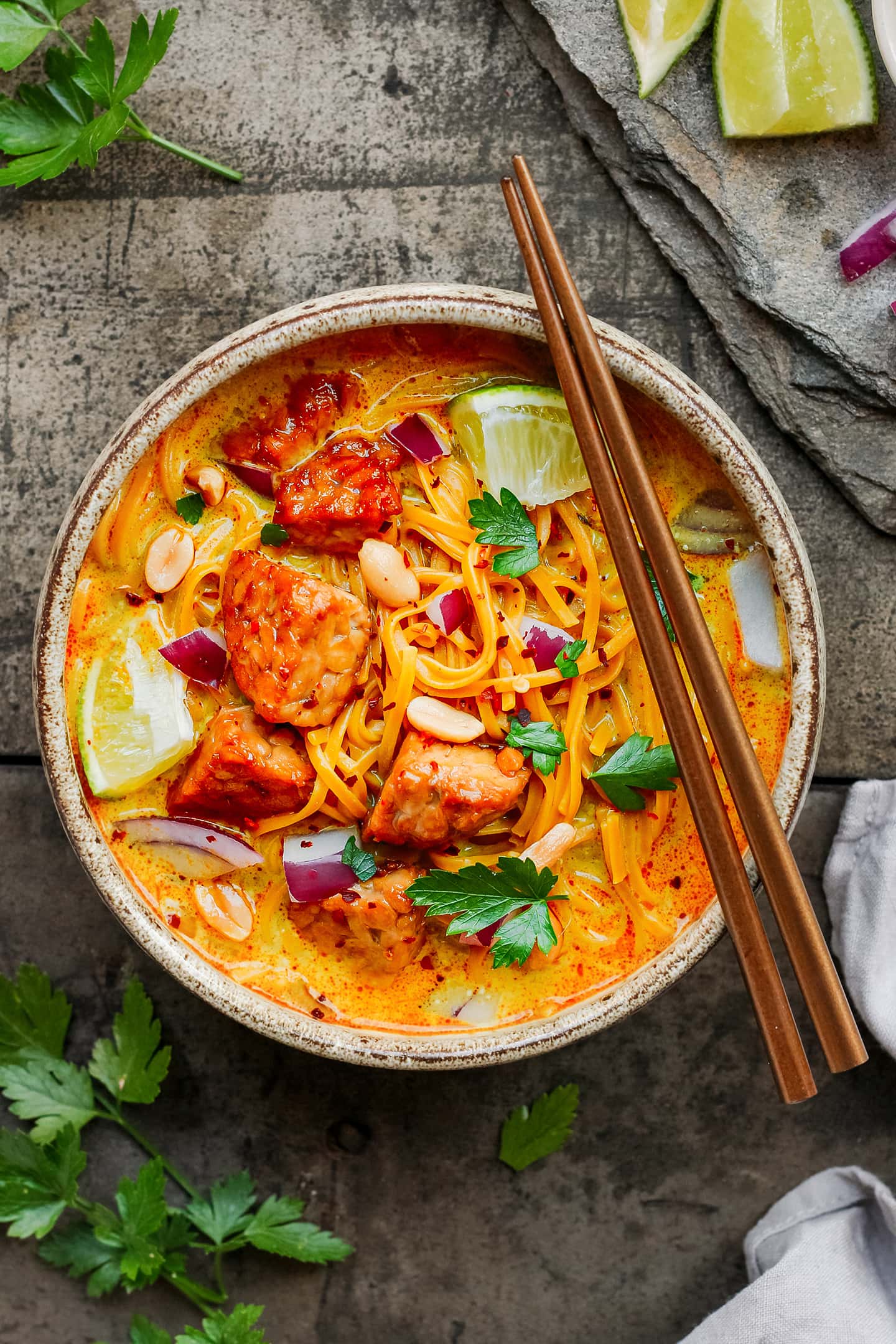 📘 What is Khao Soi
Khao Soi is a popular Northern Thai noodle soup. It consists of rice or wheat noodles served in a very aromatic coconut milk broth. The broth is creamy and flavored with red curry paste, ginger, and garlic, giving it an amazing flavor.
The authentic version includes chicken as the protein of choice and fish sauce. To keep this recipe vegan, we will replace the chicken with tempeh and the fish sauce with soy sauce.
🥣 How to Make Tempeh Khao Soi
Soup
The main component of this dish is soup. It is easy and takes less than 20 minutes to make. Here is what you will need:
Shallots, garlic, ginger – While these ingredients are already used in the red curry paste, I believe frying fresh aromatics brings more flavor to the soup.
Red curry paste – This spicy paste brings most of the flavor. It's made of lemongrass, red chili pepper, galangal, kaffir lime peel, and spices. I recommend checking the ingredients as not all red curry pastes are vegan. Thai Kitchen Red Curry Paste and Aroy-D are both vegan options.
Coconut milk – Preferably full-fat coconut milk for a richer and creamier consistency.
Vegetable broth
Soy sauce – For umami and saltiness. Use tamari for a gluten-free option.
Coconut sugar – For the perfect balance of sweet and salty!
Traditionally, Khao Soi also requires shrimp paste to give it more complex flavors. In place of the shrimp paste, I used a combination of seaweed and dried shiitake; it gives the soup a subtle "fish" flavor. Don't worry it's not overpowering and can be omitted.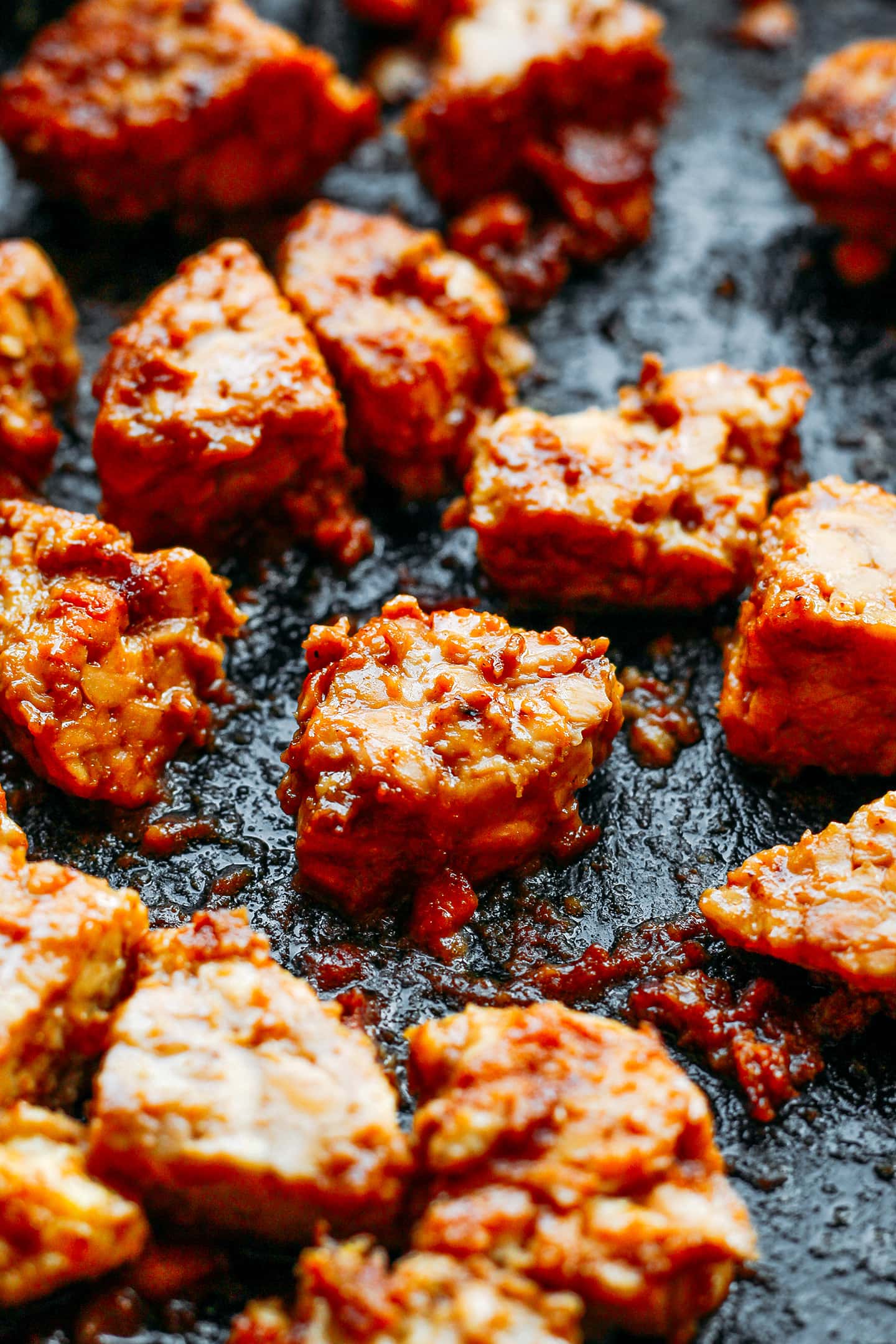 Preparing the Soup
Sauté shallots, ginger, and garlic until fragrant.
Next, add the red curry paste and stir to combine.
Pour in the full-fat coconut milk, vegetable broth, soy sauce, and sugar. Let simmer for 12-15 minutes.
Add a squeeze of lime, and the soup is ready!
For the optional "fish" flavor: Place the seaweed in an empty tea bag (or tea ball) and simmer with the coconut milk, vegetable broth, and red curry paste for a good 10 minutes. Once the soup is done, just remove the tea bag! By using a tea bag, you don't have to strain the soup, less mess.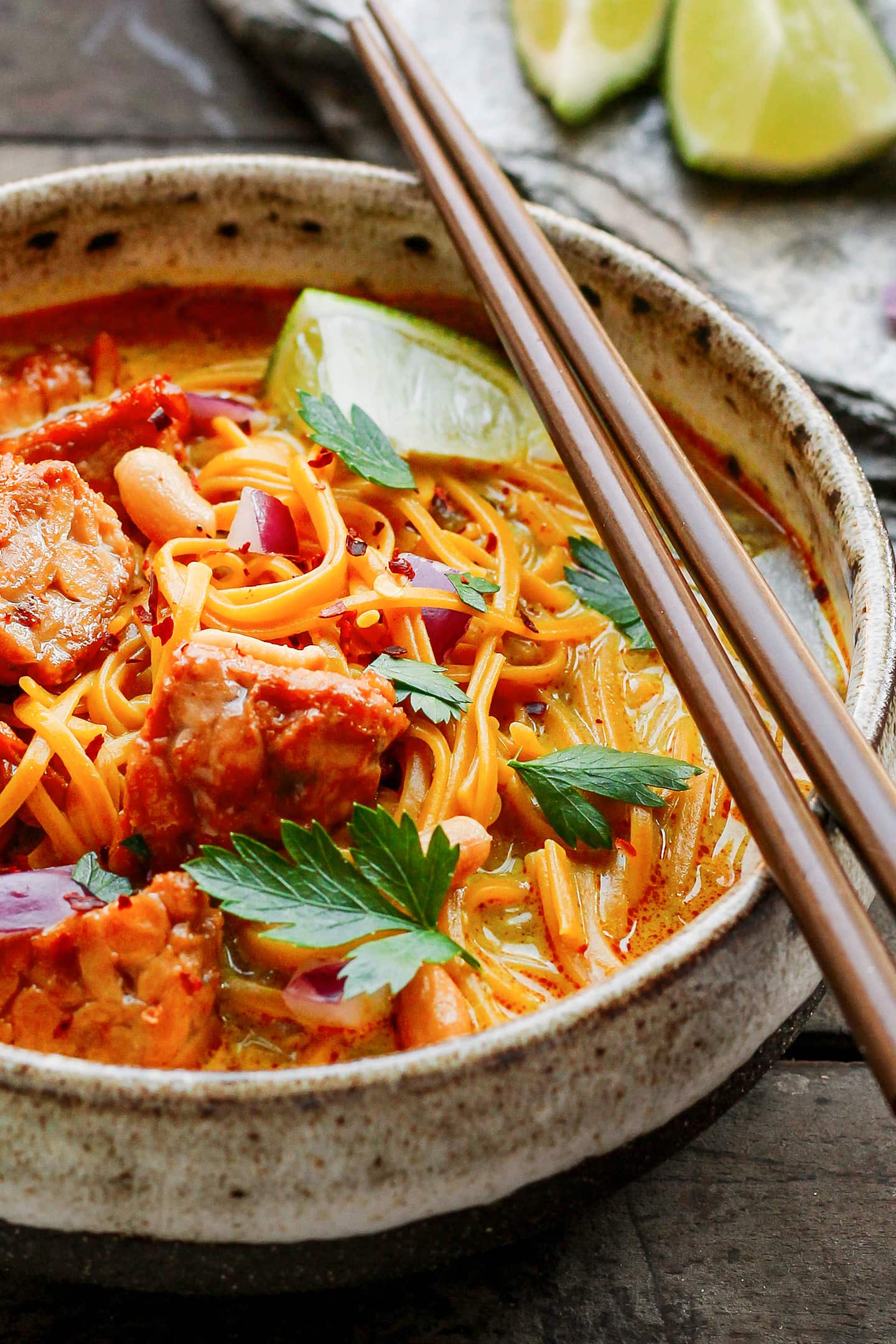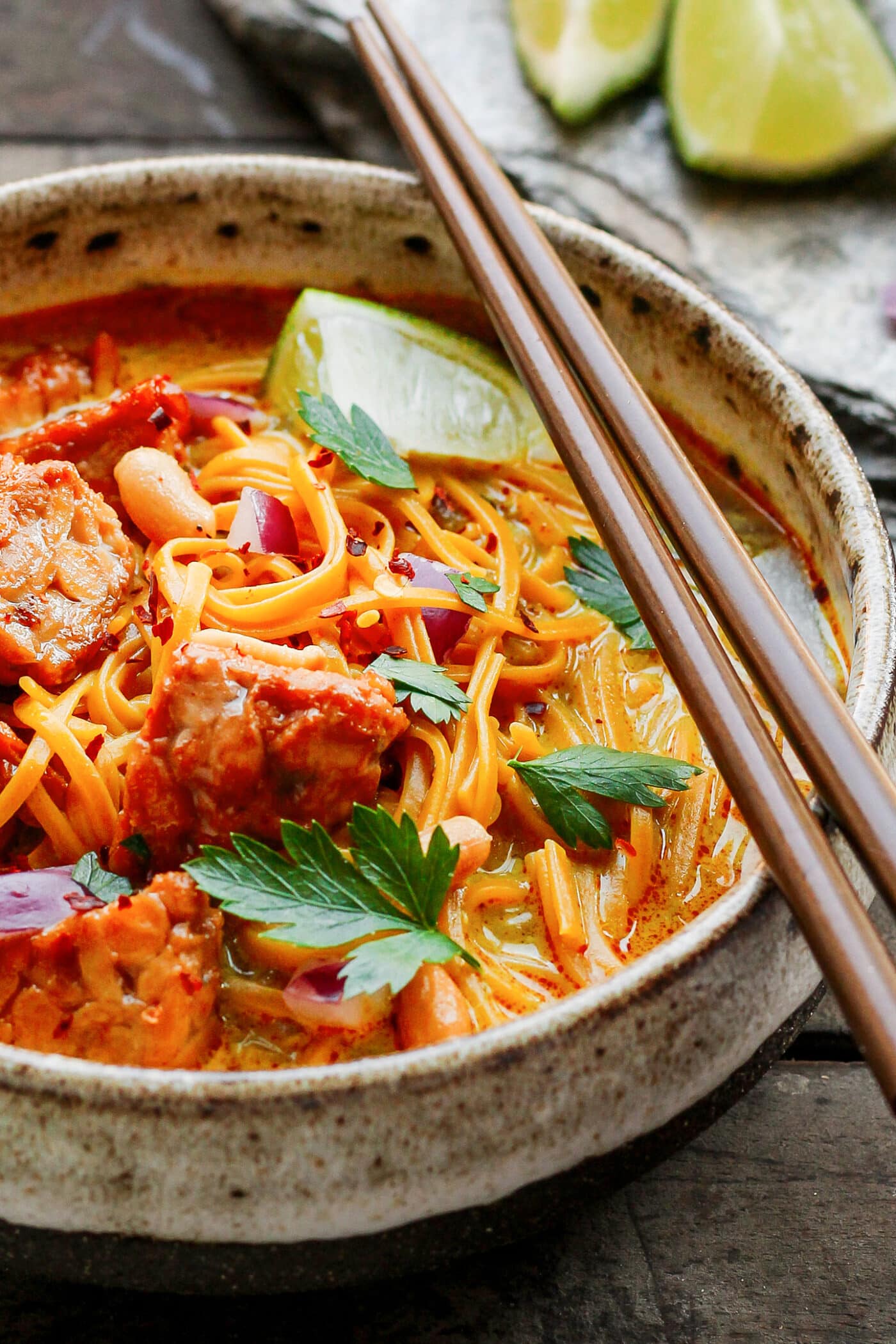 Toppings
Tempeh – It adds protein as well as texture. The marinade is a combination of soy sauce, maple syrup, sesame oil, cashew butter, and ground cumin. Feel free to add your favorite spices in there. I'm thinking coriander, cardamom, or even smoked paprika for a hint of smokiness!
Noodles – Here, I went with rice noodles, but you can use wheat noodles if that's what you have on hand. Long and flat noodles are best for this recipe.
Red onion
Roasted Peanuts – For some crunch!
Lime juice – It adds freshness and just a hint of sourness.
Fresh cilantro – Again, for extra freshness!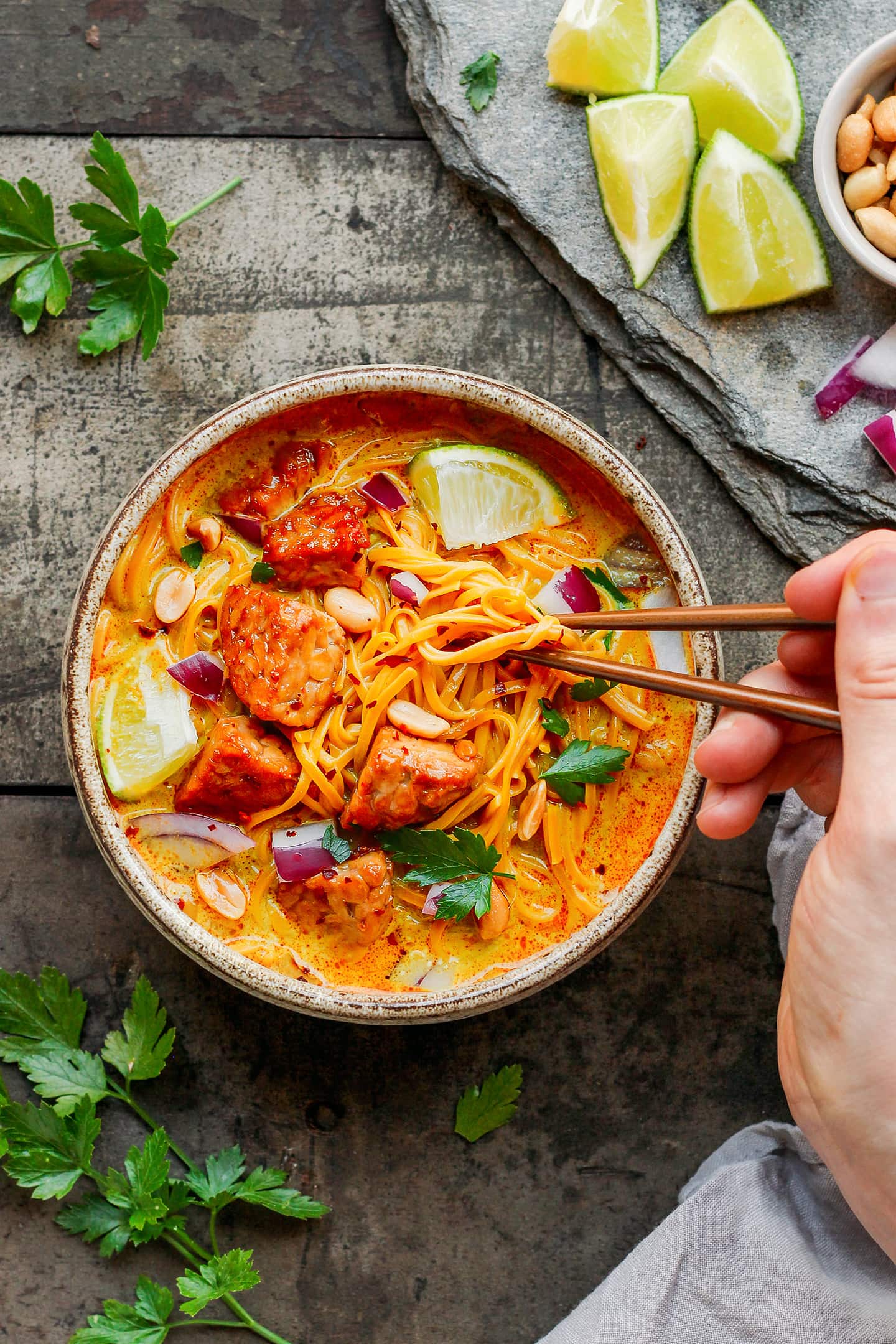 💬 FAQ
Can I substitute the tempeh?
Yes, you can use tofu instead!
Is Khao Soi very spicy?
I would say it is mildly spicy; it doesn't burn, but you can definitely taste the spiciness.
Is Khao Soi high-calorie?
It's not a light meal for sure, mostly because of the full-fat coconut milk. If you want to make a lighter version, use half coconut milk, half water, or simply use light coconut milk.
What is the best way to keep Khao Soi?
Keep the soup and noodles separate. I would even recommend cooking only the amount of noodles you plan to serve the same day.
How long does this Tempeh Khao Soi keep?
It will keep for up to 4 days in the refrigerator.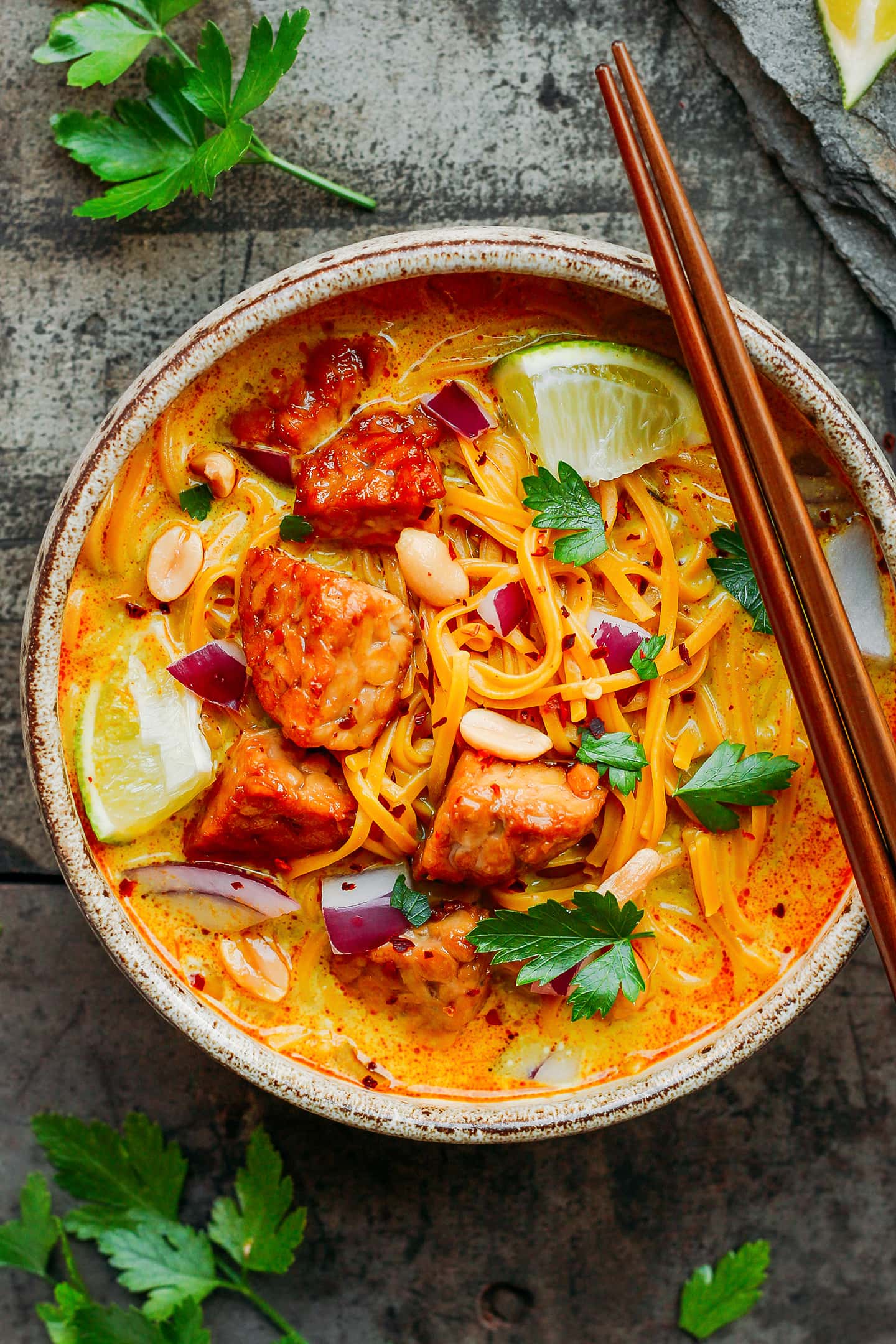 If you are looking for rich and aromatic noodle soup, you will love this vegan Khao Soi recipe! While this dish is a bit higher in fat than usual, it's so delicious you definitely won't feel guilty about it!
🇹🇭 More Thai-Inspired Vegan Recipes
⭐️ Did you like this recipe? Let us know in the comments below, and tag us on Facebook, Instagram, or Pinterest!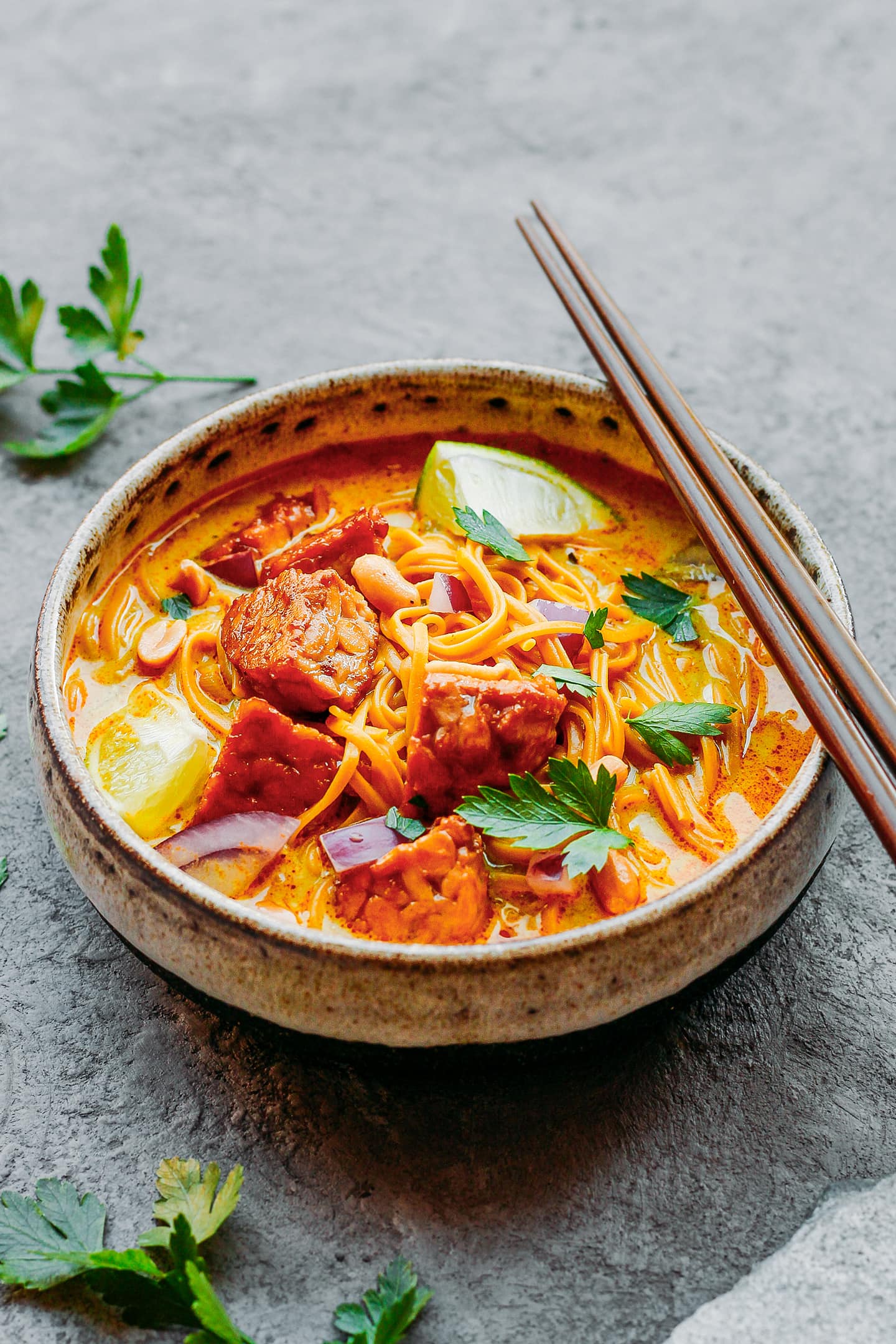 Recipe
Tempeh Khao Soi
Creamy Thai coconut curry soup with marinated tempeh, rice noodles, and peanuts. A flavorful and healthy take on the traditional Khao Soi!
Ingredients
Tempeh
7

ounces

tempeh

1

tsp

cashew

or almond butter

2

tbsp

soy sauce

1

tbsp

maple syrup

1

tsp

sesame oil

1/4

tsp

cumin
Khao Soi Soup
1

shallot

minced

1

clove

of garlic

minced

1

inch

ginger

grated

1 and 1/2

tbsp

red curry paste

1

13.5-ounce can

full-fat coconut milk

or light coconut milk for a lower calorie option

2

cups

vegetable broth

1

tbsp

soy sauce

2

tbsp

coconut sugar

1/4

tsp

turmeric

1

whole dried shiitake

2

tsp

seaweed

2

tbsp

lime juice

6

ounces

rice noodles

or wheat noodles if not gluten-free

optional toppings: peanuts, lime, fresh cilantro, sliced red onion
Instructions
Tempeh
Start by cutting the tempeh into bite-size cubes or triangles.

In a large bowl, prepare the marinade by combining the cashew butter, soy sauce, maple syrup, sesame oil, and cumin. If the marinade is too thick, add 1-2 tbsp water.

Add the diced tempeh to the marinade bowl and stir to coat. Let marinade for at least 30 minutes, or overnight.
Khao Soi Soup
Heat a tablespoon of oil in a large saucepan. Add shallot, garlic, and ginger and cook until soft, about 5 minutes. Stir in the red curry paste and cook for another minute, stirring regularly to make sure it doesn't stick to the bottom.

Add the coconut milk, vegetable broth, soy sauce, coconut sugar, turmeric, and dried shiitake. Place the seaweed in an empty tea bag or tea ball, this way it will be easier to remove later. Add it to the saucepan.

Bring to a light boil and let simmer for 12-15 minutes. Remove from heat, discard the seaweed tea bag, and shiitake. Stir in the lime juice. Taste and adjust the seasonings if needed. Cover and set aside while you cook the tempeh and noodles.

Tempeh: heat a tablespoon of oil in a skillet over medium heat. Once hot, add the tempeh and cook until it starts to brown, stirring regularly. Deglaze the skillet with the remaining marinade, and remove from heat.

Noodles: Bring a large pot of water to a boil and cook the noodles according to the package instructions. Drain.

To serve: Divide the noodles between serving bowls, pour 3/4 cup of the coconut soup, and top with tempeh, fresh cilantro, peanuts, and a drizzle of lime juice.

Khao soi will keep for up to 4 days in the refrigerator.
Notes
If you have leftovers: do not combine the noodles and soup in the same container/bowl, the noodles would become too soft and will break. Keep the two separated. To reheat: Bring a large pot of water to a boil, remove from heat, and add the cooked pasta, let sit for 2-3 minutes just to warm and drain. In the meantime, reheat the soup in a saucepan over medium heat.
Nutrition information is calculated with full-fat coconut milk, it is slightly higher in calories but more creamy.
If you want to make it fancier, you can also fry some of the noodles in a medium saucepan filled with oil for 1-2 minutes until crisp. Then use the fried noodles as a topping.
Nutrition
Serving:
1
serving
|
Calories:
357
kcal
|
Carbohydrates:
23.8
g
|
Protein:
10.4
g
|
Fat:
26.4
g
|
Fiber:
0.5
g
|
Sugar:
6
g
Did you make this recipe?
Tag @fullofplants on Instagram and hashtag it #fullofplants