Learn how to make tempeh at home with just 3 ingredients! Homemade tempeh is easy to make and tastes so much better than the store-bought. Follow this step-by-step recipe to make tempeh in the Instant Pot!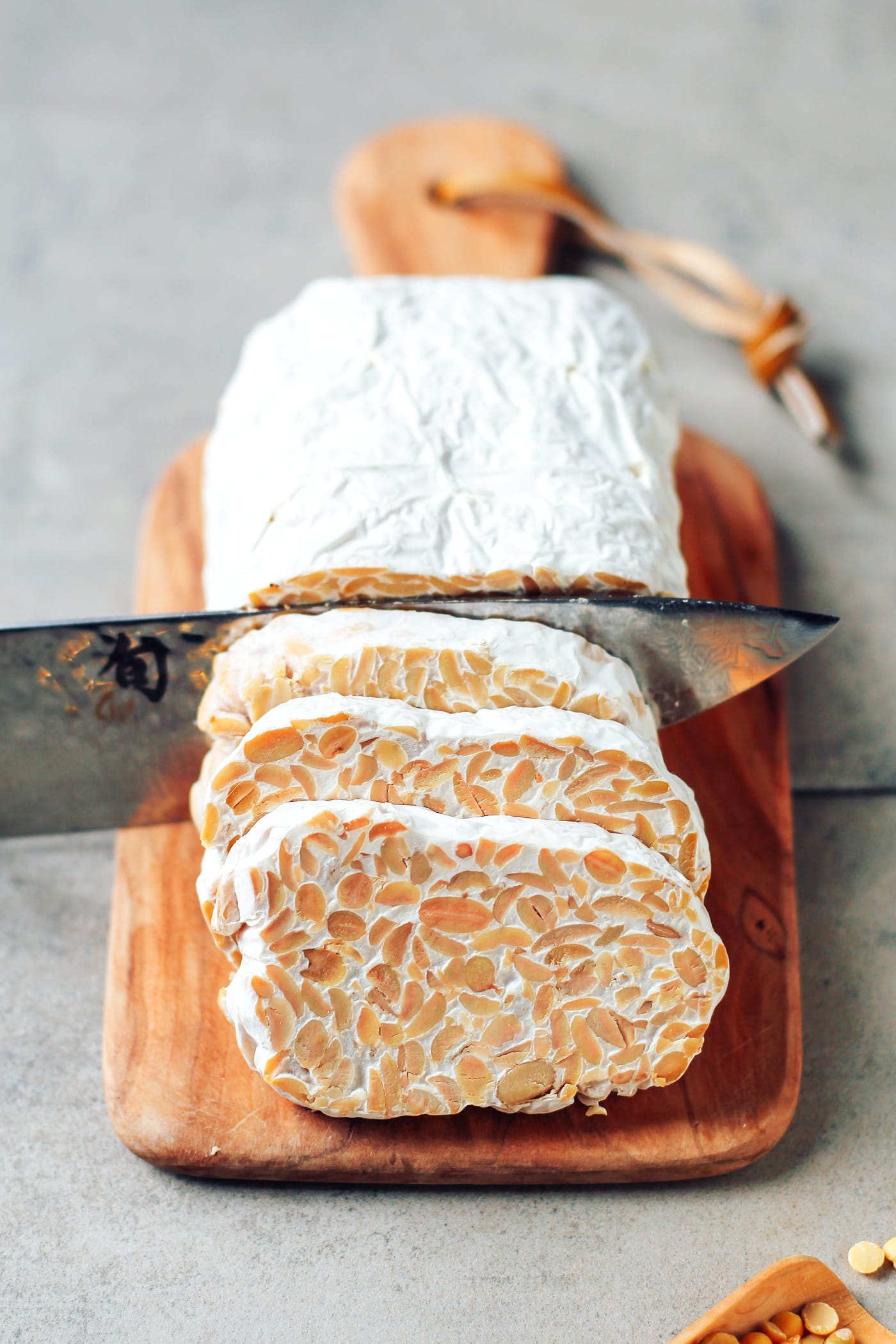 📘 What is Tempeh
Tempeh is an Indonesian food prepared from fermented soybeans. As opposed to tofu, tempeh is prepared from whole soybeans that are bound together by a white mold growing between each bean.
Tempeh is high in protein, healthy, and versatile!
⭐️ Why Make You Should Make Your Own Tempeh
If you have never made your own tempeh, you should definitely try! It's not as complicated as it seems and requires very little active time. Plus, it tastes so much better than store-bought (no bitterness or aftertaste)! It's also budget-friendly and makes a fun experiment!
Instant Pot Benefits
Making tempeh in the Instant Pot is not only easier, but it's also quicker. Obviously, it still requires several hours to incubate, but the pressure cooker simplifies the whole process.
So, what are the advantages of making tempeh in the Instant Pot?
You don't have to soak the beans! Just rinse and pressure cook.
Beans cook a lot faster and require less attention. This is the main advantage to me, I used to cook beans on the stovetop, and it took over 1 hour and constant attention, checking from time to time to see if there was still enough water or if the beans were not overcooked.
No oven is required for the incubation step. Yes, you read right! Thanks to the yogurt mode of the Instant Pot, the tempeh is at the perfect temperature, meaning the mold develops well. I used to incubate tempeh in my oven, meaning I couldn't use it for 48H. Not good when you have a cookie craving…Problem solved with the Instant Pot!
Ready to make your own tempeh? Let's do it!
🥣 How to Make Tempeh
You will only need 3 ingredients:
Soybeans – Preferably non-GMO soybeans. I personally went with peeled split soybeans here.
Tempeh starter – It is sold as a powder, and a little goes a long way! Tempeh starter will keep in the fridge for years. You can order tempeh starter online.
White vinegar – Regular white vinegar or rice vinegar either will work.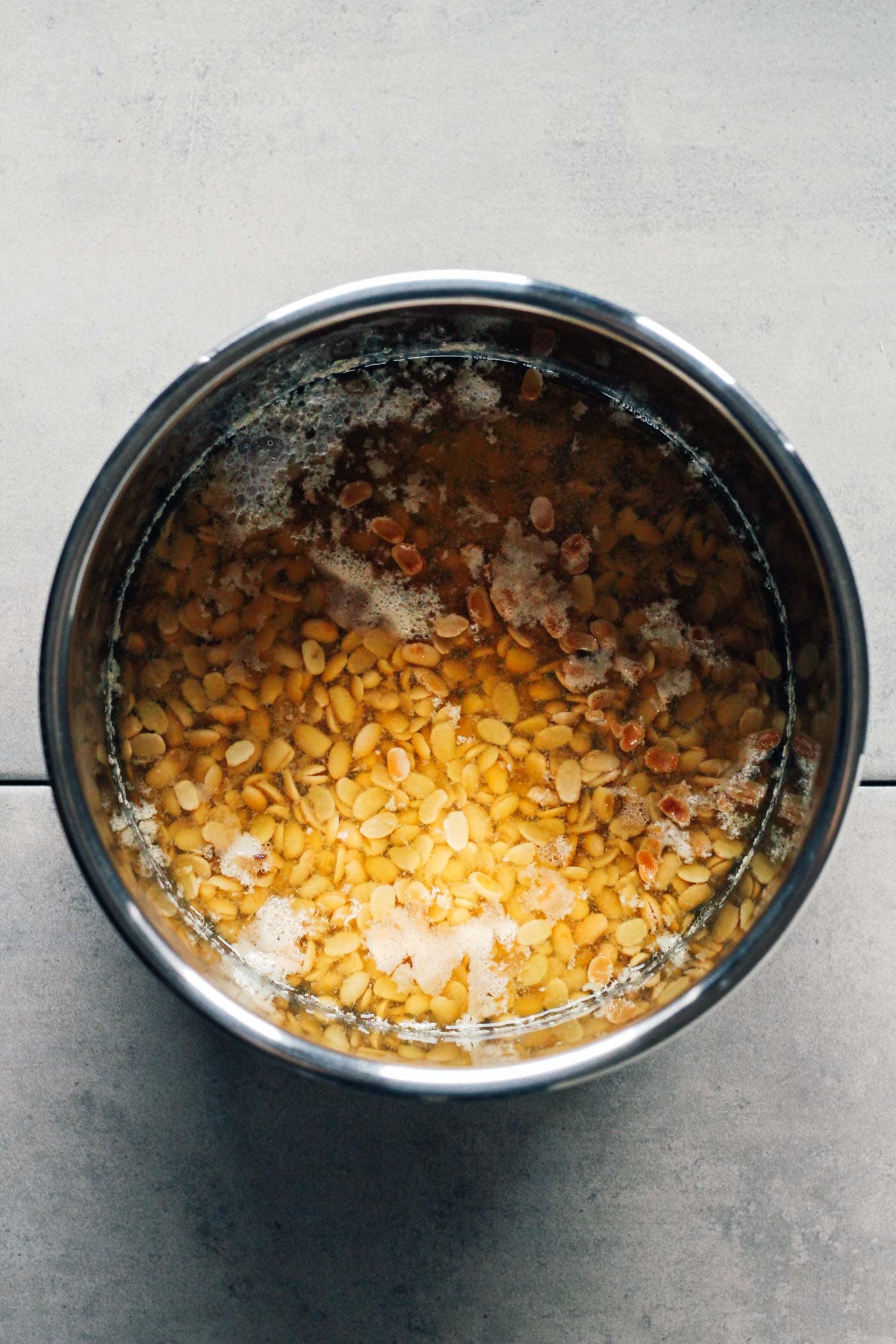 1. Cooking the Soybeans
Start by pressure-cooking the soybeans for 40 minutes. No soaking is needed. Just rinse the beans, cover them with water, and pressure cook in the Instant Pot.
To speed up the process even more, I used peeled split soybeans. They don't only cook faster, but they also do not require peeling, which is usually the most time-consuming step when making tempeh from whole soybeans. If you can't find split and peeled soybeans, there is an extra step you will have to do. Check out the recipe notes.
Once your soybeans are cooked and soft, the next step is to pat them dry. This step is essential as the mold won't grow well if there is too much moisture. I usually spread the beans on a clean kitchen towel and let it sit for 15-20 minutes. Then top with another kitchen towel and press slightly to absorb excess moisture.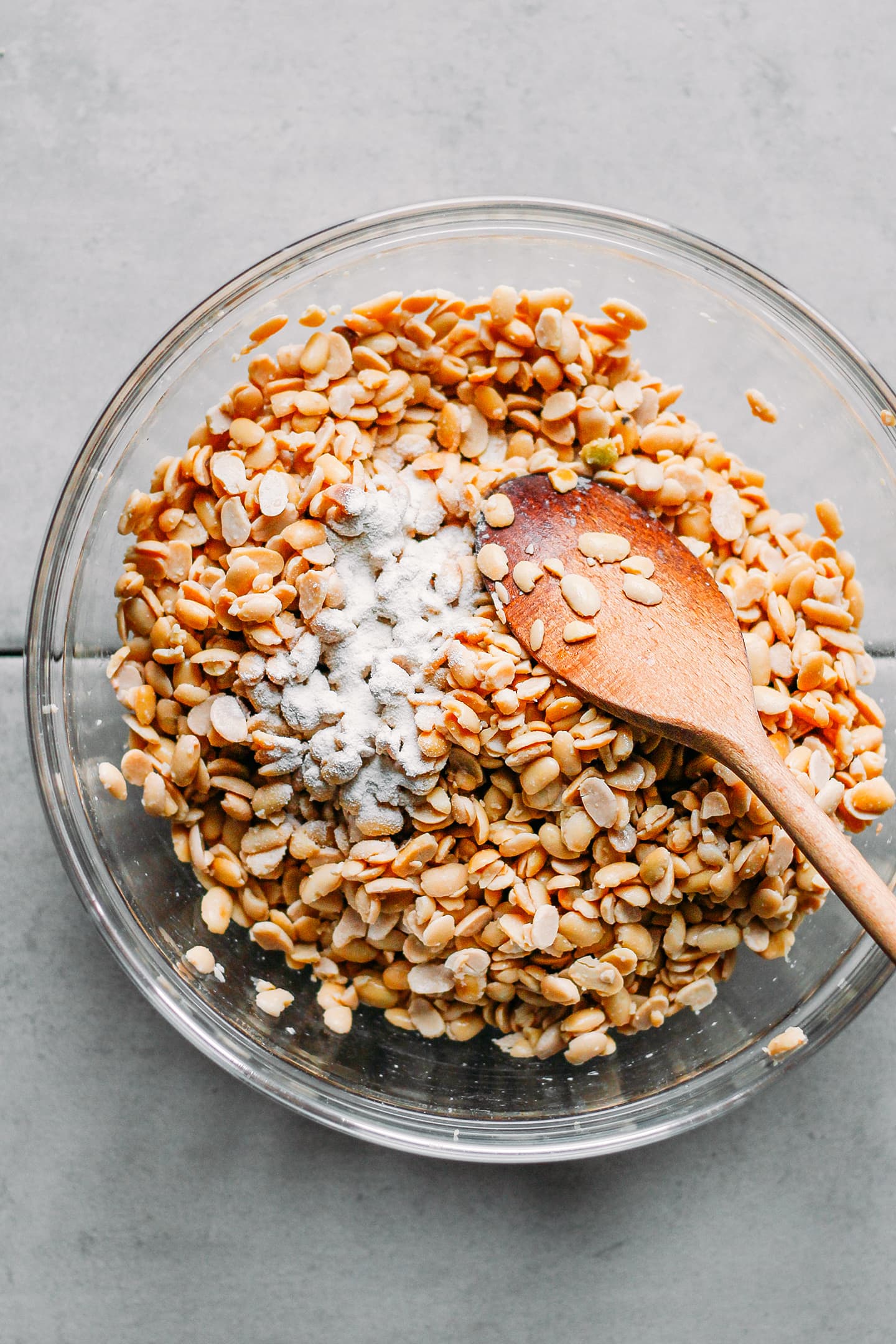 Next, stir in a tablespoon of white vinegar. The vinegar will lower the PH and prevent bad mold from growing. Sprinkle the tempeh starter and mix well to coat the soybeans before transferring them to freezer bags.
Tip: Make sure to pack the soybeans well in the freezer bags, you don't want too much space between each soybean.
2. Incubating
To incubate, we will use the Instant Pot's yogurt mode! Pour 1 cup of water into the liner, add the steamer rack, and place the soybean bags on the steamer so they don't touch the water.
Set the Instant Pot on yogurt mode and let it do its magic! After 16 hours, you can turn it off and let it incubate for another 24 hours. You don't need the Instant Pot to generate heat anymore, as the mold will start to generate its own. It's actually funny how the tempeh is still warm after 24 hours!
You will start to see white mold growing after about 18-20 hours (2 hours after you turn off the yogurt mode), and it will fully cover the beans after about 40 hours.
Finally, when your tempeh loaves are firm and completely white, transfer to the refrigerator and use them as you wish!
This recipe yields two tempeh loaves of about 13 ounces. If you like tempeh as much as I do, it won't last long. Otherwise, it freezes very well and will keep for months in the freezer. For those of you who eat soy-free, check out my chickpea tempeh recipe. The base is basically the same.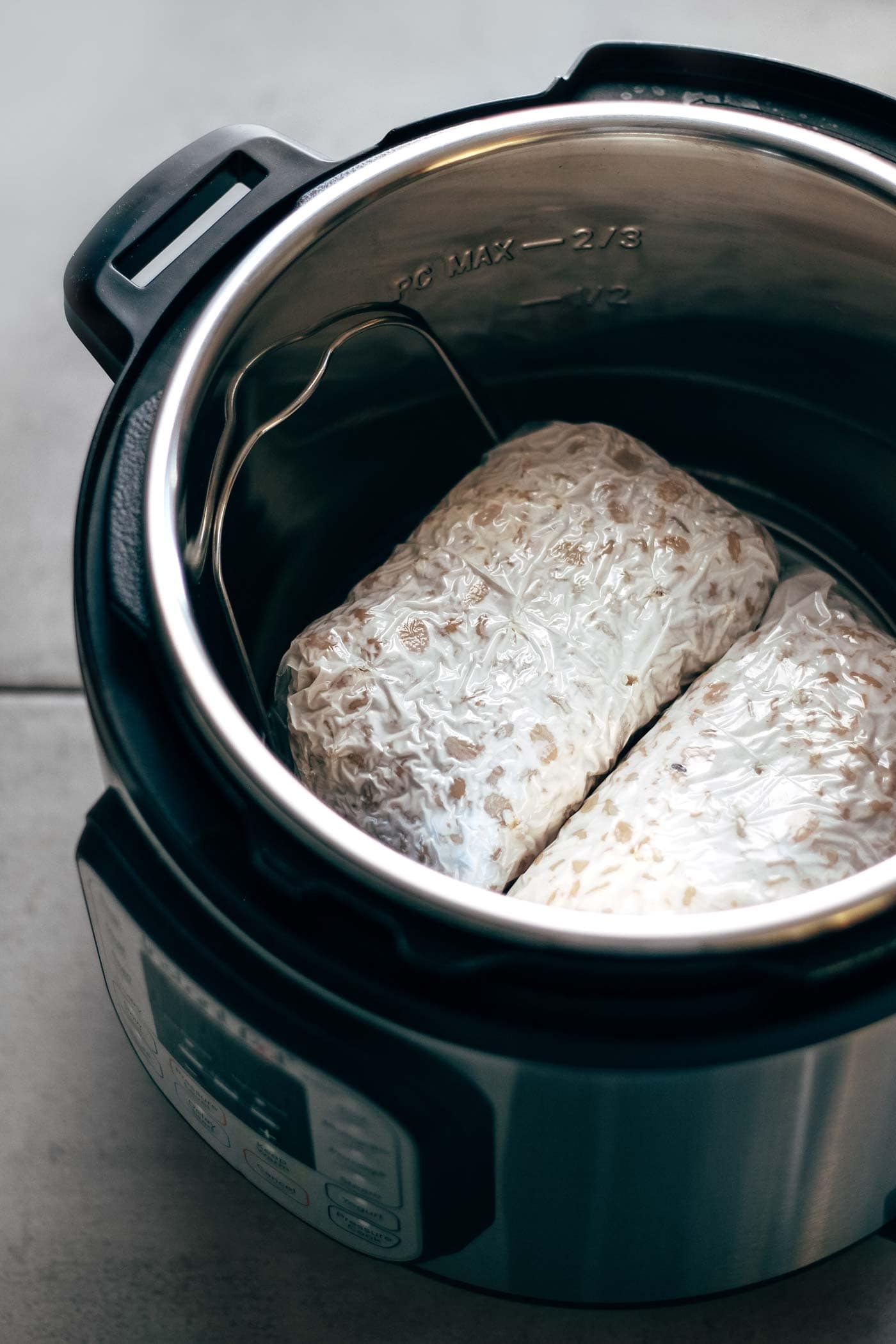 🌯 Where to Use Tempeh
Tempeh is super versatile and can be used:
Sautéed: You can marinate diced or sliced tempeh in your favorite marinade and then sauté in a skillet until golden brown. Then, it can be added to vegetable stir-fries, noodles, or soups like this Tempeh Khao Soi. It's also delicious in sandwiches or in wraps like these Thai Tempeh Buckwheat Wraps!
Fried: Tempeh can be deep-fried for a crispy texture.
Grilled: Tempeh is also perfect for grilling! It holds up well on the grill and can be charred. These Sesame & Peanut Tempeh Skewers are one of my favorites!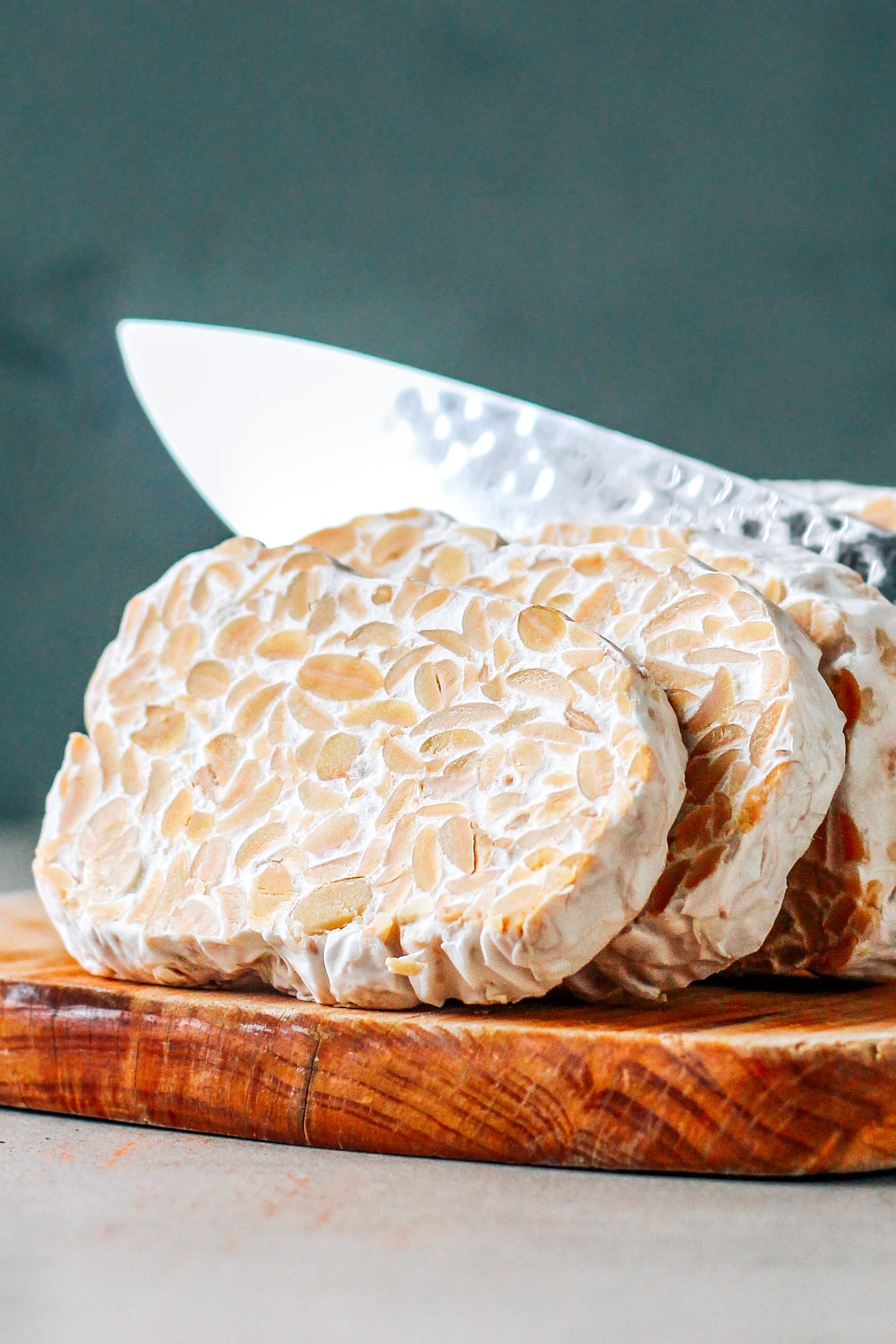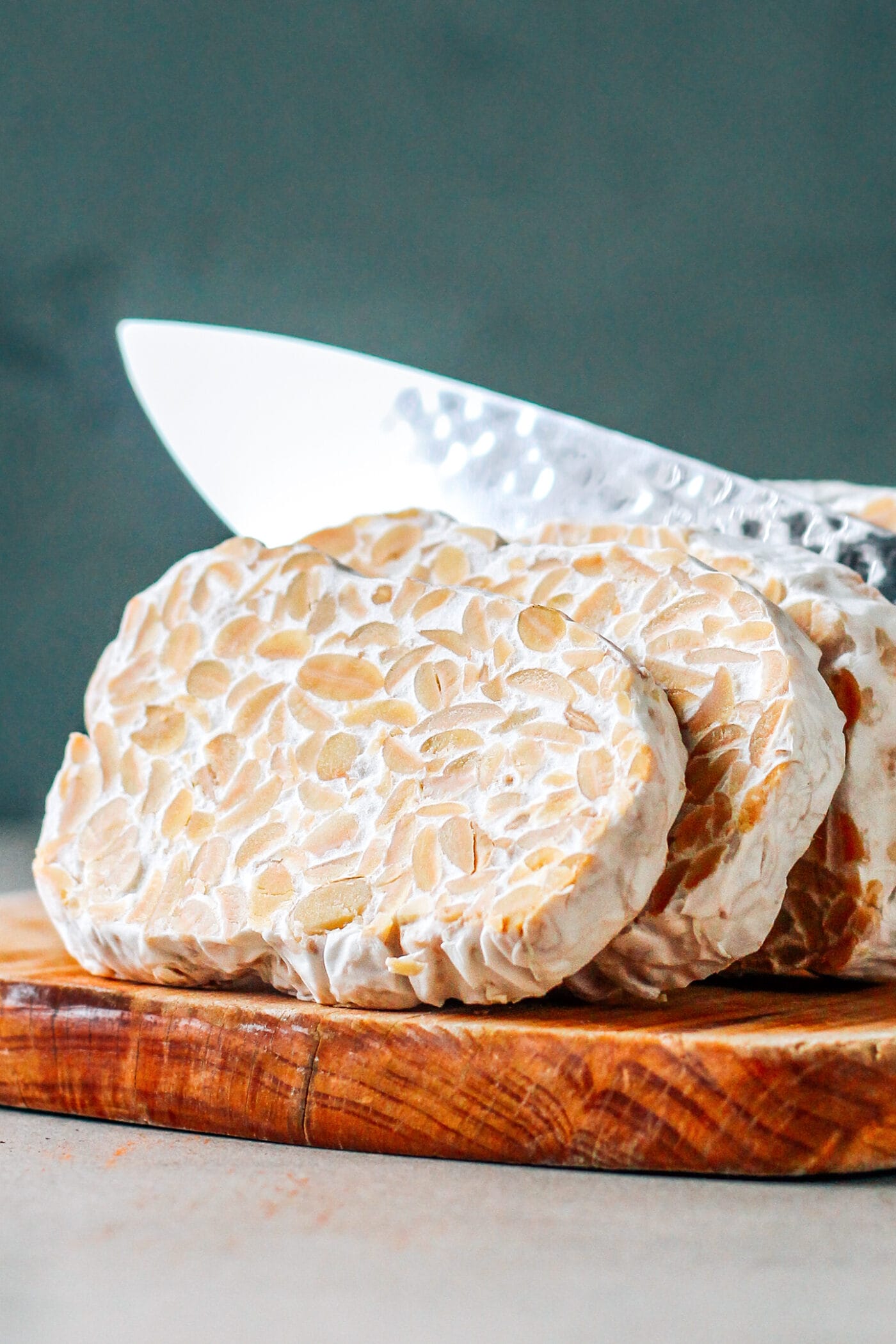 💬 FAQ
Can I make this recipe without an Instant Pot?
Yes, you can cook the soybeans in a regular pressure cooker and incubate the tempeh in a warm place, like an oven, with the light on.
Which temperature works best for incubating the tempeh?
85°F (30°C) is the recommended temperature for good mold growth.
Can I make tempeh with other beans?
Yes, you can use black beans, chickpeas, lentils, and more!
My tempeh still has no white mold after 24 hours. Is this normal?
Yes, you need to be patient. It can take up to 72 hours before the tempeh is ready.
📔 More Tempeh Recipes
Let me know in the comments if you try this recipe!
Note: This post is not sponsored, I just really enjoy cooking with the Instant Pot. This post contains affiliate links though. I earn a small commission if you order through one of these links. It helps support this blog and keeps the recipes coming.
Recipe
How to Make Tempeh in the Instant Pot
Easily make your own tempeh in an Instant Pot! No other equipment is required. It's cheaper and tastes a lot better than store-bought tempeh!
Equipment
Instructions
Rinse the soybeans under cold water. Transfer to the Instant Pot liner. Cover with the water and close the lid. Set the valve to "Sealing."

Pressure cook for 40 minutes and let the pressure release naturally (about 25 minutes). Once there is no more pressure, open the Instant Pot and drain the cooked soybeans.

Transfer the cooked soybeans to a clean kitchen towel and let dry for 20 minutes. The soybeans should not be wet. If they still appear too wet, top them with another clean kitchen towel and press a bit to absorb excess water.

Transfer the soybeans to a large mixing bowl. Add the rice vinegar and stir using a wooden spoon. Sprinkle the tempeh starter and stir again until well combined.

Take two freezer bags and pierce them using a fork or a chopstick at 1-inch intervals. Divide the soybeans into the freezer bags and pack them well. Then fold the rest of the bag over the soybeans to keep it tight.

Wash the Instant Pot liner. Place 1 cup of water in the bottom and top with the steam rack. Place the two tempeh loaves on the steamer. Cover with a glass lid (or use the Instant Pot lid if you don't have a large glass lid).

Press the Yogurt button 3 times to set it to "Less" mode. Set the timer for 16 hours.

After 16 hours, turn off the Instant Pot. You should start to see some white mold appearing. Remove the excess water from the lid using a paper towel. Place the lid back into place and let the tempeh incubate for another 24 hours.

After 24 hours, the tempeh should be fully covered with white mold and bind the soybeans together into a firm cake. You can now place it in the refrigerator and use as you wish!

Tempeh will keep for up to 2 weeks in the refrigerator or 6 months in the freezer.
Notes
If you can't find split and peeled soybeans: Soak the whole soybeans overnight. The next morning, rinse and place in a large bowl. Cover with water. Using your hands, massage the beans to remove the hulls. Hulls will float on top, remove them using a colander and discard them. Then you can cook the soybeans and follow the recipe.
Nutrition
Serving:
100
g (3.5 ounces)
|
Calories:
192
kcal
|
Carbohydrates:
14
g
|
Protein:
21
g
|
Fat:
5.2
g
|
Fiber:
7
g
Did you make this recipe?
Tag @fullofplants on Instagram and hashtag it #fullofplants