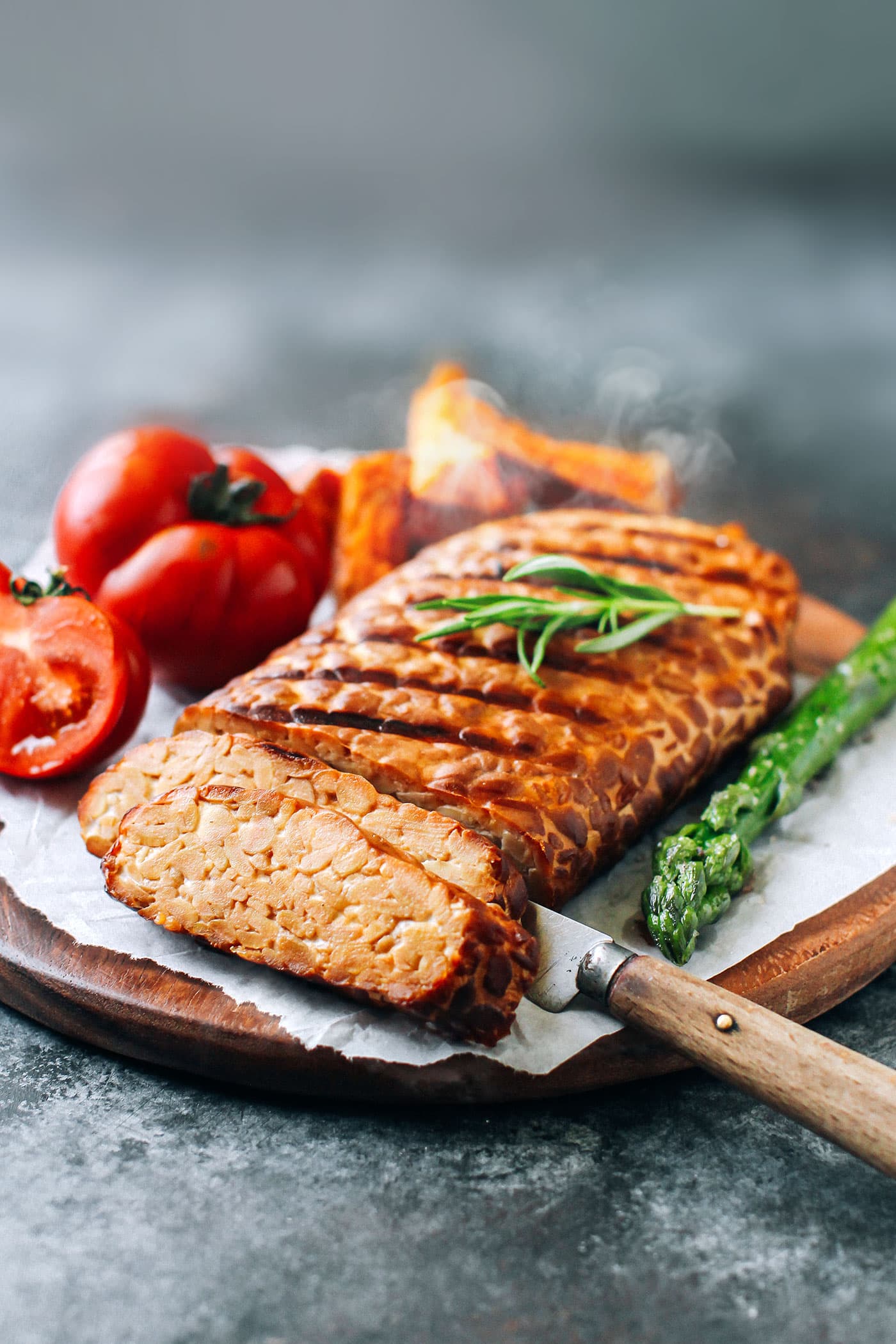 Welcome to the vegan smokehouse! Introducing Smoked & Grilled Tempeh!
I received many emails from you guys asking for more ways to use a stovetop smoker. While I have an article with 10 foods you can smoke, one of the questions I got the most was how to smoke tempeh. Since we are approaching grilling season, I thought it would be great to combine smoking with grilling.
So here is a quick guide on how to smoke + grill tempeh from scratch. Say goodbye to tasteless tempeh and hello to this INSANELY good smoky tempeh!
Before starting, you will need two specific tools for this recipe: a stovetop smoker and a grill pan. For the stovetop smoker, I highly recommend this smoker from Camerons. It is high-quality, easy to use, and works perfectly each and every time. The one I have is the Gourmet Mini, which is the perfect size to smoke cheese, veggies, and tempeh! I have been using it for years, and it still works like a charm.
For the grill pan, feel free to use your favorite one or an outdoor grill. I would recommend using a cast iron one though, as it usually works better than aluminum.
The flavor of this tempeh comes from three different steps:
Marinade: We start by marinading the tempeh in soy sauce, maple syrup, and toasted sesame oil. The marinade will not only add flavor, but it will also help the tempeh caramelize on the grill.
Smoke: Once the tempeh has marinaded for at least 10 hours (24 hours is even better), we smoke it for about 20 minutes in a stovetop smoker over low heat. It will get a golden brown color and an incredible smoky flavor. Hickory or oak wood chips work best here.
Grill: Finally, we cook it on the grill until charred. You want to get dark grill marks as these will add even more flavor and a rustic look.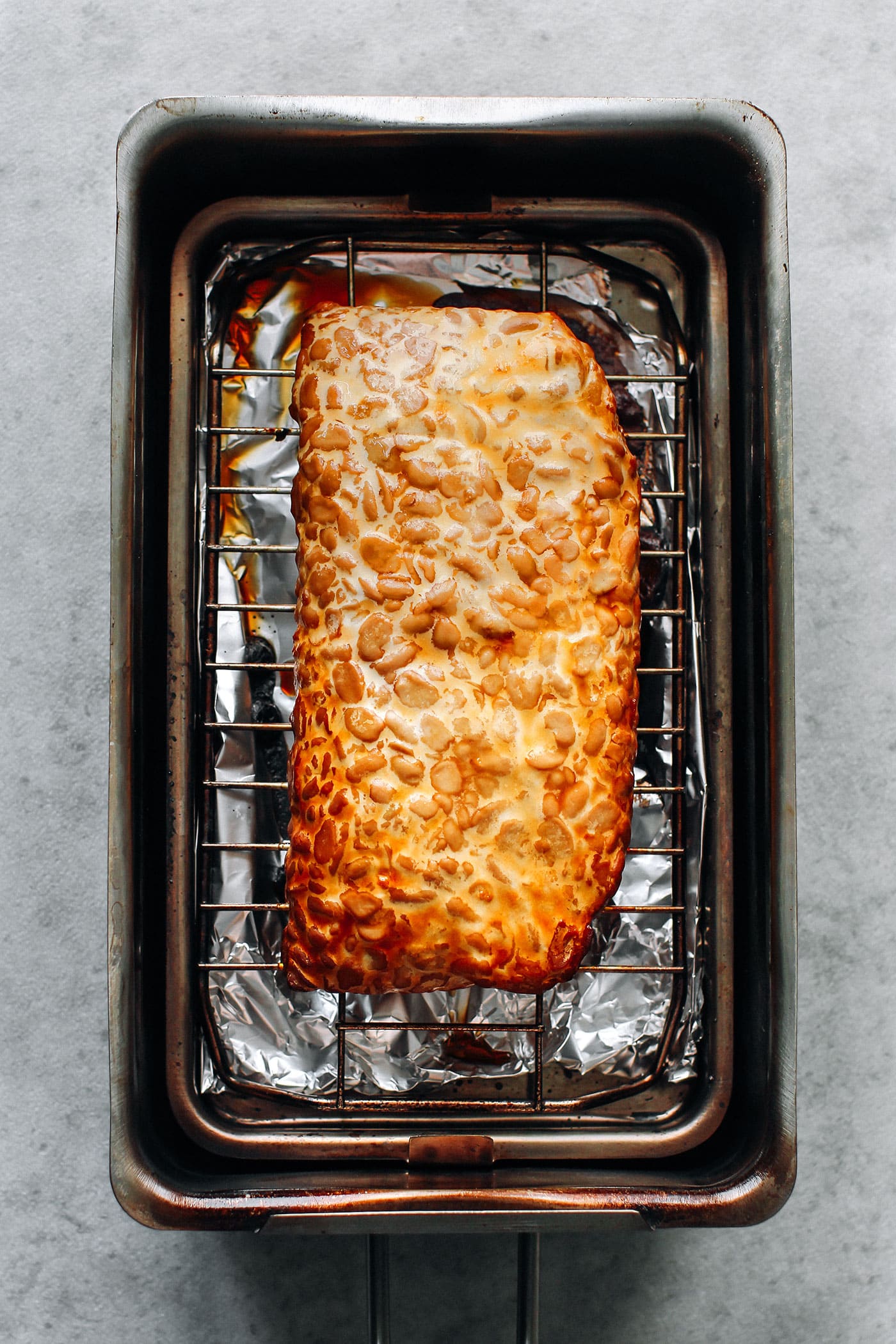 Once the tempeh is grilled on both sides, remove from heat and brush it with the remaining marinade for extra flavor. And boom! Smoky tempeh that tastes like bacon!
Honestly, this smoked and grilled tempeh is delicious served with rice and greens on the side, but if you want to get fancy, I have no doubt it would do wonders in grilled cheese sandwiches or served over mac and cheese. If you are into meal prep, this will be perfect as it's loaded with protein and keeps very well in the refrigerator.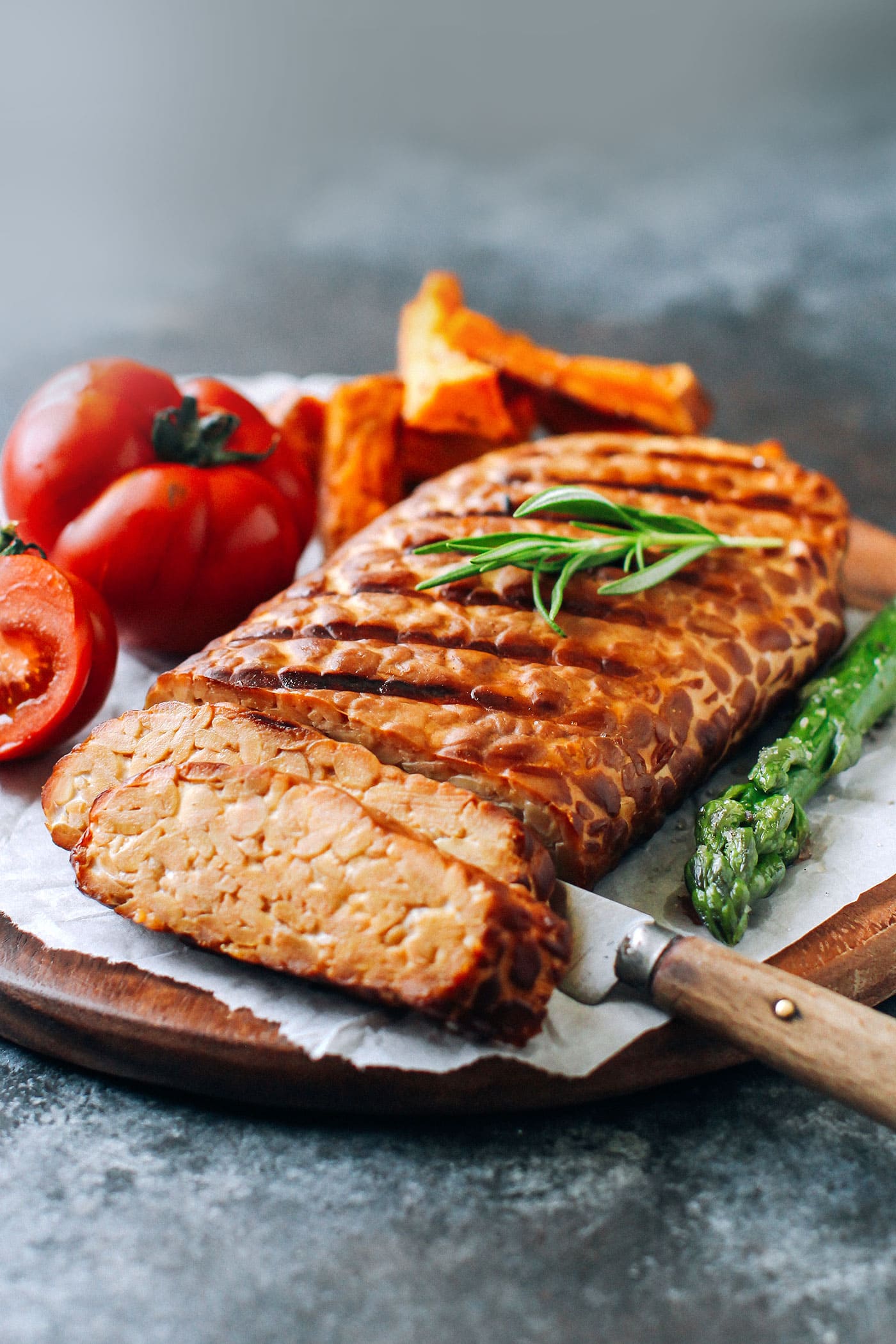 I hope you enjoyed this quick guide, and if you are feeling like it, you could even make your own tempeh by following my guide on how to make tempeh in the Instant Pot (If you don't have an Instant Pot, then use the instructions from this recipe). Now you can brag you made everything from scratch! The one you see here was actually homemade.
Let me know in the comments if you try this recipe!
Recipe
Smoked & Grilled Tempeh (Tempeh Bacon!)
Incredibly flavorful tempeh that tastes like bacon! Real smoked and then grilled to perfection!
Instructions
Marinate:

Combine the soy sauce, maple syrup, and toasted sesame oil in a small bowl. Place the tempeh in a ziplock freezer bag. Pour the marinade over the tempeh, seal the bag, and gently massage the tempeh to coat it with the marinade. Place the bag in a container or baking dish just in case some of the marinade escapes. Let the tempeh marinate in the refrigerator for at least 12 hours or overnight.

Smoke:

 Place one and a half tablespoons of hickory wood chips in the bottom of the stovetop smoker. Place the drip and cooking trays on top of the wood chips. I recommend covering the cooking tray with aluminum foil for easier cleaning. Place the marinated tempeh on the cooking rack. Don't discard the marinade. Set aside for later.

Heat the smoker over low-medium heat on a stovetop burner. Once the smoke starts to appear (usually after 10 seconds), close the lid of the smoker completely and smoke the tempeh for about 20 minutes. Some smoke will escape from the smoker. That's normal.

After 20 minutes, remove the smoker from the heat and let it cool for 20 minutes with the tempeh still inside. Then transfer to a plate. It is now ready to be grilled.

Grill:

 Heat a cast-iron grill pan over medium-high heat. Once hot, add about one tablespoon of oil and rotate the pan to coat it with oil. You can also use a pastry brush to spread the oil evenly.

Place the tempeh on the grill and cook for about 3 minutes, pressing with a spatula to make grill marks. Once it looks charred, flip the tempeh and cook the other side for another 3-5 minutes.

Remove from heat and brush with the remaining marinade on both sides.

Smoked tempeh can be served with rice, veggies, greens, etc, or used in sandwiches, salads, curries, stir-fries, or pasta. It will keep for up to 7 days in the refrigerator or 2 months in the freezer.
Notes
If you don't have a big loaf of tempeh feel free to use two smaller pieces. If you want to make your own tempeh, check out this recipe.
Nutrition
Serving:
0.25
of the tempeh (112g)
|
Calories:
222
kcal
|
Carbohydrates:
10.5
g
|
Protein:
20.5
g
|
Fat:
11.8
g
|
Fiber:
8
g
Did you make this recipe?
Tag @fullofplants on Instagram and hashtag it #fullofplants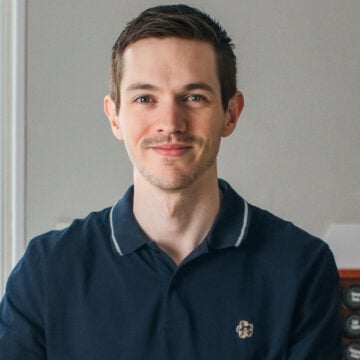 About the Author
Thomas Pagot is the founder, photographer, and recipe developer behind Full of Plants. He created the blog in 2016 as a personal cookbook for vegan recipes. Through years of recipe development, Thomas has successfully grown Full of Plants into a trusted resource for plant-based recipes.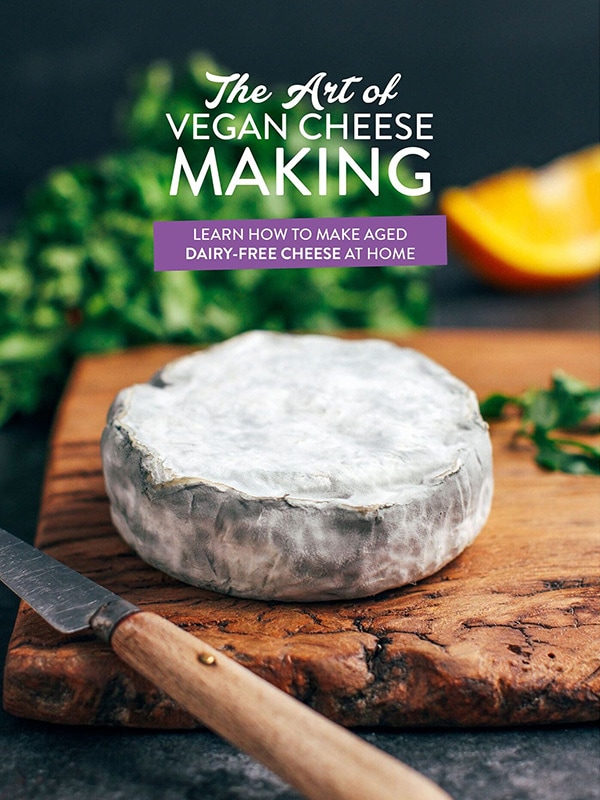 🧀 25 Mind-Blowing Vegan Cheese Recipes!
Sign up for the Full of Plants newsletter and you'll get new recipes delivered by email weekly, PLUS your FREE 100-page printable eBook!