Make your own chickpea tempeh from scratch with just 3 ingredients! This soy-free tempeh is high in protein and can be used in stir-fries, soups, sandwiches, and more!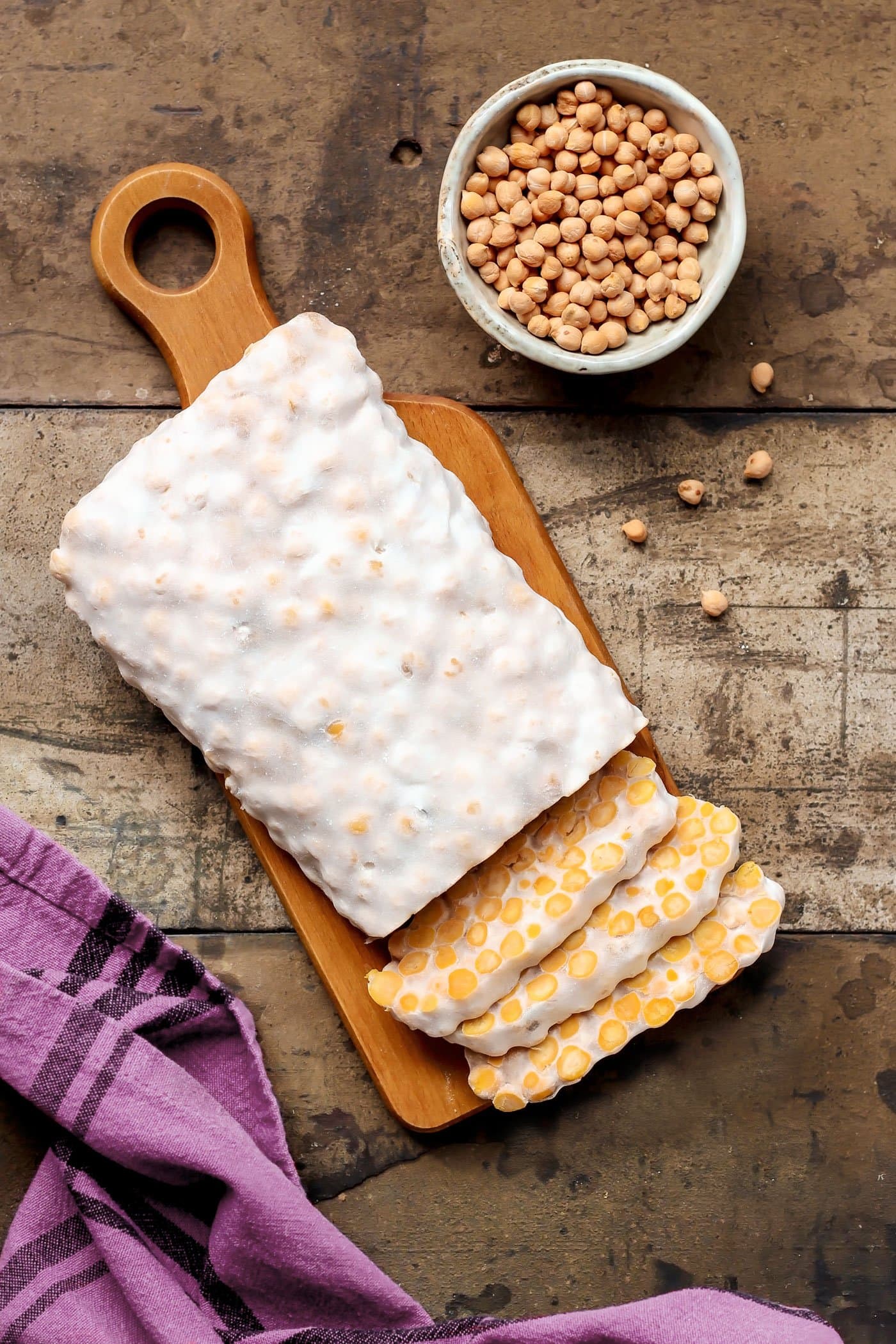 Do I have a thing for fermented foods? Probably.
I recently discovered chickpea tempeh and loved it even more than regular soy tempeh. It has a slightly different texture. It's a bit softer but has no bitter aftertaste at all like regular ones have! The thing is, it's not as widely available and, most of the time is more expensive. After a quick search on how to make basic tempeh, I tried to adapt it for chickpeas, and it worked!
Not only is it completely soy-free, but it is also delicious and a lot easier to make than you may think! Get ready for A LOT of step-by-step photos!
📘 What is Tempeh?
Let's start from the beginning. What is it exactly? Tempeh is a traditional Indonesian fermented food. It is made by cooking soybeans and fermenting them with a mold called Rhizopus Oryzae for 24-48H. Once the fermentation is done, all the soybeans are bound together into a compact cake by a white mold. It then becomes sliceable and ready to cook.
🥬 Health Benefits
Since tempeh is a fermented food, it is very rich in probiotics, which aid in digestion and improve overall health. Tempeh is also:
Rich in protein: Even if chickpeas have less protein than soybeans, they still contain 15g per cup, which makes them a great meat replacement.
High in fiber: In addition to being protein-packed, chickpeas are also rich in soluble fiber and increase satiety.
A whole food: tempeh is less processed than tofu since you consume whole beans. Tofu is made from soymilk, where the ground beans are discarded. So even if tofu is a healthy food, tempeh is often considered healthier and packs more nutrients.
🥣 How to Make Chickpea Tempeh
Making chickpea tempeh requires only 3 ingredients (and some patience):
Dry chickpeas
White vinegar
It all starts by soaking the chickpeas overnight. When I did my first tests, I went with large garbanzo beans, but due to their size, the white mold had trouble growing, especially on the inside, because of too much empty space between the chickpeas. It results in a tempeh that is not super compact and crumbles very easily. So I recommend using the smallest chickpeas you can find, or read the note at the end of the recipe if you plan to use garbanzo beans. I guess split chickpeas will work, too. Just reduce the cooking time.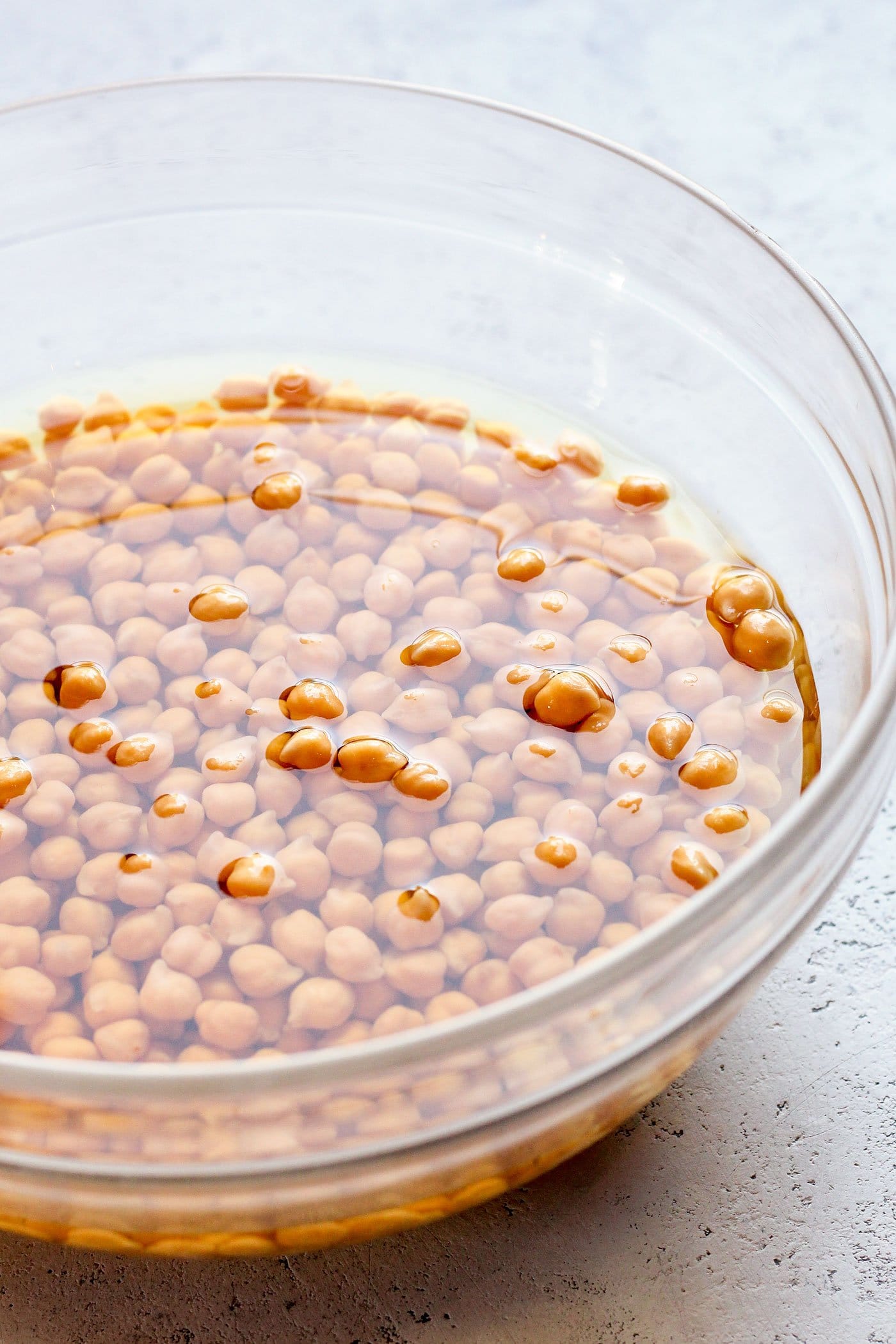 The next step is to drain and rinse the chickpeas, transfer them to a large pot, cover with water, and cook from 1 to 1H30, or until they are soft but still keep their shape well. You don't want undercooked or mushy chickpeas!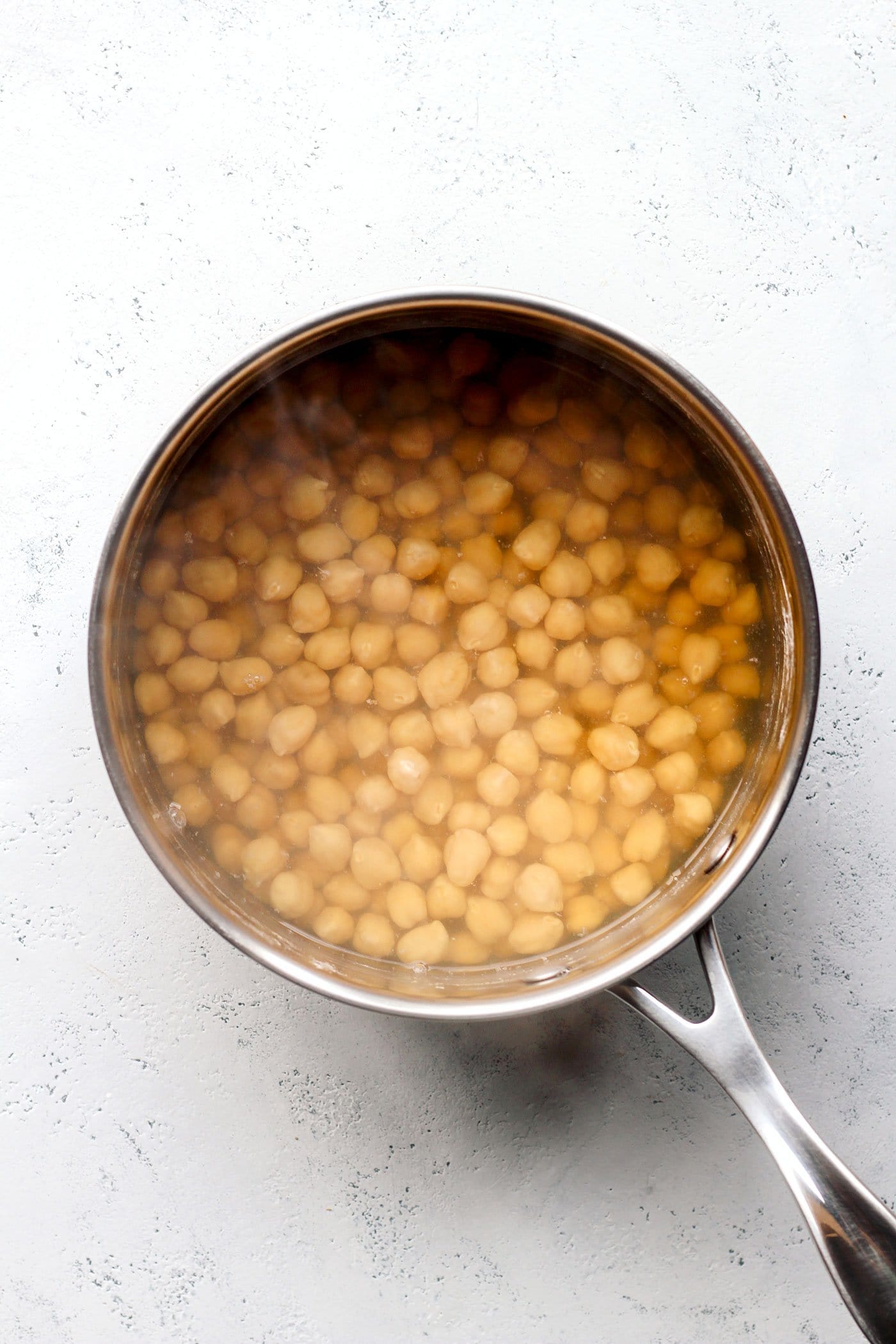 Once your chickpeas are perfectly cooked, you will have to let them drain for 30 minutes. For optimal growth of the mold, the chickpeas must not be too moist.
After 30 minutes, if they are still a bit moist, use a paper towel to absorb excess water. Transfer the cooked chickpeas to a large bowl, stir in the white vinegar, and mix until well distributed. The vinegar will help stop the development of possible bad molds or bacteria.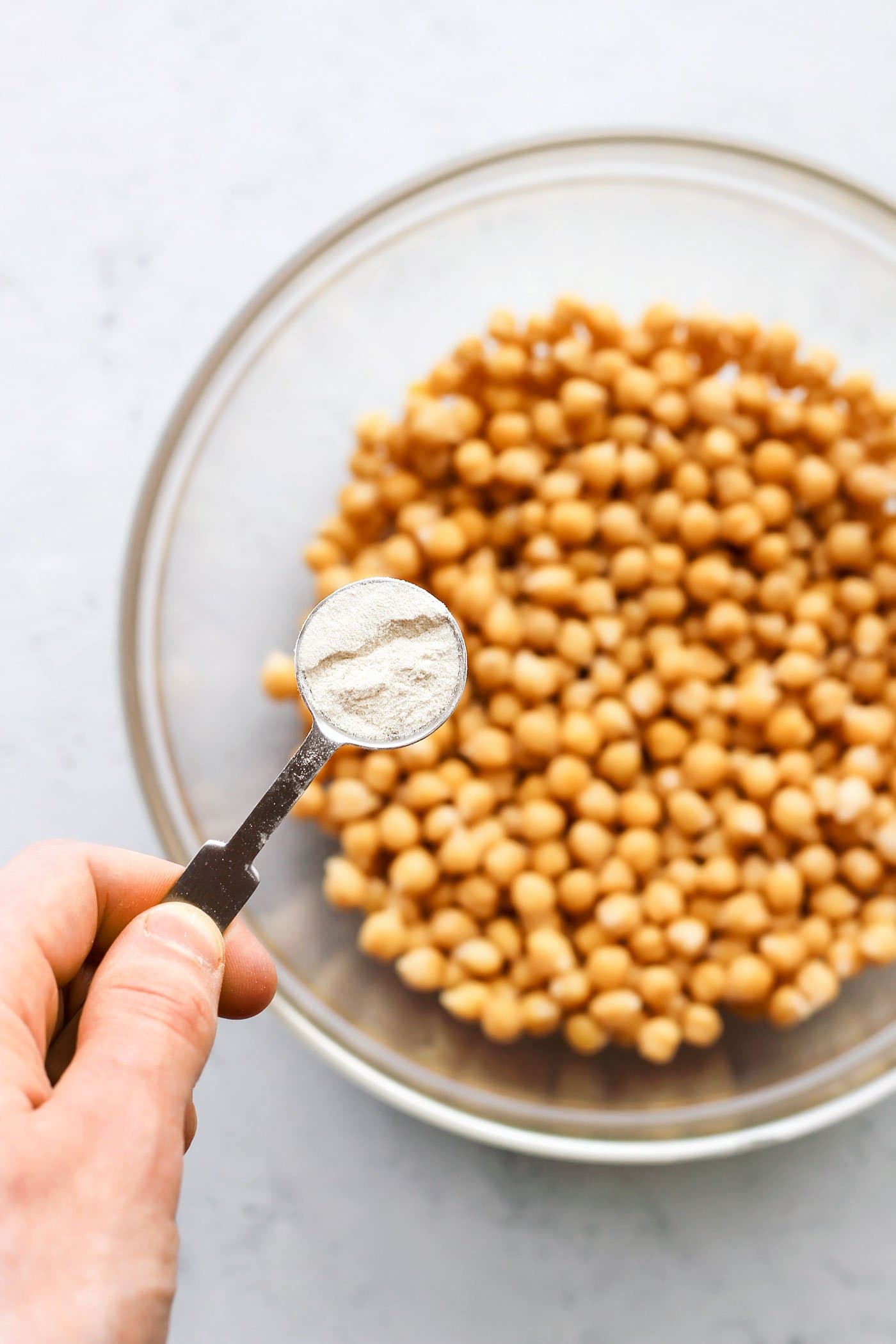 The last step is to stir in the tempeh starter and mix well to ensure it is uniformly distributed. Once this is done, you transfer them to a transparent plastic bag. I used a freezer bag, but any food-safe plastic bag would work. It's important to perforate the plastic bag with a skewer (or a chopstick) to allow for air circulation. Otherwise, the mold won't grow. Alternatively, you can use a perforated plastic container or Tupperware.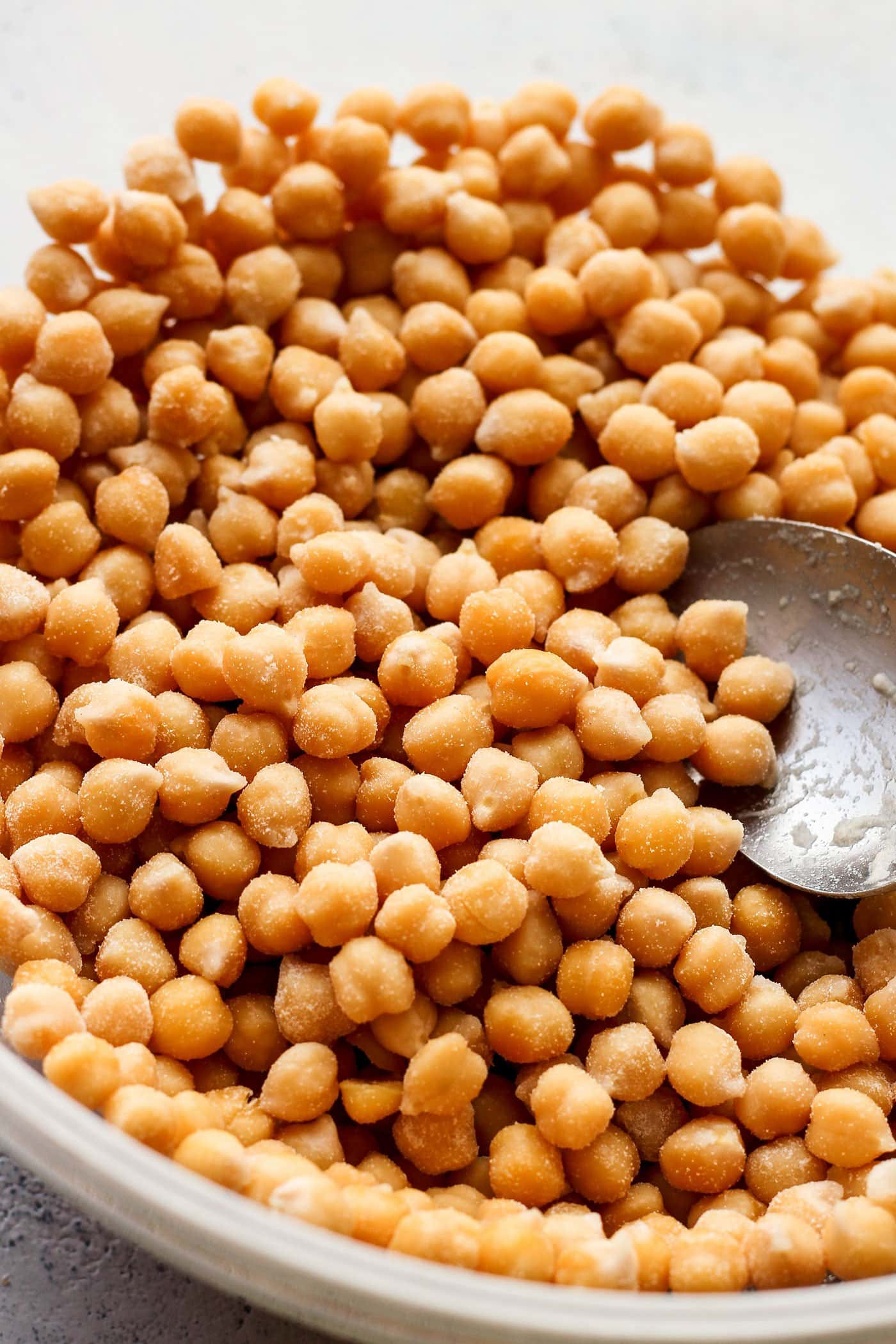 You must pack the chickpeas well and press them flat so the thickness is about 1 inch. Then, place the bag on a baking sheet and put it in the oven for about 12-14 hours at 86°F (30°C). My oven can go to low temperatures, but if yours don't, then just let the oven light on, or use a dehydrator.
I read some people had success by putting a lightbulb in a container, but in my opinion, the oven is an easier option.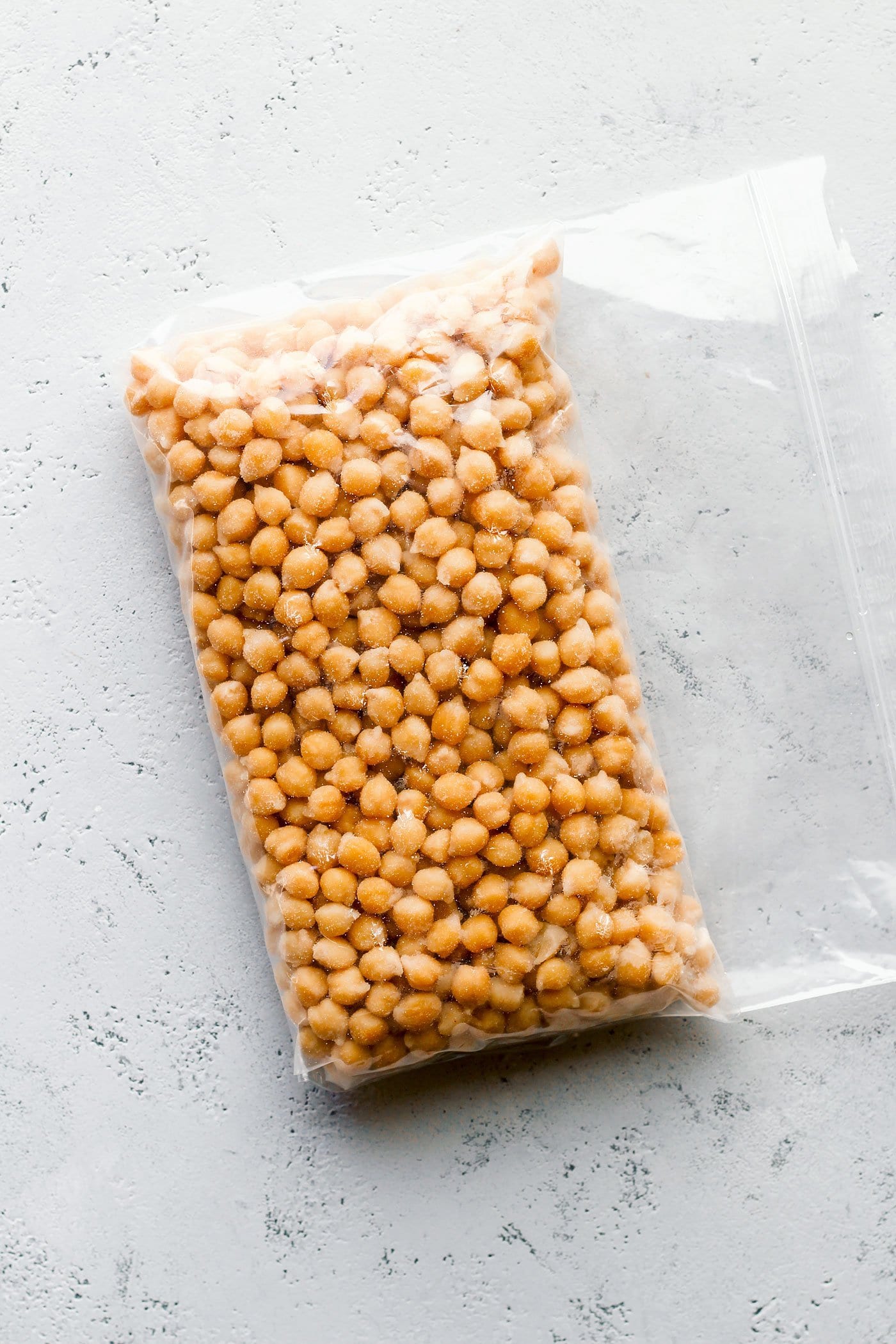 After 12-14 hours, you should start to see some white mold growing on the chickpeas. At this time, you can remove it from the oven and let ferment for another 24 hours in a dark and warm place. It can take up to 48 hours in total for the chickpeas to be coated with white mold.
When the tempeh is fully coated and forms a cake, it is ready to use! Just wrap it in plastic film and store it in the fridge. It will keep for up to a week in the fridge.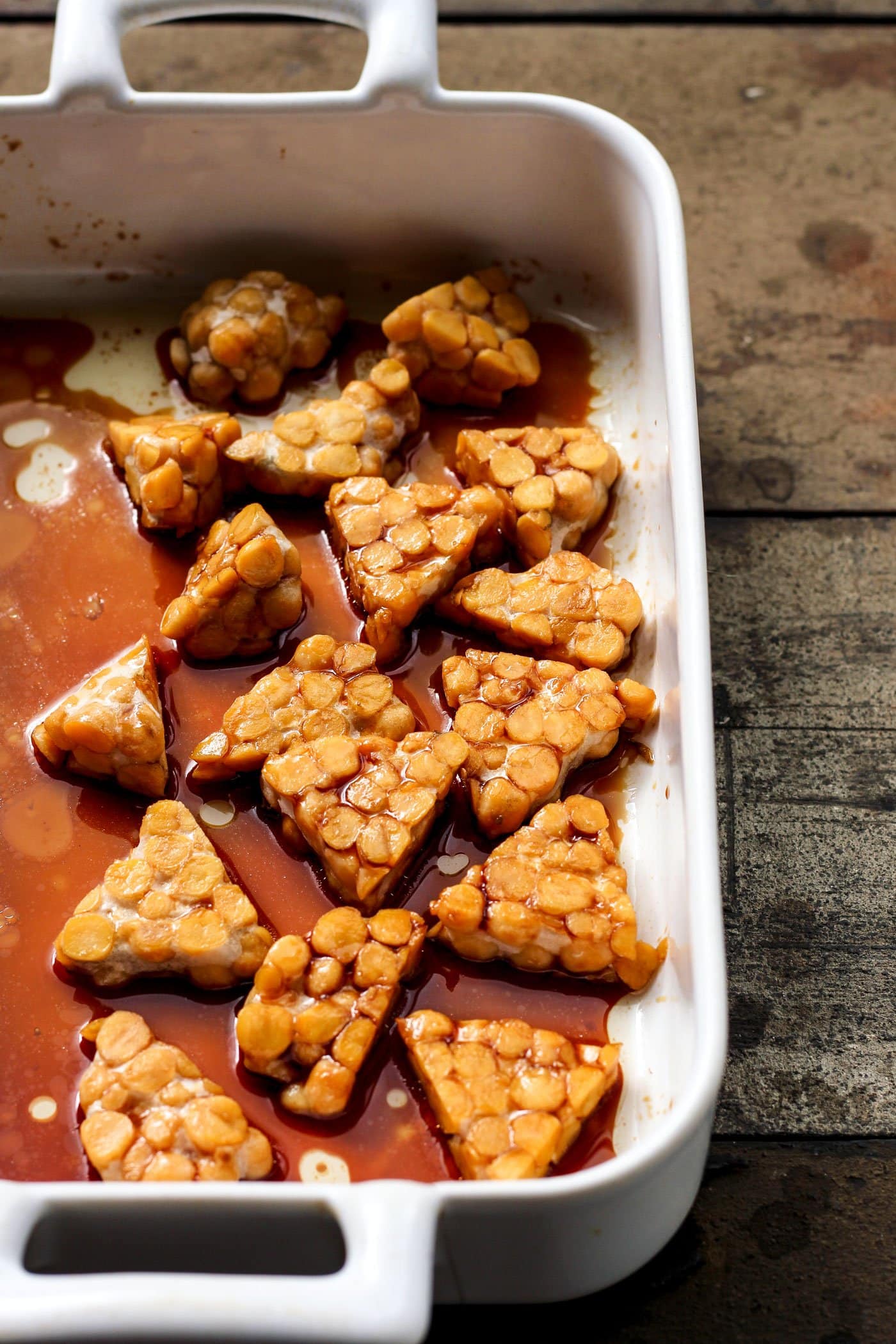 🌯 How To Use it?
Just like soy tempeh! If you want a milder taste and firmer texture, I recommend steaming it for 20 minutes before using it in recipes. This is not mandatory, though. Here is how you can cook tempeh:
Marinade: Marinating tempeh slices is the best way to add flavor. A simple and tasty marinade is one part sesame oil, one part maple syrup, two parts soy sauce, chopped garlic, and your favorite herbs or spices. Marinade at least 2 hours before baking or shallow frying. For something fresh, check out my Marinated Tempeh Salad recipe.
Bake: Marinated or plain tempeh can be baked for about 20 minutes at 350°F. The longer you bake it, the firmer and dryer it will get.
Fry: Tempeh fries beautifully. It becomes crispy on the outside and remains soft on the inside. Frying obviously adds some calories but makes very tasty tempeh.
Tempeh is so versatile. It can be used in salads, burgers, sandwiches, curries, scrambles, and a lot more!
I hope this guide will give you the desire to make your own tempeh. It's a fun and easy process. Homemade tempeh is delicious and can be used in a lot of recipes!
Let me know in the comments if you try this recipe!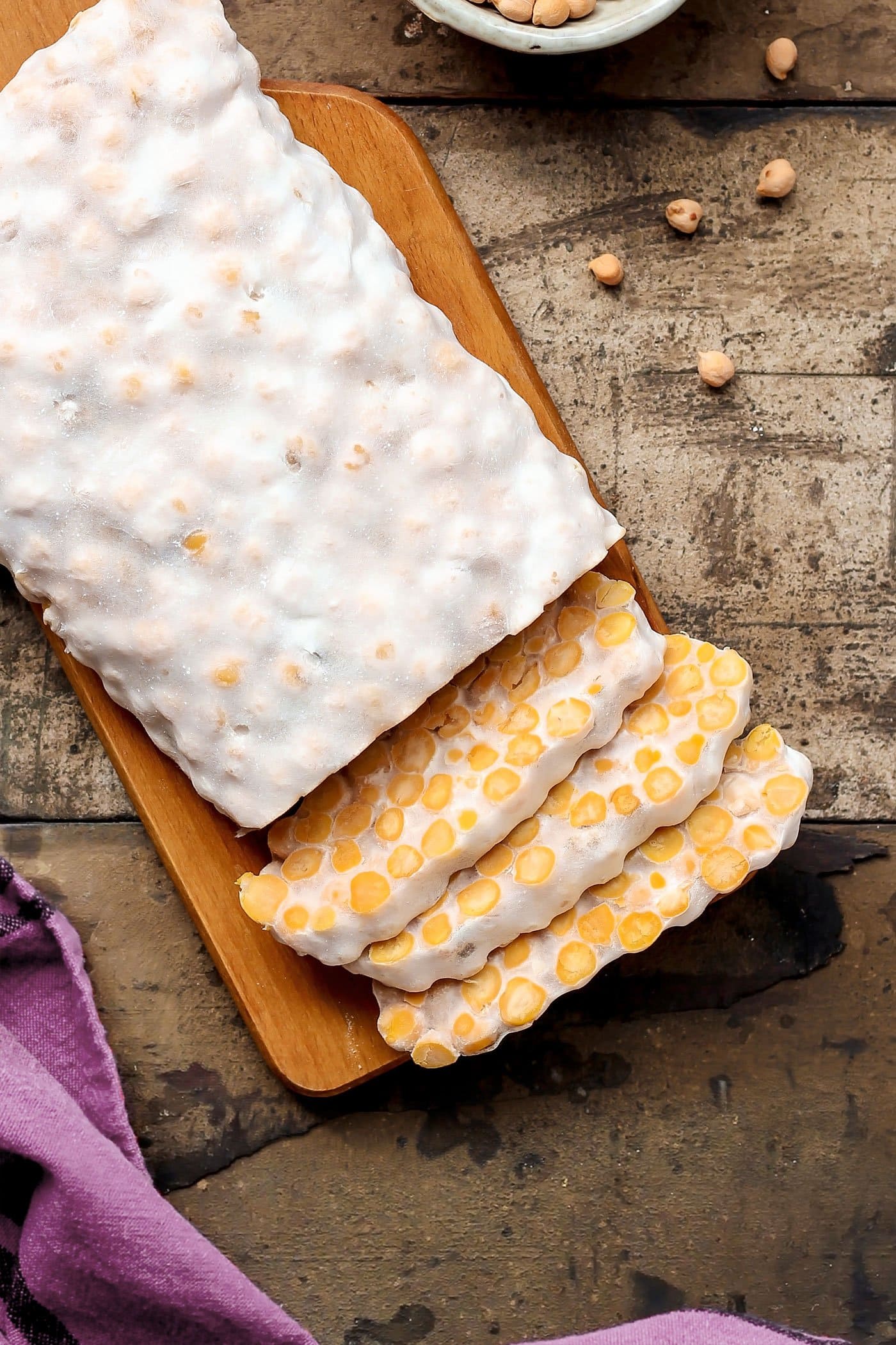 Recipe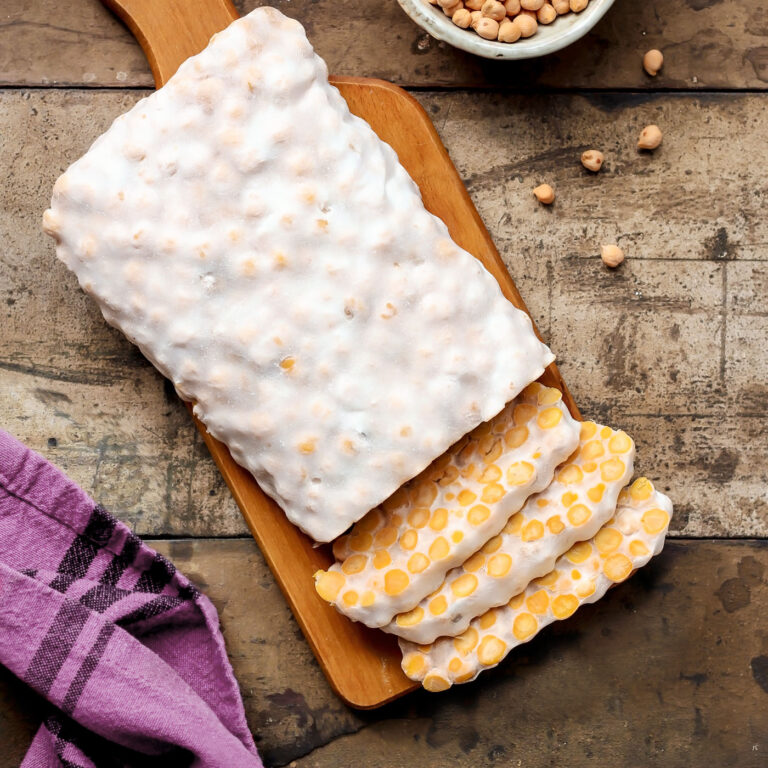 How To Make Chickpea Tempeh
Chickpea tempeh made from scratch! Soy-free, gluten-free, it requires only 3 ingredients and some patience!
Ingredients
1

cup

dry small chickpeas

1

tbsp

white vinegar

I used white rice vinegar

1

tsp

tempeh starter
Instructions
Place the chickpeas in a large bowl, cover with clean water and soak overnight.

The next day, drain and rinse the chickpeas. Transfer to a large cooking pot, cover with water (about 2-inch higher than the chickpeas). Bring to a boil and let simmer for 1 hour. Depending on the size of your chickpeas it might take up to 1 and 1/2 hour. They must be soft but not mushy. If some foam forms on the surface during cooking, remove it with a spoon to prevent any spillover.

Once the chickpeas are cooked, drain them and leave them in the strainer for 30 minutes. After that, pat them dry using a paper towel to make sure they are mostly dry on the outside.

Transfer to a large clean bowl. Add the white vinegar and stir to coat. Add the tempeh starter and mix well using a spoon until uniformly distributed.

Using a metal skewer, or chopstick, prick some holes (at about 2-inch intervals) in a clean freezer bag. This step is important to create good air circulation and allow the mold to grow.

Transfer the chickpeas to the freezer bag and form a rectangle of about 5×8 inches with a thickness of about 1-inch. Place the bag of chickpeas on a baking sheet and put in an oven with the light on for about 14 hours. I set the temperature of my oven to 86°F and let the door very slightly opened because I can't just let the light on.

After 14 hours, some white mold (not a lot) should have appeared on the chickpeas. You might also see some condensation inside the plastic bag, this is normal. It's time to remove the baking sheet from the oven and let it ferment for another 24-36H in a dark and warm place. I recommend covering the chickpea bag with a clean towel to make sure it's not under direct sunlight.

Your tempeh is ready when it is fully covered with white mold and forms a solid cake, which usually happens at the 48-hour mark. It can be quicker if the temperature in your house is high.

Raw tempeh will keep for up to a week in the refrigerator. If you want to freeze it: steam the tempeh for 25 minutes, let cool completely and wrap in plastic film before freezing.
Notes
I recommend using the smallest chickpeas you can find for this recipe. White mold has trouble growing inside when using large garbanzo beans. If you still want to use garbanzo beans, roughly chop them after they are cooked, this way there will be less empty space inside the tempeh cake.
If you don't mind soy, you can also use this tempeh starter.
Nutrition
Serving:
5
oz
|
Calories:
220
kcal
|
Carbohydrates:
27
g
|
Protein:
18
g
|
Fat:
3
g
|
Fiber:
8
g
|
Sugar:
4
g
Did you make this recipe?
Tag @fullofplants on Instagram and hashtag it #fullofplants