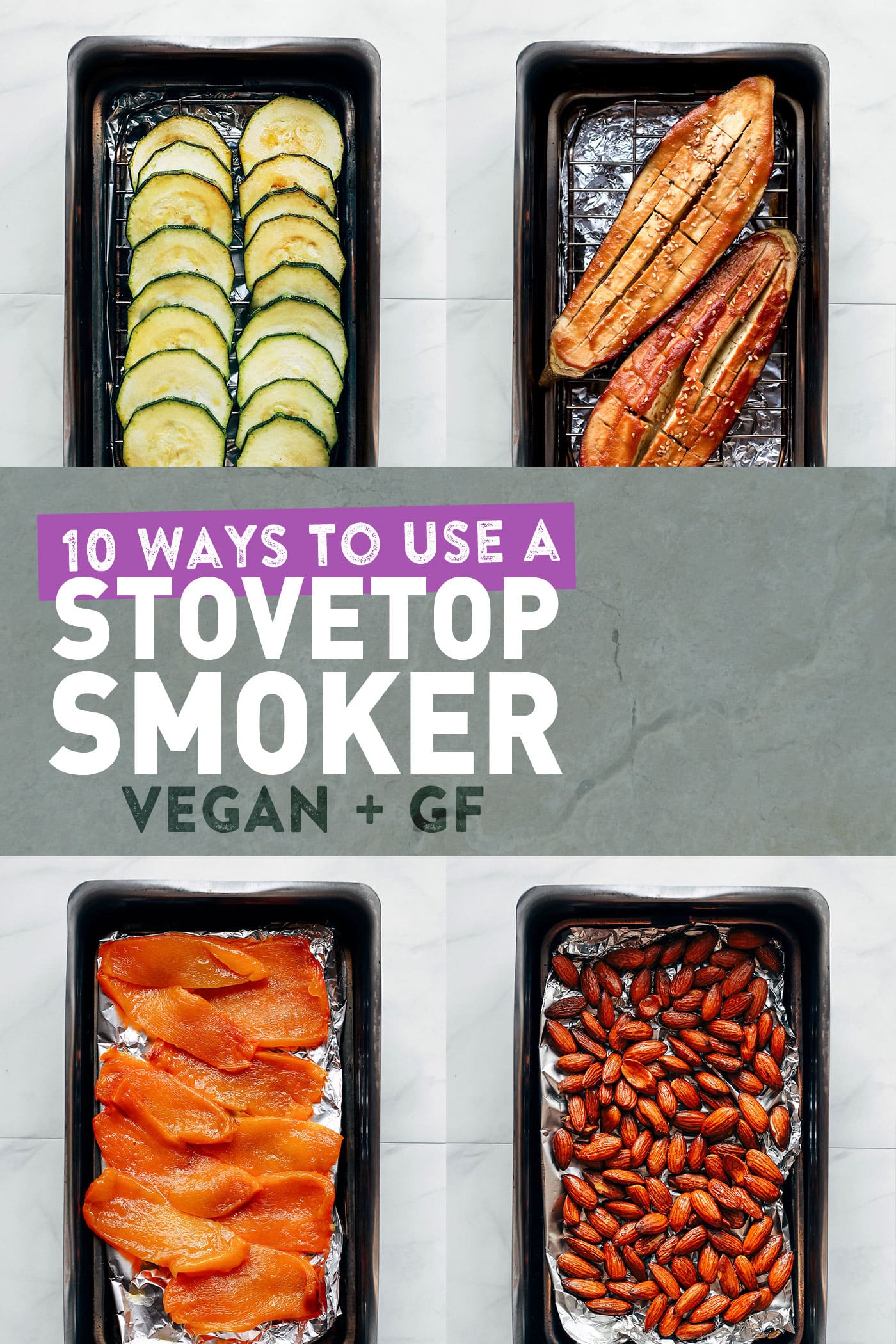 Things are getting smoky here! Time to disconnect your smoke detectors!
I usually prefer to post recipes only, but I thought a quick guide on smoking food would be useful. I bought a stovetop smoker, mainly to smoke cheese and tofu but also because I like everything that smells and tastes smoky as you can see here, here or here. It's a great way to add more flavor to your dishes!
So, what is a Stovetop Smoker?
If you don't know what a smoker is, let me give you a quick intro. A stovetop smoker is a small metal box that comes with a tray to collect drippings, a wire rack where you put the food you want to smoke on, and a lid to prevent the smoke from escaping. It has no electronics and requires a heat source to work, it can be used on an open flame, electric stovetop, or even in an oven. The advantage of a stovetop smoker is that it can be used indoors, in your kitchen, meaning you can smoke food all year long. And trust me you will!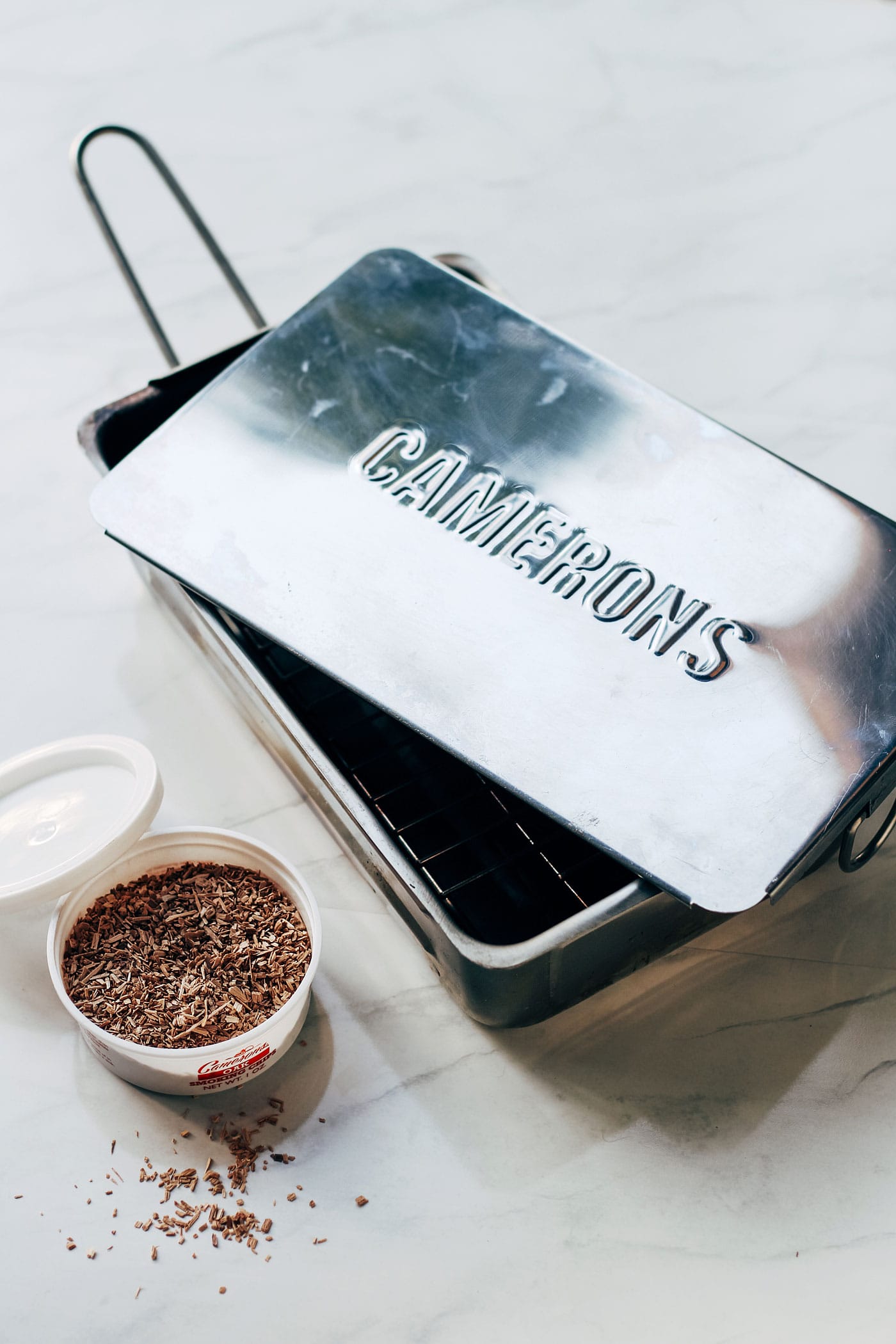 There are several brands of smokers available online, or you can even make your own if you want to save some money. I recommend checking out Camerons' smokers, they have high-quality products and have been the leader for over 25 years.
Camerons is offering two options:
Gourmet Mini: This is the one I'm using, I bought it 2 years ago and it still works like a charm! I couldn't be happier about it. It's large enough to smoke cheese, tofu, veggies, and more.
Original: The original one is about 40% larger, which is great if you plan on making bigger batches, or smoke whole vegetables like eggplants, sweet potatoes, pumpkin, etc.
Smoking requires wood chips, there are different types of chips available, some being more aromatic than others. Here are the three I use the most:
Hickory Wood Chips: The most popular! It gives foods that famous "bacon" flavor, you can't go really wrong with hickory! Be careful not to smoke for too long though, as it can be overwhelming, but if you follow this guide you should be good.
Maple Wood Chips: Maple has a more subtle flavor, it works great with beans, chickpeas, and mushrooms. If hickory is too strong for you, maple may be the solution.
Oak Wood Chips: Oak is in-between, it's lighter than hickory and stronger than maple. It's not overpowering and works great with most vegetables. It can be mixed with hickory (50/50) if you find hickory too intense.
Note: For each batch, we will use 1 and ½ tablespoon of wood chips. My favorite wood to use when smoking is hickory. You can buy smoking chips online or at stores like Home Depot.
How to use a Stovetop Smoker
First, remove the top lid, rack, and drip tray. Place 1 and ½ tablespoon in the bottom of the smoker and place the rack and drip tray on top.
For foods that might drip, or are too small to stay on the rack, cover it with aluminum foil before placing the food on top.
Heat the smoker over low-medium heat on a stovetop burner. Once smoke starts to appear (usually after 5-10 seconds), slide the lid to close and let it smoke. Cooking time depends on which food you are smoking, for specific cooking times please check below.
What to Smoke
Here are 10 vegan foods you can smoke in a stovetop smoker:
Miso Eggplants
Also called "Nasu dengaku", these miso eggplants are first roasted in the oven, then brushed with a maple/miso glaze and braised for a few more minutes. Once this is done, you smoke them for 12 minutes to infuse a subtle smoky flavor. I found miso, maple, and the natural smokiness goes incredibly well together.
To make smoked miso eggplants: Start by preparing the sauce: combine 3 tablespoon white miso, 1 tablespoon mirin, 1 teaspoon maple syrup and 1 teaspoon soy sauce together. Set aside. Preheat oven to 400°F. Wash two eggplants and cut them in half lengthwise. Score the flesh in a crisscross pattern, making sure not to score the skin. Brush each side with toasted sesame oil, and place them face cut down on a baking sheet lined with aluminum foil. Bake 20 minutes, flip them and bake for another 15 minutes. Remove from the oven and brush generously with the sauce. Put them back in the oven, broiler on for 5 minutes.
Transfer the eggplants to the smoker and smoke for 12 minutes with hickory wood chips. Top with sesame seeds and let cool a bit before serving.
Tofu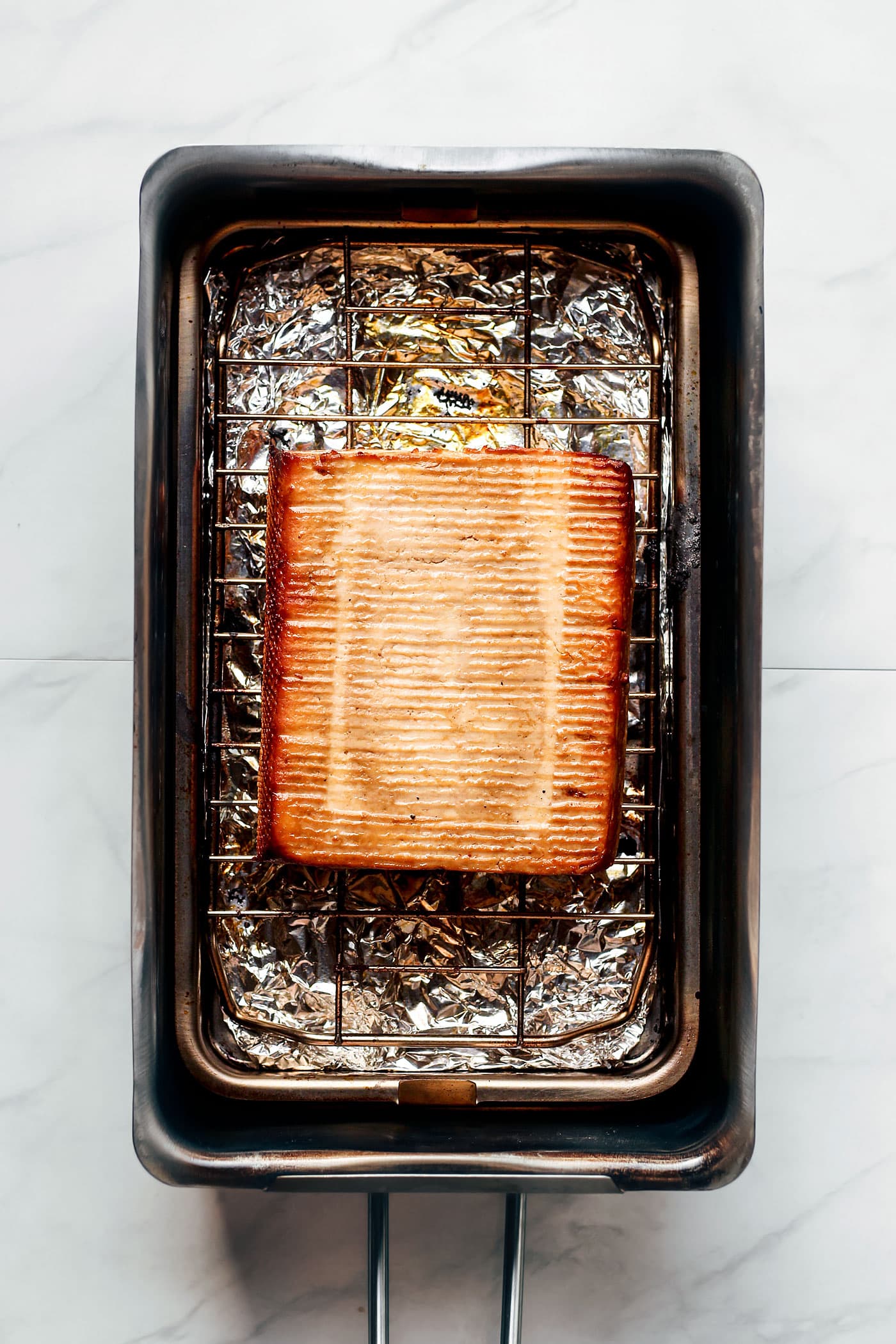 Smoked tofu tastes way better than the normal one, plus it makes a great addition to tomato sauces (yep, bolognese!), can be added to sandwiches, stir-fries, etc. To make smoked tofu we first let it marinate in a mix of soy sauce and sesame oil to give it that umami flavor.
To smoke tofu: Combine ¼ cup soy sauce, two tablespoons of sesame oil and one tablespoon of maple syrup in a small bowl. Wrap one block of firm tofu in a kitchen towel, add something heavy on top like an iron skillet. Let it sit for about 1 hour to squeeze out excess water. Unwrap the tofu and let marinate for at least 4 hours, or overnight. Smoke for 25 minutes with hickory wood chips, flipping halfway through smoking.
Bell Peppers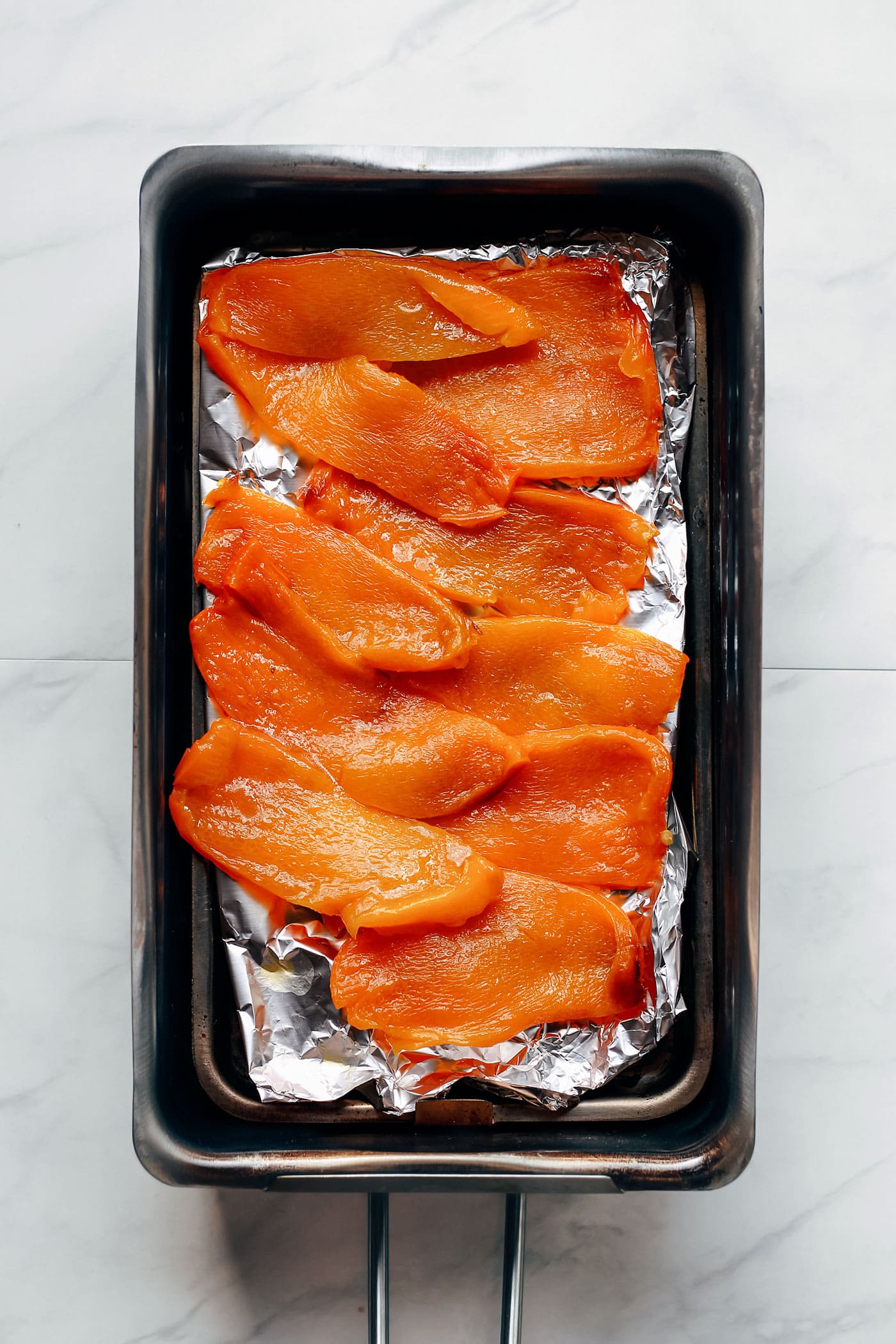 Have you seen my recipe for Sushi Bowls with Vegan Smoked Salmon? If not, definitely check it out! It's fresh, healthy and it has smoked salmon made out of orange bell peppers!
To smoke bell peppers: Roast the bell peppers in a 450°F preheated oven for 25-30 minutes. Let the peppers cool for about 15 minutes and peel off the skin. Transfer to the smoker and smoke for 12-15 minutes with hickory or oak wood chips. To give it a "sea" flavor and mimic the taste of smoked salmon: prepare a broth with 4 cups water, 2 tablespoon dried wakame, 2 tablespoon lemon juice, 1 clove garlic (crushed), and 2 tablespoon soy sauce. Combine everything in a saucepan and add the bell pepper slices. Bring to a boil and let simmer about 20 minutes. Remove the peppers from the broth and transfer to a plate lined with paper towel to drain excess water. Let cool in the refrigerator at least 2 hours.
Nuts
Almonds and cashews are my two favorite nuts to smoke. I have yet to try with pecans! They won't taste that good on day 1, so wait at least 3-4 days before eating. Letting them rest is essential and really improves the flavor, be aware of that.
To smoke almonds: In a large bowl, combine 1 teaspoons of oil and ½ teaspoon salt. Add 1 cup almonds and stir to coat. Smoke for 10 minutes, stirring halfway through smoking.
To smoke cashews: In a large bowl, combine 1 teaspoons of sesame oil (or other oil), 1 teaspoon maple syrup and ½ teaspoon salt. Add 1 cup cashews and stir to coat. Smoke for 10 minutes, stirring halfway through smoking.
Zucchini
Zucchini can be a bit bland if you don't infuse them with spices and aromatics. We are cooking the zucchini directly in the smoker here, after 10-12 minutes they will be tender, smoky and will make a great addition to stir-fries.
To smoke zucchini: Cut the zucchini into ¼-inch thick slices. Transfer to a mixing bowl, add 1 teaspoon sesame oil, 1 tablespoon soy sauce, a pinch of chili and garlic powder. Stir to coat. Arrange the slices in the smoker and smoke for 10 minutes, or until zucchini is tender. Transfer to a plate and brush with more sesame oil, or soy sauce if needed. I like to smoke zucchini a day ahead before serving, I found out the smoky flavor becomes more subtle and pleasant after 1-2 days in the fridge.
Cheese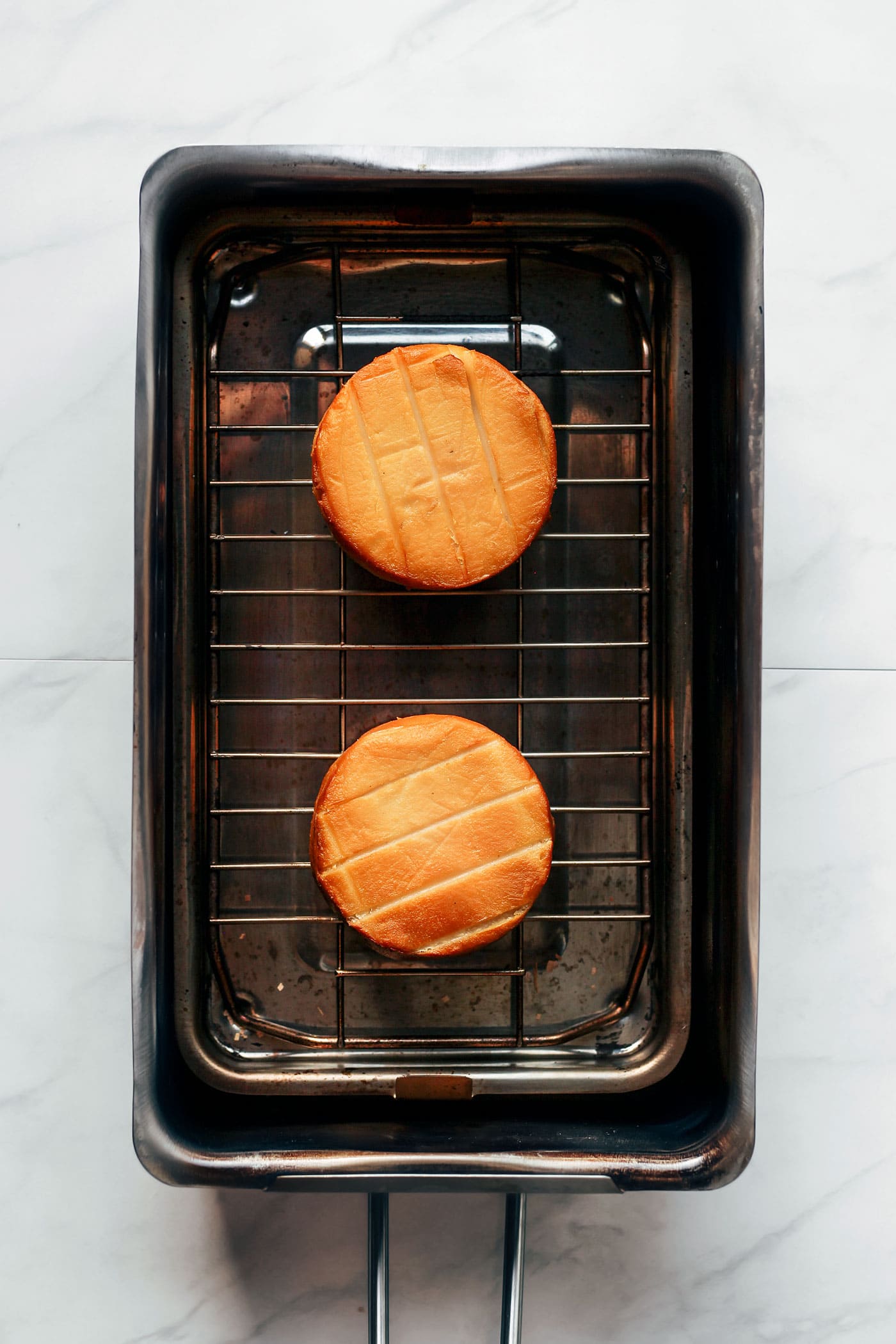 You can also smoke cashew cheese! Just like nuts, it needs to rest to let the flavors merge. Smoked cheese is probably one of my favorite vegan cheese, if you want to learn more about the process, check out my recipe for Hickory Smoked Vegan Cheese.
To smoke cashew cheese: Let your cashew cheese age for at least 3 weeks in your refrigerator, it must be firm. I recommend plain cashew cheese or camembert, blue cheese will not taste good when smoked. Smoke for 12 minutes with hickory chips, I recommend lowering the heat once it starts smoking, you don't want the cheese to become too soft. Let it cool at room temperature for 2 hours before placing in the refrigerator. Wait at least 10 days before eating.
Sweet Potatoes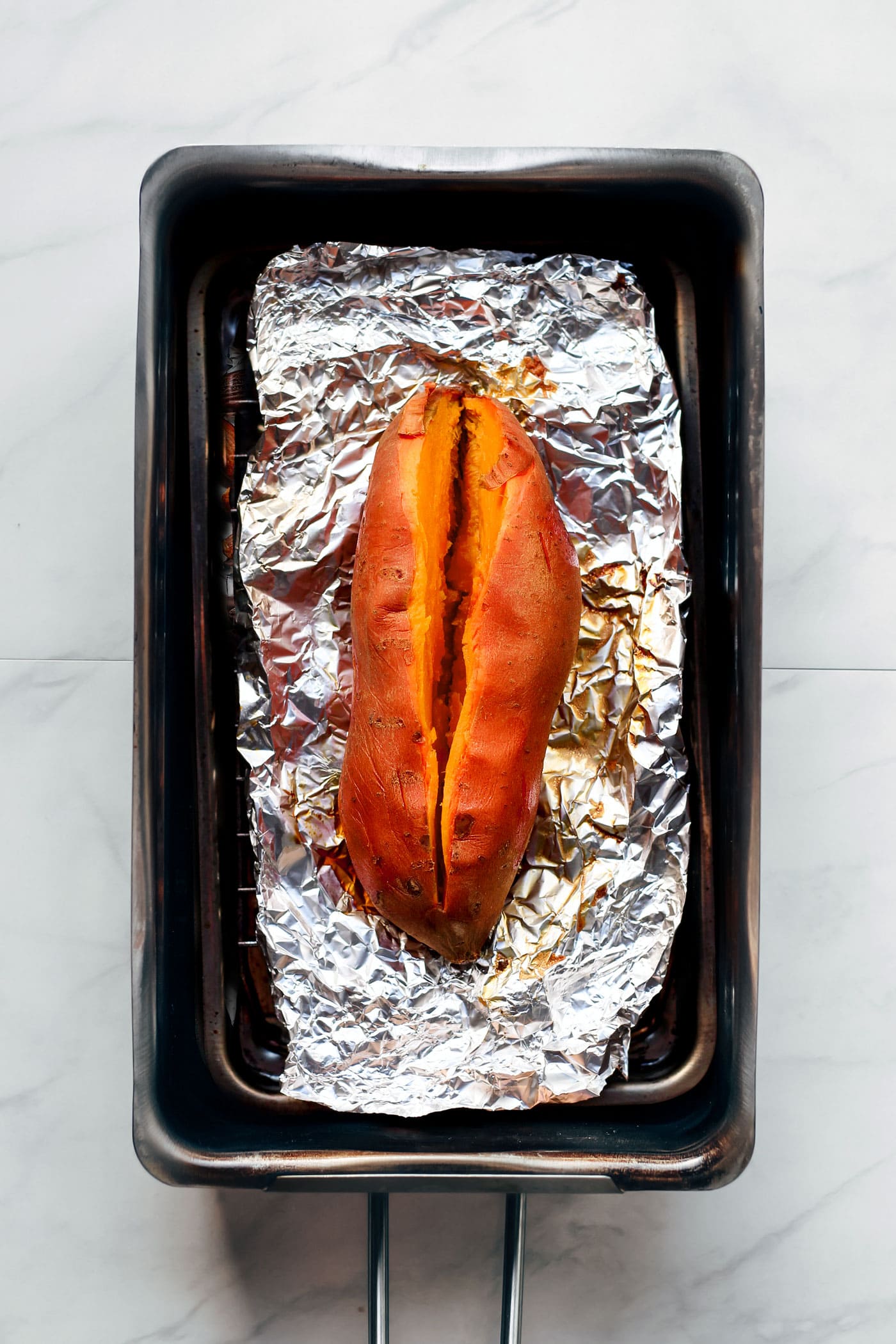 Ahhh...smoked sweet potatoes. If you have to smoke one food for dinner, this is it. It's the most comforting, earthiest, and flavorful sweet potatoes you will ever have! What else can I say? These smoked sweet potatoes are the bomb!
To smoke sweet potatoes: Preheat your oven to 400°F. Wash the sweet potatoes and prick them with a knife, wrap them in aluminum foil and bake for about 50 minutes, or until tender. Remove from the oven and let cool a few minutes. Cut the sweet potatoes in half. Transfer them to the grid of your smoker and smoke for 7-8 minutes with hickory wood chips. You can serve them as is or topped with vegan cheese, baked beans, etc.
Garlic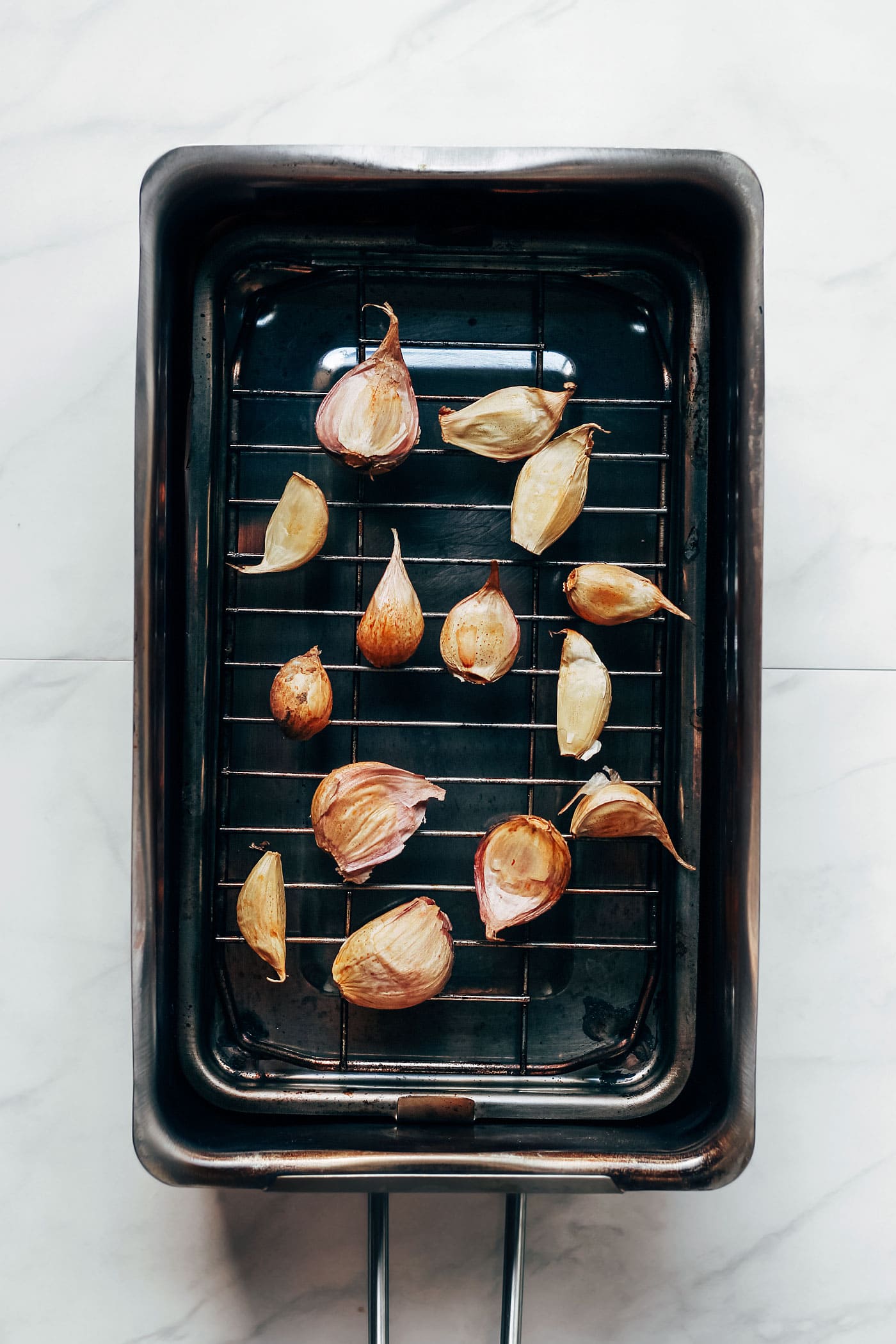 Smoked garlic is a lot easier to make than you may think, you don't even have to peel the cloves! The great thing about smoked garlic is that it can be used in a variety of dishes to impart a nice smoky flavor without the use of liquid smoke, or smoked paprika. I like to use it in hummus or in salad dressings. Quick note: this is smoked garlic, not black garlic, which is a lot more expensive and made with a different technique that requires fermentation.
To smoke garlic: Place 15-20 unpeeled cloves of garlic in the smoker. Smoke for 8 minutes using hickory or oak wood chips. Remove from heat and let it smoke, lid closed, for another 3 minutes. Use in dips, sauces, soups, vinaigrettes, mashed potatoes, etc.
Chickpeas / Beans
Smoked hummus anyone? Try it and you will never have plain hummus again! I recommend using half plain chickpeas and half smoked ones when making hummus so it's not overpowering.
To smoke chickpeas: Place cooked chickpeas (from one 15-ounce can) on aluminum foil and smoke for 5-7 minutes with maple wood chips. You can then use them in curries or hummus.
Mushrooms
Smoked mushrooms make a nice addition to pasta dishes, burgers or soups. You can also sear them to golden perfection in some oil with minced garlic and a few sprigs of thyme after smoking. Don't be afraid to experiment with different mushrooms: portobello, shiitakes, chanterelles, or even oysters!
To smoke mushrooms: Prepare a marinade by combining 3 tablespoons soy sauce, 1 tablespoon maple syrup and 1 tablespoon sesame oil. Place the mushrooms in a bowl and coat with the marinade. Let marinate about 30 minutes. Drain the mushrooms and place them on the smoker grid. Smoke for 20 minutes with maple or alder wood chips. Remove from the smoker and coat with the remaining marinade.
I hope you guys will like this guide! I will make sure to keep it updated with more tips and foods to smoke. What are your favorite foods to smoke? Let me know in the comments!