If you are looking for a waste-free recipe, I've got you covered with this 2-in-1 fresh homemade soy milk + okara tempeh!
Lately, I have been making my own soy milk because 1) It tastes better, and 2) It is much more natural than store-bought. The thing is, after straining the milk, you are left with a lot of soybean pulp, called okara. While this pulp can be used in baking, I wanted to use it in savory ways. Introducing okara tempeh!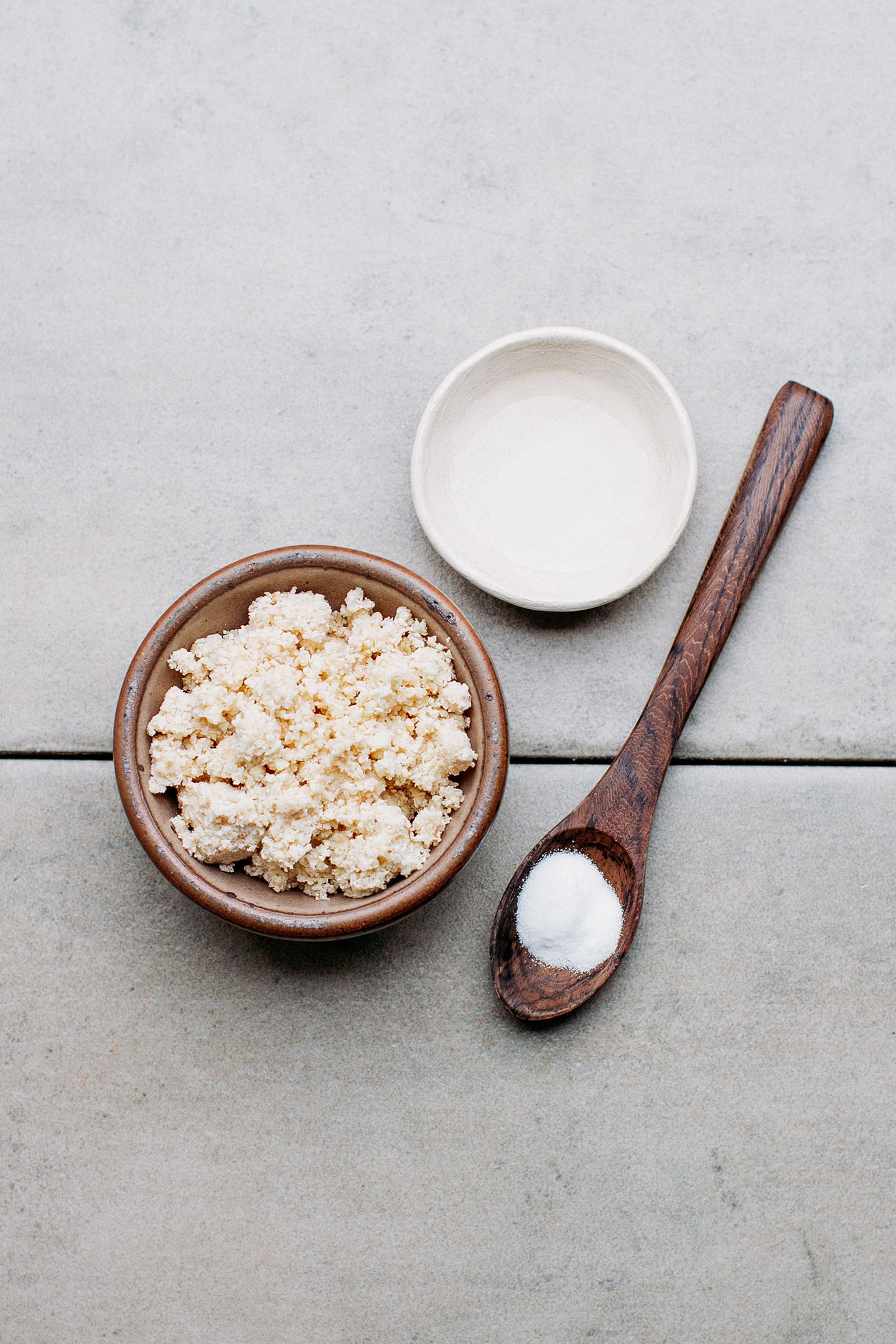 HOW TO MAKE SOY MILK
The method to make soy milk differs a bit from the one used to make nut milks. First, you want to soak the beans overnight, or for at least 8 hours. This will soften the beans, and make them more digestible. Once this is done, drain the beans and blend them raw with fresh water. At this point, for a creamier consistency, and a delicate nutty flavor, I added about 2 tbsp or roasted peanuts and 1 tbsp of toasted sesame seeds when blending the soy beans. It adds more fat, giving the milk a richer texture.
Next, pour the mixture into a large and deep saucepan and let it simmer for 10-15 minutes. During the first few minutes, a lot of foam will form, remove all of it with a large spoon or a laddle. Optional: For a subtle vanilla-like flavor, add 2-3 pandan leaves to the soy milk mixture while boiling, it will add a nice aroma to the milk.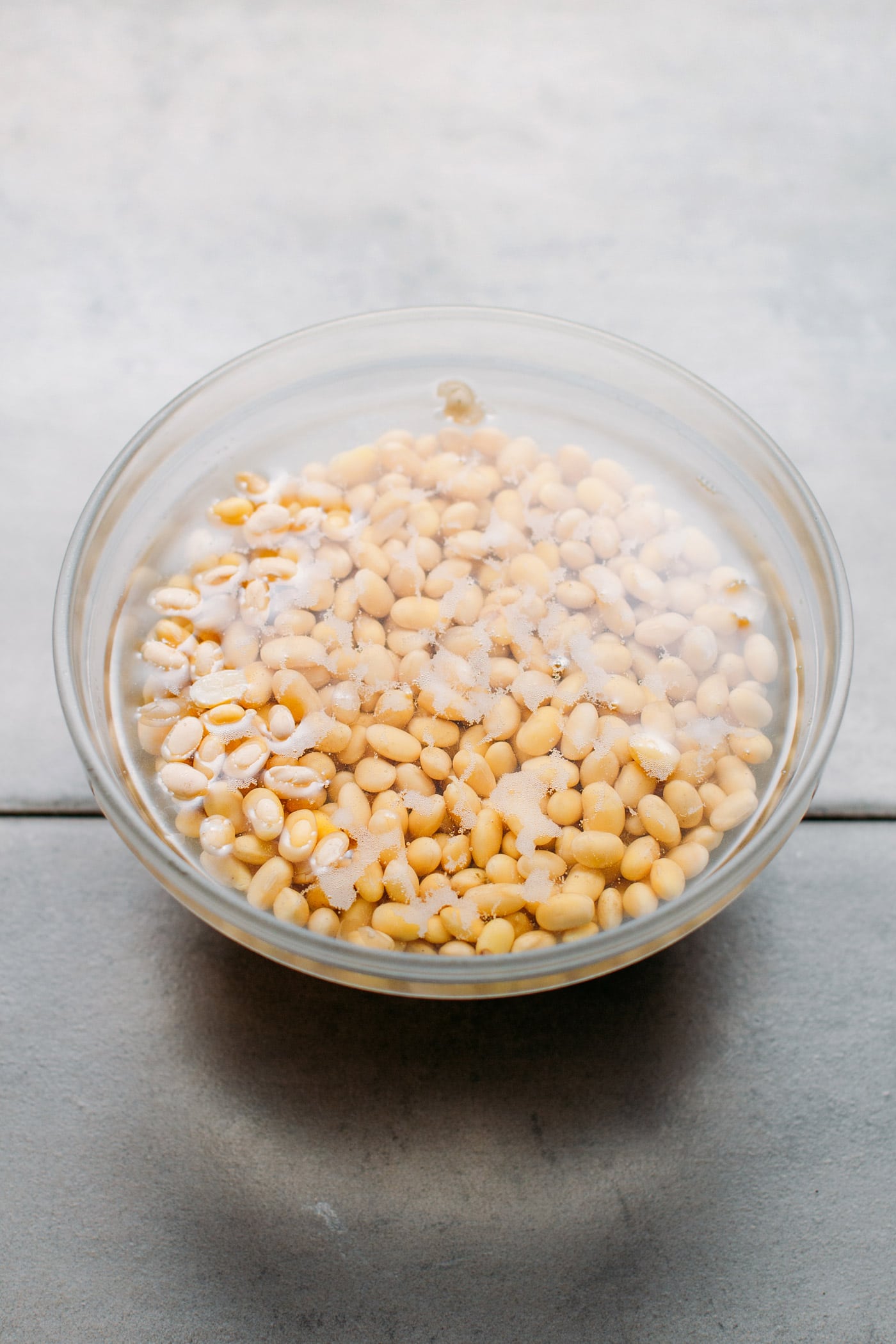 When it comes to straining, there are two schools. Some prefer to strain the pulp before cooking, and others after. Here, we are using the Japanese version, that calls for straining the milk after cooking. Since we will be using the pulp (okara) to make tempeh, I prefer to cook the pulp. I also believe it adds extra creaminess to the milk, allowing the pulp to release natural fats.
Once the soy mixture has cooled down, use a nut milk bag to strain the pulp. Sweeten to taste, and your soy milk is now ready!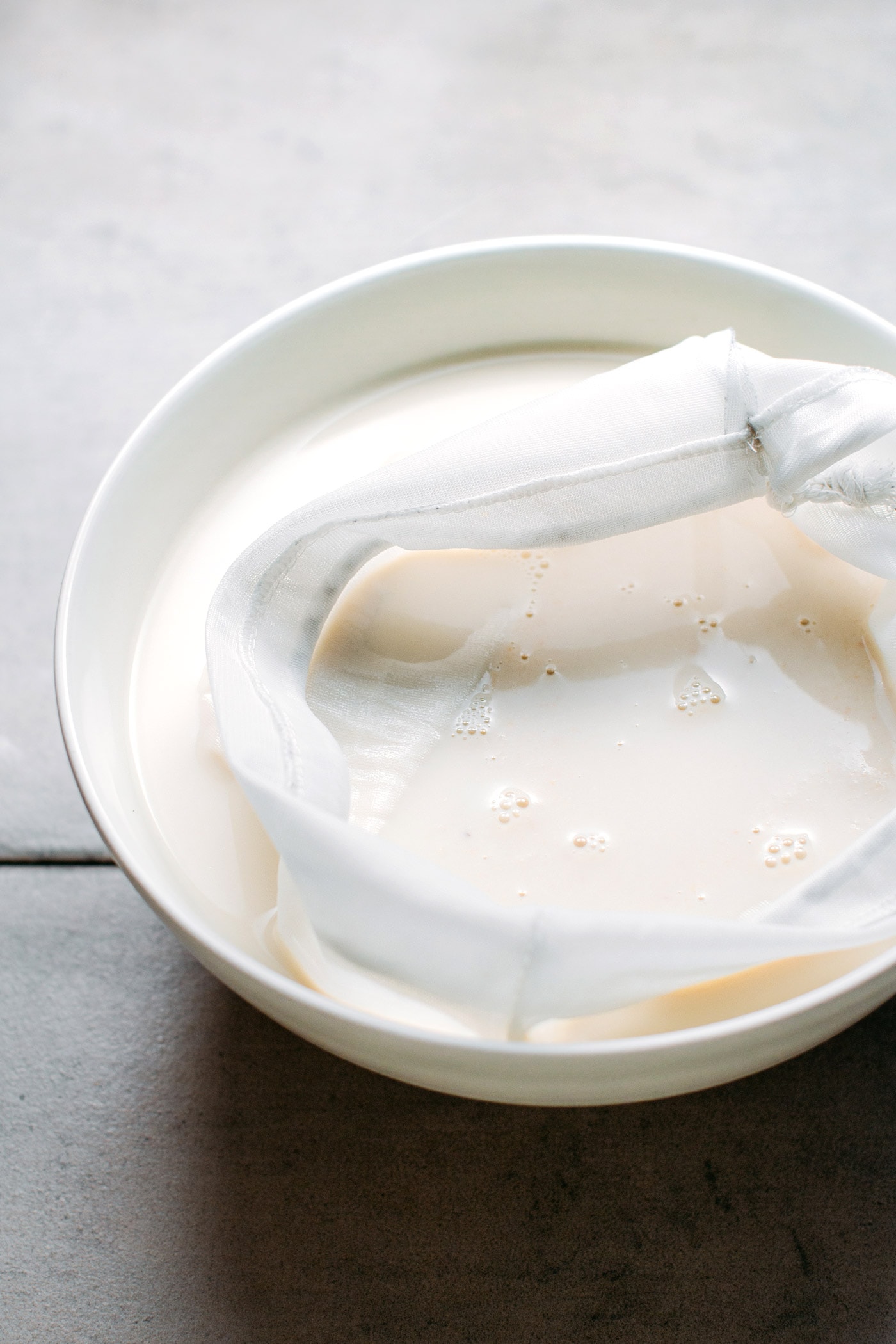 Fresh soy milk is SO GOOD! It's delicious on its own, warm or cold. If you have never tried homemade soy milk, you will be surprised by its pleasant bean-y flavor! Enjoy alone, or in oatmeal, desserts, beverages, etc!
SOY MILK BENEFITS
Despite the bad reputation soy got lately, when soy milk is made from non-GMO, organic soy beans, it has many health benefits:
High in protein: With over 8g of protein per cup, it is one of the richest plant-based milk.
Contains vitamin B and omega-3 fats, reducing the risks of psychological diseases.
According to studies, it is also said to lower cholesterol levels, prevent heart diseases and diabetes, and help with recovery after workouts.
HOW TO MAKE OKARA TEMPEH
Time to talk about the tempeh! If you are wondering if you should make this recipe mainly for the tempeh, I would definitely say yes! Okara tempeh is one of the best tempeh I ever had, it has no bitterness, a smooth texture, and a very delicate mushroom-y flavor. Plus, okara tempeh is high in protein, and makes a great base for plant-based burgers, bolognese, or vegan meatballs. It can also be marinated and pan-fried.
Once your soy milk has been strained, you want to spread the leftover pulp on a baking sheet lined with a clean kitchen towel to let the pulp dry. Let it dry for about one hour at room temperature.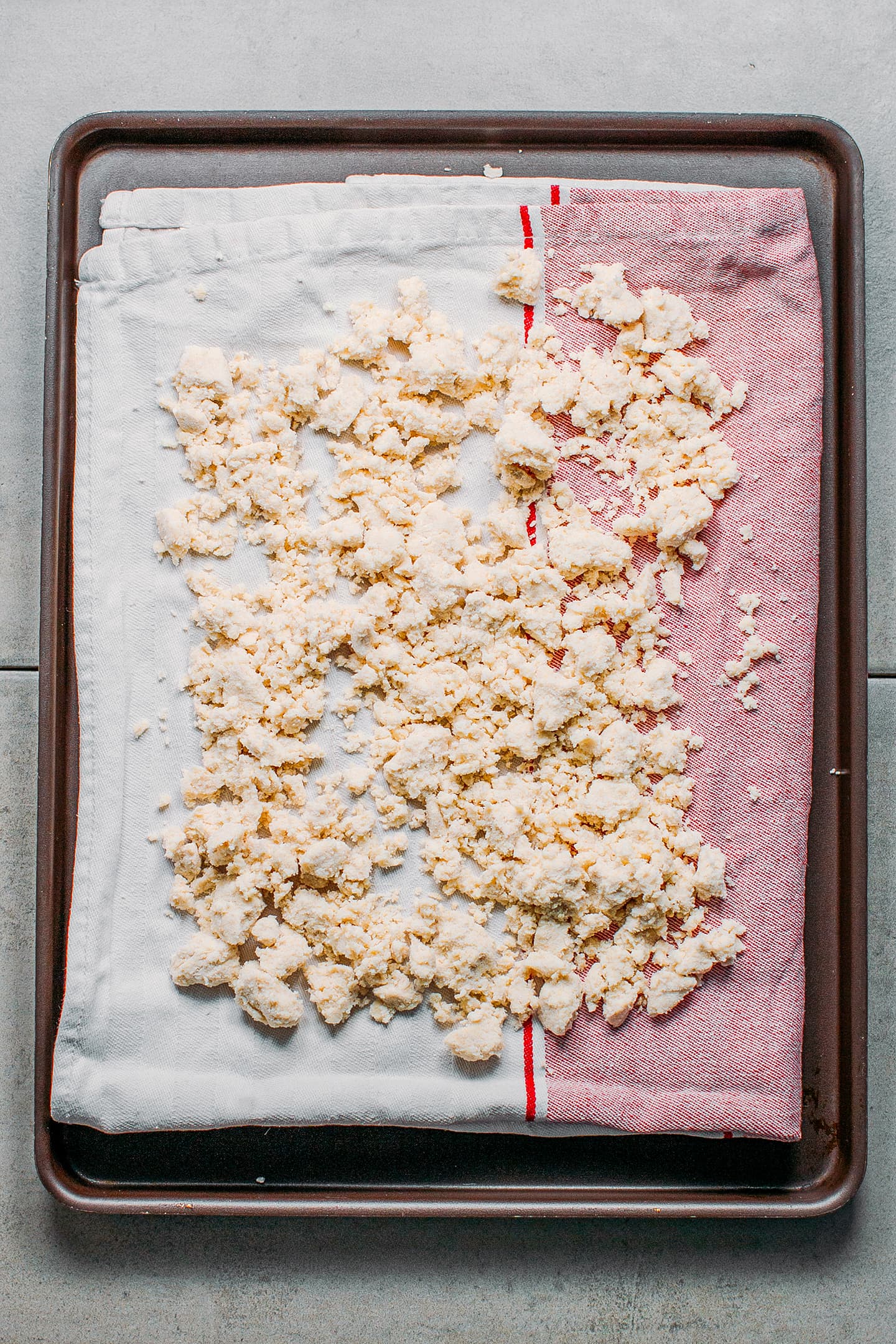 Once done, transfer to a mixing bowl, and add the white vinegar. Stir well before finally stirring in the tempeh starter. You can get your tempeh starter here or here.
Prick a freezer bag with a fork to make holes, this will let the tempeh "breathe", allowing the mold to grow better. Add the okara to the freezer bag and pack it tightly into a loaf.
To incubate, I used the Instant Pot on Yogurt mode, which works perfectly every time! After about 20 hours, if you look closely you should see some white mold starting to form, that's a good sign! Leave it for another 15 to 20 hours in the Instant Pot with the lid closed, the mold will keep growing.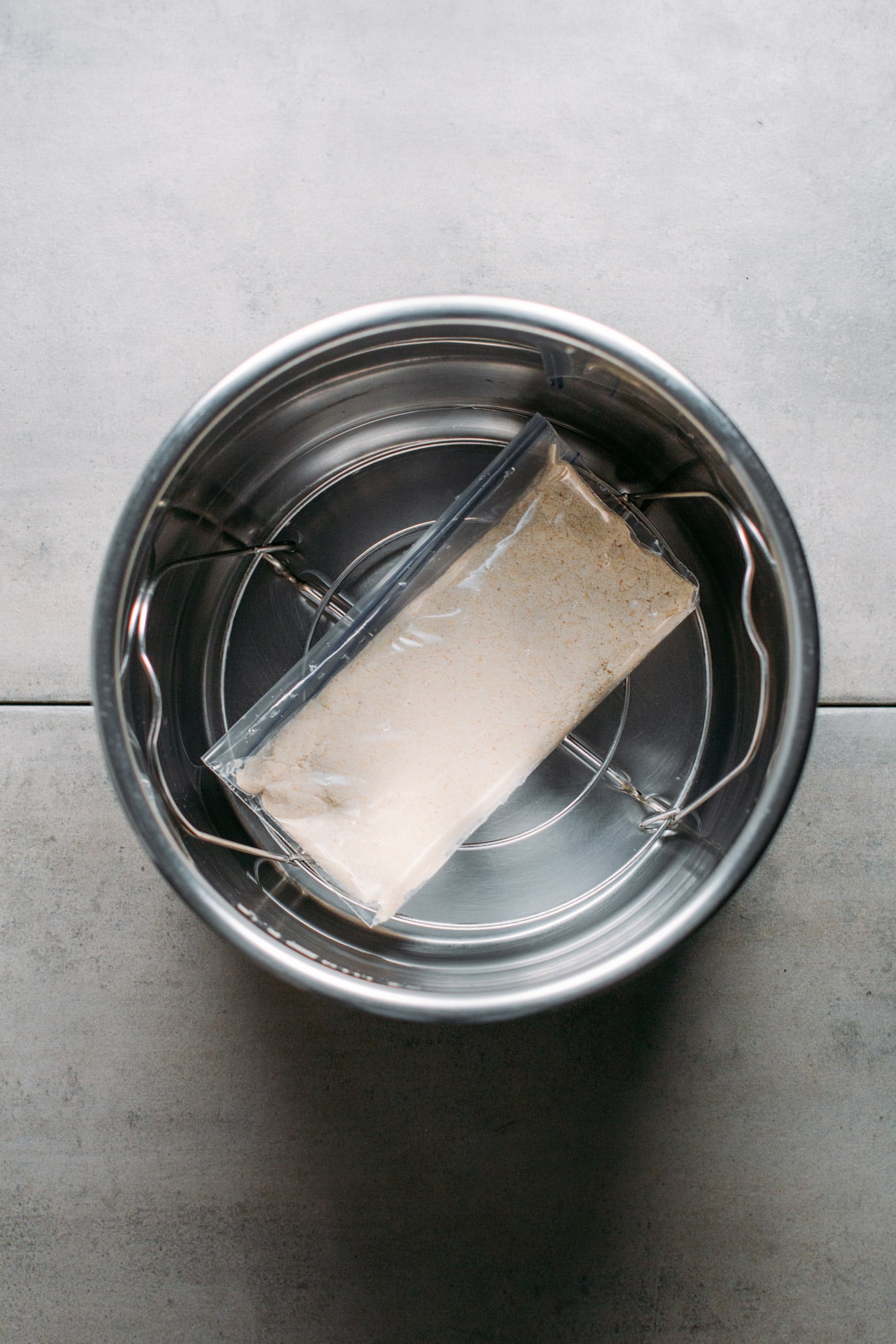 Quick note: I highly recommend letting your tempeh incubate until it is 90% covered with white mold, otherwise your tempeh will not hold together well and might crumble. Don't be impatient! If incubated for at least 48 hours, your tempeh should be perfectly sliceable and will not crumble, even less than regular tempeh!
I usually leave the tempeh loaf in the Instant Pot for 20 hours with yogurt mode ON, then another 15-20 hours with the IP turned off. And finally, I transfer the tempeh to a warm room, or next to a radiator until firm, usually another 10 hours.
And after a couple of days, you end up with a delicious and smooth tempeh!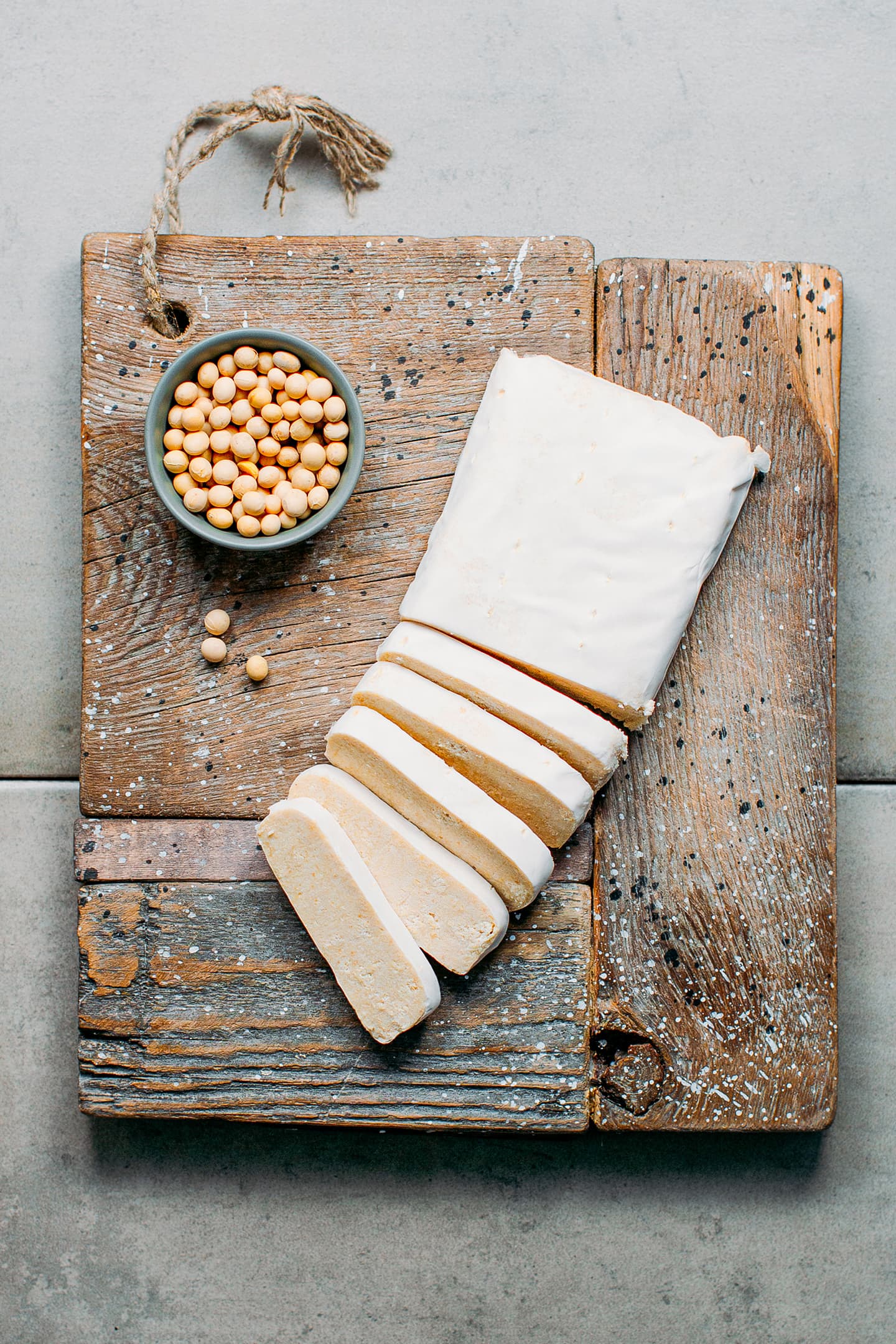 OKARA TEMPEH USES
You can use okara tempeh the same way you would use regular tempeh.
Here are a few ideas on how to use okara tempeh:
Burgers: Tempeh makes a good base for homemade burger patties.
Sautéed: Cut into thick slices or cubes and marinate. Then, pan-fry for a few minutes on each side. Add the leftover marinade and cook for another few minutes to coat the tempeh with the sauce.
Use in Bao buns, like these Saté Bao with Kale Pesto, in place of the tofu.
Crumble and use in plant-based bolognese sauce.
Add to curries, soups, or stir-fries for extra protein.
I hope you will love this 2-in-1 recipe! The soy milk is so creamy with a delicious nutty flavor, and the tempeh is smooth with a very delicate flavor and no bitterness!
Looking for more tempeh recipes? Check out this Instant Pot Tempeh, Chickpea Tempeh, or this Back Bean Tempeh!
Le me know in the comments if you try this recipe!
Recipe
Okara Tempeh
Make your own soy milk + tempeh from the leftover pulp! It's a 2-in-1 recipe: A delicious and creamy milk and a smooth high-protein tempeh loaf!
Ingredients
Soy Milk
1

cup

dried organic soybeans

soaked overnight, or for at least 8 hours

2

tbsp

roasted peanuts

1

tbsp

toasted sesame seeds

1/8

tsp

salt

6

cups

water

divided

2

pandan leaves

(optional)

1

tbsp

sugar

(optional)
Okara Tempeh
leftover soybean pulp from the soy milk

1

tsp

white vinegar

3/4

tsp

tempeh starter
Instructions
Soy Milk
Drain the soaked soy beans and rinse under cold water. Add them to a high-speed blender. Add the roasted peanuts, toasted sesame seeds, salt, and 3 cups of the water. Blend on high for about 30 seconds.

Transfer the soy mixture to a large and deep saucepan. Add the remaining 3 cups of water.

Bring to a simmer over medium heat. Using a ladle or a tablespoon, remove all the foam that will form. There will be a lot of foam at the beginning, it's normal. Make sure to stir the mixture regularly to prevent the soy pulp from sticking to the bottom of the pot. After a few minutes, no more foam should form. Let the milk simmer for about 10 minutes, stirring regularly.

Remove from heat and let it cool for about one hour, or until just warm. Using a nut milk bag, strain the soy milk over a large bowl. Squeeze the milk bag well to get all of the milk out. Add the optional tablespoon of sugar and stir to dissolve. At this point, you can let the milk simmer for another 10 minutes with 2 pandan leaves if you want to add a subtle vanilla flavor.

Enjoy soy milk warm or cold! You can use it in beverages, oatmeal, baking, cooking, etc. Soy milk will keep for up to 4 days in the refrigerator.
Okara Tempeh
Line a baking sheet with a clean kitchen towel. Spread out the the soybean pulp over the kitchen towel and let it dry for about 1 hour at room temperature.

Next, transfer the soybean pulp to a mixing bowl. Add the white vinegar and stir using a wooden spoon to combine. Sprinkle the tempeh starter and stir again.

Prick a small freezer bag with a thin fork (or toothpick) 8-10 times to create small holes in the plastic bag. Add the soybean mixture to the freezer bag and pack it tightly into a loaf of about 1-inch thickness. I usually just fill half of the bag and fold it in half.

Add about 1 cup of water to the Instant Pot liner. Place the loaf on top of the steam rack, making sure it doesn't touch the water. Close the Instant Pot with the lid.

Set on yogurt mode "Less" for 20 hours. After 20 hours, you should see some while mold. Use a paper kitchen towel to remove the excess condensation on the lid and on the bag. Close the Instant Pot with the lid again and leave it inside for another 15-20 hours. If your kitchen is cold, turn the Instant Pot on yogurt mode again.

Check again after that, the mold should have grown even more. At this point, if the loaf is firm and fully white, you can remove it from the plastic bag and use immediately, or keep in the refrigerator for up to 7 days. If your loaf is not fully covered with white mold, place it in a warm room or next to a heat source for another 10-15 hours, the mold will keep growing.

Use the tempeh in curries, burgers, stir-fries, etc!
Notes
Nutritional information listed below is an estimate for soy milk. For the tempeh, check below for an estimate:
For 100g of okara tempeh: Calories: 110kcal. Carbs: 2g. Protein: 11.5g. Fat: 4g. Fiber: 8g.
Nutrition
Serving:
1
cup
|
Calories:
80
kcal
|
Carbohydrates:
4
g
|
Protein:
7
g
|
Fat:
5
g
|
Fiber:
3
g
|
Sugar:
1
g
Did you make this recipe?
Tag @fullofplants on Instagram and hashtag it #fullofplants