You guys asked for high-protein and soy-free tempeh? It's here!
This 3-ingredient black bean tempeh is just as delicious as the original soybean one. It's nutty, holds together perfectly, and is great for soy-free recipes! Did I mention it becomes insanely delicious once marinated and cooked?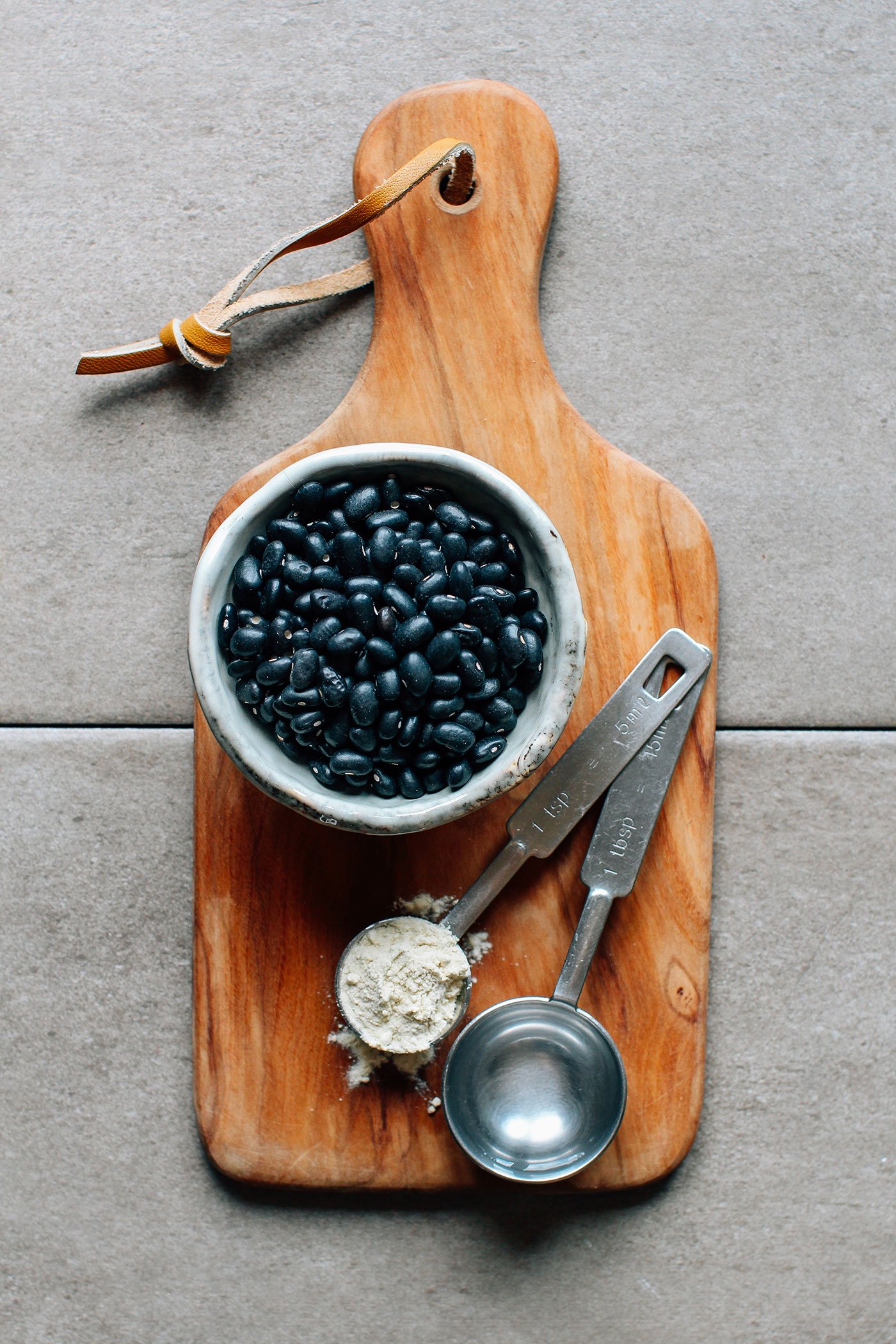 I'm sharing two methods to make it: with or without an Instant Pot. The IP method requires less active time and is a bit easier to make, plus you don't have to soak the beans the night before, as opposed to the stovetop method. Both methods yield the exact same result though. What's great about black bean tempeh is that you don't have to peel the beans!
Ingredients
Making black bean tempeh requires only 3 ingredients:
Dry black beans: Obviously, they make the base. Black beans are not only high in protein, they are also high in fiber, which is good for digestion. If you can't find black beans, use adzukis beans.
Tempeh starter: It comes in powder form and is essential to this recipe. Also called Rhizopus Oligosporus, this mold binds all the beans together into a white firm loaf.
White vinegar: It helps lower the PH and prevents bad mold from growing.
You start by soaking the black beans overnight (or not if you have an Instant Pot!), then cook them until just tender. You don't want the beans to be overcooked, or worse, undercooked.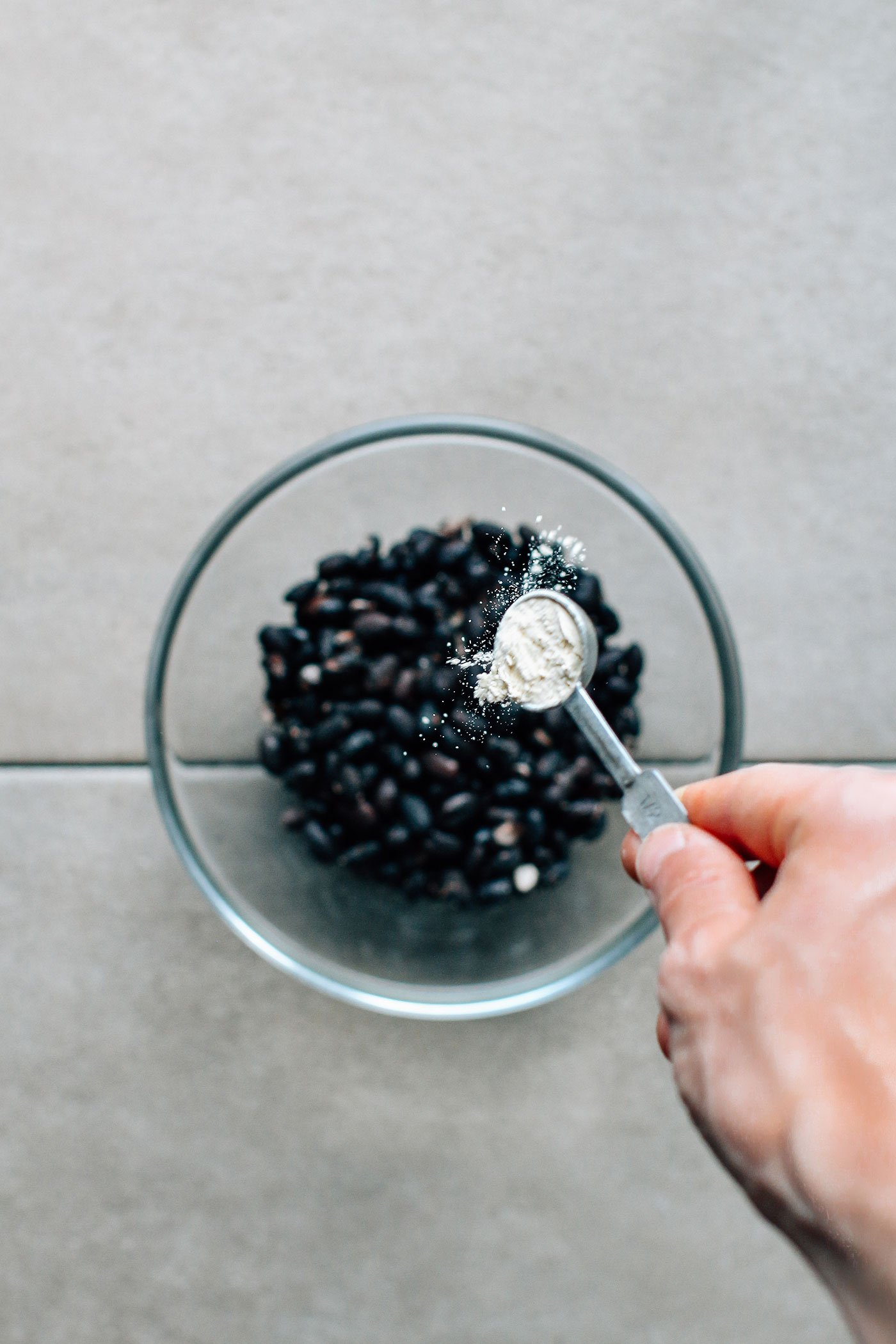 Once your beans are cooked, drain and transfer to a clean kitchen towel. Let it dry at room temperature for 20-25 minutes, this step is essential as too much moisture would cause bad mold and/or no mold growing.
Next, you place the beans in a large bowl and add the white vinegar, which will lower the PH and create the perfect environment for the mold to grow. Sprinkle the mold and mix well before transferring to a freezer bag. You are almost done! The final step is to let it incubate in the Instant Pot on yogurt mode, or in an oven with the light on. Depending on the temperature, the tempeh should be ready in 36-48 hours. The ideal temperature is around 86°F (30°C). It takes quite a bit of time before seeing white mold but once it has started to appear it covers the beans in just a few hours!
Personally, I saw the first few spots of white mold after about 30 hours. The tempeh was then fully covered after approximately 48 hours.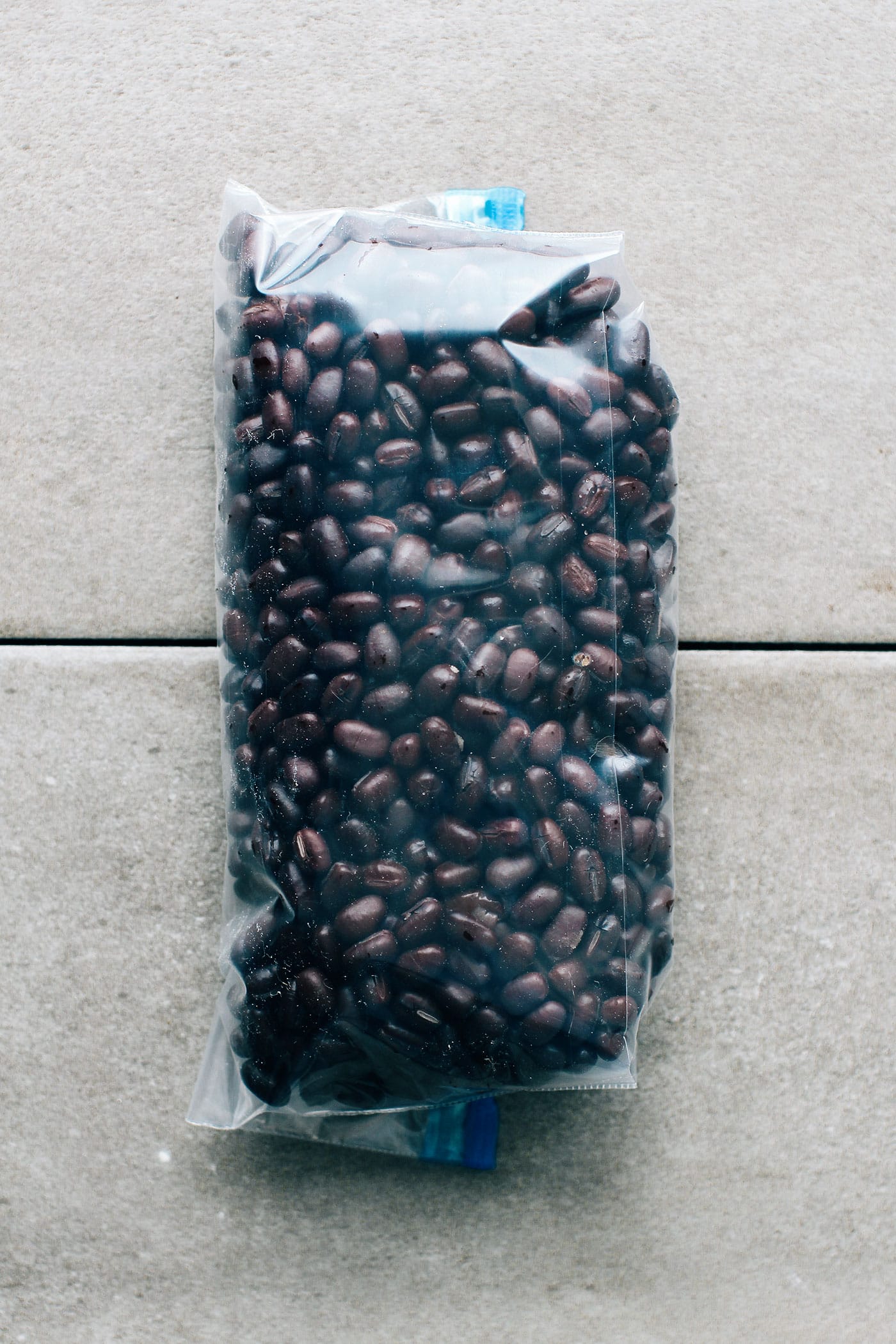 While this black bean tempeh might not be as appetizing as soy tempeh because of its dark color, it's equally delicious! It can be marinated and then baked or fried! You can use this tempeh as a substitute for soy tempeh in any recipe!
If you are looking for tempeh recipes, check out this Creamy Cucumber Salad with Miso Tempeh, Smoky Tempeh Black Bean Burgers, Dan Dan Noodles with Tempeh Scramble, or these Peanut & Sesame Tempeh Skewers!
Let me know in the comments if you try this recipe!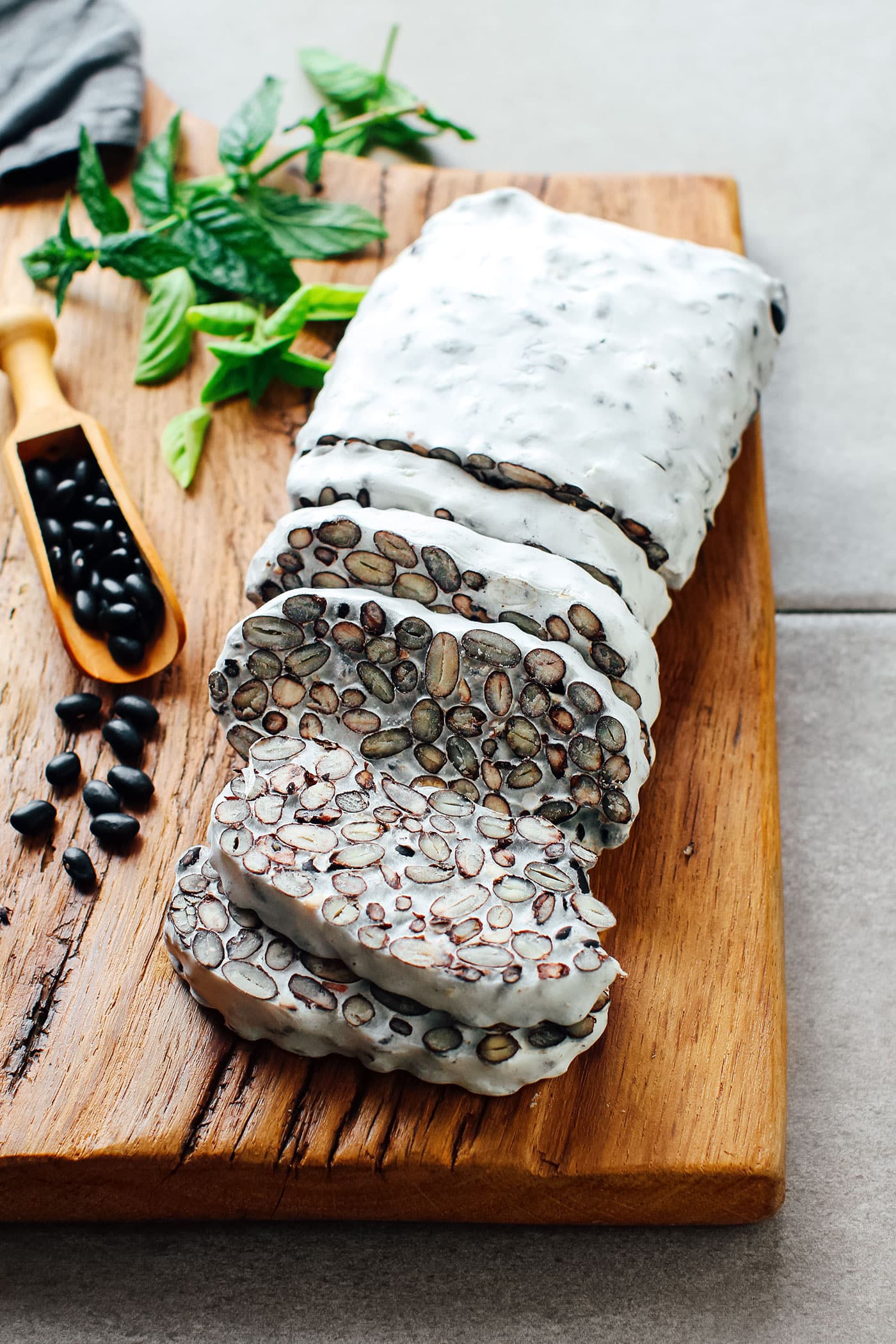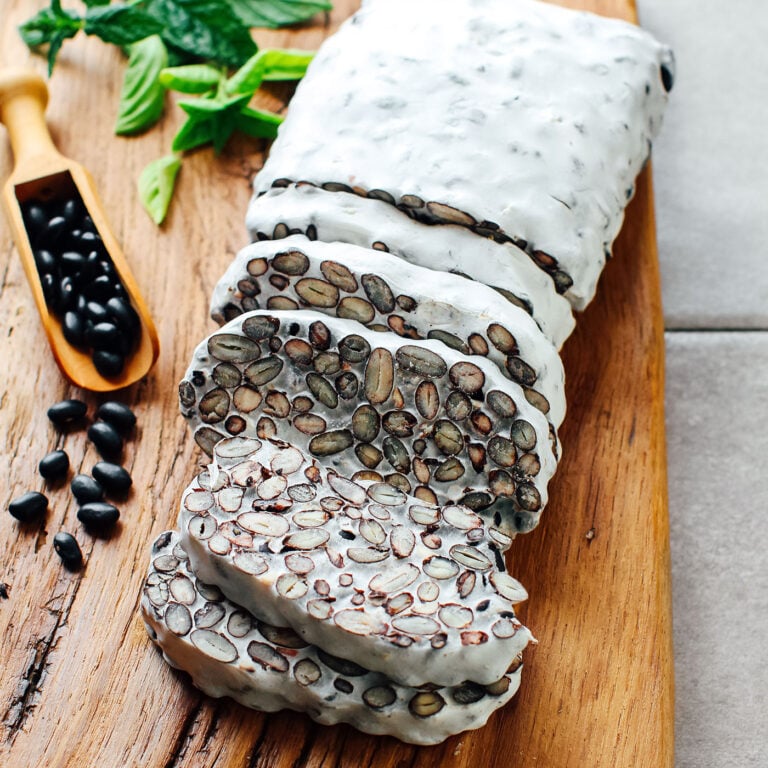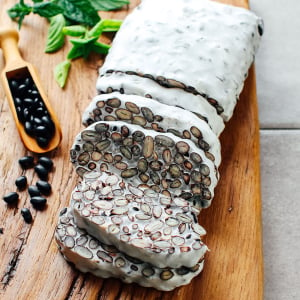 Black Bean Tempeh (Soy-Free!)
3-Ingredient homemade tempeh that is soy-free! Made from black beans, it's easy to make, and is just as delicious as soy tempeh!
Instructions
Instant Pot:
Wash the black beans under cold water and drain. Place them in the Instant Pot liner and cover with the 3 cups water. Cover with the lid, set the valve to the SEAL position and pressure cook on manual for 30 minutes.

Let the pressure release naturally for 20 minutes. Remove the lid and drain the beans.
Stovetop:
Soak the black beans in cold water overnight, or for at least 8 hours.

The next day, drain the beans and place them in a large saucepan. Cover with about 5 cups water and bring to a boil over medium-high heat.

Let it boil for about 10 minutes, then lower the heat, cover and let simmer for about 50 minutes. Test the beans from time to time to make sure they are not under or overcooked.

Drain the beans.
Next:
Place a clean kitchen towel on a large baking sheet. Transfer the drained beans to the kitchen towel and spread into an even layer. Let the beans drain and dry for 20-25 minutes.

Place the black beans in a large bowl, add the white rice vinegar and stir until all the beans are "coated" with the vinegar. Sprinkle the tempeh starter and mix until well dissolved.

Use a thin chopstick or skewer to prick small holes in a small freezer bag (I used a 7x8-inch bag) at about 1-inch intervals.

Transfer the beans to the bag and fold the rest of the bag over the beans to keep it tight. It's important that the beans are tightly packed.

If you haven't already, wash the liner of your Instant Pot. Place 1 cup of water in the bottom and top with the steam rack. Place the bag on the rack. Cover with the lid.

Press the Yogurt button 3 times to set it on "Less" mode. Set the timer for 24 hours.

After 24 hours, touch the bag of beans, it should now produce its own heat. If it's cold, set the Instant Pot on yogurt mode for another 10 hours. Let incubate for at least another 24 hours with the lid on.

After 48 hours, your tempeh should be ready! The beans should be bound together into a firm loaf.

You can now transfer to the refrigerator, it will keep for up to 7 days. Use like soybean tempeh: marinade, fry, bake, sautée, etc!
Notes
If you don't have an Instant Pot for the incubation: Place the tempeh bag on a baking sheet and put it in the oven for about 20 hours at 86°F (30°C). My oven can go to a low temperature, but if yours can't, just let the oven light on, or use a dehydrator set at around 86°F. Be aware the incubation time can take longer if the temperature is too low.
Nutrition
Serving:
0.25
of a loaf
|
Calories:
193
kcal
|
Carbohydrates:
35.2
g
|
Protein:
12.2
g
|
Fat:
0.8
g
|
Fiber:
8.6
g
|
Sugar:
1.2
g
DID YOU MAKE THIS RECIPE?
Tag @fullofplants on Instagram and hashtag it #fullofplants