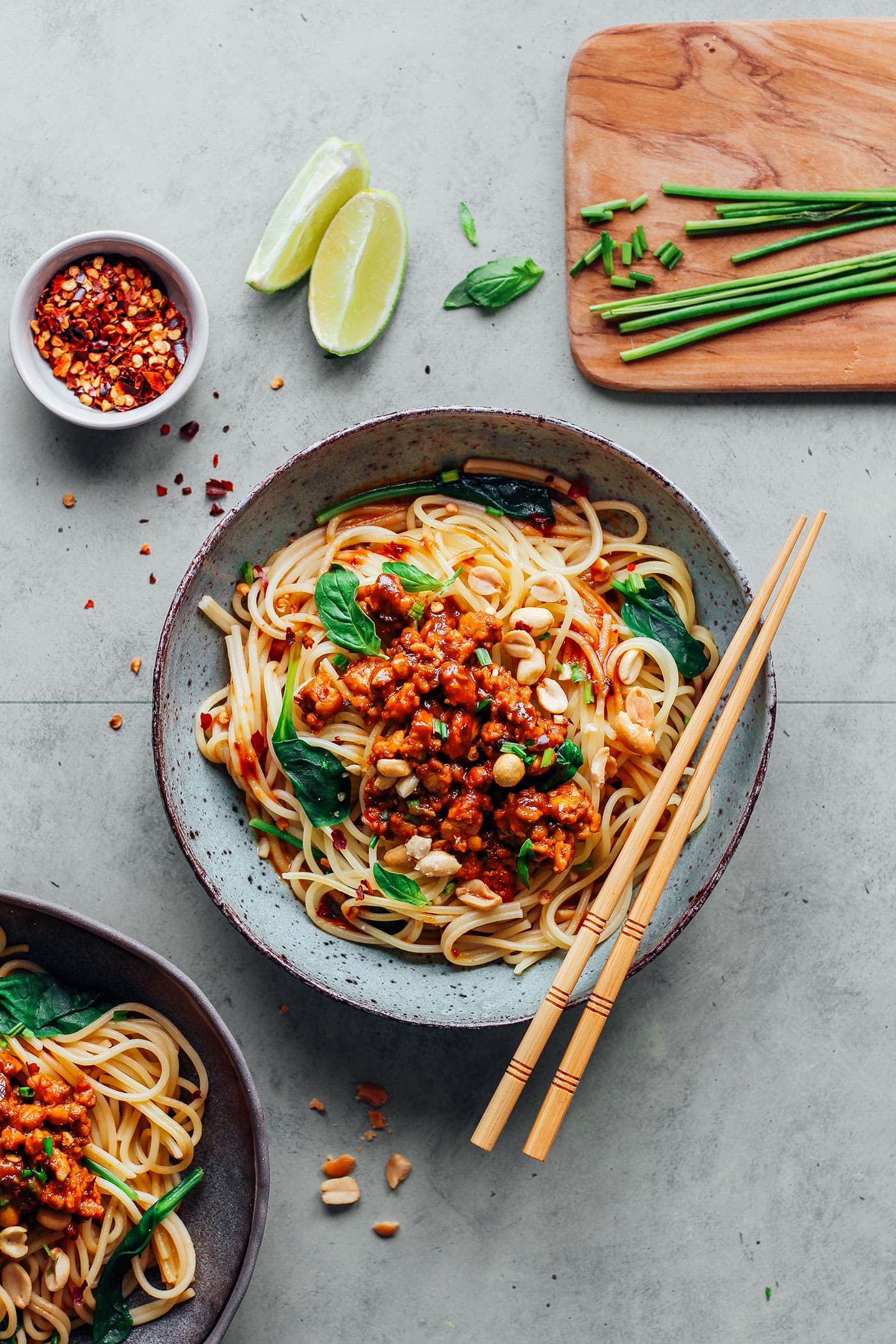 It's time to level up your noodles game! Introducing Vegan Dan Dan Noodles!
Have you ever tried Dan Dan noodles? This dish is like the Chinese version of spaghetti, except it comes with a spicy Sichuan sauce and a ton of delicious toppings. This is a remix of the traditional dish as I went with tempeh scramble flavored with five-spice powder and smoked paprika to replace the usual meat topping.
The secret to the sauce is making your own Sichuan-infused chili oil. You start by heating canola oil in a saucepan, remove it from heat, and immediately add the aromatics: red pepper flakes, Sichuan peppercorns, anise star, and bay leaf. There are hundreds of chili oil recipes. Some include sesame seeds or cinnamon bark to give it different flavors. Try making this one and then tweak it to your liking for the next batch!
Sichuan pepper is essential to get authentic flavor as it has floral notes and is very aromatic.
Let the whole spices in the oil as it cools. The longer you let it sit, the spicier the oil. I usually let it sit until cool, about 30-45 minutes, but you can let it infuse for 24 hours.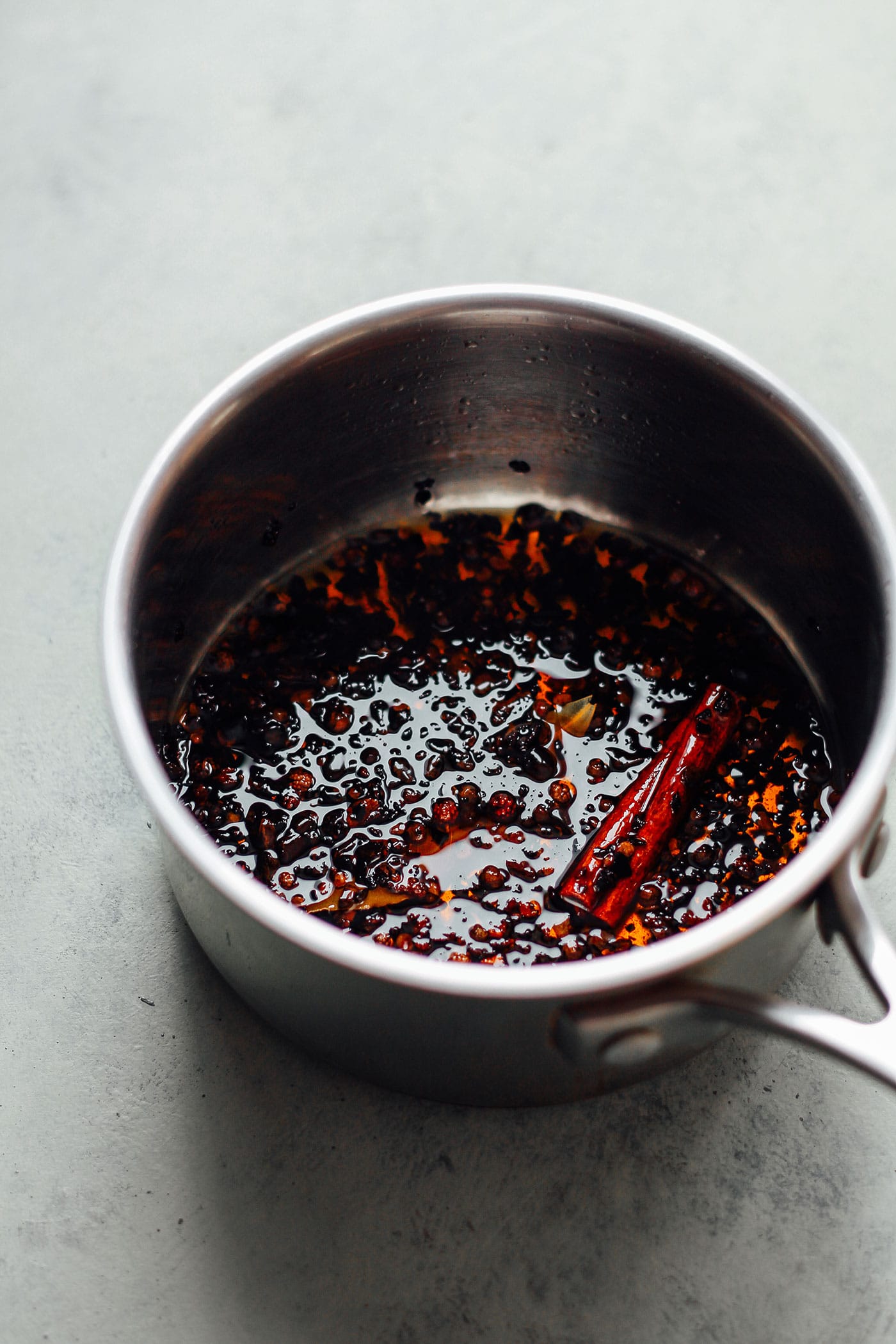 The star of this dish is obviously the sauce, which is a mix of chili oil, toasted sesame paste, soy sauce, white rice vinegar, and coconut sugar. Toasted sesame paste is different from tahini as it is made from toasted sesame seeds with a very nutty flavor. If you can't find it, use one tablespoon tahini combined with one tablespoon of toasted sesame oil. It will be slightly different, but it will do the trick. When your sauce is ready, divide it into bowls and set aside. You will later dilute the sauce with some of the cooking water from the noodles.
Next comes the tempeh, which is flavored with five spice powders, smoked paprika, and cumin. Once it has marinated for at least 30 minutes, sautée for 5 minutes, stir in some of the sauce, and use it as a topping for the noodles.
I recommend cooking the tempeh when the noodles are almost ready. This way, everything is hot at the same time. Top with roasted peanuts and fresh herbs, and serve!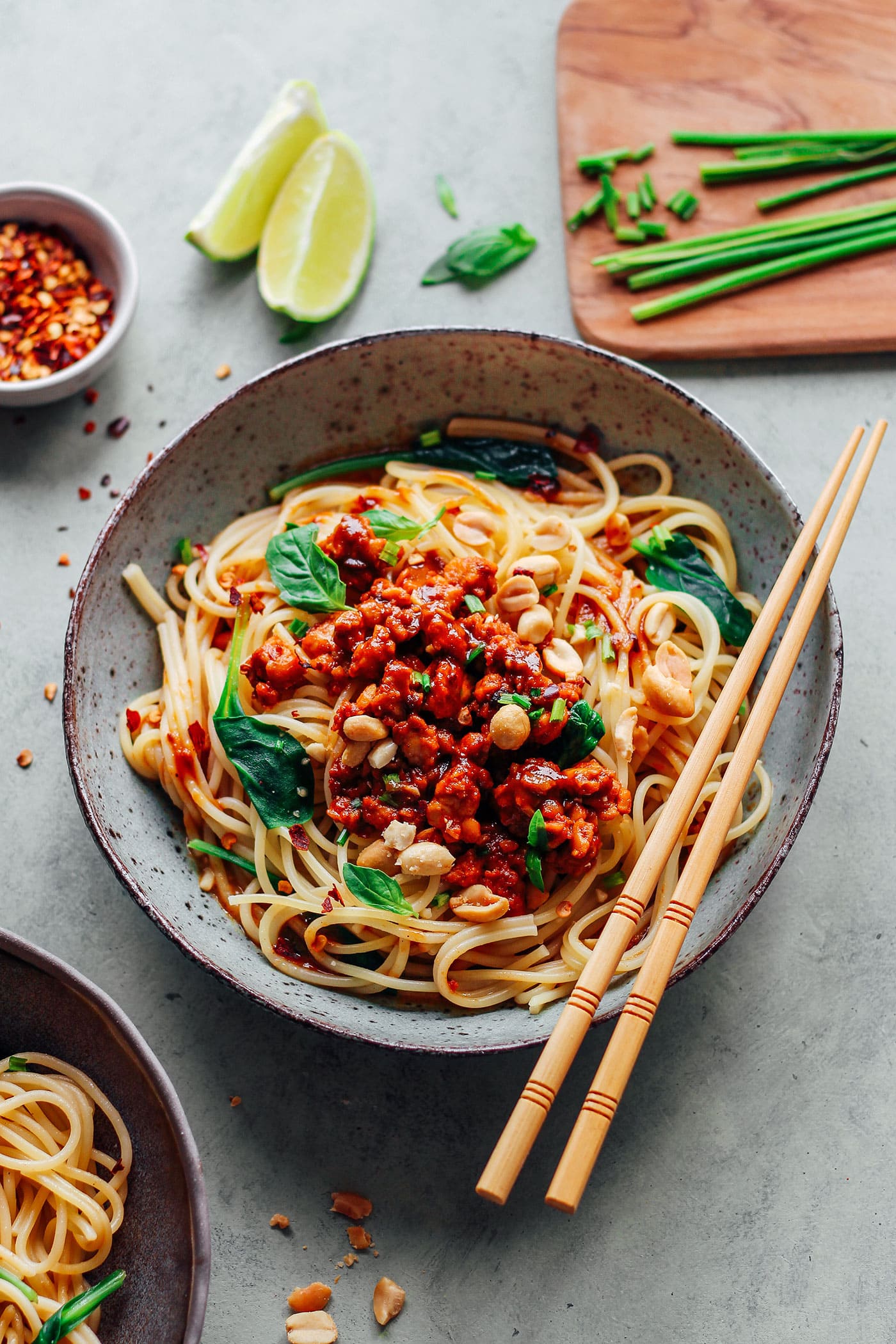 If you are looking for a nutritious and delicious pasta dish, these Dan Dan noodle bowls won't disappoint! They are spicy, packed with flavor, and boast over 20g of protein per serving! There is no need to mention these bowls are the perfect example of comfort food.
Let me know in the comments if you try this Vegan Dan Dan Noodles recipe!
Recipe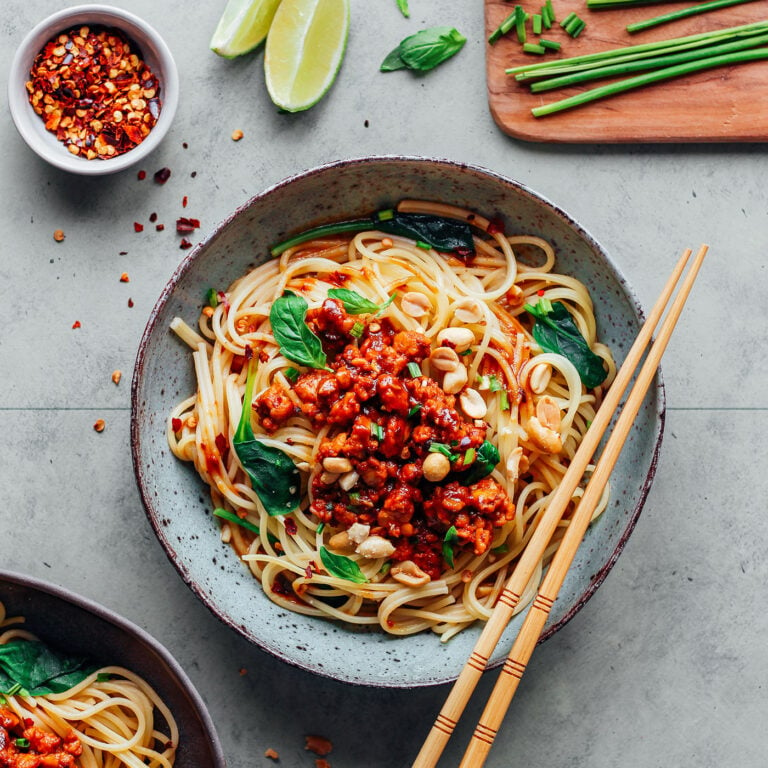 Dan Dan Noodles with Tempeh Scramble
Chinese Dan Dan noodles with a spicy Sichuan sauce topped with smoky tempeh scramble and roasted peanuts.
Ingredients
The Rest
10

ounces

spaghetti or rice noodles

2

cups

baby spinach

or steamed/sautéed kale or pak choi

for topping: roasted peanuts, cilantro, basil, or green onions
Instructions
Spicy Sichuan Sauce
In a medium-size saucepan, heat the canola oil over medium heat. After about 1 minute, dip the handle of a wooden spoon or spatula into the oil. If it starts bubbling around the handle, the oil is hot enough.

Remove the oil from heat and add the red pepper flakes, Sichuan peppercorns, anise star, and bay leaf. Cover with a lid immediately as it may splatter. Let the oil cool completely, in the meantime prepare the tempeh. Once the oil is cold, strain through a fine-mesh strainer and discard the aromatics.

Transfer the chili oil to a small bowl. Stir in the soy sauce, toasted sesame paste, white rice vinegar, soybean paste, coconut sugar, and minced garlic. Mix to combine. Reserve one tablespoon of the sauce and divide the rest into 4 serving bowls, set aside.
Tempeh Scramble
In a small bowl, combine the sesame oil, soy sauce, five spice, ground cumin, and smoked paprika together.

Using your hands, scramble the tempeh into small pieces. You can also use a food processor if you prefer and pulse a few times until roughly chopped. Add the tempeh to the bowl and stir to coat. Let marinate at least 30 minutes.
Noodles
Cook the noodles according to the package instructions.

While the noodles are cooking, heat a large skillet over medium heat. Once hot, add the marinated tempeh and cook for 3-5 minutes. Stir in the reserved Sichuan sauce and stir to coat the tempeh with the sauce.

To assemble: pour about 1/4 cup of the noodles cooking water into each bowl. Mix the cooked noodles with the baby spinach (the heat from the noodles will cook the spinach). Divide the noodles into the bowls. Top with tempeh scramble, a few peanuts, and fresh basil (or green onions). Serve immediately.

Make sure to stir well to coat the noodles with the sauce.

Noodles will keep for up to 2 days in the refrigerator and can be eaten cold.
Notes
If you don't have toasted sesame paste, use 1 tbsp tahini mixed with 1 tbsp toasted sesame oil.
Nutrition
Serving:
1
serving
|
Calories:
535
kcal
|
Carbohydrates:
52.6
g
|
Protein:
20.6
g
|
Fat:
28.7
g
|
Sugar:
2.8
g
Did you make this recipe?
Tag @fullofplants on Instagram and hashtag it #fullofplants