This 30-minute vegan Pad Thai is big on flavor and comes with the most amazing sweet-salty-sour sauce! This vegetarian Pad Thai is, without a doubt, a must-try!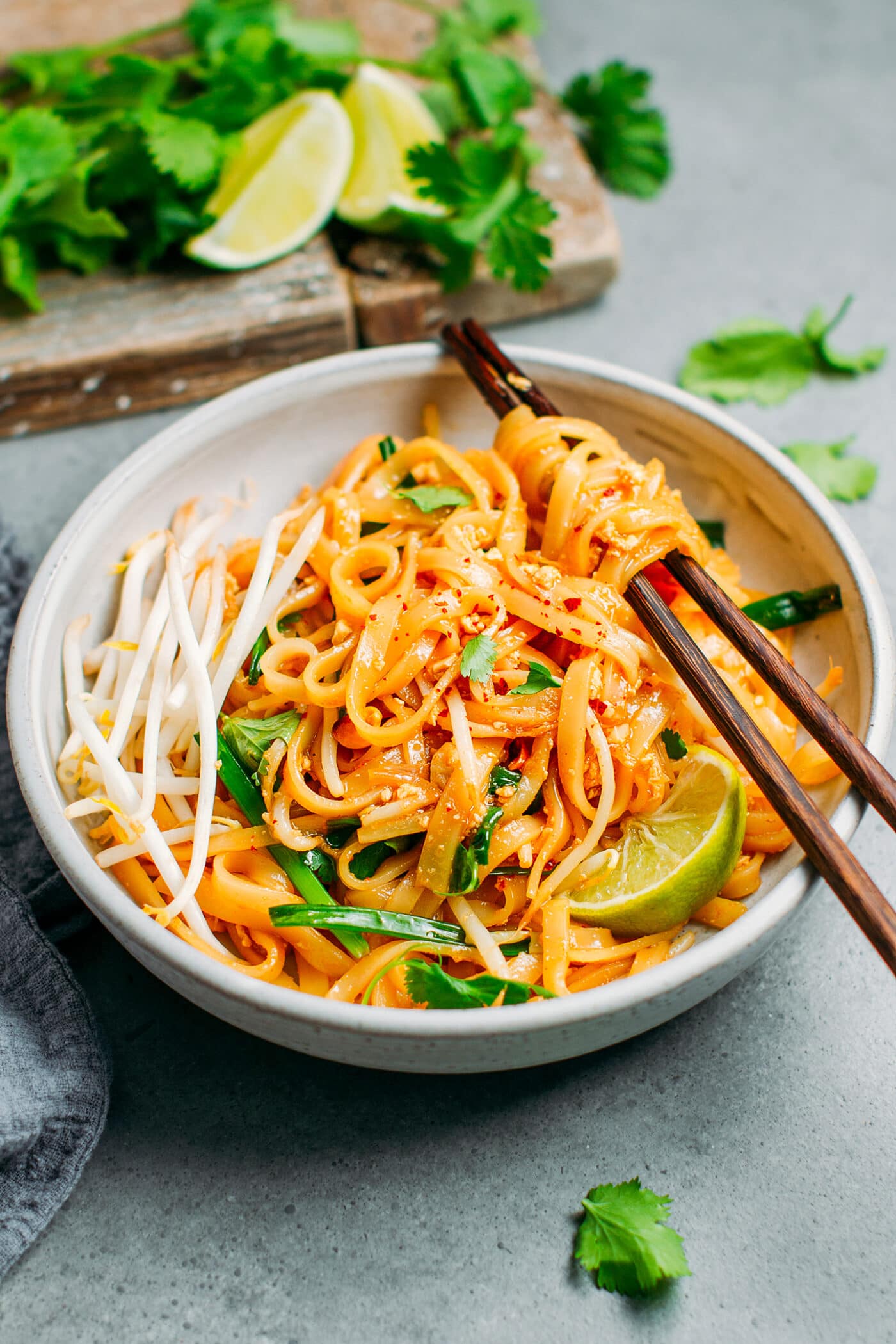 📘 What is Pad Thai
Pad Thai is a noodle dish that originated in Thailand during the mid-20th century. It consists of rice noodles stir-fried with bean sprouts, Chinese chives, and eggs and coated with a salty, sweet, and sour sauce.
This version is vegan, and while it is not completely authentic, I made it as close as possible without using eggs, shrimp, or fish sauce. It has, however, that restaurant quality!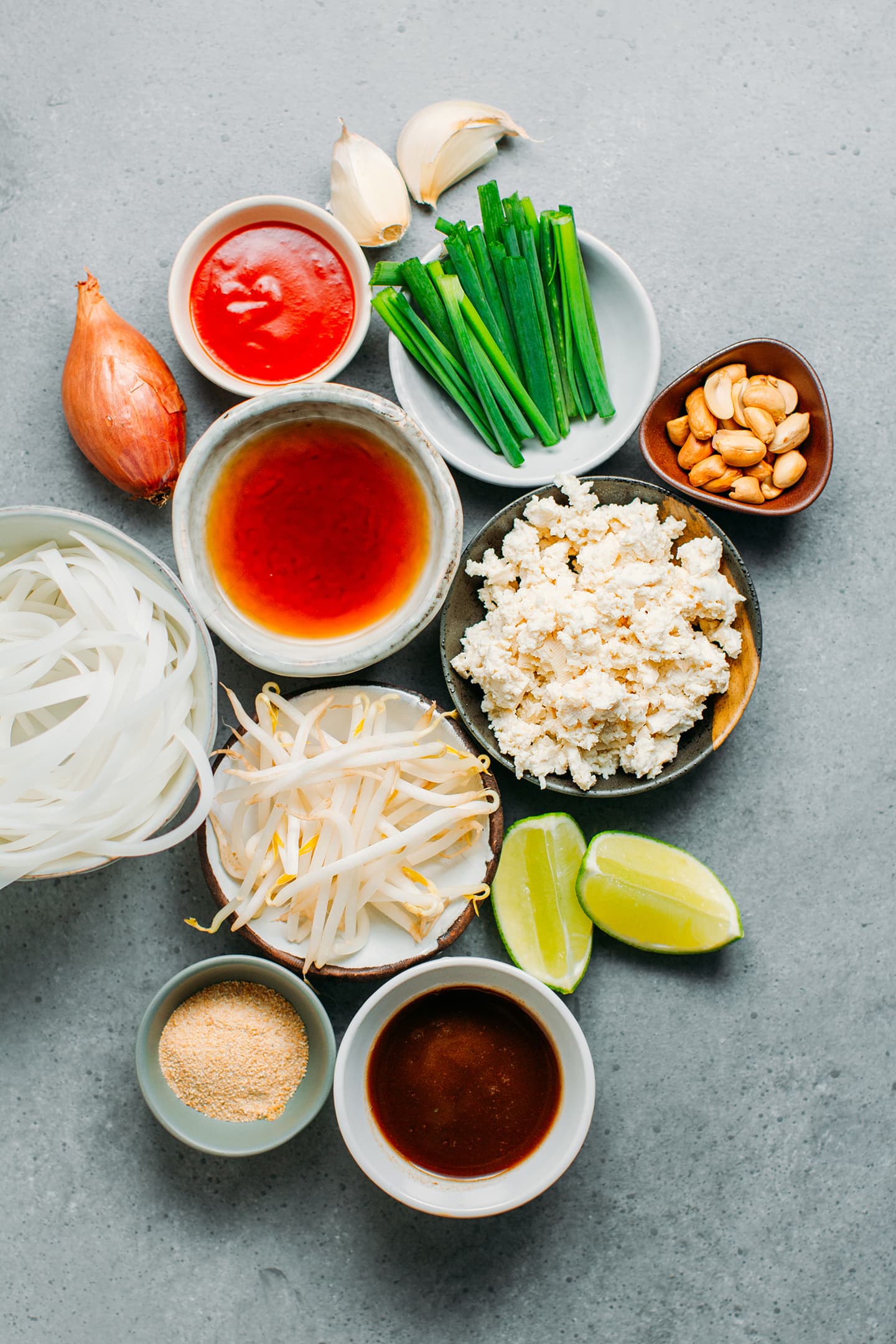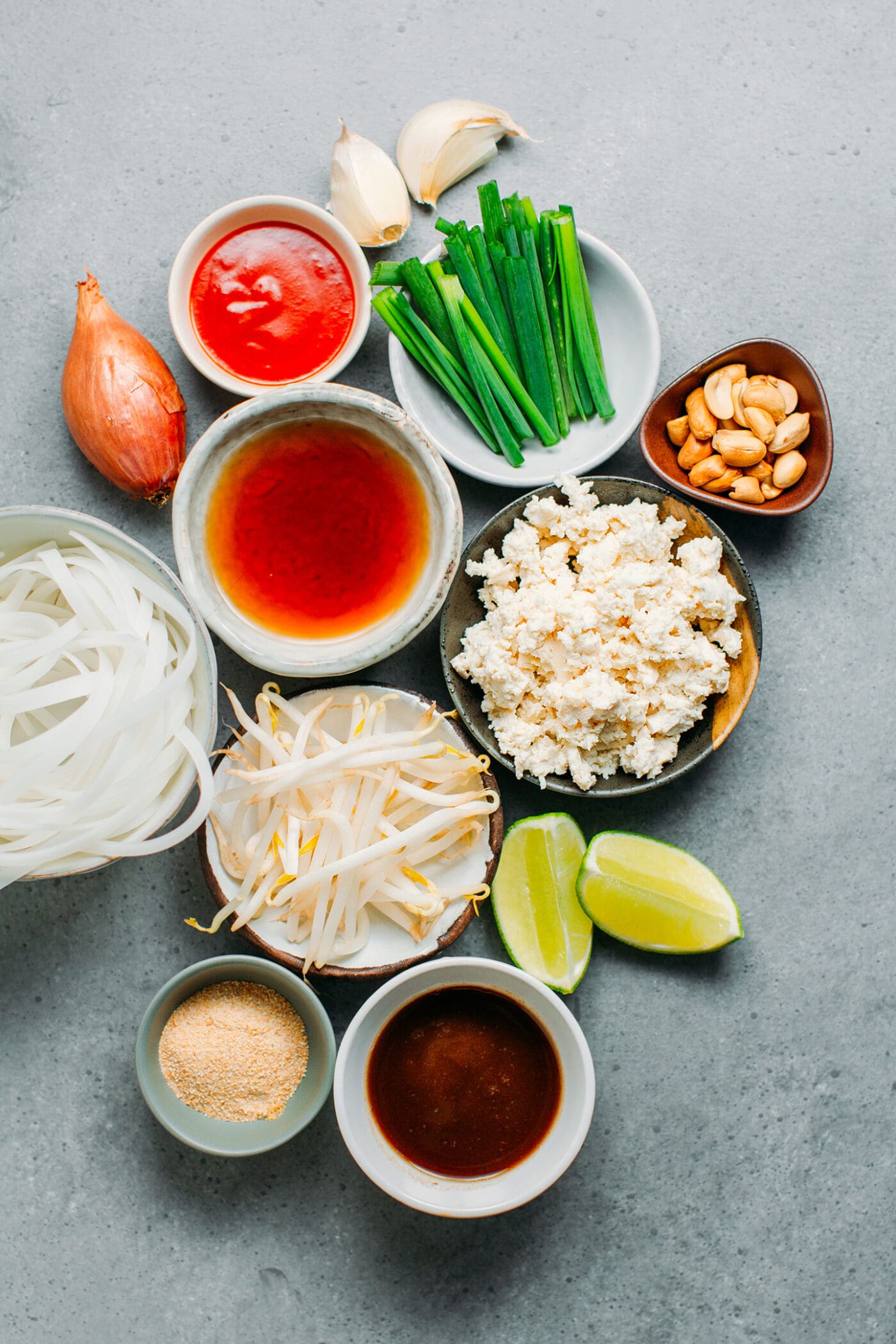 🥣 How to Make Vegan Pad Thai
First, you want to prepare the sauce, which is a vital component of this noodle dish.
Sauce
Here is what you will need to prepare the sauce:
Tamarind juice – It adds a subtle fruity, sweet, and sour flavor to the sauce. To make tamarind juice, pour boiling water over tamarind pulp and let it sit for about 10 minutes. Strain the pulp and keep the juice.
Soy sauce – For umami and saltiness. If you want to keep this recipe gluten-free, use tamari or coconut aminos. Feel free to use Thai soy sauce if you want a more authentic taste.
Sweet chili sauce – For some heat. You can get sweet chili sauce online or check my homemade sweet chili sauce recipe.
Vegan fish sauce – An essential ingredient in this recipe! To be honest, there is no substitute if you want to get that rich and deep flavor, so unique to Pad Thai. I highly recommend this vegan fish sauce. It smells and tastes almost the same as real fish sauce.
Sugar – To balance the saltiness and the spiciness. Since we will make caramel, I highly recommend using white or palm sugar.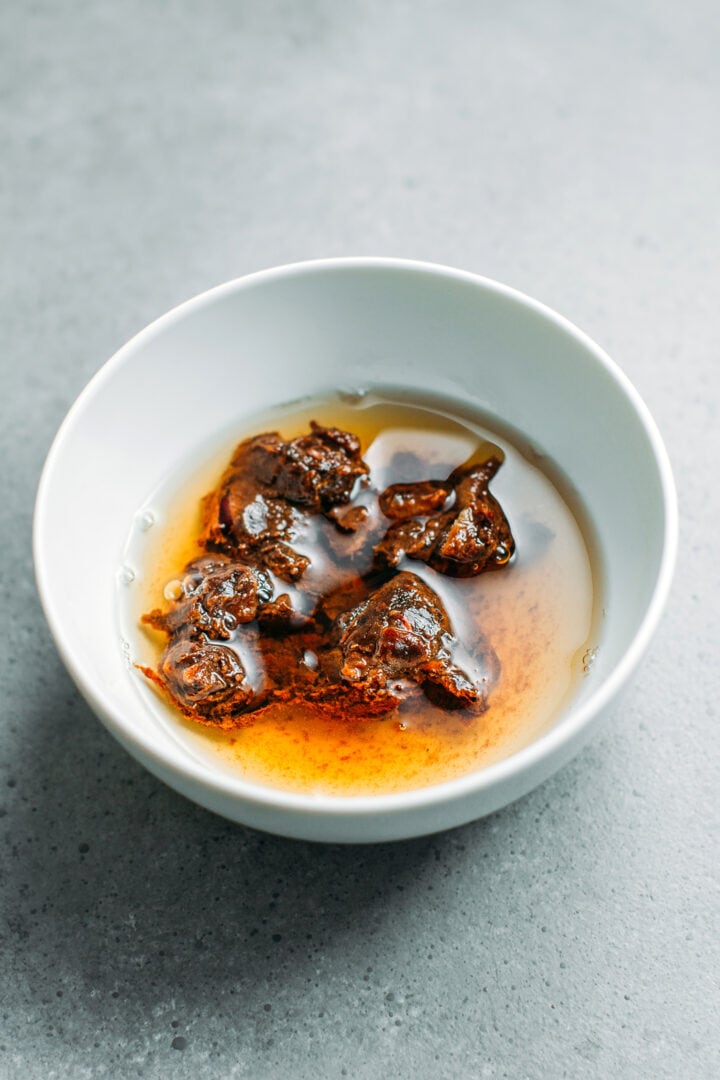 I'm sharing two secrets that, in my opinion, take this Pad Thai to another level:
Start by making a caramel – Instead of mixing the sugar with the rest of the sauce, caramelize it until golden brown and deglaze it with water and the rest of the ingredients. This extra step will add a richer flavor and will also help the sauce thicken, allowing it to coat the noodles even better!
Add roasted rice powder – This is just a personal preference, but after trying a Pad Thai from a restaurant that used roasted rice powder, I couldn't go back to the basic version! The addition of rice powder brings an addicting nutty, and toasty flavor. It's totally optional, though, but if you can get your hands on it, it's worth trying.
Once the sugar has turned into a golden brown caramel, deglaze the pan with two tablespoons of water, and add the remaining ingredients. Cook for 1 minute and set aside. The sauce is now ready!
Stir-Fry
To make the stir-fry, here is what you will need:
Garlic and shallots
Tofu – Authentic Pad Thai usually contains scrambled eggs. To mimic the eggs, we will be using scrambled tofu! I recommend going with medium tofu in order to get a soft texture. While optional, you can add a pinch of turmeric and kala namak salt for a yellow color and an eggy flavor.
Green onions – Preferably Chinese chives for a garlicky flavor. If you can't find Chinese chives, use scallions/green onions.
Noodles – Use flat white rice noodles. I recommend cutting the noodles in half. This way, it will mix better with the tofu and green onions.
Peanuts – Use roasted peanuts.
While Pad Thai usually doesn't contain any carrots, mushrooms, or bell peppers, we won't judge if you sneak in a few!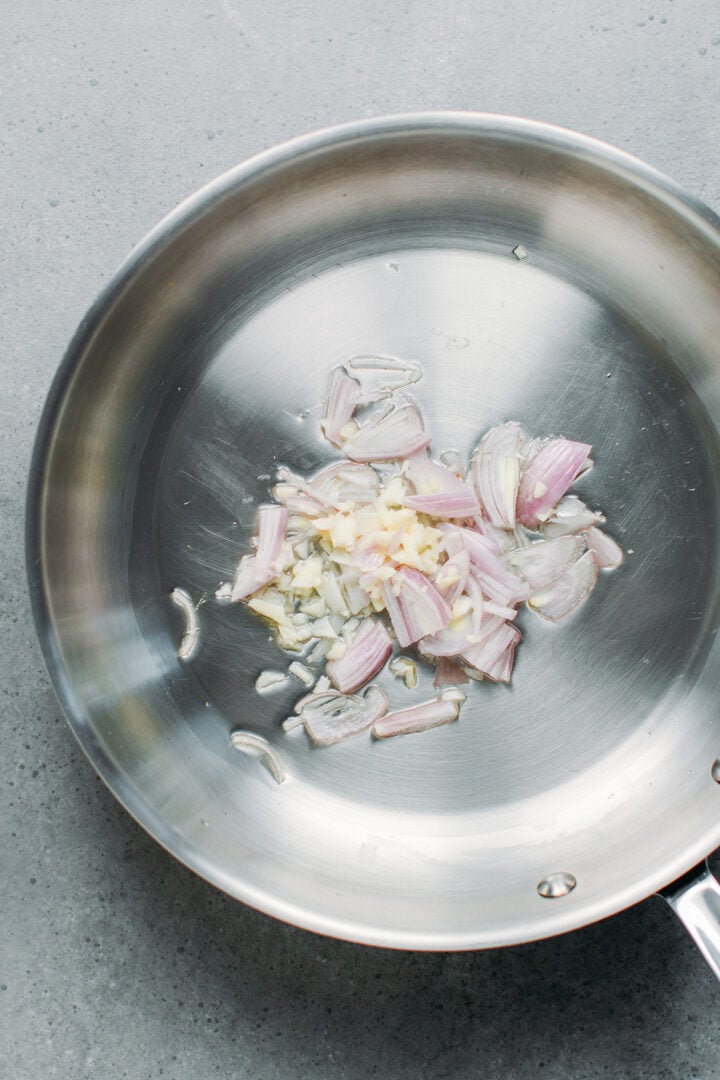 Start by sautéing minced garlic and shallots for a few minutes or until fragrant. Next, add the scrambled tofu and cook for one more minute.
In the meantime, cook the rice noodles. Drain and add the noodles to the skillet with the chopped green onions, bean sprouts, and sauce. Cook for 3-5 minutes, stirring to coat the noodles with the sauce.
Finally, remove from heat and top with crushed roasted peanuts and a squeeze of lime!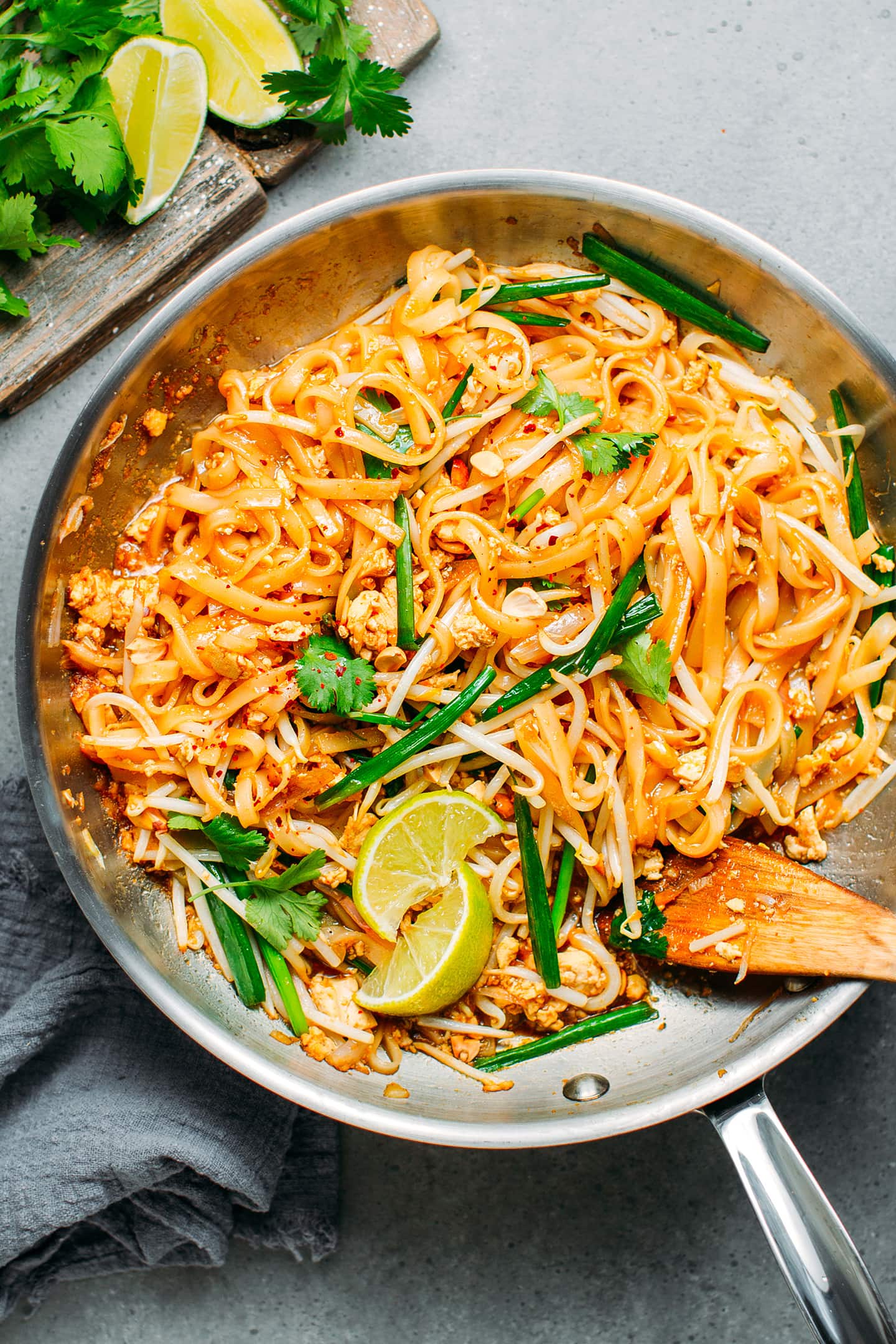 💬 FAQ
What can I substitute for the tamarind?
Tamarind pulp is available almost everywhere and will keep for years in the refrigerator, so you should definitely try to get your hands on it. If you really can't find it, substitute it with lime juice and a teaspoon of sugar.
Can I use any type of noodles?
Long and flat rice noodles work best. However, almost any rice noodles will work.
What can I substitute for the vegan fish sauce?
To be honest, I highly do not recommend using a substitute. It's the main ingredient of this Pad Thai.
How long does Pad Thai keep?
Pad Thai will keep for up to 3 days in the refrigerator. Reheat in a non-stick skillet over medium heat.
Is this Pad Thai gluten-free?
You can easily make this recipe gluten-free by replacing the soy sauce with coconut aminos or tamari.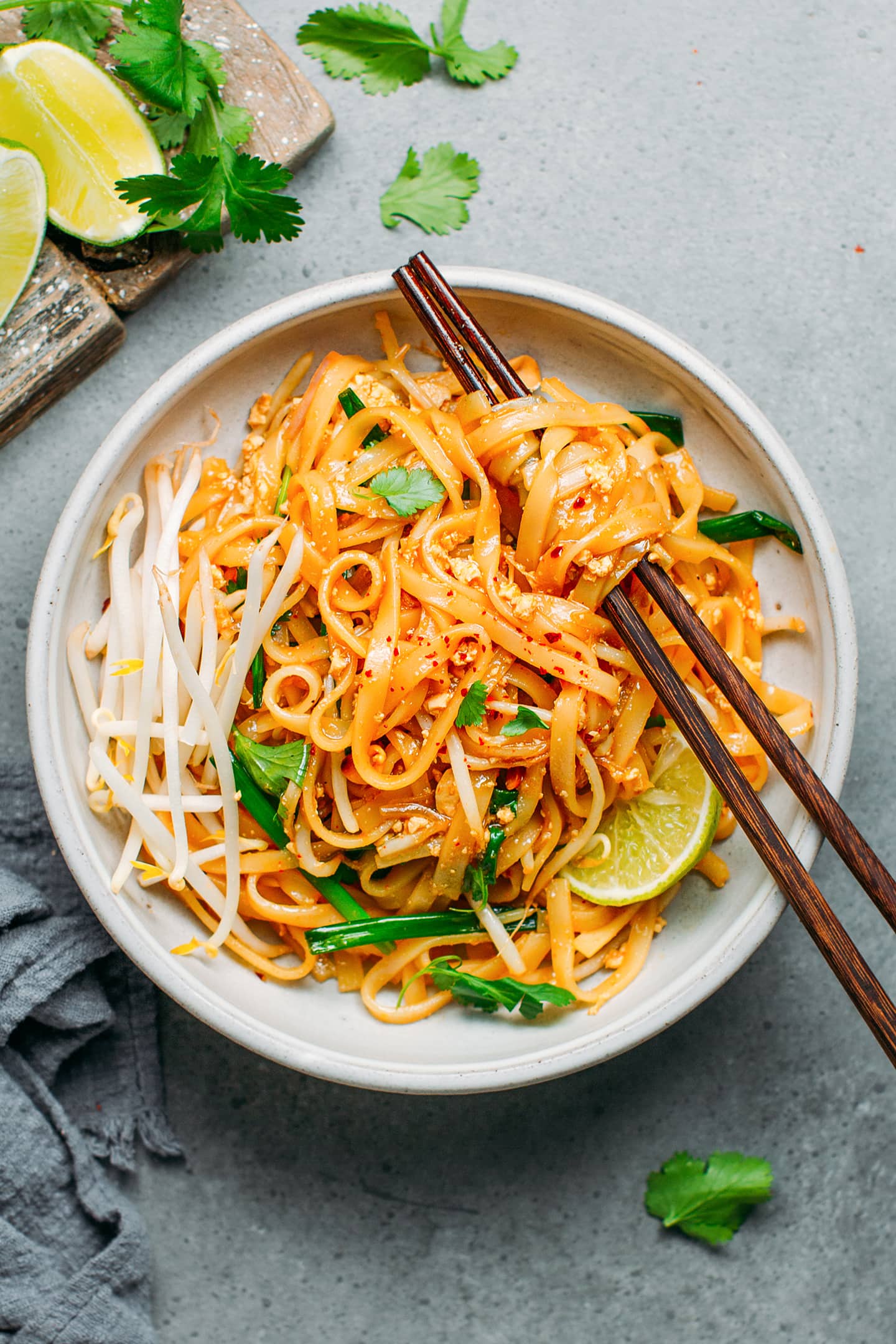 This vegan Pad Thai is one of my favorite noodle recipes! It is packed with flavor, quick to make, and better than takeout (and I ordered a lot!). I have no doubt it will quickly become a regular in your home, just like it did in mine!
🇹🇭 More Thai-Inspired Vegan Recipes
⭐️ Did you like this recipe? Let us know in the comments below, and tag us on Facebook, Instagram, or Pinterest!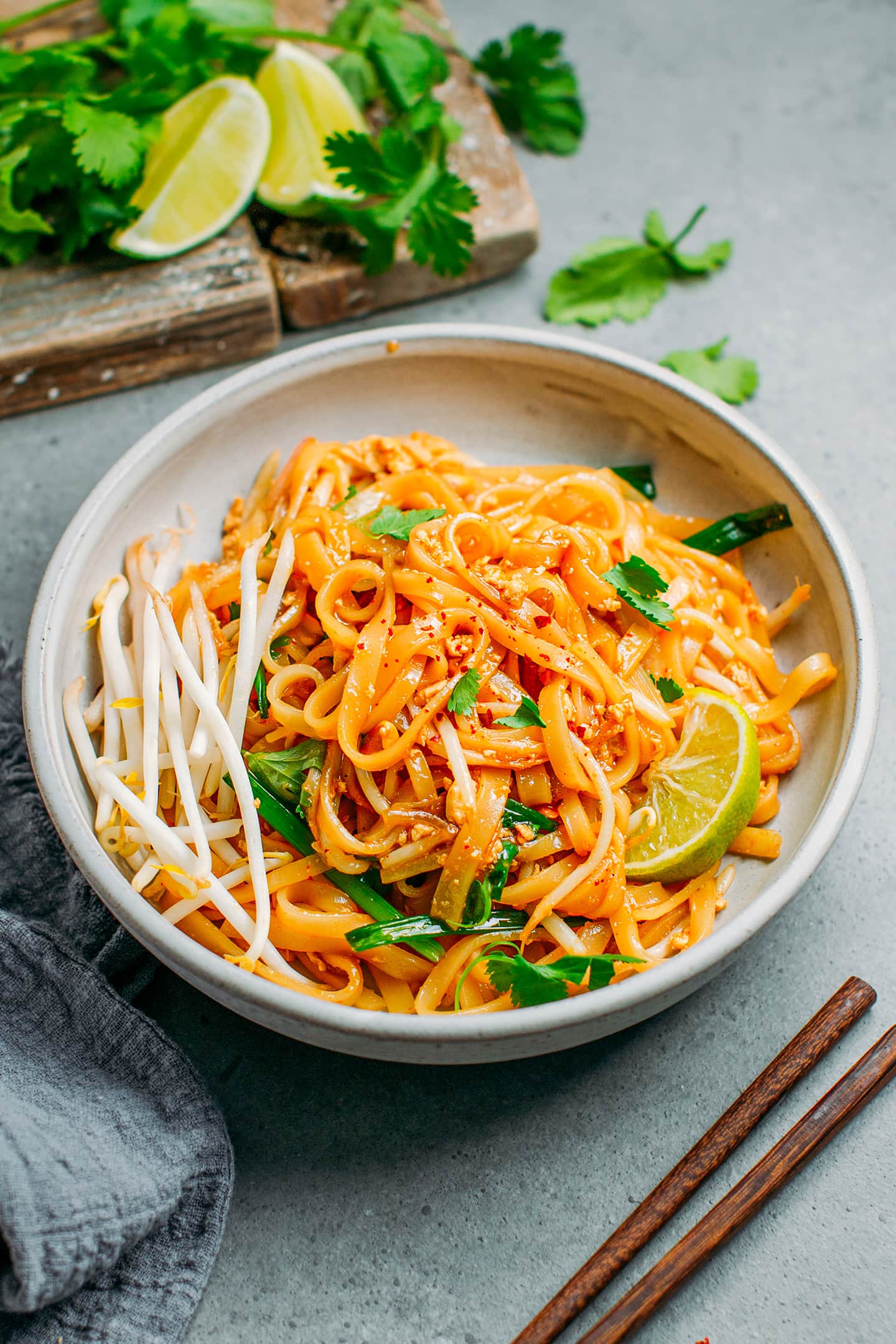 Recipe
The Best Vegan Pad Thai
Delicious vegan Pad Thai with rice noodles, bean sprouts, chives, tofu, and the most amazing sweet-salty-sour sauce! Vegan + 30 minutes!
Ingredients
Pad Thai
2

tbsp

oil

1

clove

of garlic

minced

1

shallot

minced

1/2

cup

scrambled tofu

use medium tofu

8

ounces

rice noodles

2

cups

bean sprouts

6-8

stalks

Chinese chives

cut into 2-inch long strips

1/4

cup

roasted peanuts

slightly crushed

for topping: cilantro, lime juice
Instructions
Pad Thai Sauce
Add the sugar to a light-colored saucepan or skillet. Heat over medium heat for 2-3 minutes or until sugar has melted. Do not stir. Keep heating until the sugar gets a golden brown color and turns into caramel.

As soon as the sugar has caramelized, deglaze with the 2 tablespoons of water. Be careful, as it will spit. Next, add the vegan fish sauce, sweet chili sauce, soy sauce, tamarind juice, and toasted rice powder if using. Let simmer for 1 minute or until the caramel has melted. Transfer the sauce to a small bowl and set aside.
Pad Thai
Bring a large pot of water to a boil. Once boiling, cook the rice noodles according to the package instructions.

In the meantime, heat the oil in a skillet or wok over medium heat. Once hot, add the minced garlic and shallot, and cook for 2-3 minutes or until fragrant.

Add the scrambled tofu and cook for another minute. At this point, you can add a pinch of turmeric to give the tofu a yellow color, and a pinch of kala namak salt for an eggy taste.

Add the drained cooked noodles, bean sprouts, Chinese chives, and the sauce. Cook for 2-3 minutes, stirring regularly to coat the noodles with the sauce.

Remove from heat, top with crushed peanuts, a squeeze of lime, and serve immediately. This Pad Thai will keep for up to 3 days in the refrigerator.
Notes
To make tamarind juice: Add 3 tablespoons of tamarind pulp to a bowl. Cover with 1/3 cup of boiling water and let it rest for 10-15 minutes. Strain through a fine sieve mesh and discard the pulp.
Nutrition
Serving:
1
serving
|
Calories:
532
kcal
|
Carbohydrates:
84.6
g
|
Protein:
11.9
g
|
Fat:
17
g
|
Fiber:
2.6
g
|
Sugar:
14.1
g
Did you make this recipe?
Tag @fullofplants on Instagram and hashtag it #fullofplants