These refreshing Korean-inspired noodles come with a spicy, tangy, and slightly sweet kimchi sauce! It takes just 10 minutes to prepare and 7 ingredients. A fresh and flavorful meal that is perfect for summer!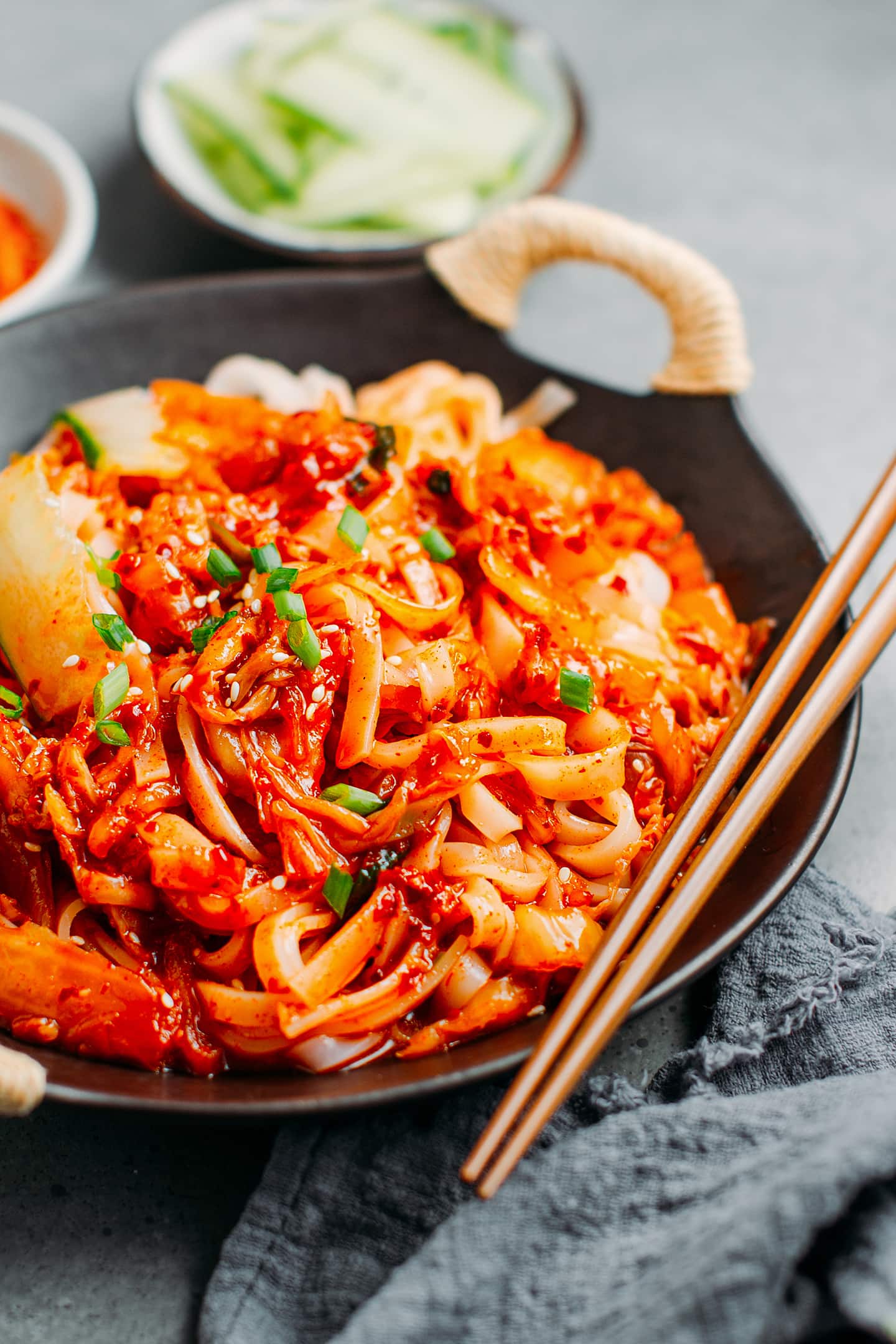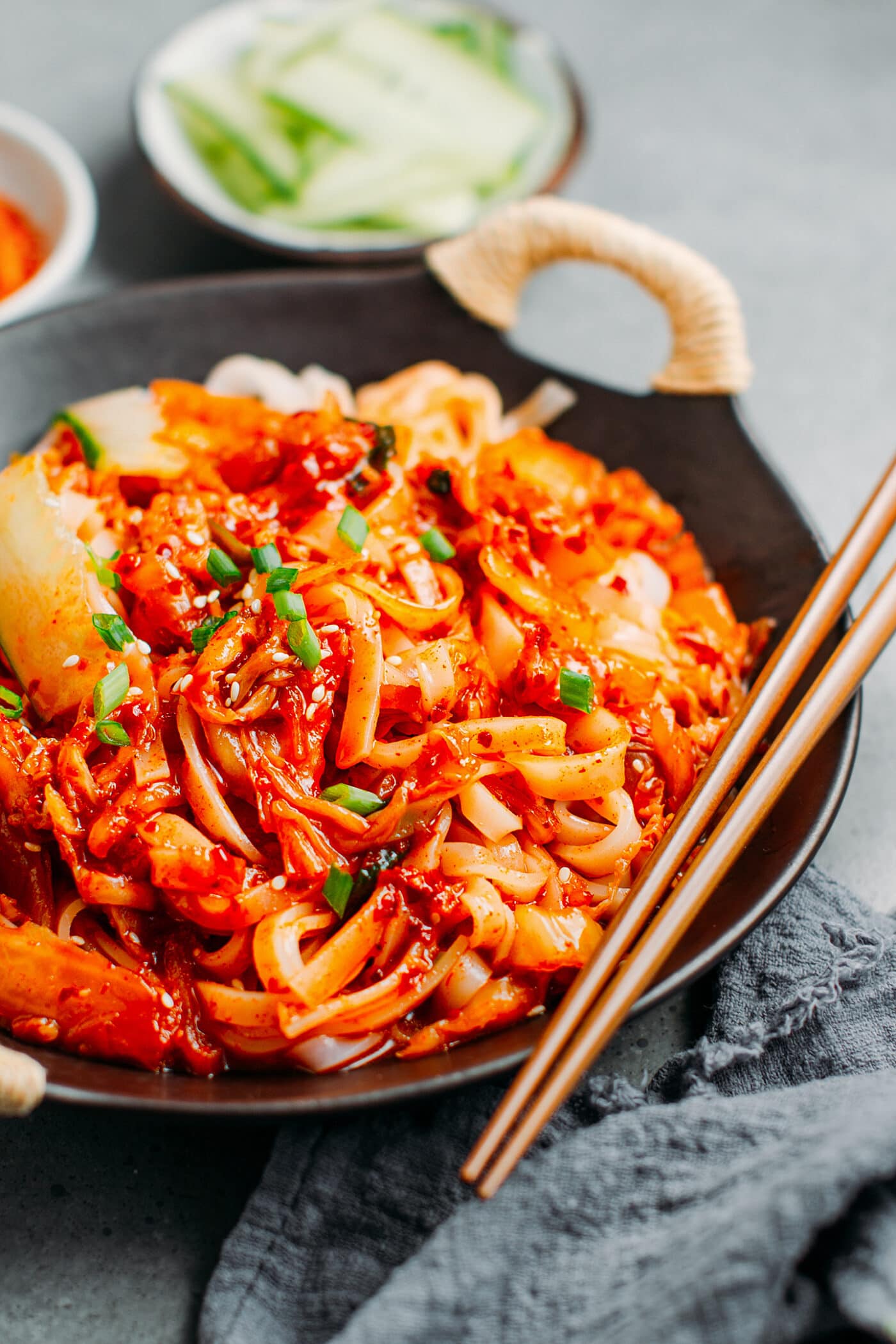 🌶 What is Kimchi Bibim Guksu
Kimchi Bibim-guksu is a popular Korean dish that consists of rice noodles coated with kimchi and gochujang sauce. It is usually served cold, topped with sliced cucumber and toasted sesame seeds.
If you are craving noodles that are rich in flavor and require very little time, you are going to love this recipe!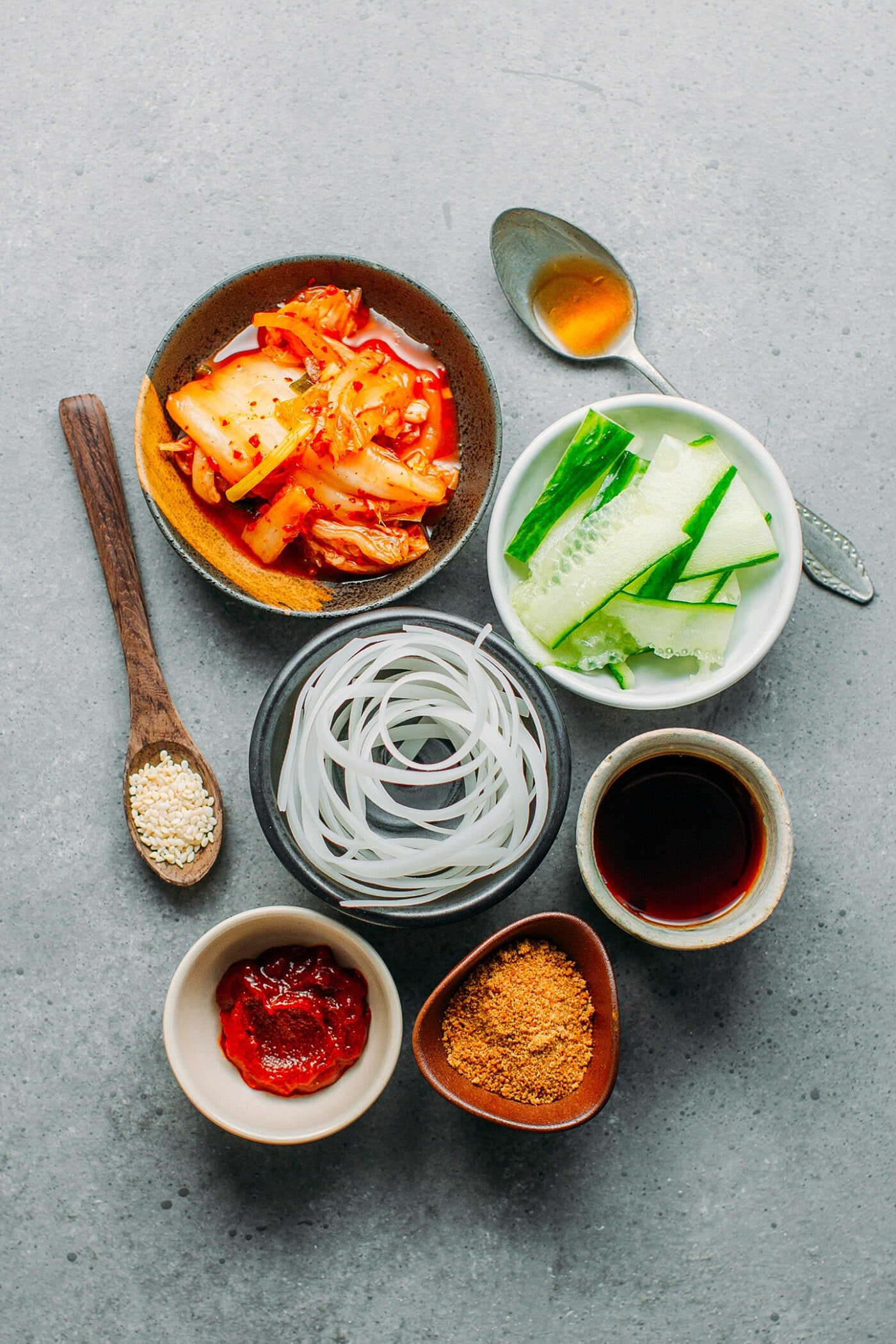 🍜 How to Make Kimchi Noodles
Preparing this noodle dish couldn't be easier. Here are what you will need:
Kimchi – Make sure you are using vegan kimchi, as some brands can contain anchovies or fish sauce. If you have extra time, I highly recommend learning how to make your own kimchi!
Noodles – While this dish is often prepared with wheat noodles (Somyeon), I used rice noodles here as it's what I had on hand, and I personally love rice noodles!
Soy sauce – For umami and saltiness. You can use tamari or coconut aminos.
Gochujang – Gochujang is a Korean fermented chili paste. It is salty and quite spicy with just a hint of sweetness. You can find it online or in most Asian grocery stores.
Sugar – I went with coconut sugar but feel free to use white sugar, maple syrup, or even agave. Sugar helps balance the spiciness.
Rice vinegar – To add tanginess and freshness. White rice vinegar is recommended. But basically, any white vinegar will work.
Sesame oil – Use toasted sesame oil for a nuttier flavor.
It starts with the noodles that are cooked until tender. As soon as the noodles are cooked, drain them and rinse them under cold water to stop the cooking process and chill them.
While the noodles are cooking, prepare the delightful sauce: mix the kimchi, kimchi brine, gochujang, rice vinegar, sugar, soy sauce, and sesame oil until combined. At this point, you can taste the sauce and adjust the seasoning to taste.
Time to assemble! Arrange the noodles on a serving plate or bowl and top them with the kimchi sauce. Garnish with sliced cucumber, chopped scallions, and toasted sesame seeds, and enjoy!
While you can serve the noodles warm or cold, I actually prefer it served chilled for a refreshing noodle salad!
💬 FAQ
Is this recipe authentic?
Yes, this recipe can be considered authentic as it is based on a few Korean bibim-guksu recipes.
What kind of noodles work best for this recipe?
Any kind of noodles will work! I personally like rice noodles, which are gluten-free and usually more tender than wheat noodles. If you want to make this dish as authentic as possible, use thin wheat noodles.
Is this noodle dish spicy?
It is quite spicy, so if you prefer a milder spiciness, simply omit the gochujang and adjust the saltiness to taste.
How long can I keep this noodle dish?
These kimchi noodles are best served immediately but will keep for up to 2 days in the refrigerator.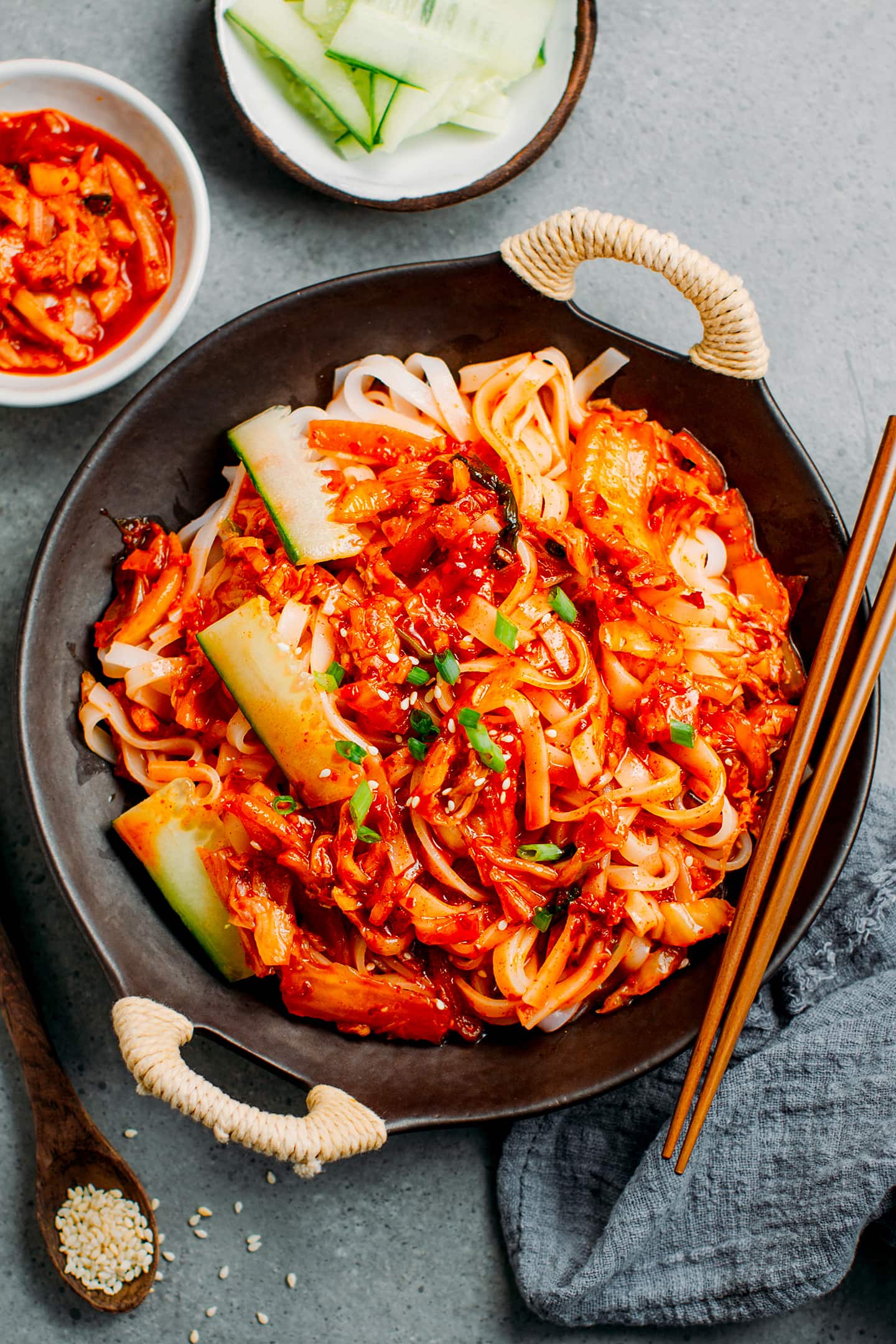 I hope you will love this delicious Korean-inspired dish! It's super fresh, plant-based, and SO easy to make!
Recipe
Quick Kimchi Noodles
Korean-inspired rice noodles served with a spicy and tangy kimchi sauce! Fresh, ready in 10 minutes, and so flavorful!
Instructions
Bring a large pot of water to a boil. Once boiling, add the rice noodles and cook according to the package instructions (usually 3-5 minutes). Once noodles are tender, drain and rinse them under cold water to stop the cooking and cool the noodles. Divide the noodles between two serving bowls or plates.

In a small bowl, whisk together the kimchi juice, soy sauce, sugar, white vinegar, gochujang, and toasted sesame oil. Stir in the kimchi.

Top the rice noodles with the kimchi sauce and stir to coat. Top with cucumber slices, green onions, and toasted sesame seeds!

These kimchi noodles are best served immediately but will keep for up to 2 days in the refrigerator.
Nutrition
Serving:
1
serving
|
Calories:
426
kcal
|
Carbohydrates:
94.7
g
|
Protein:
4.3
g
|
Fat:
1.7
g
|
Fiber:
2.7
g
|
Sugar:
8.3
g
Did you make this recipe?
Tag @fullofplants on Instagram and hashtag it #fullofplants