Introducing the easiest yet most delicious stew with spicy and sour kimchi and chewy tofu! This rich and saucy stew comes together in less than 30 minutes! Serve with rice or noodles for a complete and comforting meal!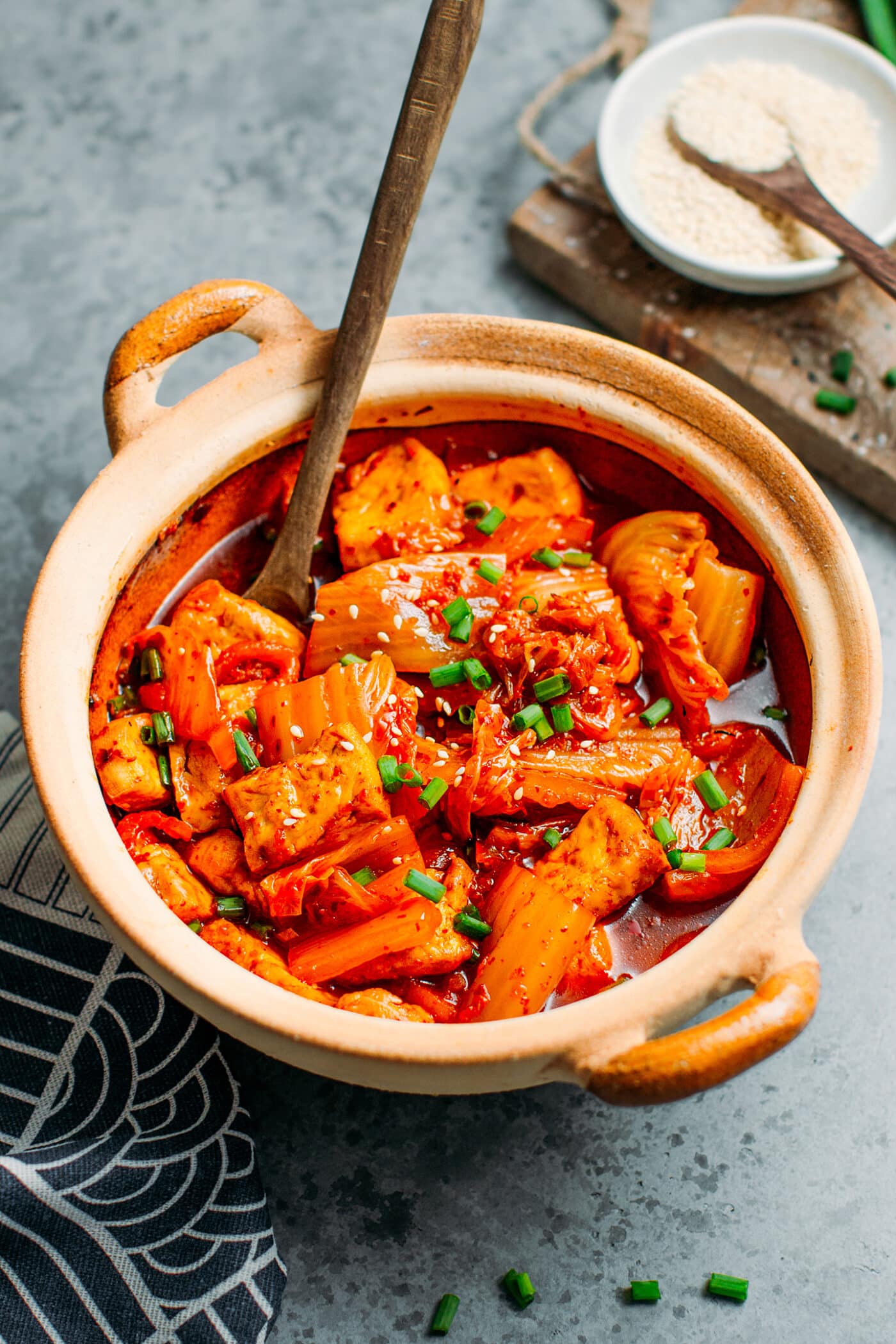 I'm so excited to share this stew recipe, as I have been making it non-stop for the last 3 weeks! It's so quick to make and incredibly warming. It packs a punch and has the perfect balance of sour/salty/sweet/spicy.
🥬 What is Kimchi
Kimchi is a Korean condiment made with Napa cabbage, green onions, ginger, and chili powder. It is fermented for a few days until it becomes slightly sour. You can find kimchi in most Asian stores or make your own.
I used kimchi before in this Vegan Kimchi Noodle Soup, which is also a favorite!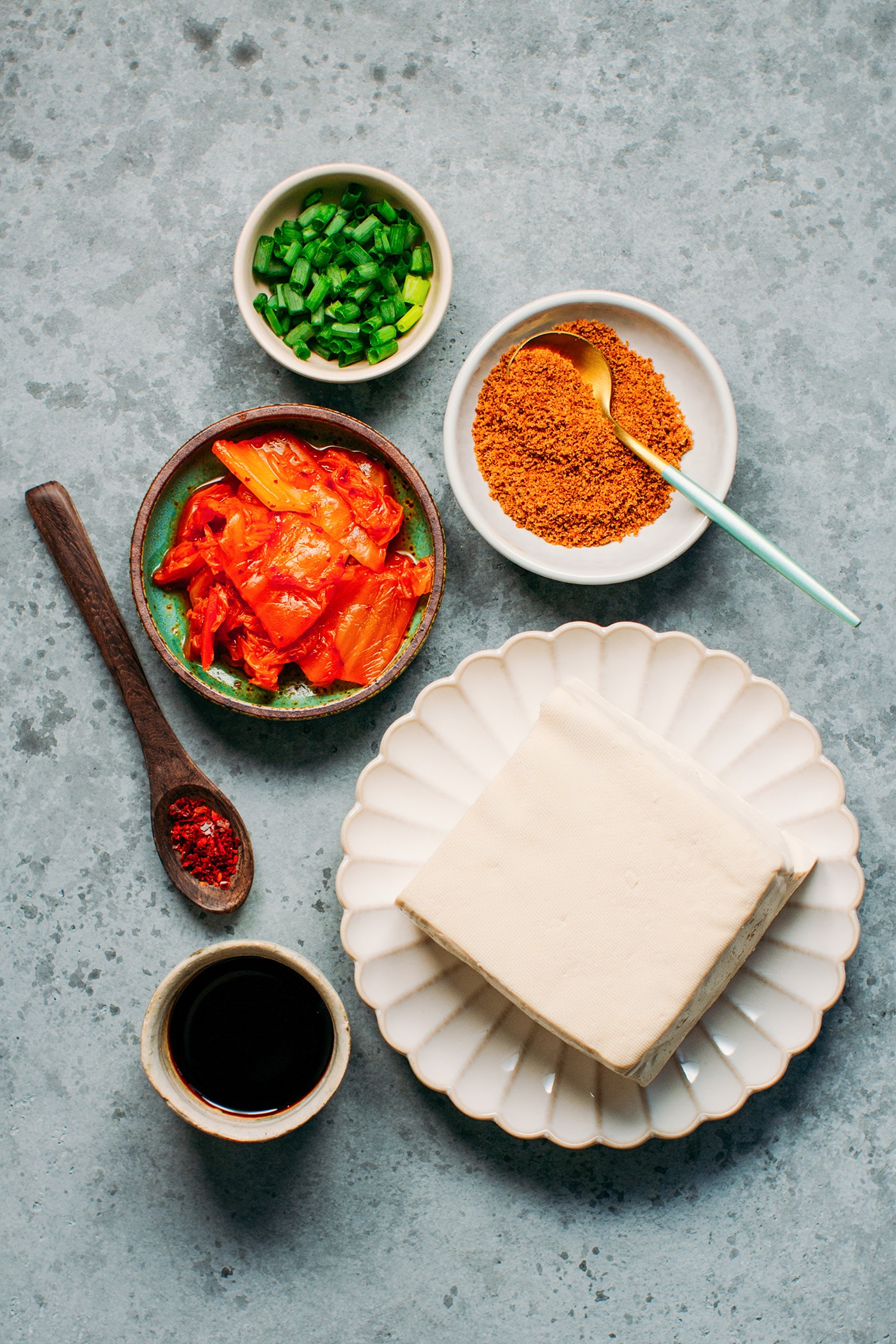 🥣 How to Make Kimchi Stew
Here are the ingredients you will need to prepare this stew. The list is very short and contains only easy-to-find ingredients!
Tofu – Use medium or firm tofu. If using medium tofu, press it between a few sheets of kitchen paper towel to remove the excess moisture.
Garlic – For an extra garlicky flavor, use fresh garlic.
Soy sauce – You can use regular soy sauce or tamari.
Sugar – To balance the spiciness and sourness of the stew. Coconut sugar or maple syrup works great as well.
Kimchi – The star of the dish! Make sure you are using vegan kimchi, as not all brands of kimchi are vegan. Or, you can check out my recipe to learn how to make your own kimchi at home!
Scallions – For toppings. It adds freshness and color.
Preparing this stew couldn't get easier:
Cut and fry the tofu. Try cutting the tofu into 1.5×1-inch rectangles with a 1/2-inch thickness. Alternatively, you can simply cut it into small cubes. The shape doesn't really matter. Once done, fry the tofu in a non-stick skillet or pot until golden brown. Note: If you don't want to deep-fry the tofu, you can shallow-fry (although it will take longer) or use an air-fryer!
Cook the tofu in the sauce. Next, cook the tofu in a sweet and salty sauce made of soy sauce and coconut sugar for a few minutes. The tofu will absorb the flavors!
Add the kimchi. Finally, add the kimchi, water, and a pinch of chili flakes for extra spiciness.
Let simmer covered for about 10 minutes and serve!
🍚 What to Serve with This Stew
This stew is fantastic served over white or brown rice! Add some steamed or roasted greens on the side for a healthy and nutritious meal!
💬 FAQ
Can I cook this stew in a regular pot?
Sure! You can use a cast iron pot or a deep skillet. I tried both ways, and it works perfectly.
Can I skip the frying step?
No, white tofu would crumble and wouldn't absorb the sauce like fried tofu does. You can, however, save time by buying fried tofu puffs.
Is kimchi vegan?
Not all brands of kimchi are vegan, so I highly recommend checking the ingredient list to make sure it doesn't contain fish sauce or shrimp.
How long does this stew keep?
This kimchi stew will keep for up to 3 days in the refrigerator.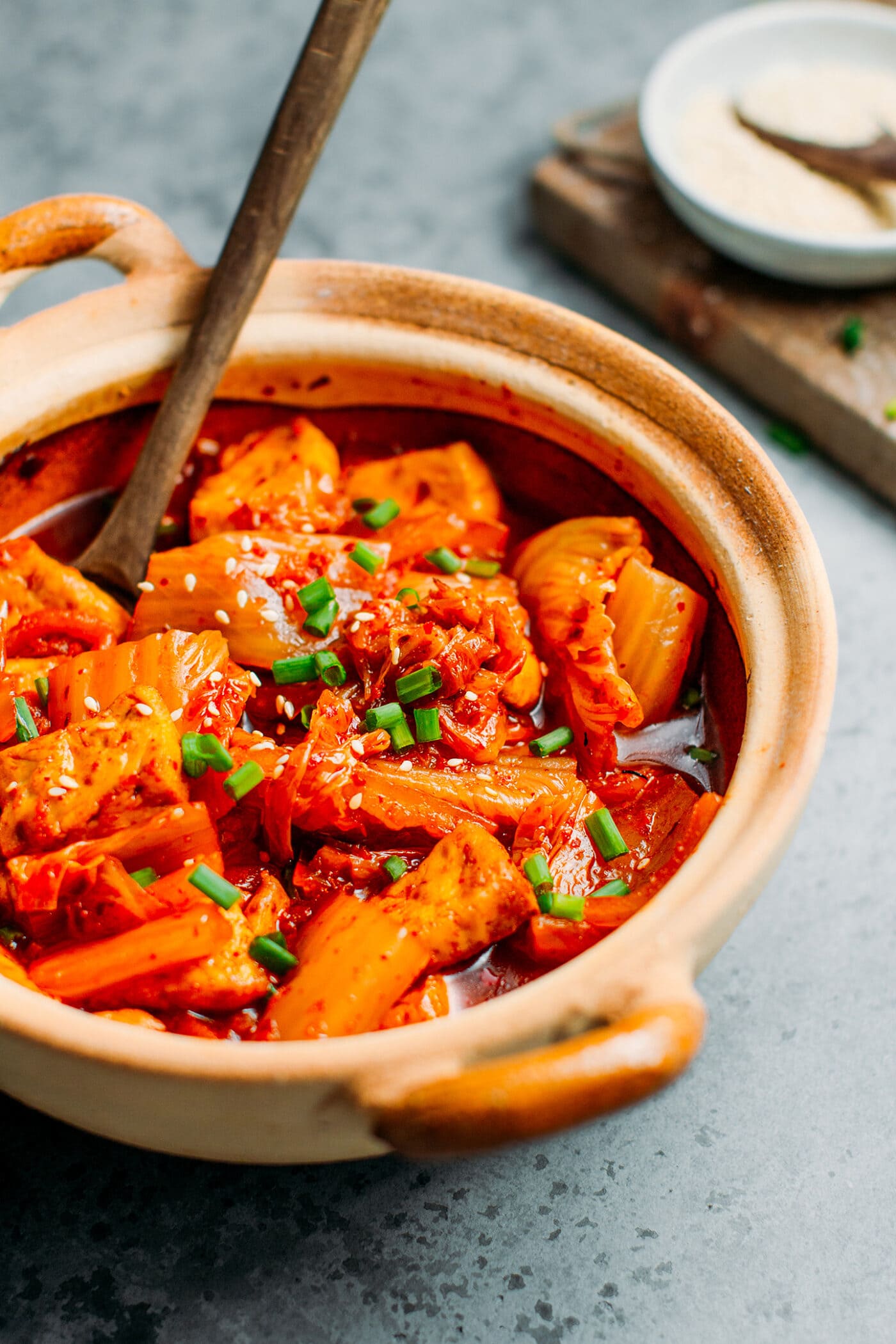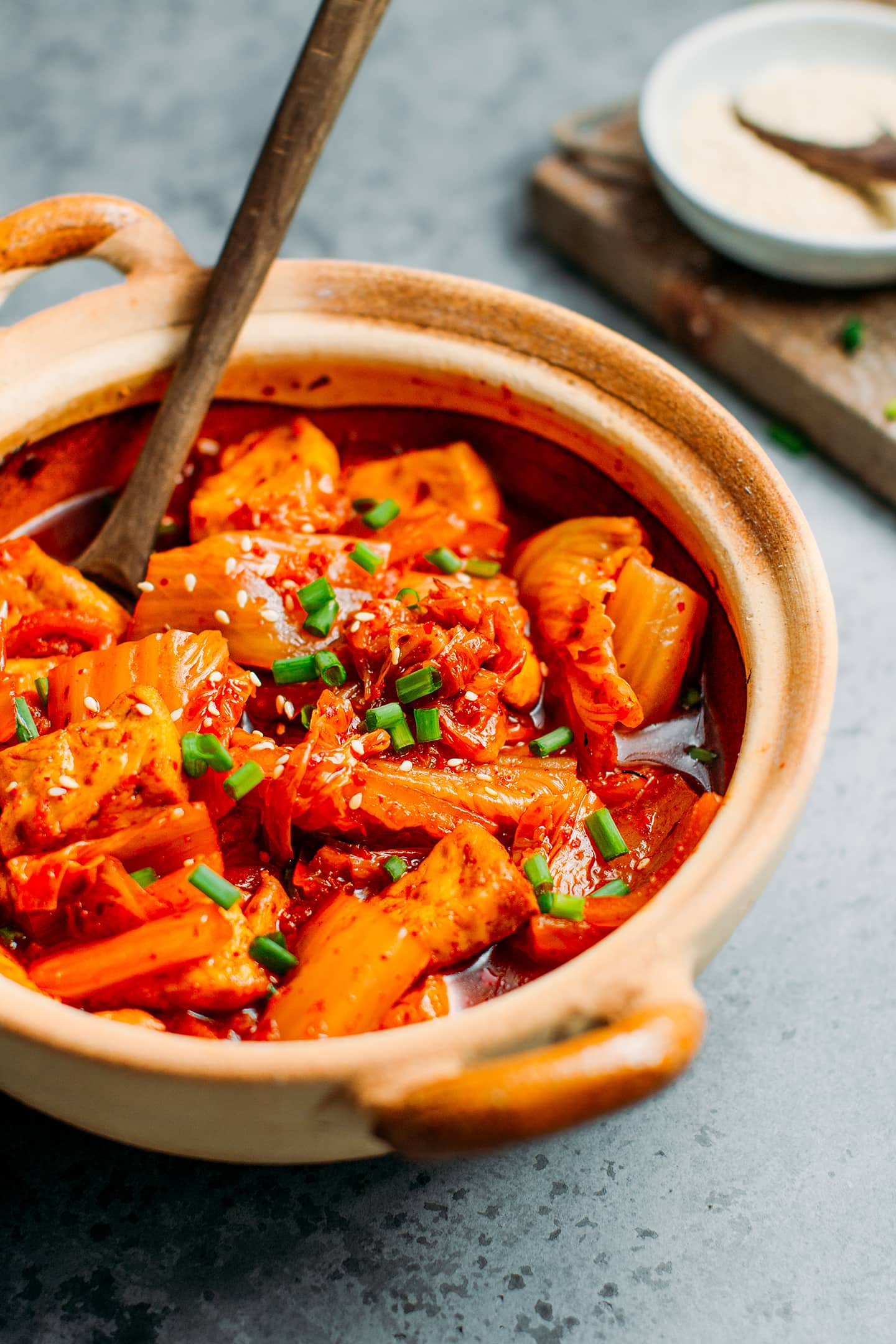 I hope you will love this comforting tofu kimchi stew as much as I do! It's perfect for a last-minute weeknight dinner, plus leftover reheat very well!
Let me know in the comments if you try this recipe!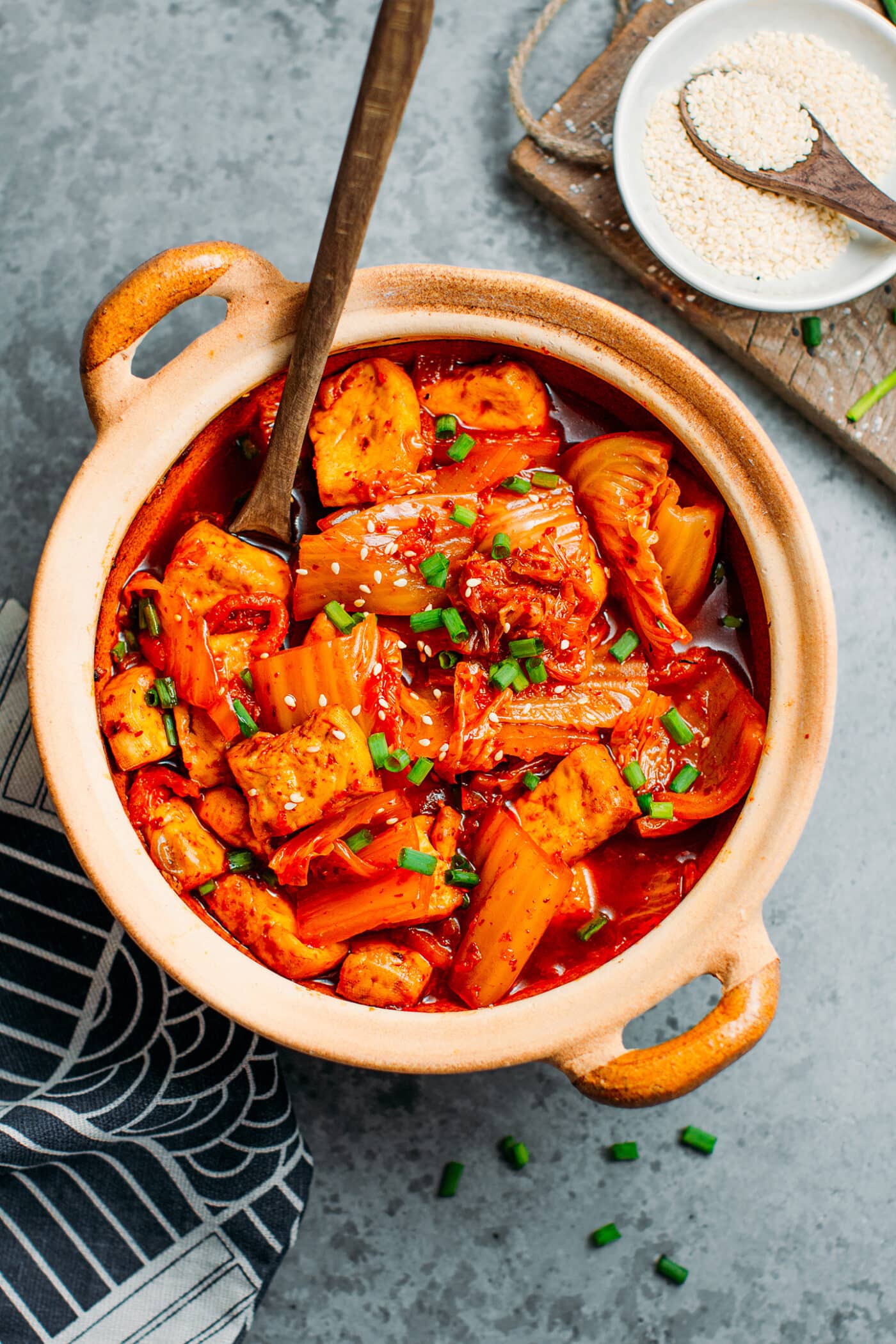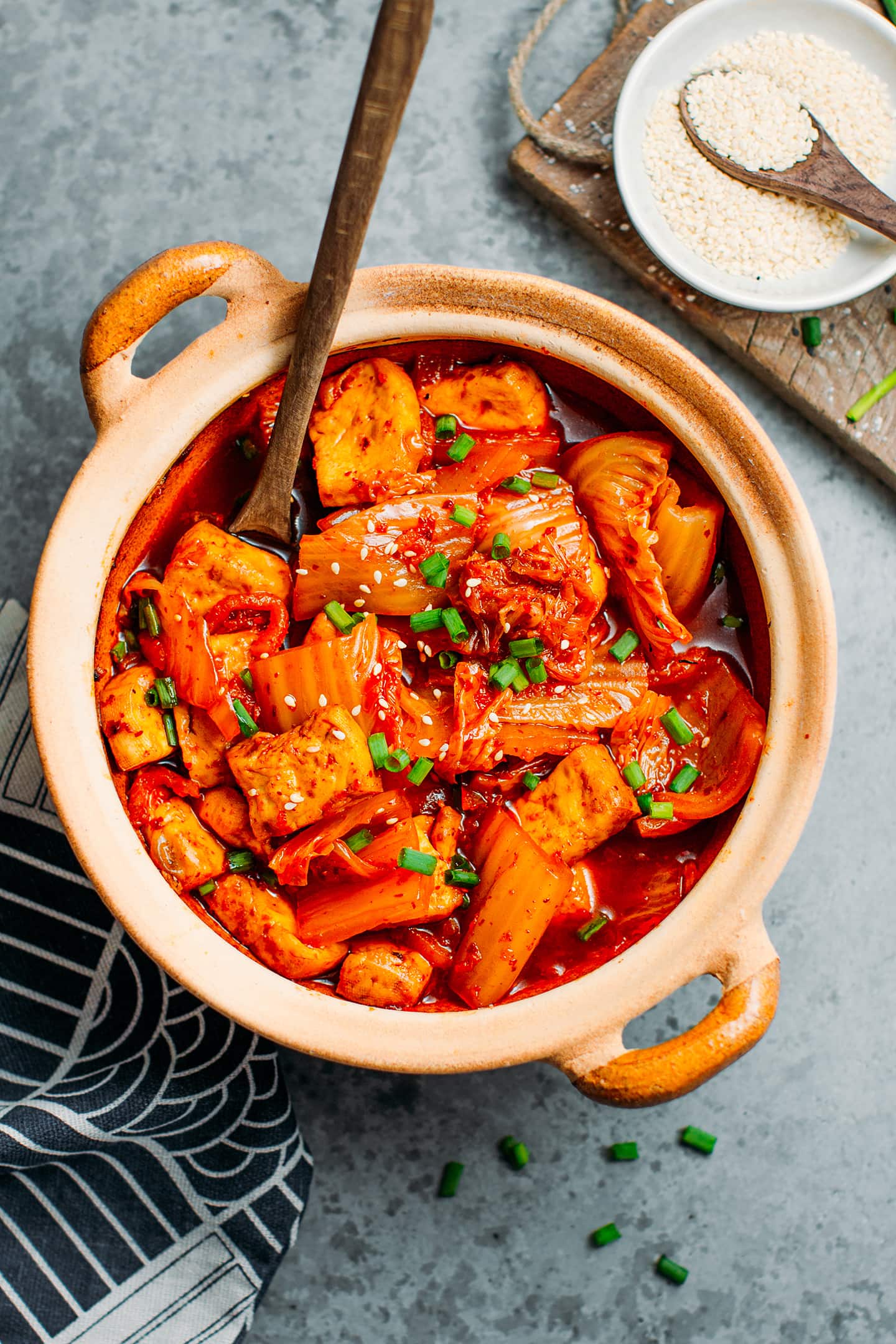 Recipe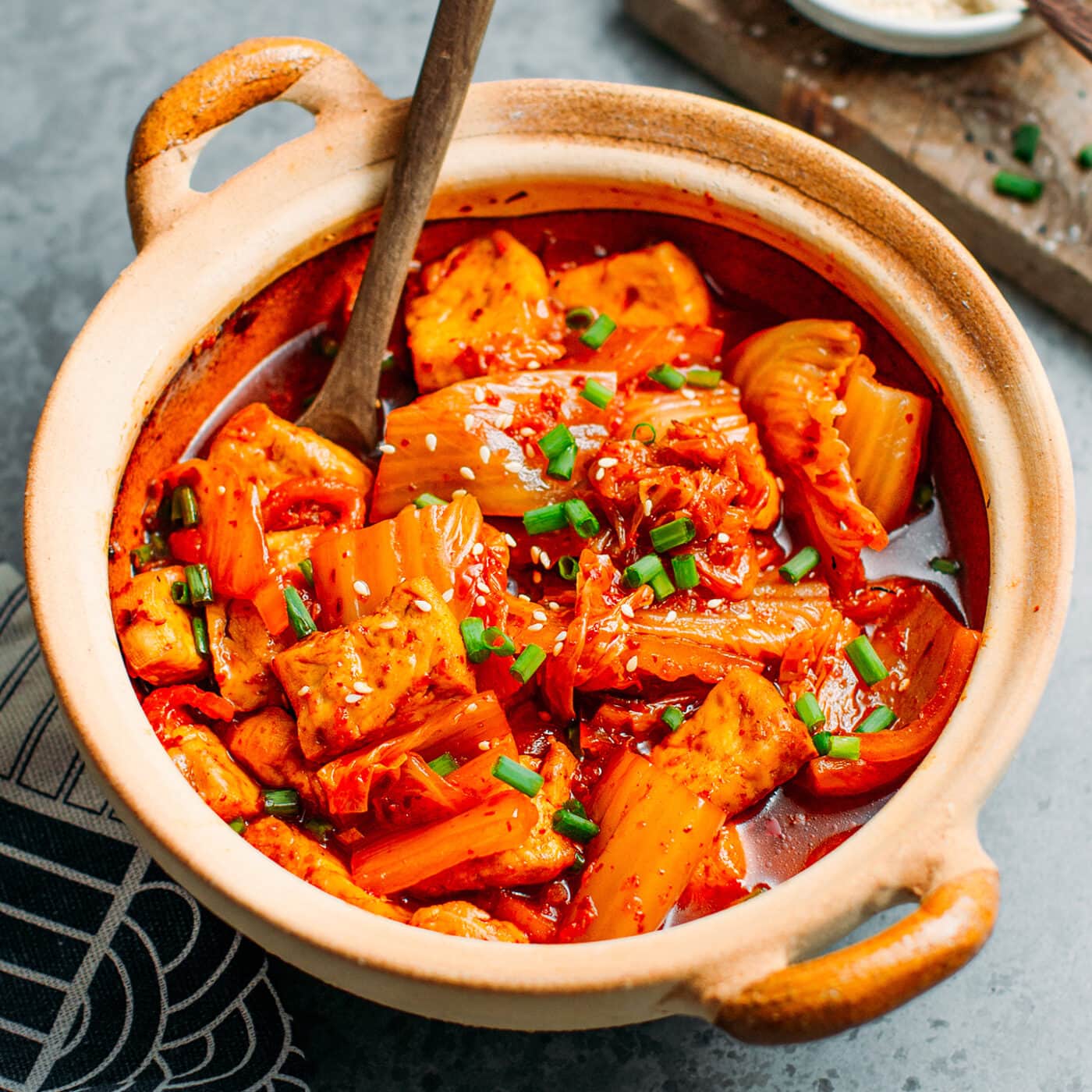 Tofu Kimchi Stew
Spicy, sweet & sour kimchi stew with chewy tofu that comes together in less than 30 minutes! SO warming and flavorful! Vegan + just 6 ingredients!
Instructions
Fry the tofu: Cut the tofu into bite-size rectangles of about 1/2-inch thick. If using medium tofu, press it between a few sheets of kitchen paper towel to remove excess moisture. Heat a few tablespoons of oil in a non-stick skillet and fry the tofu until golden brown on both sides, about 5 minutes.

You can also deep-fry the tofu or use an air-fryer. The goal is to have golden brown tofu. Transfer the fried tofu to a plate lined with a kitchen paper towel to remove excess oil.

Heat a tablespoon of oil in a deep saucepan or clay pot. Once hot, add the minced garlic and cook for 2-3 minutes or until fragrant.

Next, add the fried tofu, soy sauce, coconut sugar, and a tablespoon of water. Stir to coat and let the tofu simmer in the sauce for 2-3 minutes. This will allow the tofu to absorb the sweet and salty sauce.

Add the kimchi with its juice to the pot, as well as the Korean chili powder and water. Let simmer covered for about 10 minutes. Taste and adjust saltiness if needed, and serve!

Enjoy with white rice, noodles, and your favorite greens!
Nutrition
Serving:
1
serving
|
Calories:
324
kcal
|
Carbohydrates:
21.7
g
|
Protein:
24
g
|
Fat:
13.6
g
|
Fiber:
1.8
g
|
Sugar:
6.2
g
Did you make this recipe?
Tag @fullofplants on Instagram and hashtag it #fullofplants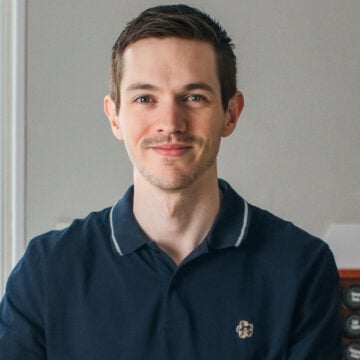 About the Author
Thomas Pagot is the founder, photographer, and recipe developer behind Full of Plants. He created the blog in 2016 as a personal cookbook for vegan recipes. Through years of recipe development, Thomas has successfully grown Full of Plants into a trusted resource for plant-based recipes.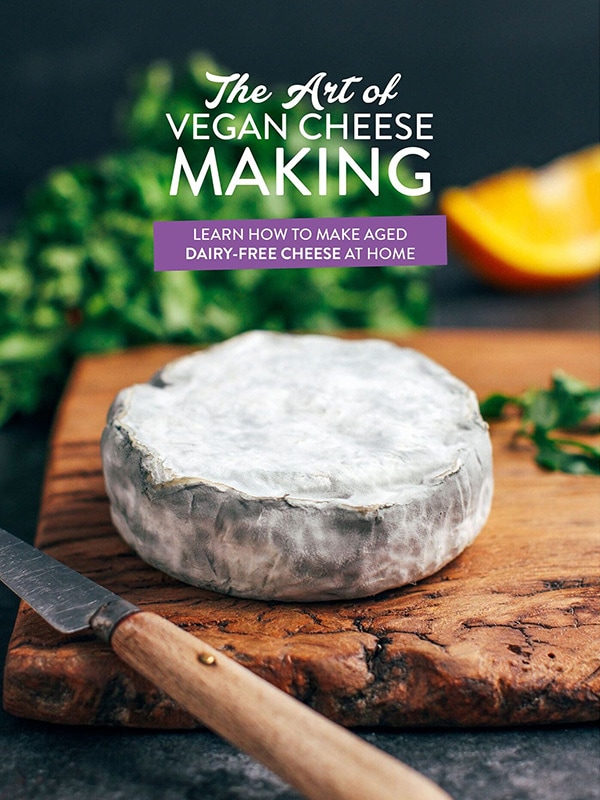 🧀 25 Mind-Blowing Vegan Cheese Recipes!
Sign up for the Full of Plants newsletter and you'll get new recipes delivered by email weekly, PLUS your FREE 100-page printable eBook!