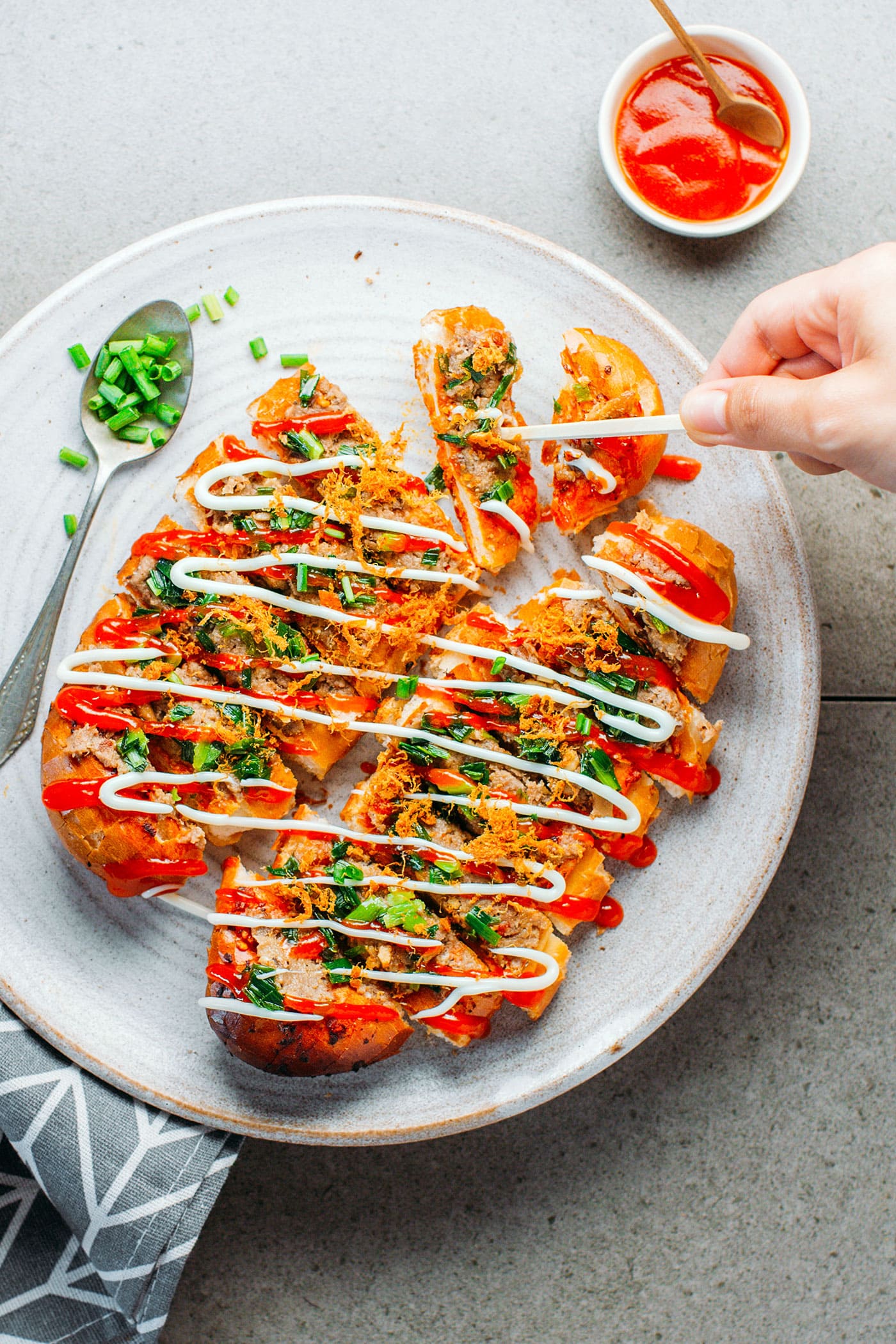 Called "bánh mì nướng muối ớt" in Vietnamese (translate grilled bread with salty chili sauce), this dish is a street food I recently discovered in Viet Nam.
It's a loaf of bread that is brushed with butter, then saté (a mix of chili and lemongrass), and then grilled. Once grilled, it is often topped with sausage, paté, and a generous drizzle of mayo and spicy sauce. Each vendor has its own way of making it so there are many variants. The result is crispy, buttery, rich, and spicy, it's SO good.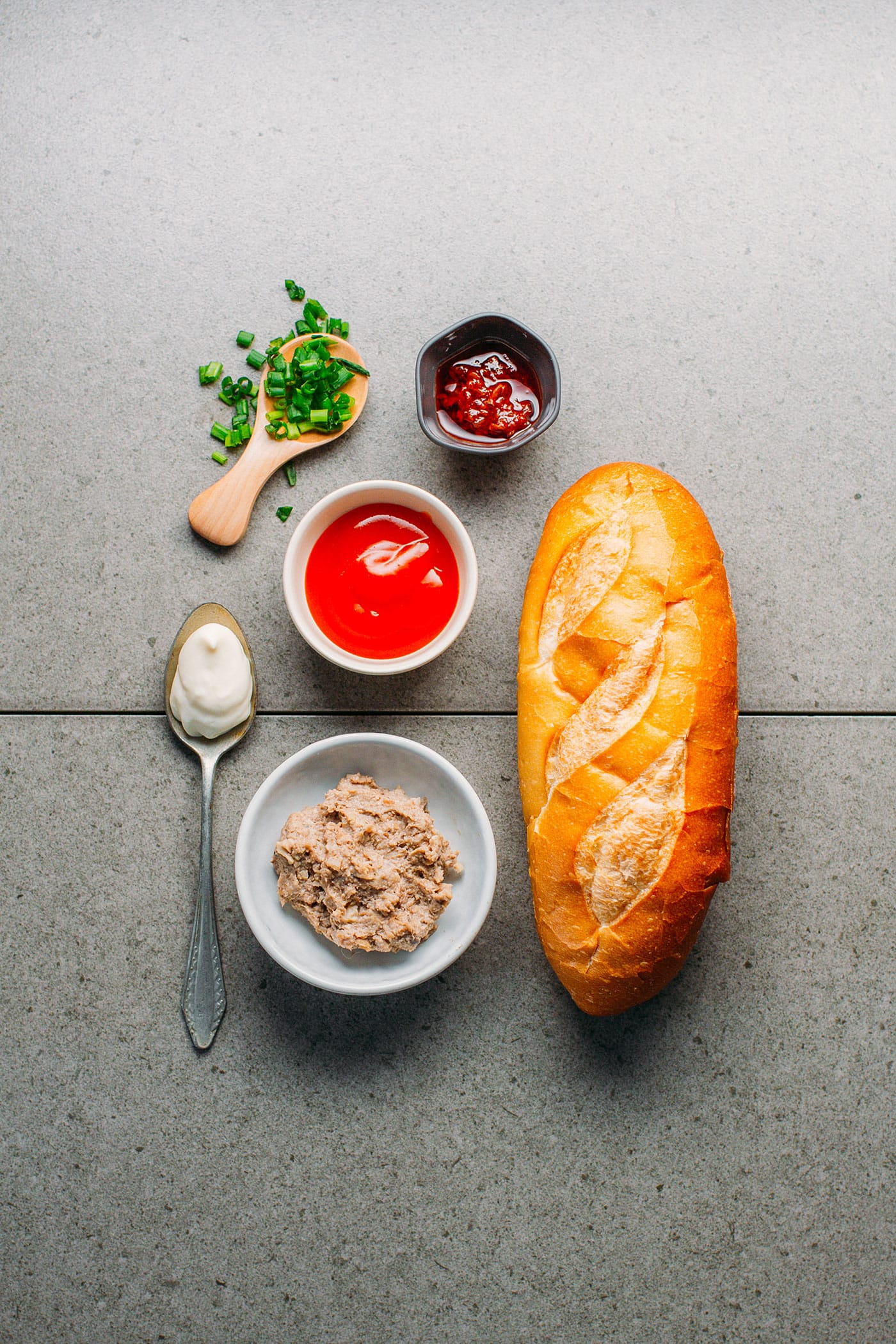 It starts with the bread that you flatten using a rolling pin.
For the best results, you want to use a bread similar to banh mi, which should be light and with a very little crumb. I have a quick tip if you just have access to regular baguette though, slice the bread lengthwise and remove some of the crumbs.
Once your bread is flattened, brush with a generous amount of melted vegan butter, and some saté. If you don't want it too spicy, don't have a heavy hand on it. If you want to learn how to make your own saté, check out this recipe.
Instead of grilling over a barbecue, we will toast it in the oven for a few minutes. Just long enough to make the bread crispy on the outside but still chewy on the inside.
Next, it's time to spread a generous amount of vegan paté, and top with fried green onions.
Cut into bite-size pieces, and drizzle with vegan mayo and sweet chili sauce! You can also top with fried shallots for more texture.
This grilled bread makes the perfect appetizer (or snack!), it's crispy, spicy, and topped with a rich and meaty paté. The drizzle of mayo combined with sweet chili sauce takes it to the next level. A level of addiction.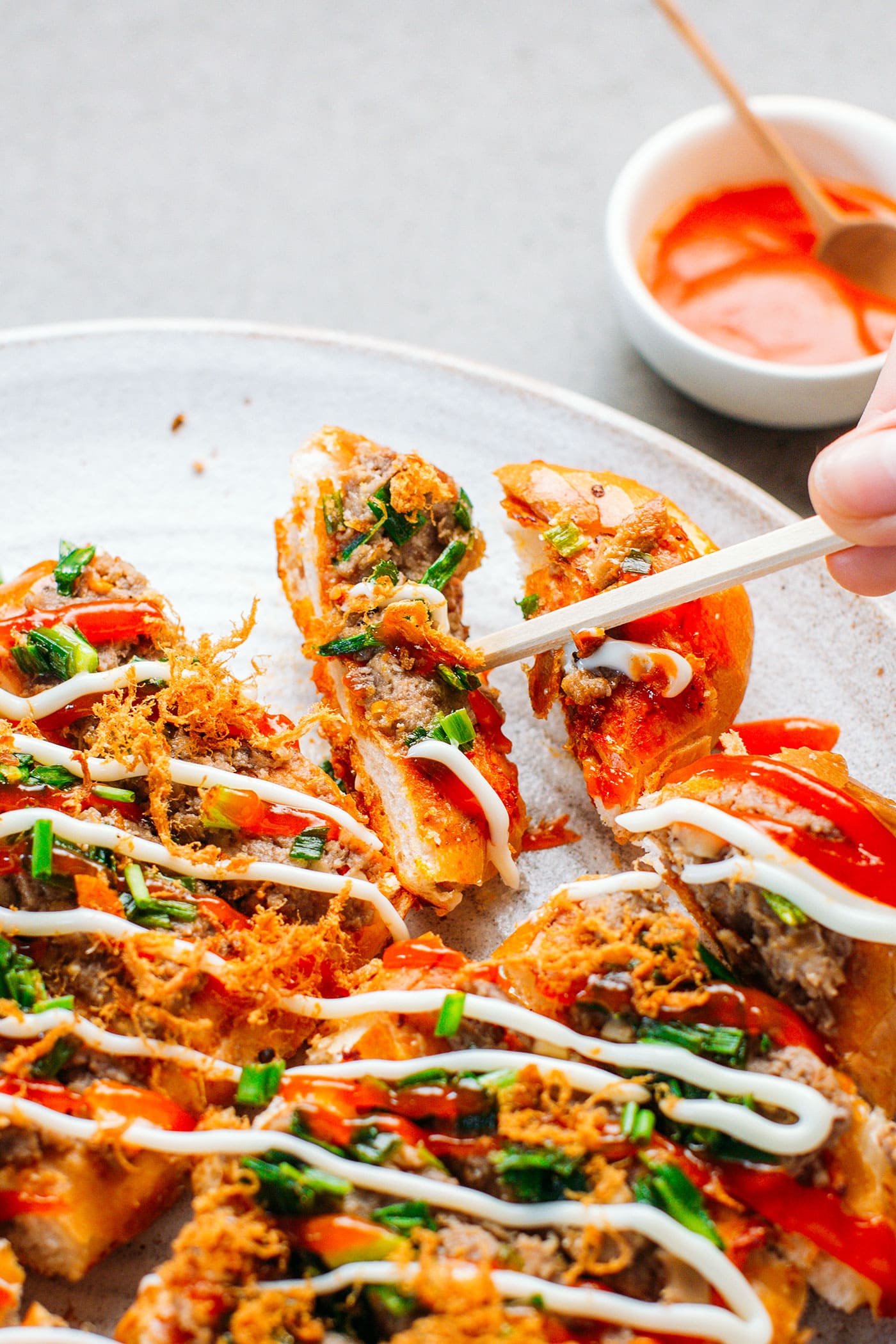 If you are looking for more Vietnamese-inspired street food, check out these Spicy Jackfruit Spring Rolls, Saté Rice Paper Salad, or this Pulled Mushrooms Banh Mi!
Let me know in the comments if you try this recipe!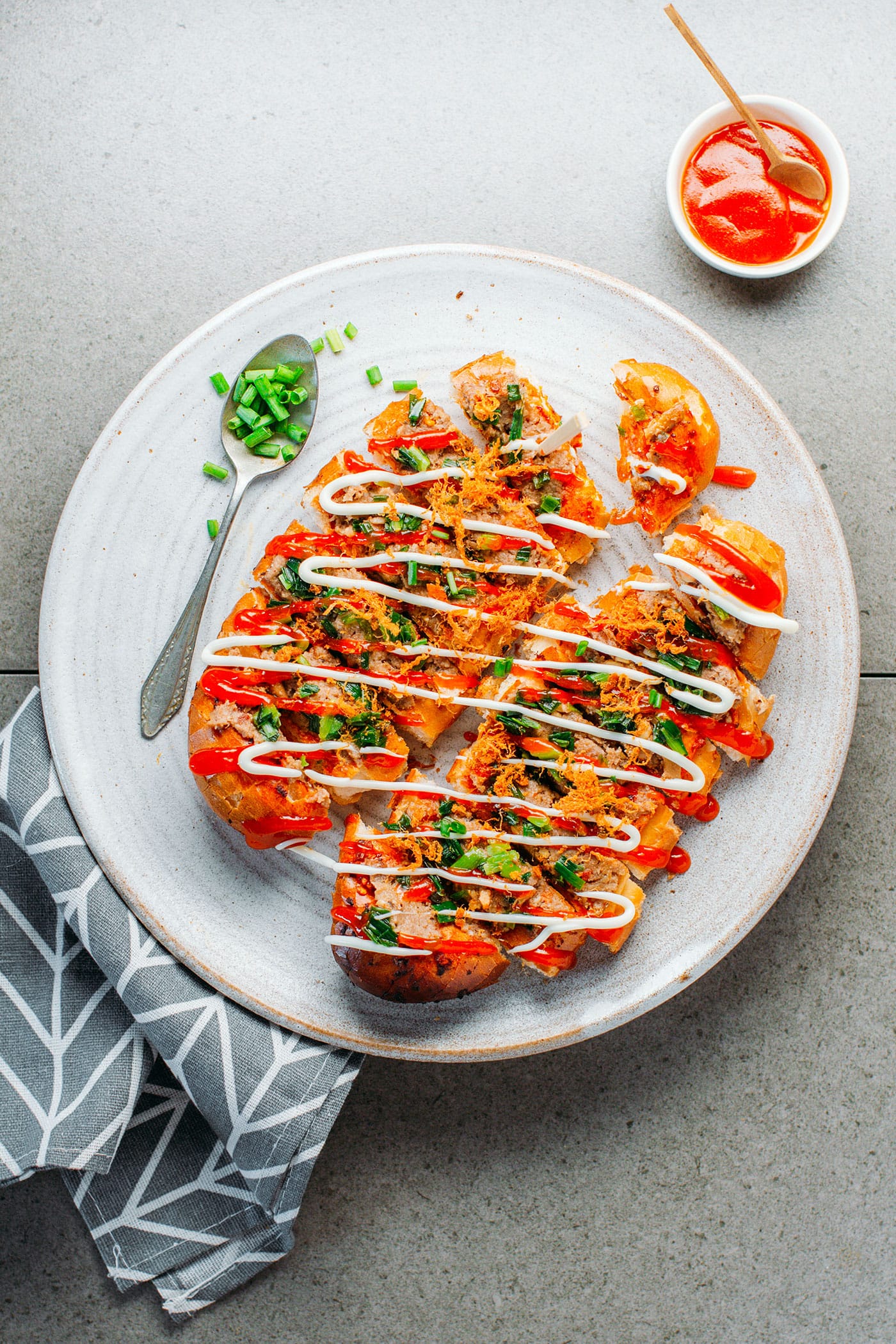 Recipe
Spicy Vietnamese Grilled Bread (Vegan)
Buttery grilled bread topped with meaty paté, sautéed green onions, and a generous drizzle of mayo and sweet chili sauce! A crispy, rich, and flavorful appetizer or snack!
Instructions
Preheat oven to 300°F (150°C) and line a baking sheet with parchment paper.

Flatten the two loaves of bread using a rolling pin. If the bread is too thick, slice the bread in half the long way and remove some crumbs.

Once your bread is flattened, brush each side with the melted butter, and then with saté. Transfer to the prepared baking sheet and bake for about 15 minutes, flipping the bread halfway through baking.

In the meantime, heat the oil in a skillet over medium heat. Once hot, add the green onions and fry for about 2 minutes, remove from heat.

Remove the bread from the oven and let cool a few minutes. Spread about 3 tablespoons of paté on each bread. Then, top with the sautéed green onions. Using a pair of scissors, cut each bread into small pieces (see photos). Top with a generous drizzle of vegan mayo and sweet chili sauce! You can also add fried shallots for extra flavor and texture!

Serve immediately at room temperature!
Notes
No nutritional information for this recipe, depending on the type of bread used, mayo, etc, the nutritional information can change considerably.
Did you make this recipe?
Tag @fullofplants on Instagram and hashtag it #fullofplants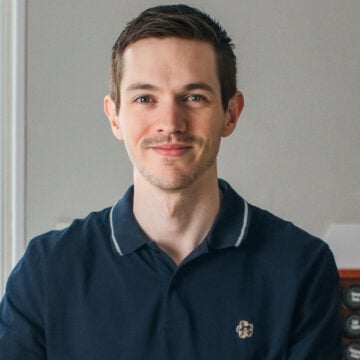 About the Author
Thomas Pagot is the founder, photographer, and recipe developer behind Full of Plants. He created the blog in 2016 as a personal cookbook for vegan recipes. Through years of recipe development, Thomas has successfully grown Full of Plants into a trusted resource for plant-based recipes.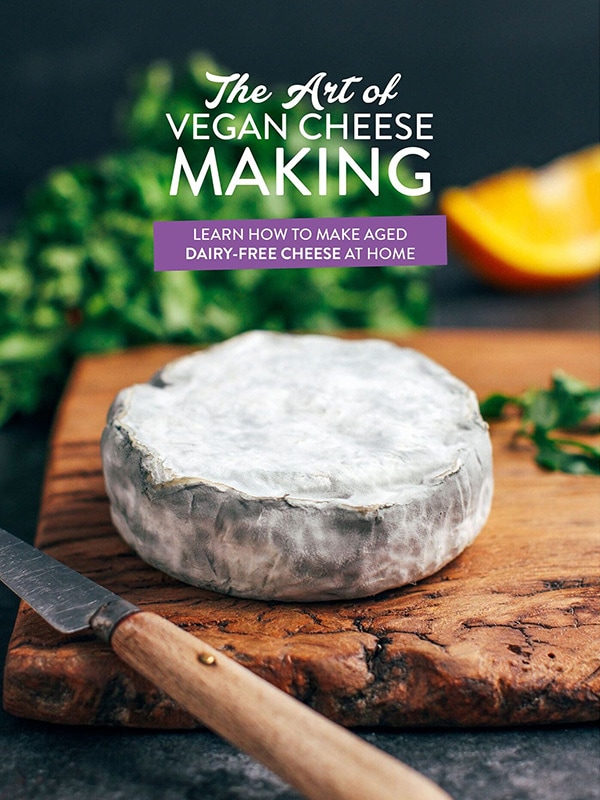 🧀 25 Mind-Blowing Vegan Cheese Recipes!
Sign up for the Full of Plants newsletter and you'll get new recipes delivered by email weekly, PLUS your FREE 100-page printable eBook!