Inspired by Indian tikka masala, this easy 30-minute Instant-Pot cauliflower curry features tender cauliflower served in a spicy and hearty tomato sauce. Serve this flavorful curry over brown rice, or with naan or roti!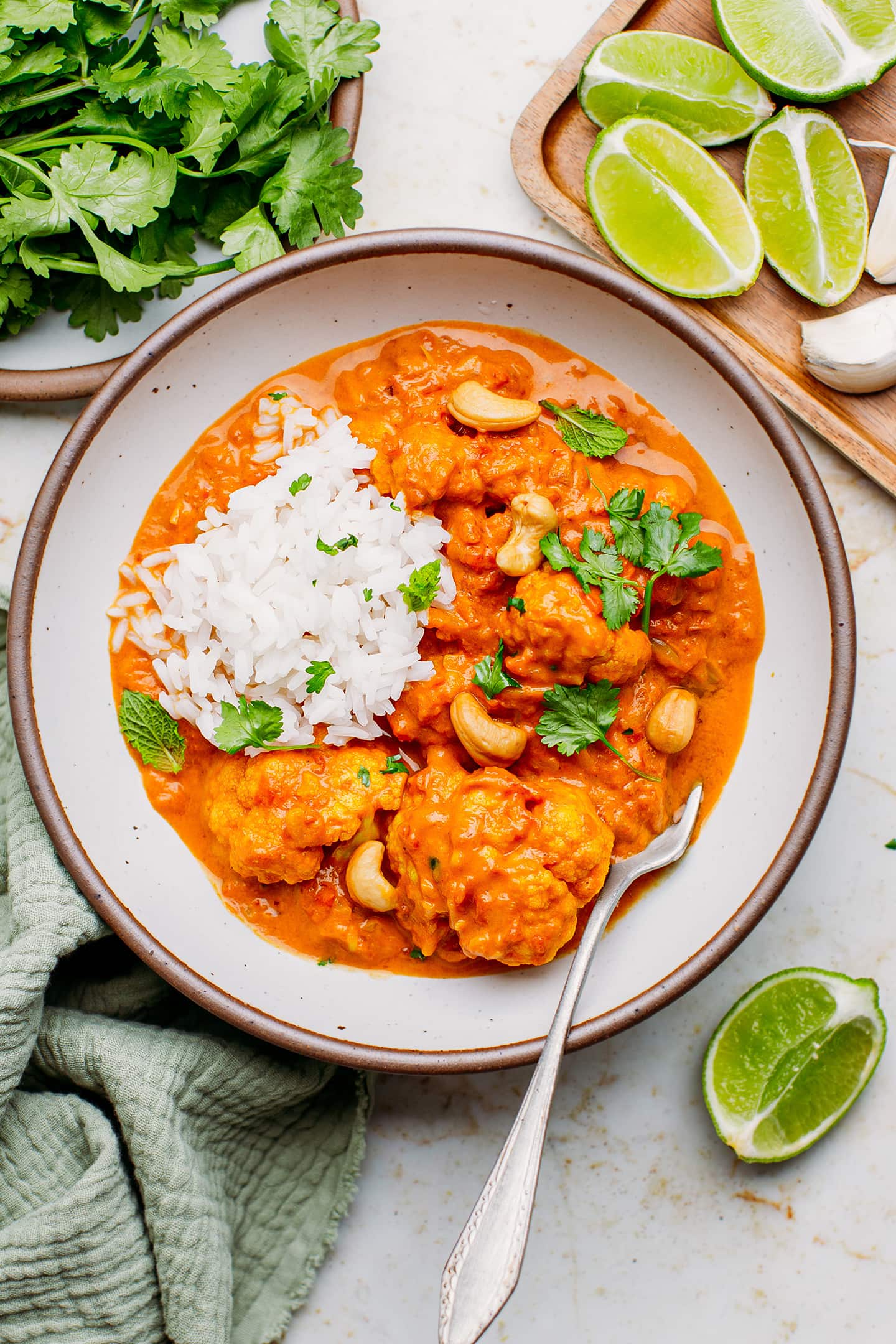 Jump to:
Introduction
This flavorful cauliflower curry is made in only one pot and comes with a creamy masala sauce that is infused with Indian spices. The recipe is super simple and requires very little active time. It's so easy you will be surprised by how delicious it is!
🥬 Ingredients to Make Cauliflower Tikka Masala
Preparing this Instant Pot cauliflower recipe requires very basic ingredients you probably already have on hand. Here's what you will need:
Cauliflower
Onion and garlic cloves
Fresh Ginger
Diced Tomatoes, canned is best to save time.
Spices like dried fenugreek, cumin, garam masala, coriander, and turmeric.
Maple syrup
Non-dairy yogurt or cream to slightly thicken the sauce and make it creamier.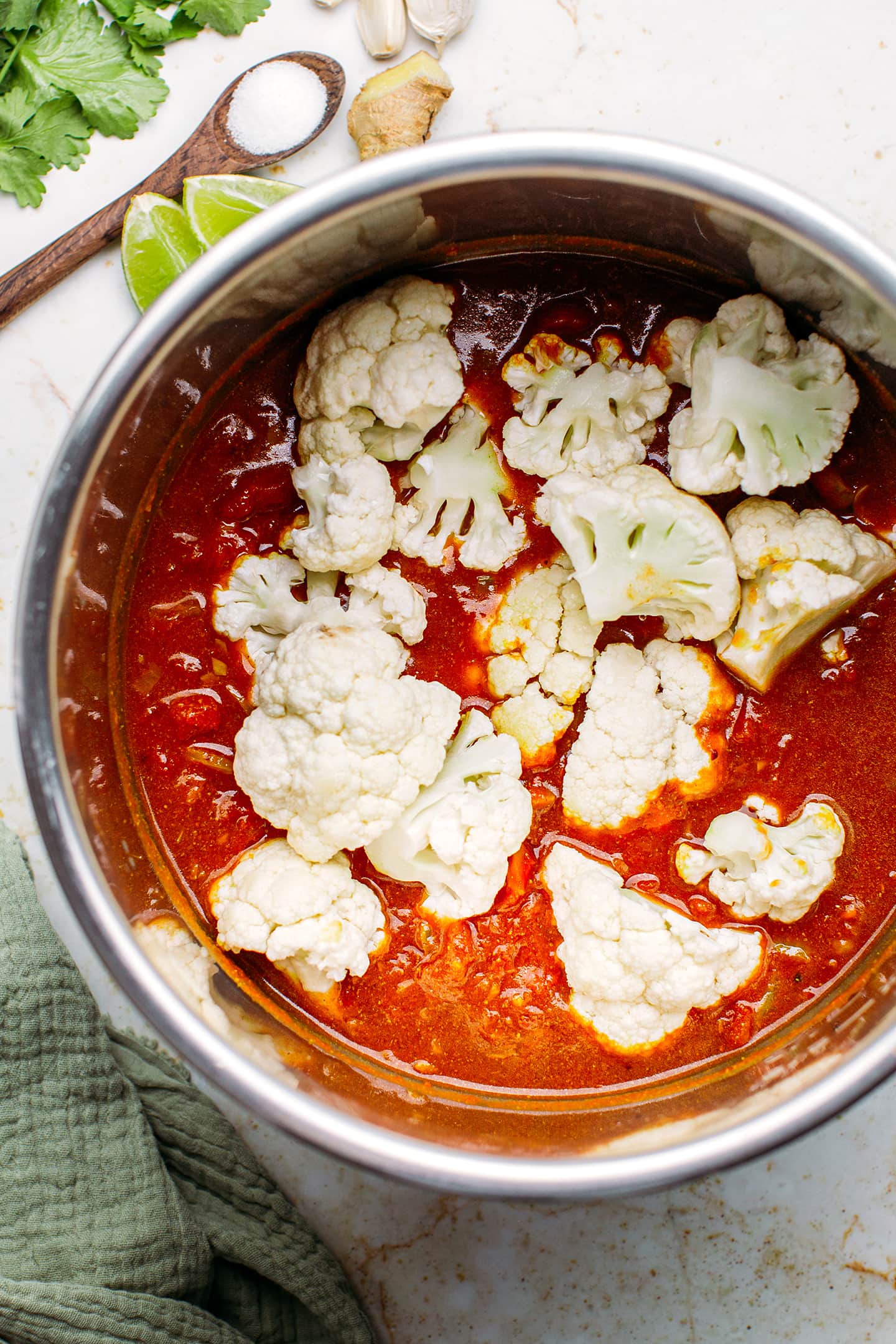 🥣 How to Make Cauliflower Tikka Masala
Before starting, be aware this is an Indian-inspired dish. It is not authentic in any way, although I tried to give the sauce an authentic flavor.
This recipe starts with the tadka, also called tempering. Fry onions, garlic, and ginger for a few minutes, or until the onions start to brown.
Then, add the spices. Frying the spices in oil enhances their flavors. For the spices, I went with a combination of garam masala, turmeric, cumin, and ground chili for a hint of spiciness.
Next, add the diced tomatoes and a drizzle of maple syrup to balance with the acidity of the tomatoes.
Finally, add the cauliflower florets to the pot and close the lid. You are almost done! It's time to let the Instant Pot do its job.
Just 2 minutes under pressure and the cauliflower is cooked to perfection! You obviously have to wait for the Instant Pot to come to pressure, which can take 7-8 minutes, but that leaves you time to do the laundry, set the table, or whatever you have on your to-do list.
To make the curry creamier and richer, stir in some vegan yogurt at the end of cooking. You can use coconut yogurt, almond yogurt, or even homemade cashew cream. For the toppings, you can't go wrong with fresh cilantro and roasted cashews for a little crunch!
💬 FAQ
I do not have an instant pot, can I make this recipe? Sure! You can simply prepare the sauce in a regular saucepan or skillet, let it simmer for 5-6 minutes, and then stir in boiled or roasted cauliflower.
Can I use fresh tomatoes instead of canned diced ones? While I haven't personally tried it, it should work. You might have to add some water if your tomatoes are not very juicy.
How long does cauliflower tikka masala keep? It will keep for up to 3 days in the refrigerator.
What is the size of your Instant Pot? For this recipe, I used a 6-Quart Duo Instant Pot.
My cauliflower is overcooked/undercooked, what happened? You either cut the cauliflower florets too small or too large. Read our tips below to fix it.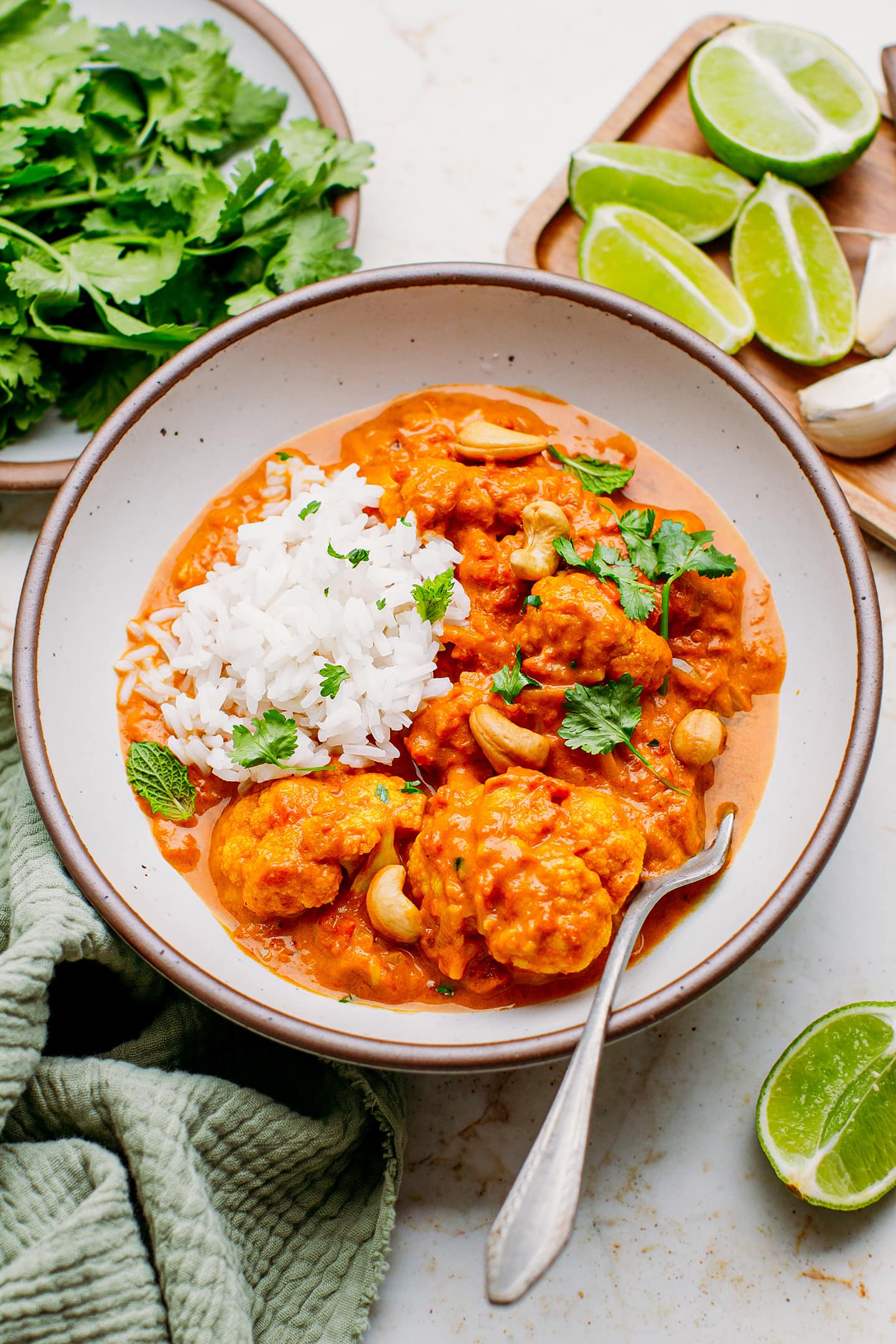 📔 Tips
Do not cut the cauliflower florets too small otherwise, they will be overcooked. I recommend going with 2-inch florets. We also recommend using very fresh cauliflower, it should not be yellow or soft.
Depending on the brand of diced tomatoes used, you may have to add extra salt. Taste the sauce after cooking and adjust saltiness as needed, you don't want a bland sauce!
To prevent getting a "Burn" message on the Instant Pot, deglaze the pot with a couple of tablespoons of water to remove the onions and spices that could have stuck to the bottom. This should be done before adding the diced tomatoes.
Regarding the diced tomatoes, it seems some brands have more juice than others. If your tomatoes are on the thicker side with very little juice, I recommend adding about ½ cup of water to make sure there is enough liquid in the Instant Pot.
You can serve this cauliflower tikka masala with rice, quinoa, or tofu for a protein-packed meal. This curry is perfectly spiced, creamy, and nutritious!
More Vegan Instant Pot Recipes
Let me know in the comments if you try this recipe!
📖 Recipe
Instant Pot Cauliflower Tikka Masala
30-minute Instant Pot cauliflower curry! Perfectly spiced, incredibly easy to make, and super creamy!
Instructions
Set the Instant Pot to sauté mode for 7 minutes. Add the oil. Once hot, add the onion, garlic, and ginger. Cook for 3-4 minutes, or until the onions start to caramelize and become soft. Add the dried fenugreek leaves, garam masala, turmeric, chili, cumin, and salt. Continue to cook for another 2 minutes, stirring regularly to make sure it doesn't burn. Add a couple of tablespoons of water and scrape the bottom to make sure nothing is sticking to it, this will prevent the Instant Pot from giving you a "burn" message.

Add the diced tomatoes, maple syrup, and cauliflower florets. Secure the lid and close the vent to Sealing. Press the Pressure Cook button and adjust the time to 2 minutes. The Instant Pot will take about 10 minutes to come to pressure, then cook under pressure for 2 minutes.

Once the program is finished and you have heard the beeps, wait 1 minute and release the pressure. Stir in the non-dairy yogurt and stir to combine. Taste the sauce and adjust the saltiness if needed.

Serve hot with rice, naan, or tofu, and top with fresh parsley and roasted cashews.

This Instant Pot cauliflower will keep for up to 3 days in the refrigerator. Reheat over medium heat in a saucepan, or in the Instant Pot on the "Sauté" or "Keep warm" function.
Notes
Do not cut your cauliflower florets too small or they will be overcooked. We recommend cutting them into 2-inch florets.
For a spicier curry, increase the ground chili to 1 teaspoon.
If your diced tomatoes don't have a lot of juice, add ½ cup of water.
Nutrition
Serving:
1
serving
|
Calories:
196
kcal
|
Carbohydrates:
35.1
g
|
Protein:
9.6
g
|
Fat:
3.8
g
|
Fiber:
12.5
g
|
Sugar:
20.4
g
DID YOU MAKE THIS RECIPE?
Tag @fullofplants on Instagram and hashtag it #fullofplants