If you are looking for a magical ingredient to add extra flavor to most of your dishes, look no further! This mushroom flavoring is perfect to add an umami flavor to soups, bakes, stir-fries, dips, and many more! Just two ingredients required: dried shiitakes and salt!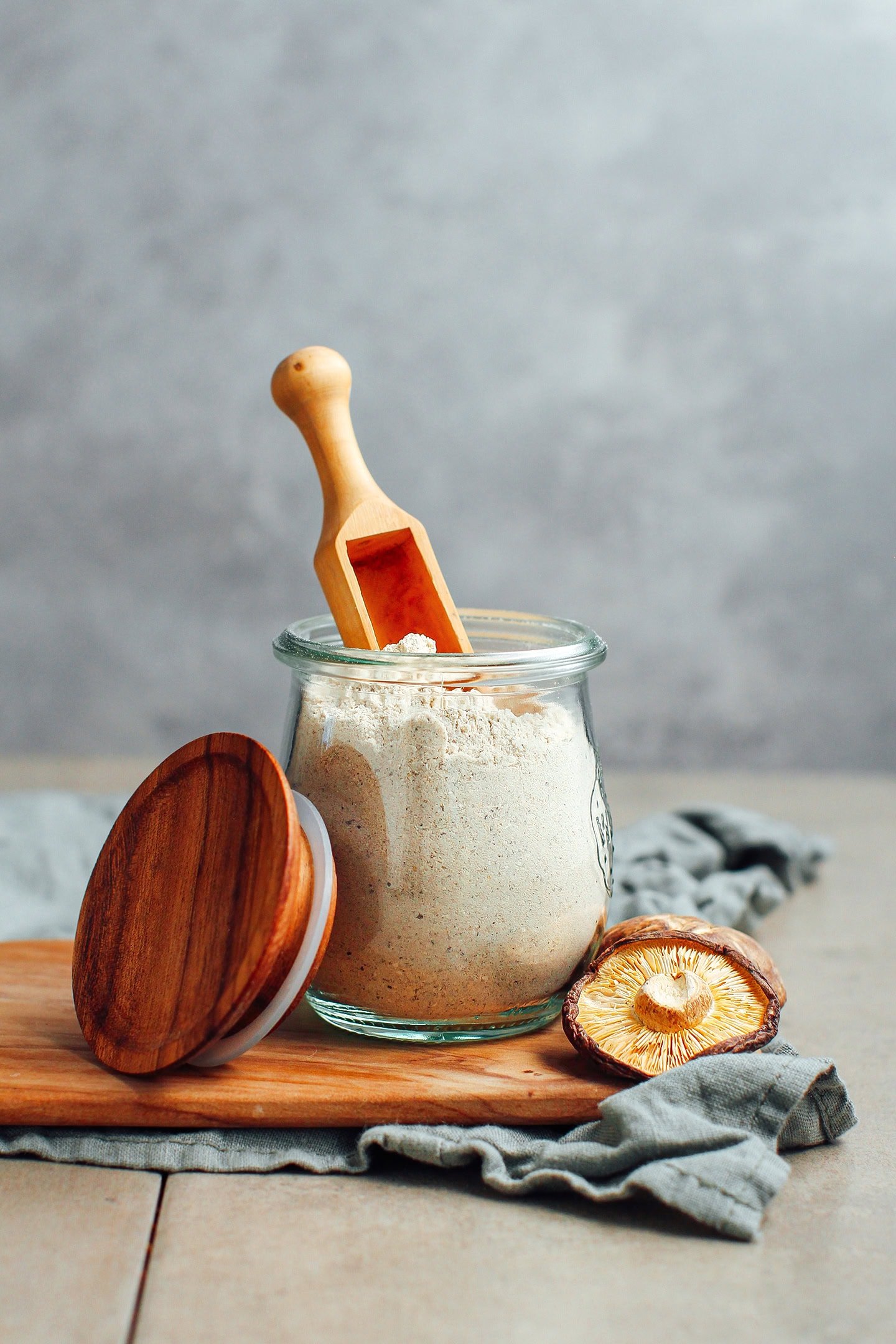 Jump to:
📘 What is Mushroom Seasoning
Mushroom seasoning is a flavoring powder that is used as an healthier alternative to glutamate. It's perfect to add umami and enhance the flavor of your recipes.
This condiment can be used almost everywhere, from soups to stir-fries, marinades, and more! It will quickly become an essential in your kitchen!
🥣 How to Make Mushroom Seasoning
To make mushroom seasoning, you will need just two ingredients: dried mushrooms and salt.
This recipe can't be easier, add dried shiitakes and salt to a blender and blend until you get a very fine powder. You can use other types of dried mushrooms if you want. I went with shiitakes since they have a strong flavor and are usually the cheapest.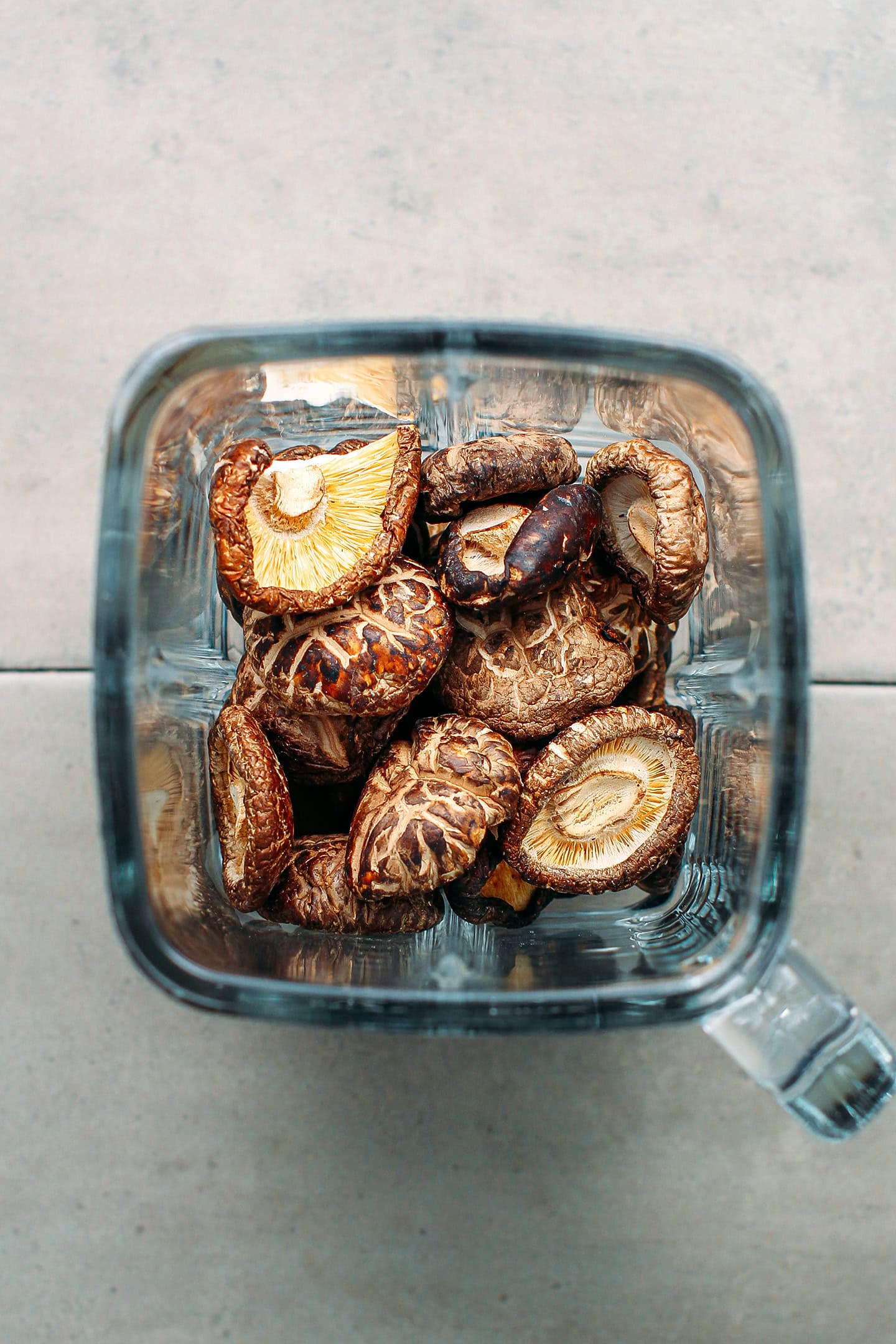 Be aware the mushroom powder is very fine and light, a bit like powdered sugar so after blending, I highly recommend waiting for a couple of minutes for the powder to settle a bit.
Next, transfer to an airtight container and keep at room temperature for up to 2 months.
🍜 Where to Use Mushroom Seasoning
You can use mushroom seasoning basically everywhere:
Soups: Stir in a tablespoon of mushroom seasoning to noodles broths, vegetable soups, or ramen! I recommend using about one tablespoon for 6-8 cups of soup.
Stir-fries: Near the end of cooking, add a teaspoon for extra umami!
Marinades: Perfect to enhance the flavor of your tofu/tempeh/seitan marinades.
Dips & sauces: Use in cheesy sauces, hummus, bechamel, pasta sauces, etc. I always use mushroom seasoning when making this Vegan Foie Gras recipe for example.
Be aware that you might have to decrease a little bit the amount of salt used in your recipes, as this powder is a bit salty.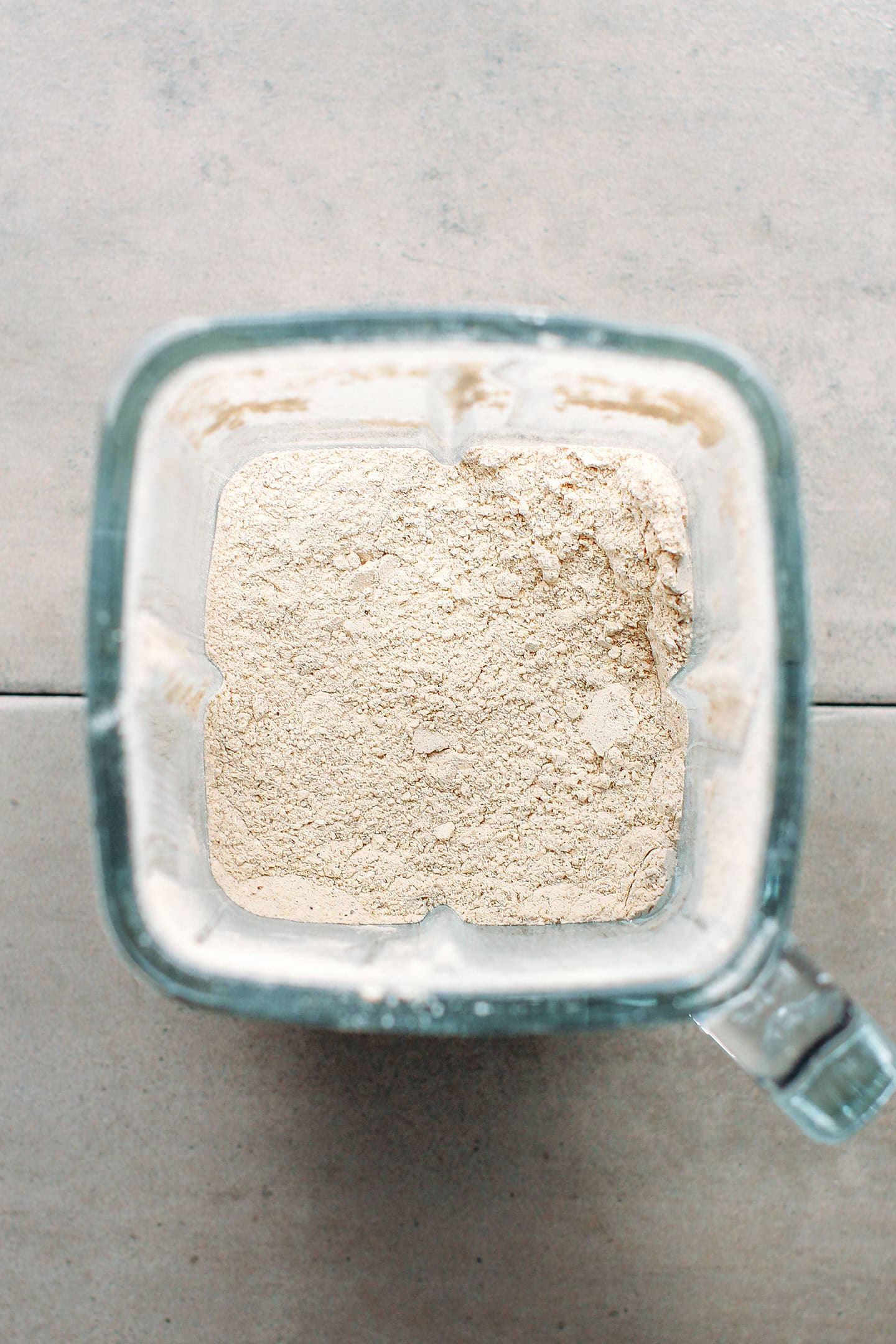 💬 FAQ
Is this mushroom seasoning safe to eat raw? There are different informations whether you can eat raw dried mushrooms, so I would recommend doing your own research. Personally, I have been using it in many raw recipes and never had any issues.
How to store mushroom seasoning? Store it in an airtight container at room temperature, do not refrigerate it.
How long does it keep? Mushrooms seasoning powder will keep for up to 2 months.
Is this the same as the mushroom seasoning available in the stores? If you are talking about the mushroom seasoning sold as little granules, no it is not the same. The store-bought version is more processed.
This mushroom seasoning powder is incredibly easy to make, and such a great addition to your pantry! It's an amazing ingredient that will enhance the flavor your recipes!
🧂 More Plant-Based Condiments
Let me know in the comments if you try this recipe!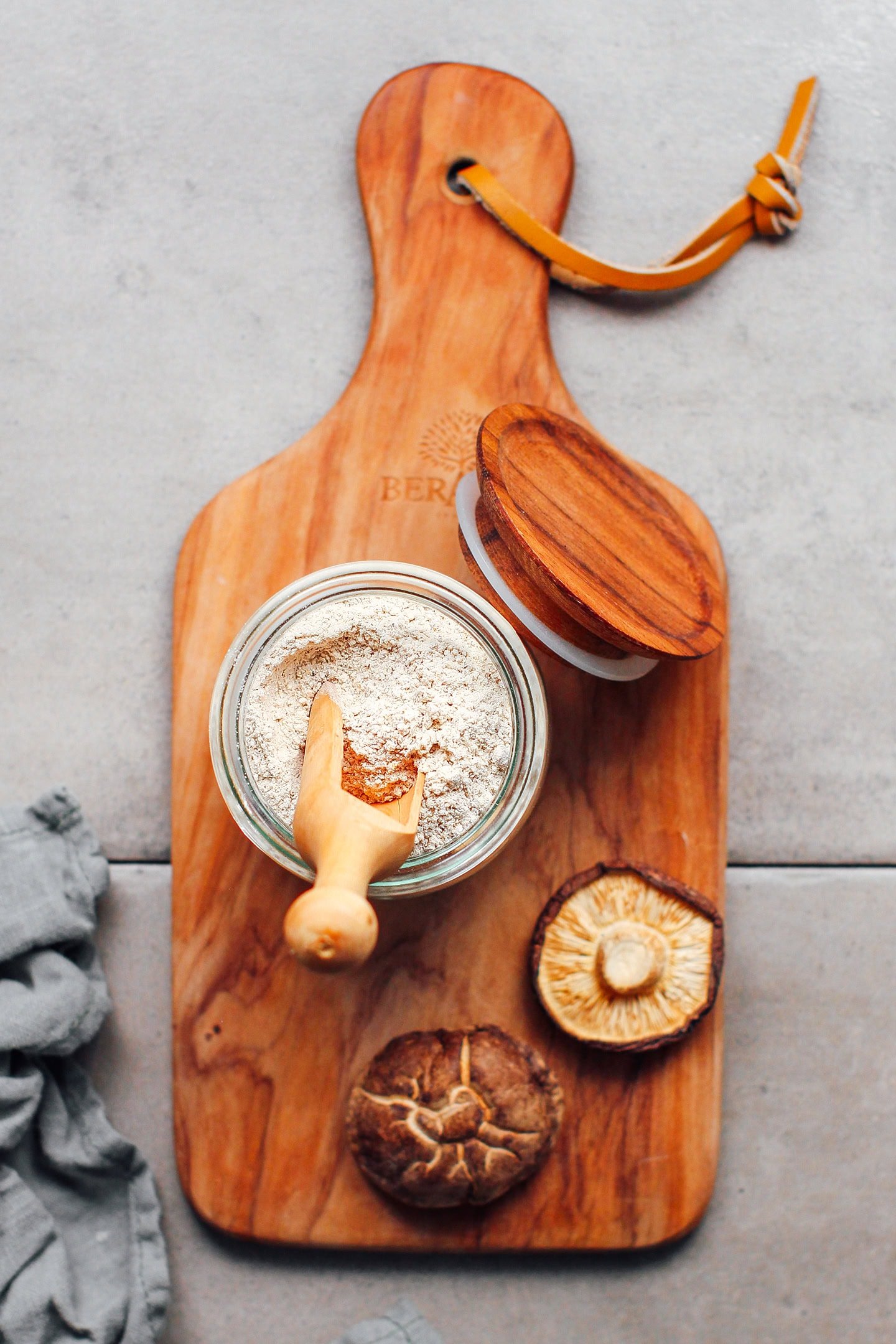 📖 Recipe
How to Make Mushroom Seasoning
Make your own mushroom seasonings! Use it to add a deeper flavor to soups, broth, stir-fries, or marinades!
Instructions
Place the dried shiitakes and salt in the bowl of a high-speed blender.

Blend for 30-40 seconds, or until you get a very fine powder. The powder is very light and volatile so I recommend waiting for 15-30 seconds for the powder to settle before removing the lid.

Transfer to an airtight container and keep at room temperature. The seasoning will keep for up to 2 months.

Use in broth, soups, marinades, or dips to add an umami flavor!
DID YOU MAKE THIS RECIPE?
Tag @fullofplants on Instagram and hashtag it #fullofplants