I got many requests regarding where to find Frank's Red Hot sauce since I released these Buffalo Jackfruit and Rice Bake and Buffalo Sweet Potato Soup recipes. Instead of telling you where to find it, I'm going to show you how to make it!
It requires just 5 ingredients and tastes just like the real one, if not better! It is now my favorite hot sauce!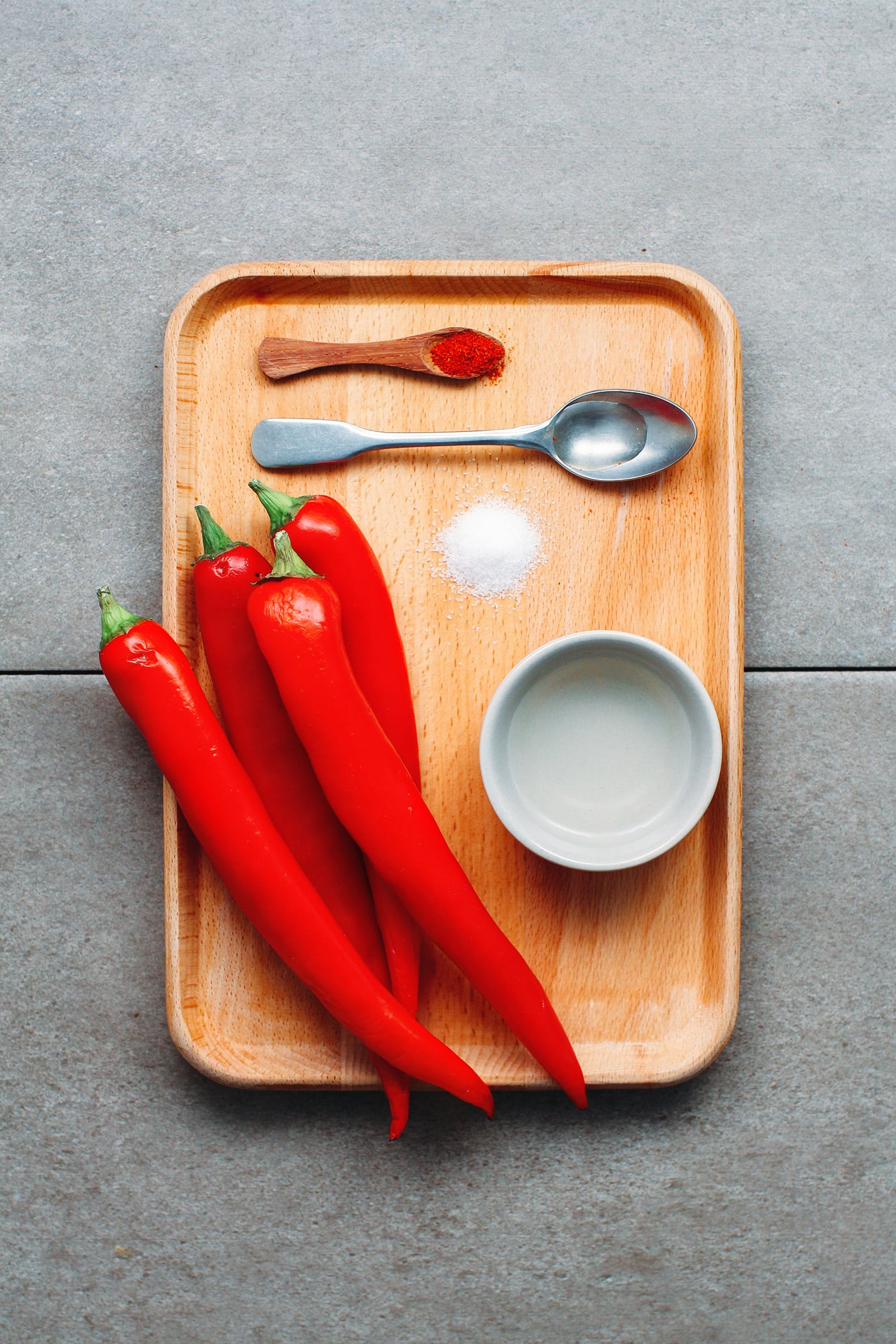 What you need to make buffalo wings sauce are just red cayenne peppers, rice vinegar, water, salt, and paprika.
We start by removing the seeds and stems of the peppers. For this step, I highly recommend using gloves because if you touch the peppers and then touch your face or rub your eyes...well it's going to hurt.
Once your cayenne peppers are ready, transfer to a food processor, add rice vinegar, water, salt, and process.
You can then transfer the mixture to a glass jar and let it ferment! The fermentation process not only makes the sauce easier to digest, but it also increases its shelf life.
After a few days, the mixture won't have a raw pepper smell anymore, it will have a sweeter, more pleasant flavor. I usually let mine ferment for 7 days as I didn't notice a big difference if fermented for longer than that.
The final step is blending the mixture in a blender to squeeze out even more juice from the peppers. Strain and transfer to a hot sauce bottle or glass jar! You shouldn't have a lot of leftover pulp after straining. If you do, blend the pepper purée with some fried shallots, lemongrass, oil, garlic, and maple syrup to make an aromatic chili paste. No waste!
To get the well-known flavor of Frank's Red Hot Sauce, you can add a few drops of butter flavor. This is totally optional and the sauce will still taste great without it, it just adds that subtle buttery flavor that makes the original version special.
Be aware this sauce is a bit sweeter and slightly less spicy than the original, which I actually love! Use this hot sauce to marinade tofu, make dressings, sauces, or drizzle on vegetables.
If you like Frank's Red Hot sauce, you are going to love this homemade buffalo sauce recipe!
Let me know in the comments if you try this recipe!
Homemade Fermented Buffalo Sauce (From Scratch!)
4-ingredient homemade hot sauce made from scratch and fermented for 7 days. It tastes just like Frank's Red Hot!
Ingredients
10

ounces

red cayenne peppers

½

cup

white rice vinegar (or white vinegar)

¼

cup

water

1

teaspoon

salt

¼

teaspoon

paprika

¼

teaspoon

butter flavor

optional
Instructions
Start by preparing the peppers. Using gloves, remove the stems and seeds of the cayenne peppers and discard.

Transfer the red cayenne peppers to a food processor. Add the white rice vinegar, water, and salt. Process for 2-3 minutes or until it forms a slightly chunky mixture.

Transfer the paste to two small glass jars (or a large one) and cover with a cheesecloth. Place in a dark place at room temperature. Let it ferment for 7 days, stirring every other day. After about three days you should already see some bubbles while stirring, this means the fermentation has started. The smell will also change, getting a sweeter, more pleasant one.

After 7 days, transfer the mixture to a high-speed blender. Blend on high-speed for about 1 minute. By blending once again we will get more liquid out of the peppers.

Strain the sauce using a fine mesh sieve over a bowl. Discard the pulp (or use in stir-fries, chili pastes, etc). Add the paprika and butter flavor to the sauce and transfer to a small bottle or clean jar.

Store in the refrigerator for up to 1 month. You can use this buffalo sauce as a marinade for tofu, seitan, tempeh, or use in dressing, sauces, etc!
Notes
For a spicier sauce, you can substitute some of the red cayenne peppers for Thai chilies. I recommend testing different ratios to find out which one you prefer.
Nutritional information is an estimate.
Nutrition
Serving:
1
/4 cup
Calories:
12
kcal
Carbohydrates:
1
g
Protein:
0.8
g
Fiber:
0.5
g
Sugar:
1
g
DID YOU MAKE THIS RECIPE?
Tag @fullofplants on Instagram and hashtag it #fullofplants