Learn how to make your own Vietnamese curry powder from scratch! This homemade spice blend is prepared from 8 aromatic spices in just 5 minutes! Perfect for curries, marinades, soups, stir-fries, and more!
📘 What is Curry Powder
Curry powder (Bột cà ri in Vietnamese) is a blend of dried spices that are used to flavor stews, soups, curries, and more. The mix first originated from India and was later introduced to Viet Nam by Indian and Khmer traders during the 18th century. Vietnamese then tweaked it to their taste.
Vietnamese curry powder can be found sold in supermarkets or in local markets where spice sellers will freshly prepare the mix from either ground spices or whole ones.
Depending on the geographical area, curry powder can include different spices and/or different ratios.
What makes Vietnamese curry powder different from other curry powders?
As opposed to most Indian curry mixes, Vietnamese curry powder has a slightly stronger anise flavor and is less heavy on the cumin. Overall, it has a milder flavor than Indian curry powders.
One of the other main differences is that it contains annatto powder, which is used as a natural coloring, bringing a bright orange color to curries.
🥣 How to Make Vietnamese Curry Powder
Making curry powder at home is as easy as gathering all of the spices and mixing them into a jar. Here is what you will need:
Turmeric – It makes the base of the powder, bringing a bright yellow color and a peppery and aromatic flavor.
Annatto – Ground annatto powder gives curries a deeper orange color. It won't bring much flavor as it's mostly used for color here.
Five-spice – Five-spice is a spice blend that originated in China. It usually includes anise, cloves, cinnamon, Sichuan pepper, and fennel. You can get five-spice online or in most Asian grocery stores.
Coriander
Anise – While it's already present in the five-spice, we are adding extra to balance it with the other spices.
Chili powder – For spiciness. Use pure chili powder, not the chili powder seasoning that usually contains other spices.
Cumin
Cinnamon
Curry leaves – While optional, curry leaves will bring a subtle citrusy flavor.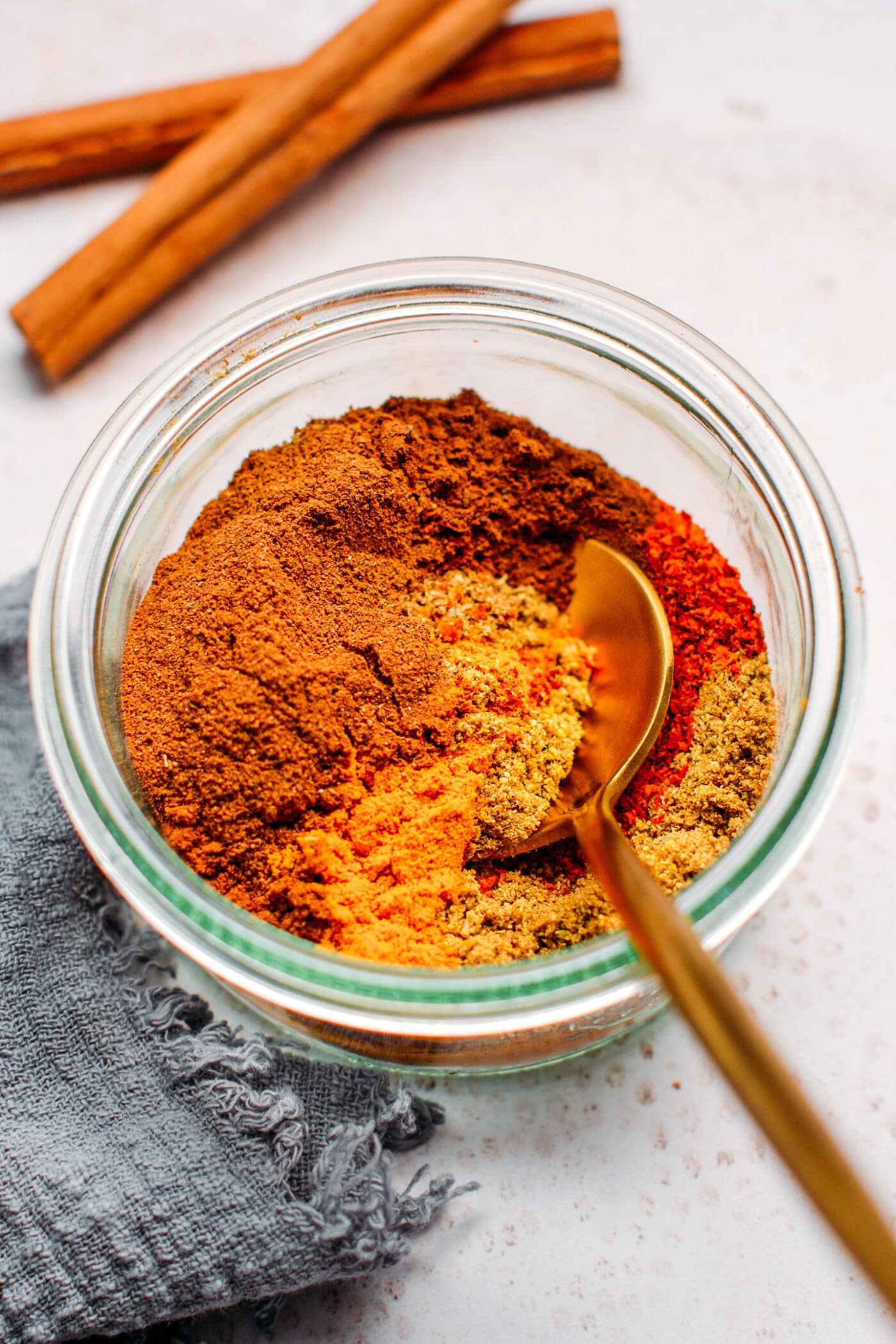 To make the curry blend, simply add all of the spices to a small jar and stir until fully combined!
🍛 Where to Use This Curry Powder
Obviously, the main use of this curry powder is in Vietnamese curry, but it can also be used to marinate tofu, vegan chicken, or tempeh!
You can also use it in soups, stews, salads, roasted vegetables, or to season fried rice!
💬 FAQ
Is this recipe authentic?
It is very difficult to find recipes for Vietnamese curry powder since most Vietnamese people will buy the pre-mixed packets or get the amount they need from the local markets. I developed this recipe after checking ingredients from the pre-mixed packets, as well as trying to see how the local sellers were preparing it. Then, I tested different blends in curries to come up with a mix that tastes as similar as possible to the Vietnamese curry powders.
Is this curry powder spicy?
This curry powder is very mildly spicy. If you don't want it spicy at all, simply omit the chili powder.
Can I omit the annatto powder?
I would not recommend omitting it for two reasons: 1) Your curries won't have the same vibrant color. 2) It will completely alter the ratio of spices, and you will end up with a stronger curry blend.
How long does this curry powder keep?
You can store this curry powder in an airtight container at room temperature for months!
I hope you are going to love this DIY curry powder! It's super aromatic, not too spicy, and so versatile! Plus, it's much cheaper than the pre-mixed packets, and you know exactly what is inside!
🇻🇳 More Vietnamese Condiments
Recipe
Vietnamese Curry Powder
Learn how to make your own Vietnamese curry powder at home! 8 ingredients, 1 jar, and just 5 minutes are required!
Instructions
Add all the spices to a clean jar and stir until fully combined.

Use in curries, stir-fries, soup, marinades, and more! Curry powder will keep for months stored in an airtight container at room temperature.
Notes
To make measuring easier, I only used teaspoons.
Feel free to halve the recipe if you don't use a lot of curry powder.
Nutrition
Serving:
1
tsp
|
Calories:
10
kcal
|
Carbohydrates:
1
g
Did you make this recipe?
Tag @fullofplants on Instagram and hashtag it #fullofplants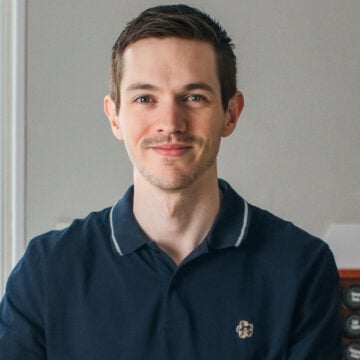 About the Author
Thomas Pagot is the founder, photographer, and recipe developer behind Full of Plants. He created the blog in 2016 as a personal cookbook for vegan recipes. Through years of recipe development, Thomas has successfully grown Full of Plants into a trusted resource for plant-based recipes.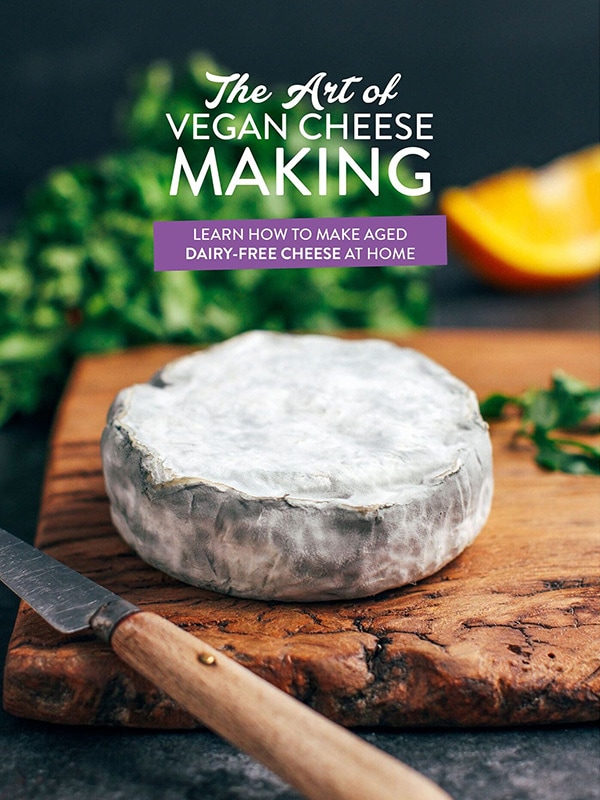 🧀 25 Mind-Blowing Vegan Cheese Recipes!
Sign up for the Full of Plants newsletter and you'll get new recipes delivered by email weekly, PLUS your FREE 100-page printable eBook!