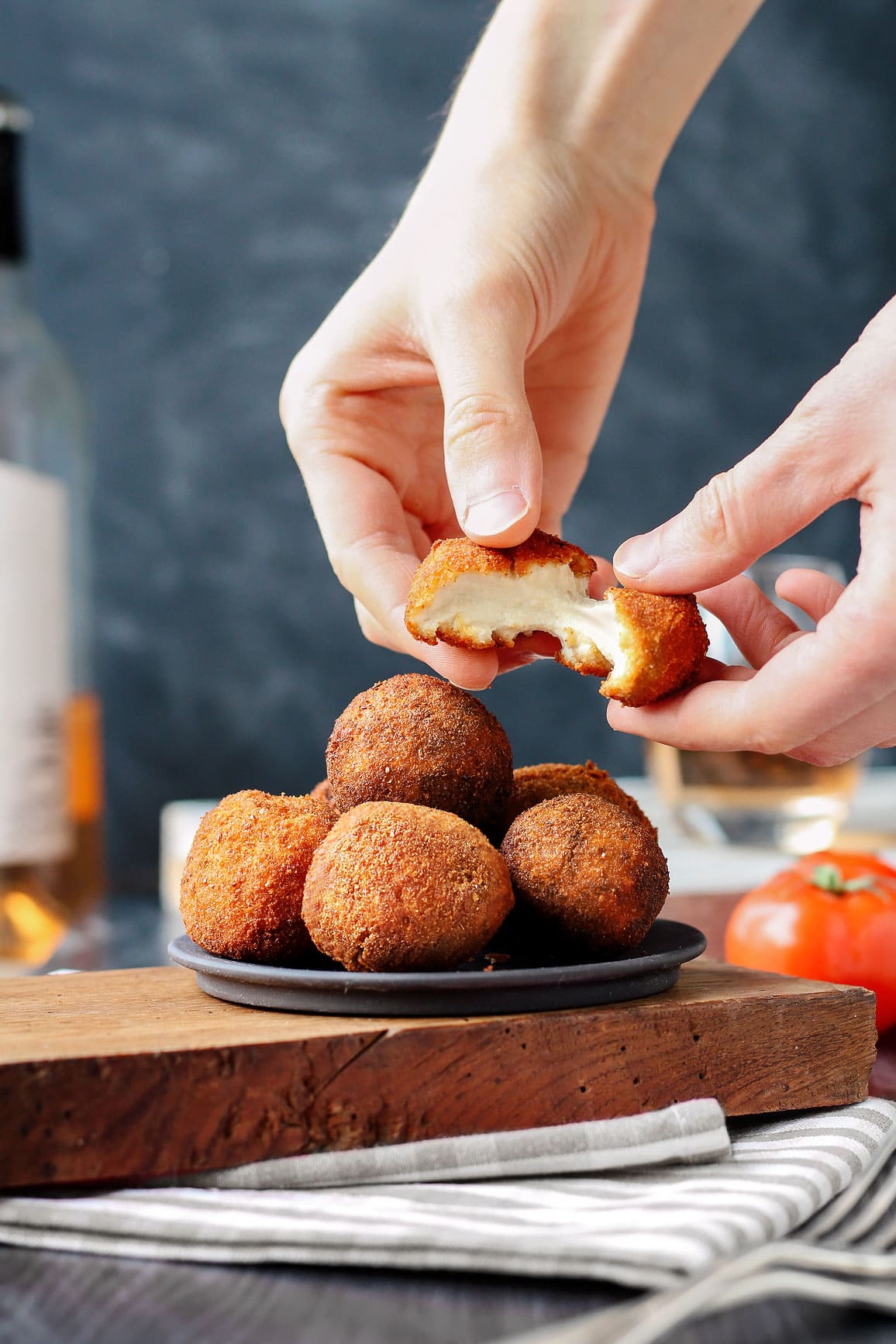 "This tastes just like real goat cheese!" That's what my guests said when I served these fried goat cheese balls. All of them thought it was real cheese. So YES it is possible to veganize (does this word even exist?) everything, even cheese! Did you check out my Vegan Aged Camembert by the way?
Crispy on the outside, and soft, melt-in-your-mouth on the inside. PURE deliciousness.
I won't tell you that you can make these in no time because it's not the case. Making the cheese mixture takes about 3 days because it needs to ferment, that's what gives it this wonderful flavor that is so similar to goat cheese.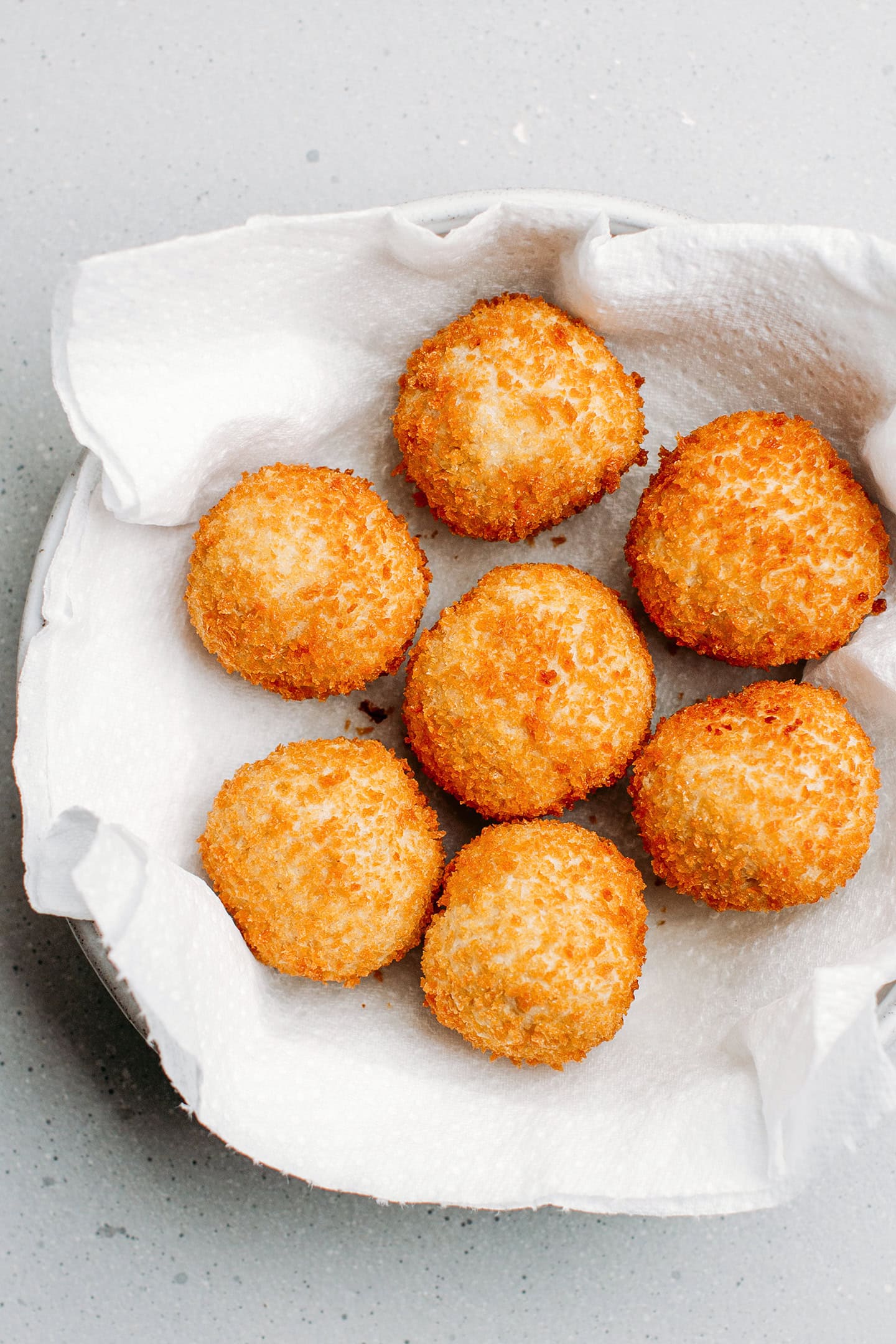 I have a confession to make, I'm not a fan of store-bought vegan cheese. Except a few brands, most of them are made with a million ingredients and almost always have "cheese flavor" in the list. That sounds fake to me and heavily processed.
The cheese here is made with only THREE ingredients: raw cashews, probiotics and a pinch of salt. THAT'S IT.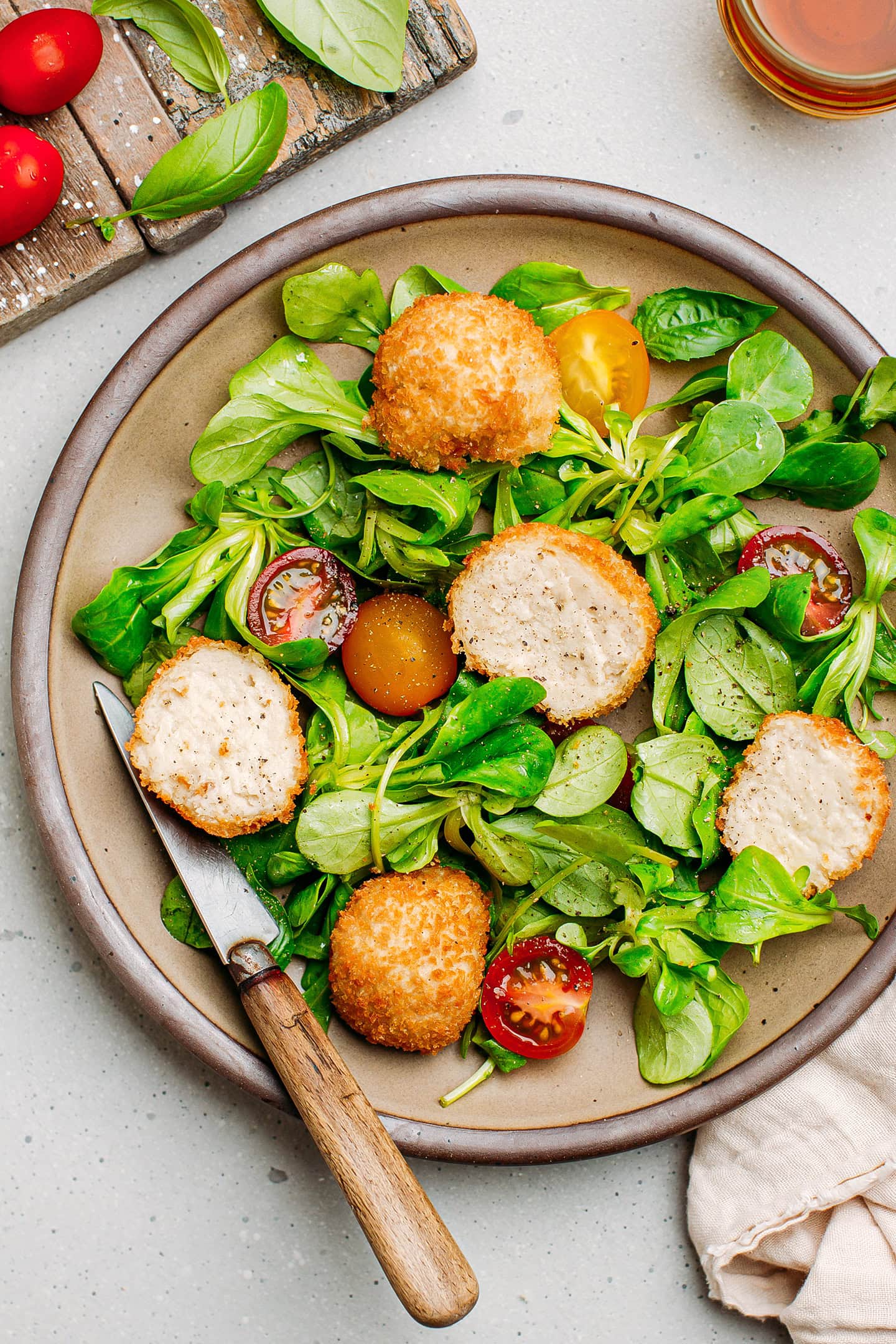 This recipe is really easy to make, you just soak the cashews overnight, and add them to your food processor with the probiotics and some water. Process and let ferment at room temperature for about one day. Place in the fridge for another day to let the mixture firm up a little bit and you are ready to make balls!
If you don't have probiotics, you can replace the water with some rejuvelac, the result will be approximately the same.
I advise you fry them just before serving, they will be crispier and the cheese inside will be very soft.
Serve these with a salad, some fresh cherry tomatoes, a drizzle of aged balsamic vinegar and you have a super decadent and hearty appetizer. Dressed to impress kind-of salad.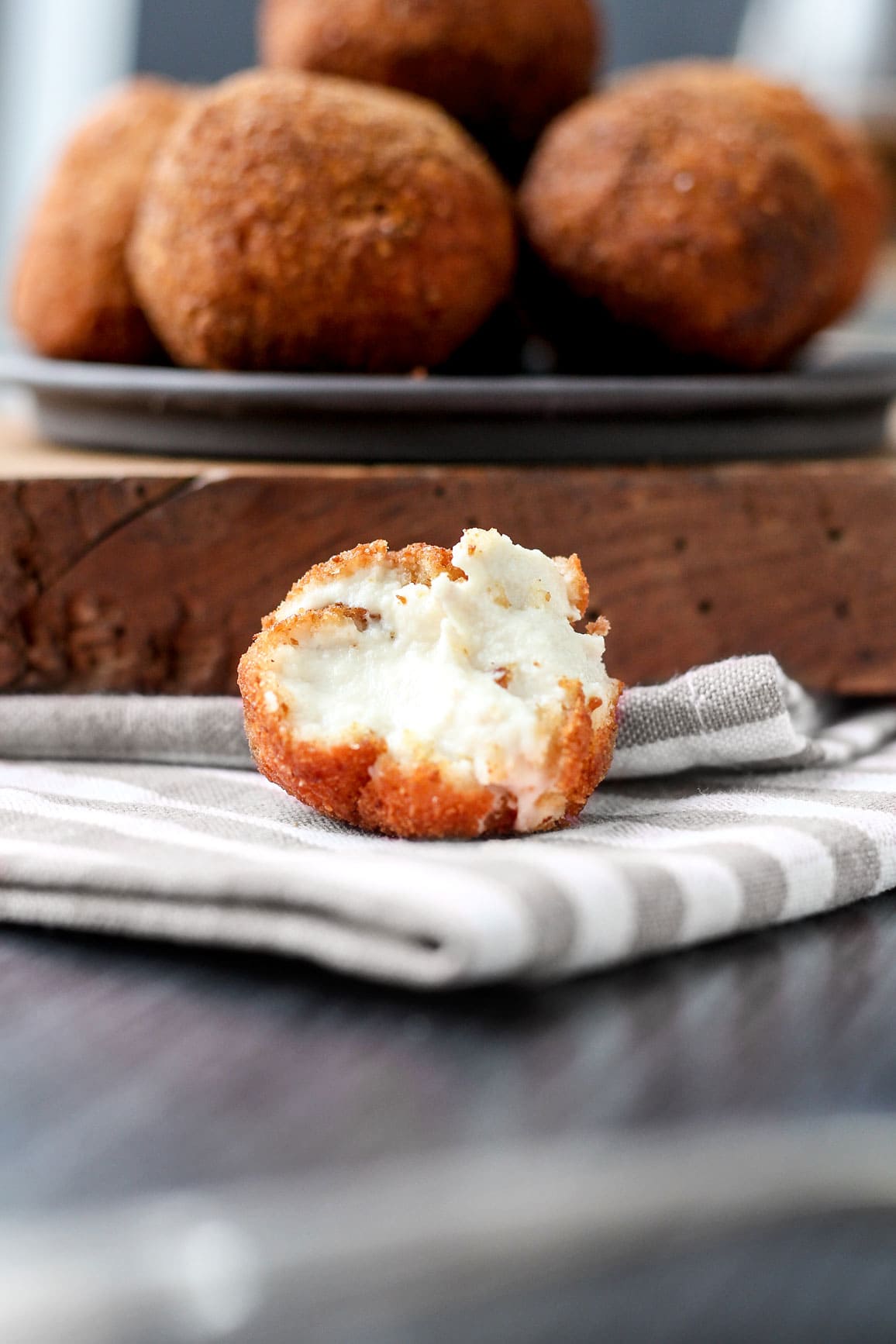 Feel free to let me know if you try this recipe and if you liked it!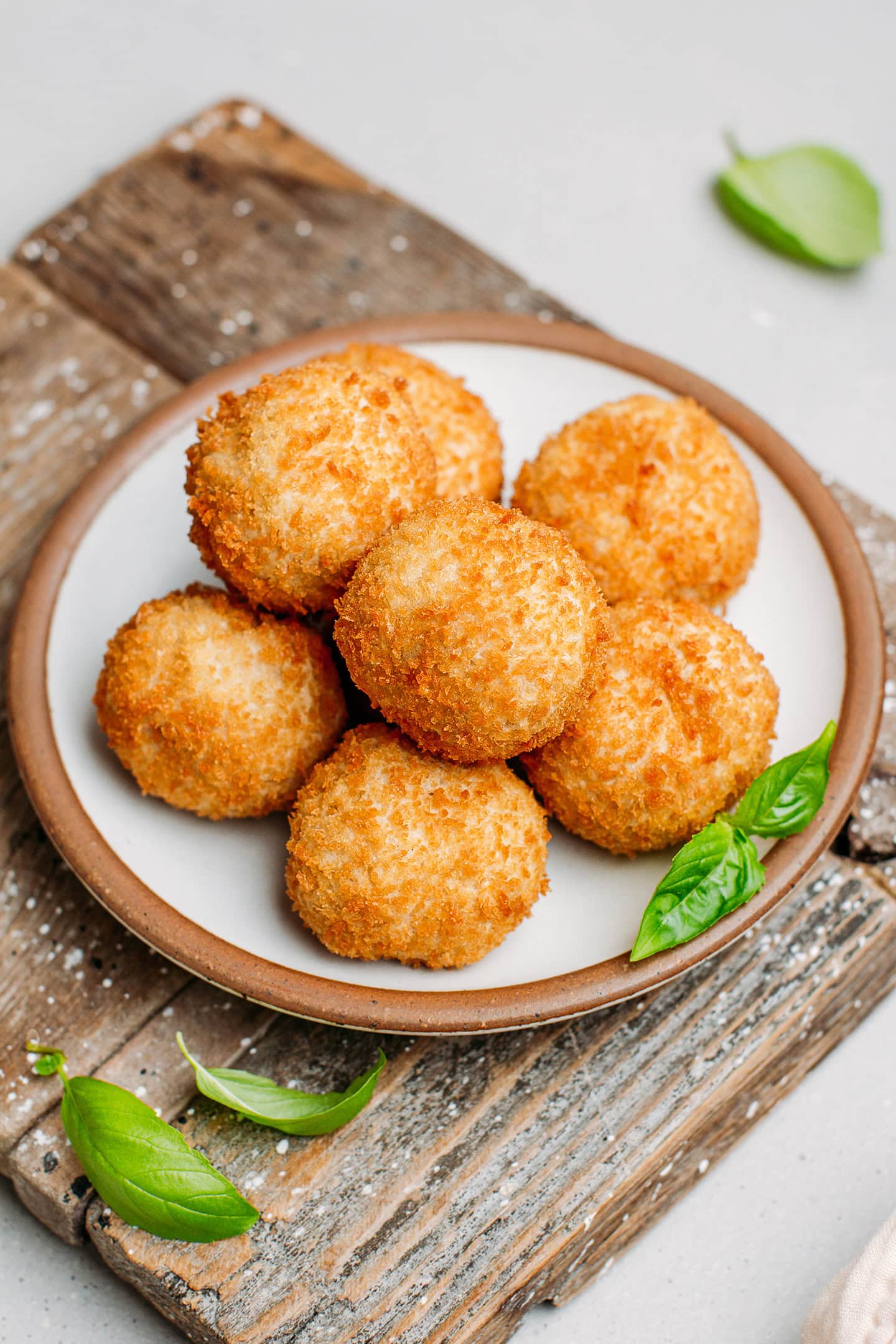 Recipe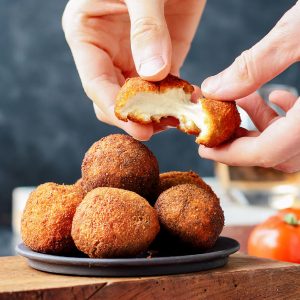 Vegan Fried Goat Cheese Balls
These 4-ingredient fried cheese balls are melty on the inside and crispy on the outside. Easy to make and incredibly tasty!
Ingredients
Fried Balls
1

cup

breadcrumbs

canola oil
Instructions
Goat Cheese
Soak the cashews in filtered water overnight.

Drain the cashews, rinse them and place in the bowl of your food processor.

Open the probiotic capsules and add the powder to the bowl.

Add 3 tbsp of water, salt and process for about 3-5 minutes, scraping down the sides from time to time,

The mixture should be smooth but really thick. If needed, add 1 tablespoon of water at a time until smooth. Do not add too much water, you want to use as least as possible or you won't be able to form balls later.

Transfer the mixture to a clean container, cover and let sit at room temperature for about one day to let it ferment.

After one day, taste it to see if it's sharp enough for your taste and place in the fridge for another day. This step will make the cheese mixture firmer.
Fried Balls
Place the breadcrumbs in a large plate.

Prepare the cheese balls by taking about 1/4 cup of the cheese mixture with slightly wet hands, form balls. The cheese mixture will be softer at room temperature, I recommend you put it back in the fridge if it becomes too soft to make balls.

Roll each ball in the breadcrumbs, tapping off excess breadcrumbs. Place the cheese balls on a plate.

Heat about 3 inches of oil to 350°F in a deep pot. Set a large plate topped with some paper towels on the side.

Using a spoon, lower a few cheese balls into the oil. Work in small batches (3-4 at a time).

Remove from oil after about 1 minute, or until golden brown. Place the balls on the paper towels to drain. Repeat with the remaining cheese balls.

Serve warm with salad, rice, quinoa, etc.
Notes
Since these cheese balls are fried, nutritional information is just an estimate and can be inaccurate.
The longer you let the cheese mixture in the fridge, the sharper and stronger the taste.
You can keep the cheese mixture in your fridge for easily one week, it will firm up a little bit more and it will be even easier to make balls.
Nutrition
Serving:
1
Cheese Ball
|
Calories:
254
kcal
|
Carbohydrates:
12.9
g
|
Protein:
4.9
g
|
Fat:
21.5
g
|
Fiber:
1.1
g
|
Sugar:
1.7
g
Did you make this recipe?
Tag @fullofplants on Instagram and hashtag it #fullofplants