This is the best vegan cheese fondue! It is naturally cultured, super cheesy, thick, and so creamy! Prepared from 10 wholesome ingredients, this vegan fondue is comfort food at its best! Cheese lovers, you will never miss fondue again!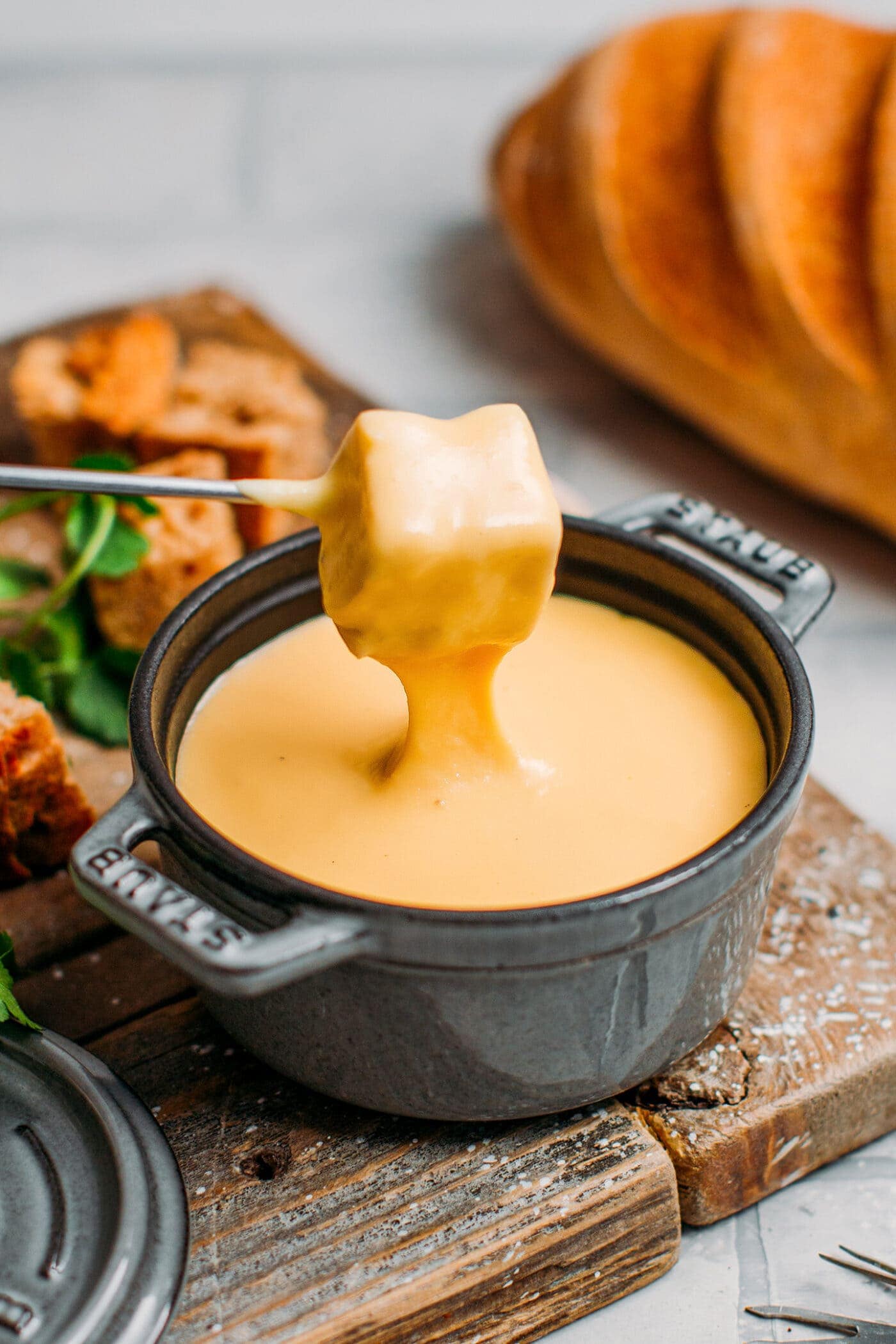 📘 What is Fondue?
Fondue is a Swiss dish that consists of melted cheese combined with wine and served in a communal pot. The pot is placed in the center of the table and heated with a candle or small burner to keep it warm.
Each guest then dips chunks of bread into the melted cheese using a long fork.
⭐️ Why You Will Love this Recipe
This vegan fondue is EPIC. It took quite a few tries to get right, but the result is well worth it!
Cheesy and creamy: The texture of this fondue is spot on, thick yet creamy and just slightly stretchy. Check out the video to see the stretchiness!
Naturally fermented: We are fermenting cashew cream to bring an unmatched flavor and real cheesiness to the fondue! While other recipes may rely on something acidic like vinegar or yogurt, I really believe this extra step takes the fondue to another level.
Rustic and comforting: There is nothing more cozy than dipping bread into melted cheese, is there?
To sum it up, this fondue is incredibly delicious! Let's do it!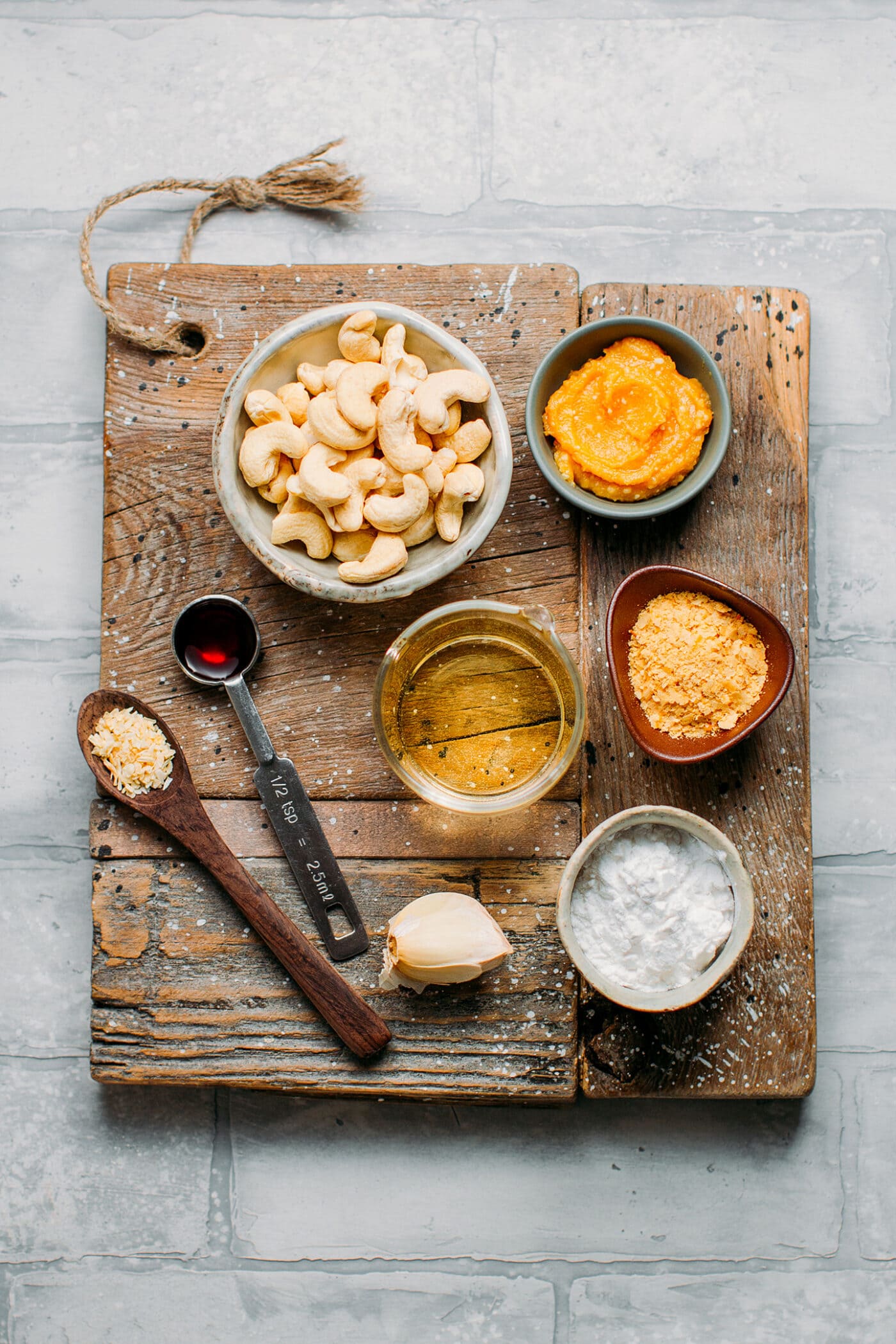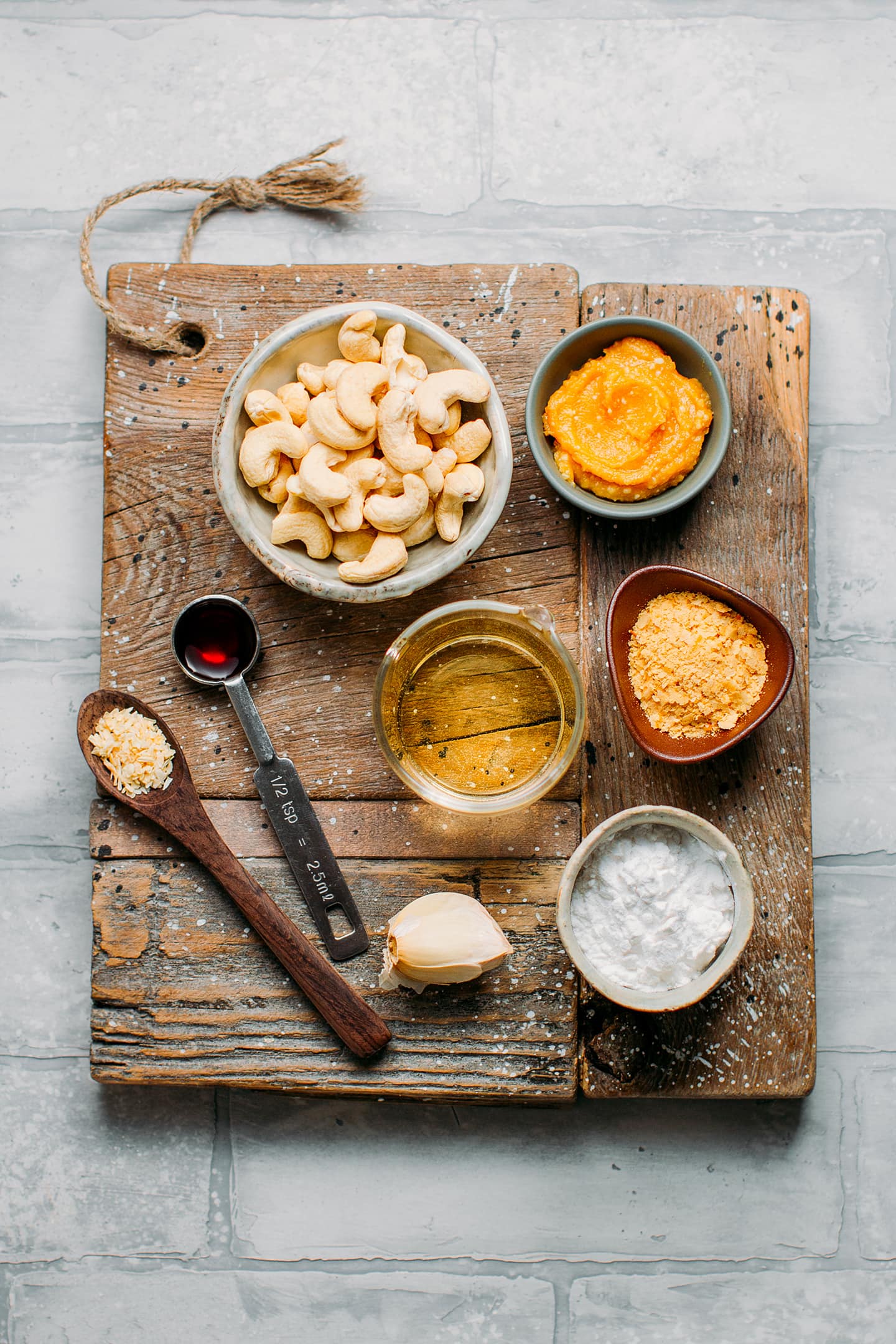 🫕 How to Make Vegan Cheese Fondue
This fondue recipe requires just 10 ingredients. Here is what you will need:
Raw cashews – It makes the base and brings richness as well as the perfect creamy texture. Make sure you are using raw cashews, not the roasted ones.
Probiotics – These will help the cashew cream ferment and get a tangy flavor. Check the FAQ to see which probiotic I use.
White wine – Essential to get an authentic flavor. Use cooking white wine. There is no need to break your wallet for a fancy white wine.
Nutritional yeast – For extra cheesiness and to increase the umami.
White miso – Again, for umami, saltiness, and a very subtle nuttiness. Use sweet white miso for the best results. If you want to learn how to make your own, check our guide on How to Make Chickpea Miso!
Onion powder and garlic – Dried onion powder and fresh garlic both help enhance the overall flavor of the fondue.
Tapioca starch – To thicken the cheese sauce and add stretchiness.
Maple syrup – Swiss cheese tends to have sweet notes. That's why you want to add a drizzle of maple syrup.
Coconut oil – Optional, but since authentic fondue is rich (and a bit fatty!), a couple of tablespoons of oil helps get a texture and mouthfeel closer to the real fondue.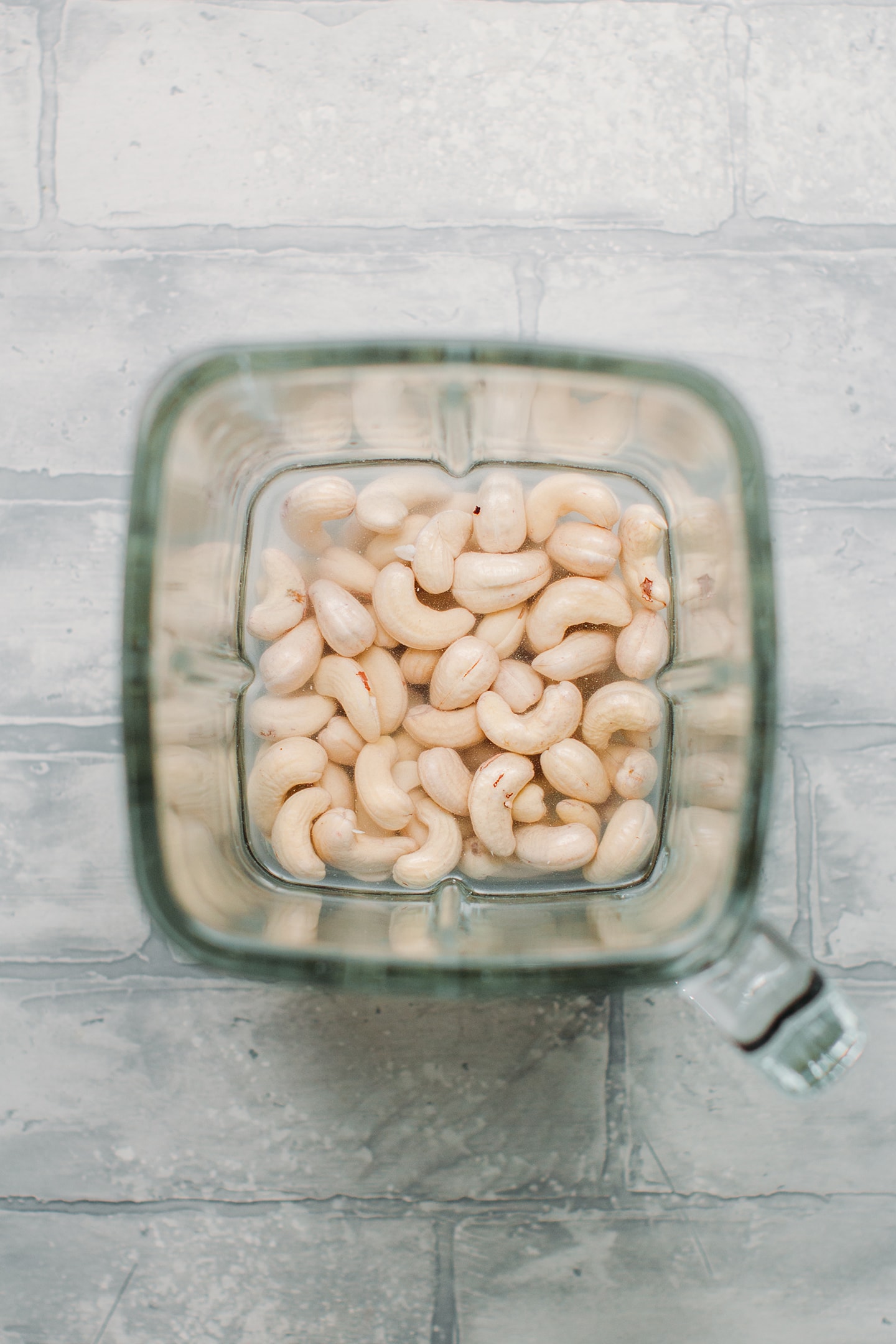 Culturing the Cashew Cream
Start by preparing the cashew milk that will make the base of our fondue.
Blend soaked cashews with water until smooth. Next, transfer the cashew cream to a clean jar and stir in the powder from a probiotic capsule.
Tip: use a large jar that you will only fill to half. As it ferments, the cashew cream will expand a little bit, so make sure you are not filling a jar to the top, or it will overflow.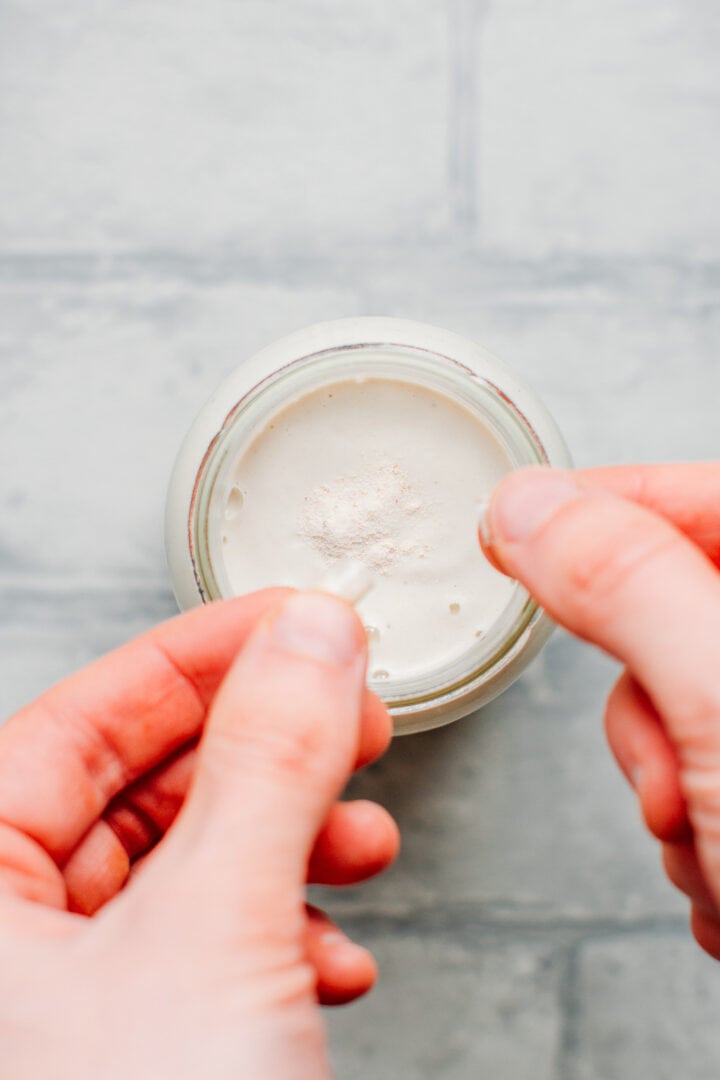 Cover the jar with plastic wrap or with a clean towel, and let it ferment at room temperature for about 24 hours. Depending on the temperature of your home, it might take a bit longer.
You know the cashew cream is ready once you can see some air bubbles. It should also have a pleasant and tangy flavor.
Making the Fondue
Once the cashew cream is cultured, it's time to make the fondue!
Add the cashew cream and all of the other ingredients to a blender and blend until smooth.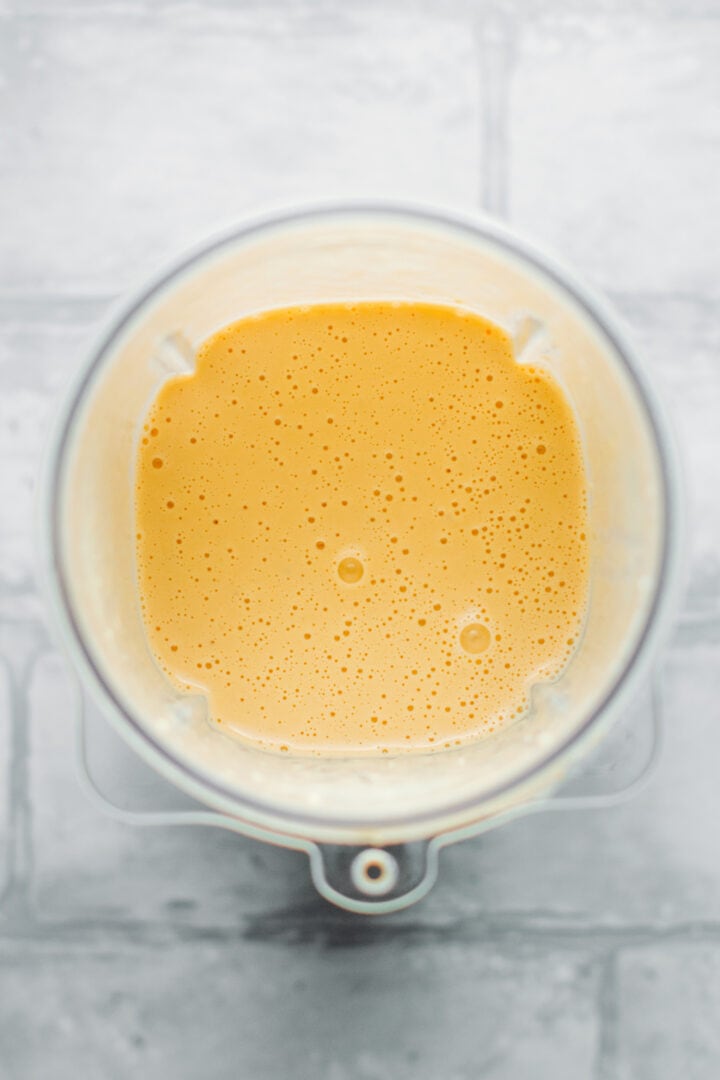 To add a yellow color to the fondue, you have two options:
Turmeric – Everyone probably already has this spice on hand, so this is the easiest option. Turmeric will give the fondue a yellow color.
Annatto oil – This oil is prepared by frying annatto seeds. Annatto oil gives the fondue the perfect light orange/beige color. This is the option I recommend for a more appetizing look. Check out our recipe if you want to learn How to Make Annatto Oil.
Once blended, transfer to a saucepan and heat over medium heat while whisking constantly. Once the fondue has thickened and is hot, you can transfer it to a fondue set or serve it immediately!
📔 Tips
How to Eat Fondue
Dip chunks of bread into the hot cheese fondue and enjoy. It's as easy as that! If you want to switch things up, you can definitely dip roasted baby potatoes or steamed veggies like broccoli.
There is a little game that comes with fondue. The one that drops a piece of bread inside the pot has to pay a forfeit!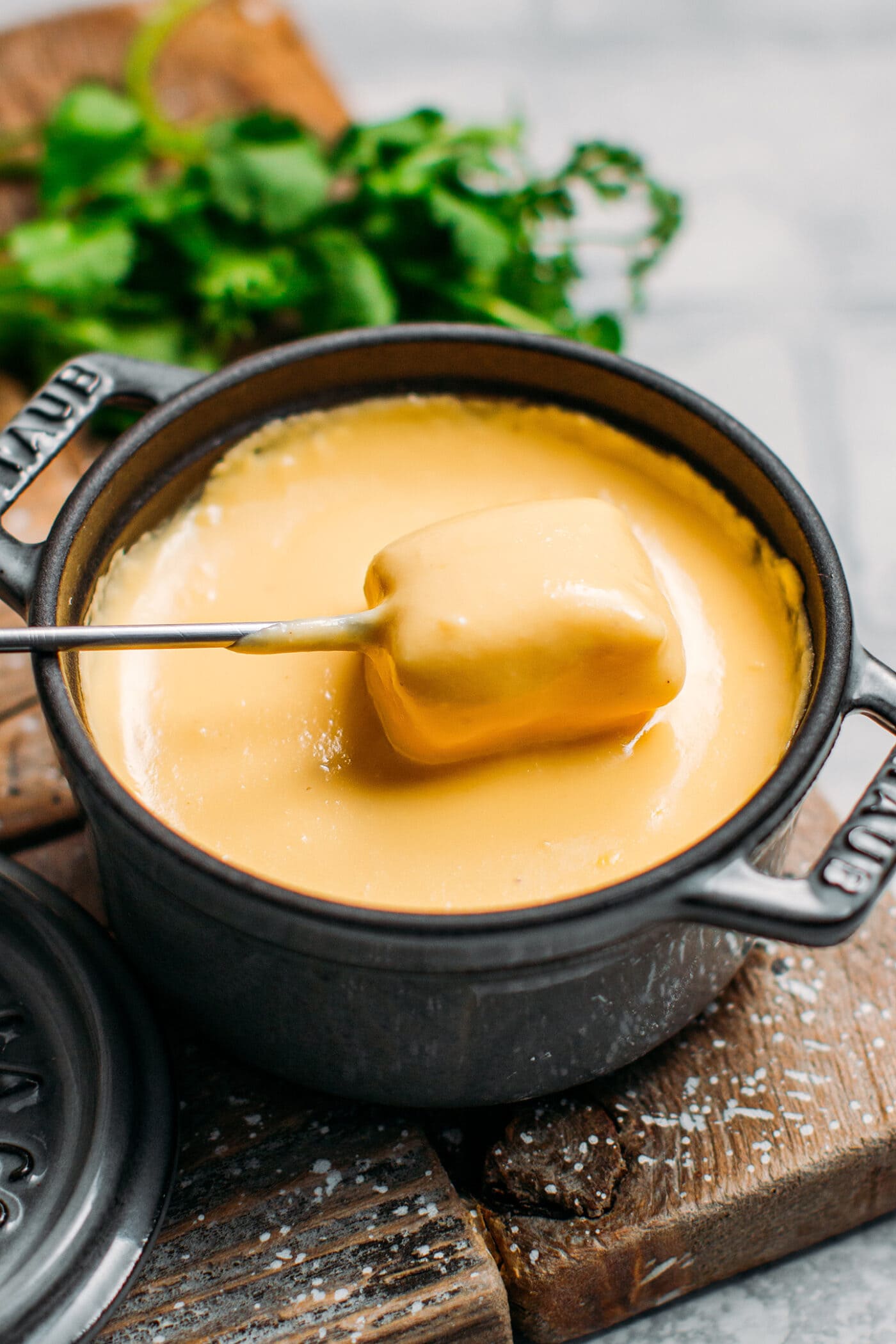 Equipment
Although you can heat this fondue in a saucepan and transfer it to a pot before serving, I highly recommend using a fondue set for a more convivial meal and a better experience.
A fondue set will keep the fondue warm during the whole dinner, and it's much more friendly to have one big pot in the middle of the table instead of small individual ones!
If you don't own a set yet, check out this Enamel Cast Iron Fondue Set that works with a gel burner or this Stainless Steel Electric Fondue Set if you want to be able to set the temperature more precisely.
Note: If serving for just one person, you can simply heat the fondue in a small cast-iron pot over the stove. It should stay warm long enough.
💬 FAQ
What can I substitute for the cashews?
I haven't found any good substitute yet. It's the only nut that yields a super creamy consistency.
Which probiotic should I use?
I personally used this Acidophilus probiotic. However, most probiotics will work.
What can I substitute for the white wine?
Unfortunately, if you want an authentic fondue flavor, there is no substitute. Be aware that the amount used is totally safe for kids, and some of the alcohol evaporates during the cooking step.
How long does fondue keep?
This vegan fondue will keep for up to 3 days in the refrigerator. I recommend covering it with plastic film to touch while the fondue is still hot to prevent a skin from forming on top.
How to reheat fondue?
Reheat over low-medium heat, stirring very regularly to prevent it from sticking to the bottom. If the fondue is too thick, dilute it with a few tablespoons of vegetable stock or water and a pinch of salt.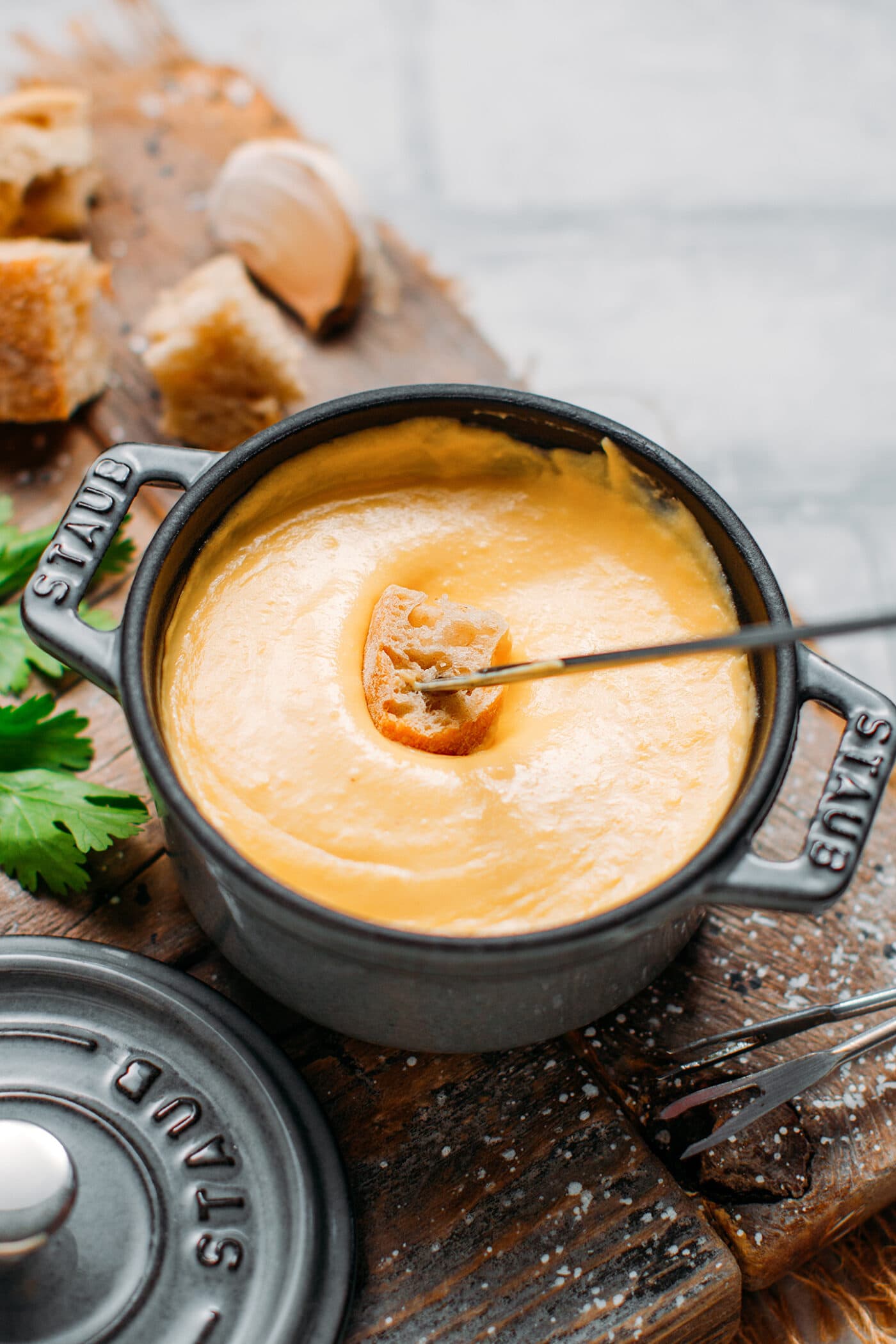 This vegan cheese fondue has the perfect balance of cheesiness and tanginess! It's the ultimate comfort food to have on chilly days. You won't be able to stop dipping into it!
🧀 More Vegan Cheese Recipes
Let me know in the comments, and feel free to leave a rating if you try this vegan cheese fondue recipe!
Recipe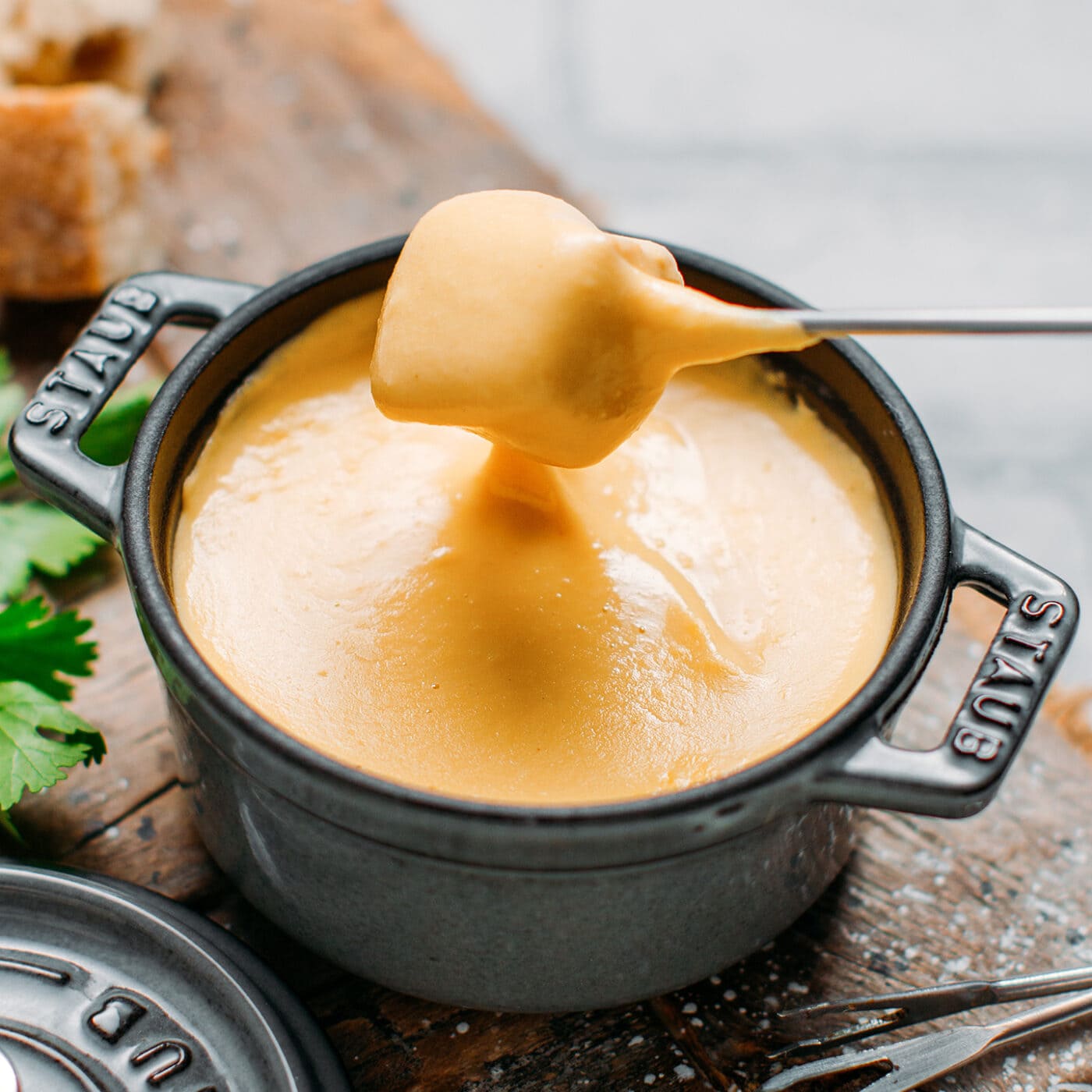 Vegan Cheese Fondue
The BEST vegan cheese fondue! Incredibly rich, super cheesy, and prepared from cultured cashew cream! This vegan fondue is comfort food at its best!
Instructions
Cashew Cream
Drain the soaked cashews and transfer them to a high-speed blender. Add the water and blend on high for 20-30 seconds or until smooth and creamy.

Transfer the cashew cream to a clean jar*. Add the powder from one capsule of probiotics and stir it into the cashew cream using a wooden spoon.

Cover the jar with plastic film or with a clean cheesecloth. Let it ferment at room temperature for about 24 hours (or up to 48 hours). The cashew cream is ready once you can see some bubbles, and it has a tangy flavor.
Fondue
Transfer the fermented cashew cream to a blender and add all of the other ingredients. Blend for 15-20 seconds or until smooth. The fondue will be very liquid, which is normal.

Pour the fondue batter into a large saucepan. Heat over medium heat, whisking constantly, until it thickens and starts to get stretchy, about 5 minutes.

You can then serve it immediately or transfer it to a fondue set to keep it warm. Dip pieces of bread into the cheese fondue and enjoy!
Video
Notes
* Use a jar large enough so it won't be filled to the top. As it ferments, the cream tends to expand a little bit in volume and will go overboard if using a jar too small.
Nutrition
Serving:
1
serving
|
Calories:
381
kcal
|
Carbohydrates:
26.6
g
|
Protein:
12.8
g
|
Fat:
23.2
g
|
Fiber:
4.6
g
|
Sugar:
2.6
g
Did you make this recipe?
Tag @fullofplants on Instagram and hashtag it #fullofplants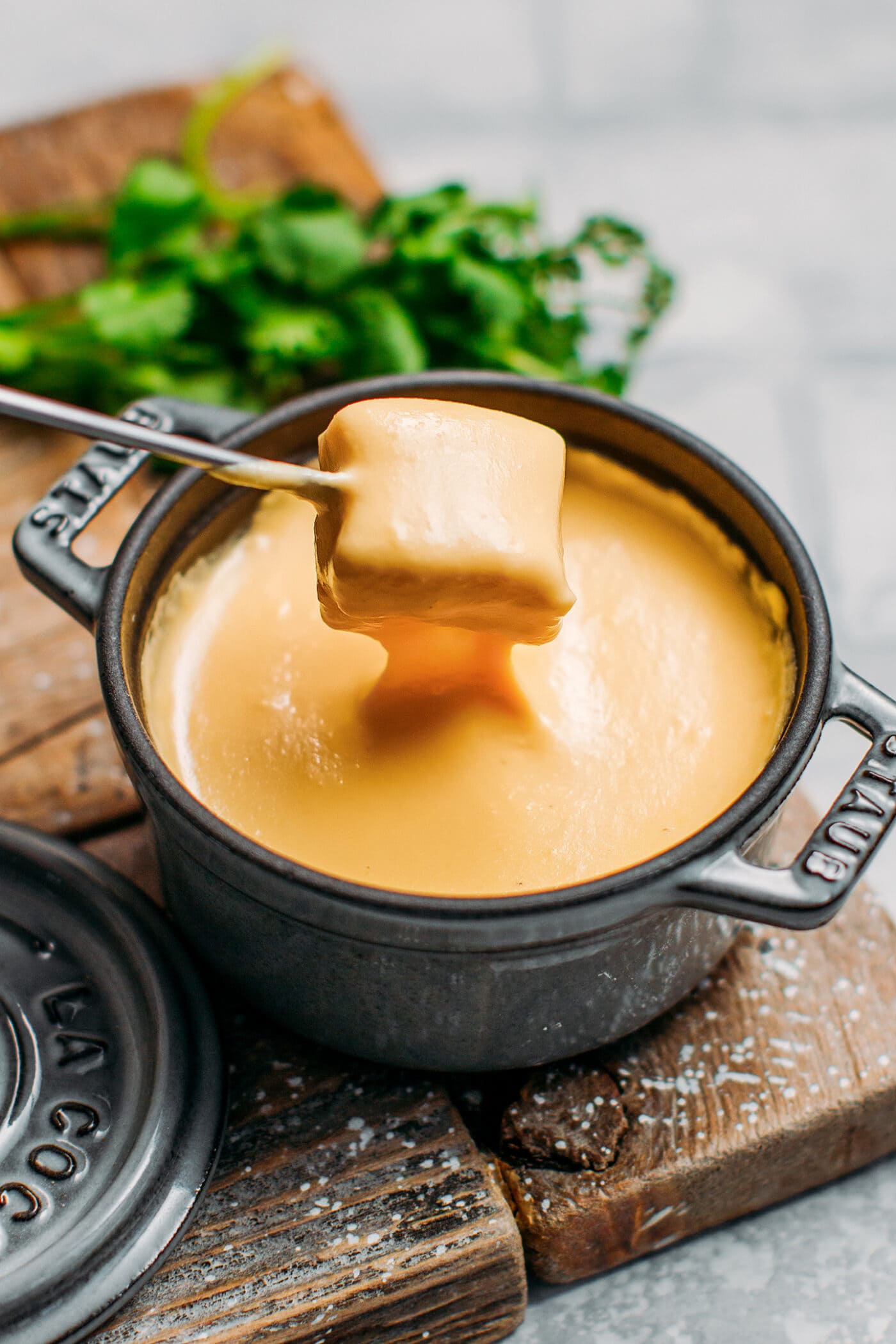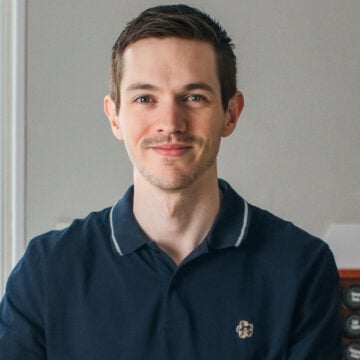 About the Author
Thomas Pagot is the founder, photographer, and recipe developer behind Full of Plants. He created the blog in 2016 as a personal cookbook for vegan recipes. Through years of recipe development, Thomas has successfully grown Full of Plants into a trusted resource for plant-based recipes.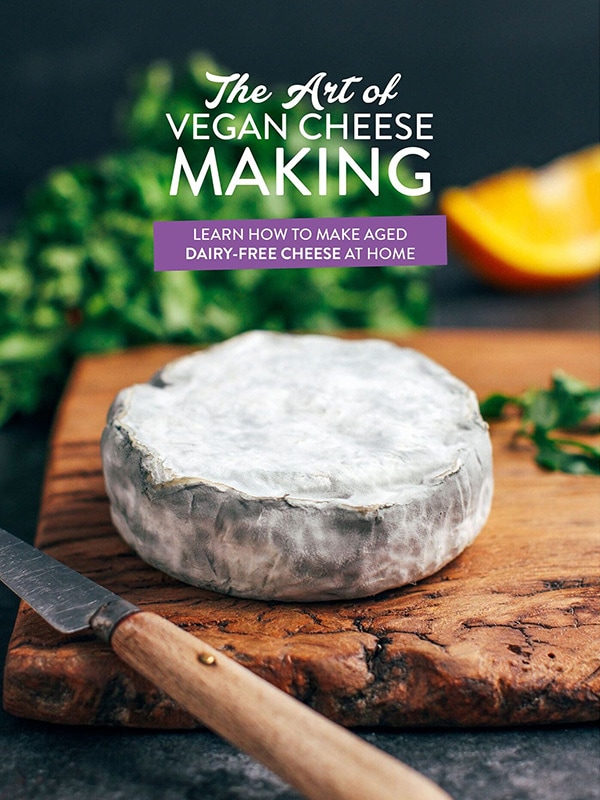 🧀 25 Mind-Blowing Vegan Cheese Recipes!
Sign up for the Full of Plants newsletter and you'll get new recipes delivered by email weekly, PLUS your FREE 100-page printable eBook!