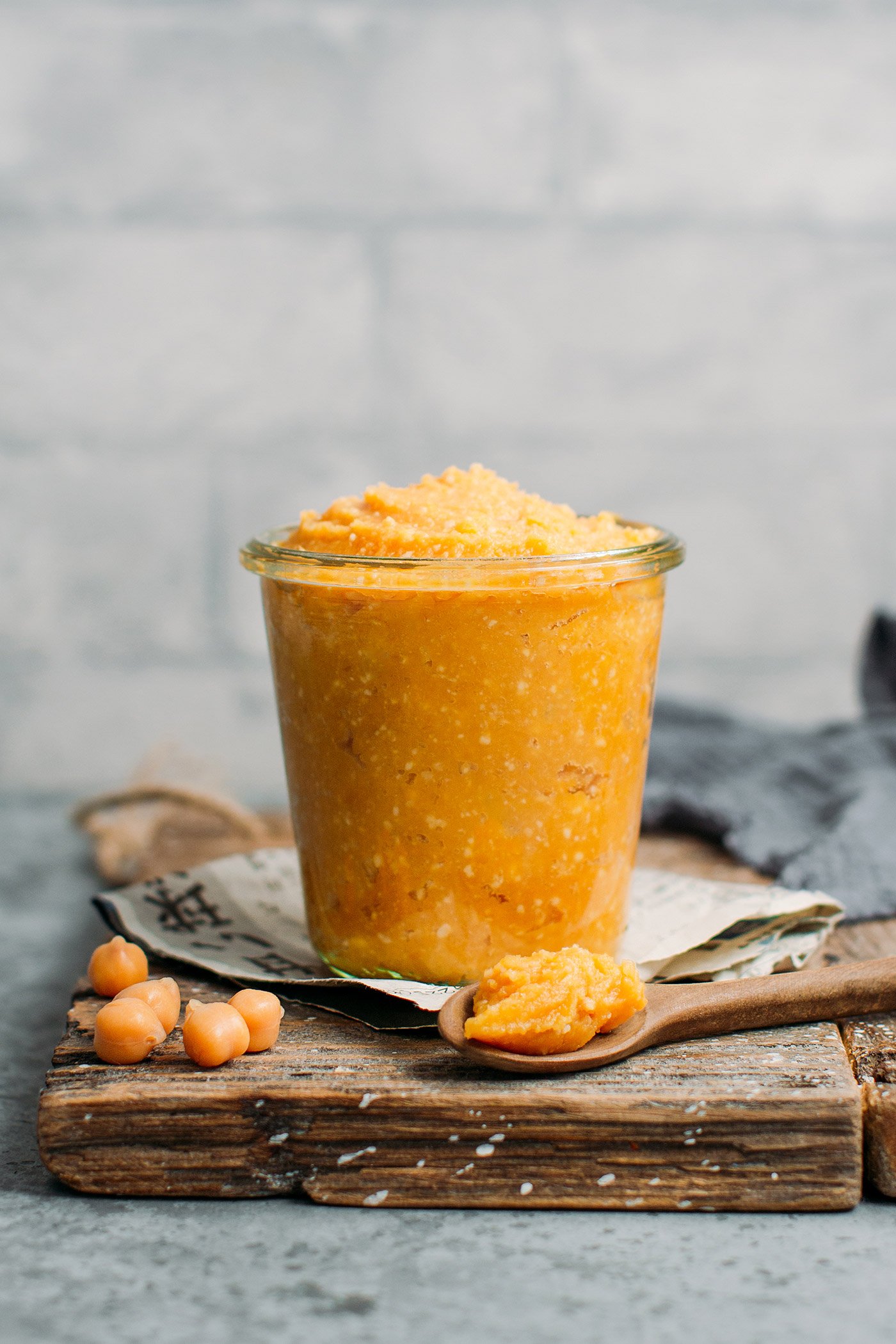 Making miso is something I have been wanting to try for a long time, but I was always pushed back by the long aging time (6 months!). Well, I finally decided to take the plunge and I'm sharing the process with you!
It's not only easy, but requires very little preparation time, the rest is patience! Let's do it!
WHAT IS MISO?
Miso (味噌) is a traditional Japanese condiment made from beans, rice, salt, and a mold, that is fermented from a few months to a few years. It is used to add umami and flavor to soups like miso-shiru, but can also be used in marinades, dressings, stews, ramen, and more.
The miso we are making here is prepared using chickpeas and aged for 6 months. It has a delicate and complex flavor with a good balance of sweetness and saltiness. It is not as intense as red miso and much less salty. If you are a miso connoisseur, this one is very close to shiro miso (my favorite!).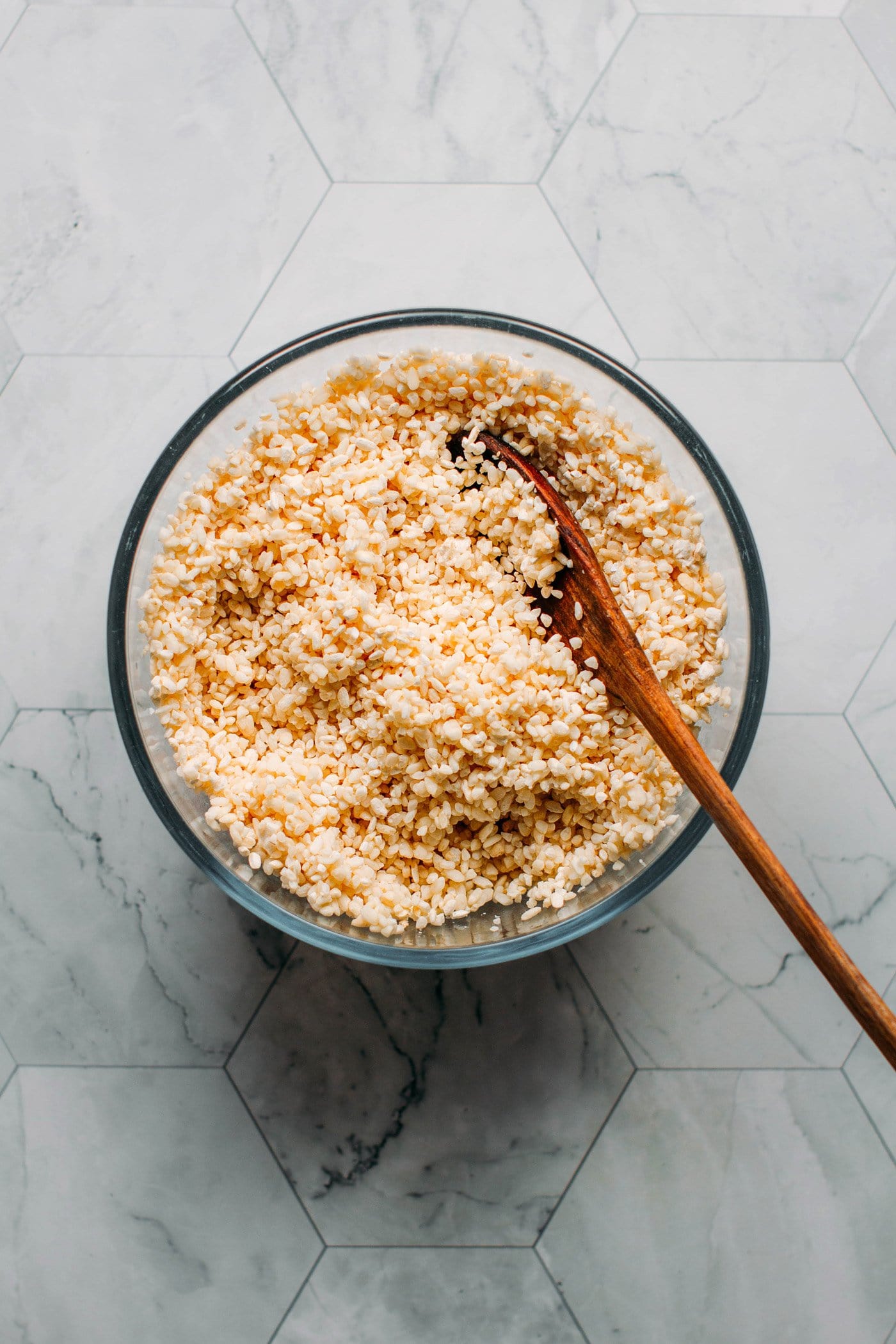 HOW TO MAKE MISO
Preparing miso is not only easy, but it's also quick. The hardest part is waiting!
You only need 3 ingredients to get started:
Koji: You can get koji here.
Chickpeas: start from dried chickpeas. I went with chickpeas to keep the miso soy-free.
Salt: to prevent bad mold from growing, and obviously for flavor.
Koji Dried Rice
Koji is cooked rice that has been inoculated with a culture called Aspergillus oryzae. It is then dried and can be kept at room temperature. It is a key ingredient for making miso, mirin, sake, and other fermented products!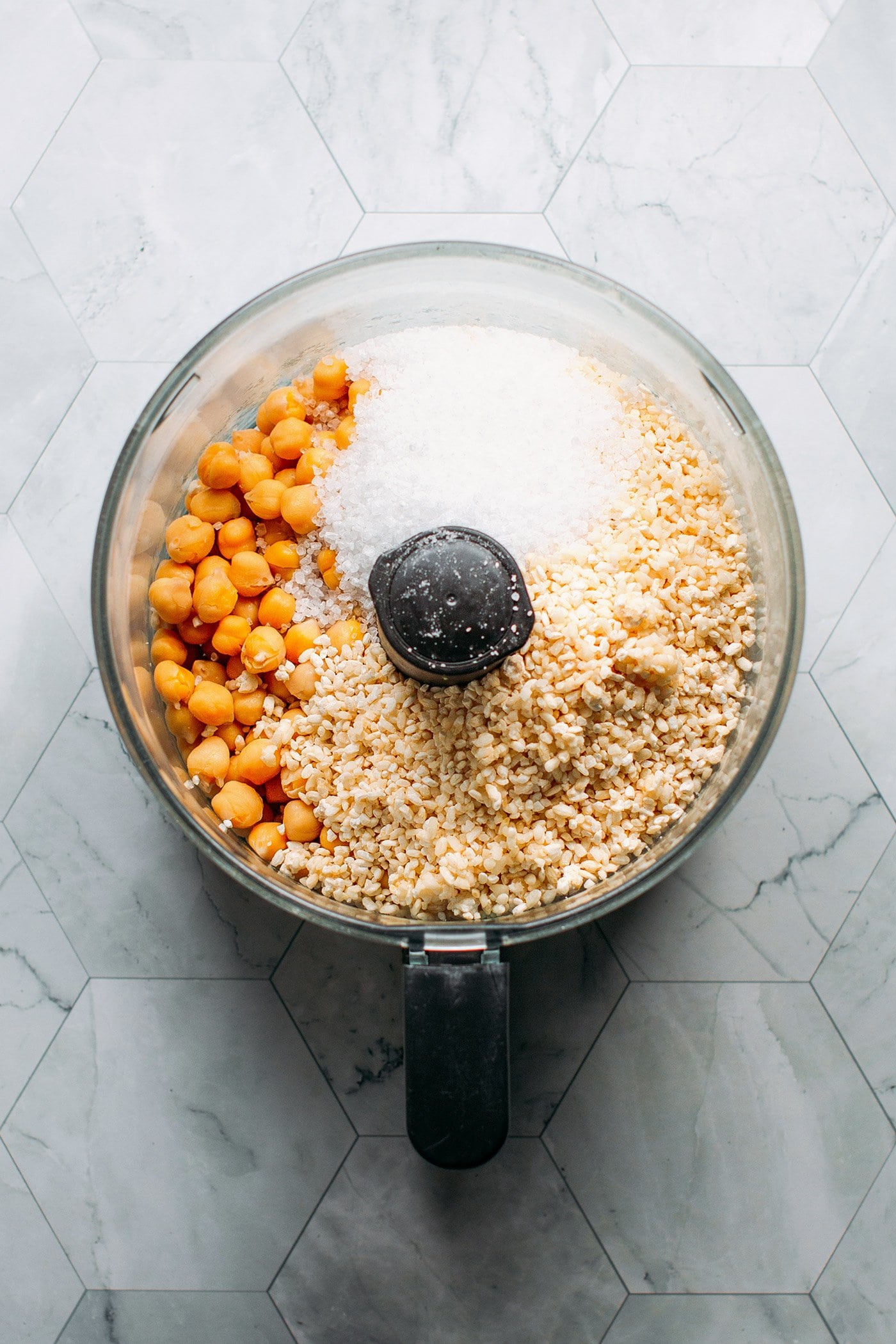 First, you want to cook soaked chickpeas until perfectly tender. I used my Instant Pot, but you can cook the chickpeas in a pressure cooker or in a large pot.
Next, soak your koji rice with warm water (at a temperature of about 122°F/50°C) to soften it. Make sure the water is not hotter than this temperature or it could kill the cultures of the rice.
Then, all you have to do is process the chickpeas, soaked koji rice, and salt, until you get a smooth paste.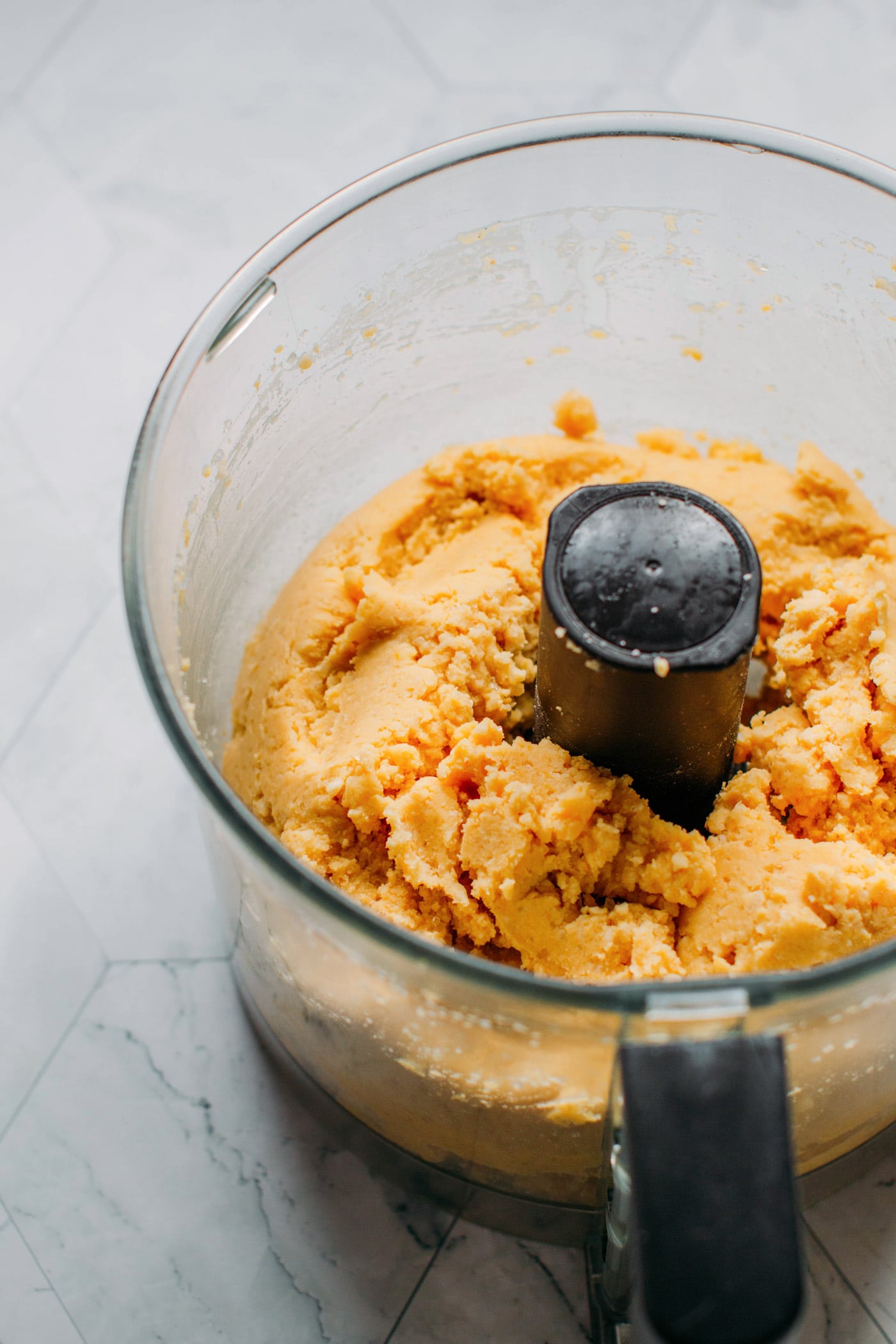 The miso is almost done! Transfer the mixture to clean jars and let it age in a dark place at room temperature for 6 months.
Important note: make sure to pack the mixture very tightly into the jars, to have the least amount of air inside as possible. You also want to add a weight on top so the fermentation doesn't create too much air bubbles. If you have air inside you jar, there are high chances some mold will grow and your miso will turn bad within a few weeks (I had that issue once).
One more thing, do not fill your jar as much as I did below. Only fill to the ¾ otherwise some liquid will overflow.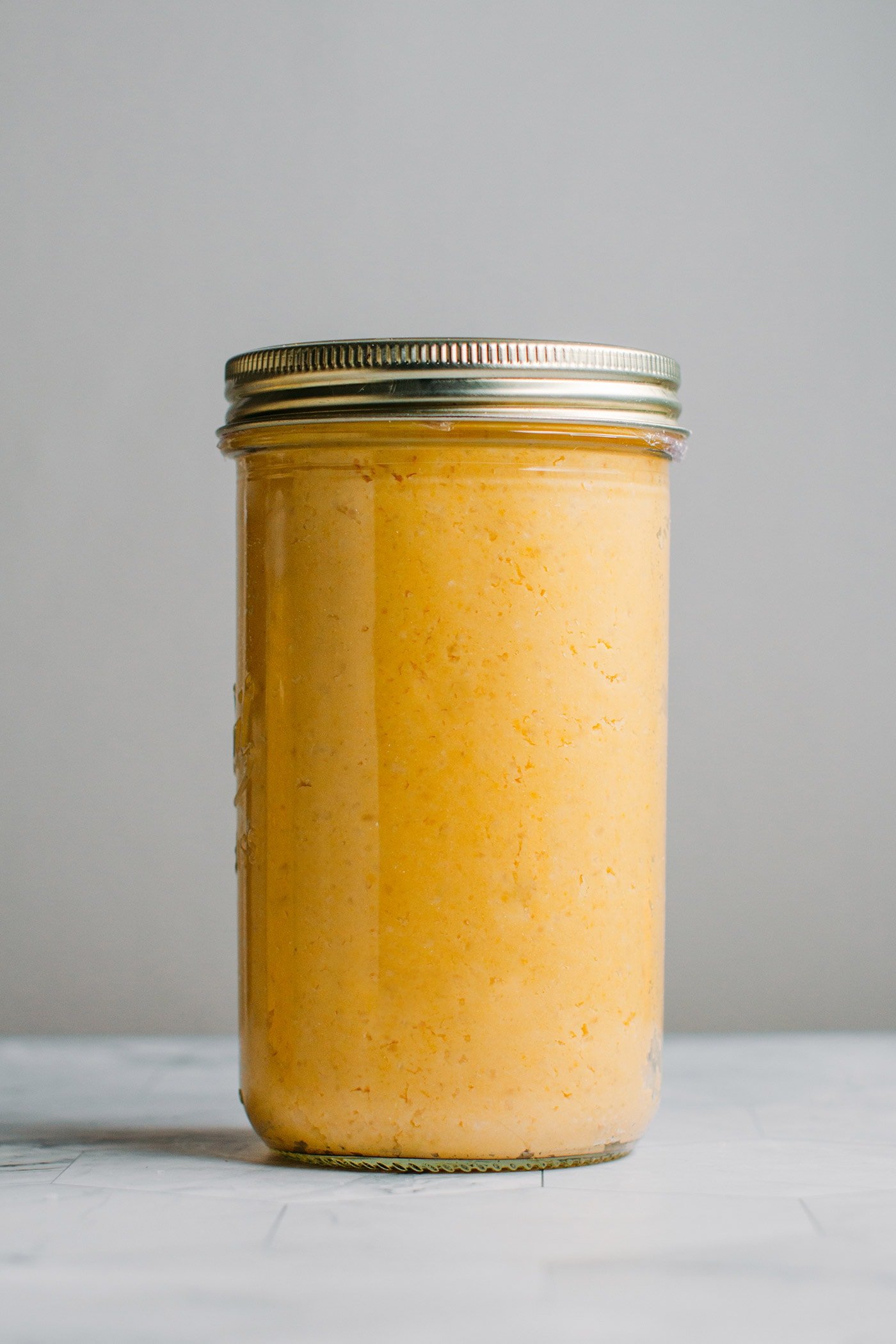 I opened the jar after 6 months and I was incredibly surprised by how delicious this chickpea miso tasted! It's sweet, salty, and packed with umami and buttery notes. Yes, it's THAT good!
You could probably let it age for a few extra months, but I found that 6 months is already enough to get a very high quality miso, especially if you like sweet white miso. And if you are wondering, you can't even taste the chickpeas, it's pure miso flavor.
Can this work with other beans? Probably, but I have not personally tried.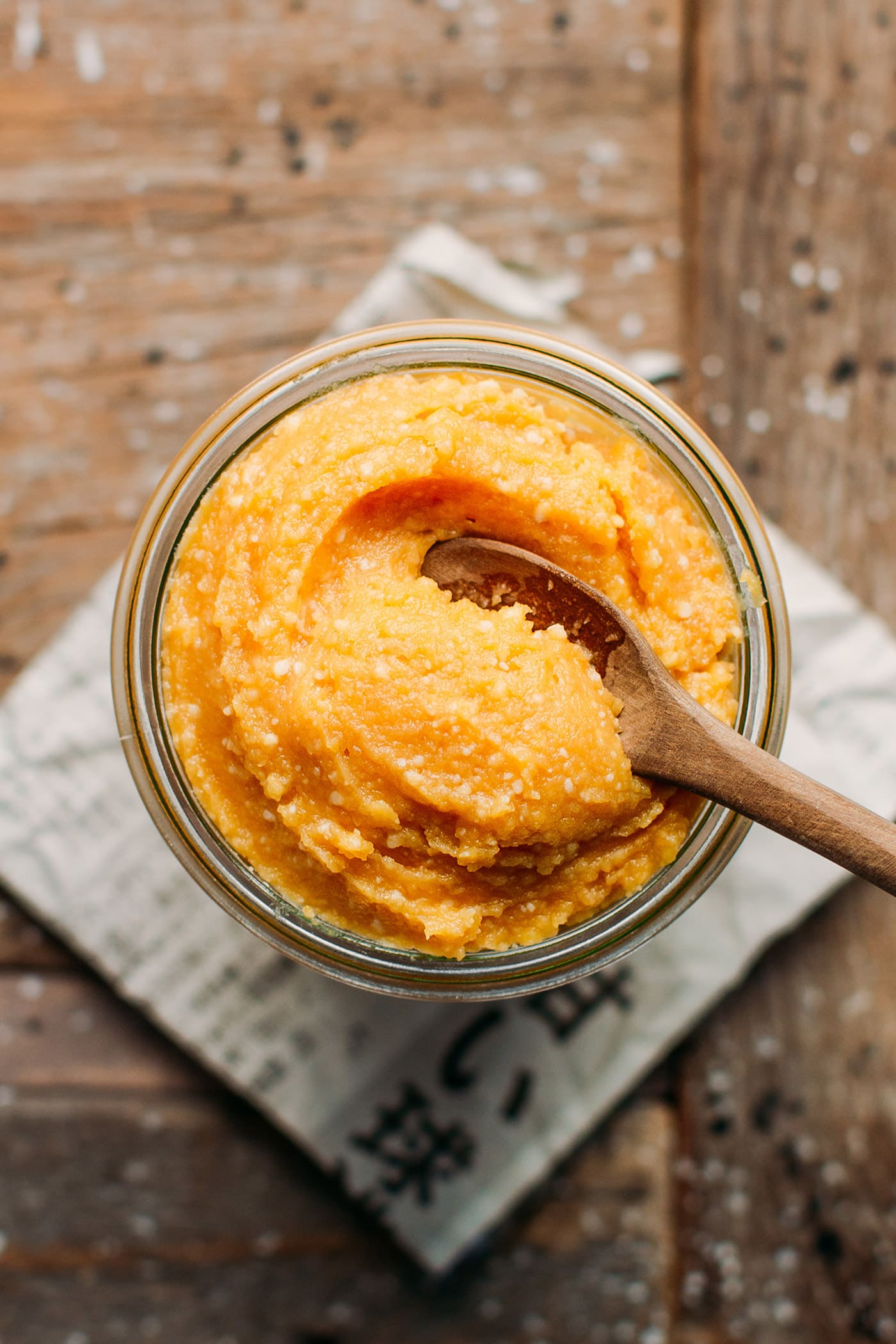 I hope you will love this recipe, it's a super fun project to make and you will have miso available for weeks, if not months! It's much more cost-effective than buying it, if you are patient enough of course!
Looking for more fermented recipes? Check out this Fermented Tofu (Chao), Vegan Camembert, Cashew & Almond Yogurt, or this Chickpea Tempeh!
Let me know in the comments if you try this recipe!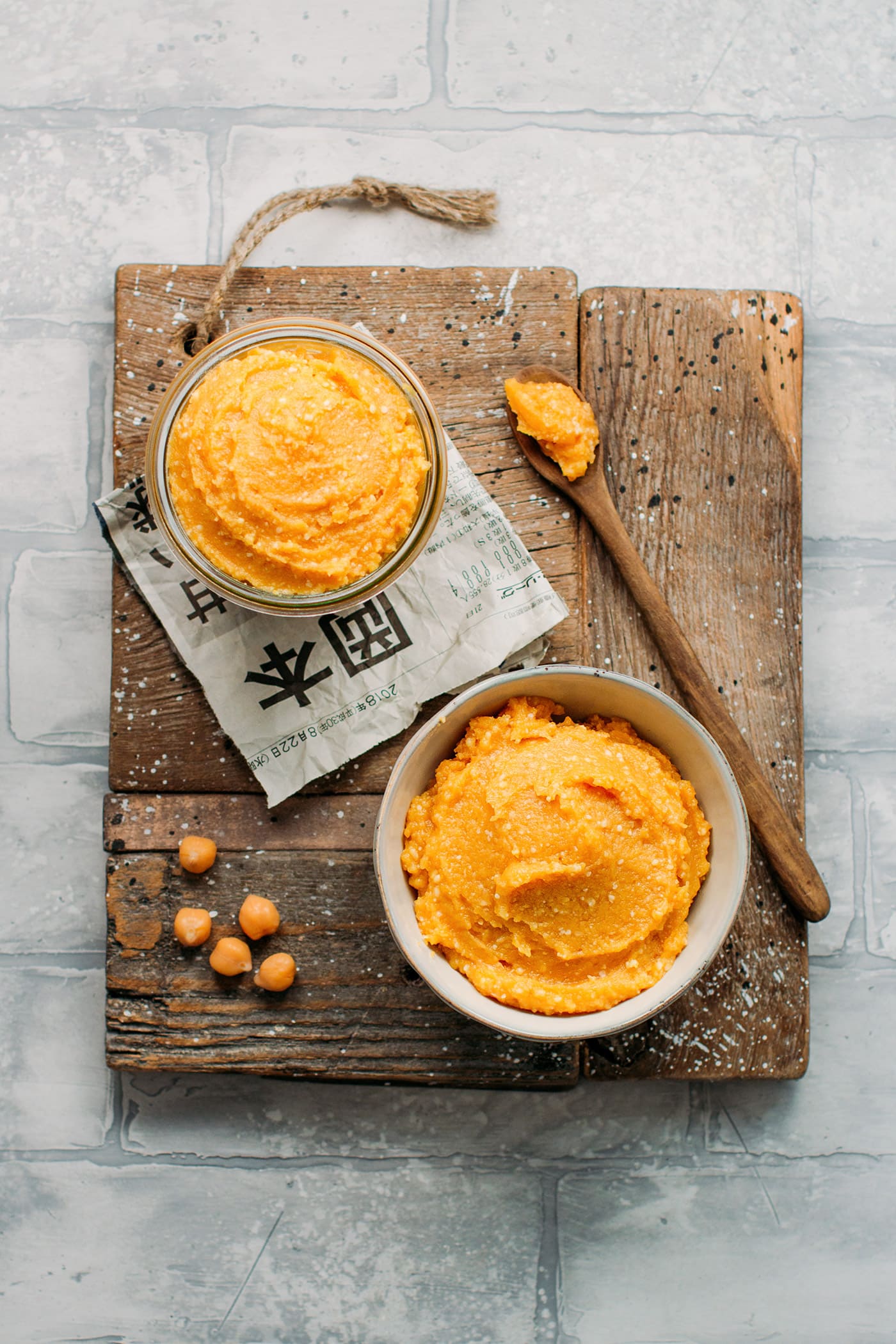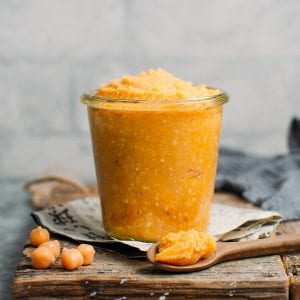 How to Make Chickpea Miso
Learn how to make your own chickpea miso from scratch! It's buttery, a bit sweet, and packed with umami! Plus it is soy-free!
Ingredients
18

ounces

dried chickpeas

soaked overnight

18

ounces

koji rice

1

cup

water

½

cup

coarse salt
Instructions
Preparation
Drain the dried chickpeas and add to an Instant Pot (or pressure cooker). Cover with about 8 cups (2L) of water and pressure cook for 5 minutes. Let the pressure release naturally for 20 minutes before opening the Instant Pot and draining the chickpeas. Set aside and let it cool at room temperature.

Note: you can also cook the chickpeas in a large pot of water over the stovetop but it will take much longer.

Add one cup of water to a small saucepan. Heat over medium heat for 2-3 minutes, do not bring to a boil. Remove from heat and let it cool until it reaches about 122°F (50°C).

Add the koji rice to a medium mixing bowl and pour in the warm water. Stir and let it sit for one hour.
Processing
Next, transfer the cooked chickpeas, koji (and the water), and salt to a food processor. Process for 1-2 minutes, or until it forms a paste. It should be almost smooth and all the chickpeas should be puréed. If you have a small food processor, work in batches.

Prepare two 1-quart (1L) glass jars: make sure your jars are perfectly clean. I recommend baking your empty jars at 300°F (150°C) for 20 minutes to kill possible bacterias and then let it cool completely.

Using gloves or really clean hands, shape balls of the mixture and pack them very tightly into each jar, working one layer at a time to make sure there is no air holes. Repeat until your jars are ¾ full.

Flatten the top of the mixture and sprinkle with about ½ tablespoon of fine salt. Cover with plastic film to touch. Now, you want to place something very heavy inside the jar, on top of the miso. I didn't have anything heavy that fitted inside so I filled a plastic bag with coarse salt and placed it inside the jar, on top of the miso. It must be heavy enough to prevent the miso from creating air bubbles due to the fermentation.
Aging
Close your jars with the lid and store in a dark place at room temperature. Your miso will be ready in 6 months, you don't have to do anything else but wait! Do not open the jar in the meantime or mold could grow.

After 6 months, transfer the miso to smaller jars and store in the refrigerator. Miso will keep for months! Use in soups, marinades, sauces, dressings, etc!
DID YOU MAKE THIS RECIPE?
Tag @fullofplants on Instagram and hashtag it #fullofplants