Introducing the creamiest vegan tofu scramble! It is perfectly seasoned with a subtle eggy flavor and ready in just 10 minutes! Plant-based, packed with 28g of protein, and so versatile! Enjoy with sautéed vegetables or toasted bread!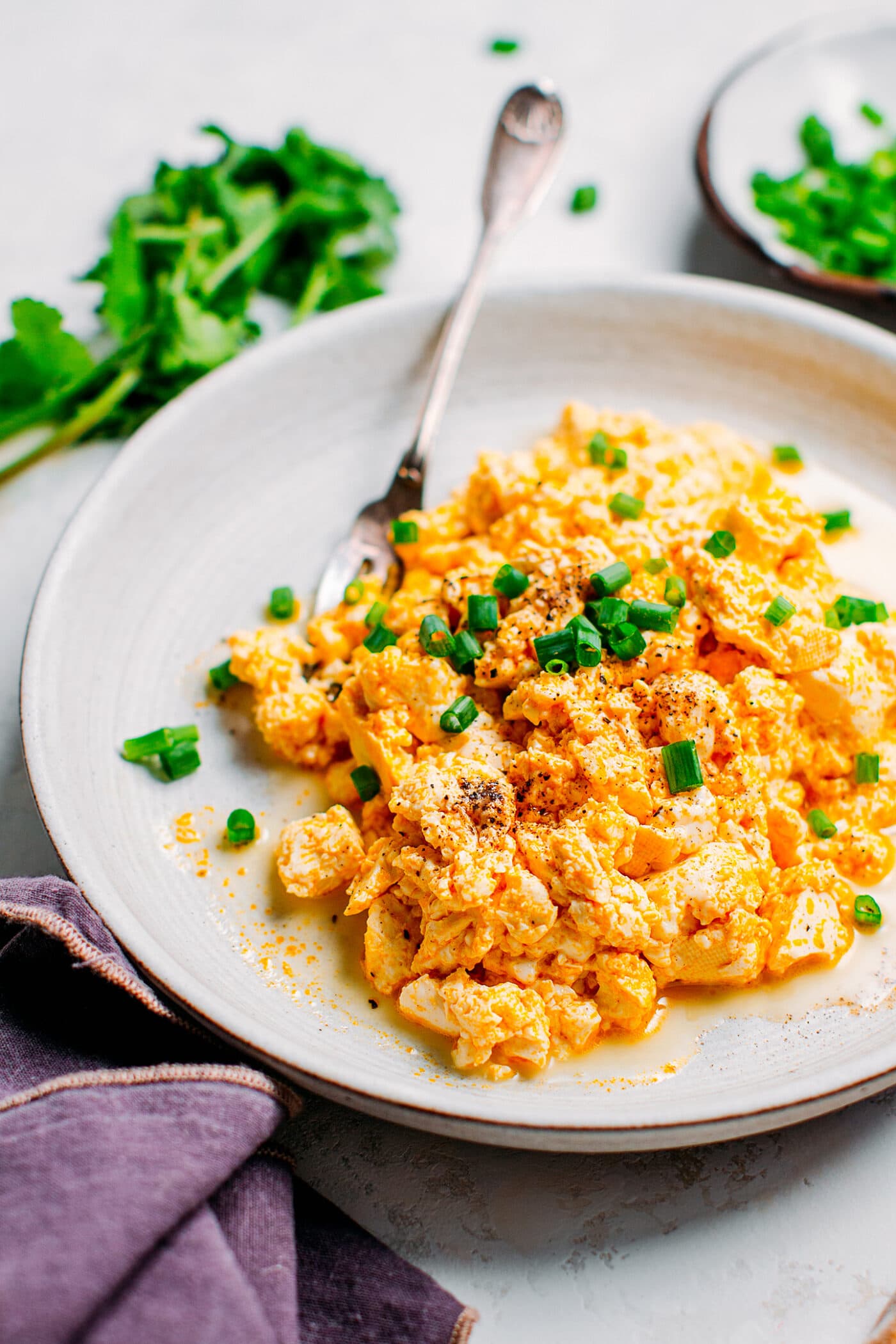 ⭐️ Why You Should Try This Recipe
It's quick and easy: it requires just 10 minutes + 8 ingredients.
It's a must-have recipe: whether you plan to serve it with toast for breakfast or with greens for lunch, it's always handy to have a good tofu scramble recipe on hand.
It's super creamy, fluffy, and tasty. Vegans and non-vegans alike will enjoy this dish!
📘 What is Tofu Scramble
A tofu scramble is a plant-based alternative to scrambled eggs. It makes use of tofu and some seasonings to replace the eggs. It's vegan, healthy, and just as high in protein as scrambled eggs!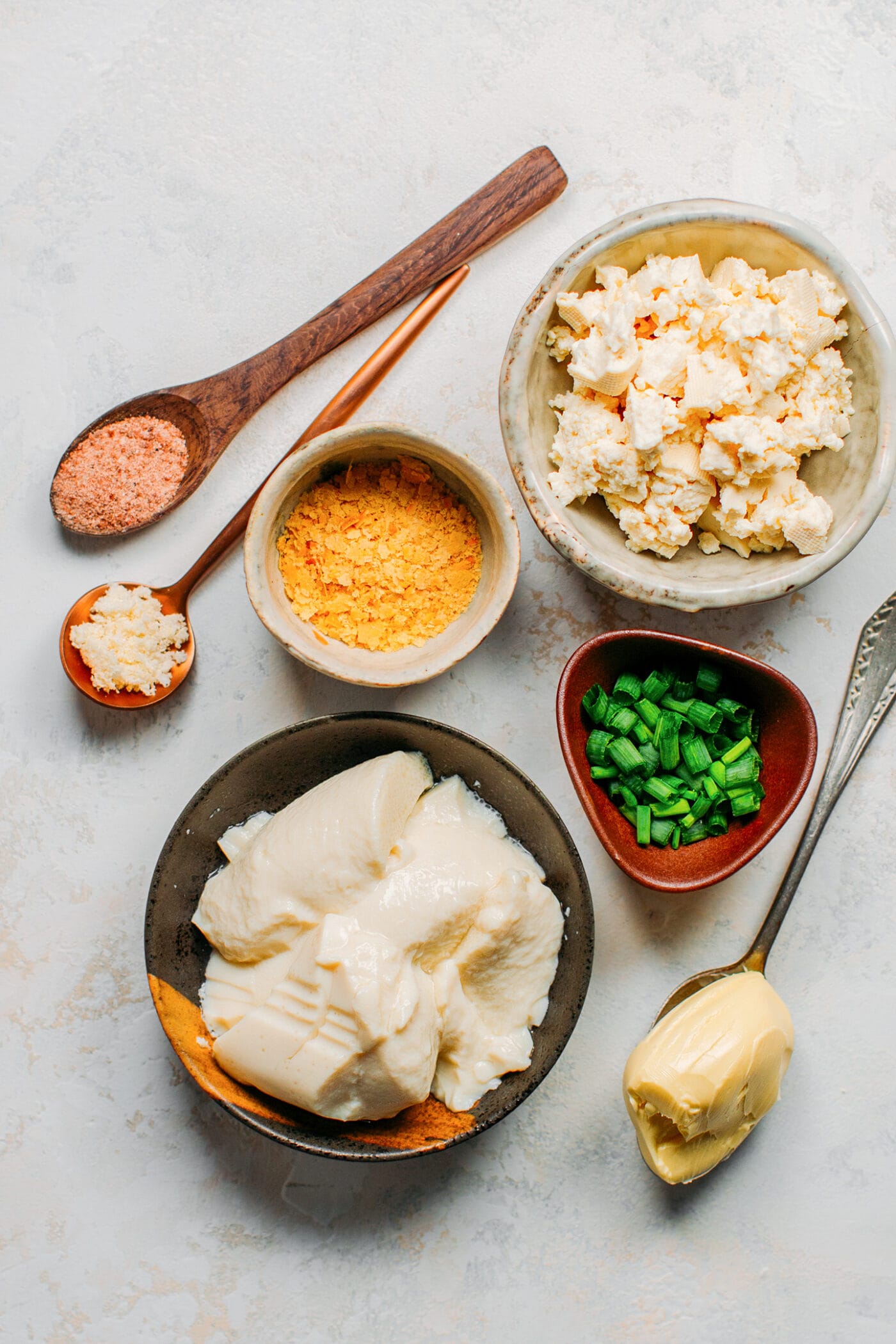 🥣 How to Make the Best Tofu Scramble
There are a few secret tips that bring this dish to the next level:
Two kinds of tofu – Instead of just going with firm tofu for this scramble, we will be using a combination of medium and silken tofu. Both help create a texture much more similar to scrambled eggs.
Kala namak salt – Also called Himalayan black salt, this type of salt has a sulphurous and pungent flavor. Just a pinch of kala namak salt adds a subtle eggy flavor to this tofu scramble.
A pinch of sugar – Eggs contain natural sugars, while tofu doesn't. So while you will not taste the sweetness, a pinch of sugar helps balance the flavors.
Tapioca starch – At the end of cooking, we add a few teaspoons of tapioca starch diluted in water. This will bring just a little bit of sliminess, like real scrambled eggs!
Annatto oil – While optional, using annatto oil instead of turmeric gives the eggs the perfect color. Turmeric tends to give a yellow with green hues, but annatto oil brings a more appetizing yellow/orange color. I didn't use any turmeric here, just a teaspoon of annatto oil!
Vegan butter – The addition of vegan butter adds the richness needed to take this dish to the next level!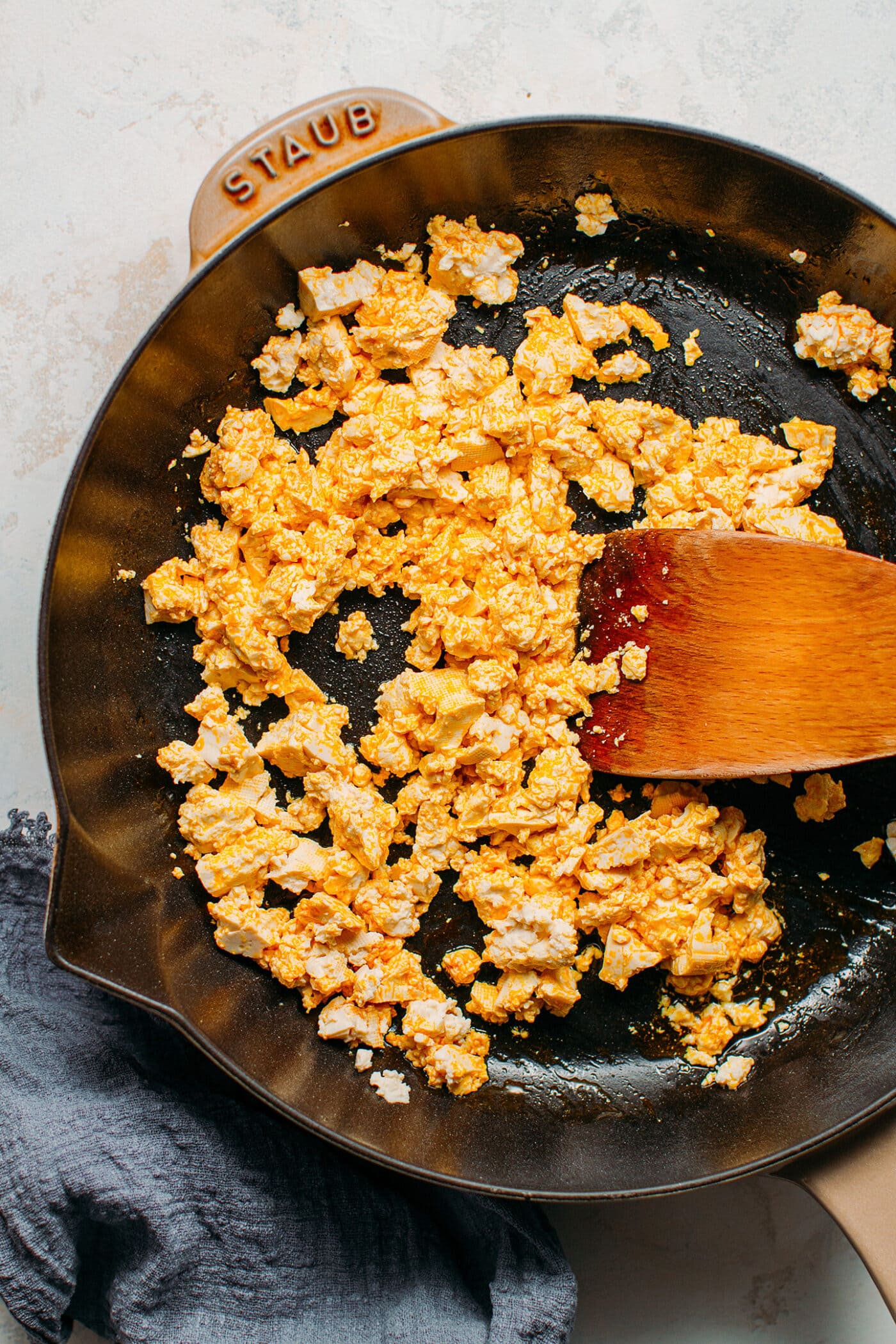 Start by melting the vegan butter over medium heat. At this point, you can add the annatto oil as well, if using. Once melted, add the scrambled medium tofu and sauté for a few minutes.
Next, add the silken tofu and the seasonings, and sauté for another couple of minutes, stirring regularly to combine. Finally, top with ground black pepper and chopped scallions!
🍞 What to Serve with Tofu Scramble
This dish is delicious as is but is even better when served with the following:
Roasted vegetables: make it a complete meal by serving this tofu scramble with roasted veggies like broccoli, carrots, bell peppers, and onions.
Sautéed greens: green beans, caramelized zucchini, kale, or even pak choi!
Toast: the texture of this tofu scramble is actually perfect for toast. Feel free to add some avocado slices for healthy fats!
Sushi: Scrambled tofu makes the perfect topping to Inari sushi!
📔 Tips
This recipe yields a very creamy tofu scramble, but you can adjust the texture by playing with the ratio of medium tofu to silken tofu.
Want to make a veggie tofu scramble? Simply sauté vegetables before and then add the tofu and seasonings.
This recipe yields one large portion. It will serve one with a salad on the side or two if served on toast. Feel free to double the recipe!
A personal favorite way to serve this tofu scramble: Melt 2 tablespoons of vegan butter in a skillet over medium heat. Once hot, add two thick slices of whole wheat bread and cook on both sides until golden brown and crispy. Transfer to a plate and top with the tofu scramble! It makes a delicious and high-protein breakfast!
💬 FAQ
Do I need to press the tofu?
No, there is no need to press the tofu for this recipe.
Can I use just one type of tofu for this recipe?
Yes, you can use just one type of tofu (silken or medium tofu), but you won't get the same texture.
How long can I keep scrambled tofu?
You can keep it for up to 3 days in the refrigerator. Reheat over medium heat in a non-stick skillet for a few minutes.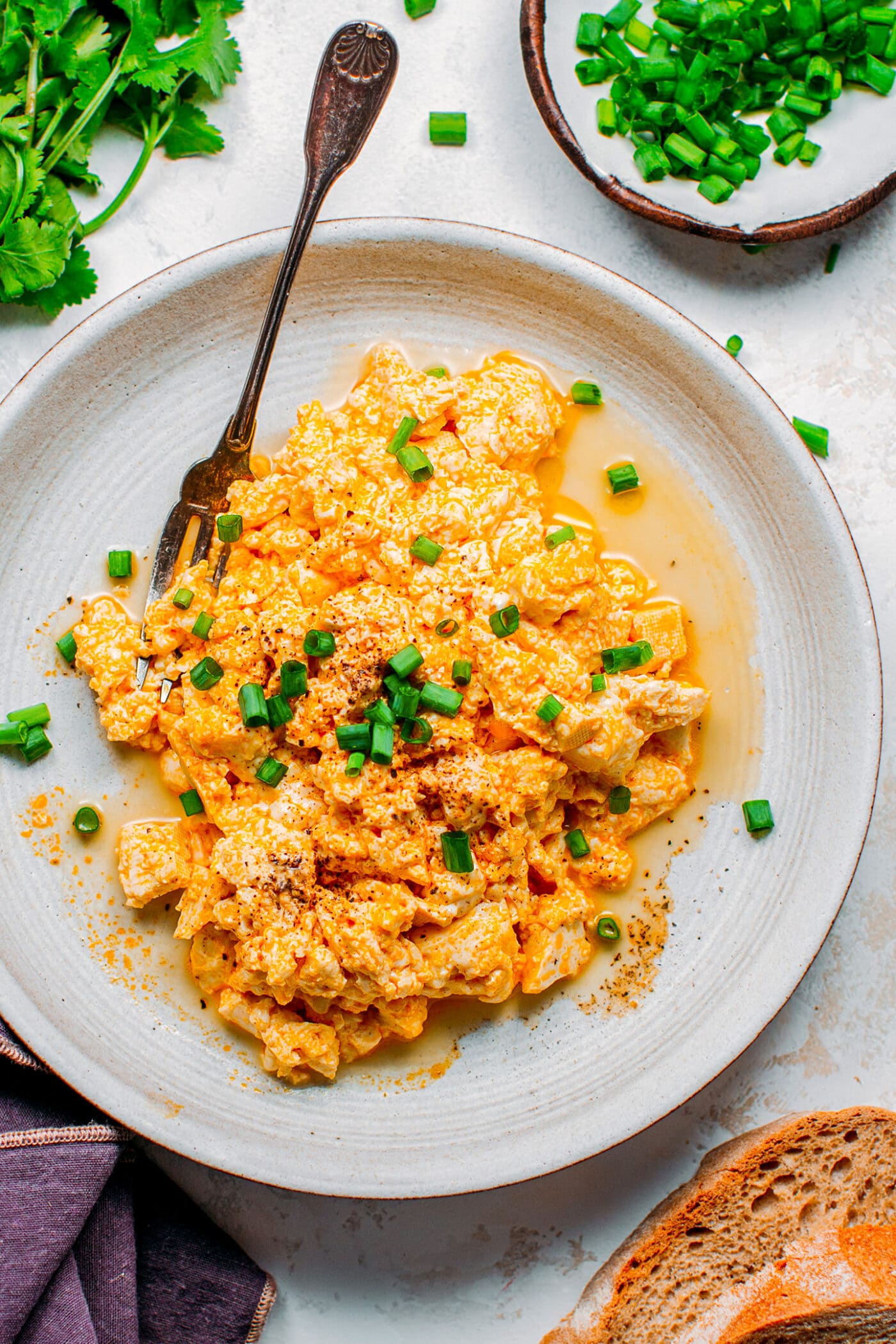 I hope you are going to love this creamy tofu scramble! Whether you are vegan or just having vegan guests, this tofu scramble is a classic recipe that everyone should have in their cookbook!
🥯 More Classic Vegan Recipes
Let me know in the comment if you try this recipe!
Recipe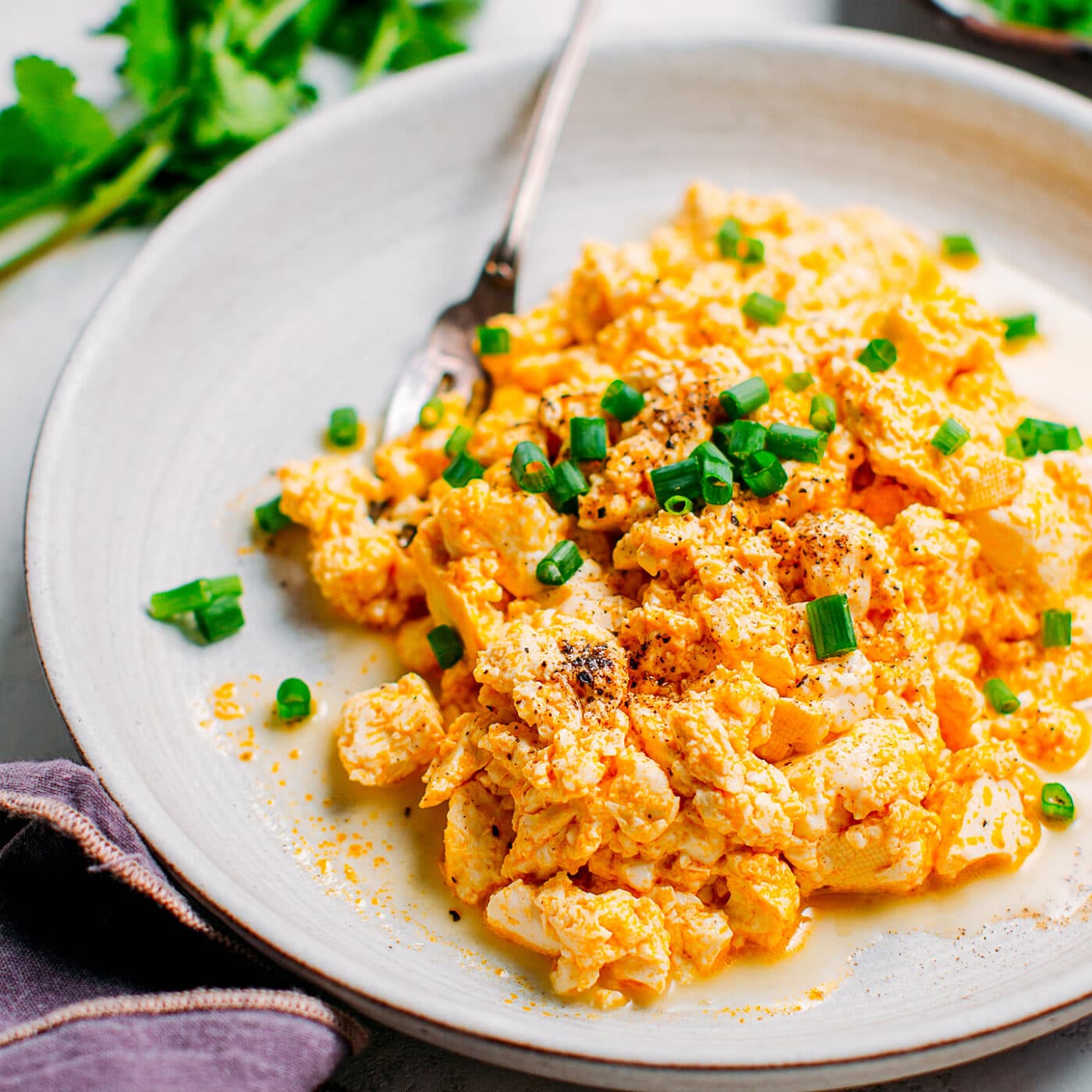 The Creamiest Tofu Scramble
Insanely creamy and fluffy tofu scramble that is perfectly seasoned! Delicious with sautéed vegetables or toasted bread. Easy to make with just 10 minutes and 8 ingredients!
Instructions
Heat the vegan butter (and annatto oil if using) in a non-stick skillet. Once the butter is melted, add the scrambled medium tofu and cook for 2 minutes, stirring regularly.

Next, add the silken tofu, nutritional yeast, onion powder, salt, sugar, and kala namak salt if using. Stir using a spatula to combine and slightly scramble the silken tofu. Cook for another 2 minutes.

Dilute the tapioca starch in the water and add it to the skillet. Stir to combine and cook for one more minute or until the tapioca slurry has thickened.

Remove from heat and transfer to a serving plate. Season with ground black pepper and sprinkle with green onions! You can eat the tofu scramble as is or with sautéed vegetables on the side. It's also delicious on toasted bread!
Nutrition
Serving:
1
serving
|
Calories:
377
kcal
|
Carbohydrates:
17.8
g
|
Protein:
28.8
g
|
Fat:
21.9
g
|
Fiber:
4.7
g
|
Sugar:
3.6
g
Did you make this recipe?
Tag @fullofplants on Instagram and hashtag it #fullofplants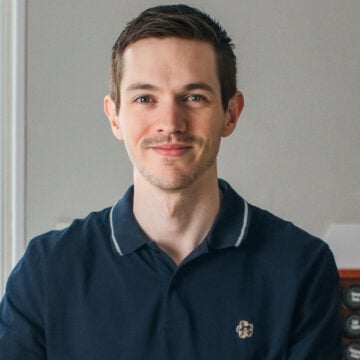 About the Author
Thomas Pagot is the founder, photographer, and recipe developer behind Full of Plants. He created the blog in 2016 as a personal cookbook for vegan recipes. Through years of recipe development, Thomas has successfully grown Full of Plants into a trusted resource for plant-based recipes.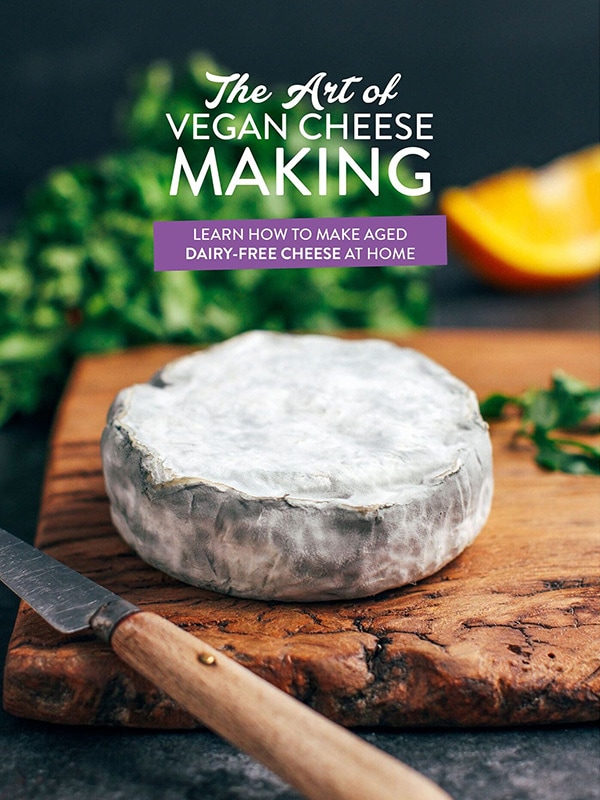 🧀 25 Mind-Blowing Vegan Cheese Recipes!
Sign up for the Full of Plants newsletter and you'll get new recipes delivered by email weekly, PLUS your FREE 100-page printable eBook!