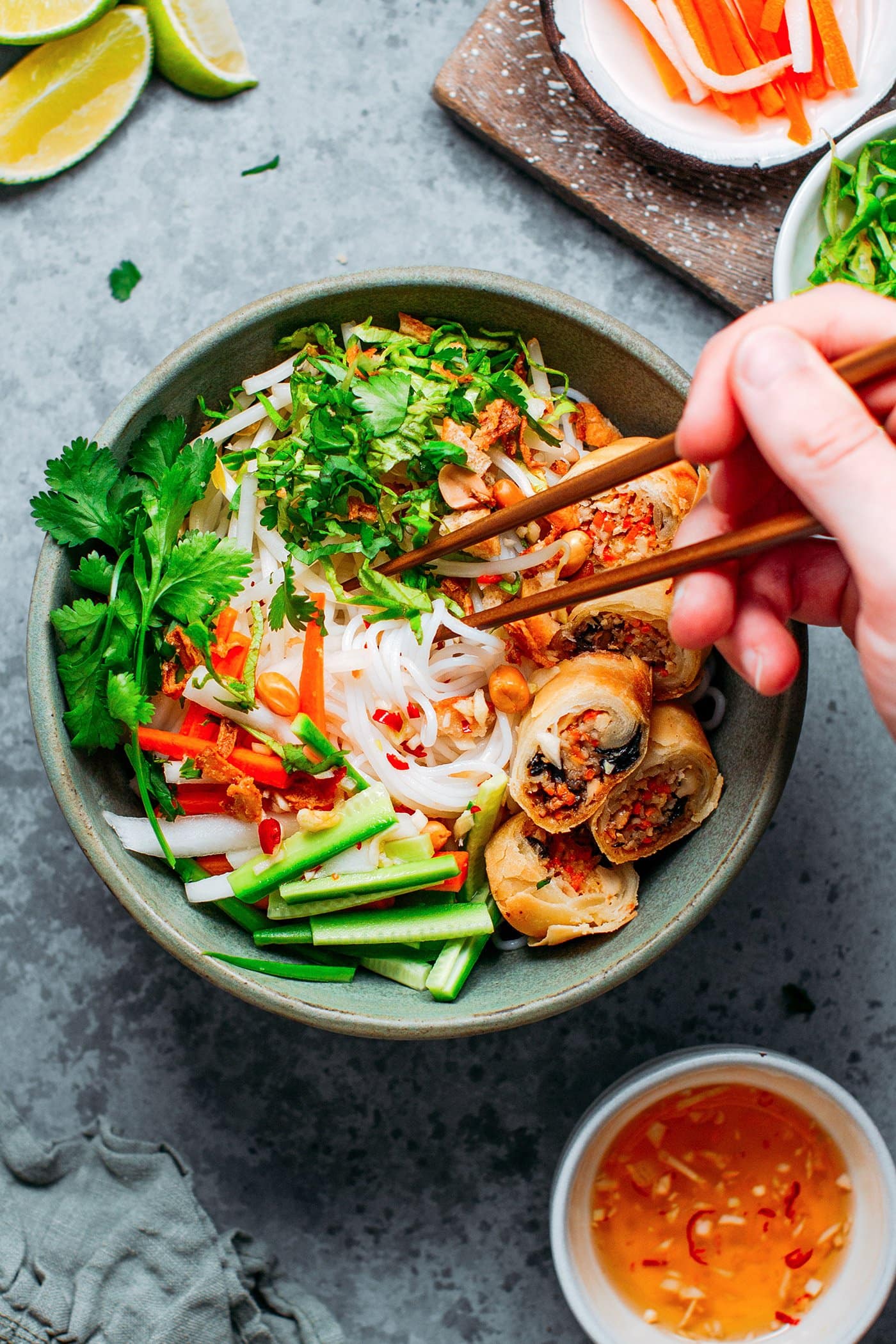 When it comes to Vietnamese food, if there is one dish you have to try, it's definitely this bún chả giò chay! Aka cold noodle salad with egg rolls and a ton of other toppings!
It comes with crunchy pickles, bean sprouts, roasted peanuts, cilantro, and a bright and fresh vegan fish sauce!
What is Bún Chả Giò
Bún Chả Giò is a traditional Vietnamese noodle salad. Bún describes the noodles while Chả Giò the egg rolls. It is a very popular dish in Viet Nam, and there are many different versions depending on the region. Bún Thịt Nướng is another version where egg rolls are replaced with grilled meat.
Here, we are preparing the version with egg rolls. It is served with many other toppings and a flavorful sauce called nước chấm.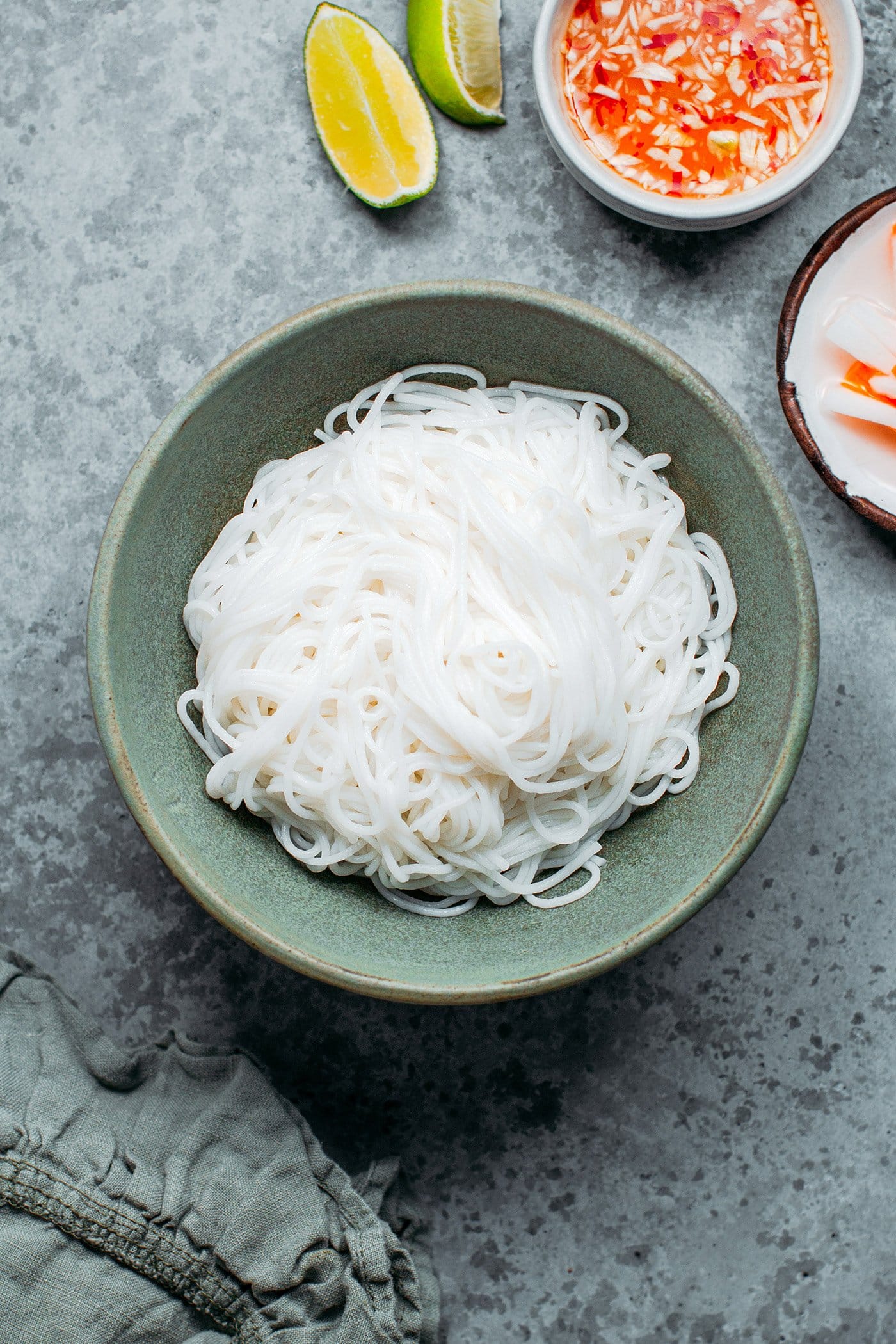 How to Make Bún Chả Giò
Assembling this dish is quick and easy, but there is some preparation required. Let's take a look at the main components of Bún Chả Giò:
Noodles make the base of this dish. You want to use white rice noodles called bun, these noodles are thin and round.
Egg rolls bring the crunch and another level of texture. You can use any vegan egg roll, or make your own, which I would highly recommend!
Pickles and cucumbers for freshness. You can find out how to make pickles in the recipe notes, it keeps for up to 2 weeks so you can use the leftovers in salads, bánh mì, sandwiches, etc!
Croutons and fried onions/shallots, while optional, I personally love the natural sweetness fried onions bring. Croutons can be replaced with fried diced tofu, or simply omitted.
Bean sprouts for an extra crunch.
Cilantro and lettuce for flavor, and what would be a Vietnamese salad without cilantro!
Finally, the rich nước chấm sauce, that is a key ingredient to this dish. It's basically vegan nước mắm diluted with water, sugar, lime, garlic, and some chili. If you don't have or can't find vegan nước mắm, you could use soy sauce instead but unfortunately you won't get an authentic flavor.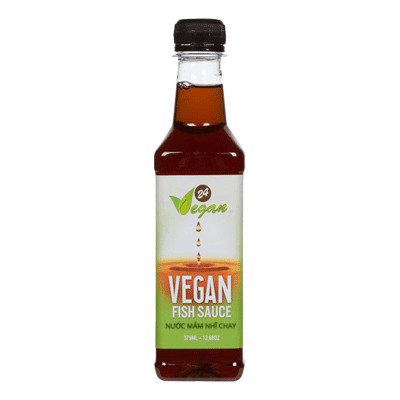 Vegan Fish Sauce
Nước mắm chay, or vegan fish sauce, is a Vietnamese condiment. While the original version is made from fermented fish, this vegan version is made from fermented soybeans.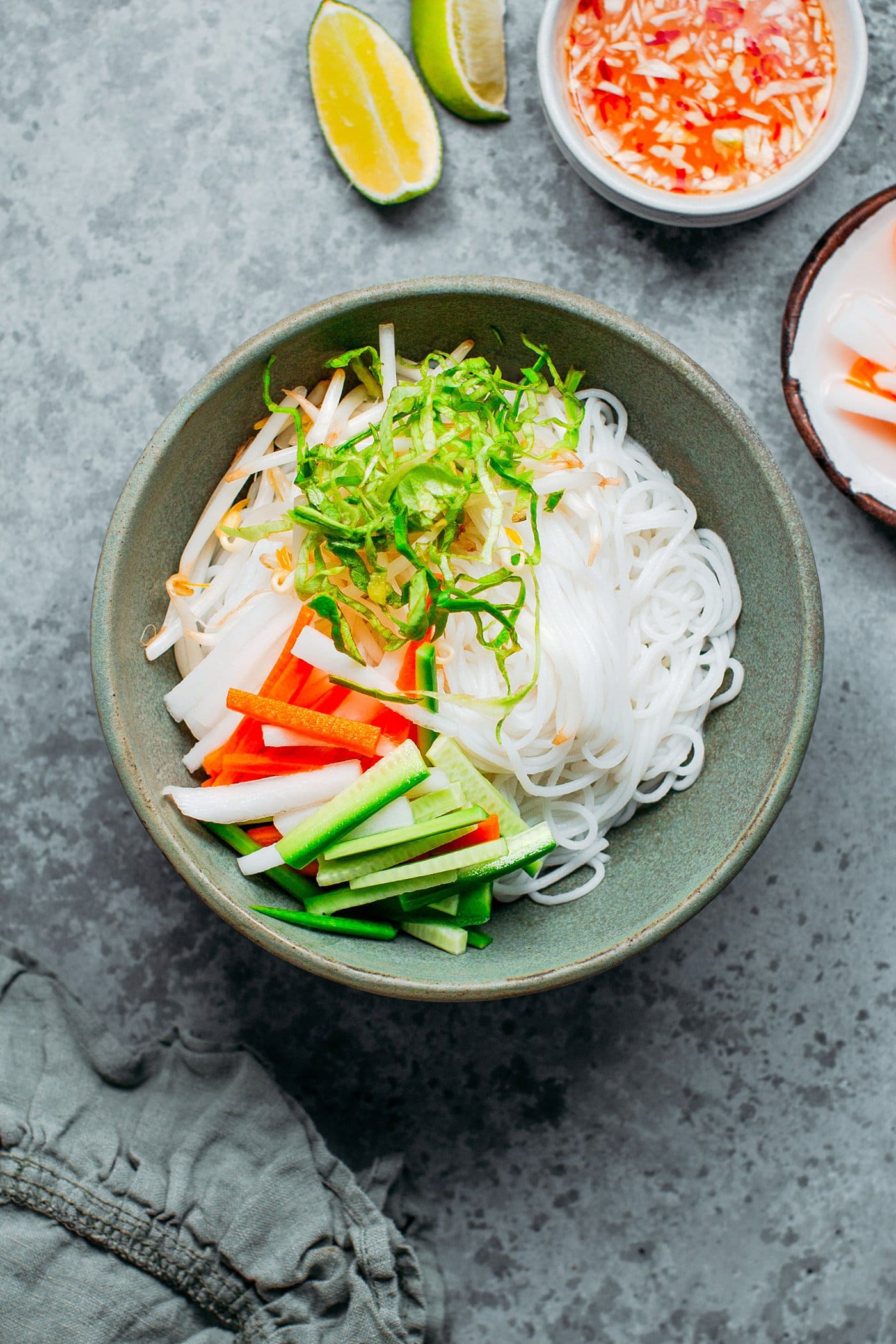 First, add the cooked noodles to a bowl, then top with the veggies: pickles, cucumber, bean sprouts, and herbs.
Next, cut your egg rolls into thick slices and place them on top of the noodles. I usually go with two egg rolls per bowl, but that is up to you, and to your hunger!
Next, add the crunchy toppings: peanuts, fried onions, and croutons, and pour in the sauce. When it comes to the sauce, feel free to adjust the chili to your liking. Half a Thai chili is already quite spicy for my taste, so you might want to use less if you are not used to spicy dishes.
I hope you will love this noodle dish! It's super fresh, a bit sweet, spicy, and has a lot of different textures. It's packed with veggies, and makes a filling and healthy meal!
Looking for more Vietnamese-inspired recipes? Check out this Vegan Bún Bò Huế, Vegan Bánh Tráng Nướng, or this Vietnamese Savory Sticky Rice!
Let me know in the comments if you try this recipe!
Vegan Bún Chả Giò
Vietnamese-inspired cold noodle salad topped with homemade egg rolls, crunchy pickles, peanuts, fried onions, and a delicious spicy sauce! It's fresh, healthy, easy, and delicious!
Ingredients
2.5

ounces

rice noodles

adjust to your liking

⅓

cup

bean sprouts

¼

cup

chopped lettuce

¼

cup

chopped cucumber

2

tablespoon

carrot and radish pickles

see notes

2

vegan egg rolls

cut into 1-inch thick slices

1

tablespoon

roasted peanuts

1

tablespoon

croutons

1

tablespoon

fried onions or shallots

chopped cilantro, to taste
Nước chấm sauce
1

tablespoon

vegan nước mắm

1

tablespoon

sugar

3

tablespoon

water

1

clove of garlic

finely minced

1

teaspoon

lime juice

½

Thai chili

finely chopped
Instructions
Please note: This makes one bowl. Use the servings slider to adjust the quantities if you want to make more.

Bring a large pot of water to a boil. Once boiling, add the noodles and cook according to the package instructions, or until tender.

In the meantime, prepare the sauce: in a small bowl, combine the vegan nước mắm, sugar, water, minced garlic, lime juice, and chili. Taste and adjust spiciness and sweetness to your liking.

Drain the noodles and rinse under cold water. Transfer to a large serving bowl.

Top with bean sprouts, chopped lettuce, chopped cucumber, and pickles. Arrange the sliced egg roll on top of the noodles.

Top with the roasted peanuts, croutons, fried onions, and chopped cilantro. Pour in the nước chấm sauce and stir to combine everything. Serve immediately!
Notes
To make pickles:
Boil about 1 cup of water with ½ cup of sugar and 1 teaspoon salt. Once the sugar has dissolved, remove from heat and let it cool.
Cut 2 carrots and 1 white radish into thin matchsticks. Transfer to a bowl and sprinkle with about 1 teaspoon of salt. Stir to coat and let it sit 10 minutes. Squeeze the carrots and radish to remove excess water and rinse under cold water.
Transfer the carrots and radish to a jar, pour in the sugar water and ½ cup of white vinegar. Refrigerate for at least 6 hours, or overnight. Keep in the refrigerator for up to 2 weeks.
DID YOU MAKE THIS RECIPE?
Tag @fullofplants on Instagram and hashtag it #fullofplants