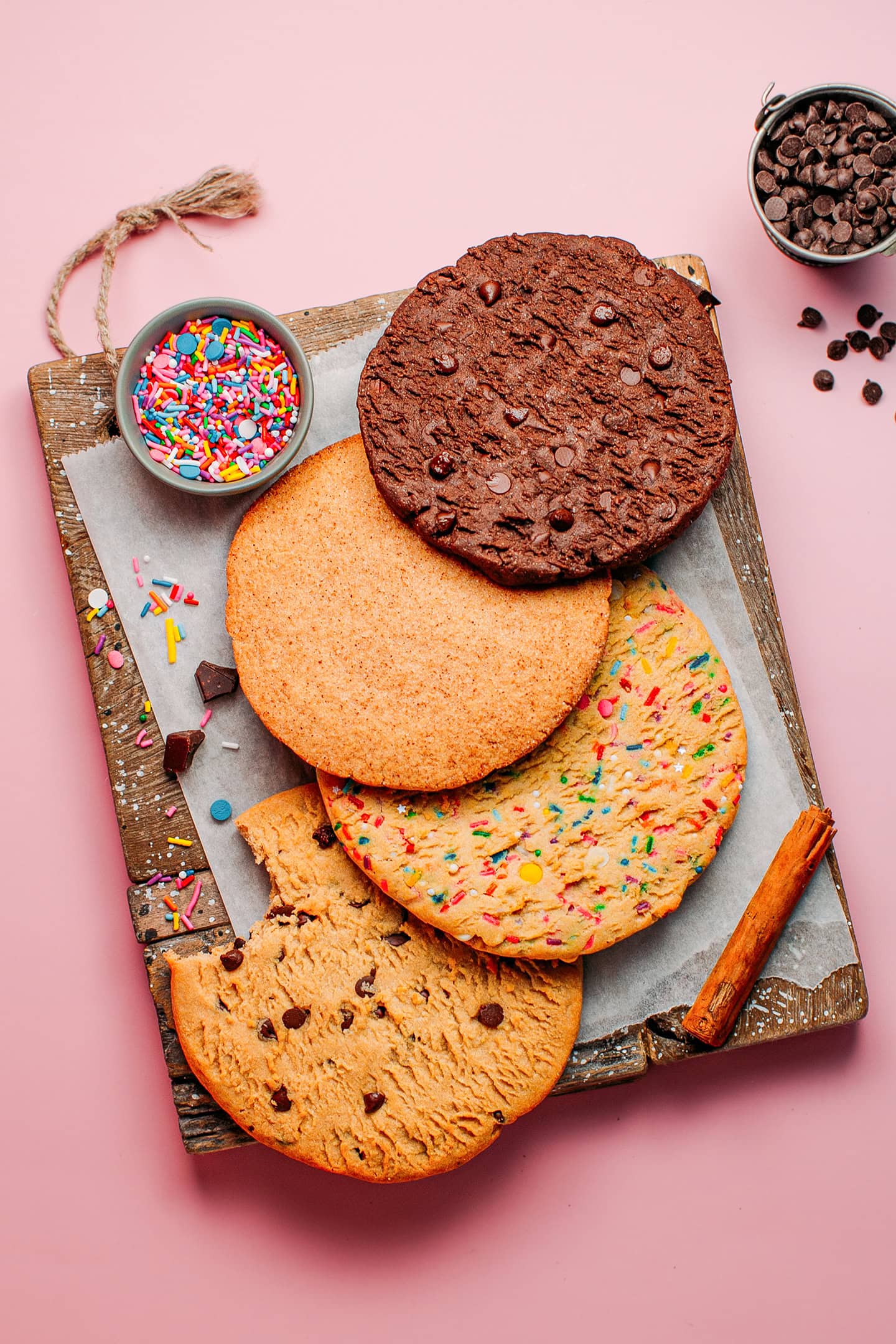 I'm super excited to share this cookie recipe! If you are a fan of Lenny & Larry cookies, it's time to make your own! Introducing The Complete Cookie Copycat!
These cookies are incredibly close to the original ones: soft-baked, chewy, high in protein, and easy to make. Let's do it!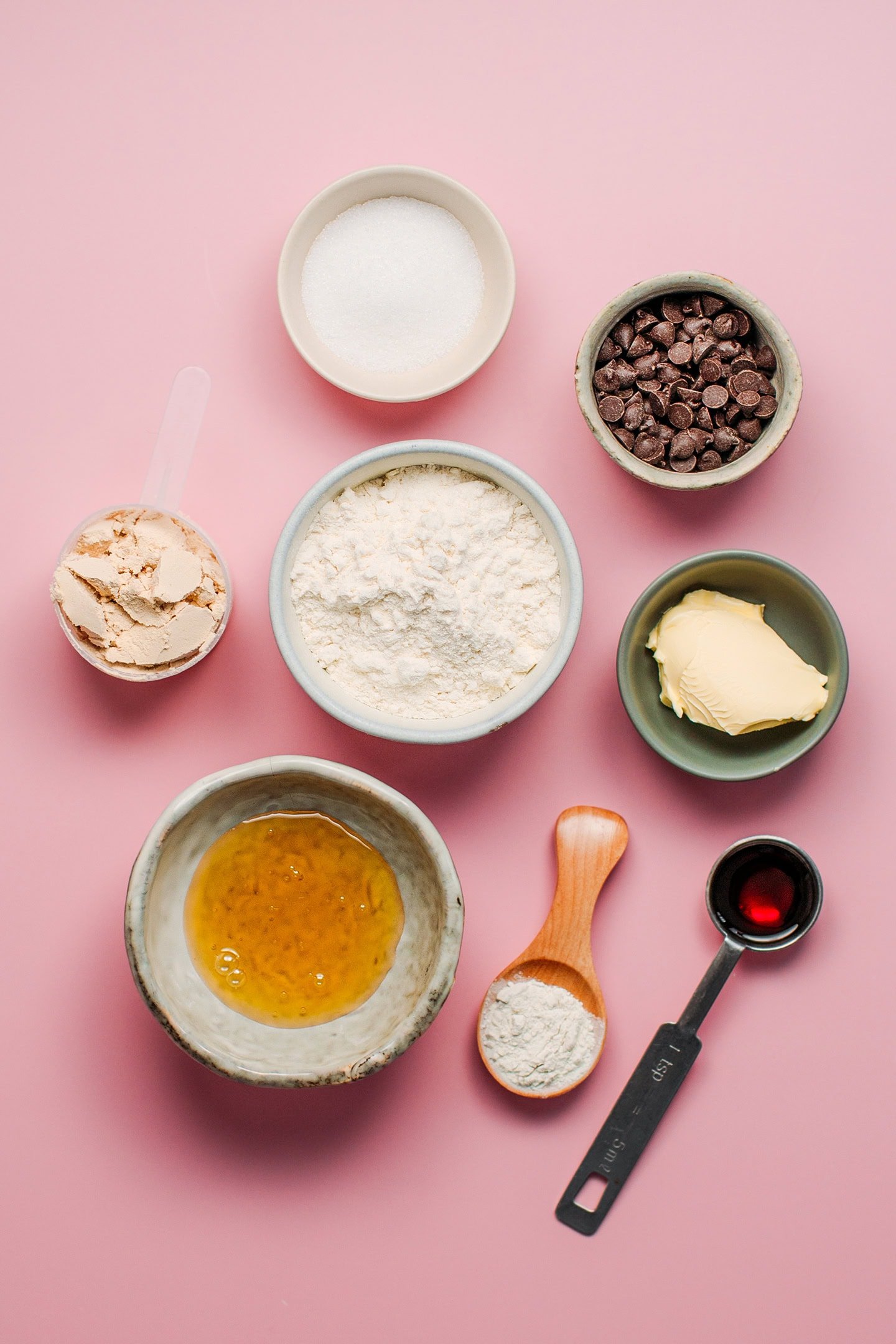 WHAT IS THE COMPLETE COOKIE?
If you have never heard of it, "The Complete Cookie" is a cookie made by the commercial brand Lenny & Larry. Their cookies are high-protein, tender, chewy, and highly appreciated.
Those cookies are usually sold individually and come in many different flavors.
I would say this recipe yields cookies that are 90% similar to the original ones in terms of texture and flavor. Since Lenny and Larry's cookies contain some weird ingredients (chicory root fiber, inverted sugar, vegetable glycerine?) as well as undisclosed "natural flavors," it's difficult to replicate them perfectly. I'm super happy with the results, though, it is so close to the original ones!
HOW TO MAKE THE COMPLETE COOKIE
This cookie recipe requires less than 10 ingredients, just 15 minutes, and there is no cookie dough chilling required!
First, we combine vegan butter, sugar, brown rice syrup, vanilla extract, and caramel extract. The caramel extract is optional, but it definitely gives it a closer flavor to the original cookies.
Please note: Brown rice syrup is a type of refined sugar, and there are some controversies around it. We are obviously not making the healthiest cookies here, but still better than the store-bought version. And hey, are cookies supposed to be perfectly healthy anyway? 🙂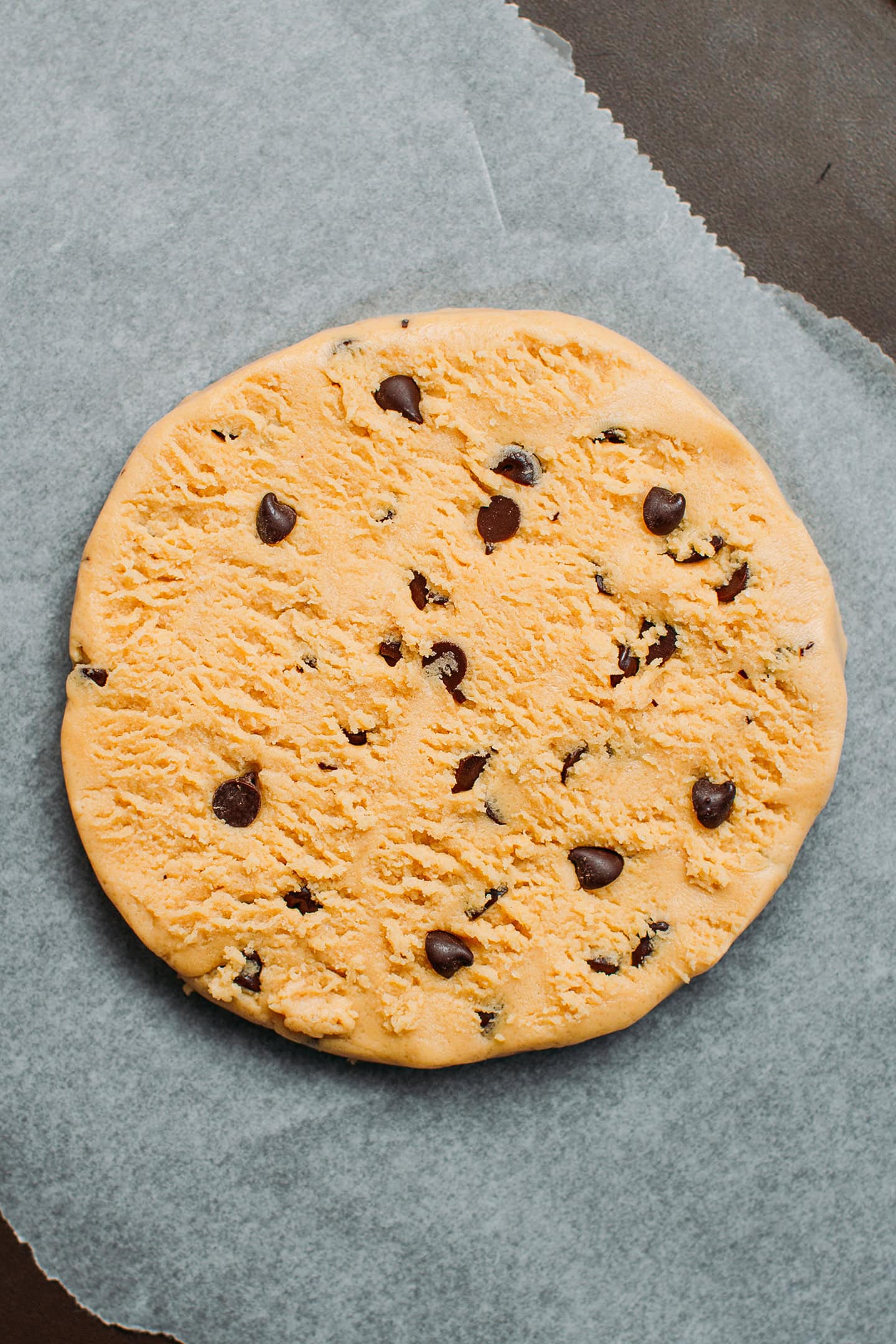 Next, add flour, vegan protein powder (go with your favorite!), baking powder, and salt.
Because protein powder makes the cookies a little bit more crumbly, we are also adding some guar gum to help the cookies hold together better.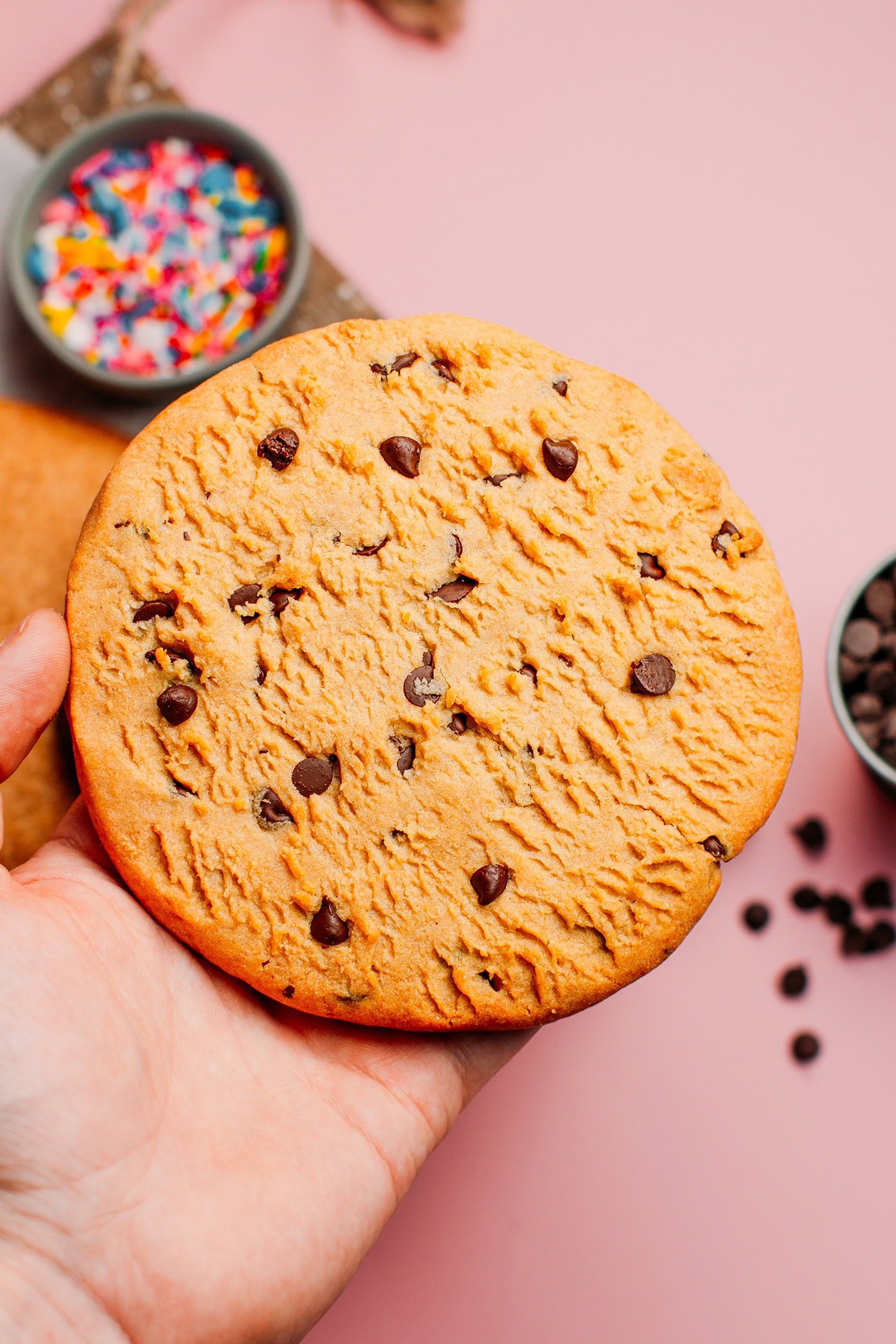 5 FLAVORS
To keep things exciting, let's make different cookie flavors:
Chocolate Chip: A basic, but the one we never get tired of.
Birthday Cake: Funfetti takes the place of chocolate chips for festive and colorful cookies.
Lime Pie: A fresh and zesty cookie.
Double Chocolate: It tastes almost like a brownie! Fudgy and loaded with chocolate chips!
Snickerdoodle: Coated in cinnamon sugar, this one is best for the holidays!
You want to bake the cookies until just golden brown, about 9 minutes, so they stay tender and chewy. More than that, and your cookies will be too dry, so keep an eye on them during baking.
Here is a little tip: If you want to make your cookies look even closer to the Lenny & Larry ones: Use a dented knife and slightly grate the top of your cookies before baking. It will give them that look so specific to the store-bought ones!
These cookies taste even better the next day as the subtle protein powder flavor disappears.
If you are a fan of Lenny & Larry cookies, you will love this Complete Cookie Copycat recipe! These cookies are soft, perfectly chewy, and have the perfect balance of vanilla and caramel flavors!
Looking for more cookie recipes? Check out these Slice & Bake Chocolate Chunk Cookies or these Soft Thumbprint Cookies!
Let me know in the comments if you try this recipe!
Recipe
The Complete Cookie Copycat (5 Flavors!)
Make your own complete cookies! These chewy and tender cookies are incredibly close to the originals, vegan, and high-protein!
Instructions
Pre-heat oven to 350°F (175°C) and line a baking sheet with parchment paper.

To a mixing bowl, add the vegan butter, brown rice syrup, sugar, vanilla extract, and caramel extract if using. Mix with a wooden spoon until the sugar has dissolved and everything is well combined.

Add the flour, vegan protein powder, baking powder, guar gum, and salt. Mix again until it forms a thick dough. Stir in the chocolate chips and stir again.

Divide the cookie dough in half and roll into balls using your hands. Press down each ball on the prepared baking sheet and shape into two large (about 1/2-inch thick) cookies. Note: the cookies won't spread, that is why we have to give them their final shape before baking.

Bake for 8-9 minutes, or until just golden brown. Do not over-bake, you want soft-baked cookies that are still tender and chewy.

Remove from the oven and let cool completely before transferring to a container. These cookies will keep for up to 4 days stored in an airtight container. I found the cookies to taste even better the next day as they become softer and the protein powder flavor disappears.
Video
Notes
Birthday Cake: Omit the chocolate chips and add 2 tbsp of sprinkles.
Lime Pie: Omit the chocolate chips and caramel extract and add 1/4 cup of lime zests.
Double Chocolate: Replace half of the protein powder with unsweetened cacao powder and add an extra tablespoon of chocolate chips.
Snickerdoodle: Omit the chocolate chips. Mix 2 tbsp of sugar and 1/2 tsp of cinnamon. Coat each cookie dough ball with the cinnamon sugar before shaping into a cookie.
*For a slightly denser texture, use baking soda instead of baking powder.
Recipe only available in grams as I found it difficult to measure precisely with cups.
Nutrition
Serving:
1
cookie
|
Calories:
447
kcal
|
Carbohydrates:
62.2
g
|
Protein:
13.9
g
|
Fat:
21
g
|
Fiber:
1.6
g
|
Sugar:
26
g
Did you make this recipe?
Tag @fullofplants on Instagram and hashtag it #fullofplants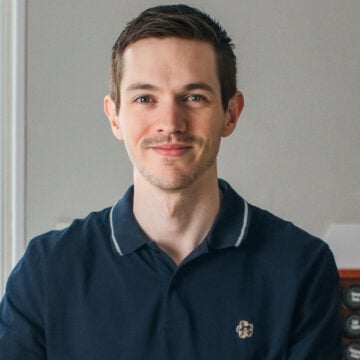 About the Author
Thomas Pagot is the founder, photographer, and recipe developer behind Full of Plants. He created the blog in 2016 as a personal cookbook for vegan recipes. Through years of recipe development, Thomas has successfully grown Full of Plants into a trusted resource for plant-based recipes.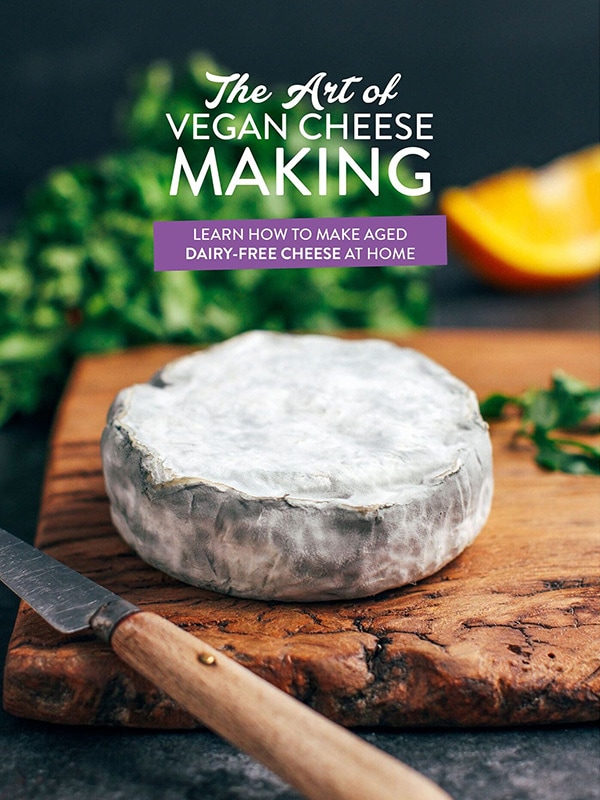 🧀 25 Mind-Blowing Vegan Cheese Recipes!
Sign up for the Full of Plants newsletter and you'll get new recipes delivered by email weekly, PLUS your FREE 100-page printable eBook!