From Thai green curry to Tikka Masala and Vietnamese curry, you are going to love these flavor-packed vegan curry recipes! Not only are these curries superbly seasoned, but they are also simple to make and crowd-pleasers!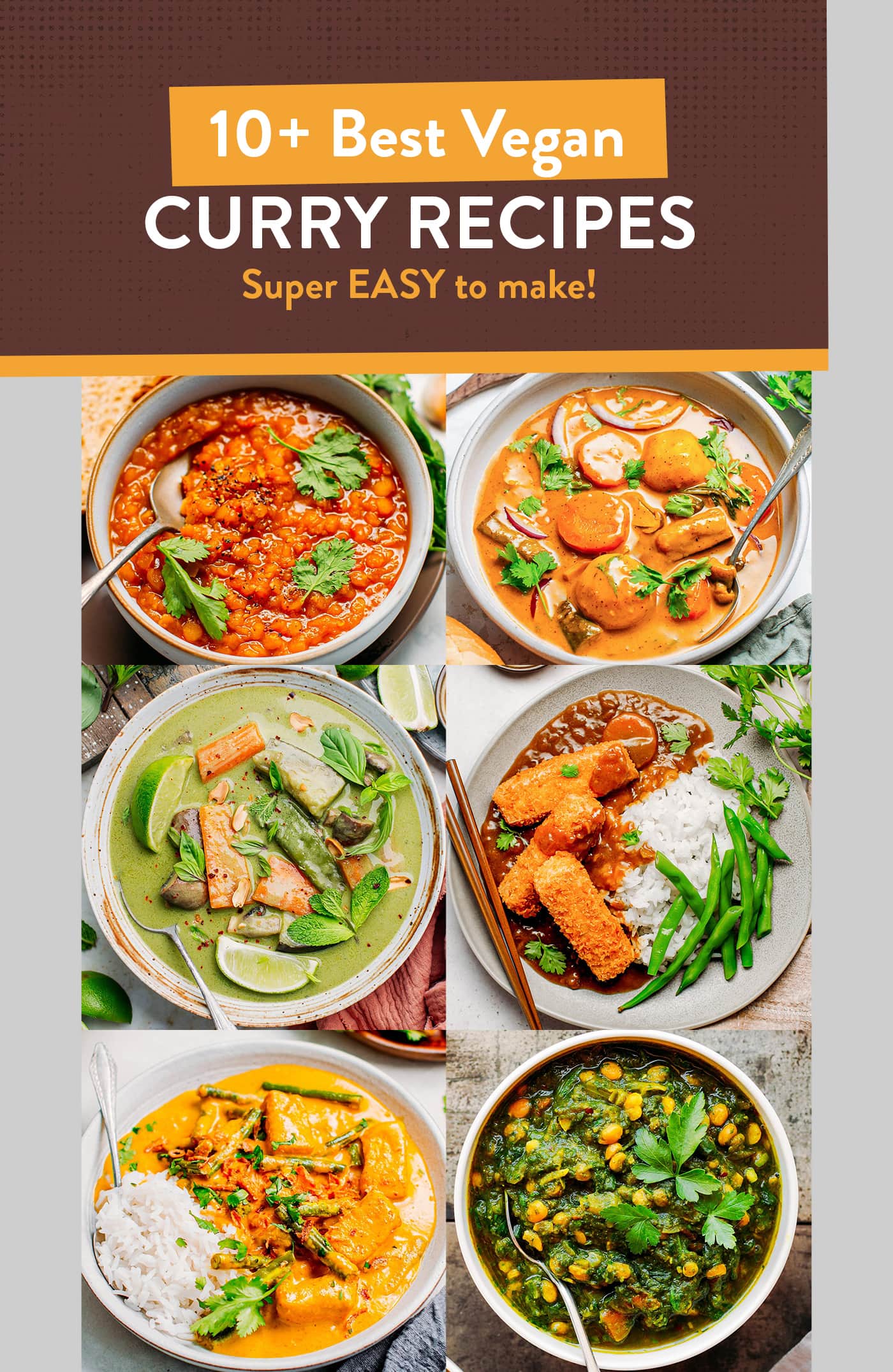 📘 What is Curry
Curry is a type of dish that consists of vegetables, meat, and/or seafood cooked in a sauce flavored with spices and other aromatics. Curry first appeared in India during the 17th century and was heavily influenced by Portuguese, British, and French colonization.
Later, over the years, curry spread across other countries, including Vietnam, Thailand, Japan, Indonesia, etc.
🥬 What Makes a Great Curry
There are a few key elements that make curry go from meh to ah-mazing. Here are a few important ones:
Aromatics. Most curry recipes rely on fresh aromatics like garlic, ginger, shallots, onions, chili, or galangal to create layers of flavor. Then comes the dried spices that add a wonderful aroma. The most commonly used spices in curries are cumin, turmeric, cinnamon, and coriander.
Richness and creaminess. Coconut milk, cream, or milk are used to create a smooth and creamy finish. Coconut milk-based curries are more popular in Southeast Asia, for example, in Vietnam and Thailand, while India relies more on cream or milk.
Seasonings. A combination of sweet and salty, sometimes sour, creates a symphony of flavor. Saltiness, coming from either salt or soy sauce, is essential to enhance the overall flavor of the sauce, so make sure to adjust the seasoning to taste at the end of cooking.
🇮🇳 Indian-Inspired Curries
Instant Pot Cauliflower Tikka Masala
This easy 30-minute Instant Pot cauliflower tikka masala features tender cauliflower in spicy and hearty tomato sauce. It's super simple to prepare and family-friendly!
Make This Recipe
Spiciness level: Not spicy
What readers are saying about this recipe:
Lisa said: "This was absolutely delicious! I didn't have canned tomatoes or v-yogurt tho, so I made my own cashew cream and used fresh organic tomatoes. Still turned out super yummy. Also, didn't have chili powder, so I opted for Red Harissa, and it was absolutely banging good, delicious. "
Christine said: "Delicious! Made it last night. I'm new to this whole "instant pot" cooking…Super easy recipe to follow. I recommend reading over the ingredients/recipe fully before starting & doing all the prep first…then the pot does the rest! Easier than I originally thought it would be. Thanks for the recipe!"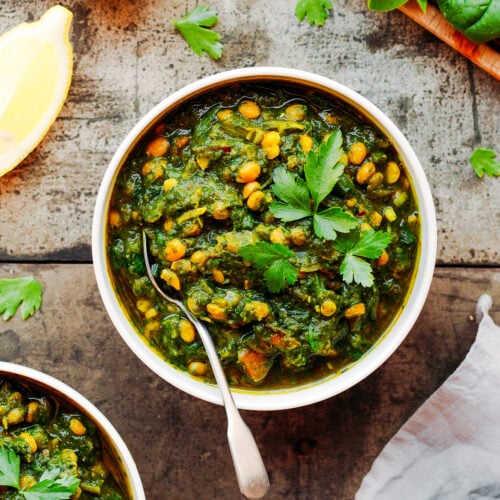 Easy Dal Palak
This Indian-inspired spinach and chickpea lentil soup is healthy and incredibly flavorful. It's light, nutritious, and packed with fiber and protein!
Make This Recipe
Spiciness level: Not spicy
What readers are saying about this recipe:
Erica said: "I cooked this, and it really does taste restaurant-quality! The only change I made was to add the turmeric and salt in with the lentils at the beginning of cooking, which is my habit when cooking dal (or lentils of any kind) — I find it seasons the dish more uniformly, and you wind up needing less salt. The final result was beautiful, savory, and delicious."
Danielle said: "I absolutely LOVED this! I used two 10 oz packages of frozen spinach (to save money), and it worked out great. This was my first time making Indian food, not in an instant pot, so I was kind of nervous, but it was really easy (I did use an instant pot to cook the lentils, which worked well). I served it with Jeera Rice and yogurt, which both complemented this recipe nicely. The husband loved it."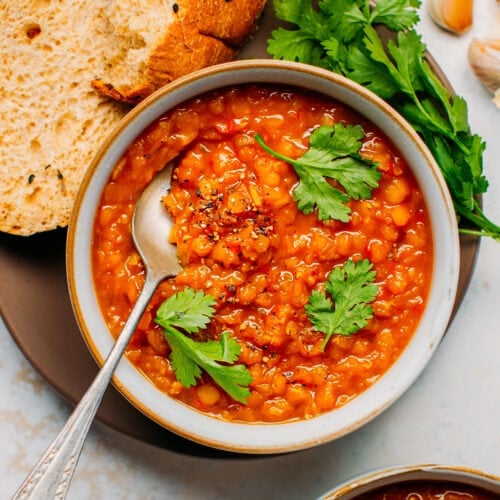 1-Pot Sweet & Sour Red Lentil Soup
Easy, 1-pot, 10-ingredient red lentil soup that is sweet, spicy, and a bit sour! Flavored with garlic, ginger, onion, and tamarind!
Make This Recipe
Spiciness level: 🌶🌶
What readers are saying about this recipe:
Debi said: "I made this last night and it was amazing! The depth of flavor was great and so quick and easy to make. Thanks for sharing the recipe in your email."
Teresa said: "Highly recommend doubling this recipe! Love the combination of sweet, tangy, & spicy(I used 2 small chili peppers). Will add this to my regular rotation for sure!"
🇮🇩 Indonesian-Inspired Curry
Vegan Indonesian Curry
Indonesian-inspired curry with tofu and green beans! Infused with aromatics like lemongrass, galangal, kaffir lime leaves, and turmeric. A creamy and delicious plant-based curry!
Make This Recipe
Spiciness level: 🌶🌶
🇯🇵 Japanese-Inspired Curry
Vegan Katsu Curry
Crispy and meaty katsu tofu served with a rich and creamy curry sauce! This Japanese-inspired dish is plant-based, hearty, and SO flavorful!
Make This Recipe
Spiciness level: Not spicy
🇻🇳 Vietnamese-Inspired Curry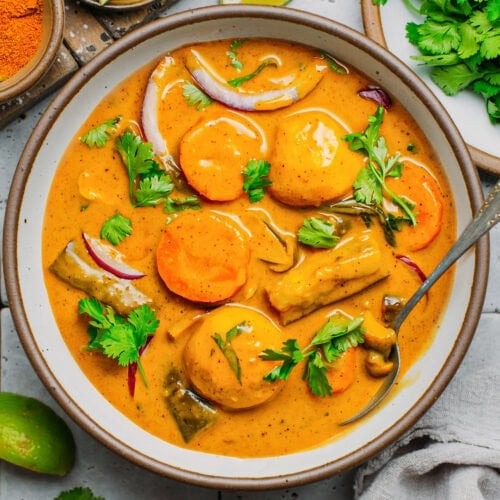 Easy Vegan Vietnamese Curry
Hearty and flavorful one-pot Vietnamese curry! Infused with aromatics like lemongrass, ginger, and garlic, and loaded with eggplant, taro, carrots, tofu, and mushrooms!
Make This Recipe
Spiciness level: 🌶
What readers are saying about this recipe:
Kerrin said: "OMG!! I made this today, and it was so good. It is very much like the tofu curry at my fave Vietnamese restaurant in my town. I used sweet potato and extra broccoli, and carrots since I don't like eggplant. I also added a little extra chili powder because we like spicy in my house. So good!!"
Amanda said: "Thank you so much for this recipe!! I made this today for my Sunday meal prep, and it was SO delicious! I especially love the taro. I subbed the curry powder with Vietnamese curry soup base powder my family had on handle and it worked like a charm! Topping off with lime really adds a certain brightness to the dish and brings it together. Will be staple in my curry rotation for sure."
🍲 Other Curries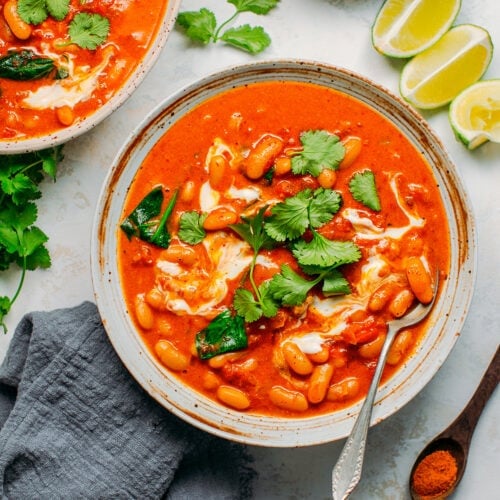 Instant Pot White Bean Curry
Quick white bean curry prepared in the Instant Pot and infused with ginger, garlic, and red curry paste! A flavorful and spicy meal perfect for the chilly days!
Make This Recipe
Tempeh in Creamy Mushroom Coconut Sauce
Sautéed garlic tempeh in a rich mushroom coconut sauce. Super flavorful, earthy, cozy, and packed with 20g of protein!
Make This Recipe
Easy Rice Cakes Red Curry
Chewy rice cakes simmered in a rich and creamy red curry sauce! Infused with garlic, shallots, lime, and coconut milk, this plant-based dish is easy and super flavorful!
Make This Recipe
💬 FAQ
How can I substitute coconut milk in curries? Your best bet is to use plant-based cream. You can use store-bought cream or homemade cashew cream. Be aware that it will, of course, change the flavor of the sauce. Milk can be a good alternative, but you will be missing the richness.
How long do curries keep? Generally speaking, you can keep most curries for up to 4 days in the refrigerator.
Can I freeze curries? It all depends on what the curry contains. Curry sauce freezes very well, but if you curry contains tofu, brocoli, or bell peppers, freezing will alter their texture.
I hope you are going to love these vegan curry recipes!