Rich and creamy vegan white chocolate truffles prepared with just 5 ingredients! Coated with shredded coconut and infused with vanilla, these dairy-free truffles are so decadent!
Introducing vegan white chocolate truffles!
When you are not in the mood for dark chocolate but still want a sweet treat, these white chocolate truffles come to the rescue!
This recipe is adapted from my Matcha Nama Chocolate. It's basically the same base, except it doesn't contain any matcha and is rolled into balls.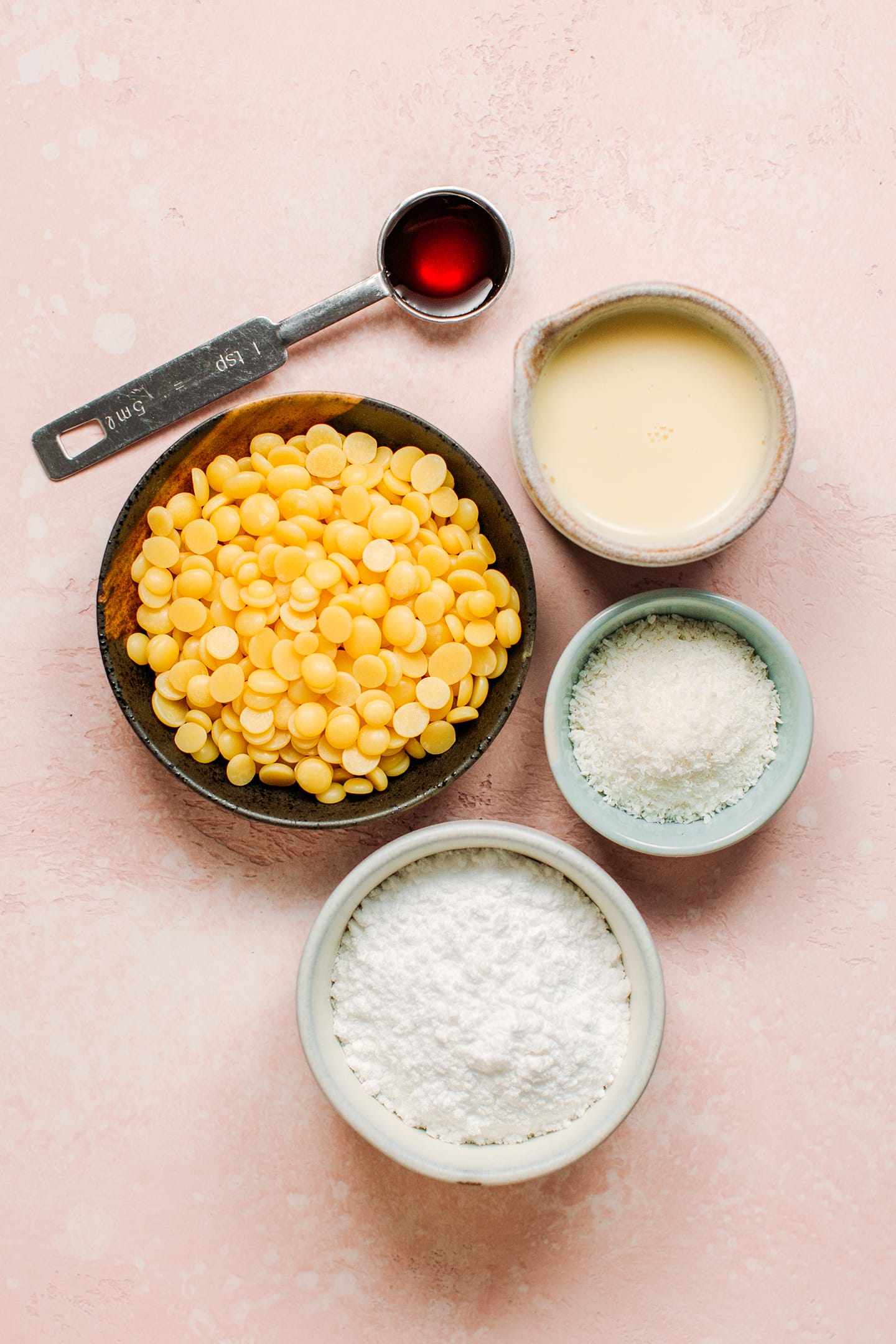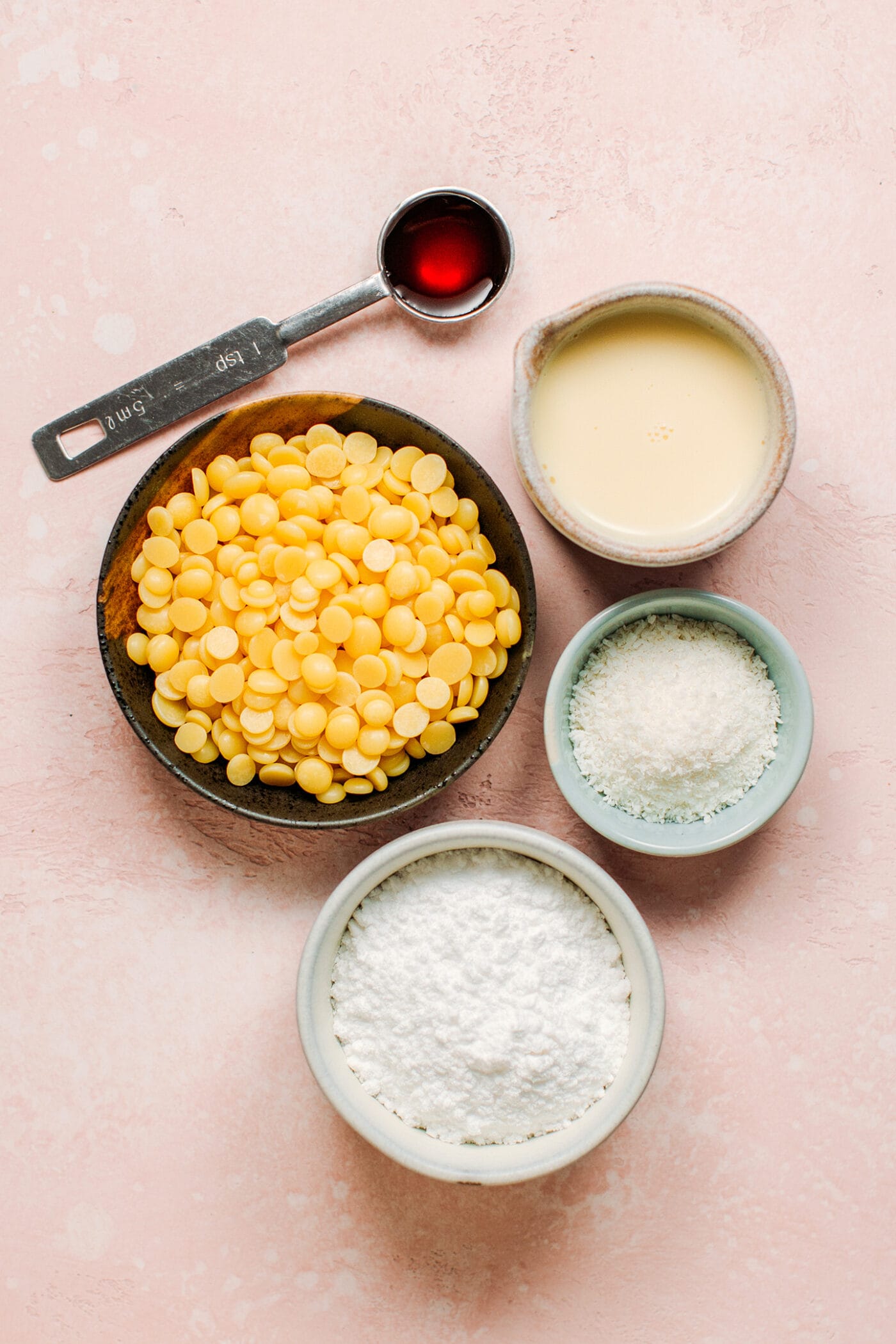 🥣 How to Make Vegan White Chocolate Truffles
Making these truffles is surprisingly easy! Here is what you will need:
Cacao butter – Cacao butter brings richness and helps the truffles firm up in the refrigerator. I recommend using deodorized cacao butter for the best flavor.
Powdered sugar – To sweeten, powdered sugar is best to get a smooth texture. Check out the FAQ if you want to learn how to reduce the amount of sugar.
Almond milk – Use the unsweetened kind. Cashew, soy, hazelnut, or oat milk work as well.
Vanilla extract – Essential to get a white chocolate flavor. I recommend using a high-quality vanilla extract. Feel free to use other extracts if you want a different flavor. I think caramel or coconut extract would work great as well!
Salt – To balance the flavors.
Shredded coconut – For coating, you can also use chopped nuts, crushed cookies like biscoff cookies, or matcha powder!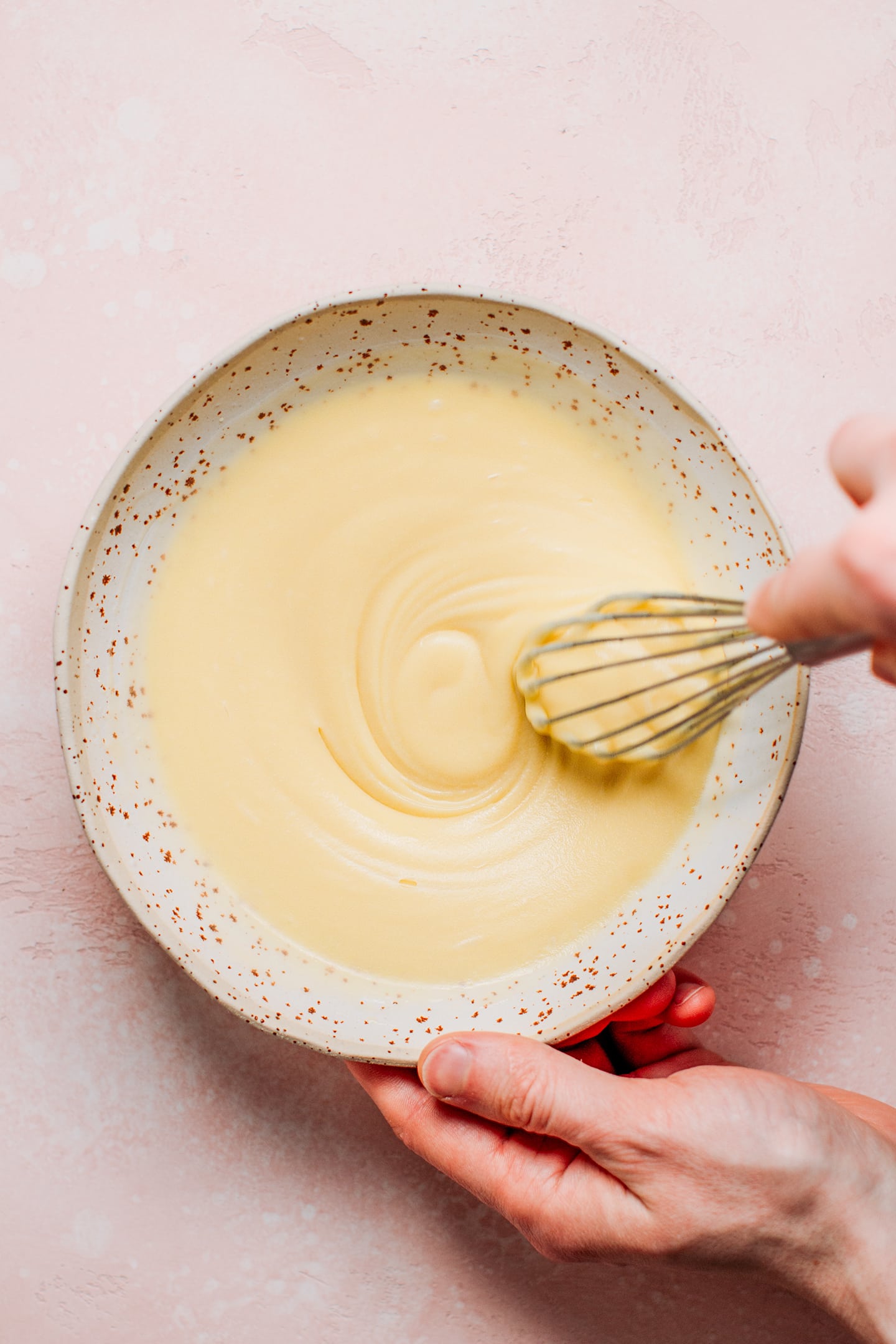 Now that we have gathered the ingredients. Let's make white chocolate truffles!
Melt the cacao butter over low heat. Make sure you do not heat the cacao butter too much. You just want to melt it. It should not be hot.
Whisk the powdered sugar with the melted cacao butter, salt, and vanilla extract.
Pour in the almond milk and whisk until combined. Note: your almond milk should be at room temperature. If the milk is cold, it will instantly harden the cacao butter, and you will end up with a curdled mixture.
Let it rest for about 10 minutes at room temperature and whisk again until the mixture has just slightly thickened. You want to stop before it thickens too much. It should have the consistency of condensed milk.
Refrigerate for 3 hours or until set. As it cools down, the white chocolate mixture will thicken and harden.
Scoop out balls and roll in the shredded coconut!
Tip: if the mixture is too firm, leave it at room temperature for about 1 hour, it will make it easier to scoop out balls.
💬 FAQ
Can I lower the sugar content?
You can substitute 1/4 of the powdered sugar for a plant-based milk powder like coconut milk powder, for example. It will reduce the amount of sugar without affecting the texture too much.
The mixture has separated, and I have liquid and hard parts. What went wrong?
You probably placed the mixture in the refrigerator too soon. It should have thickened a little bit before chilling. Otherwise, the sugar will separate from the cacao butter. You can still fix it, though! Re-melt the mixture over low heat. Once melted, transfer to a bowl and whisk until fully combined. Keep whisking until the mixture thickens (like a pancake batter), then chill in the refrigerator for 2-3 hours.
Can I use vegan white chocolate to make this recipe?
Yes! If using vegan white chocolate: place 195g of vegan white chocolate in a bowl. Add 3 tablespoons of almond milk, vanilla extract, and salt. Heat in the microwave, stirring every 25-30 seconds, until the chocolate has melted. Whisk until smooth and refrigerate.
How long do these truffles keep?
White chocolate truffles will keep for up to 1 week in the refrigerator.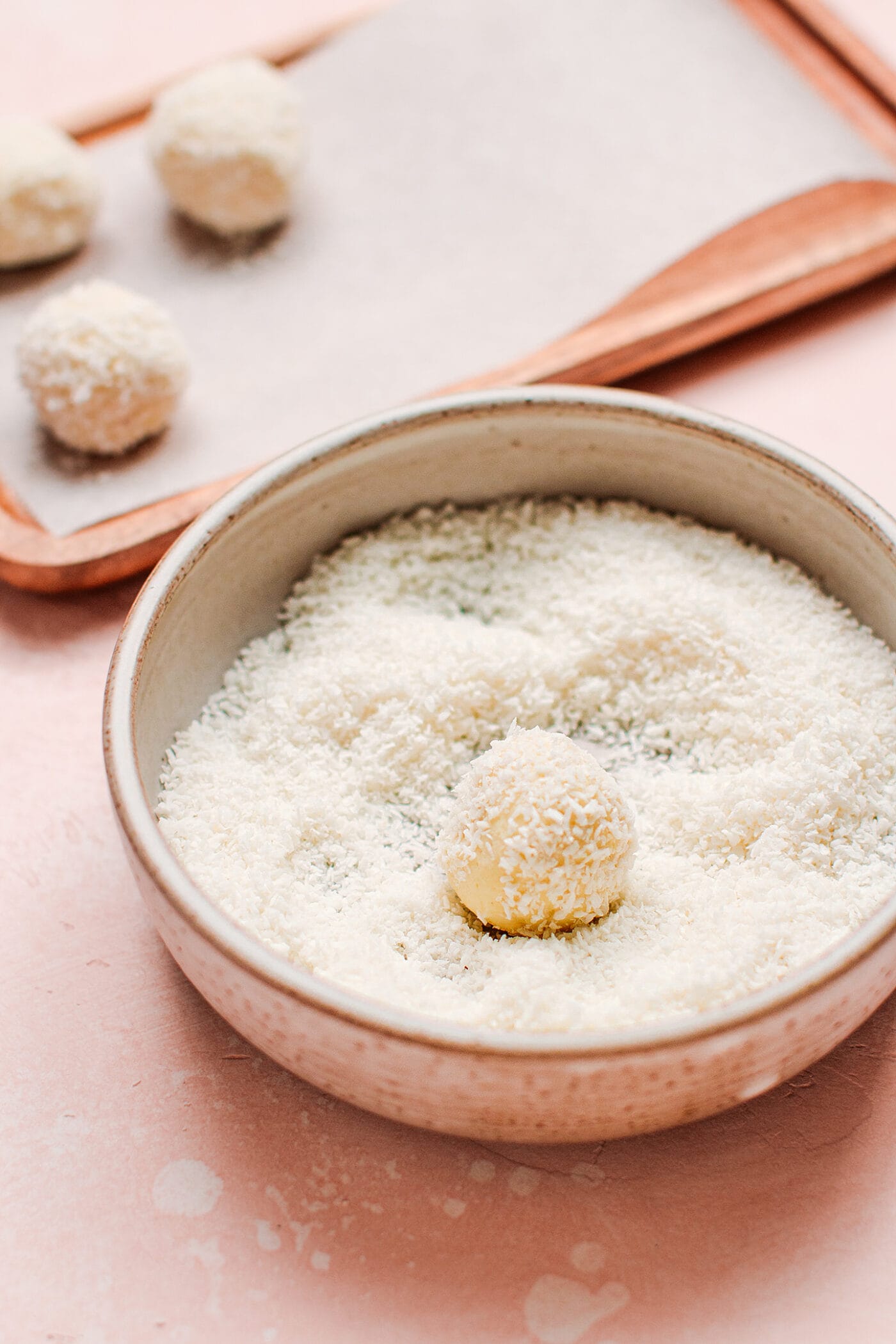 I hope you are going to love these white chocolate truffles! They are incredibly creamy with a rich mouthfeel and a delicate vanilla flavor!
Let me know in the comments if you try this recipe!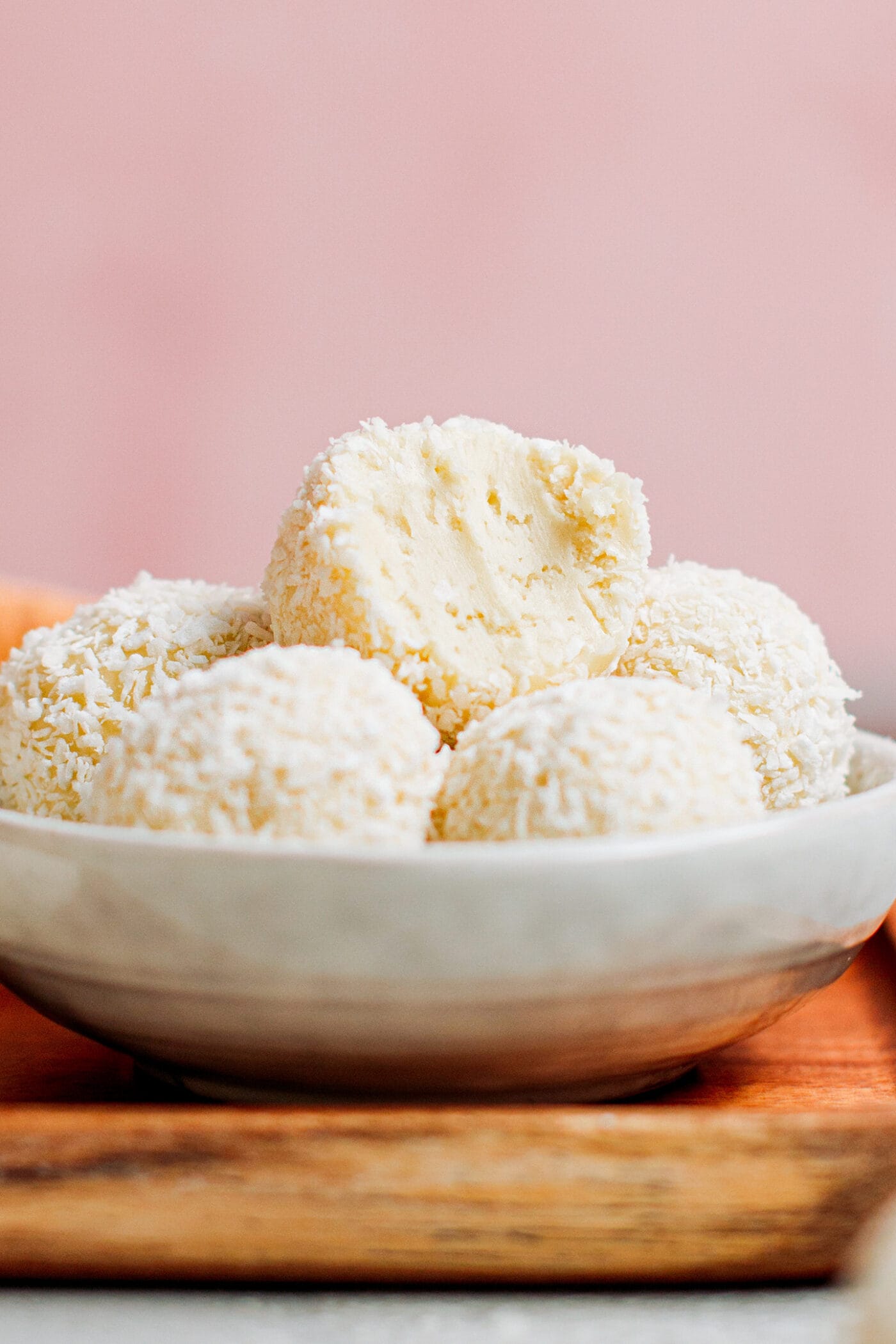 Recipe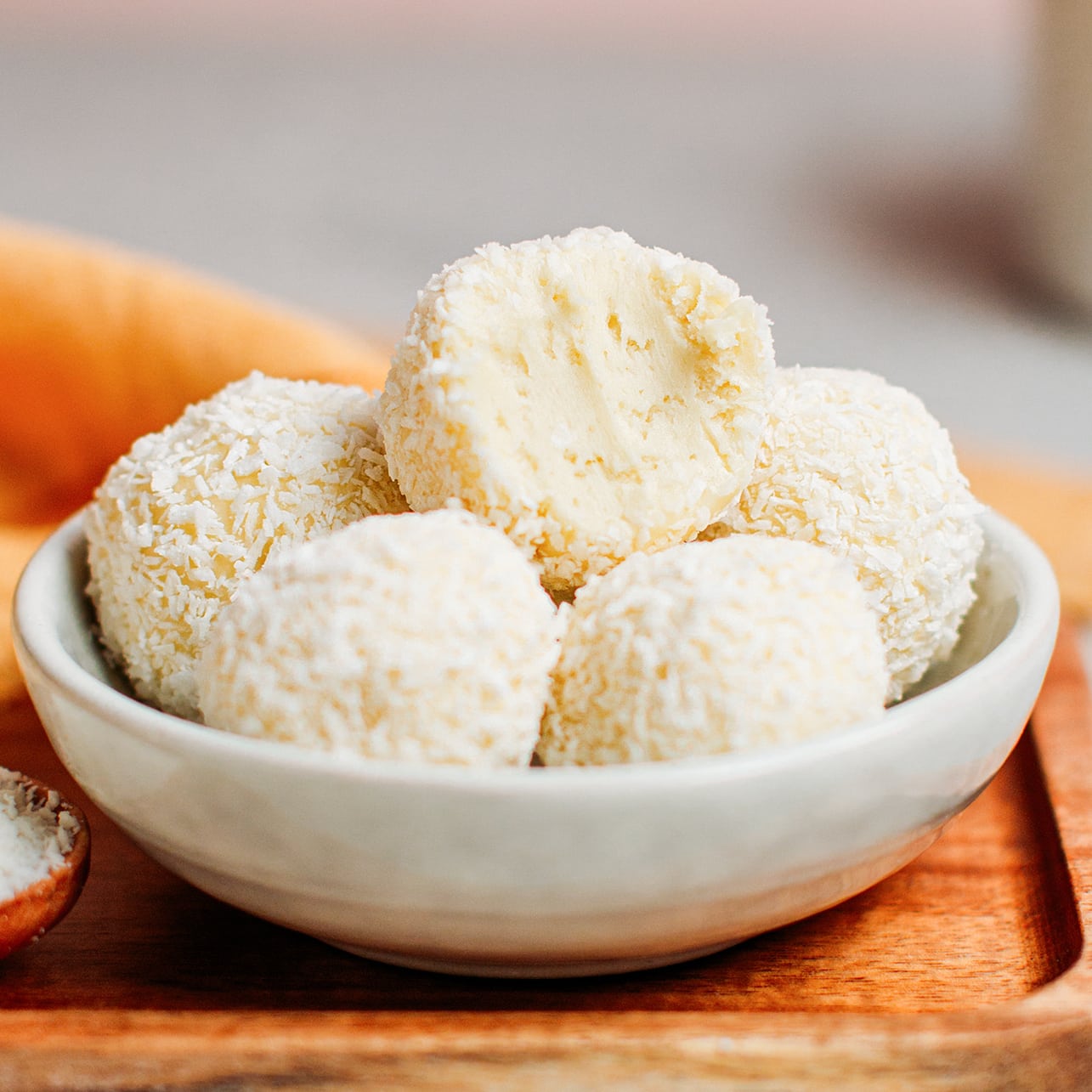 Vegan White Chocolate Truffles
Rich and creamy white chocolate truffles prepared with just 5 ingredients! Easy, dairy-free, and vegan!
Ingredients
100

g

cacao butter

95

g

powdered sugar

1/2

tsp

vanilla

1/8

tsp

salt

3

tbsp

almond milk

at room temperature

1/2

cup

shredded coconut

for coating
Instructions
Add the cacao butter to a medium saucepan and heat over low heat until melted. Remove from heat as soon as it is melted.

To a small mixing bowl, add the powdered sugar, vanilla, and salt. Pour in the melted cacao butter and whisk until smooth.

Add the almond milk and whisk for about 30 seconds. Let the mixture rest for about 10 minutes at room temperature. Whisk again for another 30-60 seconds or until smooth. The mixture should have the consistency of condensed milk, liquid but slightly thick.

Transfer the bowl to the refrigerator and chill for 3 hours or until set.

Scoop out balls of about 2 teaspoons and roll them between your hands to shape them into balls. Coat the balls with the shredded coconut and transfer them to a container or plate. Store in the refrigerator and enjoy chilled!

White chocolate truffles will keep for up to 7 days in the refrigerator or 1 month in the freezer.
Notes
Ingredients are given in grams as it can be difficult to measure cacao butter with cups.
Nutrition
Serving:
1
truffle
|
Calories:
54
kcal
|
Carbohydrates:
6.4
g
|
Fat:
3.4
g
|
Sugar:
6.2
g
Did you make this recipe?
Tag @fullofplants on Instagram and hashtag it #fullofplants