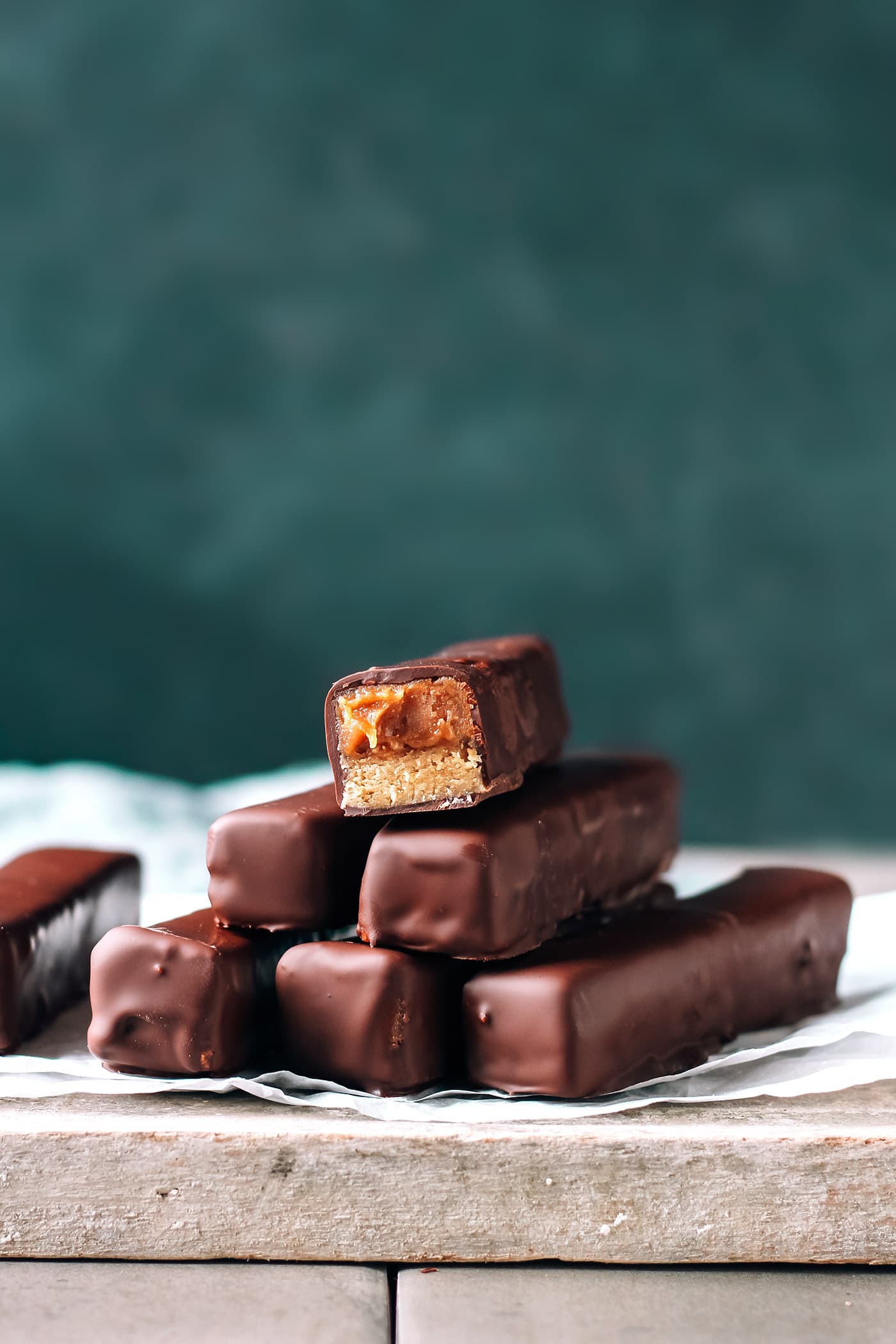 When I took a few days off last week I completely forgot to bring healthy(ier) snacks with me, so when I got hungry I reached for the closest vending machine. I know, bad habit. The thing is, I couldn't find a single bar that was 1) vegan and 2) healthy, meaning for me no white sugar or palm oil. So I decided to make my own!
Think of these bars as a mix of Twix and Kinder Bueno. You get a crunchy shortbread base topped with a smooth hazelnut "milk" cream. The difference between this and a simple date "caramel" is that I used hazelnut butter combined with tahini to give it a milky flavor. The addition of cocoa butter makes the filling soft and creamy, with a pleasant melt-in-your-mouth texture. I only use shelf-stable ingredients here so the bars can be kept at room temperature for several weeks.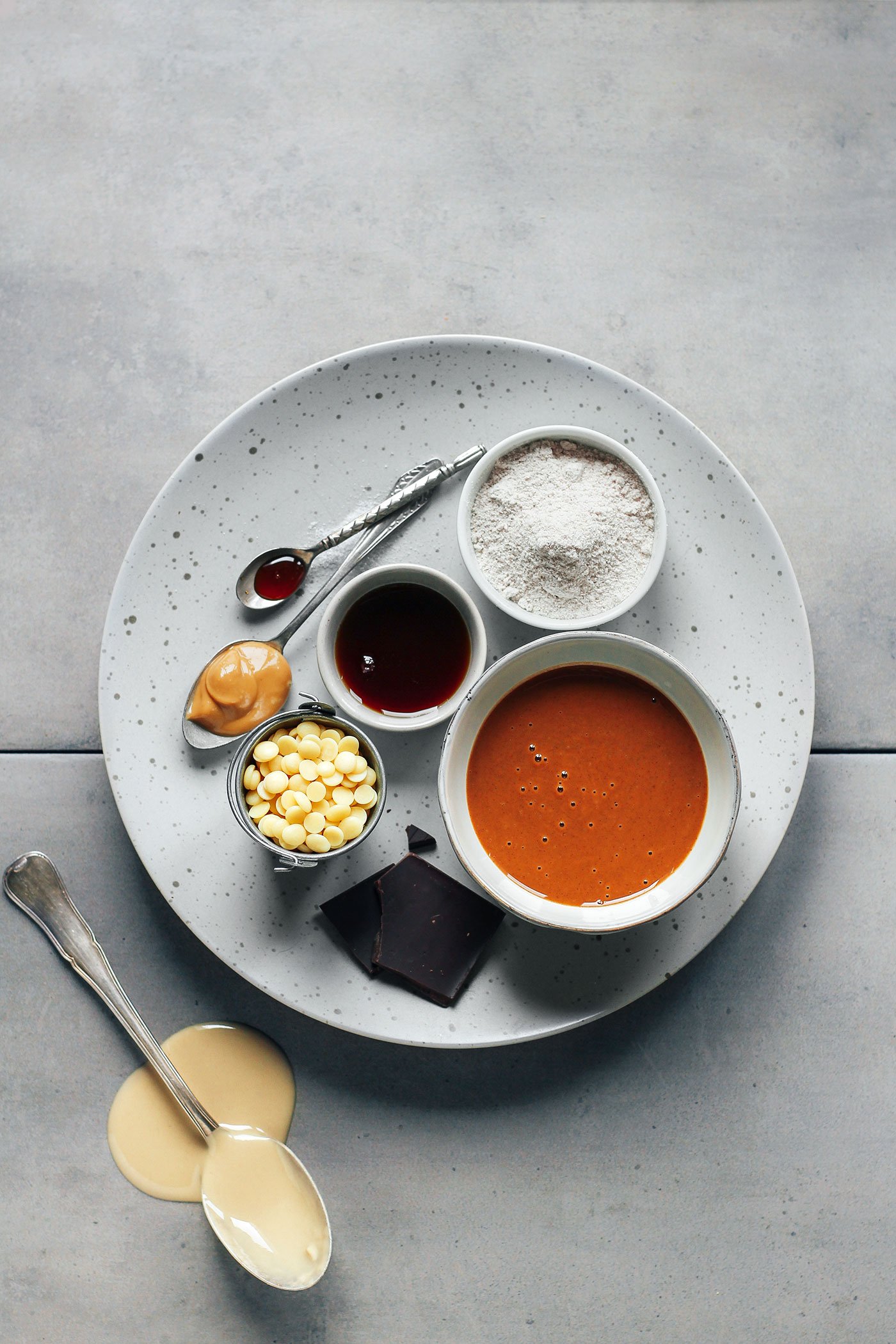 The shortbread base can be made two ways: baked or no-bake. I tried both and while I prefer the baked one, the no-bake version is easier and faster. Baking the base will give you a shortbread-like texture, a bit more crunchy and crumbly.
It requires only 5 ingredients to make the shortbread: oat flour, maple syrup, coconut oil, almond butter, and vanilla extract. You mix everything together until you get a dough, press it down into a baking dish and bake for 18 minutes.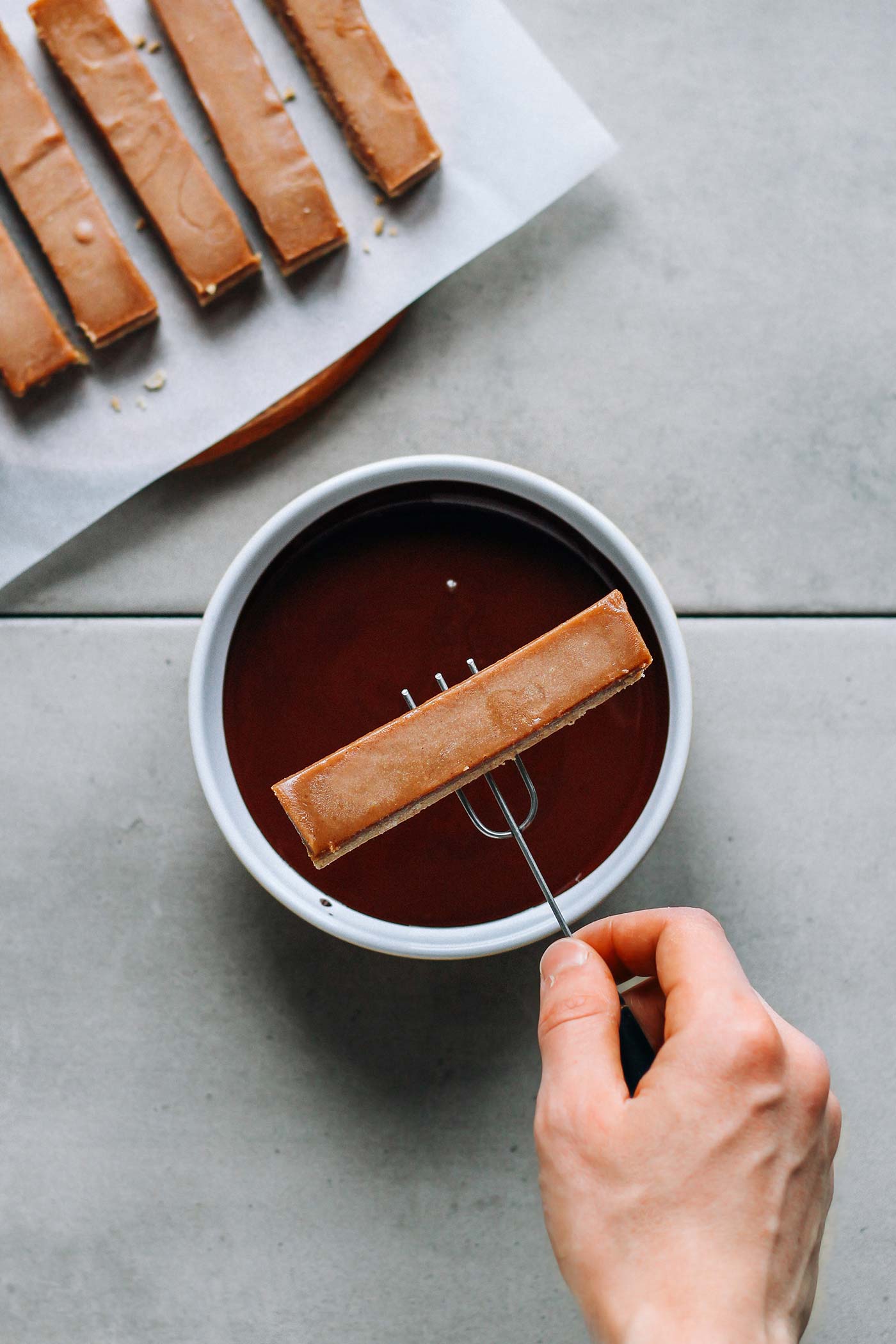 The top layer consists of hazelnut butter combined with maple syrup for a caramel flavor, and tahini for a light milky taste. Then you stir in melted cocoa butter that will help firm up everything as it cools. I highly recommend using hazelnut butter, it gives the bars a nutty flavor that pairs very well with the chocolate coating. Hazelnut + Chocolate: You know what I mean...
Regarding the maple syrup, I usually go with Dark Amber because it has a more intense flavor and a thicker consistency but regular maple syrup will work great too.
Once everything is smooth and well combined, you pour it over the shortbread base and let it cool in the refrigerator. After about 2 hours, the hazelnut layer will have harden a bit.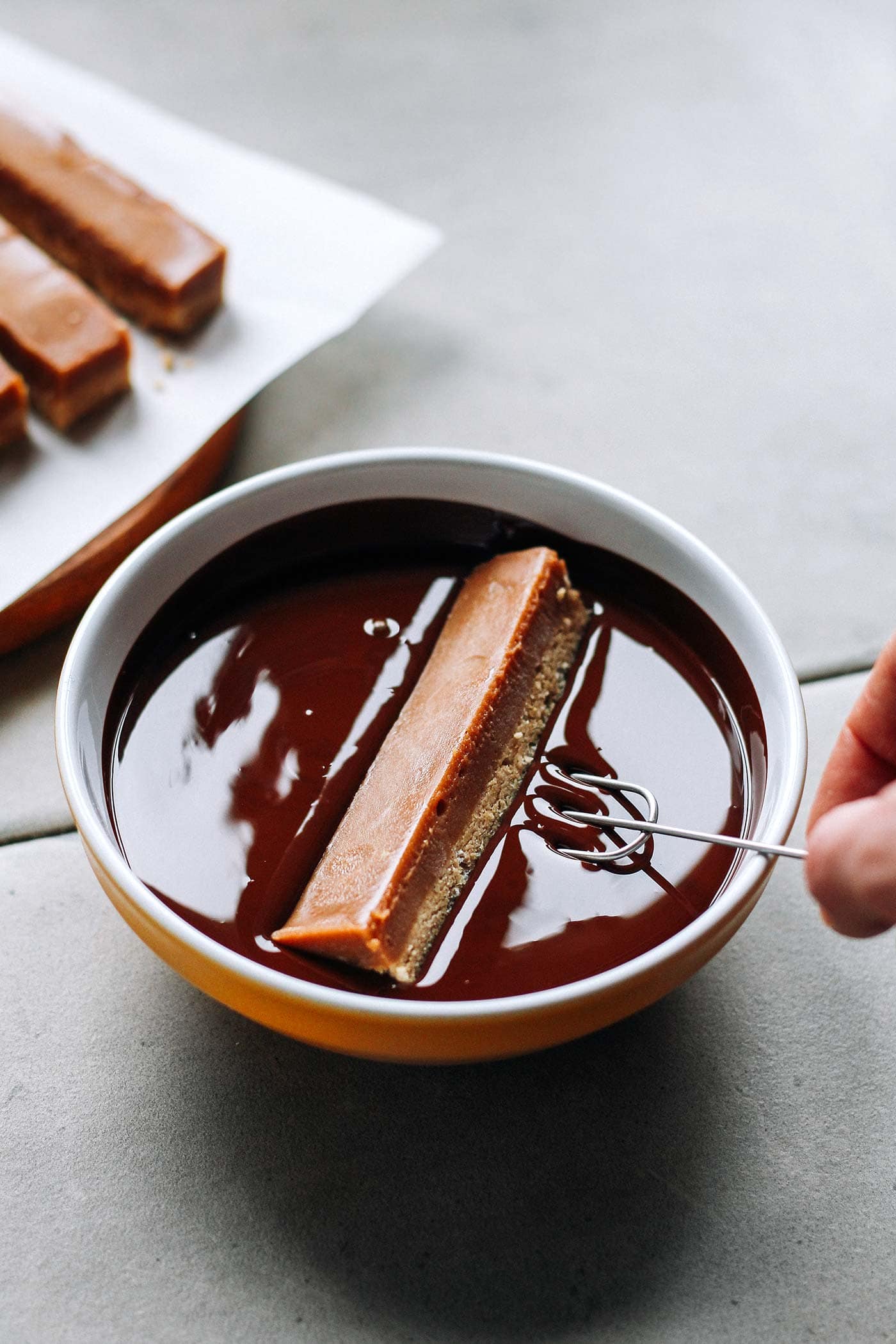 When the hazelnut layer is firmer, cut into 8 bars and generously dip in melted chocolate!
I think I already mentioned this in a previous recipe, but if you want to have a thinner coating you can "liquify" the chocolate a bit with cocoa butter. To do that, melt the chocolate with additional cocoa butter, use about 1 ounce of cocoa butter for 10 ounces of dark chocolate. I don't recommend using chocolate chips here, the cocoa butter content is too low to make a thin coating.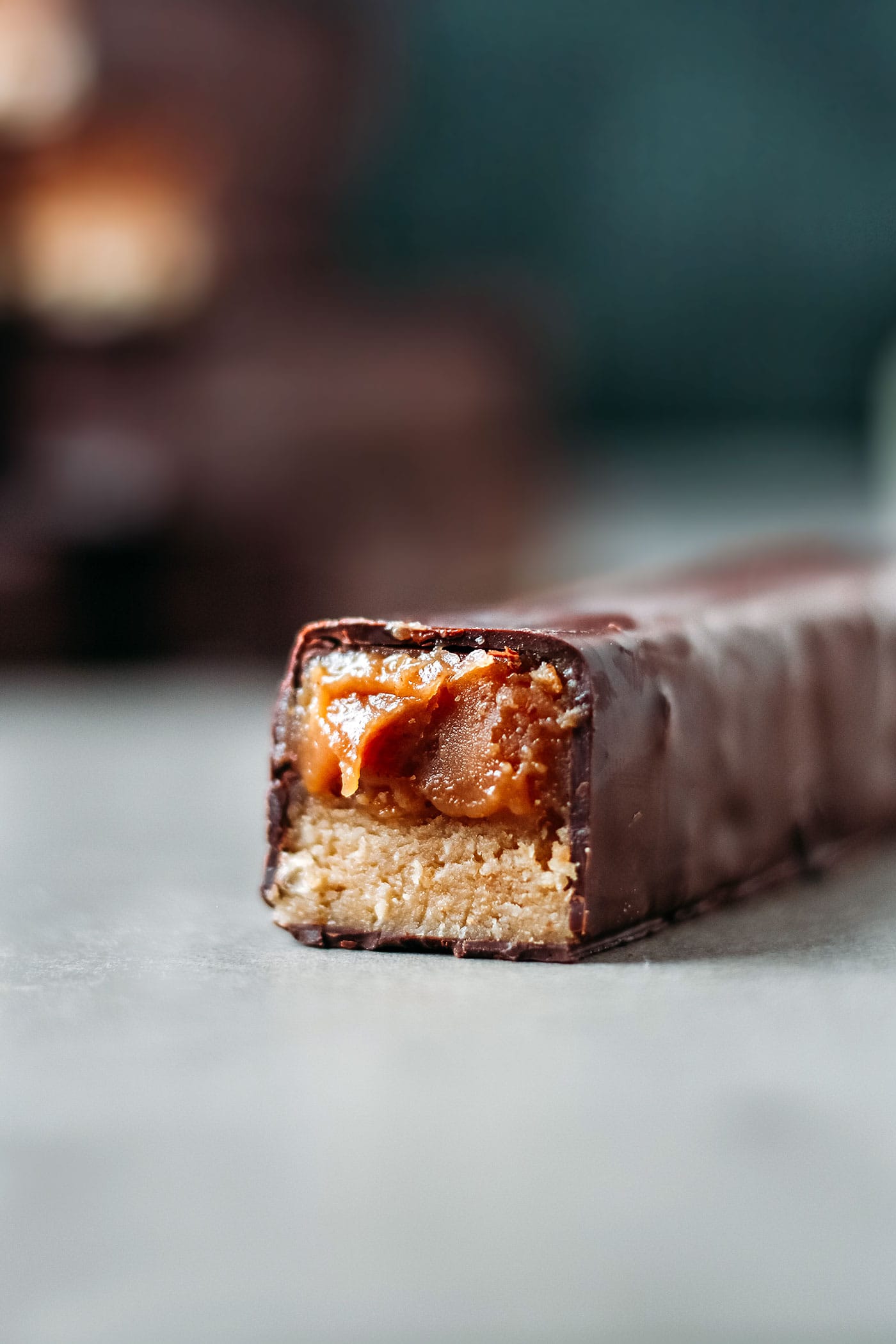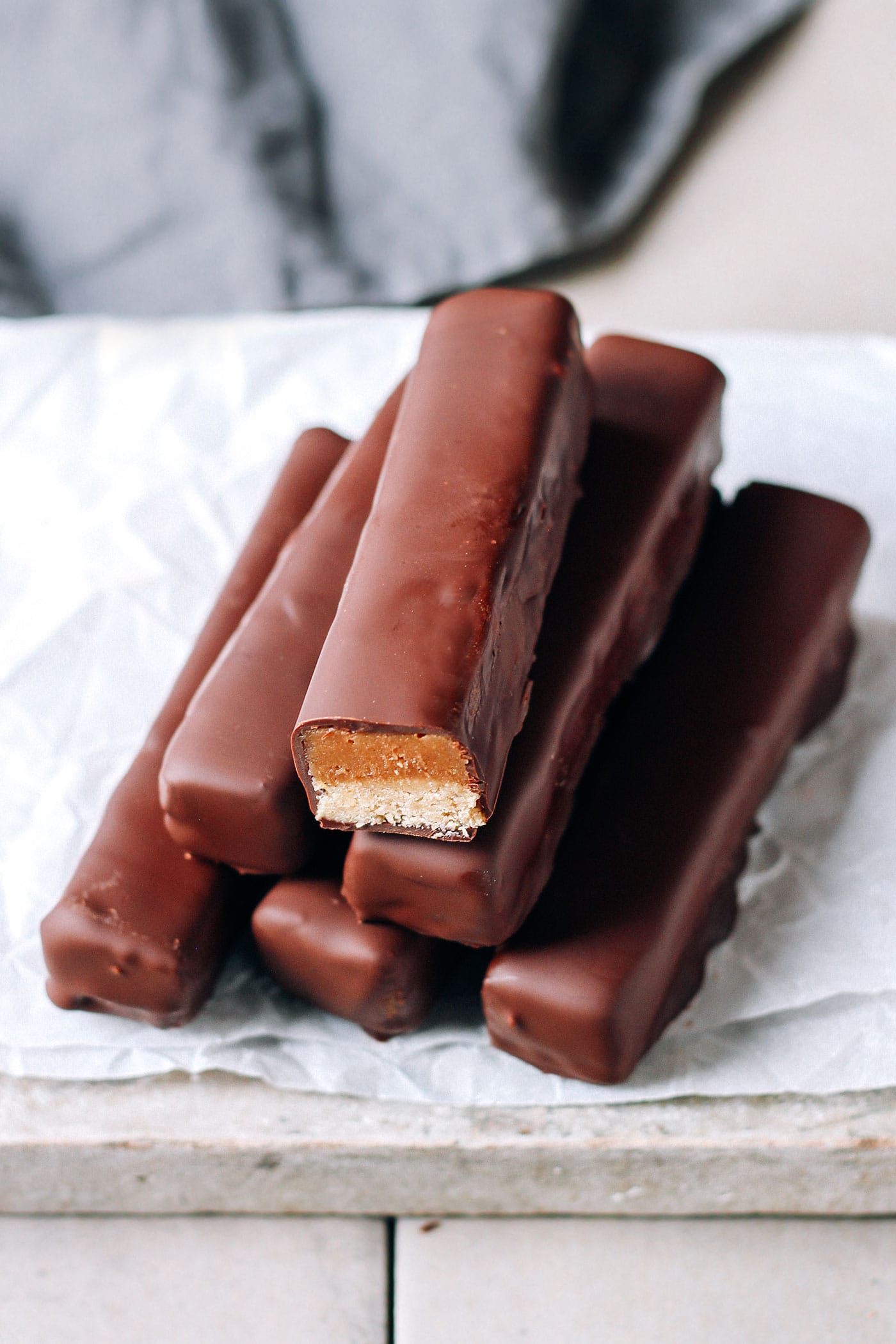 If you are looking for a healthier alternative to store-bought snack bars, this recipe won't disappoint! They have a crunchy shortbread base, a creamy and melt-in-your-mouth hazelnut layer, and a crispy chocolate coating. Plus they are designed to keep at room temperature for up to 3 weeks (probably more).
Let me know in the comments if you try this recipe!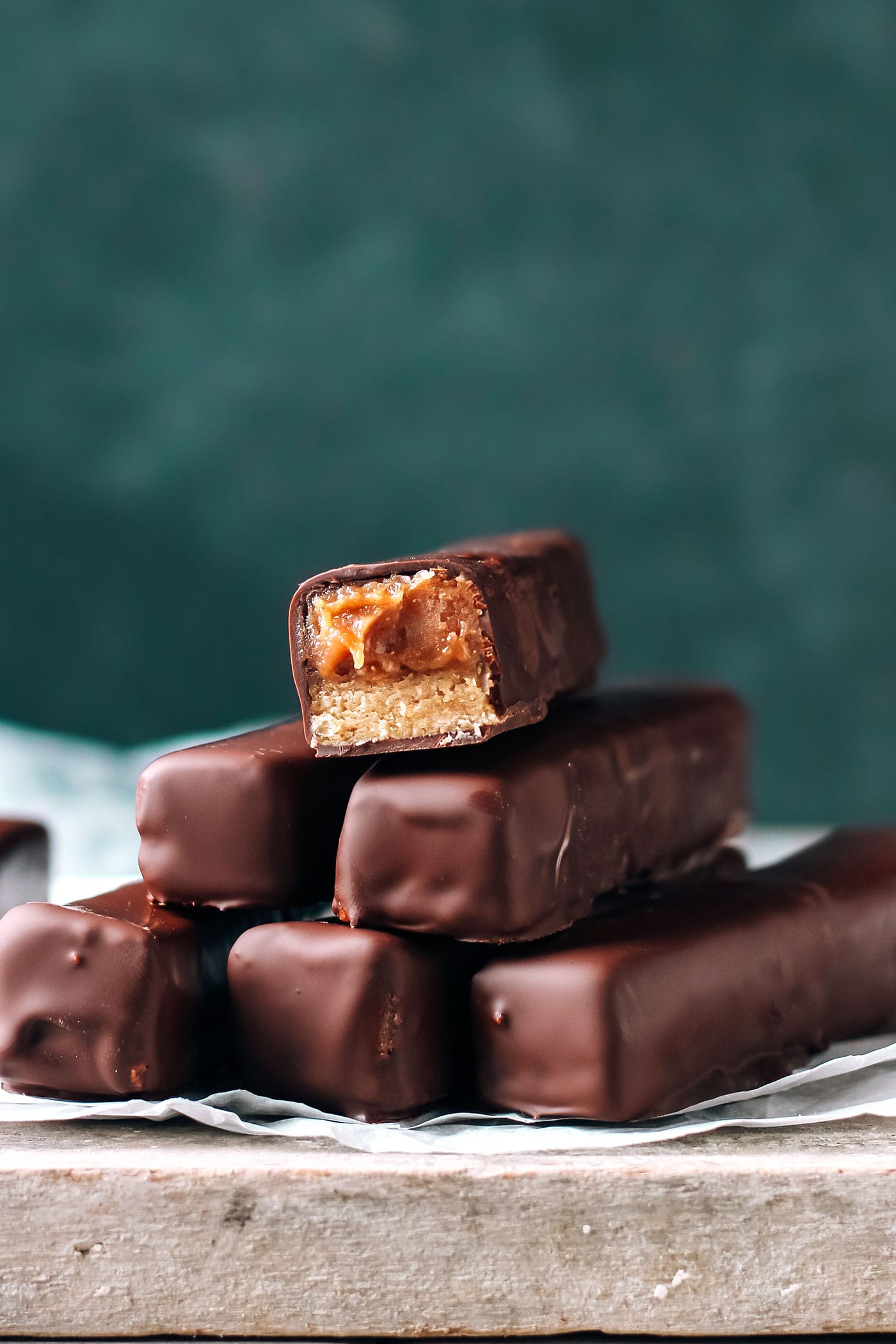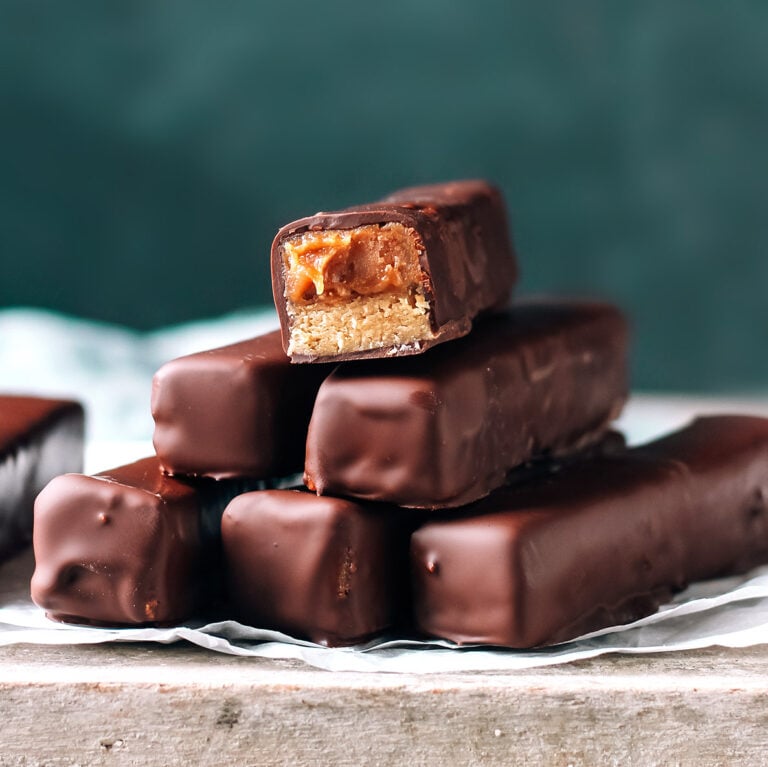 Healthier Chocolate Candy Bars (Vegan + GF)
Delicious snack bars with a crunchy shortbread base, a creamy hazelnut layer, and a thin chocolate coating. You won't believe these candy bars are vegan and gluten-free!
Ingredients
Coating
10

ounces

dark chocolate

1

ounce

cocoa butter (optional, yields a thinner coating)
Instructions
Shortbread
Preheat oven to 300°F (150°C). Line the bottom of a 4x7-inch baking dish with parchment paper.

In a mixing bowl, combine the oat flour, almond butter, maple syrup, coconut oil, and vanilla extract. Mix until you get a slightly crumbly dough. Transfer to the prepared baking dish and press it down firmly using the bottom of a glass.

Bake for 18-20 minutes, or until golden brown. Let cool completely and keep the shortbread in the baking dish.
Creamy Hazelnut Layer
In a small bowl, whisk together the hazelnut butter, maple syrup, and tahini. Slowly pour in the melted cocoa butter and whisk gently until fully incorporated. Stir in the salt.

Pour over the shortbread base and refrigerate for at least 2 hours, or until the hazelnut layer is firmer. You can speed up the process by placing the baking dish in the freezer.

Run a knife around the edges of the baking dish. Remove the preparation from the baking dish and slice into 8 thin bars.

Melt the dark chocolate with the cocoa butter over a double boiler. Using a dipping tool, dip each bar into the melted chocolate. Place the dipped bars on a silpat or parchment paper and refrigerate 10 minutes, or let cool at room temperature to set the chocolate.

You can then wrap each bar individually with plastic film and keep at room temperature for up to 2 weeks. For a firmer hazelnut layer, keep the bars in the refrigerator.
Nutrition
Serving:
1
Bar (coated with dark chocolate)
|
Calories:
314
kcal
|
Carbohydrates:
22
g
|
Protein:
4.9
g
|
Fat:
23.9
g
|
Fiber:
3
g
|
Sugar:
12.6
g
DID YOU MAKE THIS RECIPE?
Tag @fullofplants on Instagram and hashtag it #fullofplants