Delicate and creamy matcha Nama chocolate made vegan! These bites consist of a white chocolate ganache infused with matcha and vanilla. A delicious plant-based treat that requires just 5 ingredients!
📔 What is Nama Chocolate?
If you have never heard of Nama chocolate, it's basically a chocolate ganache, but cut into squares and served chilled. This kind of chocolate is very popular in Japan and available in many different flavors. It was created by the Japanese company Royce' in 1995.
Nama chocolate has the texture of truffles. It is tender, chewy, and melts in your mouth.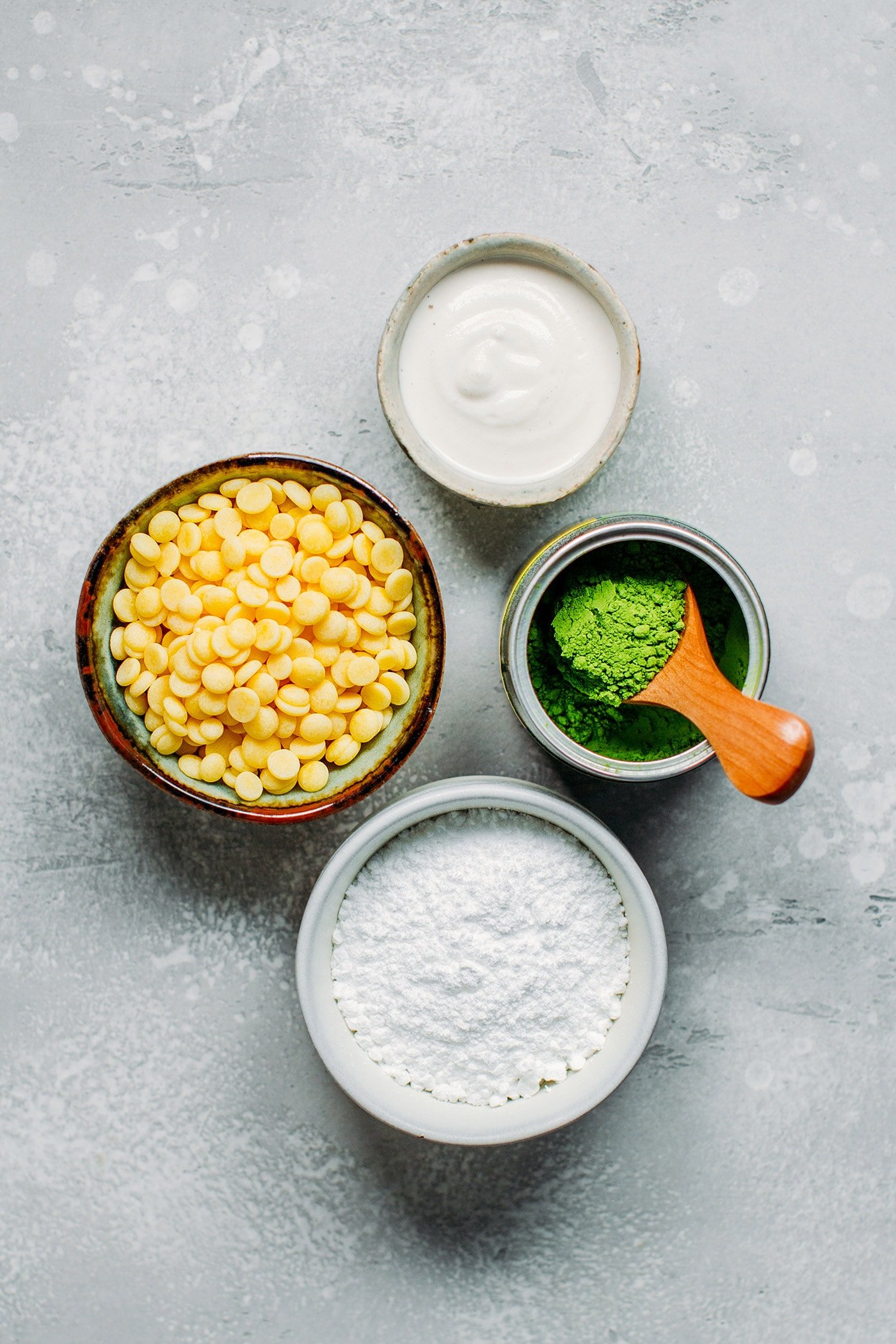 🍵 How to Make Matcha Nama Chocolate
Matcha Nama chocolate is often prepared using white chocolate. Since vegan white chocolate is not available everywhere, let's make it from scratch!
Making these truffle-like chocolates is very easy and requires just 5 ingredients. Here is what you will need:
Cacao butter – You can use regular cacao butter, or deodorized cacao butter if you really want to make the matcha flavor shine.
Powdered sugar – Unfortunately, this recipe won't work with other sugars like coconut sugar or maple syrup. Powdered sugar yields the best texture and doesn't cover the delicate matcha flavor.
Cashew cream – While the original recipe calls for heavy cream, I went with homemade cashew cream here.
Matcha powder – Preferably ceremonial grade matcha if you want the best flavor. Culinary-grade matcha tends to be bitter and won't yield a bright green color.
Vanilla extract – For extra flavor and freshness.
Preparing the chocolate
Start by melting the cacao butter over low-medium heat. It should not be hot. If the cacao butter is too hot, let it cool for a few minutes at room temperature.
In the meantime, whisk together the powdered sugar and matcha powder.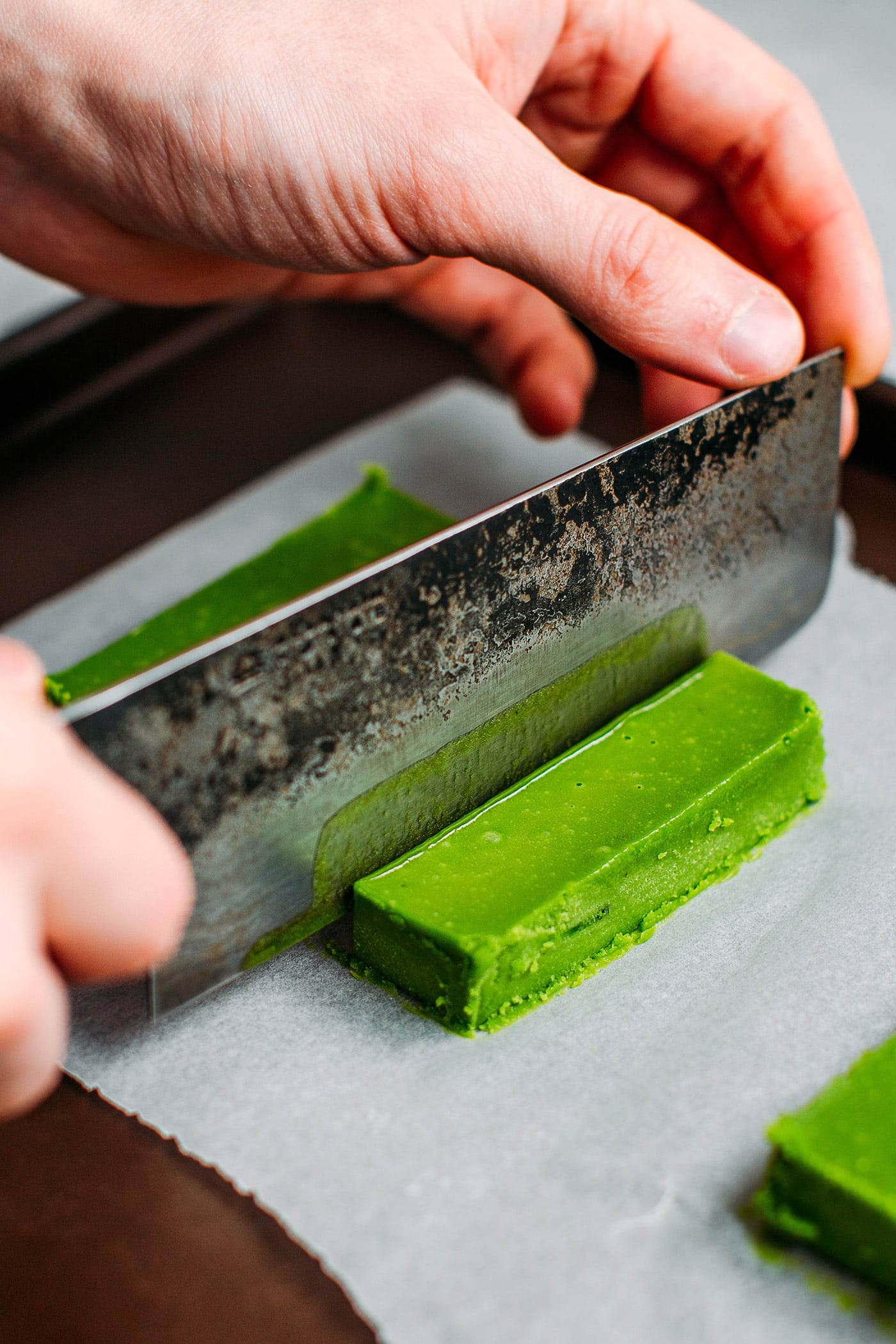 Next, pour the melted cacao butter into the bowl of powdered sugar and whisk to combine. Stir in the cashew cream, vanilla extract, and salt.
Once you have stirred in the cashew cream, keep whisking for 30-60 seconds. At first, the mixture will be liquid, but as the cacao butter lowers in temperature, the mixture will thicken and get a silky smooth texture.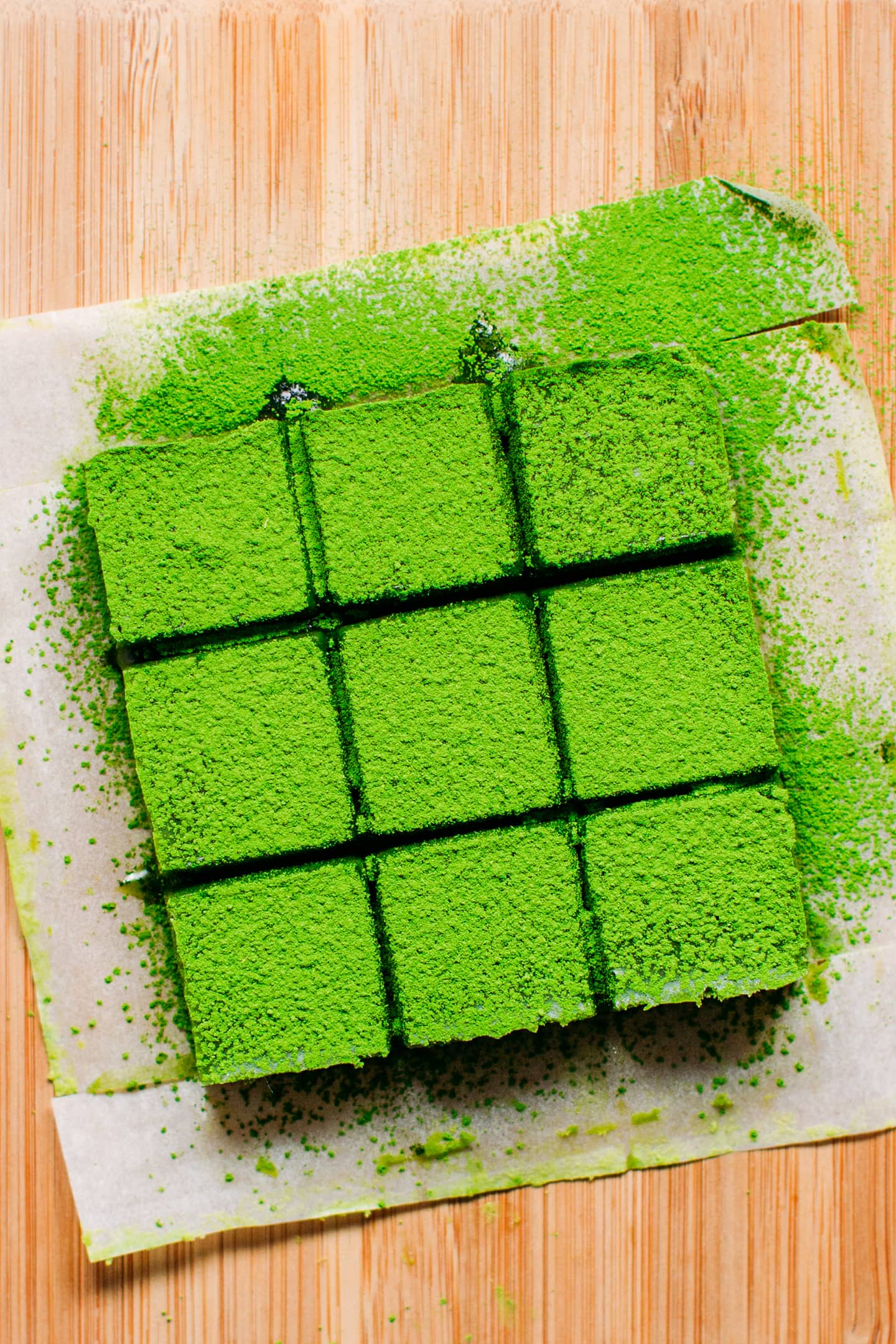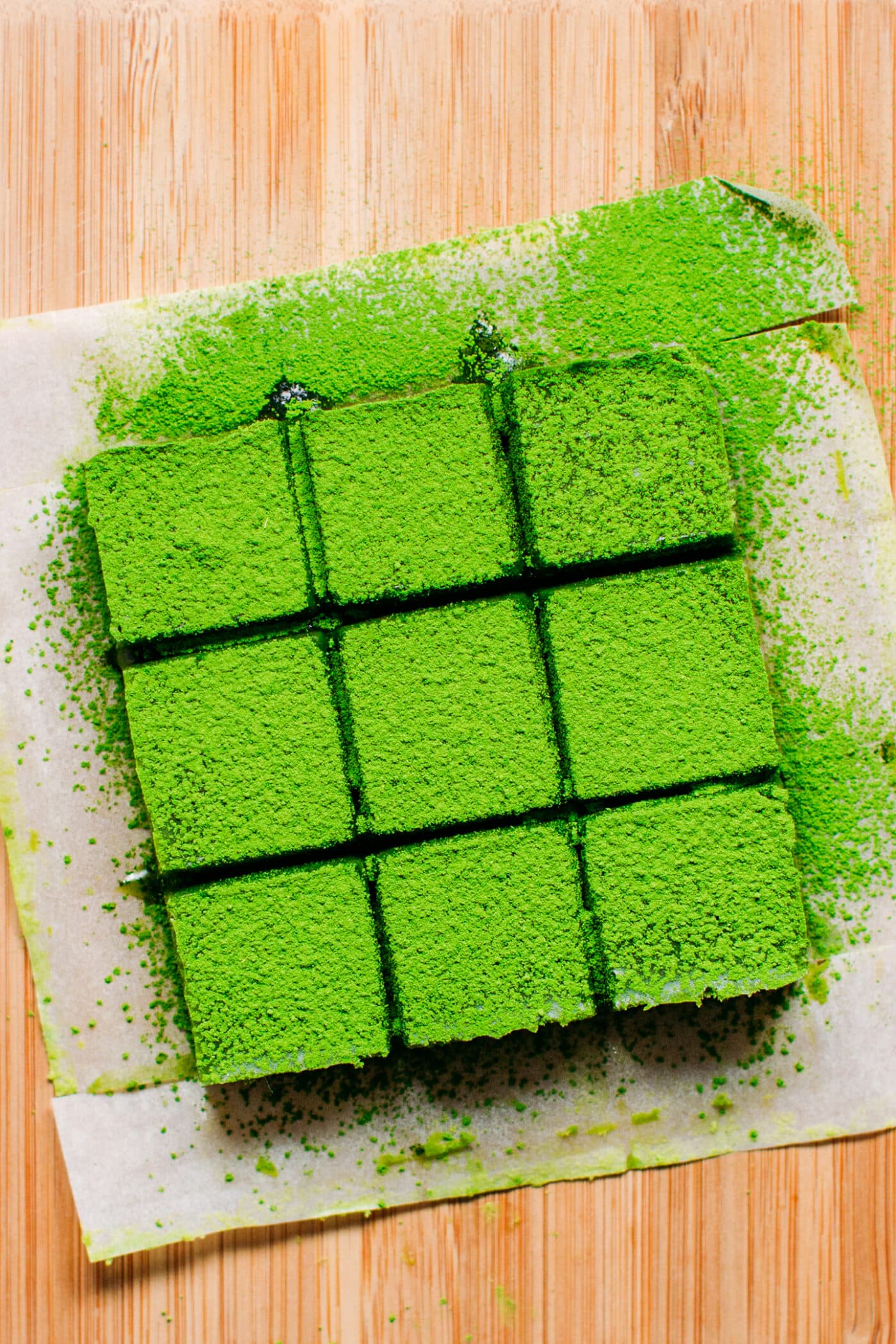 Pour the mixture into prepared molds or a small baking dish and refrigerate for at least 1 hour and 30 minutes.
Cutting
Once the chocolate has firmed up, remove it from the molds and cut it into 1-inch squares. I recommend running your knife under warm water and patting it dry before cutting. It will slightly melt the ganache and prevent it from sticking to the knife too much.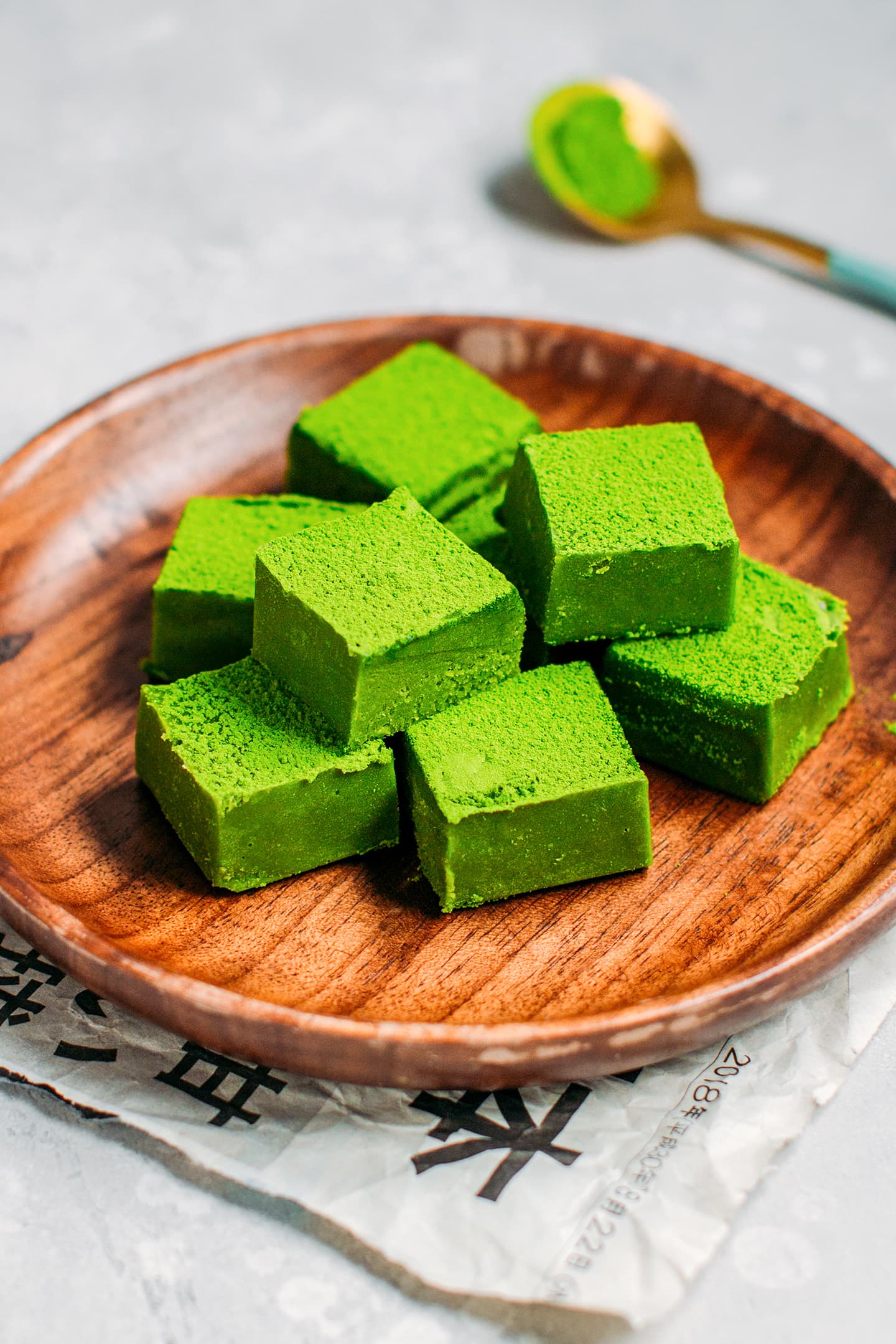 Finally, dust with matcha powder and enjoy! These rich and creamy bites are delicious served with green tea or enjoyed as an afternoon snack!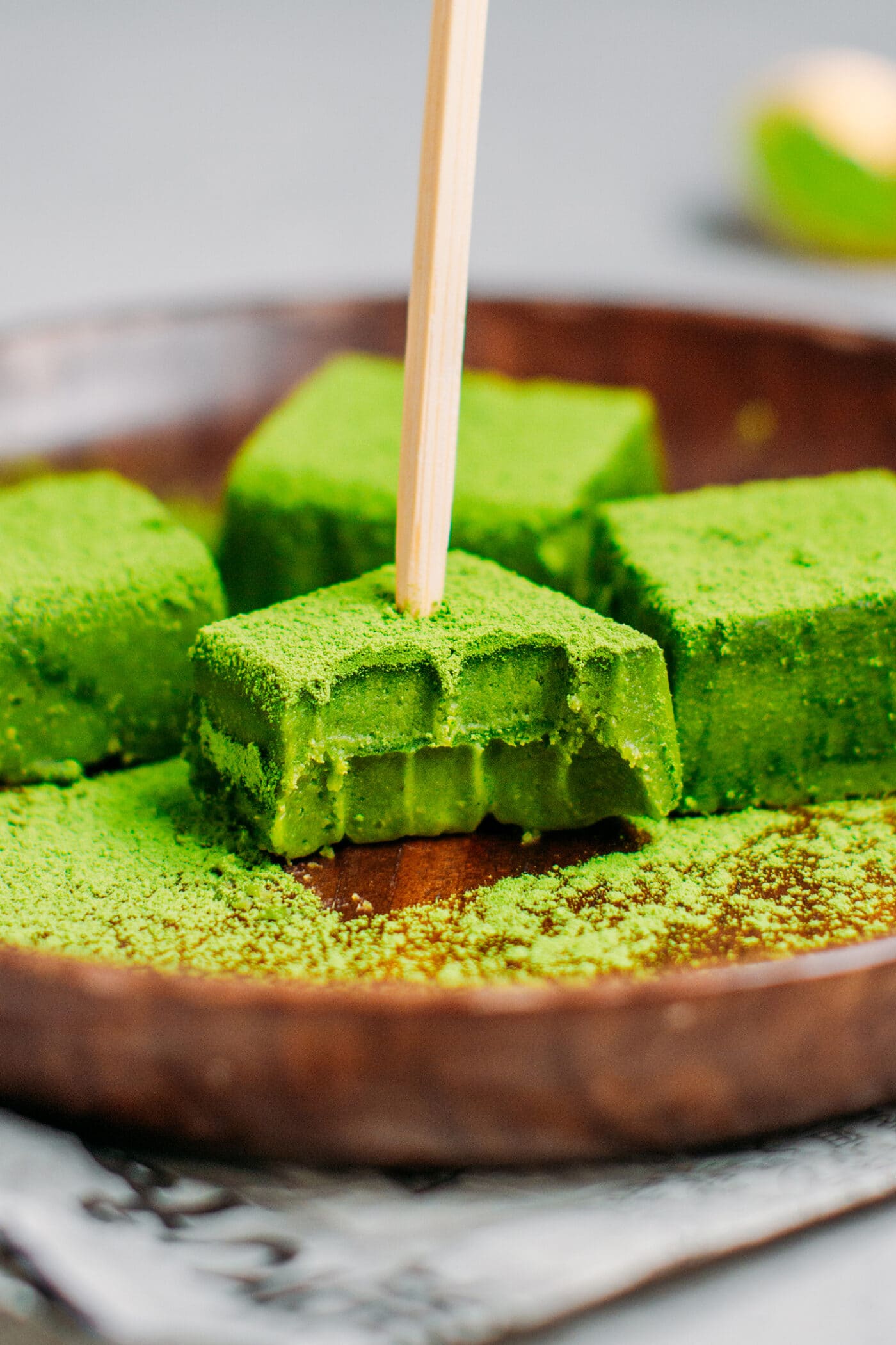 💬 FAQ
Can I replace the cashew cream with coconut cream?
Yes, it will work, but it will obviously bring some coconut flavor. You can also use store-bought plant-based cream like soy cream.
Can I use vegan white chocolate instead of cacao butter and powdered sugar?
Yes, it's totally possible, but it will require a few tweaks: finely chop 195g of vegan white chocolate and place it in a mixing bowl. Bring the cashew cream to a boil and pour it over the chocolate to melt it. Next, stir in the matcha powder, vanilla, and salt.
How long does it keep?
These matcha Nama chocolates will keep for up to 5 days in the refrigerator.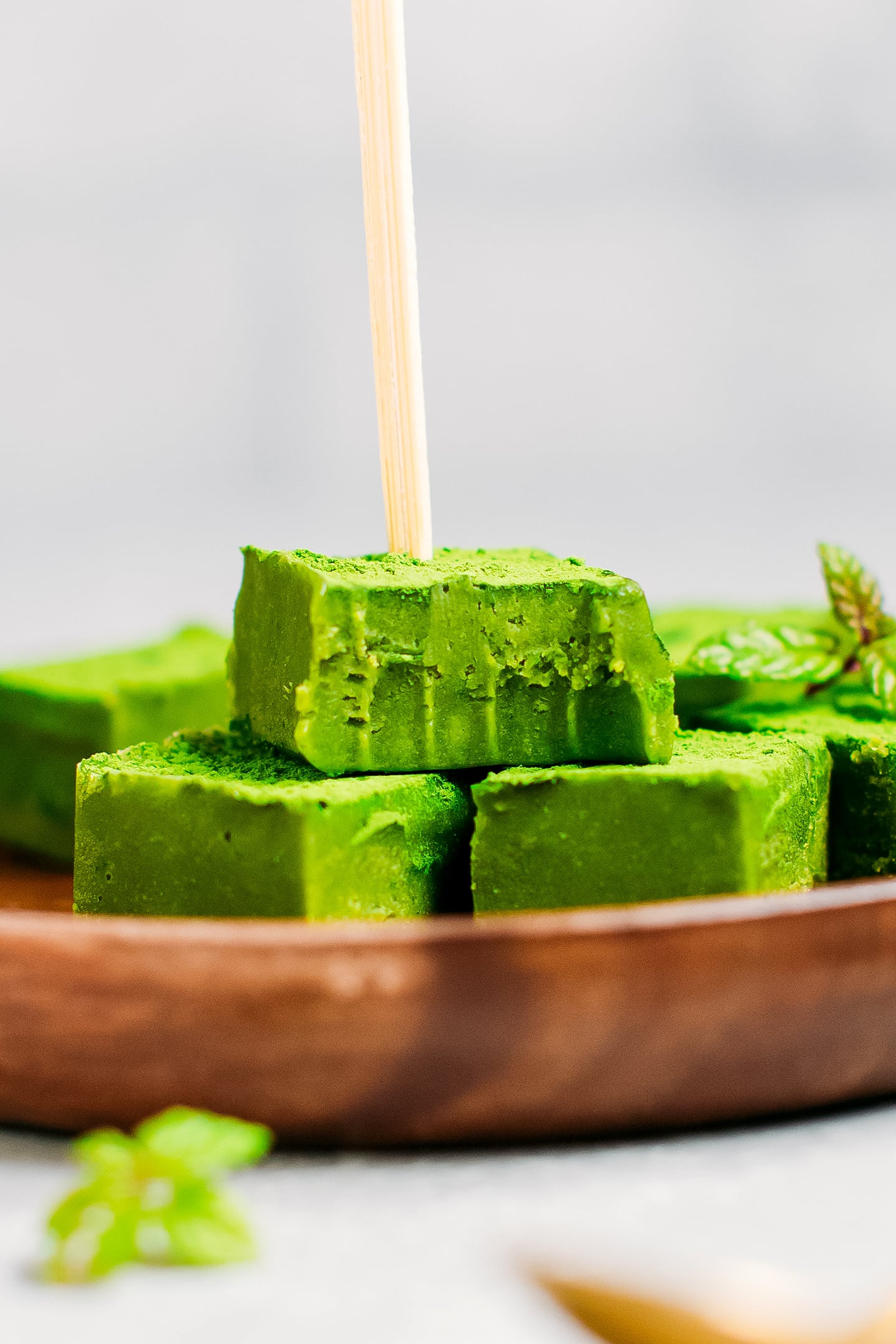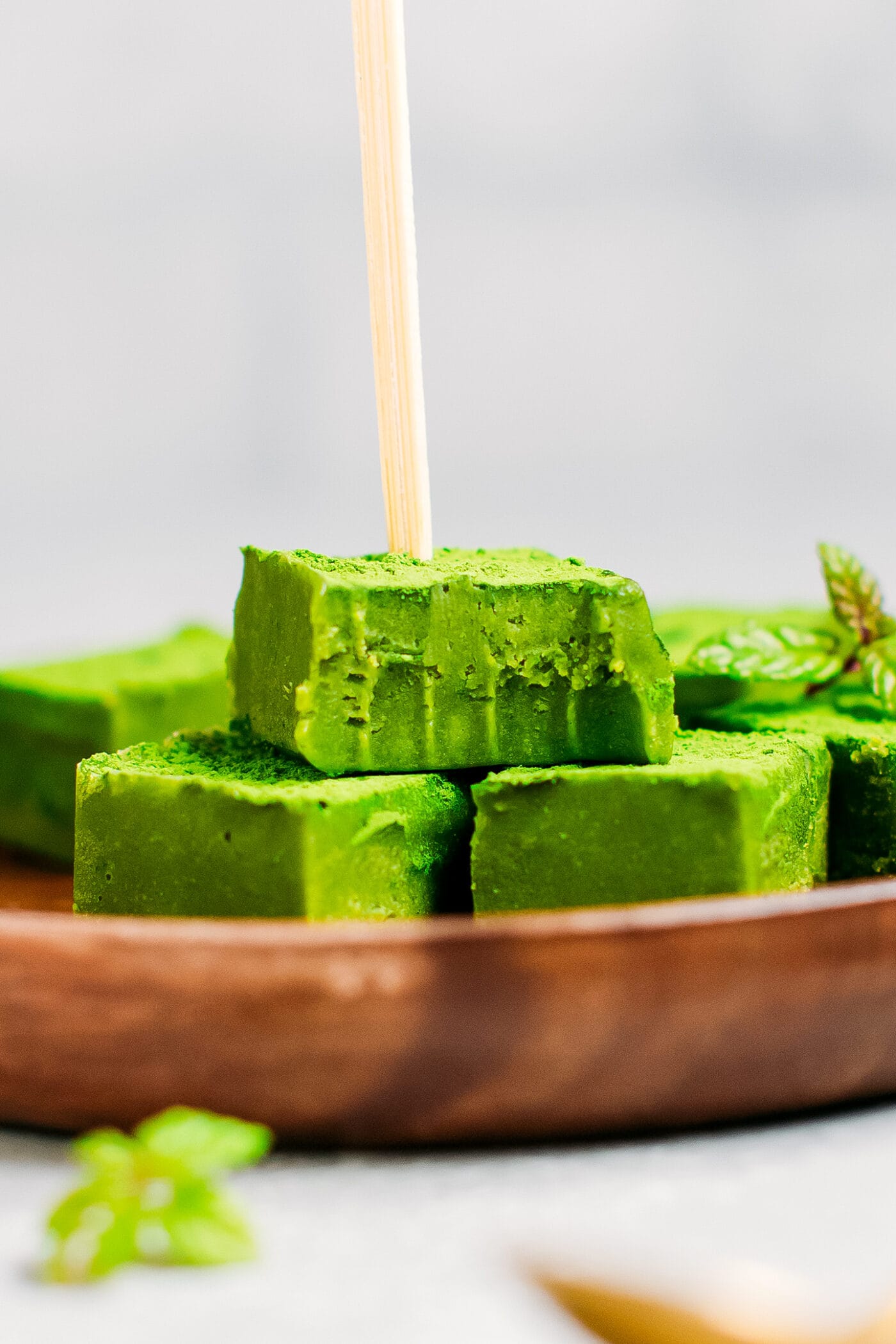 If you like matcha and white chocolate, you are going to LOVE this vegan matcha nama chocolate recipe! It is packed with matcha and vanilla flavors and has a creamy and milky texture!
One of my favorite matcha treats!
🇯🇵 More Japanese-Inspired Vegan Recipes
Let me know in the comments if you try this recipe!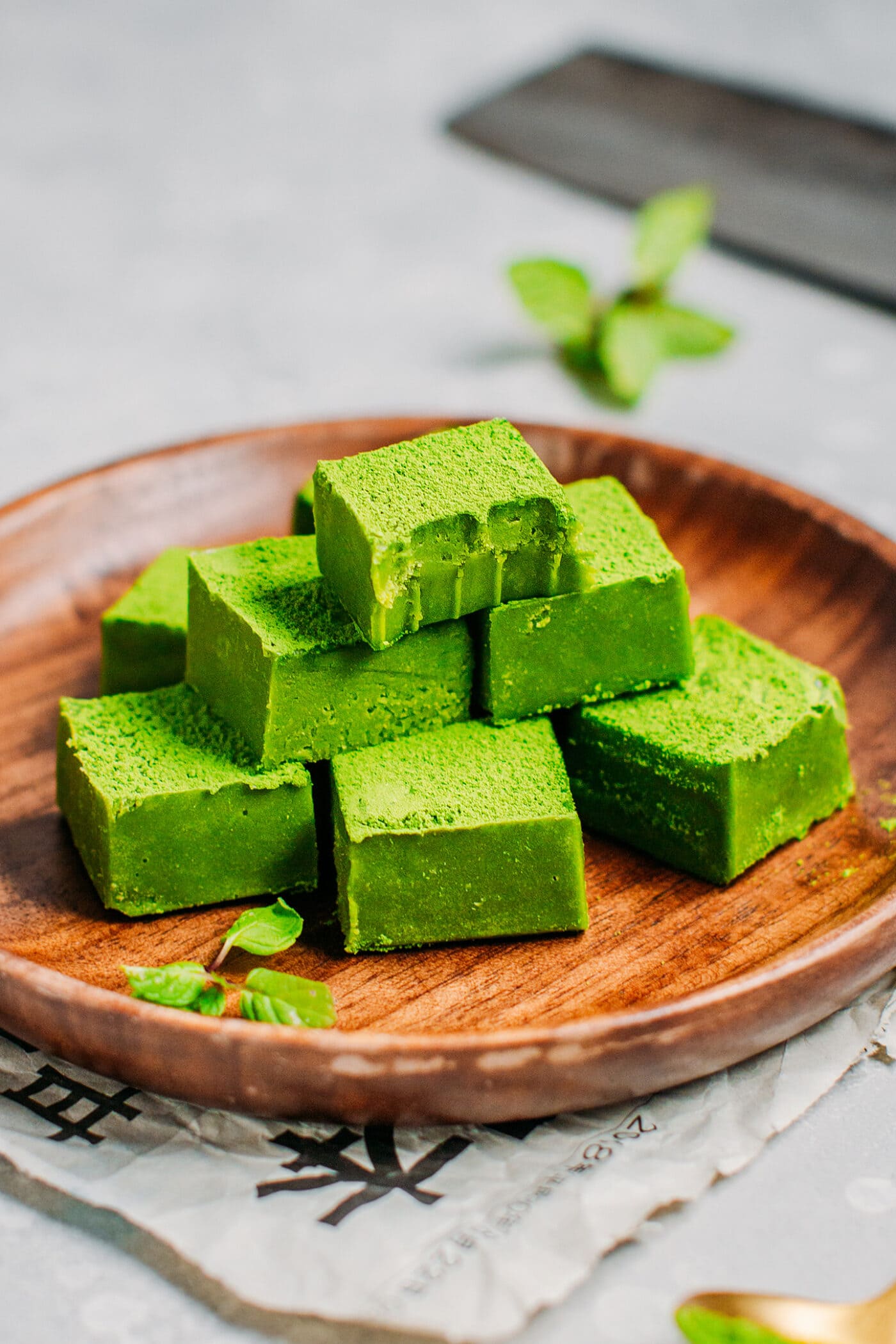 Recipe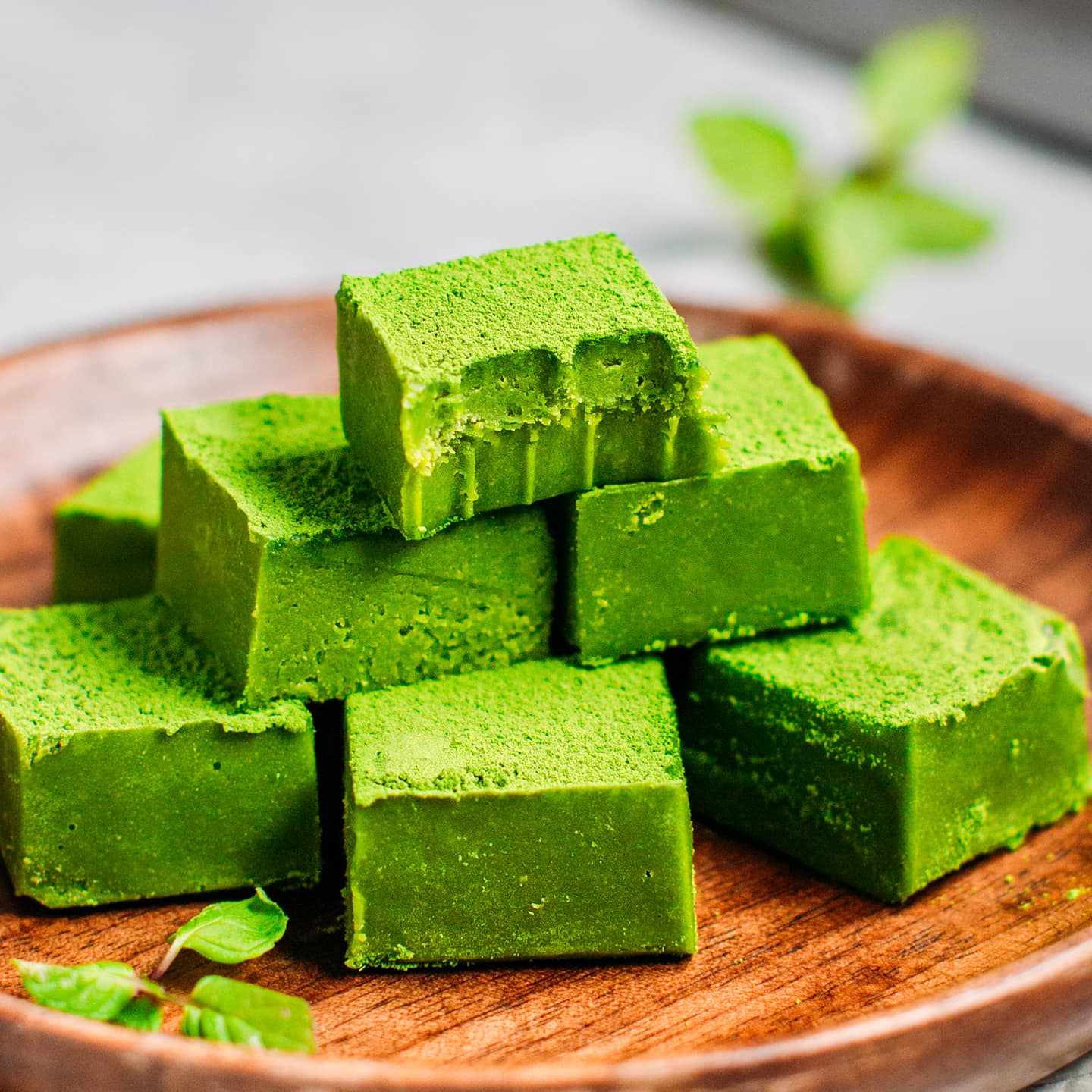 Vegan Matcha Nama Chocolate
Vegan matcha truffles inspired by Japanese Nama chocolate! Packed with matcha and vanilla, these rich and creamy chocolates require just 5 ingredients!
Instructions
Cashew Cream
Drain the soaked cashews and transfer them to a blender. Add the water and blend until fully smooth, about 1 minute. Set aside.
Matcha Nama Chocolate
Line two 3-inch square pastry cutters or one 3×6-inch rectangle cutter with parchment paper. Another option is to use a small baking dish.

Melt the cacao butter in a saucepan over low-medium heat. Remove from heat as soon as the cacao butter has melted; you do not want it to be hot.

In a mixing bowl, whisk together the powdered sugar and matcha powder. Pour in the melted cacao butter and whisk to combine. Add 1/4 cup of the cashew cream, vanilla extract, and a pinch of salt.

Whisk for 2-3 minutes or until the mixture has slightly thickened. At first, it will be very liquid, but as the cacao butter cools down, the mixture will thicken.

Transfer to the lined pastry cutters or baking dish, and tap the baking dish a few times on the counter to remove air bubbles.

Refrigerate for at least 1 hour and a half or until firm. Remove the Nama chocolate from the baking dish. Run a large knife under hot water and pat it dry with a kitchen towel. Repeat this step before every cut. Cut the chocolate into 1-inch squares.

Using a fine sieve mesh, sprinkle matcha powder all over the top of the squares of chocolates. Transfer the chocolate to a plate or box and store in the refrigerator. Matcha Nama chocolate is best served chilled. It will keep for up to 5 days in the refrigerator.
Notes
Ingredients are given in grams as measuring cacao butter by cups can be difficult.
Nutrition
Serving:
1
square
|
Calories:
78
kcal
|
Carbohydrates:
5.4
g
|
Protein:
0.2
g
|
Fat:
6.1
g
|
Fiber:
0.1
g
|
Sugar:
5.2
g
Did you make this recipe?
Tag @fullofplants on Instagram and hashtag it #fullofplants