Perfectly chewy and stretchy vegan mochi filled with the creamiest chocolate ganache. Vegan, gluten-free, and so decadent! These chocolate mochi make the perfect sweet snack!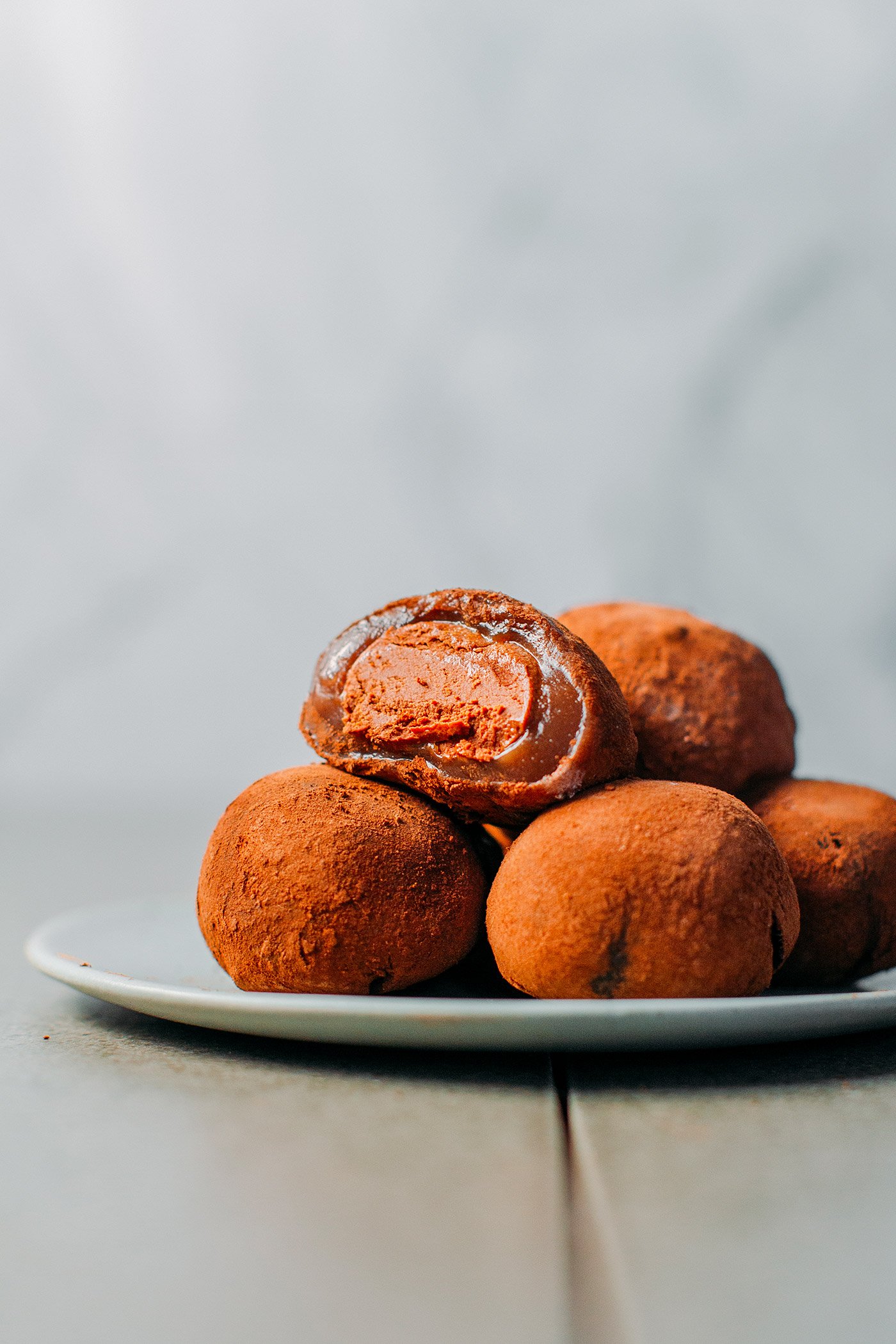 Chocolate mochi is coming your way!
Have you ever tried fresh mochi? Not the ones you get in a box, I'm talking about the homemade ones, made the same day, with minimal ingredients and no preservatives or flavorings. If not, it's time to fix that!
📘 What is Mochi?
Mochi is a Japanese sweet that consists of a glutinous rice cake usually filled with sweet bean paste, cream, or fruits.
The type of mochi filled with a ganache is sometimes called Nama Mochi.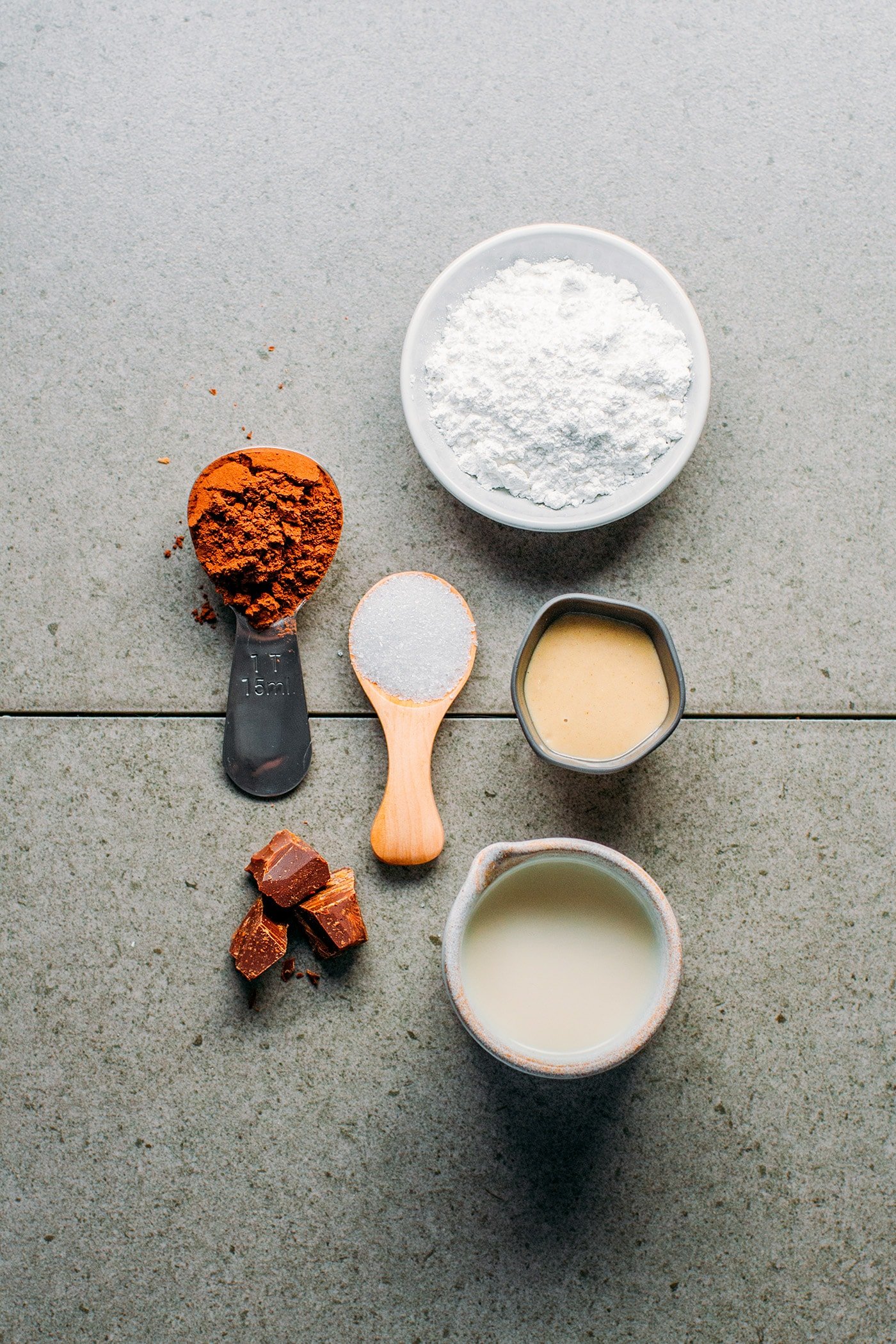 🥣 How to Make Vegan Chocolate Mochi
Chocolate Filling
It starts with the filling, which is basically a chocolate ganache. To make the chocolate ganache, you will need just 3 ingredients:
Chopped Dark Chocolate
Unsweetened Almond Milk
Tahini (optional)
Bring almond milk to a boil, then pour it over dark chocolate chunks and whisk until fully melted and combined.
For extra creaminess and a subtle nutty flavor, you can stir in a tablespoon of tahini (or your favorite nut butter), but that is up to you, and it's not essential.
Regarding the chocolate, I recommend using dark chocolate bars cut into chunks instead of chocolate chips. Why? Because you will have more control over the percentage of cacao and sugar. Here, I went with 65% dark chocolate, but feel free to adapt to your taste.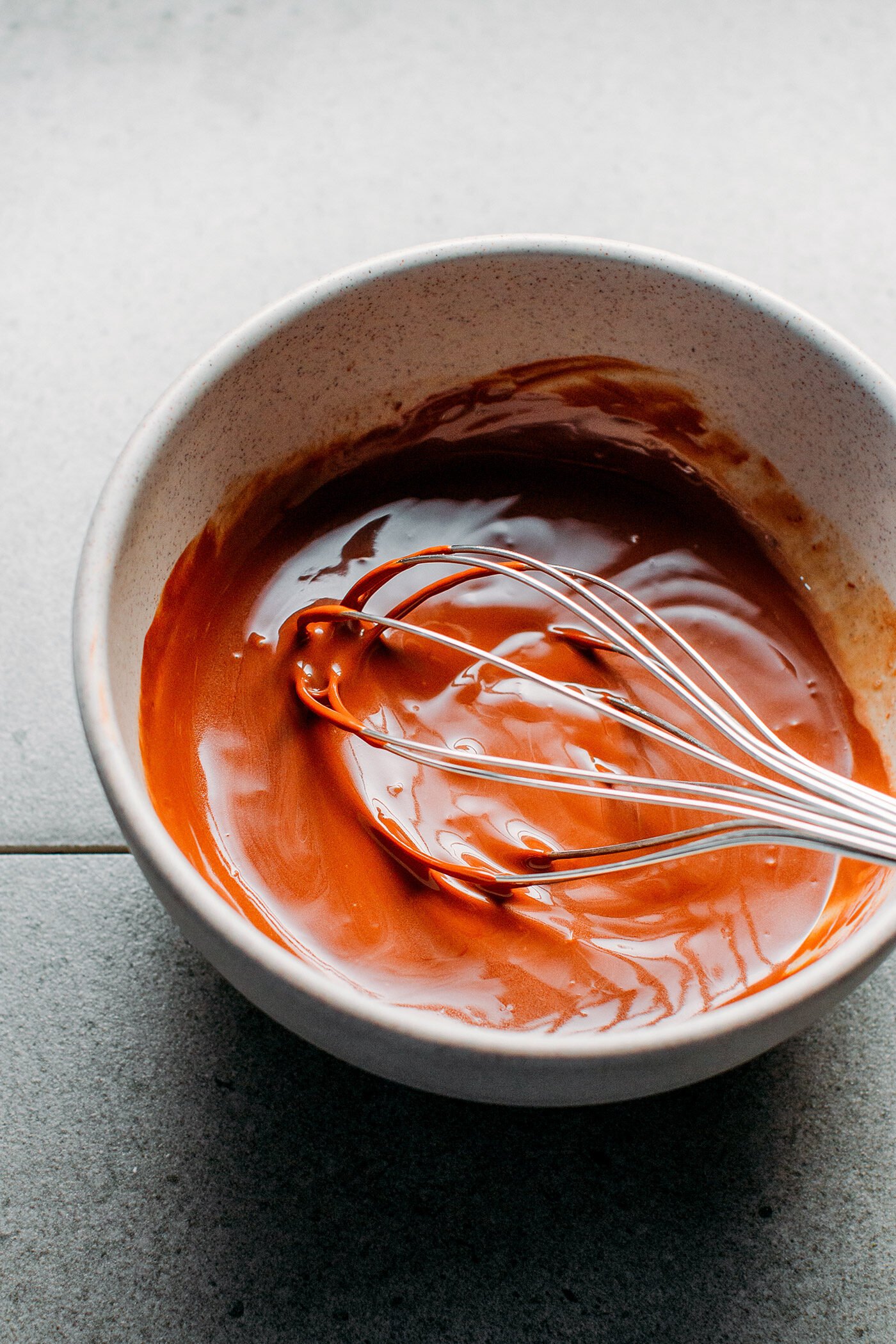 Once the ganache is fully combined, refrigerate it for a couple of hours. Once set, scoop out about 1 tsp of balls and transfer them to a plate. Keep the chocolate balls in the refrigerator so they stay firm.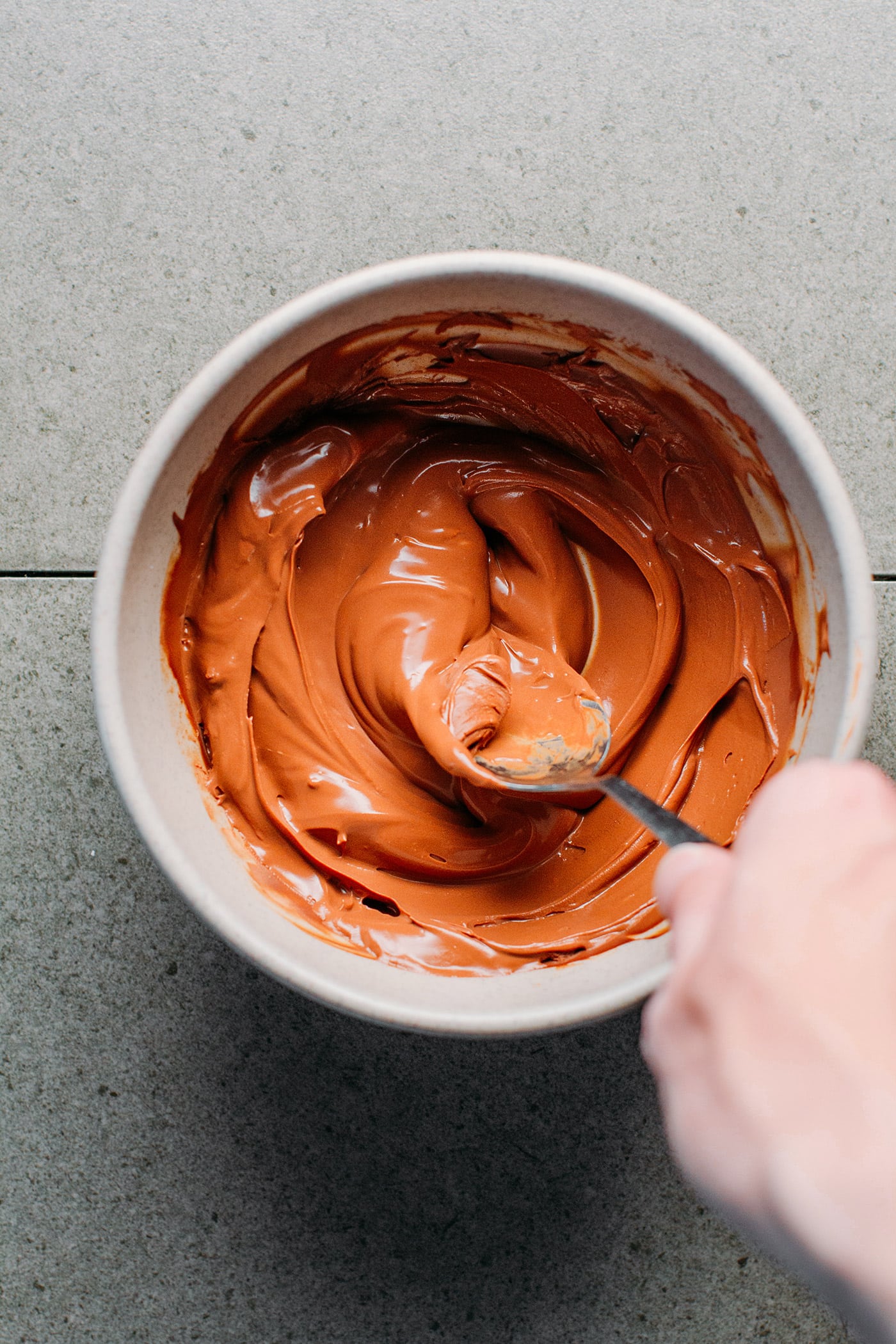 Mochi Dough
Now it's time to prepare the dough that consists of just 5 ingredients:
Sweet rice flour (also called glutinous rice flour)
Water
Coconut Milk (for richness)
Unsweetened Cacao Powder
Sugar
Mix all of the ingredients in a bowl until fully combined. You should end up with a very liquid batter.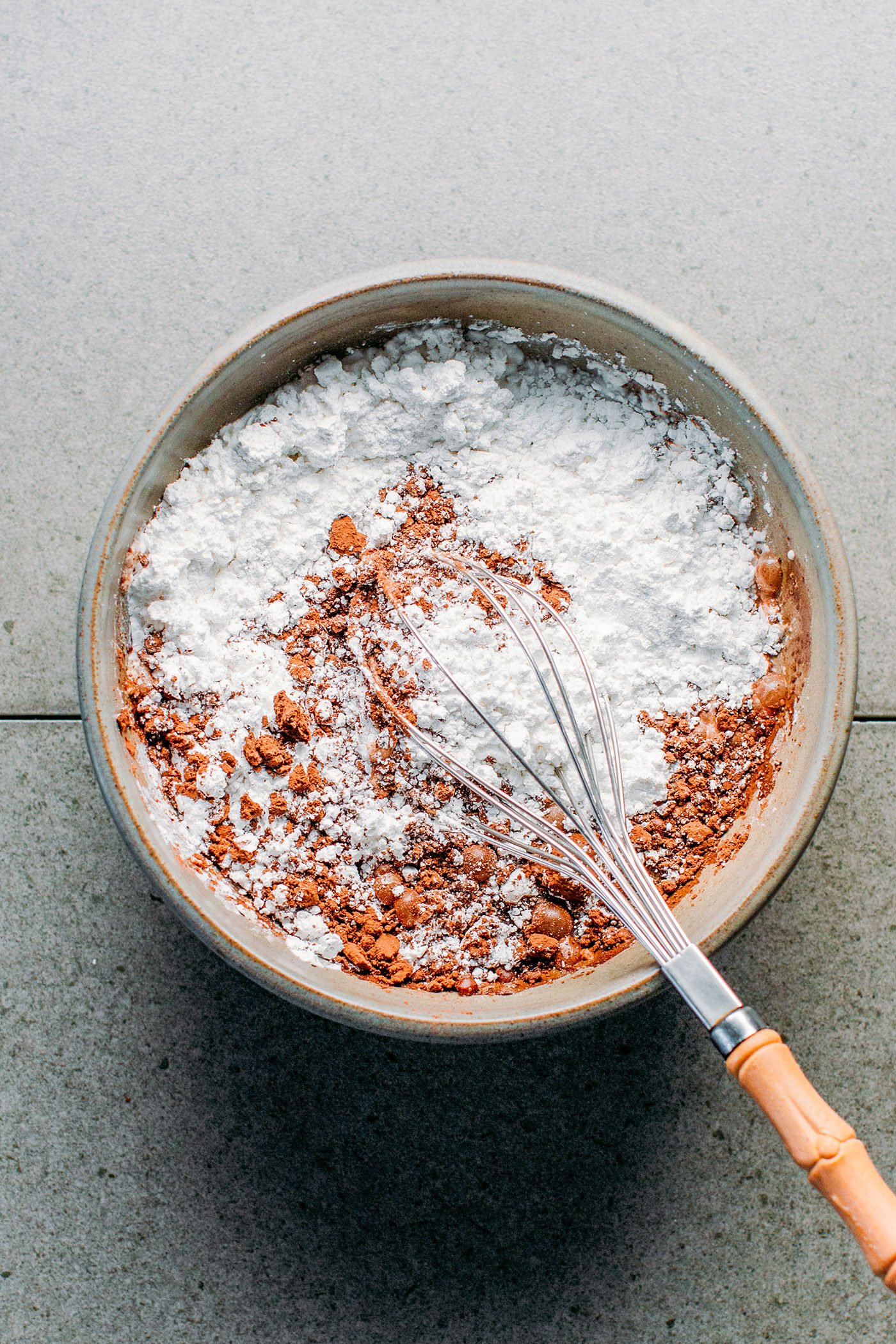 There are two ways to cook the mochi dough; you can either:
Steam: Steam in a bamboo basket for about 20 minutes. Make sure to stir once halfway through steaming.
Microwave: Cover the bowl with plastic wrap and place in the microwave for 1 minute on high heat. Stir the mixture using a rubber spatula and microwave again for 1 minute.
As it cooks, the mixture thickens and becomes sticky and stretchy. Remove from heat, cover with plastic wrap to touch, and let it cool completely.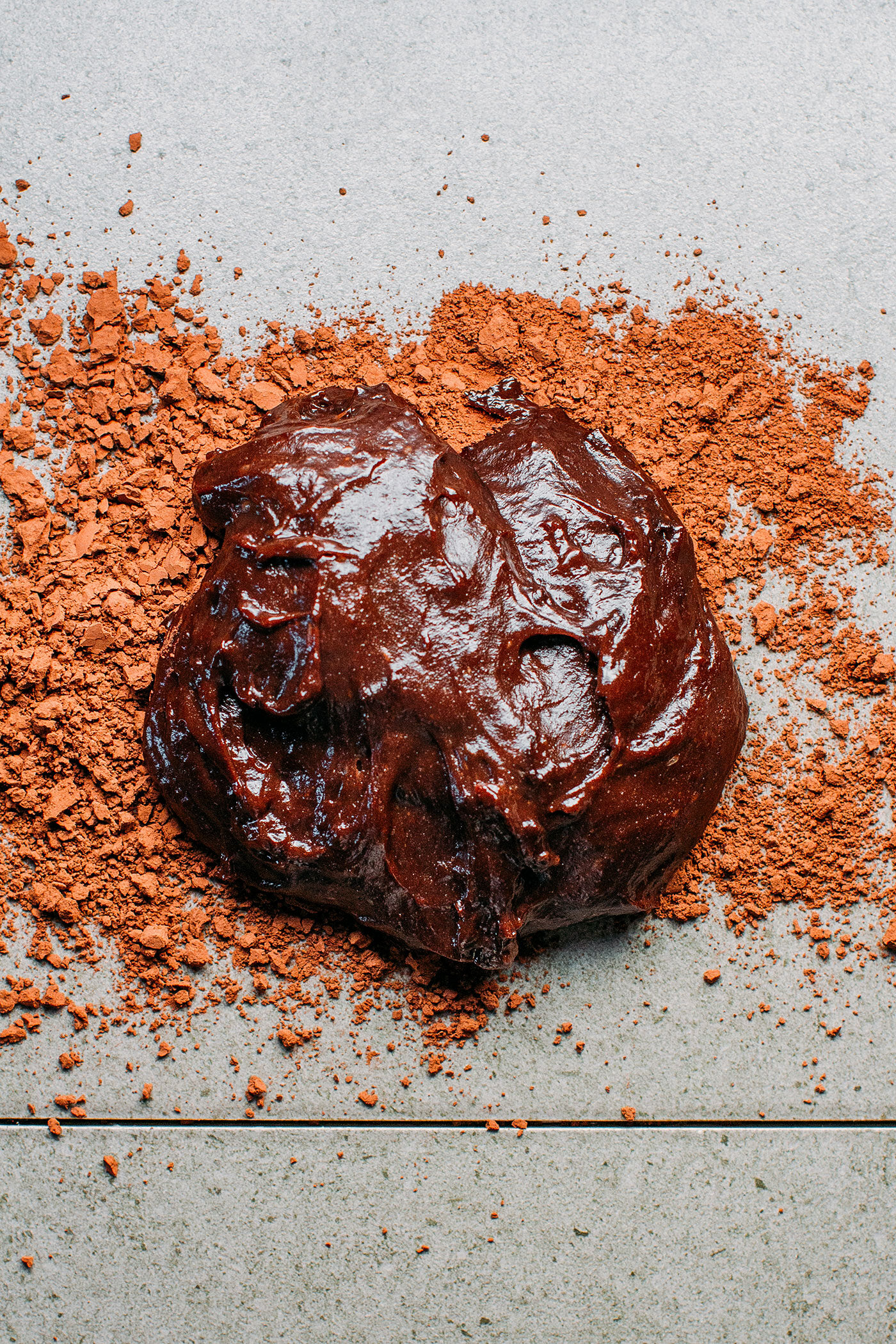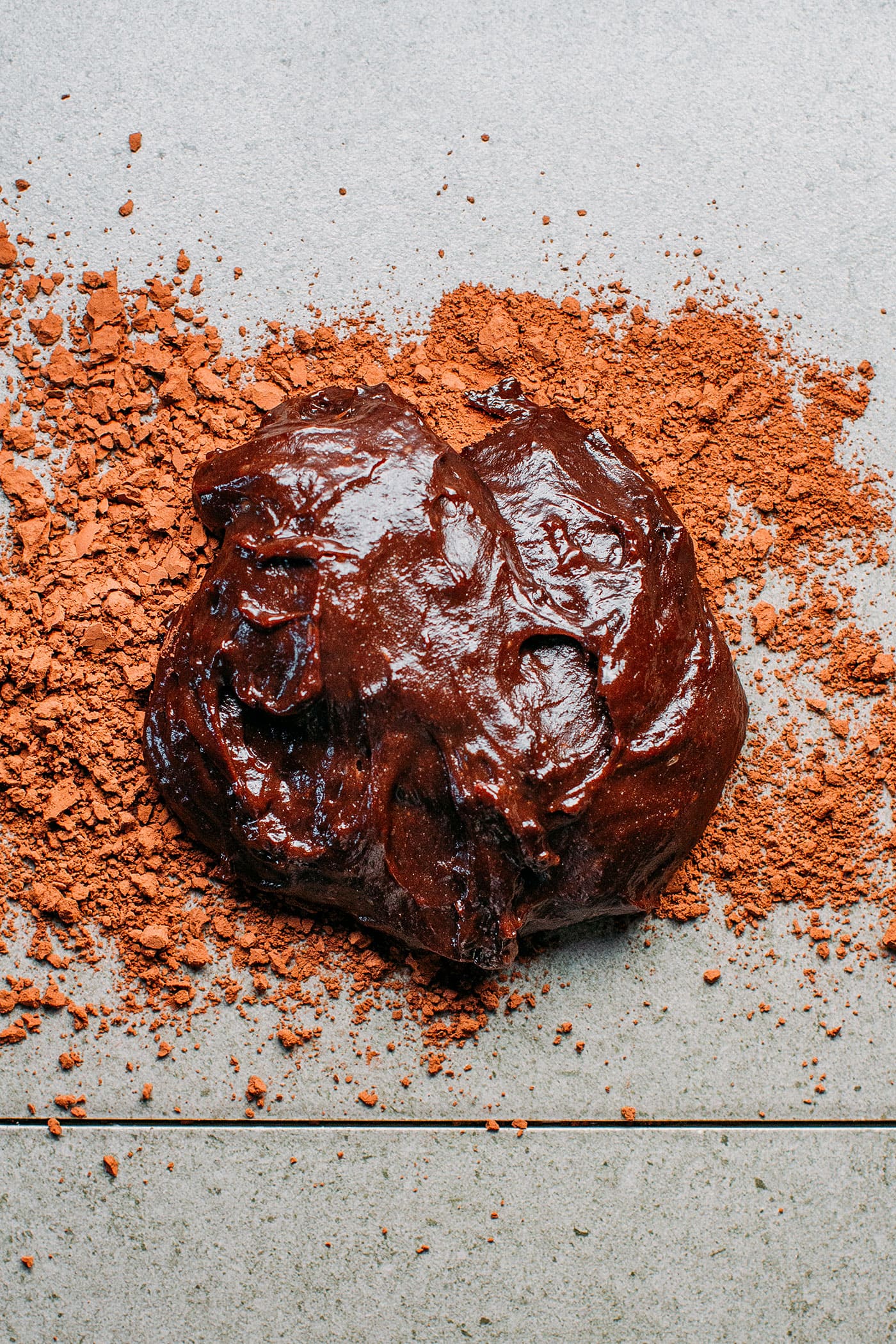 Working with the sticky dough can get quite messy (so messy that I couldn't take photos of the shaping step!).
Since we are making chocolate mochi, you can use cacao powder instead of cornstarch to flour your working surface and prevent the dough from sticking too much.
Wrapping
Flatten the mochi dough between two layers of plastic film using a rolling pin. Next, cut out rounds of dough and wrap balls of chocolate ganache with the mochi dough. Pinch to seal it, and dust it with cacao powder.
Finally, refrigerate for a couple of hours and enjoy!
📔 Tips
Let the mochi dough cool completely: it will get a bit easier to work with and will prevent the filling from melting. Wrap the dough in plastic film and let it cool at room temperature or in the refrigerator to speed up the process.
Do not use too much cornstarch, or you will have trouble sealing the mochi. The dough should be just slightly sticky.
The smaller the mochi, the harder it is to wrap. Do not hesitate to make large mochi if you are having trouble wrapping it!
Chocolate mochi is best enjoyed on the same day.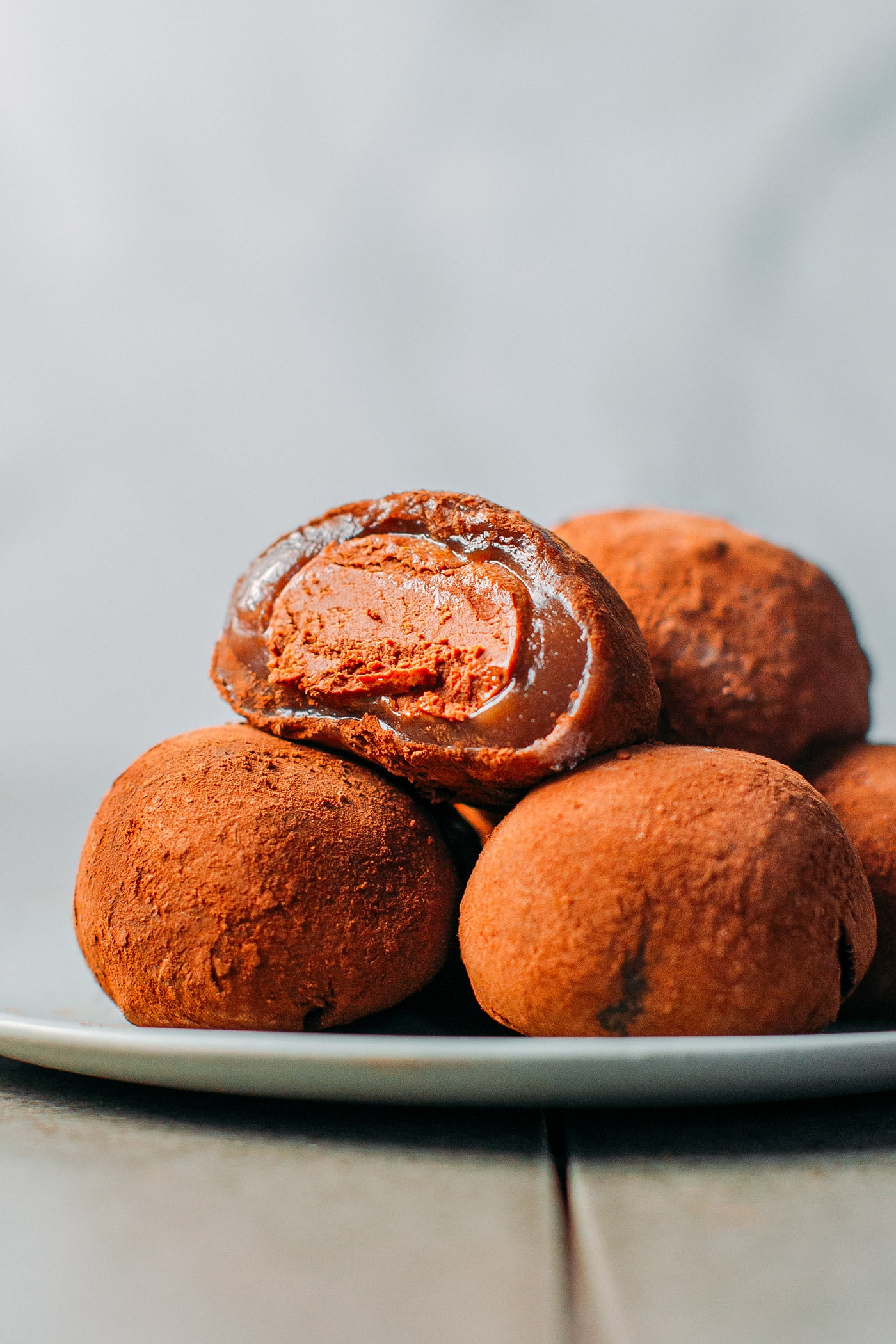 💬 FAQ
Can I substitute the sweet rice flour?
No, it is essential to get a soft and stretchy dough.
Can I make this recipe coconut-free?
Yes, simply replace the coconut milk with water and add a teaspoon of oil to the batter.
If you like chewy sweets, you are going to love these vegan chocolate mochi! They are tender and chewy on the outside and rich and chocolatey on the inside. Plus, they are not overly sweet compared to the store-bought ones and taste much better!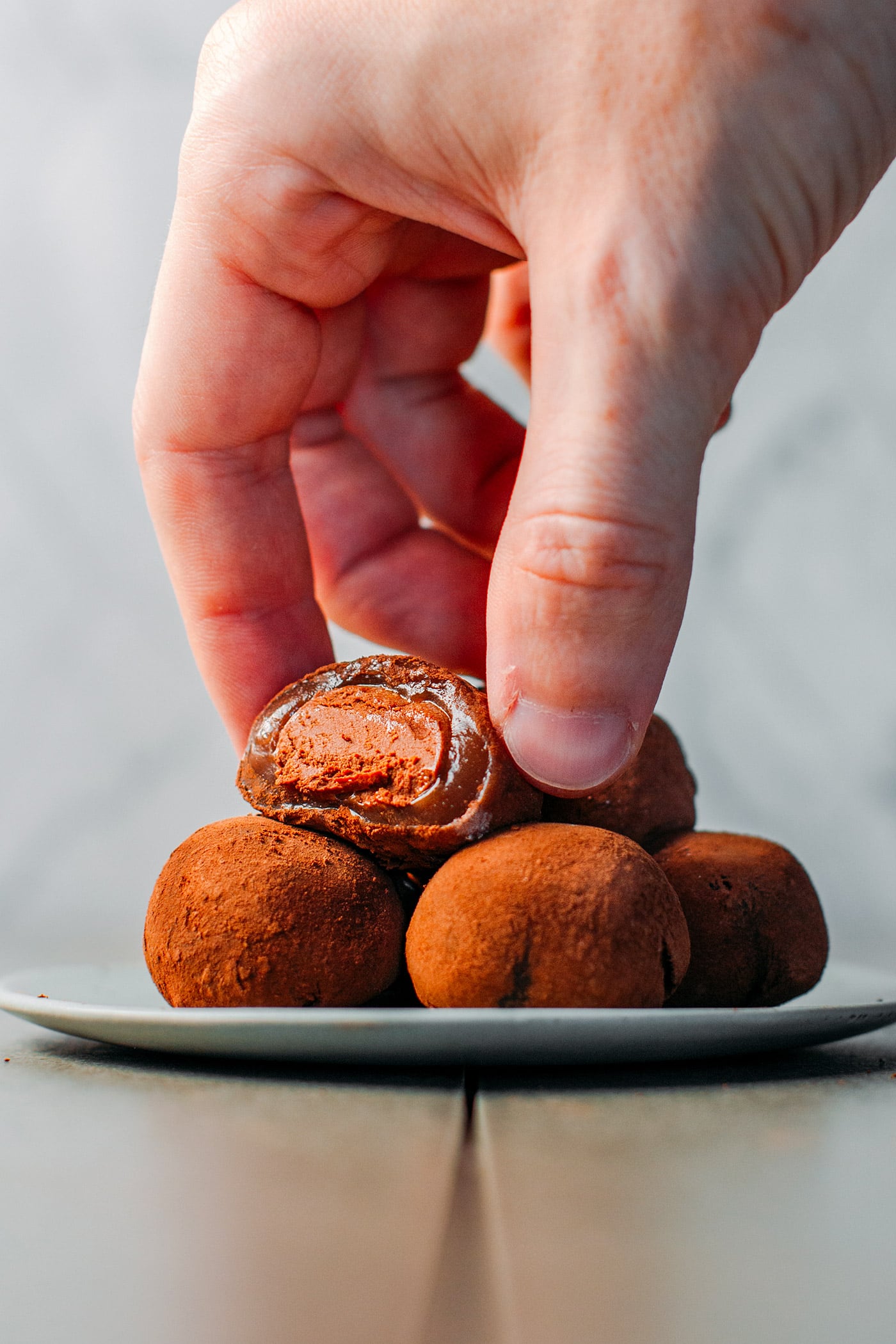 🍡 More Asian-Inspired Sweet Recipes
Let me know in the comments if you try this recipe!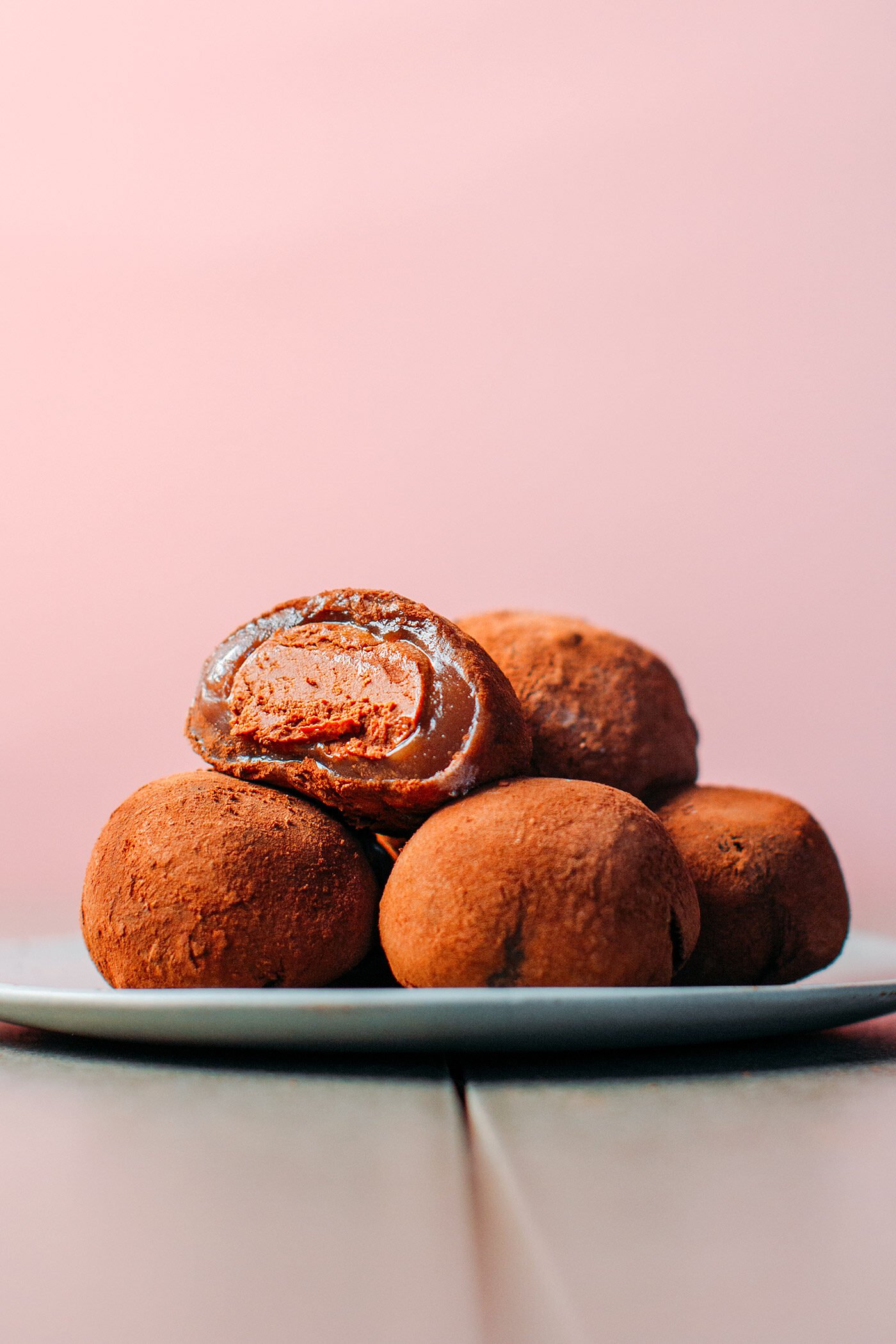 Recipe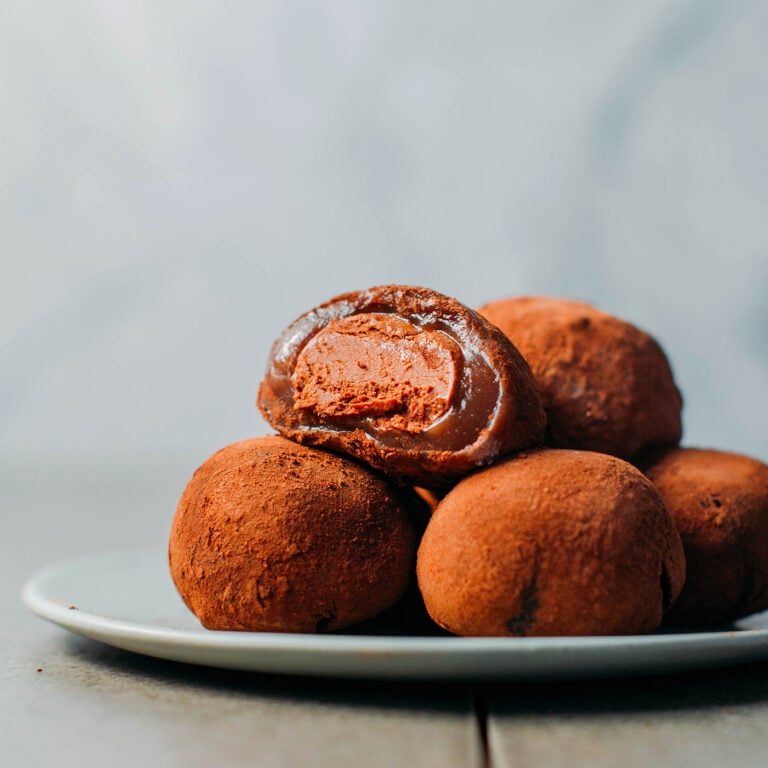 Vegan Chocolate Mochi
Delicious bites of chewiness filled with a rich and creamy chocolate ganache! Not too sweet, super chewy, and creamy, these make the perfect snack (or dessert)!
Ingredients
Chocolate Filling
1/2

cup

chopped dark chocolate

1/3

cup

almond milk*

1

tbsp

tahini

optional
Instructions
Chocolate Filling
Place the finely chopped dark chocolate into a bowl and set aside.

Heat the almond milk in a saucepan over medium heat. Once it has come to a boil, pour into the bowl, over the chocolate chunks. Add the tahini if using, and whisk until the chocolate is fully melted and everything is combined. Cover with plastic film and refrigerate for about 2 hours, or until the ganache is firmer.

Once firm, scoop out about 1 teaspoon balls of ganache and place them on a plate lined with parchment paper. Keep them in the refrigerator. You will transfer them to the freezer for about 10 minutes just before wrapping them to make the balls harder and easier to work with.
Mochi Dough
In a mixing bowl, whisk together the glutinous rice flour, sugar, cacao powder, water, coconut milk, and vanilla. The mixture will be liquid but will thicken once cooked. Transfer to a glass or ceramic bowl/dish.

Steam for about 20 minutes, stirring halfway through steaming using a rubber spatula. To steam, I recommend filling a large pot with about 2 cups of water, then placing a metal basket inside the pot and placing your bowl on it. Cover with a lid wrapped with a kitchen towel (to prevent water from dropping into the mochi dough). You can also use a bamboo basket steamer.

After 20 minutes, you should have a sticky dough. Let it cool for a few minutes, then cover it with plastic film to touch and refrigerate for about 2 hours, or until cold. If the dough is warm it will not be easy to work with and could melt the chocolate ganache.

To assemble: place the balls of ganache in the freezer for about 10 minutes. Dust your working surface with cornstarch or cacao powder. Roll out the mochi dough between two layers of plastic wrap into a 1/2-inch thickness. Using a cookie cutter, cut 2.5-inch rounds of the dough. If the dough is too sticky, dust it with more cornstarch or cacao powder.

Place a ball of ganache in the center of the mochi round. Wrap the dough around the ganache and pinch the edges to seal. You can use plastic film to handle the dough if it's too sticky. Dust off excess cornstarch, and place your mochi on a plate line with parchment paper. Repeat with the remaining dough and ganache. Dust with cacao powder, cover with plastic film, or place in an airtight container and refrigerator for at least 2 hours before enjoying!

You can enjoy mochi straight from the refrigerator or leave it out for 5-10 minutes before eating. Mochi is best eaten the same day but will keep for up to 2 days in the refrigerator.
Notes
If you want a slightly firmer chocolate ganache, use 1/4 cup of almond milk instead of 1/3 cup. Feel free to use your favorite plant-based milk (cashew, soy, oat milk, etc).
If you want to halve the recipe, keep the same steaming time for the dough.
Nutrition
Serving:
1
mochi
|
Calories:
71
kcal
|
Carbohydrates:
13
g
|
Protein:
1.2
g
|
Fat:
2.3
g
|
Fiber:
0.4
g
|
Sugar:
4.6
g
Did you make this recipe?
Tag @fullofplants on Instagram and hashtag it #fullofplants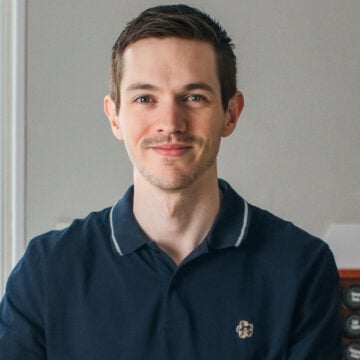 About the Author
Thomas Pagot is the founder, photographer, and recipe developer behind Full of Plants. He created the blog in 2016 as a personal cookbook for vegan recipes. Through years of recipe development, Thomas has successfully grown Full of Plants into a trusted resource for plant-based recipes.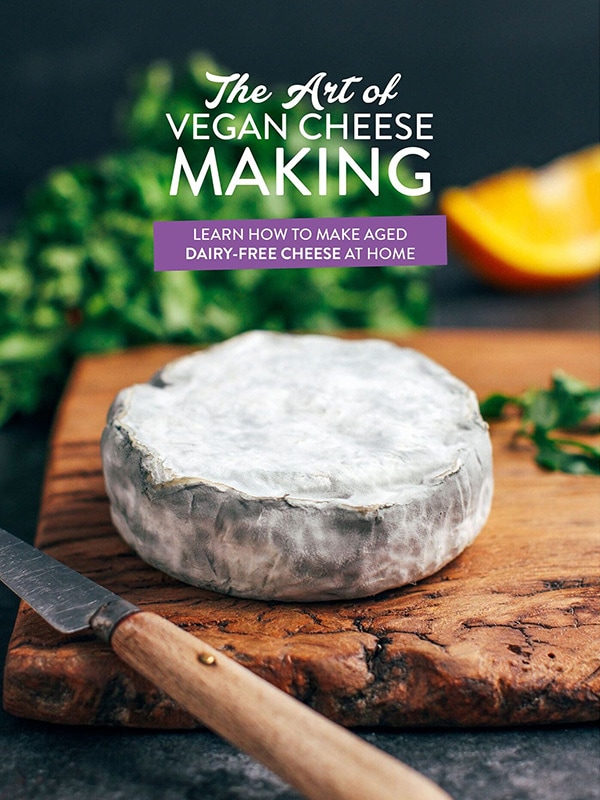 🧀 25 Mind-Blowing Vegan Cheese Recipes!
Sign up for the Full of Plants newsletter and you'll get new recipes delivered by email weekly, PLUS your FREE 100-page printable eBook!