Our most favorite mochi recipe ever! Matcha white chocolate meets mochi for the ultimate treat! It's super chewy, a bit stretchy, and has a rich and melty matcha chocolate filling!
⭐️ Why You Should Try This Recipe
The matcha filling has the texture of a white chocolate ganache, slightly firm yet tender and creamy, while the mochi is perfectly chewy! I am not taking it lightly when saying this is the best matcha mochi recipe you will ever try!
The filling is so fresh and rich and has a deep matcha flavor with notes of white chocolate and vanilla! SO GOOD!
Not a fan of matcha? Check out this Chocolate Mochi recipe!
📘 What is Mochi
Mochi is a Japanese sweet that consists of a chewy rice cake filled with a sweet filling. It is often filled with red bean paste, black sesame, fruits, or ganaches.
If you have tried store-bought mochi sold in boxes before, you will be shocked by how fresh and delicious homemade mochi tastes!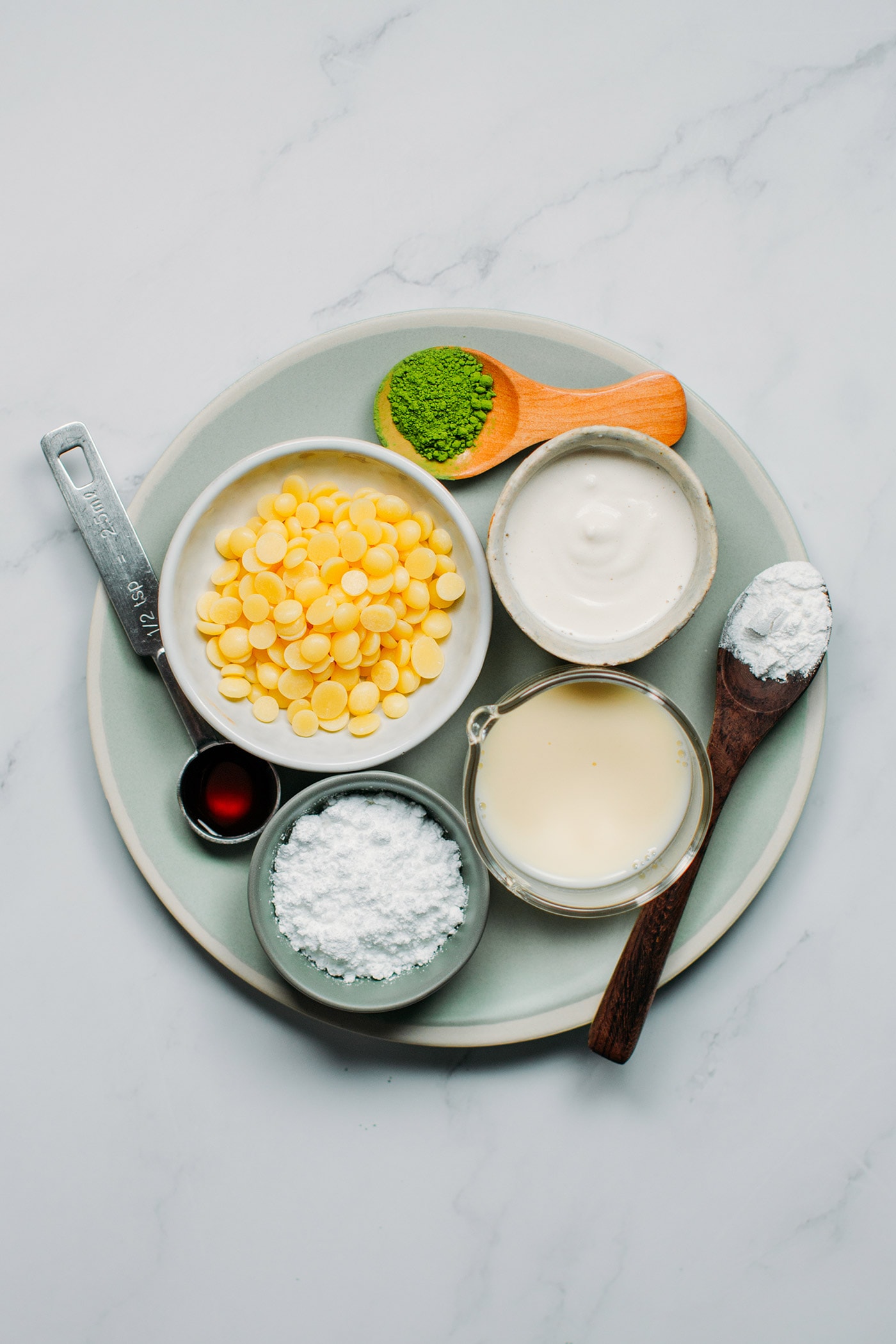 🥣 How to Make Vegan Matcha Mochi
Filling
I am sharing two ways to make the matcha ganache. Since vegan white chocolate is not available everywhere, I am sharing another way to prepare the filling using just cacao butter and powdered sugar.
Using White Chocolate
Place chopped vegan white chocolate and cashew cream in a heatproof bowl. Heat in the microwave, stirring every 25-30 seconds, until smooth and creamy. Stir in the matcha powder, and refrigerate until set for about 2 hours. Check the recipe notes for the full instructions.
Using Cacao Butter
Melt cacao butter in a small saucepan. Next, whisk the cacao butter with powdered sugar, matcha powder, and cashew cream. Refrigerate until set.
This method is actually adapted from my Matcha Nama Chocolate recipe.
A quick tip: Use high-quality matcha if you want the best flavor. I highly recommend using Ceremonial Grade matcha, which is not bitter and will yield a brighter green color, as opposed to culinary grade.
Mochi Dough
While the matcha filling is chilling, let's prepare the dough!
Combine sweet rice flour, unsweetened almond milk, sugar, and matcha in a small bowl until smooth.
Steam in a bamboo basket for about 20 minutes, stirring once halfway through streaming.
Let cool for a few minutes or until just warm and "knead" using a spoon. The dough will be very sticky. That is normal.
Wrap in plastic film and refrigerate the dough for 30-40 minutes. This step helps the dough slightly firm up and get less sticky.
For a microwave option, check out the recipe notes.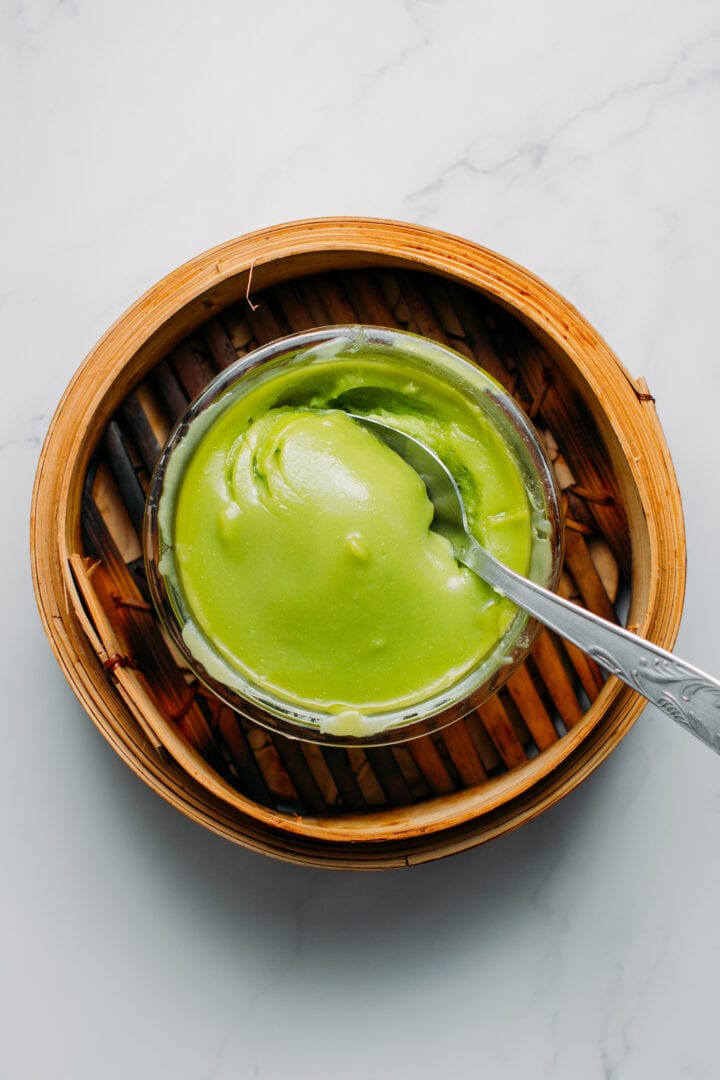 Shaping the Mochi
Finally, it's time to assemble our mochi!
On a surface dusted with cornstarch, place a ball of the mochi dough (I go with about 2 tbsp of dough, just eyeball it), and flatten it into a round.
Next, place 1 and 1/2 teaspoons of the matcha ganache filling on top and wrap the dough around it. Pinch to seal and repeat with the remaining dough and filling!
Do not use too much cornstarch. Otherwise, you might have trouble sealing your mochi.
Once your mochi are shaped, you can dust them with matcha powder. This is totally optional, but it's a nice finishing touch!
💬 FAQ
Can I make these mochi sugar-free?
While I haven't tried it yet, I think this recipe will work with most powdered sweeteners.
Can I substitute the cacao butter?
Yes! Check out the recipe notes to learn how to make the filling using white chocolate. If not vegan, any white chocolate will work.
Can I substitute the glutinous rice flour?
That is not possible. No other flour will give you the same chewy and stretchy texture.
How long do these mochi keep?
It will keep for up to 3 days but is best served the same day.
How to store mochi?
To prevent mochi from drying too much, store them in an airtight container in the refrigerator.
Note: I am giving ingredient amounts in metrics for the filling as it can be hard to measure cacao butter.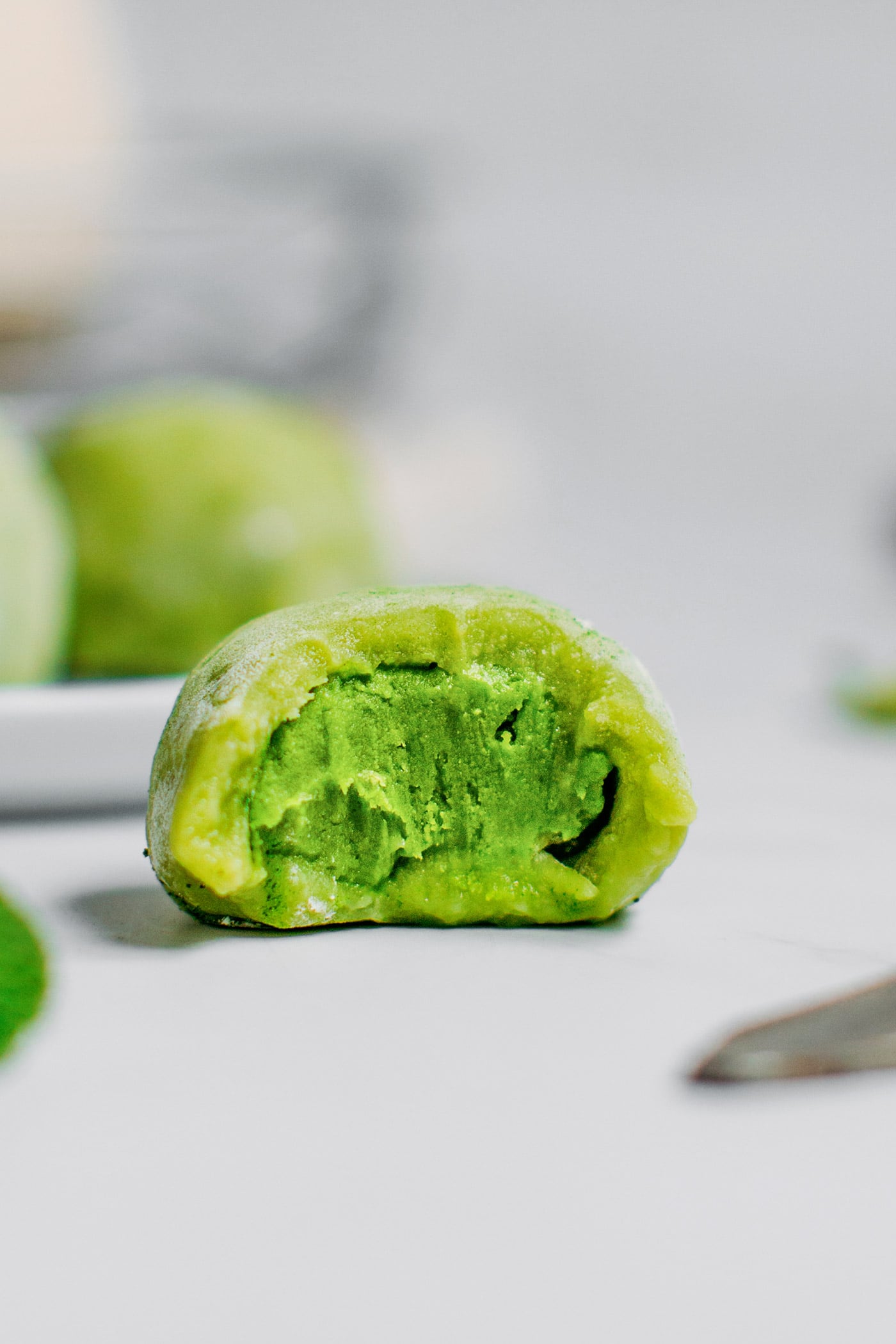 I have made this recipe multiple times, and everyone loved it! The matcha white chocolate filling slowly melts in your mouth, leaving a delicate green tea flavor! If you like matcha, you are going to LOVE this mochi recipe!
🍵 More Matcha Dessert Recipes
Let me know in the comments if you try this recipe!
Recipe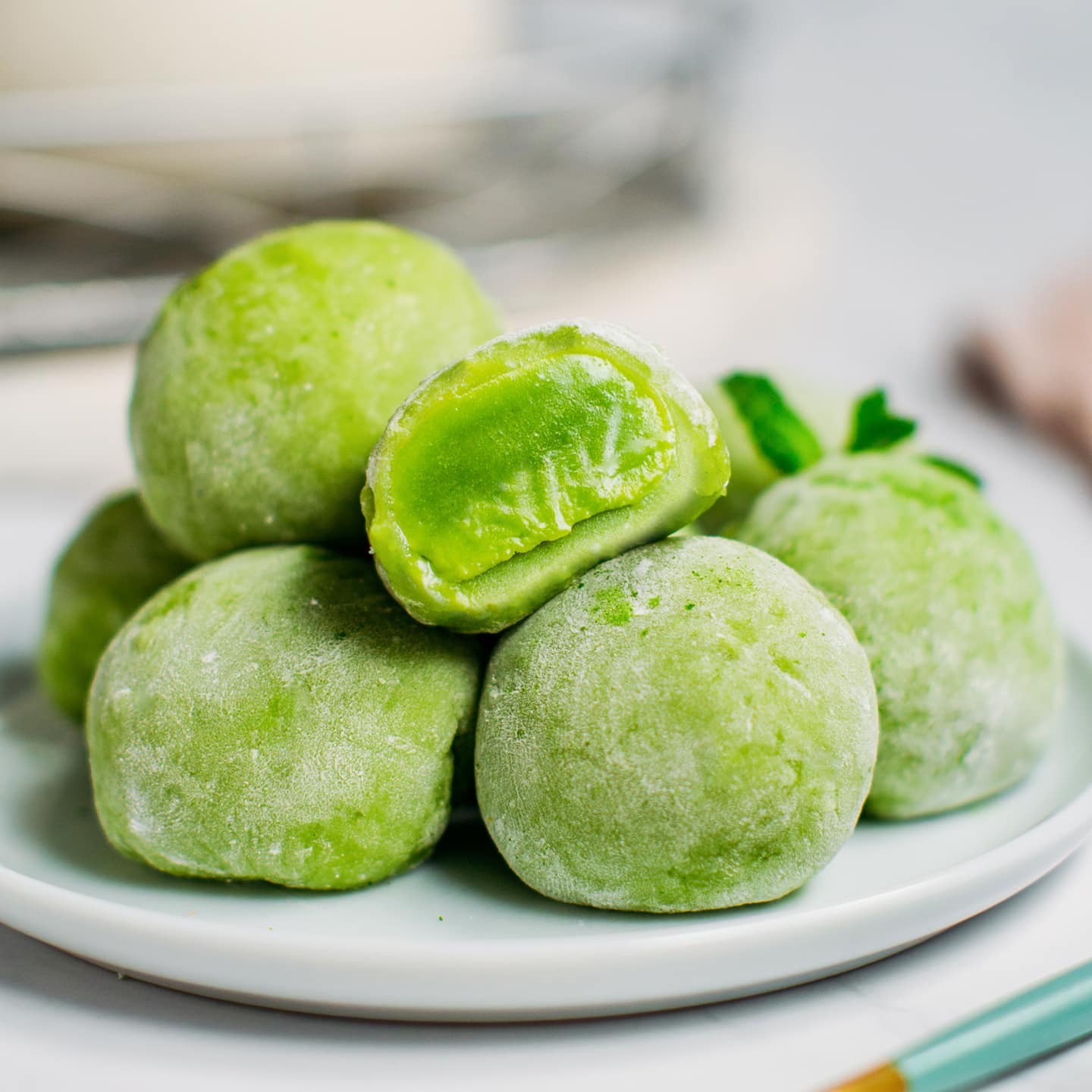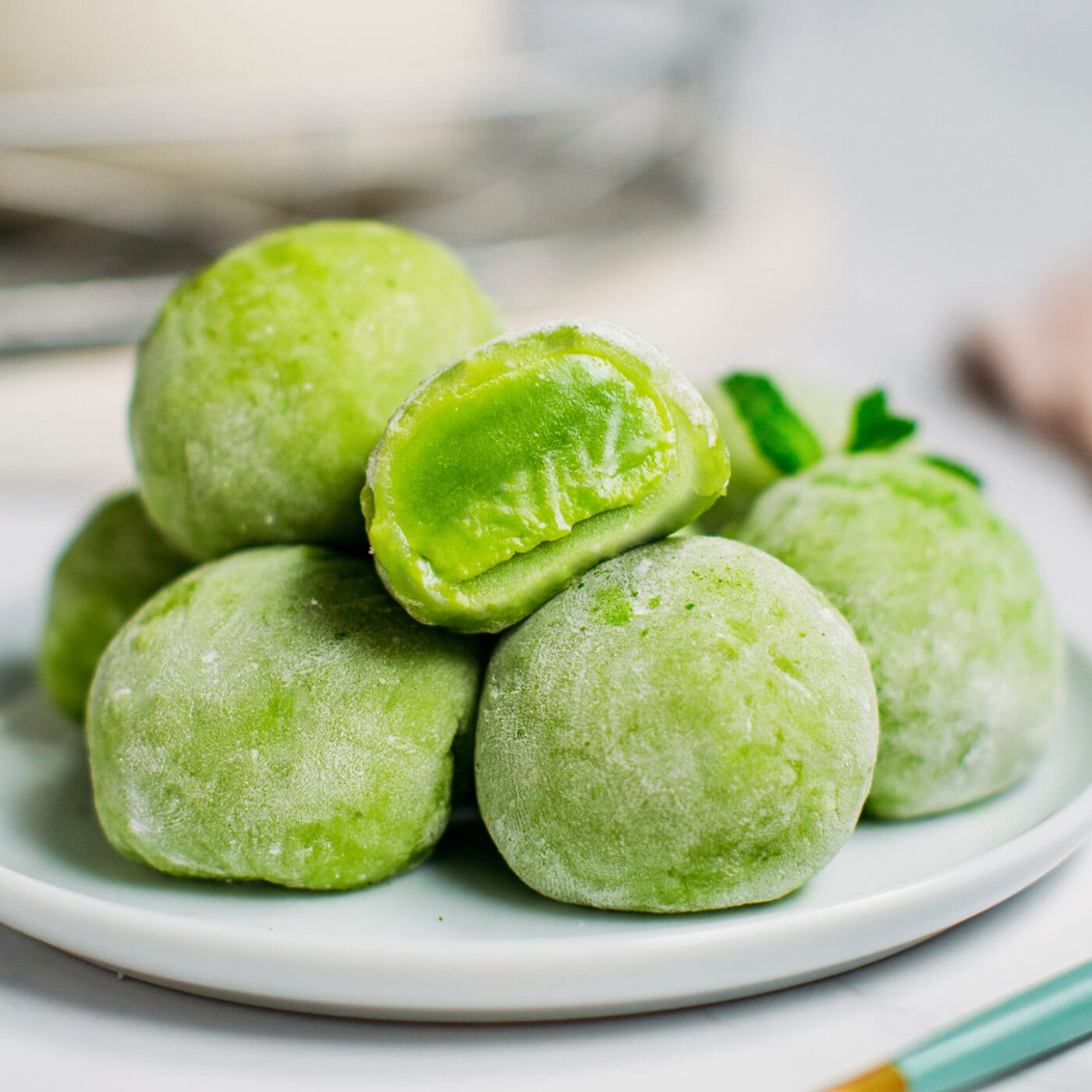 Vegan Matcha Mochi
These mochi are filled with the creamiest matcha white chocolate ganache! Chewy, packed with matcha flavor, and so addicting! Vegan + Gluten-free!
Ingredients
Mochi Dough
1/2

cup

sweet rice flour

2

tbsp

white sugar

6

tbsp

almond milk

or other plant-based milk

1 and 1/2

tsp

oil

1/4

tsp

matcha powder
Instructions
Cashew Cream
Drain the cashews and add them with the water to a high-speed blender. Blend on high for 30-50 seconds or until smooth. Transfer to a bowl and set aside (do not refrigerate it).
Matcha Filling
Melt the cacao butter in a small saucepan. Remove from heat as soon as it is melted. The cacao butter should not be hot. If it's too hot, let it cool for a few minutes or until room temperature.

Transfer the melted cacao butter to a small bowl. Add the powdered sugar, matcha, cashew cream, and vanilla. Whisk until fully combined, and keep whisking for 2-3 minutes or until it has slightly thickened (like a condensed milk consistency).

Transfer to the refrigerator and refrigerate for about 2 hours or until set.
Mochi Dough
In a small bowl, whisk together the sweet rice flour, white sugar, almond milk, oil, and matcha powder.

Bring a pot of water to a boil and place a bamboo steamer basket on top. Transfer the mixture to a container that will fit inside your bamboo steamer.

Close with the lid and steam for 20 minutes. Halfway through steaming, stir using a spoon (you will see some liquid and pieces of dough, that is normal, just give it a good stir).

After 20 minutes, let the dough cool for 15-20 minutes or until just warm. Transfer to a bowl and stir well using a wooden spoon until the dough is smooth.

Wrap the sticky dough in plastic wrap and refrigerate for about 45 minutes.

To shape: Scoop out 1.5 teaspoon balls of the matcha filling, and carefully roll them into balls, set aside. Dust a working surface with cornstarch. Take a small amount of mochi dough (about 2 tablespoons) and flatten it into a round on the dusted surface.

Place a ball of the filling on the center of the dough and wrap the dough around the filling. Pinch the edges to seal. Transfer to a plate with the sealed face facing down. Repeat with the remaining filling and dough.

Enjoy immediately, or refrigerate for a couple of hours. Mochi is best served the same day but will keep for up to 3 days in the refrigerator.
Notes
For the filling: if you have access to vegan white chocolate: Finely chop 100g of white chocolate and transfer to a heatproof bowl. Add 3 tbsp of cashew cream. Heat in a microwave, stirring every 30 seconds, until the chocolate is melted and smooth. Stir in the matcha powder and refrigerate for at least 2 hours or until firmer.
To make the dough in a microwave: Whisk together the sweet rice flour,

white sugar, almond milk, oil, and matcha powder in a microwave-safe bowl.

Cover the bowl with plastic wrap and place in the microwave for 1 minute on high heat. Stir the mixture using a rubber spatula and microwave again for 1 minute or until it forms a soft and sticky dough.
Did you make this recipe?
Tag @fullofplants on Instagram and hashtag it #fullofplants