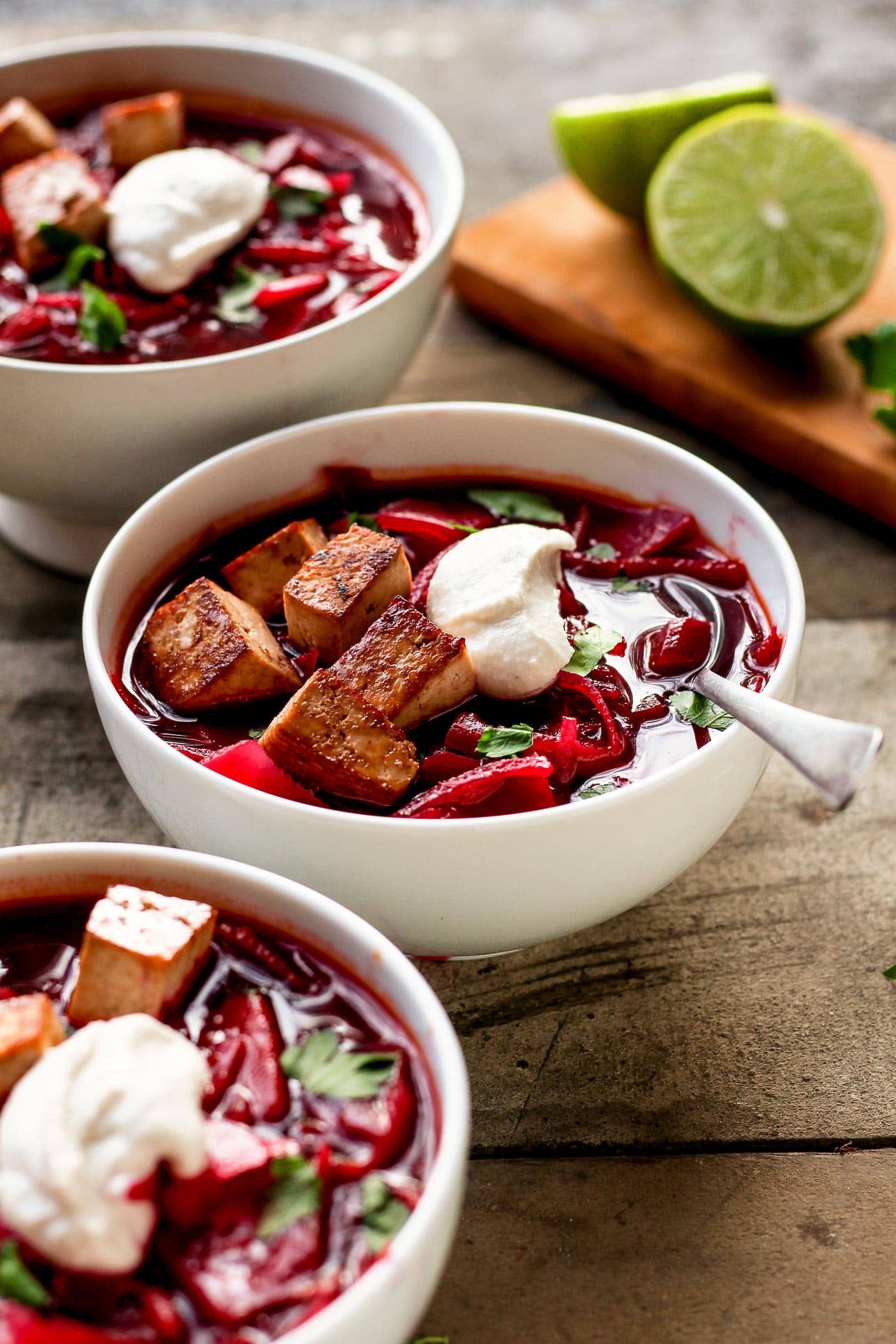 Have you ever heard of Borscht? If not, you are missing out on a delicious and comforting stew! This Ukrainian-inspired stew is naturally sweet, packed with shredded beets and cabbage, and super easy to prepare!
Do you know the best thing about this recipe? You don't even have to get your blender out!
Jump to: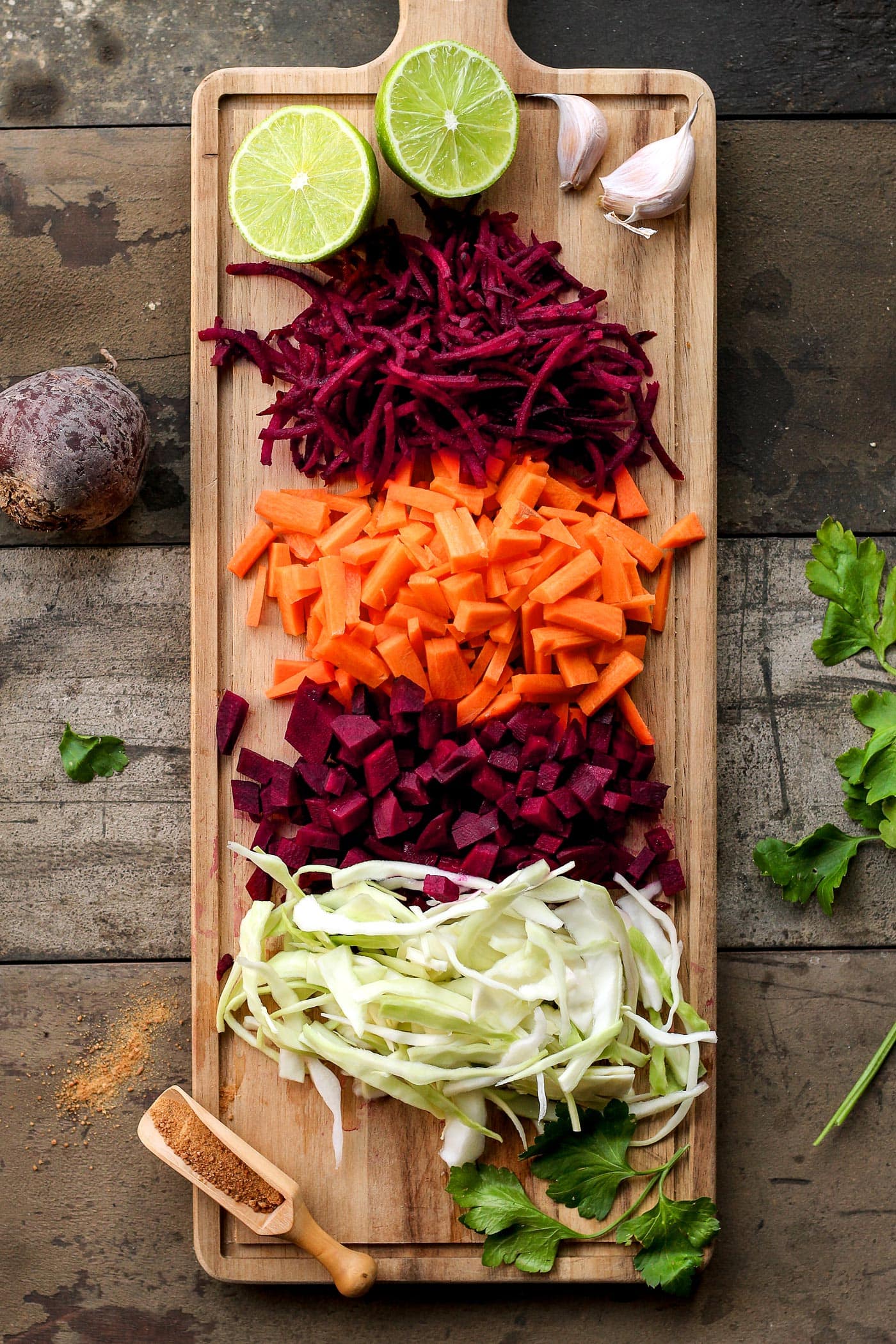 📔 What is Borscht?
Borsch or Borscht is a beet soup very popular in Ukraine and Russia. It is prepared with beets, cabbage, carrots, and other aromatics. It's incredibly comforting, healthy, and requires basic ingredients!
🥣 How to Make Vegan Borscht
There are hundreds of different borsch recipes, some include bell peppers, potatoes or even celery. Here, we will be using carrots, shredded cabbage, onions and obviously beets, that gives this stew its beautiful dark red color and a natural sweetness.
SOUP
First, we start by preparing the vegetables: cabbage and beets are shredded, onions minced, and carrots diced.
Note: I cut beetroots in two different shapes to create more texture: cubed and shredded. Feel free to only shred them if you prefer.
Next, fill a large pot with water, add the beets and carrots, tomato paste, coconut sugar, and salt. Let simmer for about one hour.
On the side, onions are caramelized in a skillet before being added to the broth. Caramelized onions add sweetness and a ton of flavor to this soup.
Regarding the garlic, it is only added at the end of cooking.
TOFU
While the traditional recipes call for beef, I decided to replace the protein with marinated tofu.
Tofu is marinated in a simple mix of soy sauce, oil and maple syrup before being shallow-fried in a skillet until golden brown and caramelized.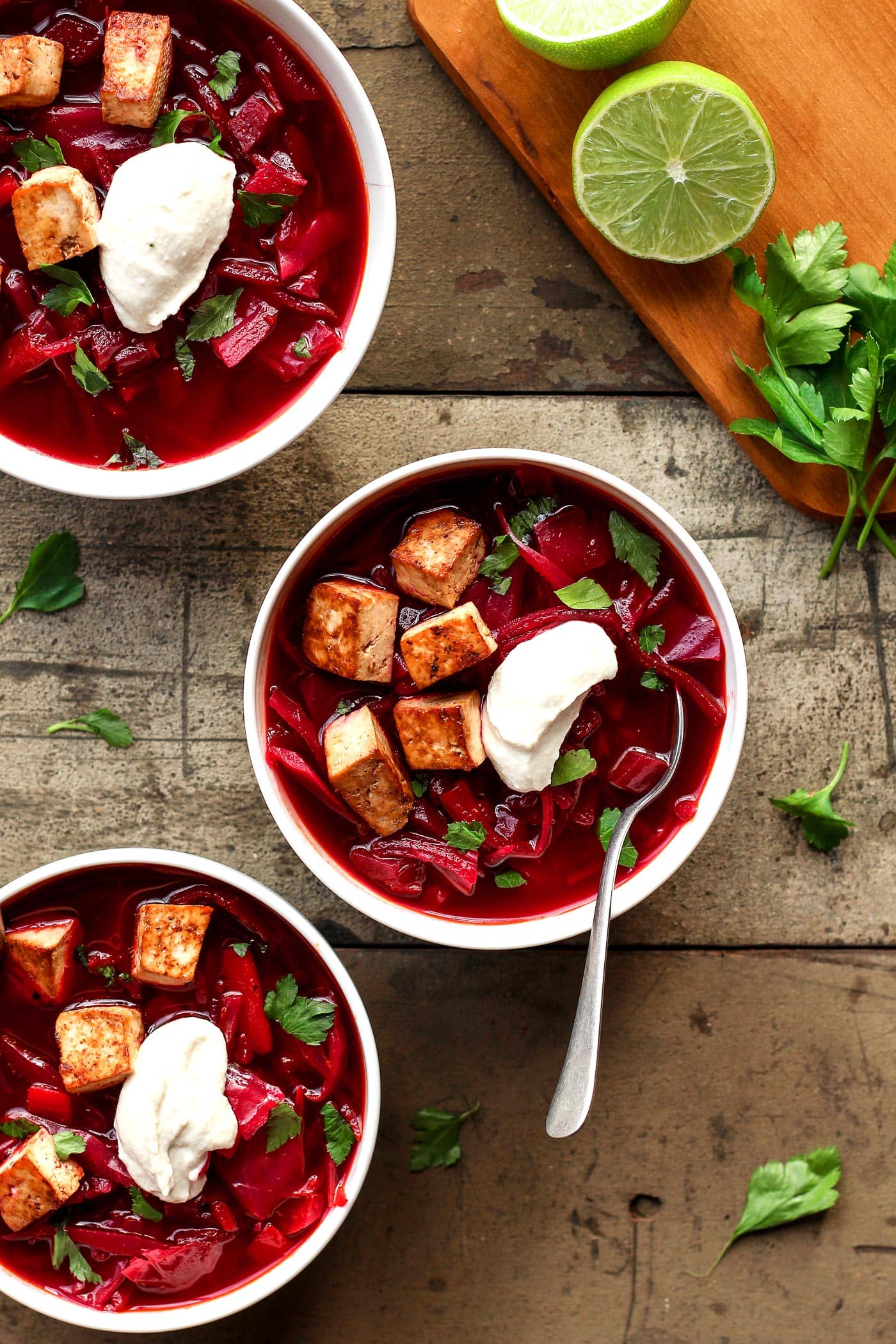 CASHEW SOUR CREAM
The cashew sour cream is totally optional but highly recommended, it makes this soup creamier and contrasts with the natural sweetness of the beets. If you are making the cashew cream, make sure to soak your cashews at least 4 hours before starting. Otherwise you can simply use store-bought vegan sour cream.
For the cream, blend soaked cashews with water, salt, and lemon juice until creamy. That's it!
To serve, pour the piping hot beetroot and cabbage soup into bowls, top with the sautéed tofu, add a dollop of cashew cream, and garnish with parsley!
💬 FAQ
Can I use canned or pre-cooked beets for this recipe? Fresh beets are mandatory for this recipe, canned beets will not yield the best flavor.
What kind of cabbage should I use? Most authentic recipes call for green cabbage, however if you only have red cabbage on hand, it will work as well.
How long can I keep this borscht? It will keep for up to 4 days in the refrigerator. Reheat gently over low-medium heat. Personally, I found it tastes even better the next day!
What can I substitute for tofu? Tofu is not essential to this recipe, but you could substitute the tofu for vegan chick'n or tempeh!
Is sour cream essential? Short answer is no, but it does take the soup to another level by adding creaminess and a subtle sourness. If you don't have time to make the cashew cream, feel free to use vegan yogurt.
I hope you will love this vegetarian borscht recipe! It's warming, low-calorie, and I can guarantee it will warm you up!
Looking for more beet recipes? Check out this Sheet-Pan Rosemary Roasted Vegetables or this Vegan Seitan Wellington!
If you try this recipe, let me know in the comments and tag @fullofplants on Instagram!
📖 Recipe
Vegan Tofu Borscht
A comforting beetroot soup with cabbage, marinated tofu and cashew sour cream to warm up a cold winter evening.
Ingredients
Borsch (Beet Soup)
11

cups

water

2

teaspoon

salt

1

tablespoon

coconut sugar

4

small beets

3

carrots

½

white cabbage

2

onions

finely sliced

2

tablespoon

tomato paste

2

cloves

of garlic

minced

1

tablespoon

lemon juice

fresh parsley
Cashew sour cream (optional)
1

cup

raw cashews

soaked overnight

½

cup

water

¼

teaspoon

salt

2

teaspoon

lemon juice

or more to taste, depending on how sour you like it
Instructions
Marinated tofu
Drain the tofu and wrap it in a paper towel. Place something heavy on top (a mason jar filled with water for example, or a heavy pan or skillet) and let the paper towel absorb the moisture for at least 15 minutes.

In the meantime, combine the soy sauce, oil and maple syrup in a bowl.

Unwrap the tofu, and cut it into small cubes, transfer it to the marinade bowl and toss to coat it with the marinade. Let it marinate while you prepare the soup.

About 5 minutes before the soup is ready, heat one tablespoon oil in a large iron skillet over medium heat. Add the tofu and sauté on each side for 3-4 minutes, or until slightly brown and crispy.
Borsch
Heat the water over medium heat in a large pan or stewpot. Add the salt and coconut sugar.

It's time to prepare the vegetables. For the beets: wash and peel them. Cut two of them into ½-inch cubes and roughly shred the other two. For the carrots: wash and peel them, and cut them into bite-size matchsticks. For the white cabbage: discard the core, slice the cabbage into ¾-inch thick slices.

Add the cubed beetroot and the carrots to the water and bring to a boil. Reduce heat, cover and let simmer for 30 minutes.

In the meantime, heat one tablespoon of oil in a large skillet and add the sliced onions. Cook for about 10 minutes until they start to brown and caramelize. Stir in the tomato paste and remove from heat. Transfer the caramelized onions and the tomato paste to the soup pot.

After 30 minutes, add the cabbage and shredded beetroot to the pot and let simmer covered for another 30 minutes. Remove from heat, and stir in the raw chopped garlic and lemon juice. Taste and adjust saltiness if needed.

Divide into serving bowls, top with the fried tofu, a dollop of cashew cream and fresh parley.

The soup will keep for up to 4 days in the refrigerator. It can also be served cold.
Cashew sour cream
Drain the soaked cashews and rince them under cold water.

Place them in a blender with the water and blend on high, scraping the sides from time to time until you get a smooth and creamy consistency. Stir in the salt and lemon juice and blend a few more seconds. Taste and adjust the salt or lemon juice if needed.

Transfer to a small bowl, cover and keep in the refrigerator for up to 3 days.
Nutrition
Serving:
1
serving (with cashew cream)
|
Calories:
273
kcal
|
Carbohydrates:
29.4
g
|
Protein:
10.5
g
|
Fat:
14.9
g
|
Fiber:
6.3
g
|
Sugar:
14.6
g
Did you make this recipe?
Tag @fullofplants on Instagram and hashtag it #fullofplants