As we are slowly approaching the Holiday season I'm starting to think about festive dishes to serve on the Christmas table.
This vegan Wellington will definitely be the centerpiece! It consists of a super tender and meaty seitan roast coated in a mushroom duxelles and wrapped in a flaky puff pastry. Ready?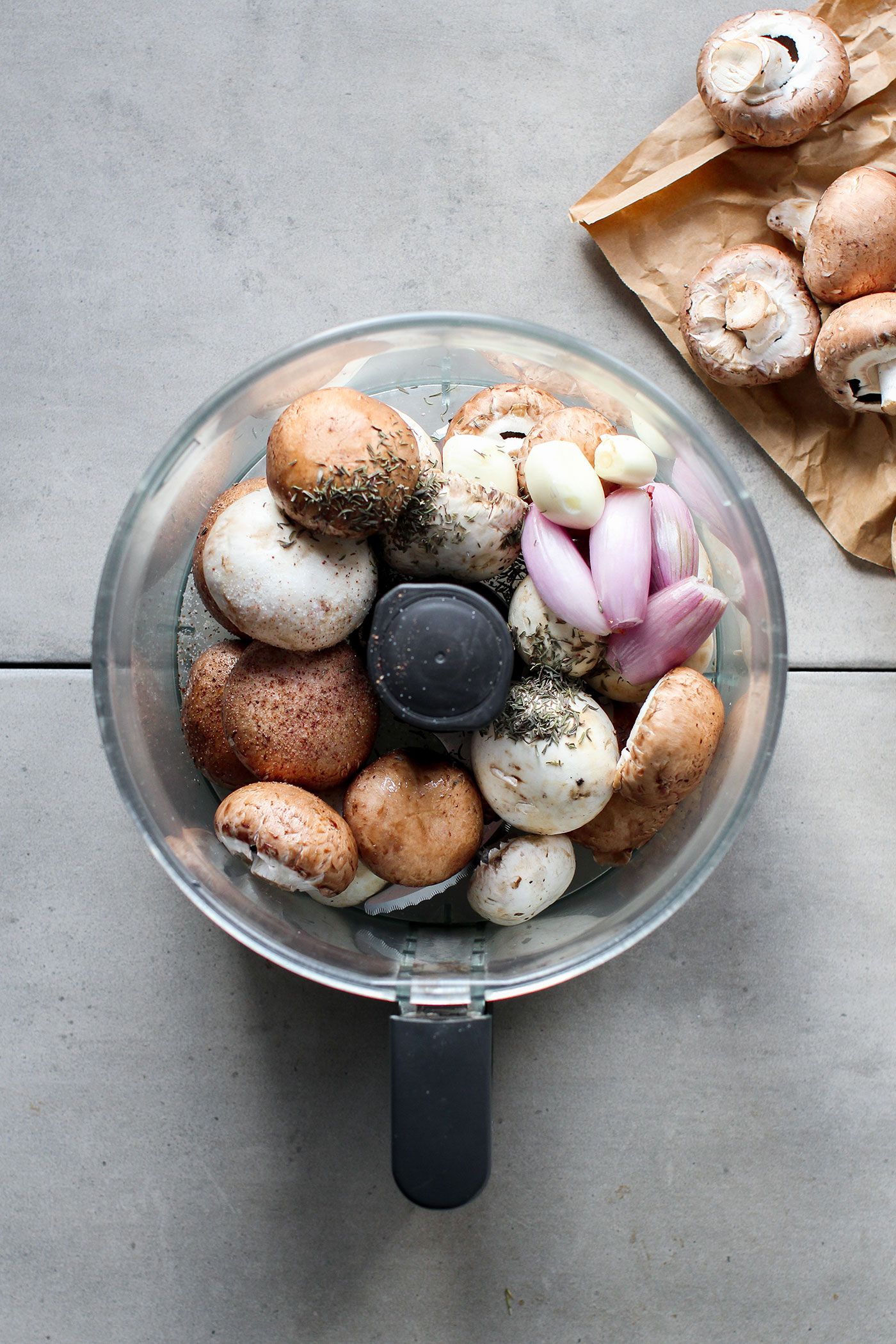 It starts with the duxelles, which is a mix of finely chopped mushrooms, shallots, garlic, and thyme. It is sautéed in a skillet until it forms a paste that will coat the roast.
The mushroom duxelles adds a ton of flavor and really is the key to a good Wellington. Once your duxelles is ready, set aside and prepare the roast.
You guys loved my Teriyaki meatballs for their soft and meaty texture so I slightly tweaked it to make it into a large roast.
The base remains the same, we use a mix of brown rice, red kidney beans, and mushrooms that bring moisture and umami. Then for flavor, we have sautéed onions, garlic, and spices. What I did differently here is that I added some cinnamon and nutmeg for a more Christmassy flavor and a whole cooked beet that gives the roast a distinct red color. The addition of a beet also adds a natural sweetness to the roast.
To make the roast, you combine all the ingredients in the bowl of a food processor and pulse until you get a paste. Don't process too long though, you want to keep some texture. Once this is done, transfer to a large mixing bowl. At this step, you can be creative and tweak the recipe a bit by adding a handful of raisins, cranberries, pecans, or walnuts for more flavor and some crunchiness.
Then for a meaty texture, I combined the mixture with vital wheat gluten. Unlike most seitan roasts, this one is moist and tender. Gone are the dry and too chewy roasts! If you are gluten-free, I guess you could substitute the gluten for gluten-free breadcrumbs. Be aware the texture won't be as meaty though.
The next step is shaping the Wellington. Start by spreading the mushroom duxelles in the center of a vegan puff pastry. Then place the seitan roast on it and generously brush it with mustard. Mustard adds another layer of flavor that goes very well with the mushrooms.
To shape it into a nice log, I recommend using plastic wrap. Use the plastic wrap to wrap the seitan roast in the puff pastry, then pinch the ends of the pastry to seal it.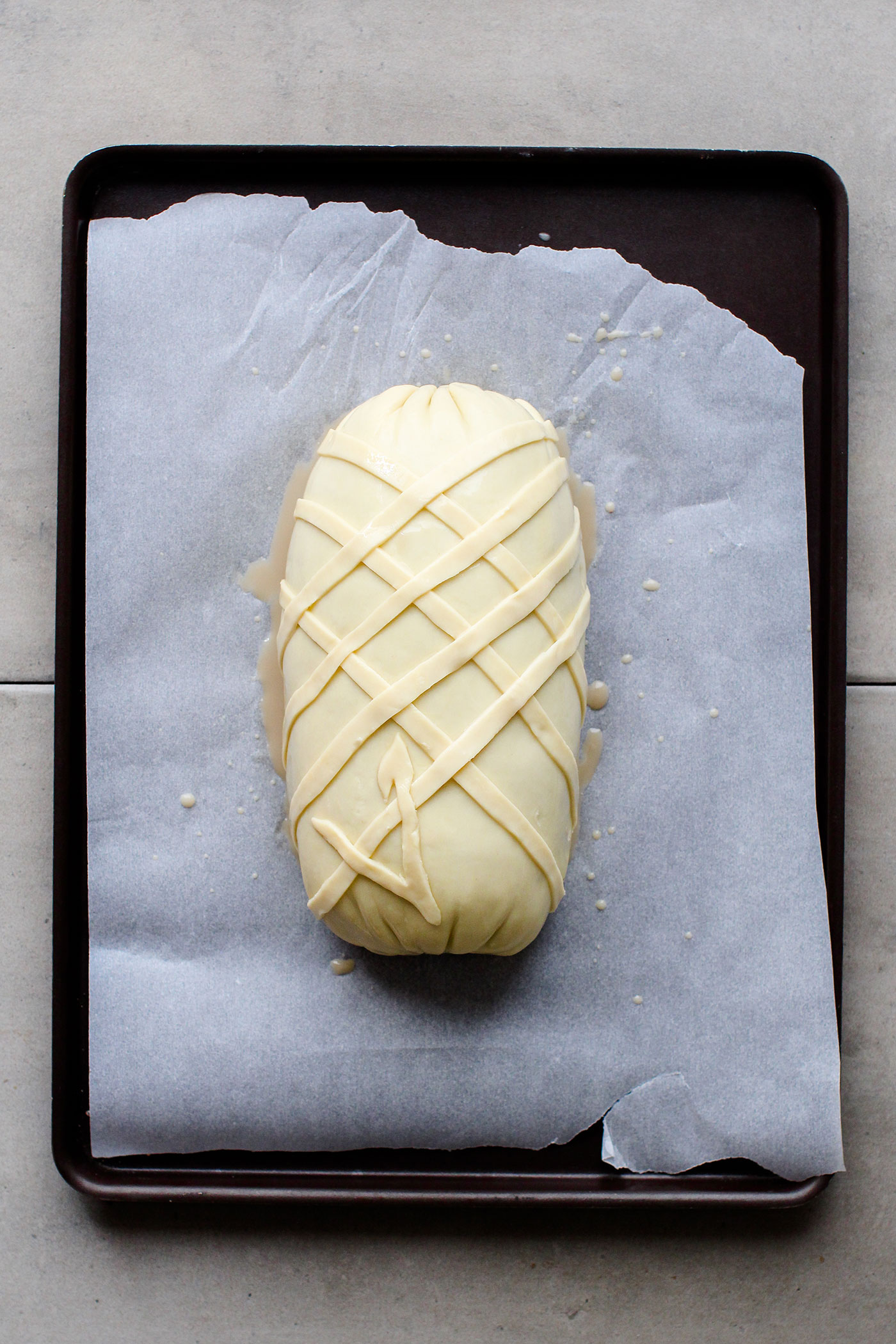 For the decoration, you can go with a classic lattice pattern or nothing at all. Personally, I added a vegan logo on the crust, at least I tried.
45 minutes in the oven and you end up with this beautiful golden brown Wellington!
This Wellington roast is perfect for the holidays, it's festive, flavorful and is even more delicious served with gravy, asparagus and mashed potatoes on the side. It's the ultimate holiday dish!
Let me know in the comments if you try this recipe!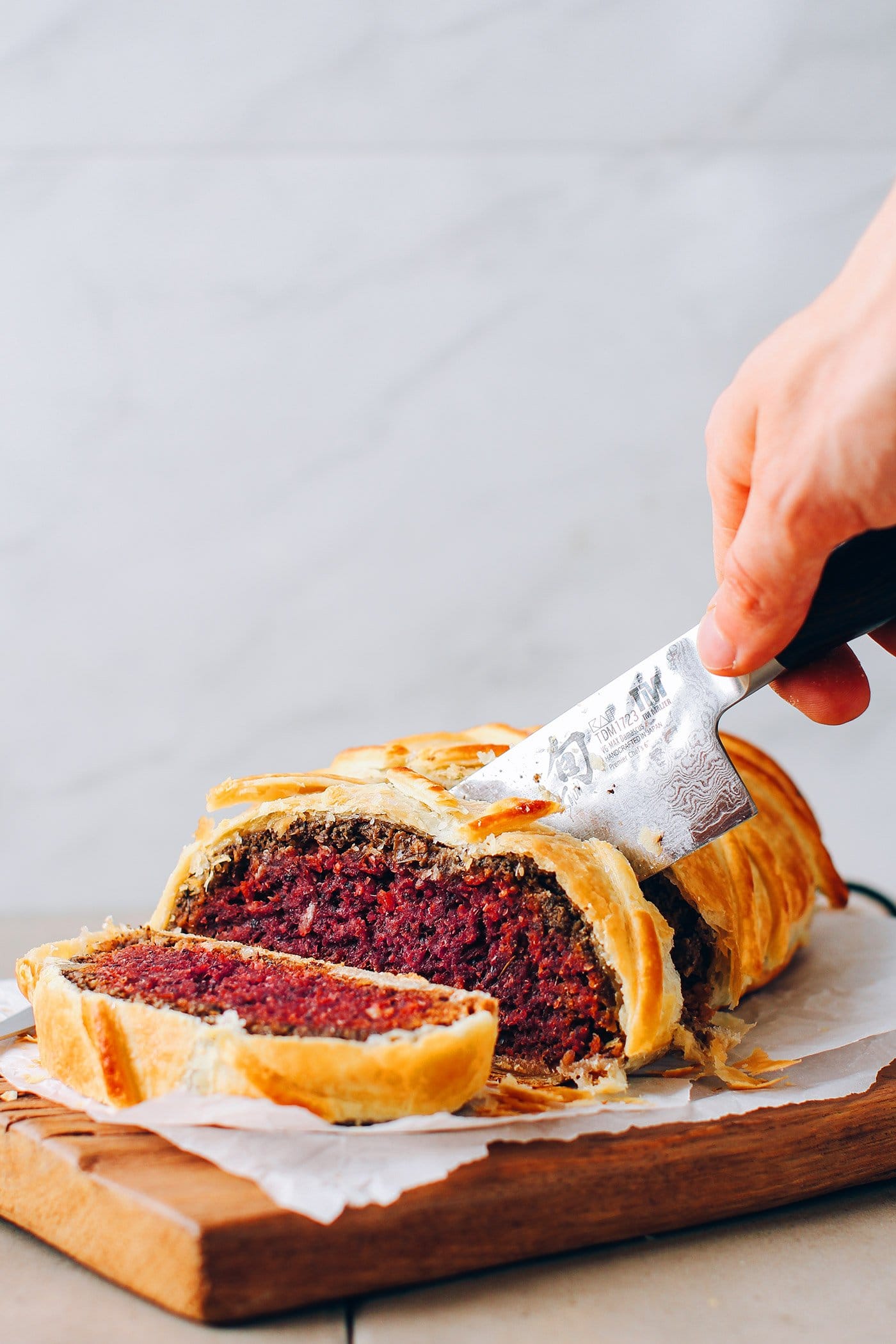 📖 Recipe
Vegan Wellington
Vegan Wellington with a meaty seitan filling, garlicky mushroom duxelles, and a flaky pastry crust! A delicious main for Christmas or Thanksgiving!
Ingredients
Mushroom Duxelles
6

cups

mushrooms

(white button or cremini)

2

shallots

3

cloves

of garlic

1

teaspoon

thyme

¼

teaspoon

salt

⅛

teaspoon

ground black pepper

1

tablespoon

oil
Seitan Roast
1

tablespoon

olive oil

1

medium onion

diced

2

cloves

of garlic

minced

1

teaspoon

freshly grated ginger

2

cups

sliced mushrooms

2

tablespoon

soy sauce

2

tablespoon

maple syrup

½

cup

cooked brown rice

1

cup

cooked red kidney beans

1

cooked medium beetroot

(see notes)

½

cup

almond flour

1

teaspoon

oregano

¼

teaspoon

each: smoked paprika, chili, cumin

⅛

teaspoon

each: cinnamon, nutmeg

1

cup

vital wheat gluten

3

tablespoon

yellow mustard

1

vegan puff pastry roll
Instructions
Start by preparing the mushroom paste (also called duxelles). Place the mushrooms, shallots, garlic, thyme, salt and pepper in the bowl of a food processor. Process until the mushrooms are very finely chopped.

Heat the tablespoon of oil in a large skillet over medium heat. Once hot, add the mushroom mixture and cook for 10-15 minutes, or until mushrooms have released their moisture and there is no liquid left. Stir regularly to prevent burning. Once the mixture appears almost dry, remove from heat, transfer to a bowl or plate and set aside. Don't wash the skillet now as we will use it to sautée the onion and garlic for the roast.

Preheat oven to 375°F (190°C).

To prepare the seitan roast: heat the olive oil in a large skillet over medium heat. Once hot, add the diced onion, garlic, and grated ginger. Cook for about 3 minutes or until onions become translucent.

Next, add the sliced mushrooms and cook for another 5-7 minutes. Once the mushrooms are cooked, deglaze the pan with the soy sauce and maple syrup. Cook for 1 minute and then transfer to a food processor.

To the food processor, add the cooked brown rice, red kidney beans, beet, almond flour, oregano, and spices. Process for 7-10 seconds, or until the mixture forms a slightly chunky paste.

Transfer the paste to a large mixing bowl. Add the vital wheat gluten and mix until fully incorporated. Don't overmix as it would make the roast too chewy. Shape it into a large log.

To assemble the vegan Wellington: lay out the sheet of puff pastry on a layer of plastic wrap (this will be helpful to roll it). Spread the mushroom mixture in the center of the puff pastry, leaving about 2 inches on each side. Place the seitan log on top of the mushroom paste. Brush the log with a generous amount of yellow mustard. Using the plastic wrap, carefully roll the puff pastry tightly around the seitan roast. Seal both ends by pinching the puff pastry. Make sure everything is tight. Place the Wellington on a baking sheet lined with parchment paper and remove the plastic wrap.

At this step you can decorate it with more puff pastry, this is optional. You can also use a knife to draw shapes or lines on top.

In a small bowl, combine the almond milk and maple syrup to make a vegan "egg" wash. Brush the top and sides of the Wellington with the egg wash and sprinkle with coarse sea salt.

Bake for 45-50 minutes, or until the pastry is golden brown. Remove from the oven and let it cool 5-10 minutes before cutting into thick slices.

Serve with your favorite gravy or peppercorn sauce and roasted potatoes and/or greens on the side!
Notes
* You can use store-bought cooked beets or roast a beet yourself. To do it, wash the beet and wrap it in aluminum foil. Bake in a 400°F preheated oven for 1 to 1,5 hour, or until the beet is soft.
Did you make this recipe?
Tag @fullofplants on Instagram and hashtag it #fullofplants