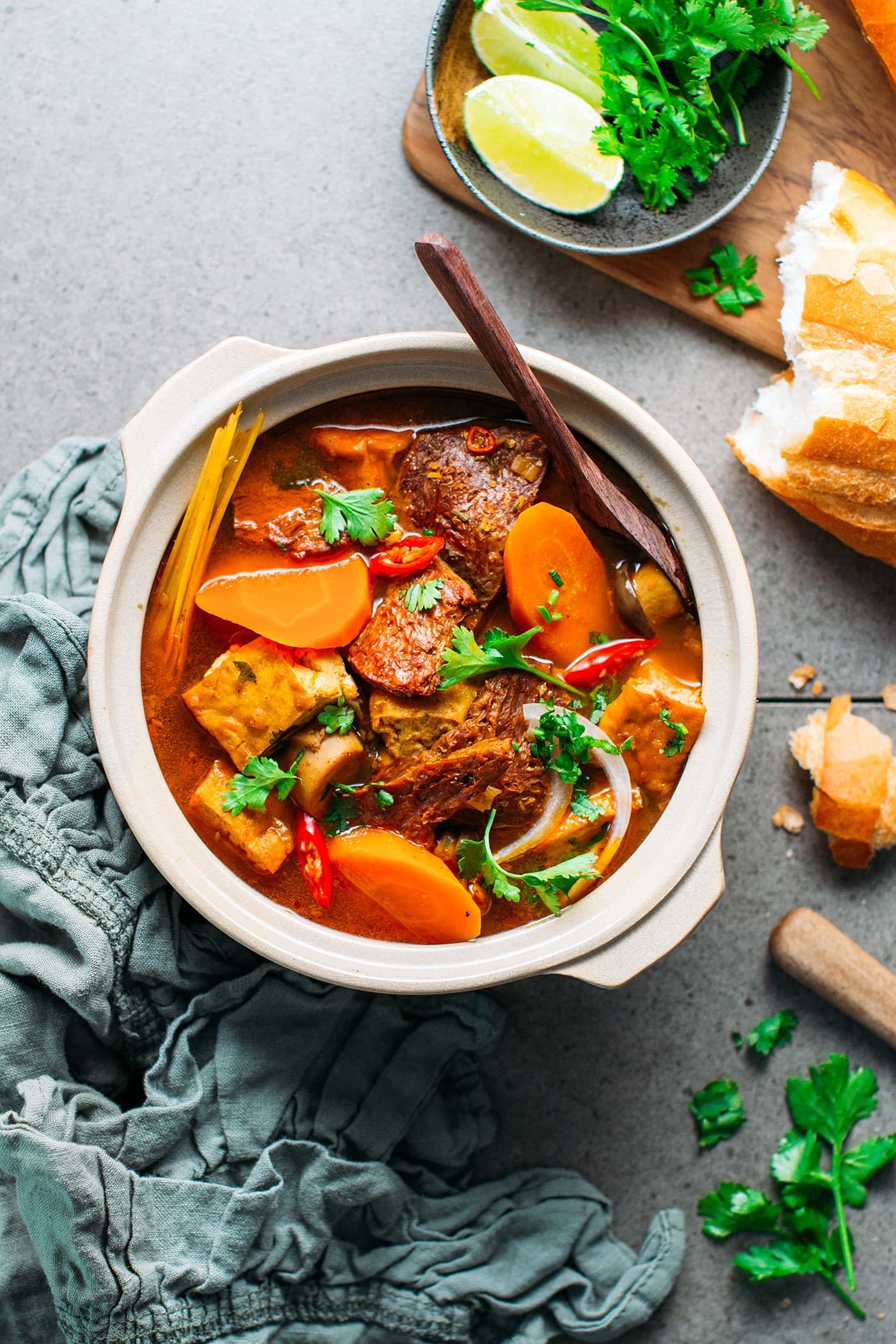 There is nothing cozier than a spicy stew served piping hot on a cold winter day.
This "beef" stew comes with a flavorful broth infused with lemongrass, garlic, and chili. It is easy, warming, hearty, and so delicious! Let's cook!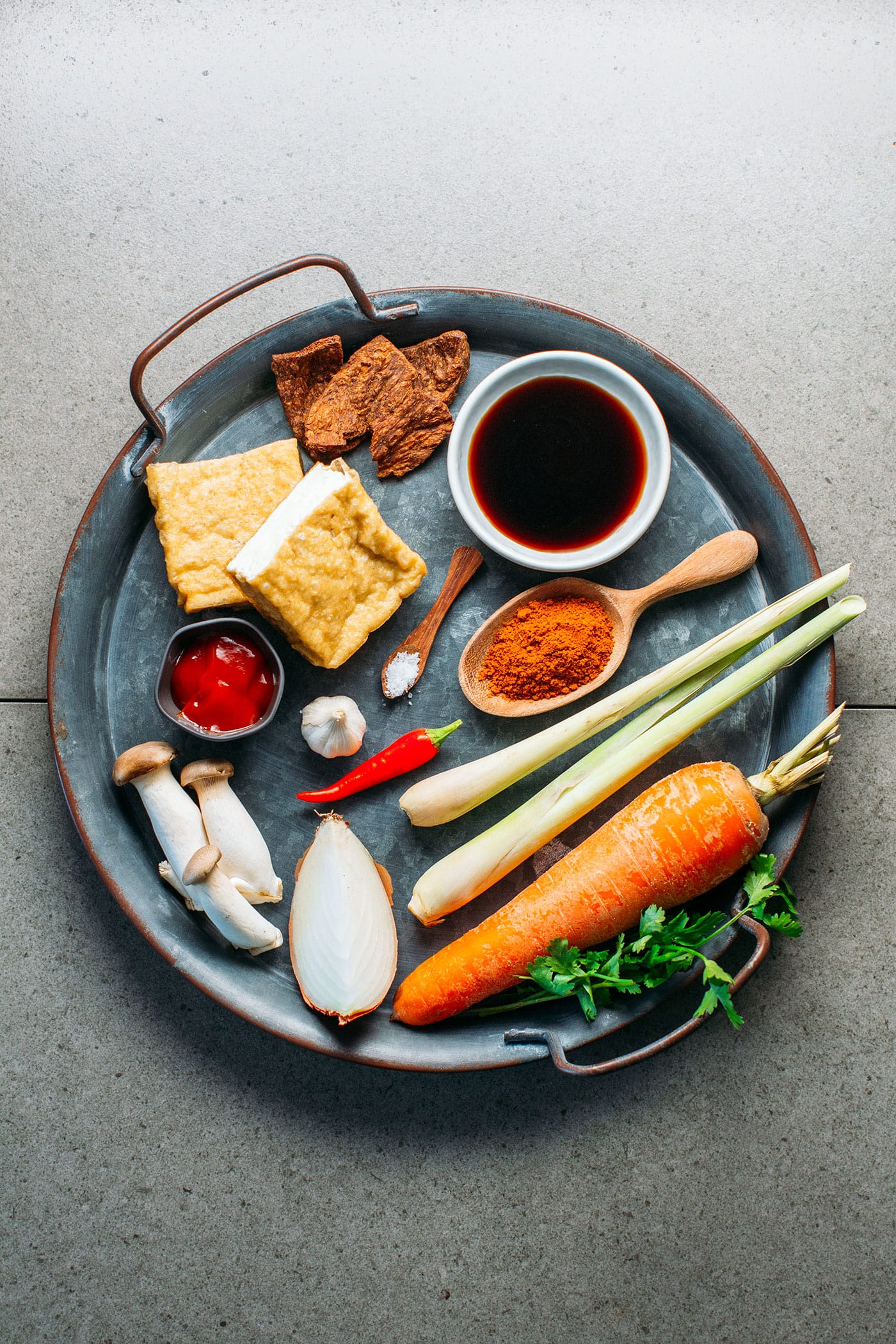 This stew comes together very quickly. You start by soaking the textured vegetable protein (TVP) in water to rehydrate it. I used "beef" imitation slices, it has a very meaty and fibrous texture that is perfect for this stew. It soaks up the flavor of the broth, resulting in juicy "beef" slices.
Then we have carrots, mushrooms, and tofu. You mix everything together with a marinade that consists of soy sauce, ketchup, coconut sugar, Vietnamese beef seasoning, and ground black pepper.
Vietnamese beef seasoning is very different from normal seasoning as it consists mostly of anise powder, annatto (that gives the broth an orange color), cinnamon, black cardamom, cloves, and chili. It's widely available in Asian stores, or online, however, if you can't find it I'm giving a variant in the recipe notes.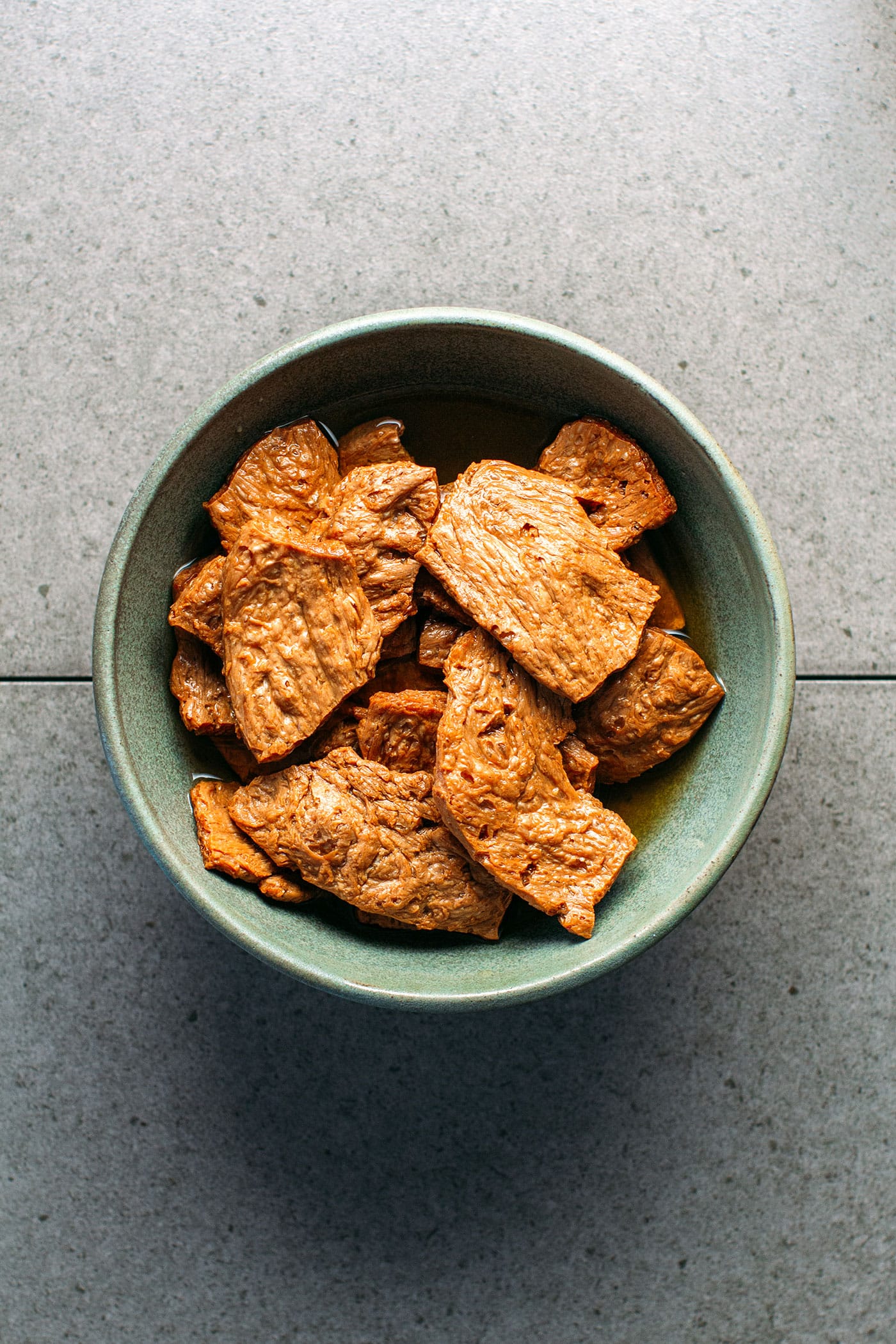 While the "beef" and the other ingredients are marinading, we prepare the broth.
Sautée aromatics like minced lemongrass, garlic, chili, and green onions until fragrant. Next, add the "beef", carrots, mushrooms, and tofu, and sauté for a few minutes. Just enough so the tofu and carrots caramelize a little bit.
Finally, it's time to pour in the water and let simmer for about 20 minutes. Stir in some chopped cilantro for extra flavor, onion slices for some crunch and it's ready to serve!
This stew is even better served with bread on the side: dip a piece of bread and let it soak up the flavors of the broth! You can also serve this stew with rice, or with noodles as a noodle soup. This "beef" stew is flavorful, spicy, and makes a hearty and warming dinner!
Let me know in the comments if you try this recipe!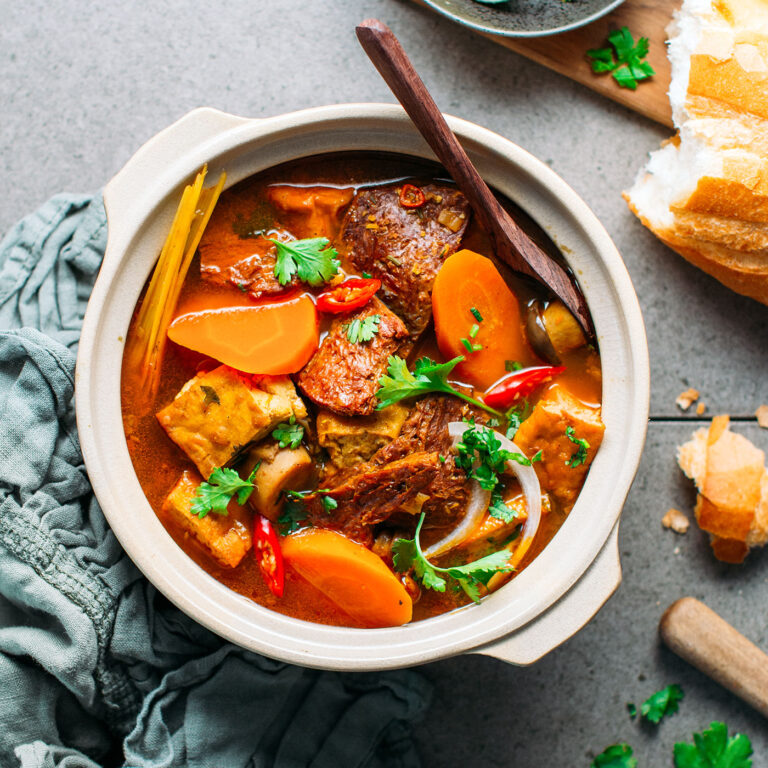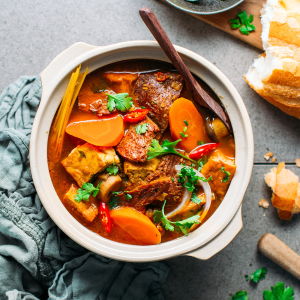 Vegan Lemongrass "Beef" Stew
Warming "beef" stew with mushrooms, tofu, and carrots, infused with lemongrass, chili, garlic, and cilantro. An easy, delicious, and hearty meal perfect for those cold winter evenings!
Ingredients
2

carrots

cut into ½-inch thick slices

2

blocks

of fried tofu (about 200g)

cut into cubes

2

cups

sliced mushrooms

2

tablespoon

ketchup

1

tablespoon

soy sauce

3

tablespoon

coconut sugar

2

tablespoon

Vietnamese Beef Seasoning

see notes

1

and ½ teaspoon salt

½

teaspoon

ground black pepper

2

tablespoon

oil

2

tablespoon

thinly sliced lemongrass

1

green onion

thinly sliced

2

cloves

of garlic

minced

1

small chili

sliced

4

cups

of water

½

onion

sliced

2

tablespoon

chopped cilantro
Instructions
Start by soaking the textured vegetable protein in water for about 30 minutes, or until soft. Drain and squeeze the imitation beef to drain excess water.

Transfer to a large mixing bowl. Add the sliced carrots, tofu, and mushrooms. Next, add the ketchup, soy sauce, coconut sugar, beef seasoning, salt, and black pepper. Stir well to coat and let it marinate for at least 10 minutes.

In the meantime, heat the oil in a large saucepan over medium heat. Once hot, add the sliced lemongrass, green onion, garlic, and chili, and cook for about 3 minutes, or until fragrant.

Add the beef/tofu/carrots to the saucepan and cook for about 5 minutes, stirring regularly to prevent sticking. Pour in the water and bring to a boil. Let simmer and cook uncovered for about 20 minutes, or until carrots are cooked and tender. Add the sliced onion and chopped cilantro and cook for one more minute.

Serve hot with bread on the side to dip into the broth, or with noodles as a noodle soup!

This stew will keep for up to 3 days in the refrigerator. I found it tastes even better the next day!
Notes
* Vietnamese beef seasoning can be found in most Asian stores. If you can't find it, replace it with 1 teaspoon five-spice and 2 teaspoon chili powder. Optionally, add 1 teaspoon ground annatto for color.
DID YOU MAKE THIS RECIPE?
Tag @fullofplants on Instagram and hashtag it #fullofplants