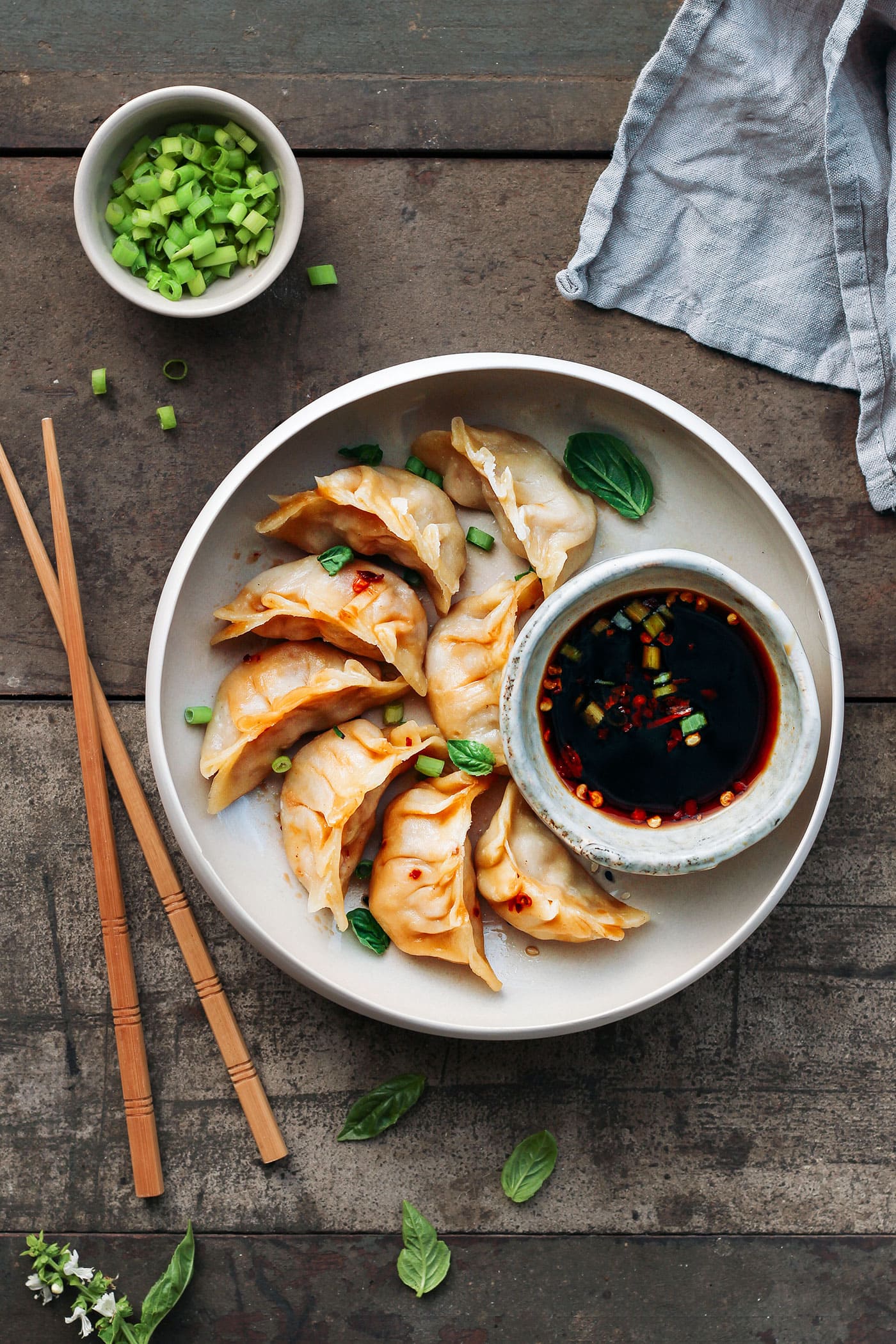 These potstickers are the bomb. That's all I can say.
It's savory, tender, smoky, and a bit spicy. To sum it up, it's delicious. These potstickers are filled with pulled jackfruit, and served with a spicy sesame dipping sauce. You are going to love these!
The super tender filling consists of jackfruit, onions, garlic, and ginger, flavored with a savory almond butter sauce. It's inspired by my Jackfruit "Chicken" Quinoa Bowls and comes together in just 10 minutes!
Once your jackfruit is cooked, the almond butter sauce comes coat everything and give a ton of flavor. The filling is so good you might have to prevent yourself from eating it alone.
One thing to know though, shaping the potstickers is the most time-consuming part of the recipe. Like 1 minute to make one, 10 seconds to eat it. It's a bit depressing, but worth it!
You potstickers folding experts out there might say mine are not perfectly shaped. I know, but I'm working on it! As they say, practice makes perfect. But at least they taste great!
To cook the potstickers, you start by frying them in a pan until the bottoms become crispy and golden brown. Then pour some water, cover with the lid and let steam until the wrappers are cooked.
The wrappers will be soft with a crispy, almost caramelized bottom.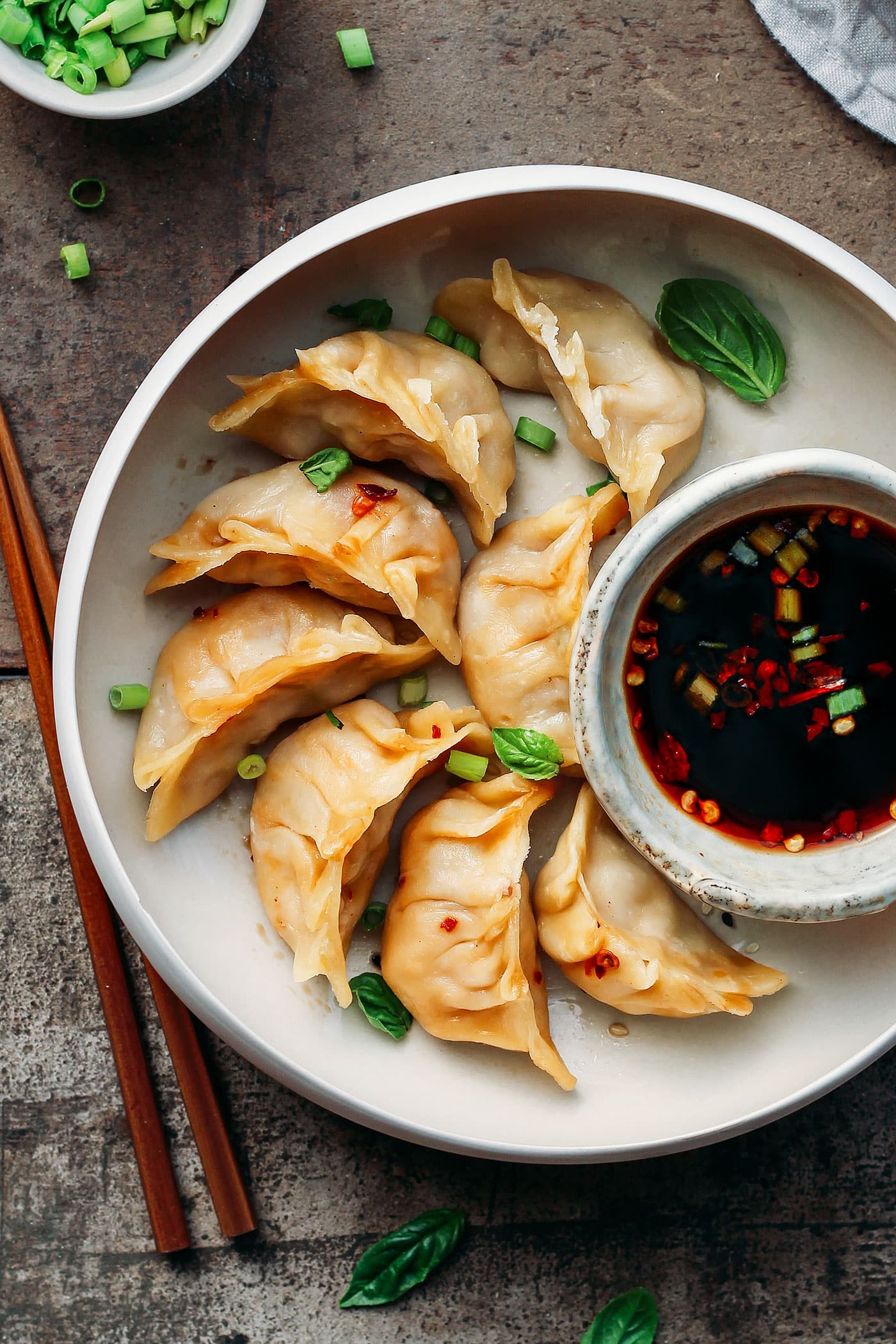 I served these with a spicy/sour/sweet soy dipping sauce. It's a mix of soy sauce, sesame oil for a nutty flavor, red pepper flakes to make it spicy, maple syrup to balance with the rice vinegar, and finally some chopped chives to freshen up everything.
If you like Asian food, you will absolutely love these dumplings! Making the filling is super easy, and if you can get your hands on packaged potsticker wrappers, you will save a lot of time (and effort!).
Let me know in the comments if you try this recipe and tag #fullofplants on Instagram!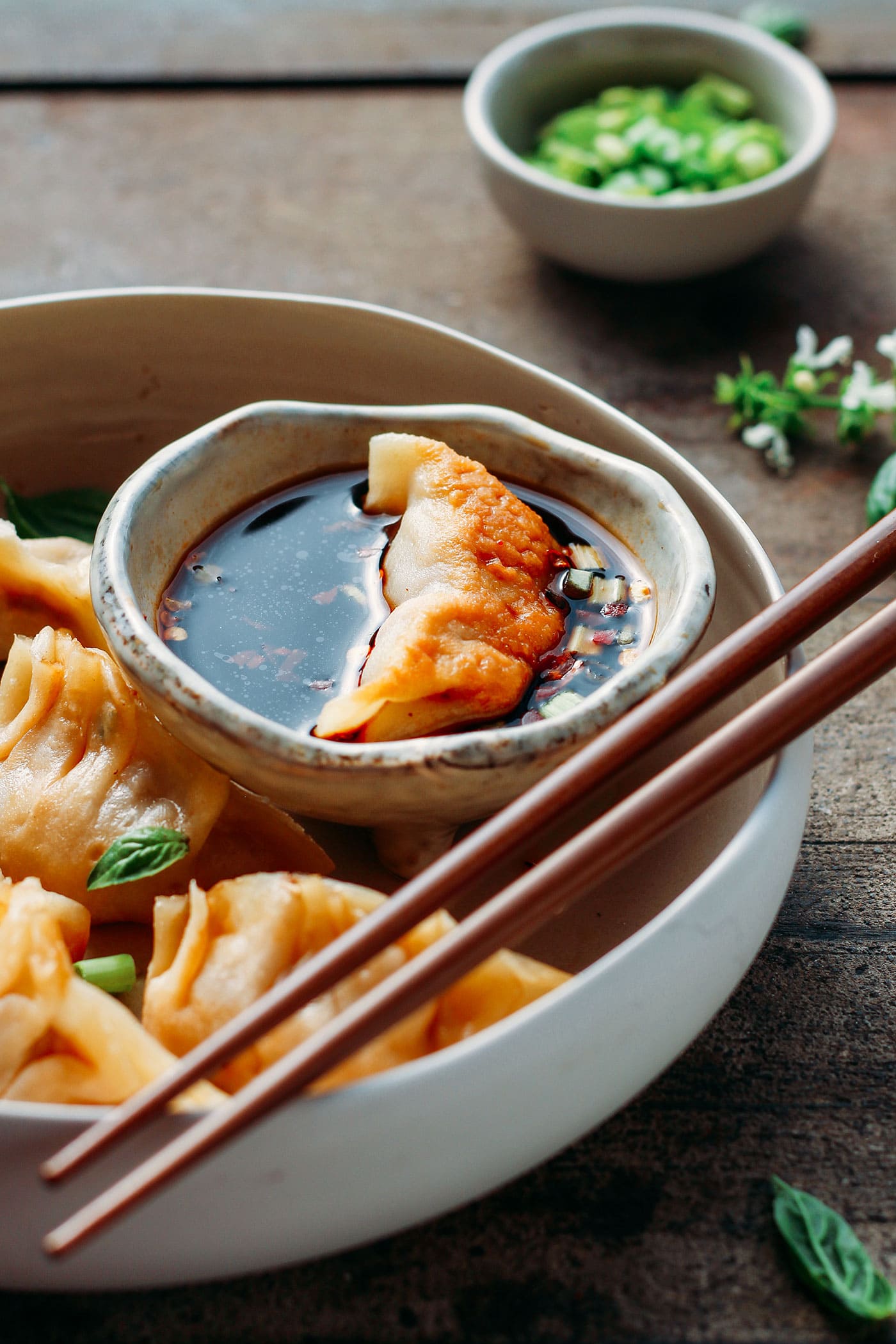 Vegan Jackfruit Potstickers
Delicious potstickers filled with a tender jackfruit filling. Soft, crispy on the bottom, and served with a spicy soy dipping sauce!
Ingredients
Jackfruit Potstickers
1

tablespoon

oil

1

small red onion

diced

1

tablespoon

ginger

freshly grated

2

cloves

garlic

minced

1

15-ounces can

young green jackfruit

3

tablespoon

almond butter

1 and ½

tablespoon

soy sauce

¼

teaspoon

cumin

¼

teaspoon

smoked paprika

1

teaspoon

maple syrup

1

teaspoon

sesame oil

1

tablespoon

water

16

potstickers wrappers

2

tablespoon

oil

for frying

⅓

cup

water
Instructions
Jackfruit Potstickers
Heat the oil in a large skillet over medium heat. Once hot, add onion, ginger, and garlic. Cook for 3-5 minutes, or until onions are golden brown. Stir from time to time to make sure ginger doesn't burn.

In the meantime, drain and rinse the jackfruit. Transfer to a plate or cutting board and roughly mash it with a fork until you get a texture similar to pulled pork. Add to the skillet and cook for another 5 minutes, stirring regularly to make sure it doesn't stick to the bottom.

In a small bowl, combine the almond butter, soy sauce, cumin, paprika, maple syrup, sesame oil, and water. Mix with a spoon until smooth. Add the sauce to the skillet and mix to coat the jackfruit. Cook for another minute and remove from heat.

To assemble: Place about ¾-1 tablespoon of jackfruit filling in the center of a wrapper. Using your finger, lightly rub the edges of the wrapper with water. Fold the wrapper over the filling to form a half-moon shape. Pinch the edges to seal. Be careful not to leave any air pockets inside. Repeat with the remaining wrappers.

Heat two tablespoons of oil in a large skillet over medium-high heat. (I used sesame oil for more flavor.) Once hot, lay the potstickers in a single layer, they should not touch each other. Fry for about 2 minutes, or until the bottoms are golden brown.

Pour ⅓ cup water into the skillet and immediately cover with the lid. Turn the heat down to medium and allow to cook for 6-7 minutes. Remove the lid and cook uncovered until most water has evaporated.

Serve immediately with the dipping sauce.
Dipping Sauce
Combine all the ingredients in a small bowl. Taste and adjust seasonings, adding more water if it's too salty for you.
Notes
If you can't find vegan potsticker wrappers, you can make your own by following this recipe from Just One Cookbook.
To fold the wrappers, check out this video.
Potstickers can be frozen for up to 2 months. Freeze them uncooked, no need to thaw before cooking, just add them to the skillet and proceed as recipe directs. You might have to cook them for an additional 3-4 minutes.
Nutrition
Serving:
1
Potsticker
Calories:
55
kcal
Carbohydrates:
6
g
Protein:
1.4
g
Fat:
2.9
g
Fiber:
1.4
g
Sugar:
0.7
g
DID YOU MAKE THIS RECIPE?
Tag @fullofplants on Instagram and hashtag it #fullofplants