Okonomiyaki is a Japanese savory pancake that is loaded with shredded cabbage and green onions, glazed with a sweet tomato sauce, and finally drizzled with mayonnaise. Here, we are making a vegan version that is incredibly flavorful, hearty, and easy to prepare!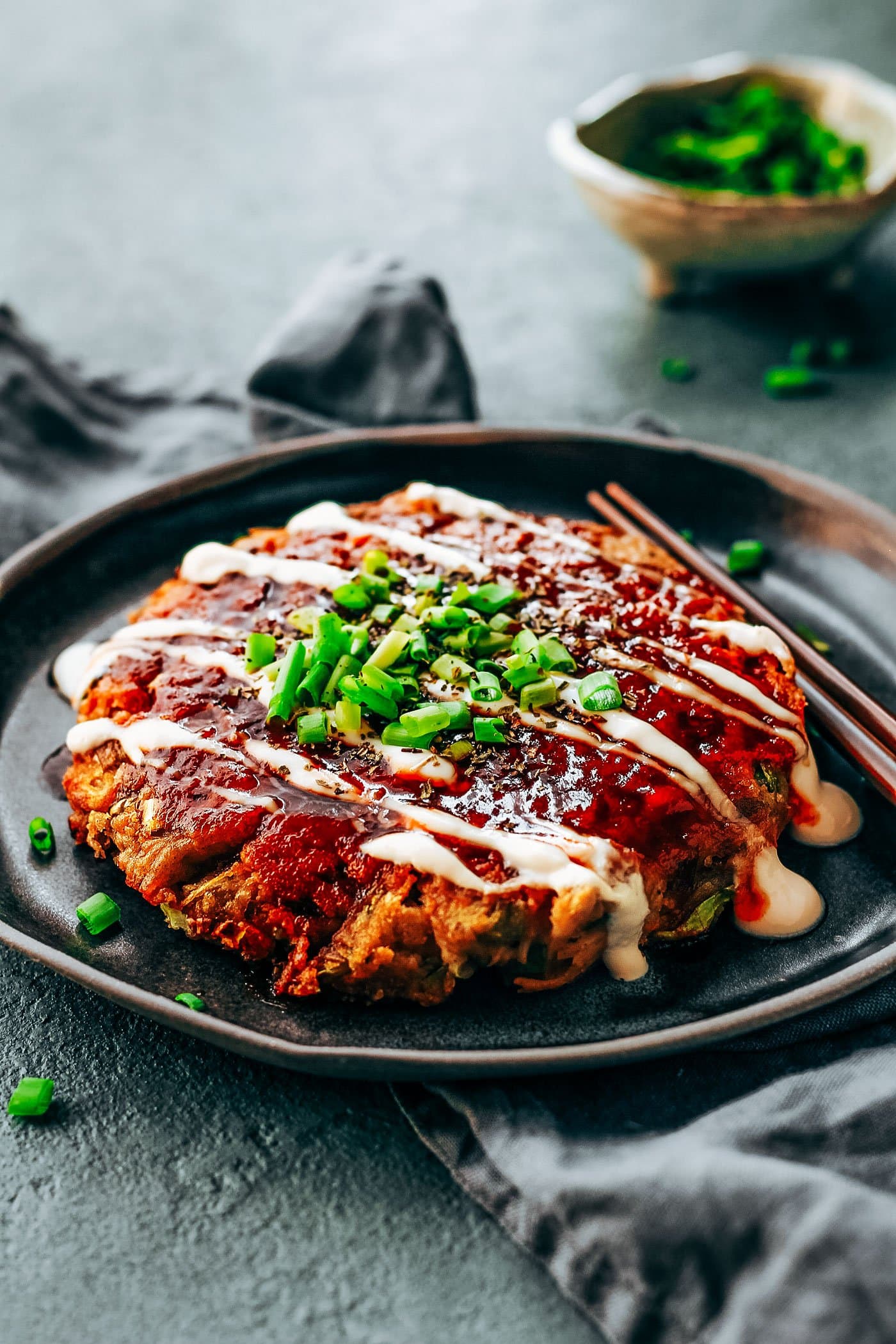 I'm super excited to share this recipe with you, friends! This recipe is a personal favorite!
📘 What is Okonomiyaki
Okonomiyaki is a very popular Japanese dish. It is basically a savory pancake drizzled with a sweet and salty sauce, mayonnaise, and topped with green onions.
There are two kinds of okonomiyaki: the one created in Osaka and the one from Hiroshima. In the former, all the ingredients are mixed together and then pan-fried in a pancake shape.
The Hiroshima style is cooked in different layers and contains noodles, omelets, and usually bacon. It requires more ingredients and a bit more technique. You can find our recipe for Vegan Hiroshima-Style Okonomiyaki here.
Traditionally, okonomiyaki is made with all-purpose flour, dashi, and grated mountain yam, also called Nagaimo. This kind of yam has a very slimy, almost gelatinous texture and helps bind everything together. Plus, it gives the okonomiyaki a fluffier texture. Unfortunately, it's a bit hard to find, especially if you want the right kind, so I made a few substitutions. I don't claim this is an authentic Japanese recipe because it's not! But to make it healthier and vegan, some changes were needed.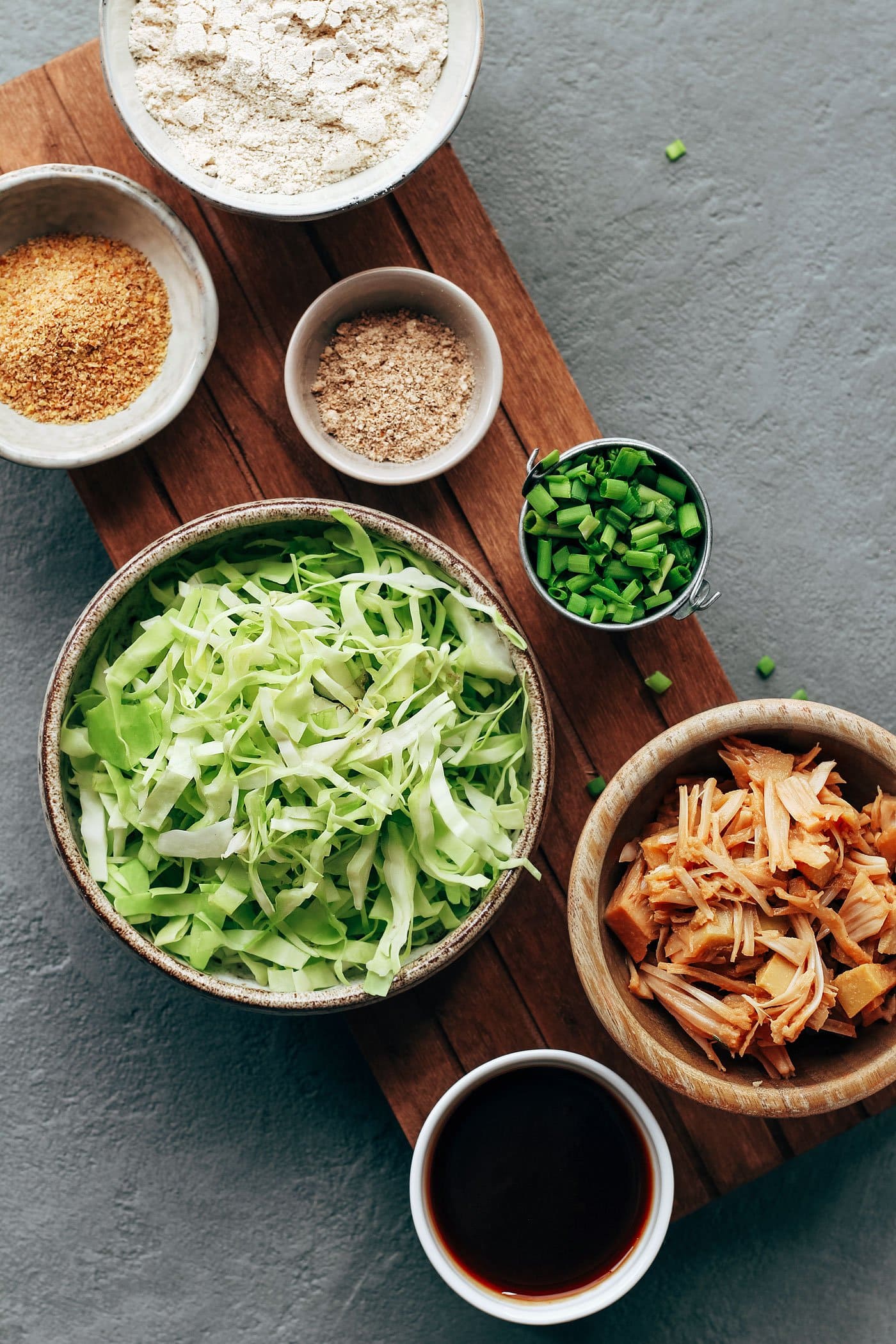 🥣 How to Make Vegan Okonomiyaki
It all starts with the batter that is gluten-free. I went with a blend of oat and buckwheat flour, both whole-grain and easily digestible. I didn't want to use chickpea flour here because it would have been overpowering and slightly bitter. Oat and buckwheat are not only nutritious, they are also pretty bland. Buckwheat has a subtle nutty flavor, but you can't really taste it here.
Then comes ground flax seeds that help the pancakes hold together, and ground shiitake for flavor. Instead of using dashi, which usually contains fish, I ground dried shiitakes that are packed with umami and stirred it into the batter. To make shiitake powder, just grind one cup of dried shiitake in a blender or food processor. You will get a fine powder that will keep for months in an airtight container. It can also be used to add more flavors to soups, curries, etc.
To add even more flavor, I added some coconut bacon and marinated ginger. You can use chopped ginger if you don't have the marinated kind on hand.
Finally, the addition of jackfruit not only makes the okonomiyaki fluffier but also adds a meaty texture.
When your batter is ready, add the shredded cabbage, spring onions, and jackfruit. For the jackfruit, we will first coat it with a flavorful marinade made of sesame paste, soy sauce, and maple syrup.
Sesame paste is different than tahini since it's made from roasted sesame seeds; it has a nuttier flavor and a light brown color. What you can do to substitute sesame paste is mix 1 tablespoon of almond butter with 1/4 tsp of toasted sesame oil. Obviously, the taste will be slightly different, but it should do the trick!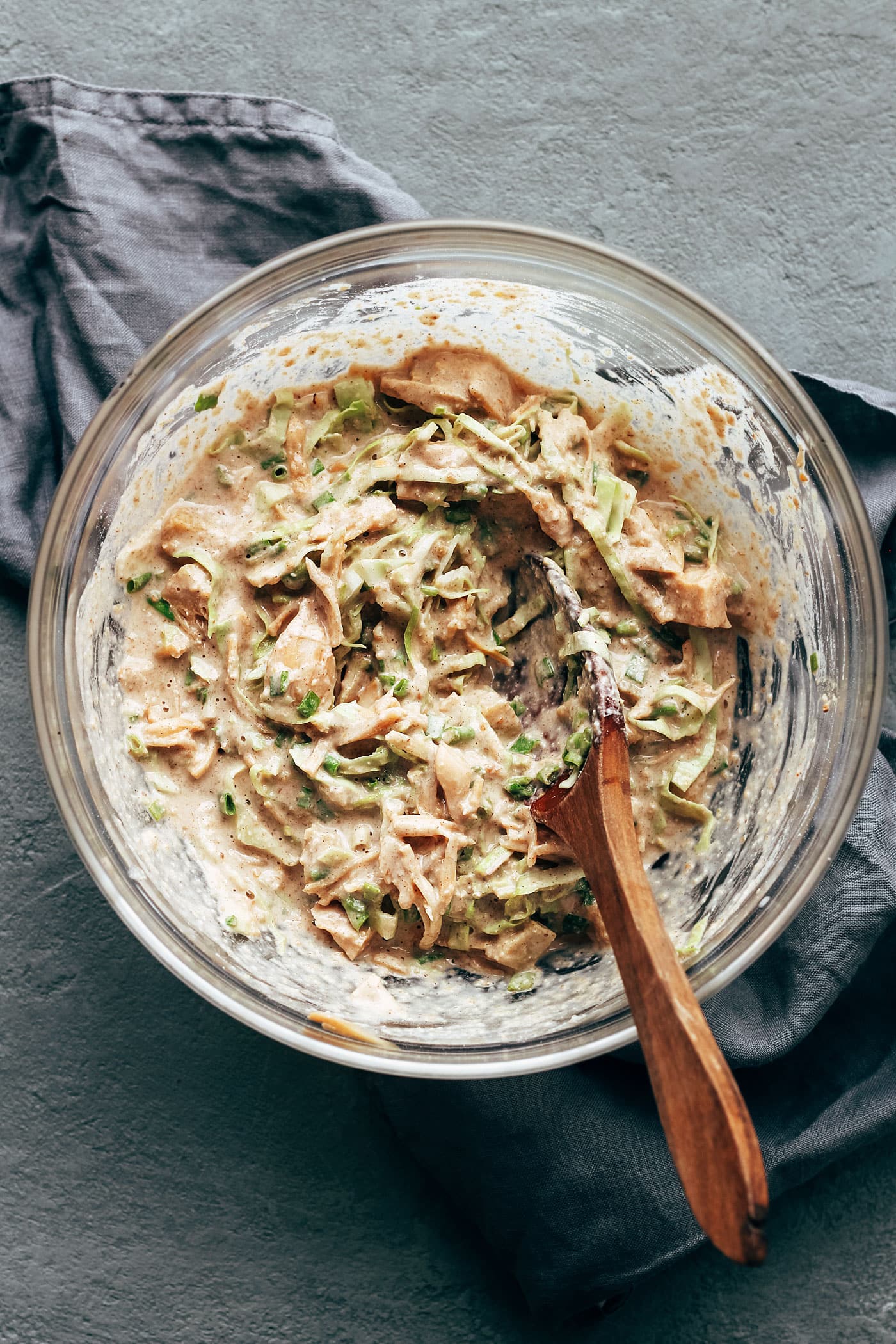 Once all your ingredients are mixed together, cook it like pancakes in a skillet until golden brown. Brush with a generous amount of sweet and sour okonomiyaki sauce, and drizzle with mayonnaise. I like to top it with more chopped green onions, seaweed, and/or coconut bacon!
Don't skip the okonomiyaki sauce or mayonnaise. Those two toppings are essentials! For those of you who are worried about the mayonnaise calories, don't worry it's just a drizzle! Plus, there are several oil-free mayonnaise recipes online if you want to make the recipe lighter.
What I love about okonomiyaki is how versatile it is; you can add your favorite ingredients or leftovers to the batter. Carrots, smoked tofu, mushrooms, ginger, bell peppers, spinach, peanuts, the choice is huge!
💬 FAQ
What kind of cabbage should I use?
Napa cabbage, also called Chinese cabbage, is best for this recipe. You could use green cabbage, but I recommend blanching it first to pre-cook it.
How do you eat okonomiyaki?
Use a pizza cutter to cut the okonomiyaki into smaller pieces and grab pieces with chopsticks. Or simply use a knife and a fork; we won't judge!
How to reheat okonomiyaki?
Okonomiyaki is best enjoyed immediately, but it can be reheated in a non-stick skillet over medium heat on the stove.
Please do me a favor and try this recipe, I swear you won't be disappointed! This okonomiyaki is soft, moist, and almost meaty, thanks to the addition of jackfruit. And, of course, this recipe is totally acceptable for breakfast. It's filling and boasts 9 grams of protein per serving.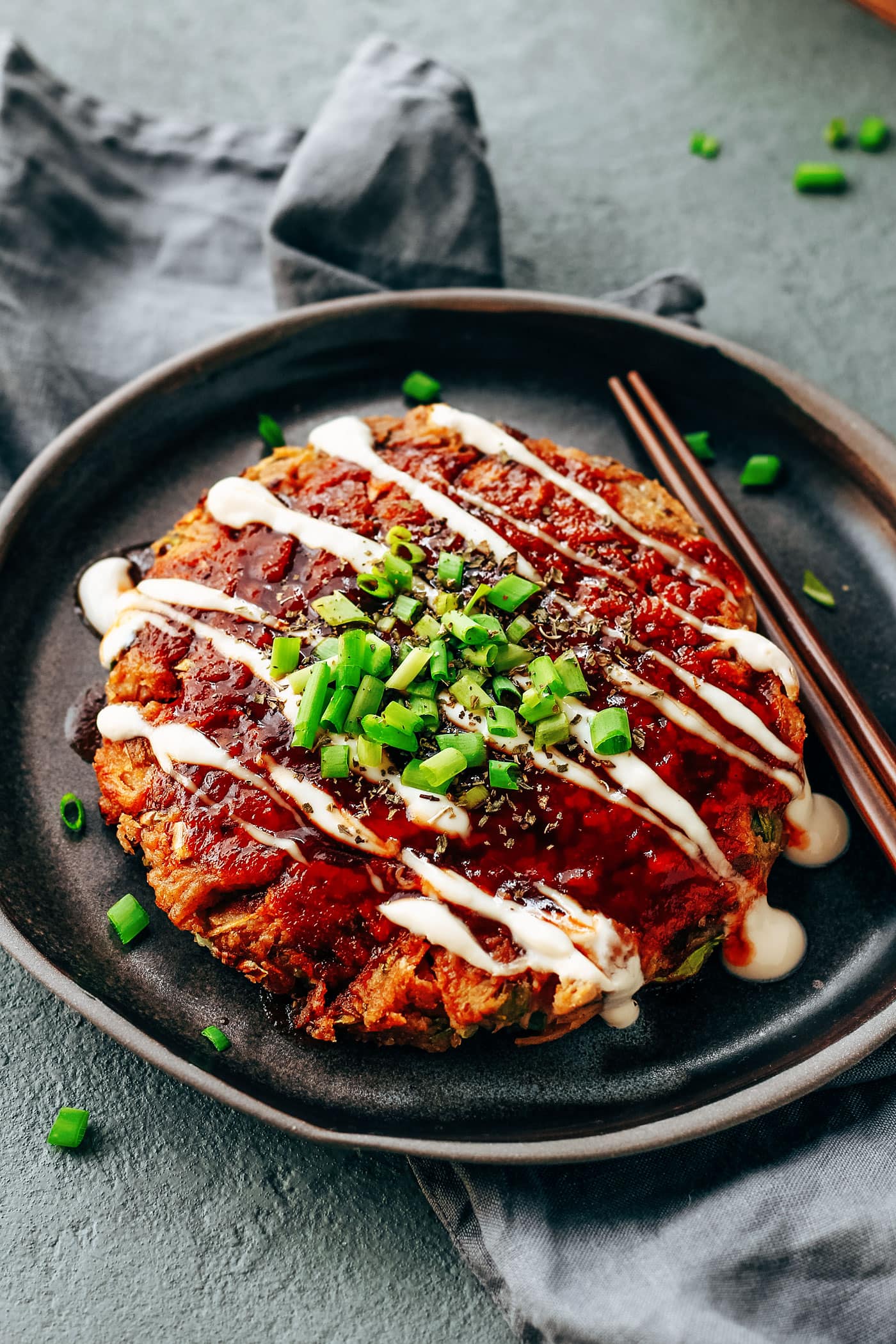 Want more Asian-inspired recipes? Check out these Sweet & Spicy Korean Noodles, Curried Spinach Soup with Cashew Tempeh, or this Lemongrass Soup with Fermented Tofu Sauce!
Let me know in the comments if you try this recipe!
Recipe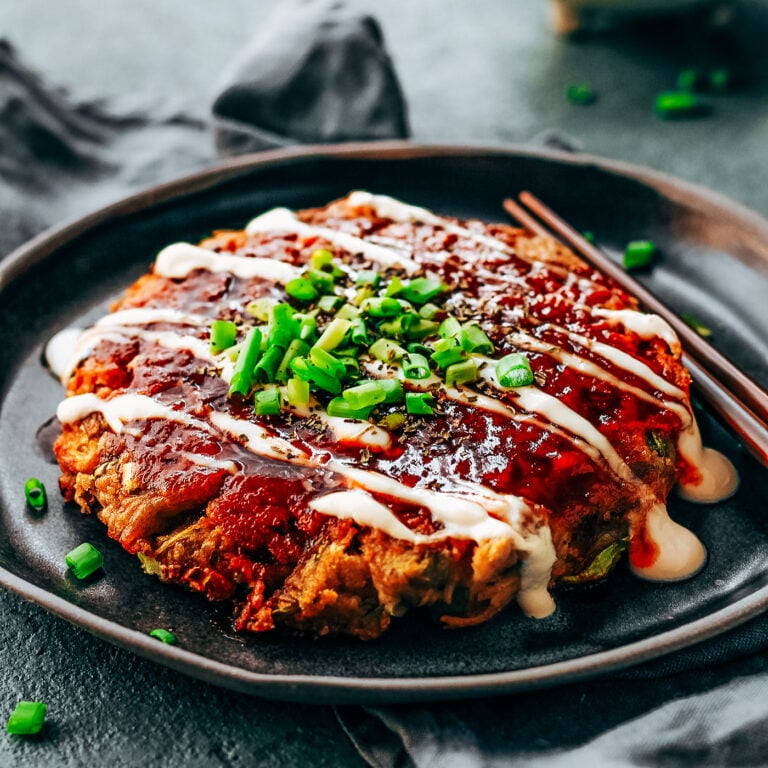 The Best Vegan Okonomiyaki
Perfectly tender Okonomiyaki that is loaded with shredded cabbage, marinated sesame jackfruit, and green onions. Sweet, spicy, and tangy, Okonomiyaki is a flavorful and hearty meal!
Ingredients
Okonomiyaki
1/2

cup

oat flour

1/2

cup

buckwheat flour

2

tbsp

ground flax seeds

2

tbsp

ground dried shiitakes

1/2

tsp

salt

1/2

tsp

five spice powder

1

cup

water

1

cup

cabbage

finely shredded

1/2

cup

chopped green onions

1/4

cup

coconut bacon

optional, but recommended for a smoky flavor

1

tbsp

chopped marinated ginger

toppings: okonomiyaki sauce, vegan mayonnaise (store-bought or homemade), green onions, aonori seaweed (optional)
Instructions
Jackfruit
Drain and rinse the jackfruit. Chop off the core (the hard part) and discard. Roughly mash the jackfruit with a fork. Transfer to a bowl, add the sesame paste, soy sauce, and maple syrup. Stir well to coat the jackfruit with the sauce.

Heat a teaspoon of oil in a skillet. Once hot, add jackfruit and sauté for 3-5 minutes. Remove from heat and set aside.
Okonomiyaki
Combine the oat flour, buckwheat flour, ground flax seeds, ground shiitakes, salt, and five-spice powder in a large mixing bowl. Add the water and whisk until no clumps remain.

Stir in the shredded cabbage, chopped green onions, coconut bacon, chopped marinated ginger, and jackfruit. Mix well using a wooden spoon or spatula until all the ingredients are coated with the batter. Let it rest for 5 minutes.

Heat a large non-stick skillet over medium heat. Once hot, add one tablespoon of oil. Pour 1/3 of the okonomiyaki batter into the skillet in a pancake shape. I like to make thick okonomiyaki, a bit less than 1 inch thick. Cover with a lid and cook for about 5 minutes or until the bottom is golden brown.

Carefully flip, cover, and cook for another 7-9 minutes. Once both sides are golden brown, transfer to a plate, spread about 1 tablespoon of okonomiyaki sauce on top, and drizzle with mayonnaise.

Serve immediately topped with more chopped green onions and aonori seaweed (optional).

The batter will keep for up to two days, covered, in the refrigerator. You might have to add a few tablespoons of water if it has thickened too much.
Okonomiyaki Sauce
Mix all the ingredients together in a small bowl.
Notes
Nutritional information doesn't include mayonnaise. It can vary a lot depending on which brand and how much you are using.
Nutrition
Serving:
1
okonomiyaki
|
Calories:
293
kcal
|
Carbohydrates:
55.1
g
|
Protein:
9.2
g
|
Fat:
6
g
|
Fiber:
11.5
g
|
Sugar:
14.9
g
Did you make this recipe?
Tag @fullofplants on Instagram and hashtag it #fullofplants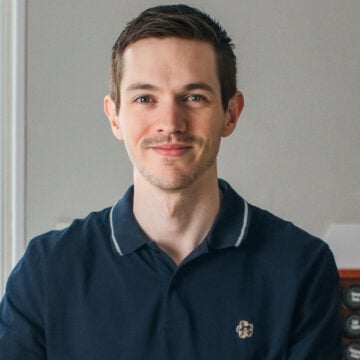 About the Author
Thomas Pagot is the founder, photographer, and recipe developer behind Full of Plants. He created the blog in 2016 as a personal cookbook for vegan recipes. Through years of recipe development, Thomas has successfully grown Full of Plants into a trusted resource for plant-based recipes.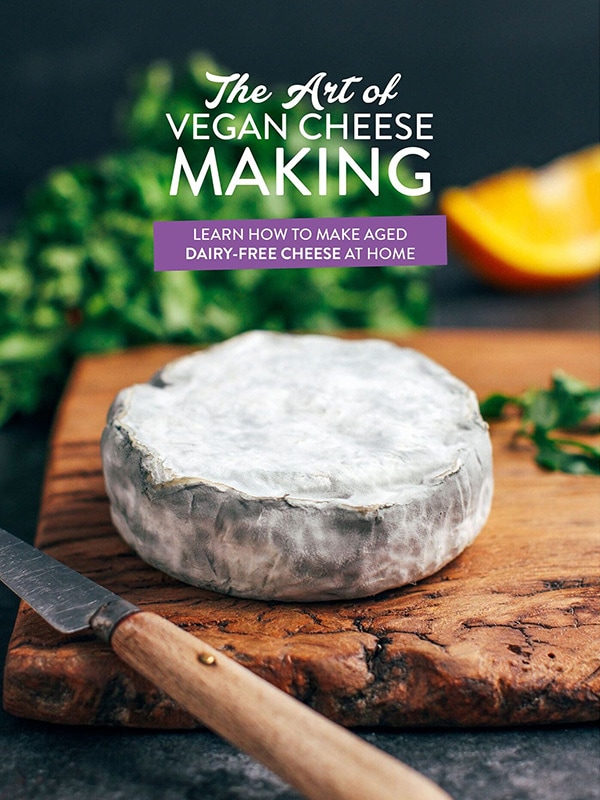 🧀 25 Mind-Blowing Vegan Cheese Recipes!
Sign up for the Full of Plants newsletter and you'll get new recipes delivered by email weekly, PLUS your FREE 100-page printable eBook!