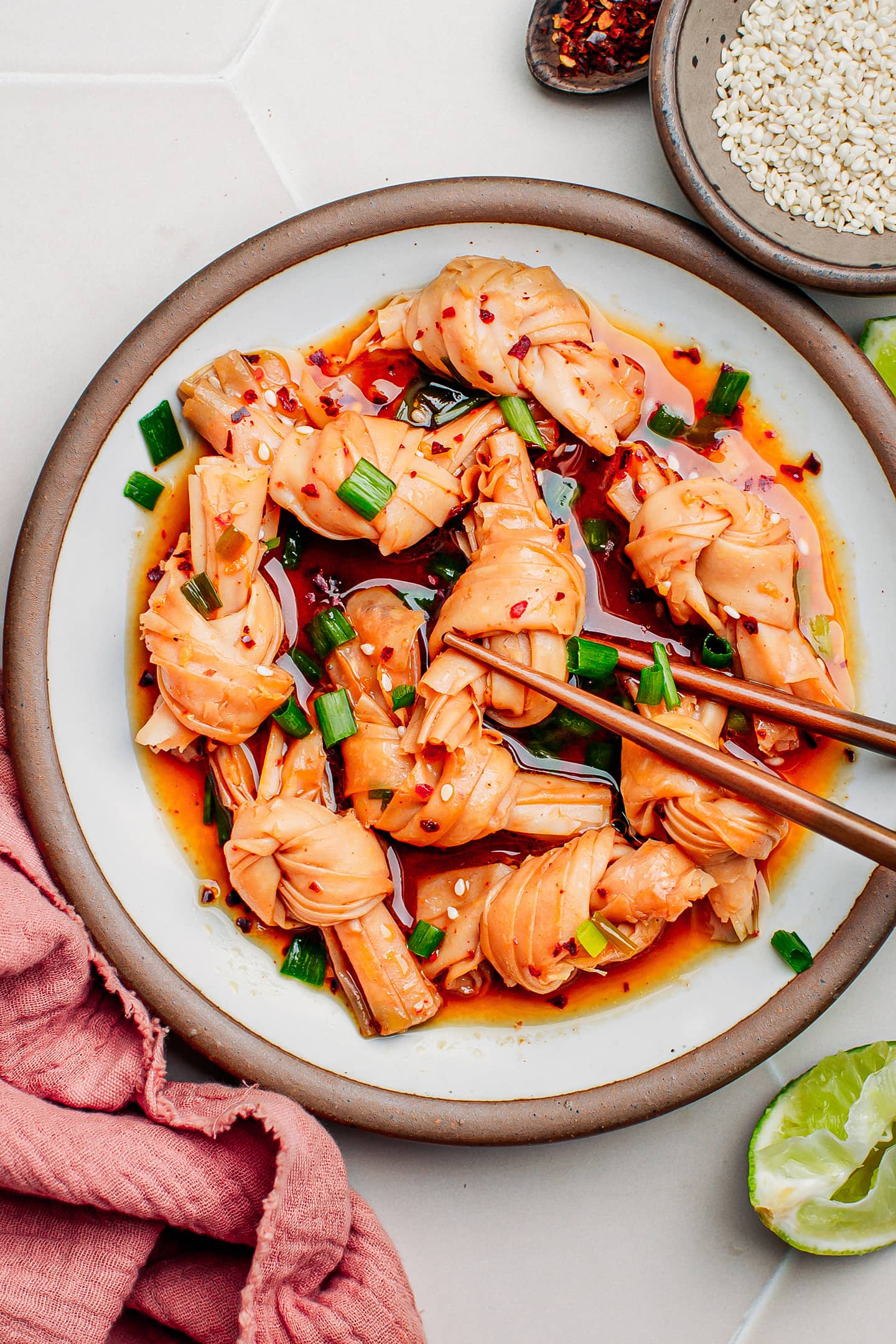 We are doing something spicy today!
Bean curd skin, also known as yuba, is basically the skin that forms on the surface when you boil soy milk for a few minutes. It is then removed from the milk and usually dried. It can be found in many different types: sheets, strips, or even knots in the dry section of most Asian supermarkets.
Here, bean curd knots are sautéed in a spicy and garlicky chili oil, and served with green on the side. It's chewy, comforting, and perfectly spicy, ready?
You start by boiling the dried bean curd knots for about 20 minutes, or until they get a tender texture like pasta. Then drain well.
In the meantime, we prepare the chili oil that consists of red pepper flakes, sesame seeds, garlic, ginger, and sesame seeds that are fried until golden brown.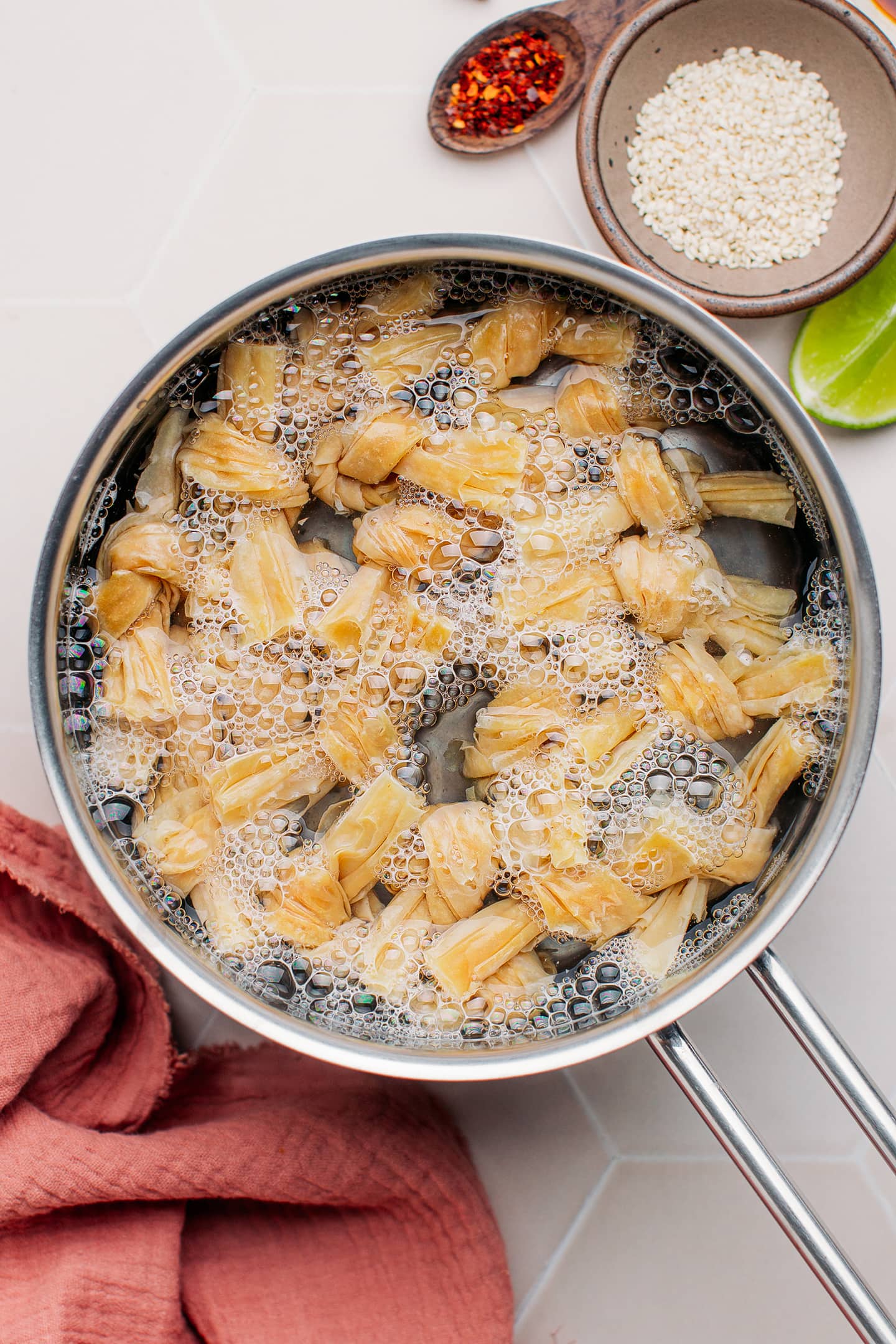 Next, bean curd knots are sautéed until slightly golden in the aromatic oil for a few minutes so they can soak up the flavors.
Finally, we add soy sauce for saltiness and umami, maple syrup for a subtle sweetness, and a drizzle of lime juice for flavor.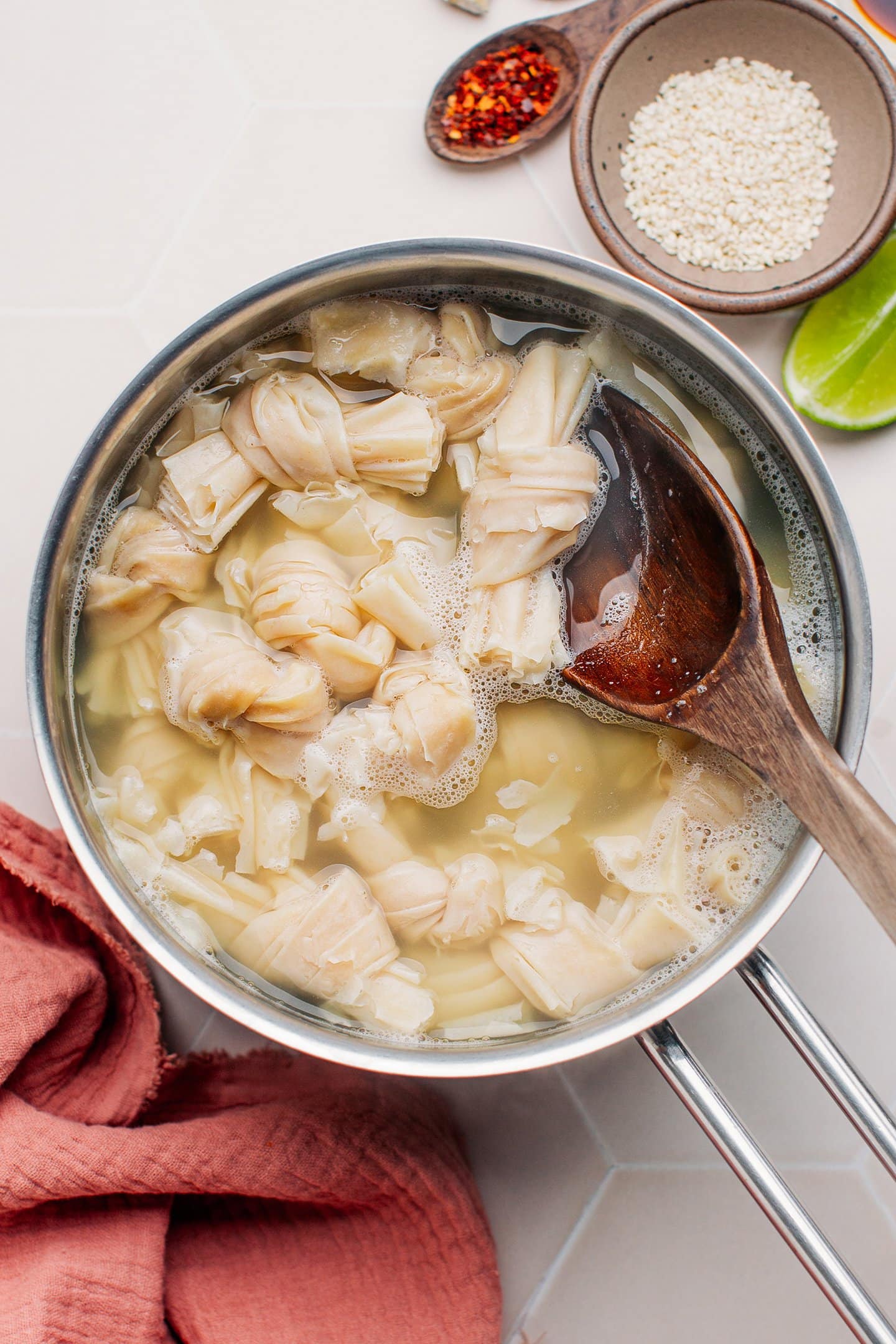 Sprinkle with chopped green onions and serve with your favorite greens on the side! I went with pak choy, but kale, spinach, or even broccoli would make good alternatives.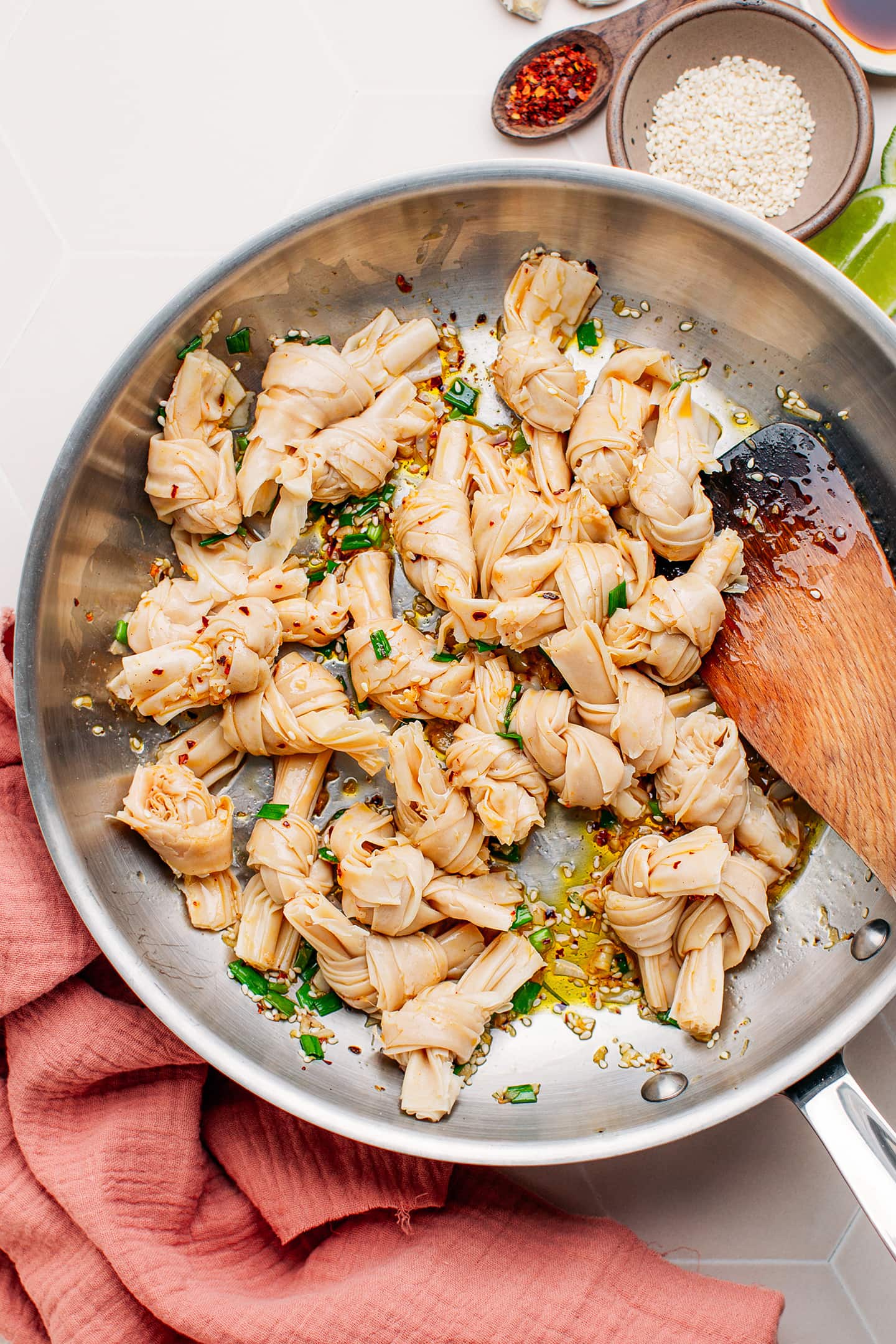 These bean curd knots are not only easy to make, but they are also spicy and flavorful thanks to the addition of ginger, garlic, and green onions. Did I mention this recipe packs over 20g of protein per serving?
Let me know in the comments if you try this recipe!
Bean Curd Knots in Spicy Chili Oil
Tender bean curds sautéed in a spicy and garlicky chili oil. Easy to make and high in protein!
Ingredients
2

cups

dried bean curd knots (also called tofu skin knots)

3

tablespoon

neutral oil

1

clove

of garlic

minced

½

inch

ginger

grated

1

teaspoon

red pepper flakes

1

teaspoon

sesame seeds

2

tablespoon

soy sauce

2

teaspoon

lime juice

2

teaspoon

maple syrup

for serving: pak choy, kale, chopped cilantro or green onions
Instructions
Bring a large pot of water to a boil. Once boiling, add the dried bean curd knots and let it simmer for about 20 minutes, or until tender. Remove from heat and drain the knots. Slightly press them with a spatula to remove excess water. Cover and set aside.

Heat the oil in a large skillet over medium heat. Once hot, add the garlic, ginger, red pepper flakes, and sesame seeds. Fry to 2-3 minutes, or until sesame seeds are golden brown.

Add the bean curd knots to the skillet and sautée for 2-3 minutes, stirring regularly to prevent sticking.

Deglaze the pan with the soy sauce, lime juice, and maple syrup and cook for another 2 minutes. Remove from heat and top with chopped cilantro or green onions.

Serve the spicy bean curd knots with sautéed greens on the side like pak choy, spinach, kale, etc.

Bean curd knots will keep for up to 3 days in the refrigerator, they can be eaten cold too.
Nutrition
Serving:
1
serving
Calories:
346
kcal
Carbohydrates:
24.7
g
Protein:
21.3
g
Fat:
19
g
Fiber:
2.4
g
Sugar:
9.8
g
DID YOU MAKE THIS RECIPE?
Tag @fullofplants on Instagram and hashtag it #fullofplants