To me, there is no great Christmas eve dinner without a good roast as the centerpiece.
This festive roast has all the flavors of Christmas, it's filled with spinach, sautéed mushrooms and lentils, wrapped in a tender tofu crust. This is not your basic tofurkey with little to no filling, this one is loaded with a flavorful and protein-packed filling.
Did I mention everything is made from scratch?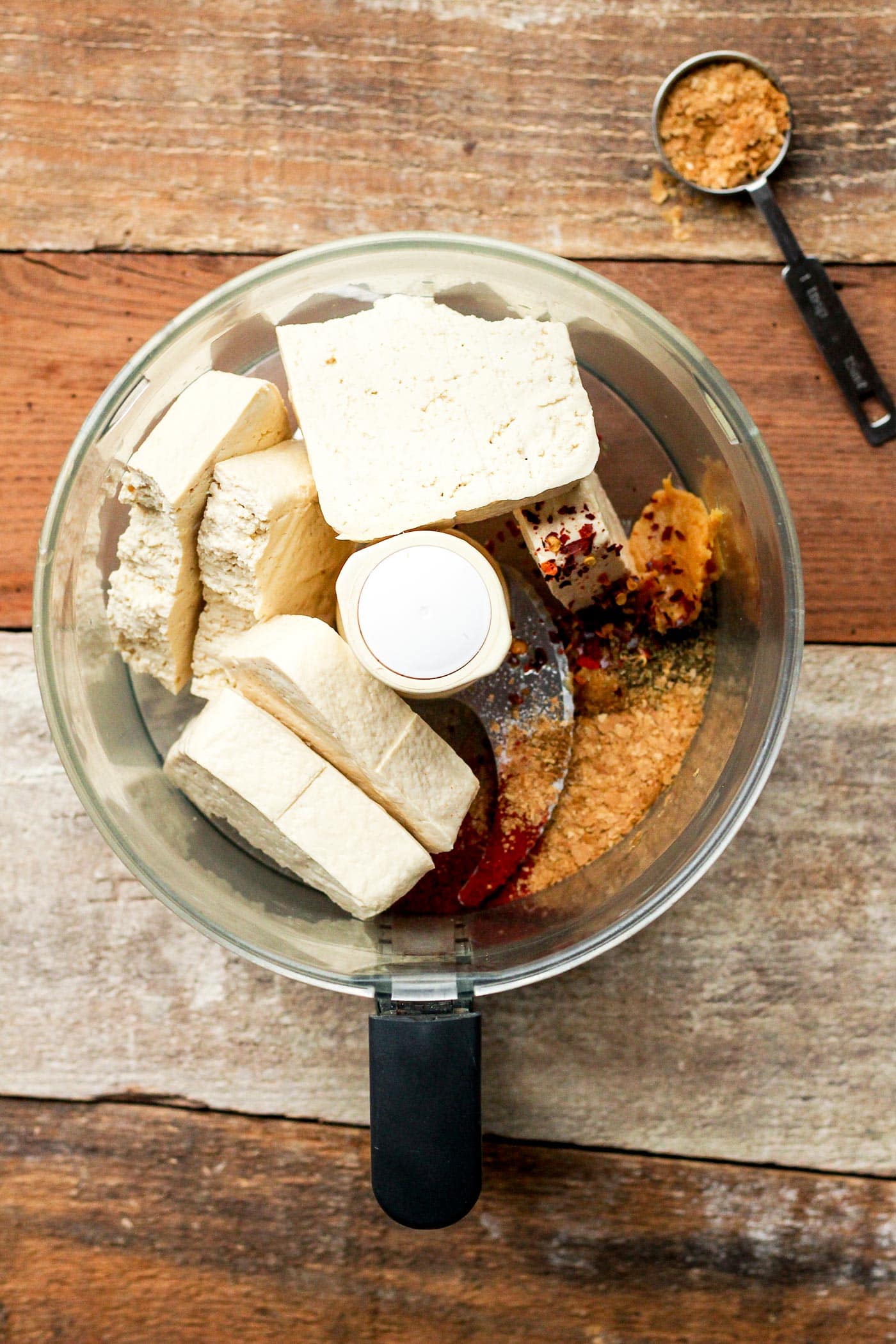 The "crust" is a blend of firm tofu, white miso, spices and nutritional yeast that are processed until you get a smooth paste. Unlike some other roasts recipe, I didn't want to press the tofu or drain it with a cheesecloth so I added some rice flour to absorb some of the moisture. Do you know what? It worked perfectly!
The filling consists of three layers: spinach with garlic, sautéed mushrooms, and smoky lentils/brown rice with cranberries and pine nuts.
Assembling the roast is where the fun is! You start by spreading an even layer of the tofu mixture into the bottom of a cake pan, place the spinach, sautéed mushrooms on top and last but not least, the lentil and brown rice mixture, that has the texture of ground meat.
Covering the filling with the remaining tofu is the most delicate step but don't be afraid, it's totally doable. Since the tofu mixture is soft and sticky, you will have to use wet hands to cover the filling little by little.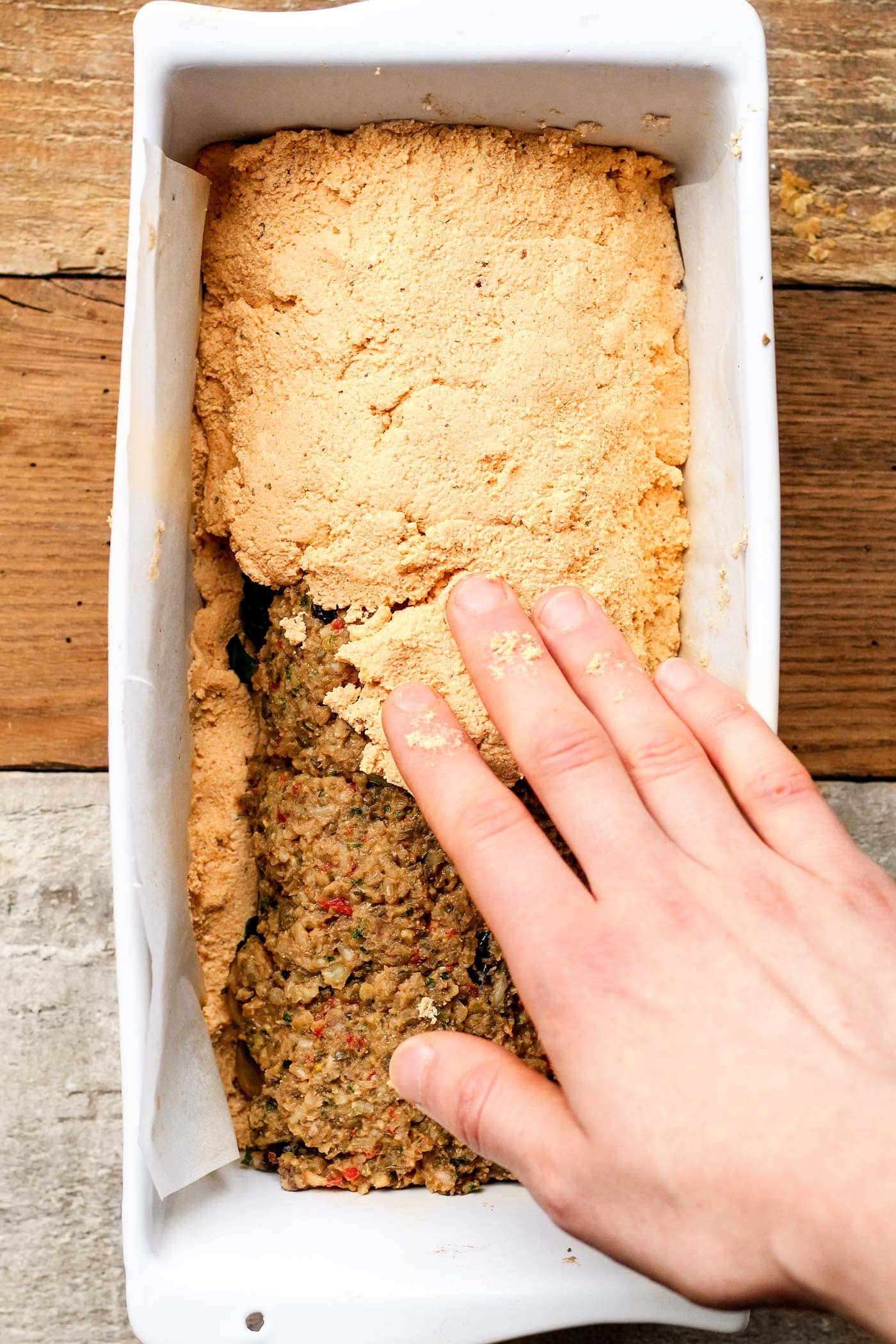 This tofu roast is protein-rich, each slice is packed with 18g of protein for only 275 calories! It can be served with mashed potatoes, green beans and your favorite gravy.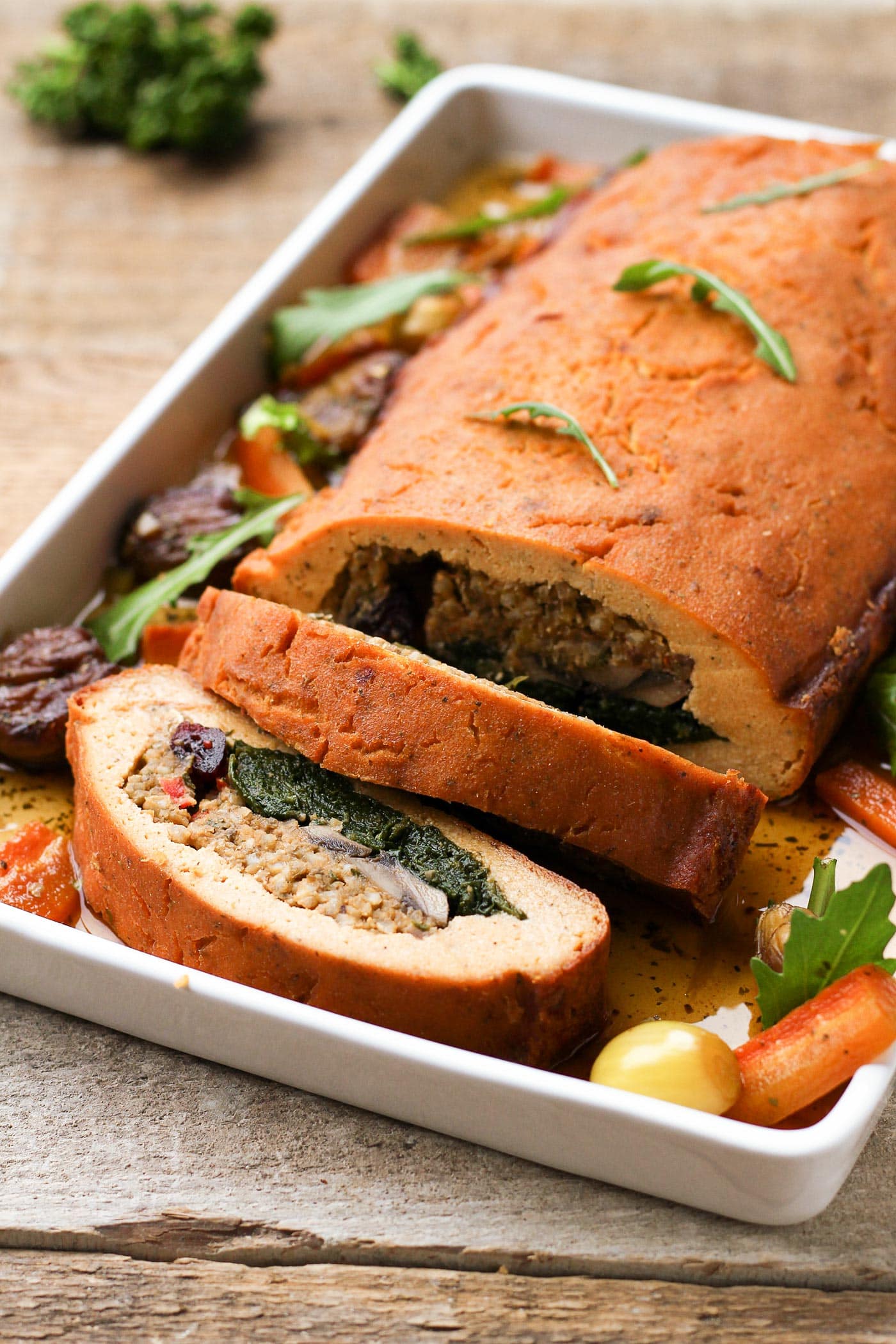 Even meat eaters will love this tofu roast, it's tender, flavorful and make the perfect Christmas center dish.
Let me know in the comments if you try this recipe and tag @fullofplants on Instagram if you take a photo!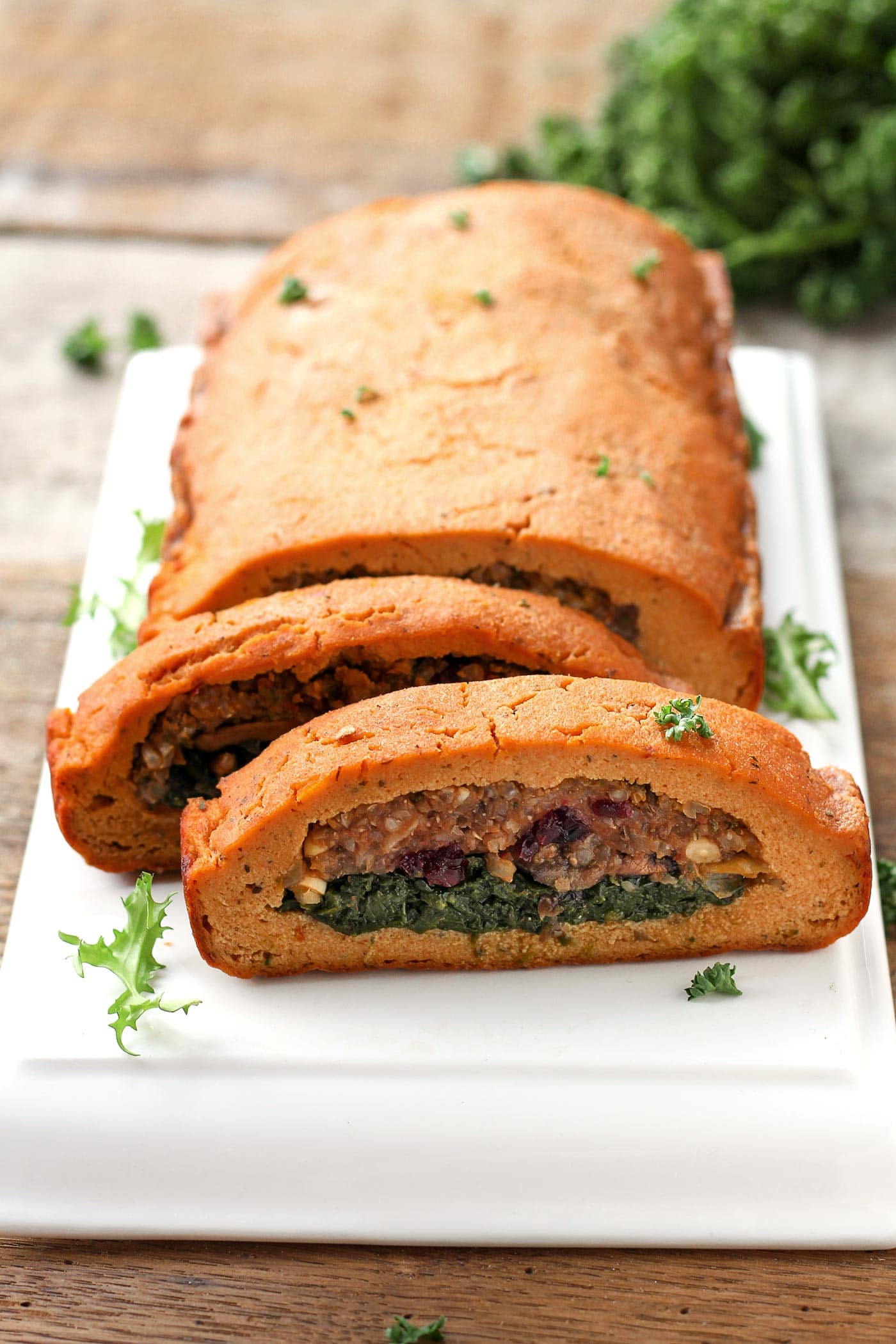 Ultimate Christmas Tofurkey Roast
Perfectly tender tofu crust filled with spinach, sautéed mushrooms and smoky lentil filling make this a flavorful and comforting Christmas dish.
Ingredients
Filling (makes enough for 2 roasts)
½

cup

dry green lentils

½

cup

brown rice

⅛

teaspoon

salt

2 and ½

cup

water

1

tablespoon

maple syrup

1

tablespoon

soy sauce

1

tablespoon

tahini

1

tablespoon

tomato paste

½

teaspoon

liquid smoke

1

medium onion

chopped

1

shallot

minced

1

clove

of garlic

chopped

½

cup

chestnuts

cooked

½

red bell pepper

¼

cup

fresh parsley

or basil

¼

cup

dried cranberries

or raisins

⅛

teaspoon

pumpkin spice

optional

2

tablespoon

pine nuts
Spinach layer
6

cups

spinach

chopped

1

clove

garlic

finely chopped

salt, pepper to taste
Mushrooms layer
10

cremini mushrooms

1

tablespoon

soy sauce

pepper
Instructions
Roast crust
Place all the crust ingredients in the bowl of a food processor and process for about 1 minute, until everything is well incorporated and looks smooth. You will end up with a slightly wet, very soft dough. Transfer to a large bowl, cover and set aside while preparing the filling.
Filling
Combine the green lentils and brown rice with the water and salt in a large saucepan. Bring to a boil, lower the heat to medium and simmer for about 25 minutes until the lentils are cooked and almost no liquid remains. Drain excess water if needed.

Place the rice and lentils in the bowl of a food processor and add the maple syrup, soy sauce, tahini, tomato paste, liquid smoke, onion, shallot, garlic, chestnuts, red bell pepper and fresh parsley. Process for about 15 seconds until everything is roughly chopped and has the texture of ground meat. Taste and adjust salt and pepper if needed. Transfer to a bowl and stir in the cranberries and pine nuts. Set aside.
Spinach
Heat a teaspoon of oil in a large skillet over medium heat. Add the chopped spinach to the skillet and allow to cook for 5 minutes until the spinach has softened. Add the chopped garlic, salt and pepper to taste. Transfer the spinach to a colander and squeeze excess liquid by pressing with the back of a spoon. Set aside.
Mushrooms
In the same skillet, sautée the mushrooms until they become tender and lightly browned, about 5 minutes. Deglaze the skillet with the soy sauce and continue to cook until no liquid remains. Set aside.
Assemble
Preheat oven to 350°F.

Once you have the crust and fillings ready you can start assembling the loaf.

Line a 9x5 inch loaf pan with parchment paper. Transfer about 1 cup of the tofu mixture in the bottom of the pan. Using wet hands, spread the mixture into an even layer. You can also place a piece of parchment paper on top and use the bottom of a glass to spread the mixture evenly. Be careful, the tofu mixture will be sticky and very soft.

Place the cooked spinach on top of the tofu mixture, leaving about 1 inch on each side. Top with the sautéed mushrooms. Spread about 2 cups of the lentil/brown rice filling on top of the mushrooms, pressing lightly.

Once you have placed the filling it's time to cover it with the remaining tofu mixture, this is the most delicate step. Using wet hands, take a small amount of the tofu mixture in your hands and carefully cover the filling, little by little into an even thickness, making sure to press on the edges to enclose the filling. When the filling is fully covered, carefully rub it with wet hands to smooth the top.

In a small bowl, combine one tablespoon of maple syrup with one tablespoon of soy sauce. Brush the tofurkey with the glaze.

Cover with aluminum foil and bake for about 50 minutes. Bake uncovered for another 5 minutes until the top is golden brown, let cool 5 minutes before serving.

Serve with green beans, mashed potato or peppercorn sauce. I found the roast tastes even better the next day.
Notes
You will only use about ⅓ to ½ of the filling for one tofurkey roast, you can freeze leftovers or use it to make veggie steaks, it will keep in the refrigerator for up to three days.
To serve in a baking dish (optional): Preheat oven to 350°F. In a large baking dish, combine 1 and ½ cup of water with 1 tablespoon soy sauce. Add one finely chopped shallot, 6-8 small onions, one carrot cut into matchsticks, some chestnuts and ¼ teaspoon oregano. Bake for about 20 minutes. Remove from the oven and place the cooked tofurkey in the middle of the baking dish, cover with foil and bake for another 15 minutes, just to reheat the tofurkey. The tofurkey roast will absorb some of the sauce and the tofu crust will be softer, even more delicious!
Nutrition
Serving:
1
Slice
Calories:
276
kcal
Carbohydrates:
36.3
g
Protein:
18.1
g
Fat:
8.1
g
Fiber:
7
g
Sugar:
6.9
g
DID YOU MAKE THIS RECIPE?
Tag @fullofplants on Instagram and hashtag it #fullofplants