Introducing Vegan Plantain Lasagna (Pastelón)!
Have you guys ever heard of Pastelón?
It's a Caribbean casserole that is similar to lasagna, except it uses sweet fried plantains in place of the pasta. It's delicious because it's sweet, salty, and cheesy at the same time!
The original version includes ground meat, cheese, and butter. To replace the meat, I went with a simple bolognese with red lentils, mushrooms, and walnuts. The cheesiness comes from a quick and easy vegan cheese sauce.
This layered casserole consists of 3 layers: fried sweet plantains, lentil bolognese, and a cheesy sauce.
It starts with the bolognese: red lentils make the base, mushrooms, and walnuts bring more texture, and spices like cumin, oregano, and ground chili spice up everything. If you want to make this recipe nut-free, I recommend replacing the walnuts with scrambled tofu or tempeh.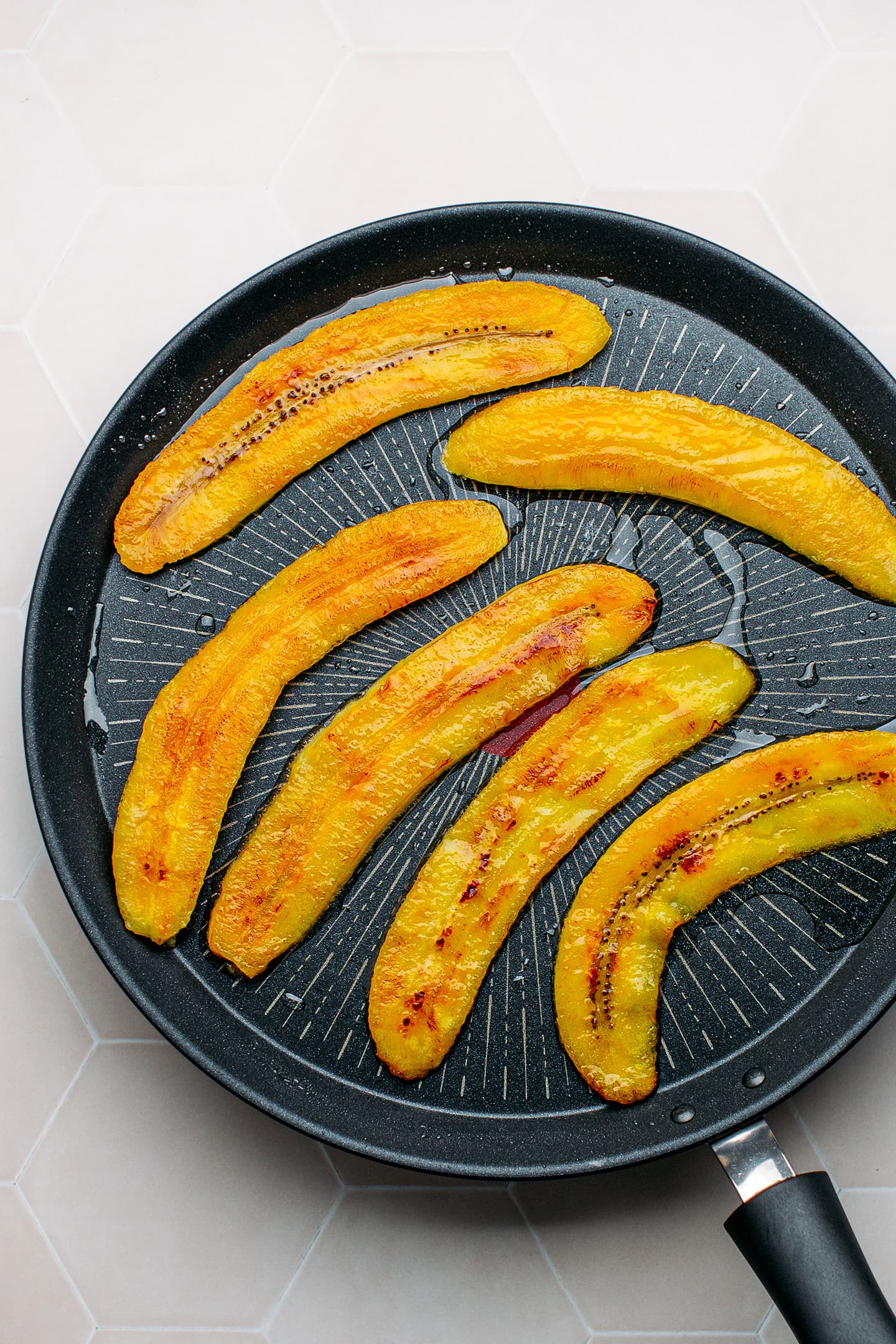 When it comes to the plantains, make sure to use ripe ones, not the green ones. They must have black spots or, even better, be mostly black.
To prepare the plantains, you start by carefully peeling them. Then, using a sharp knife, slice them lengthwise into strips. You don't want the slices to be too thin or they will break during the frying process, or too thick, or they won't cook properly. Depending on the size of your bananas, you want to get 4-5 slices out of each plantain. The next step is to fry the plantain slices until golden brown.
To assemble the dish, arrange one layer of banana slices in the bottom of a baking dish, top with half of the lentil bolognese, another layer of bananas, and the remaining bolognese. Finally, top with a simple cheesy sauce and one last layer of plantains!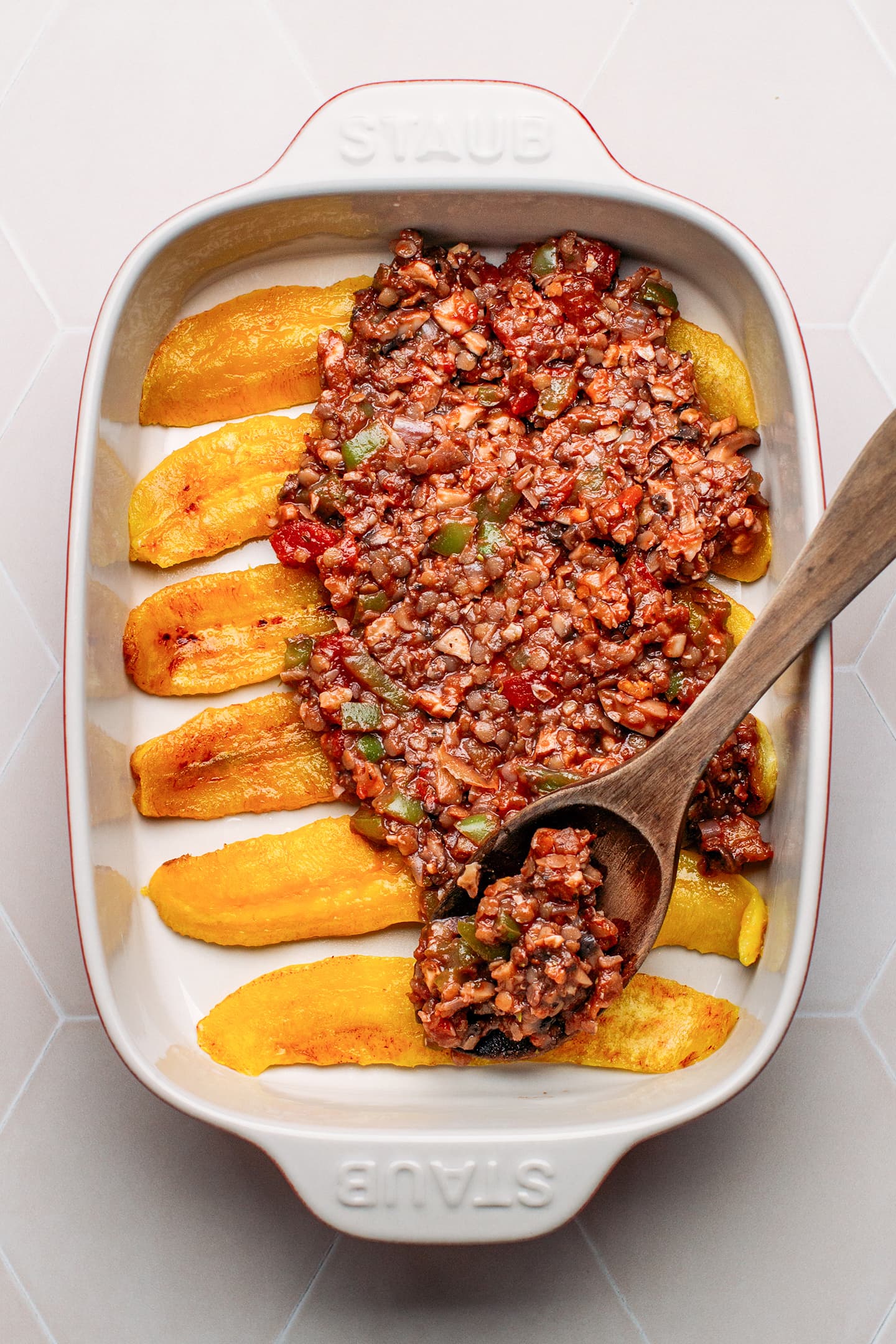 Bake for 30 minutes, and voilà!
If you are afraid this vegan plantain lasagna will be too sweet, don't worry! It does have some sweetness but less than you would probably believe. I find this vegan plantain lasagna to have less sweetness than baked beans, for example. It's definitely not overly sweet.
If you like sweet and salty dishes, don't miss this recipe! It's a nice twist on Italian lasagna. The combination of salty bolognese, cheesy sauce, and sweet plantains is simply delicious!
Let me know in the comments if you try this recipe!
📖 Recipe
Vegan Plantain Lasagna (Pastelón)
Delicious vegan lasagna that uses sweet plantains instead of pasta for a salty-sweet casserole!
Ingredients
Filling
½

cup

red lentils

or green lentils

2

cups

water

1

tablespoon

oil

1

onion

diced

2

cloves

garlic

minced

7-8

mushrooms

diced

½

red bell pepper

diced

½

cup

walnuts

crushed (or scrambled tofu/tempeh)

1

teaspoon

oregano

½

teaspoon

cumin

¼

teaspoon

chili powder

1

14.5-ounce can

diced tomatoes

2

tablespoon

tomato paste

1

tablespoon

apple cider vinegar

½

teaspoon

salt
Plantains
4

ripe plantains

¼

cup

frying oil
Instructions
Filling
Rinse the lentils and place them in a saucepan. Add the water and bring to a boil. Once boiling, reduce the heat and let simmer for about 15 minutes or until lentils are tender. Drain excess water if needed. Set the cooked lentils aside.

Heat the tablespoon of oil in a large skillet over medium heat. Once hot, add the onion and garlic and cook for 3-5 minutes.

Add the mushrooms and red bell pepper, and cook for another 7-10 minutes or until red bell peppers are soft.

Add the cooked red lentils, slightly crushed walnuts, oregano, cumin, chili powder, diced tomatoes, tomato paste, apple cider vinegar, and salt.

Cook for about 5-8 minutes over medium heat, stirring regularly. Taste and adjust seasonings if needed. Remove from heat and set aside while you prepare the bananas.
Plantains
Preheat oven to 350°F (180°C).

Carefully peel the plantain, trying not to break them. Slice the plantains length-wise into thin strips (I make about 4-5 slices per banana).

Heat the oil in a large frying pan. Once hot, arrange the plantain slices in a single layer and fry for about 2-3 minutes per side, or until golden brown. Transfer to a plate with paper towel to drain excess oil. Repeat with the remaining plantain slices. This step makes the plantains softer.

Arrange a layer of plantain in a rectangular baking dish. Top with half of the filling. Repeat with another layer of plantains and the remaining filling.

Prepare the cheese sauce: In a large saucepan, combine all the ingredients together and whisk well until the cornstarch is dissolved. Heat over medium heat, whisking regularly until it starts to boil. Once the sauce has thickened, remove from heat and pour over the filling in the baking dish.

Top with one last layer of plantains and bake uncovered for 25-30 minutes. Let cool a few minutes and serve with a salad on the side!

Leftovers will keep for up to 3 days in the refrigerator. To reheat, cover with aluminum foil and bake in a 350°F preheated oven for 30-40 minutes.
Nutrition
Serving:
1
serving
|
Calories:
392
kcal
|
Carbohydrates:
61.2
g
|
Protein:
10.8
g
|
Fat:
14.7
g
|
Fiber:
10.8
g
|
Sugar:
22.3
g
Did you make this recipe?
Tag @fullofplants on Instagram and hashtag it #fullofplants