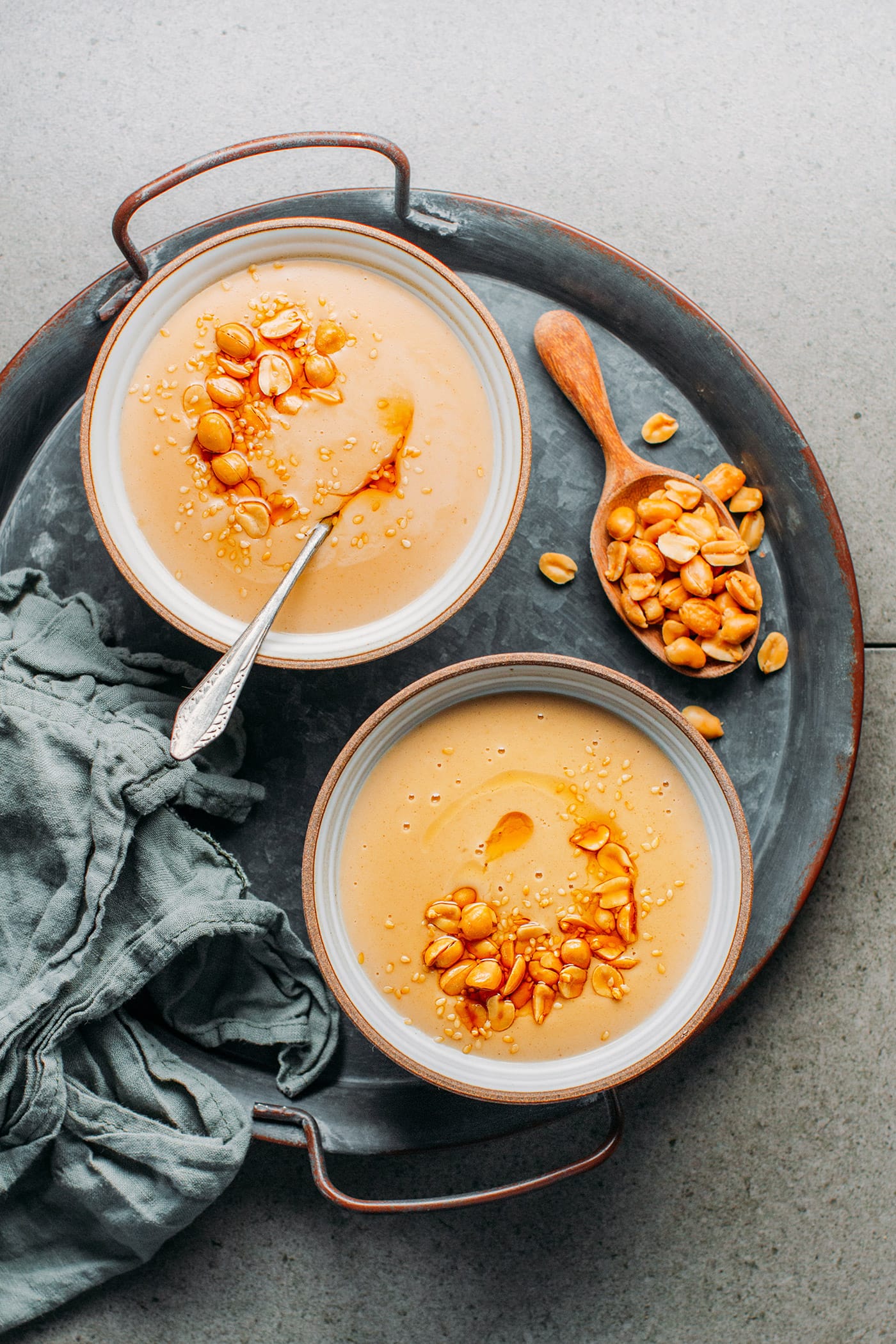 Introducing sweet peanut soup!
After bringing vanilla mung bean soup, and black sesame soup, here is another sweet soup full of peanut flavor! It takes just 20 minutes to prepare and makes the perfect warm snack or dessert!
This recipe is heavily inspired by my sweet black sesame soup and uses similar ingredients. It's super creamy, smooth, not too sweet, a bit salty, and so peanutty! Plus it has a nice coconut flavor as well. Let's do it!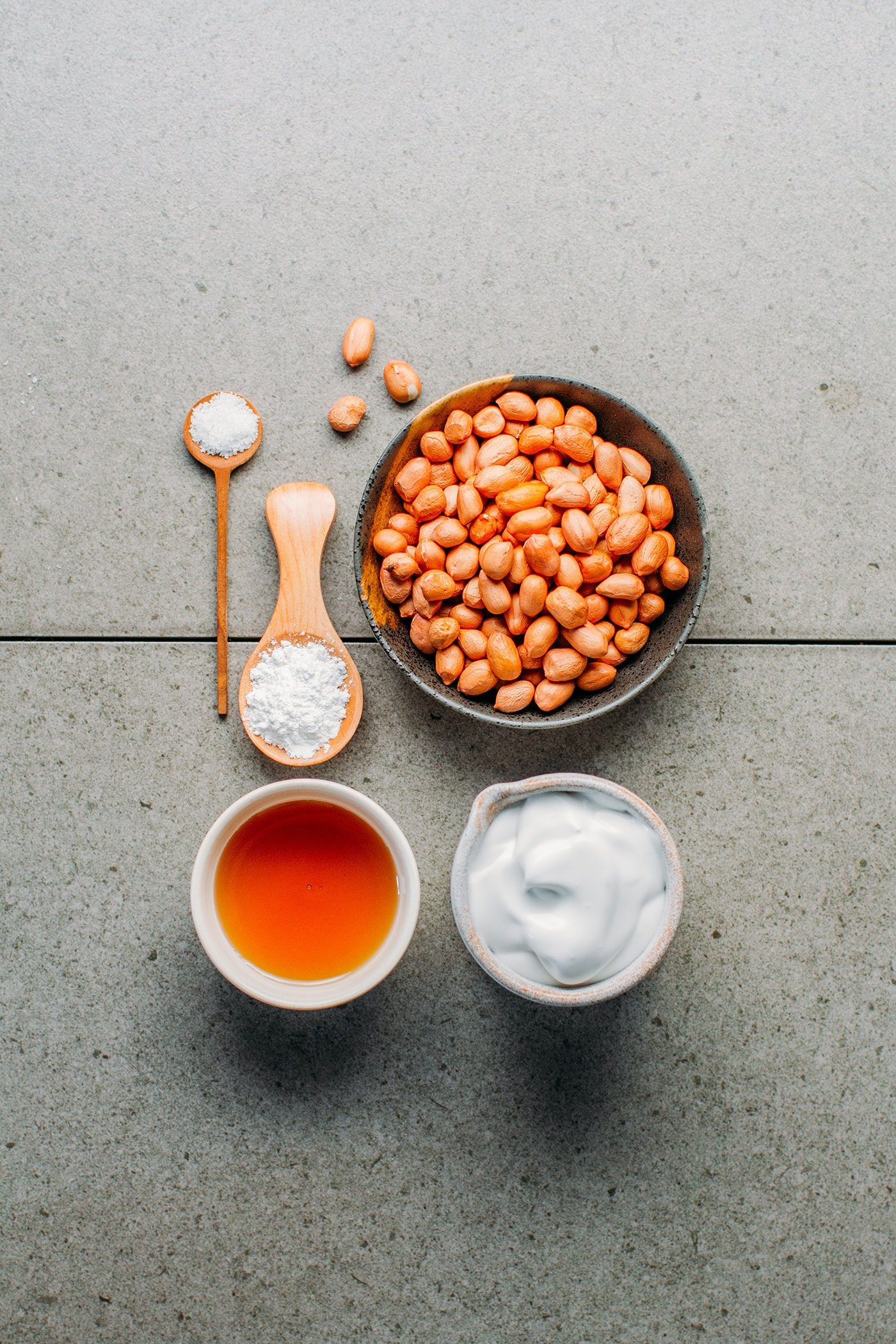 We start with the peanuts that we will roast in the oven. Why roast the peanuts yourself? I first tried with store-bought roasted peanuts, and while it was good, it was missing that deep roasted peanut flavor.
By starting with raw peanuts, we can have more control over the roasting process. I found the sweet spot to be 10 minutes in the oven, and then 3 minutes in the oven turned off. The results are perfectly roasted peanuts that are golden brown, and almost brown on the outside. That deep roast will bring a lot of flavor to the soup.
Once our peanuts are roasted, remove the skin by rubbing them in a clean towel. Transfer to a blender, add water and blend to make peanut milk!
Next, you want to strain the milk through a nut milk bag to end up with a silky smooth texture.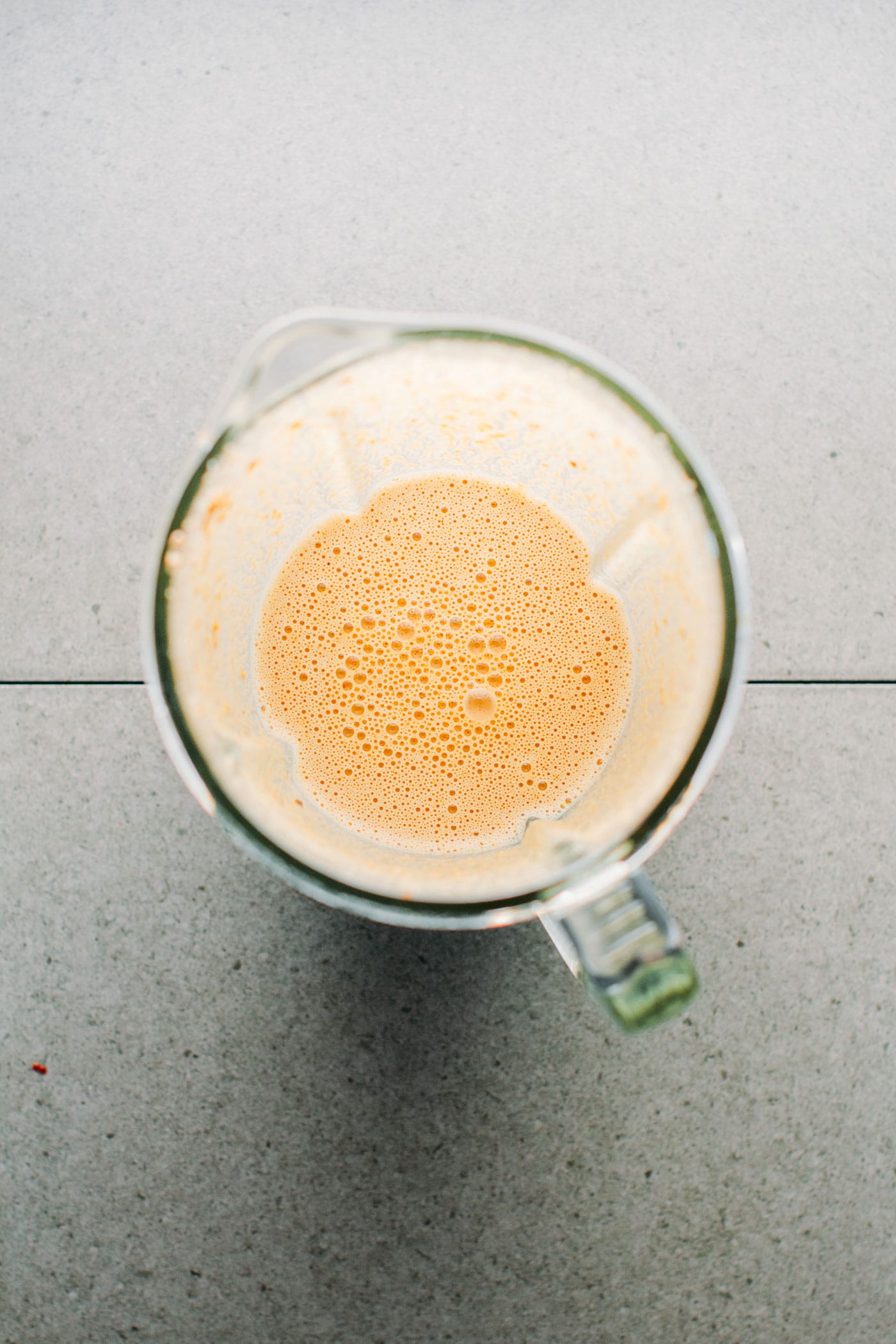 Finally, pour the peanut milk to a saucepan, add full-fat coconut milk for extra creaminess, maple syrup to sweeten, a good pinch of salt (essential!), and glutinous rice flour to help it thicken. Bring to a boil and cook until the soup has thickened. You can adjust how thick or thin you want the soup by using more or less flour.
Serve warm topped with roasted peanuts, toasted sesame seeds, and if you are feeling fancy, a drizzle of toasted sesame oil!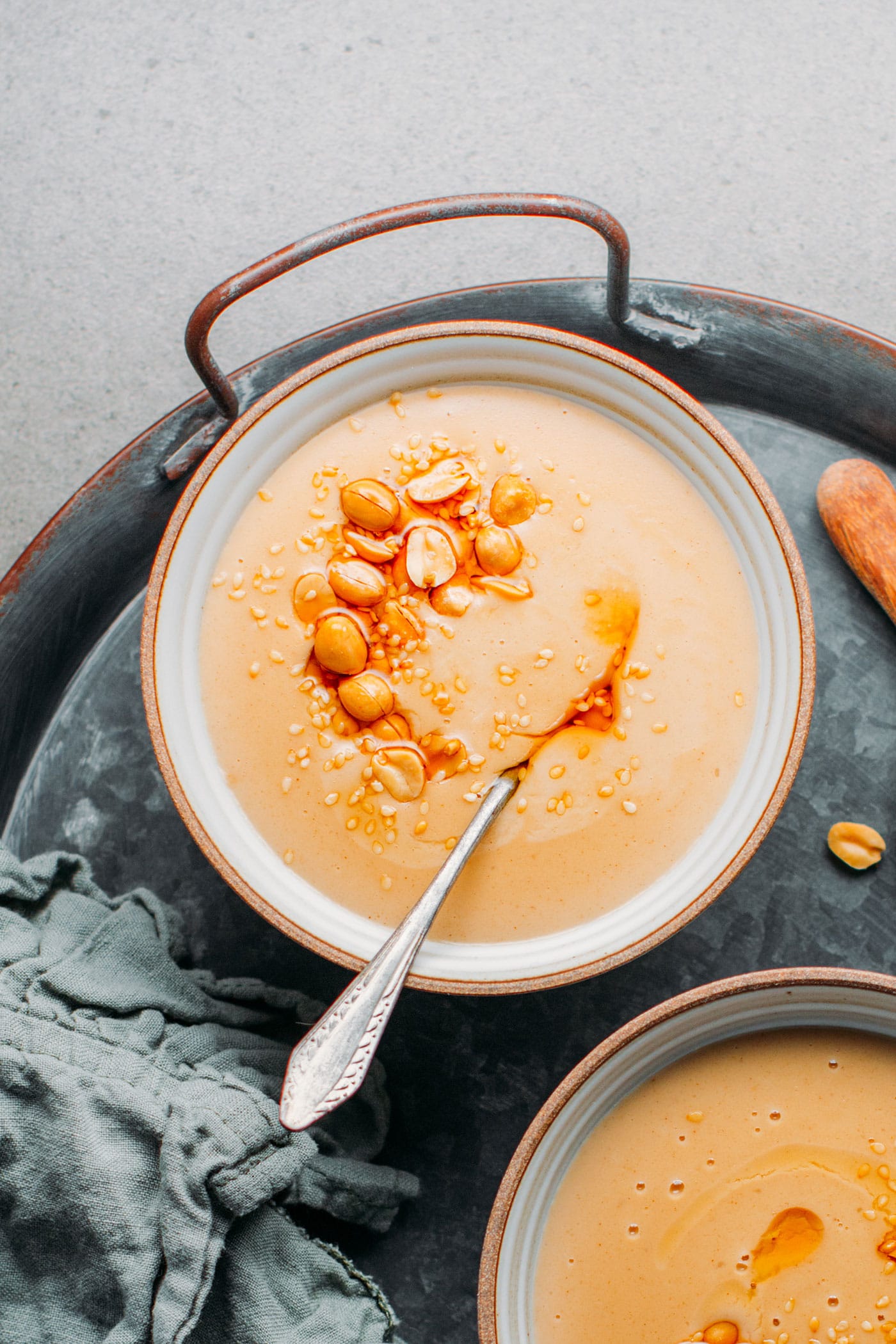 This sweet soup makes a healthy-ish afternoon snack when you are craving something sweet and nutty! Along with the black sesame soup, it's one of my favorite snacks to have in front of a movie on a rainy day. These soups have that comforting factor, it's warming, rich, and delicious!
For more sweet snacks, check out this Maple Cinnamon Popcorn, Crunchy Choco Sticks, or these "Nutella" Filled Granola Bars!
Let me know in the comments if you try this recipe!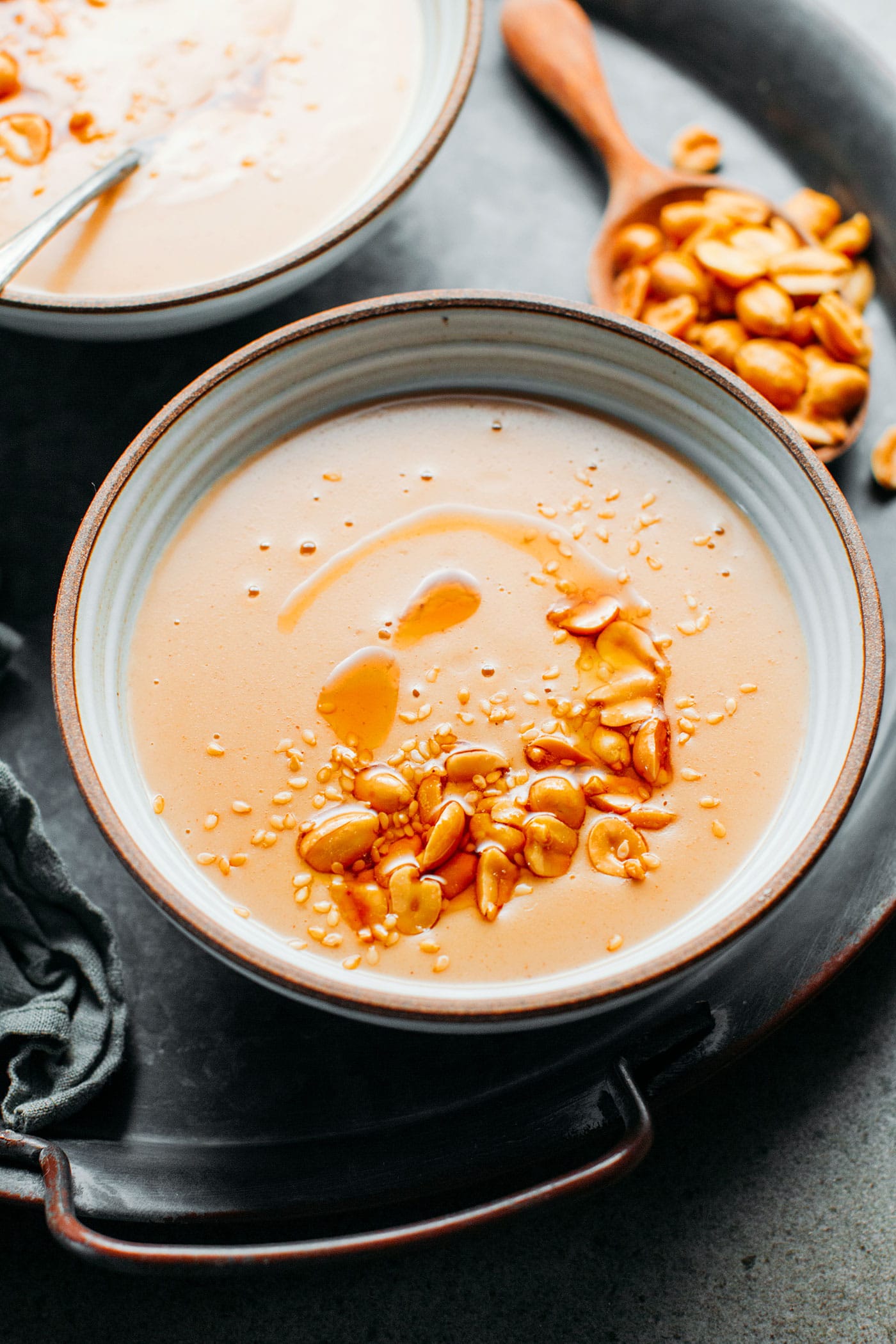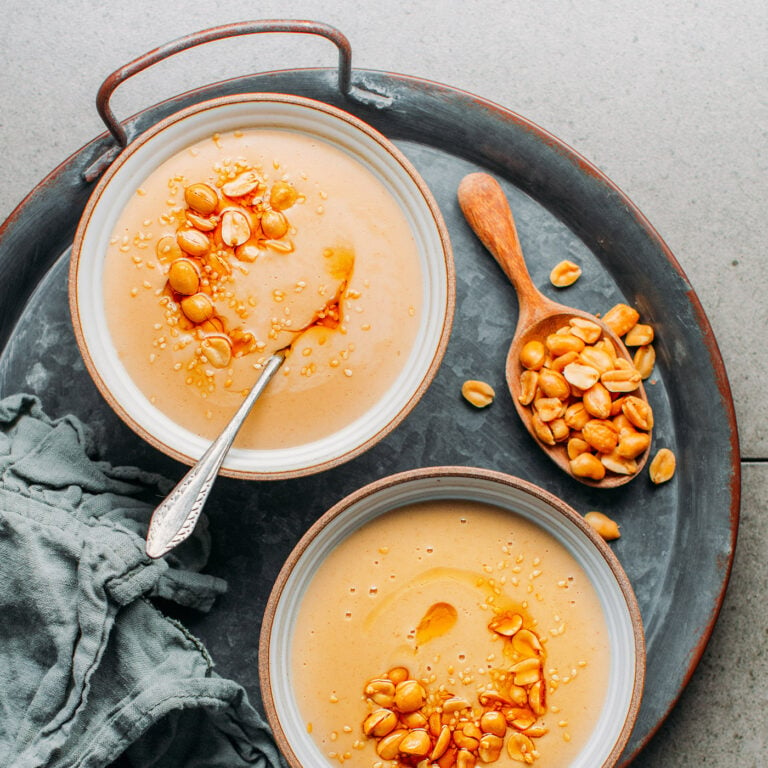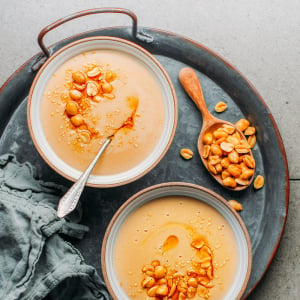 Sweet Peanut Soup
Super nutty, creamy, and silky-smooth sweet peanut soup! A healthy, not too sweet, and delicious snack!
Instructions
Preheat oven to 350°F (175°C). Place the raw peanuts on the baking sheet and roast for about 10 minutes. Turn off the oven and leave the peanuts inside for another 3 minutes. Remove from the oven and let cool completely. Transfer the roasted peanuts to a clean towel and rub the peanuts inside the towel to remove the skin. Try to remove as much skin as possible, it's okay if there are still a few peanuts with the skin on.

Transfer the peanuts to a high-speed blender. Add the water and blend on high speed for about 1 minute. Strain the peanut milk through a nut milk bag.

Pour the peanut milk into a medium saucepan. Add the full-fat coconut milk, maple syrup, glutinous rice flour, salt, and vanilla extract. Bring to a boil over medium heat for about 2 minutes, or until it starts to thicken. Depending on how thick you want your soup, add more glutinous rice flour (make sure to dissolve it in a tablespoon of water before).

Divide the peanut soup into small serving bowls, top with roasted peanuts, toasted sesame seeds, and a tiny drizzle of toasted sesame oil (omit if you are avoiding oil). Serve warm!

This peanut soup will keep for up to 3 days in the refrigerator.
Notes
No nutritional information for this recipe as it's difficult to calculate the amount of peanuts strained.
DID YOU MAKE THIS RECIPE?
Tag @fullofplants on Instagram and hashtag it #fullofplants