Introducing maple cinnamon popcorn! We are (almost) less than a month from Christmas, and I thought you guys needed a snack to go with your favorite holiday movies.
This 4-ingredient popcorn is exactly what you need. It's crunchy, full of cinnamon flavor, and easy to make. Now grab your bowl of popcorn, a comfy blanket, and your favorite movie. May I suggest Harry Potter?!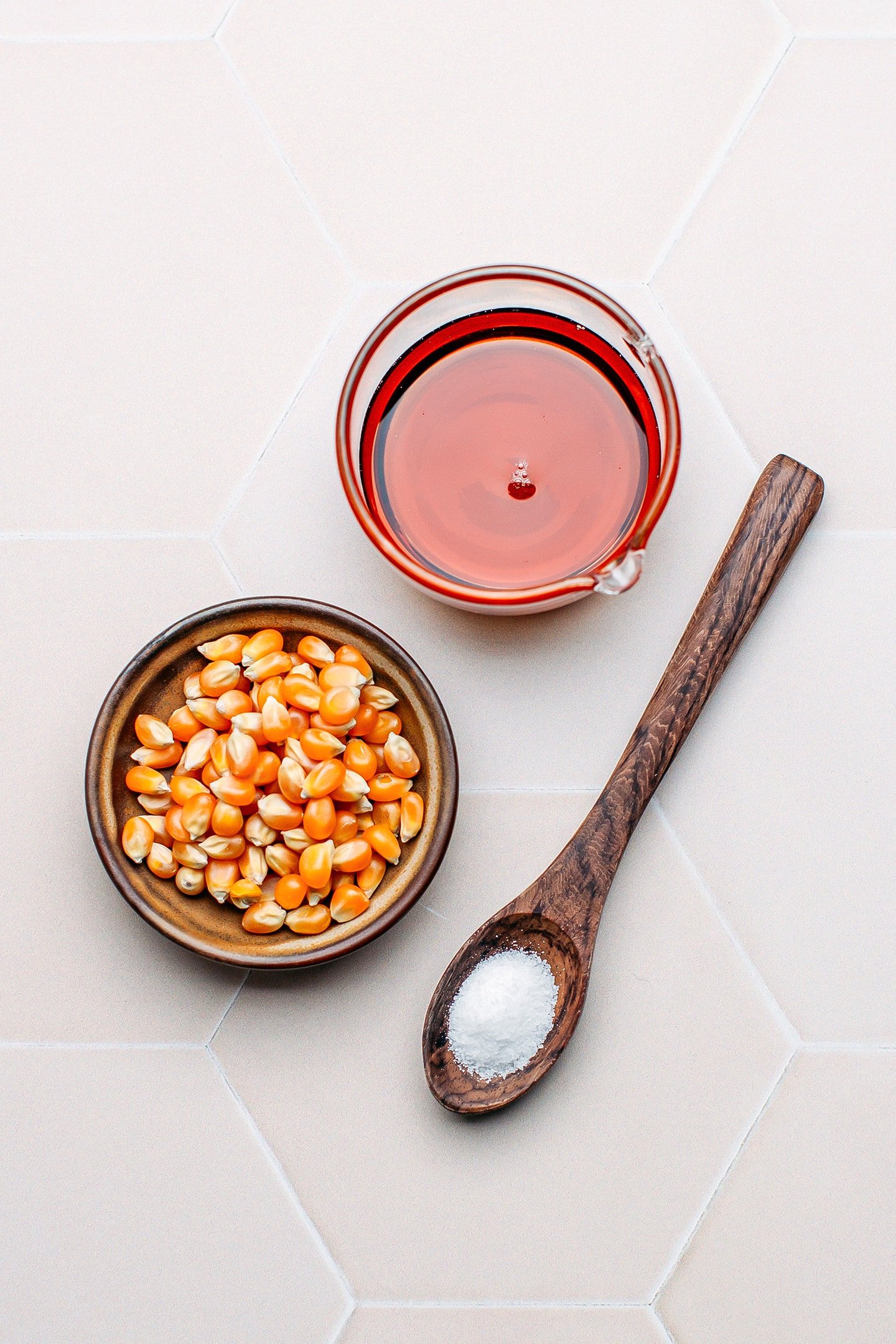 This popcorn recipe requires just 4 basic ingredients: popcorn kernels, coconut oil, maple syrup, and cinnamon.
You start by popping the kernels in a deep saucepan (or use your Instant Pot). Then, you heat the maple syrup until it boils and let it simmer for a few minutes, just enough to slightly thicken it. Pour the hot maple syrup over the popcorn and stir to coat. Sprinkle with cinnamon and optionally a pinch of salt for a sweet and salty popcorn (highly recommended!).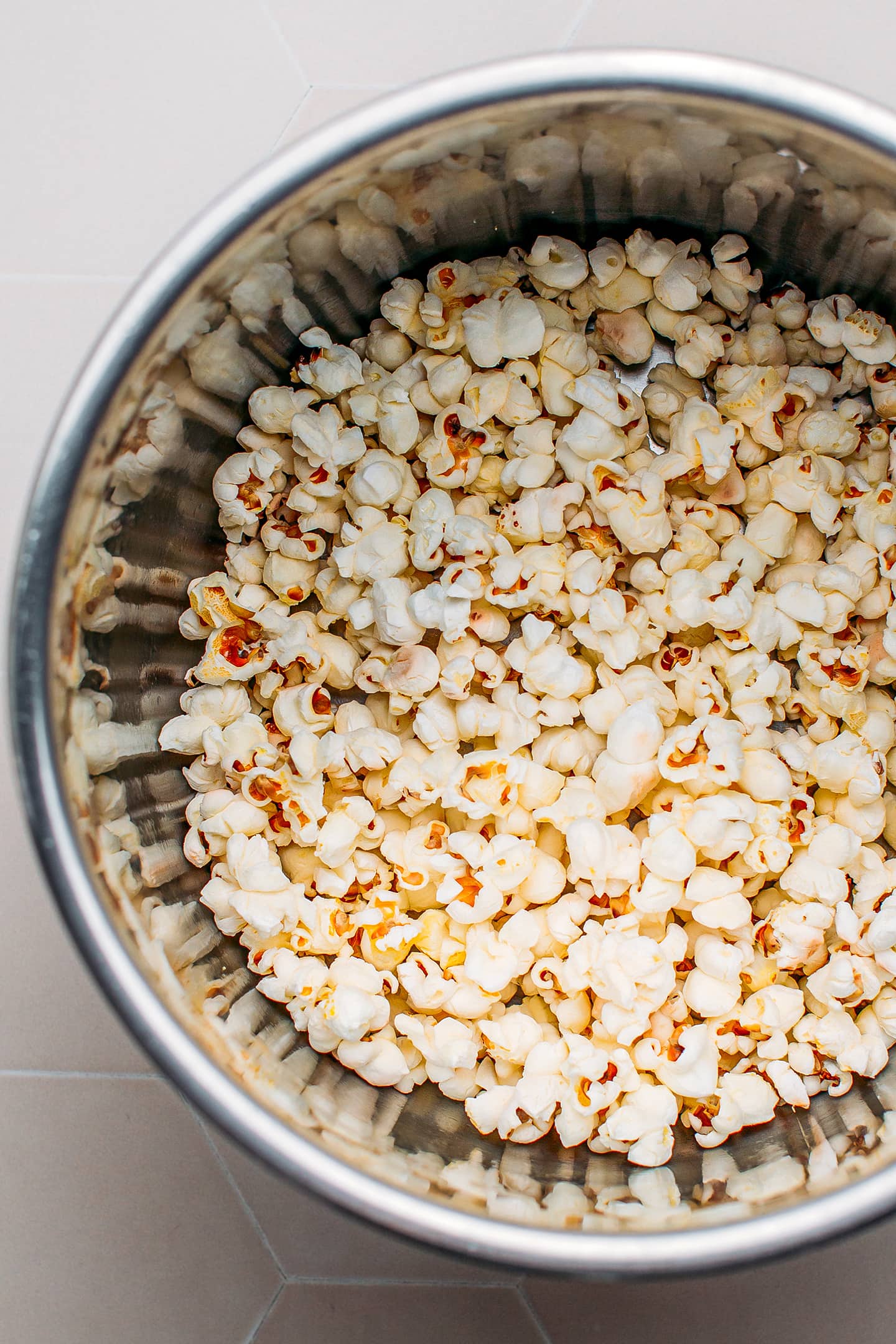 Finally, transfer the popcorn to a baking sheet and bake for 30 minutes. This extra step helps to make the popcorn super crunchy, goodbye soggy popcorn!
Another advantage of baking the popcorn is that the maple syrup will crystallize and harden, meaning the popcorn will keep for up to two weeks in an airtight container and will stay crunchy.
A quick tip: for chai-spiced popcorn: add 1/2 tsp ground cardamom and 1/4 tsp ginger!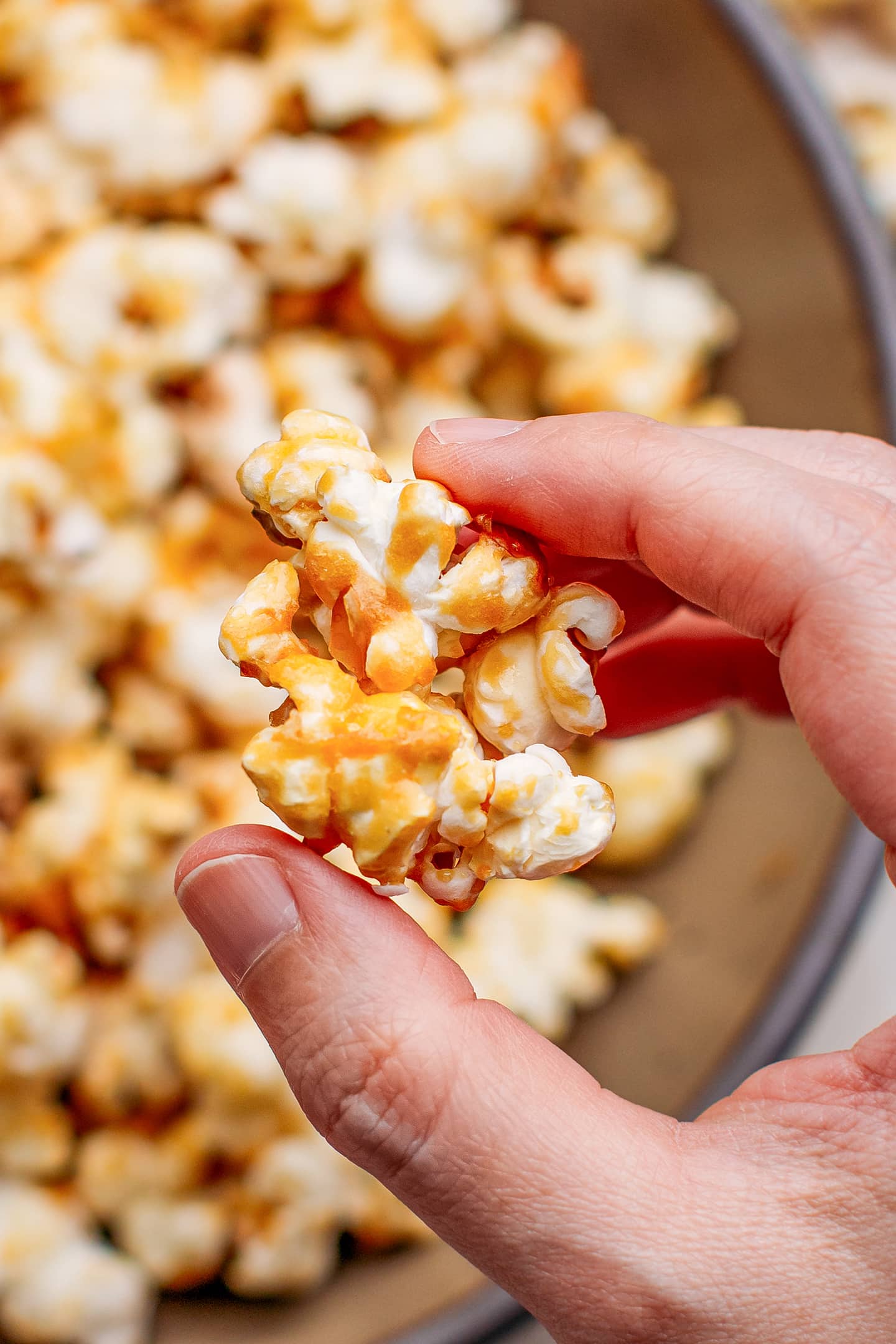 This maple cinnamon popcorn is the perfect snack to have during the holidays! It's festive, requires just 4 ingredients, and is super cinnamony!
Let me know in the comments if you try this recipe!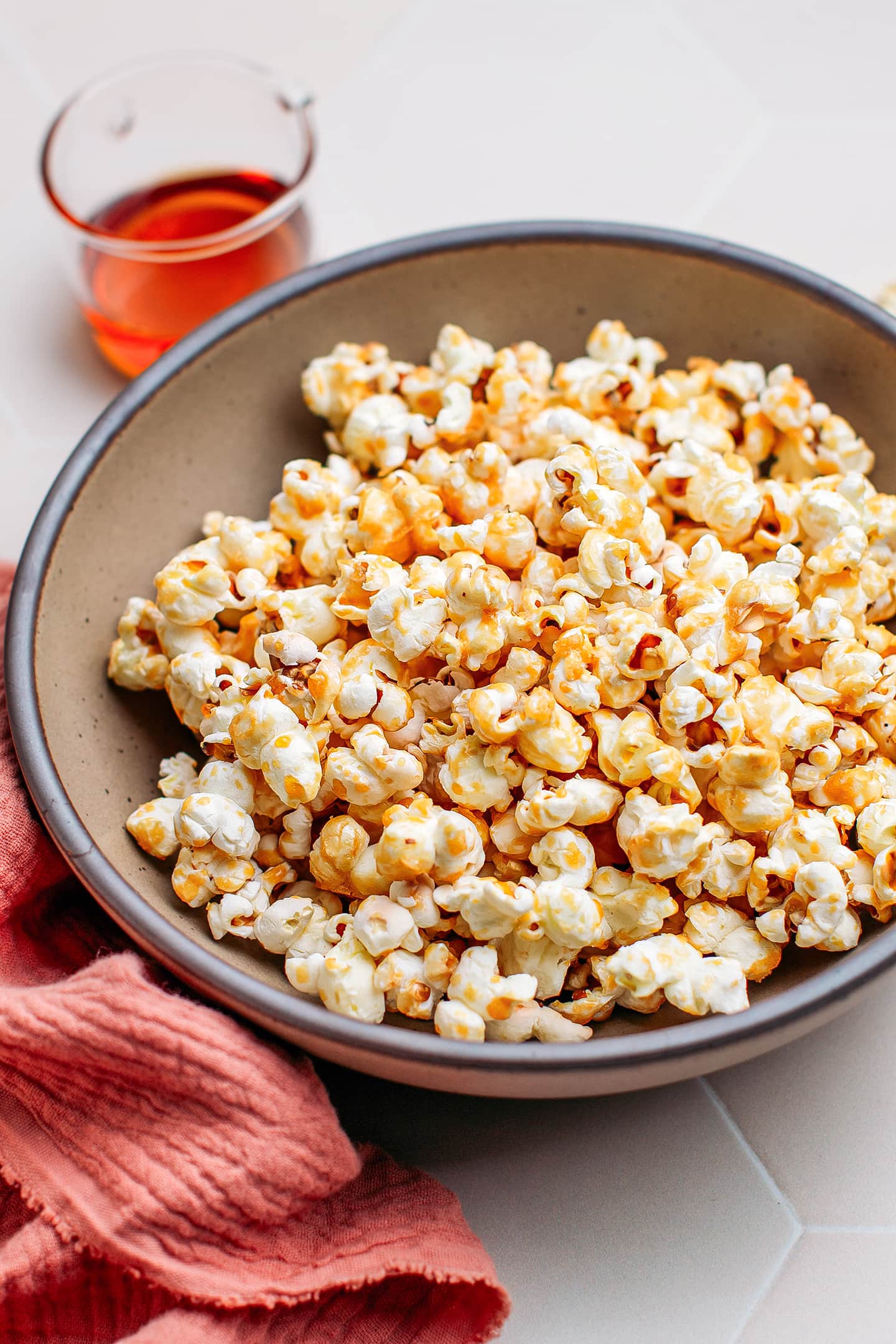 Recipe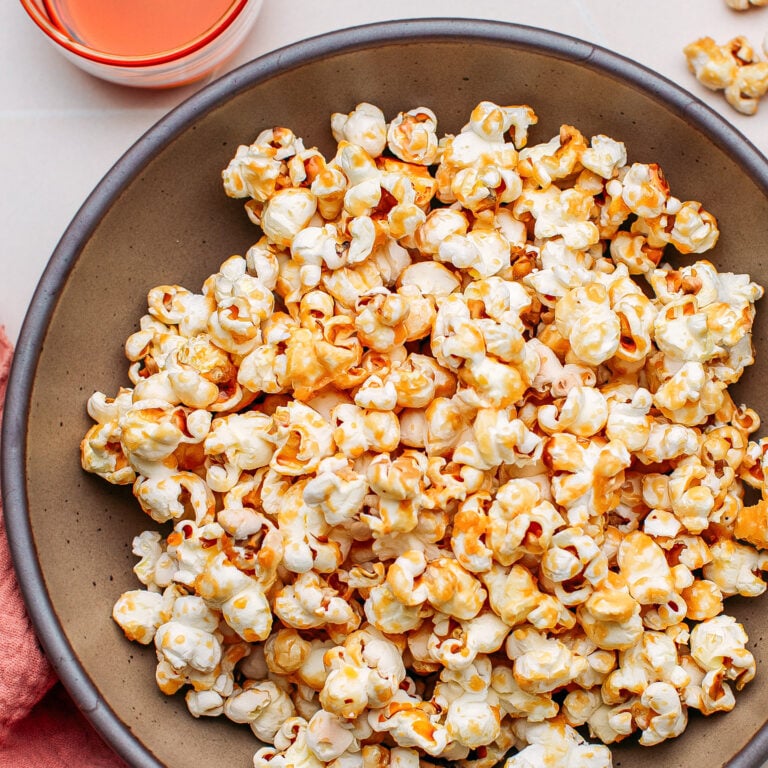 Popcorn with Maple Syrup
Easy 4-ingredient popcorn that is full of cinnamon flavor and super crunchy! The perfect holiday snack!
Instructions
Preheat oven to 250°F (125°C) and line a baking sheet with parchment paper, set aside.

Heat the coconut oil in a large heavy-bottomed saucepan over medium-high heat. Add the popcorn kernels and cover the saucepan with a lid. Wait about 30 seconds; the kernels will pop. Shake the saucepan to make sure all the kernels pop.

Once the popping has slowed down, remove from heat and let it sit for another minute.

Heat the maple syrup in a medium saucepan over medium heat. Once it starts to boil and some foam/bubbles form, let it boil for 3-4 minutes.

Pour over the popcorn, add the cinnamon and vanilla extract, and immediately stir using a wooden spoon to coat the popcorn.

Transfer the popcorn to the prepared baking sheet and bake for about 30 minutes. Remove from the oven and let cool for a few minutes; the popcorn will become crunchy.

Maple popcorn will keep for up to two weeks stored in an airtight container at room temperature.
Nutrition
Serving:
1
serving
|
Calories:
264
kcal
|
Carbohydrates:
48
g
|
Protein:
3
g
|
Fat:
7.8
g
|
Fiber:
3.5
g
|
Sugar:
24.5
g
Did you make this recipe?
Tag @fullofplants on Instagram and hashtag it #fullofplants