Say hello to your new favorite dessert/snack! Vegan Halva! This plant-based halva recipe requires just 2 ingredients and is super easy to make! It's naturally sweetened and full of tahini flavor!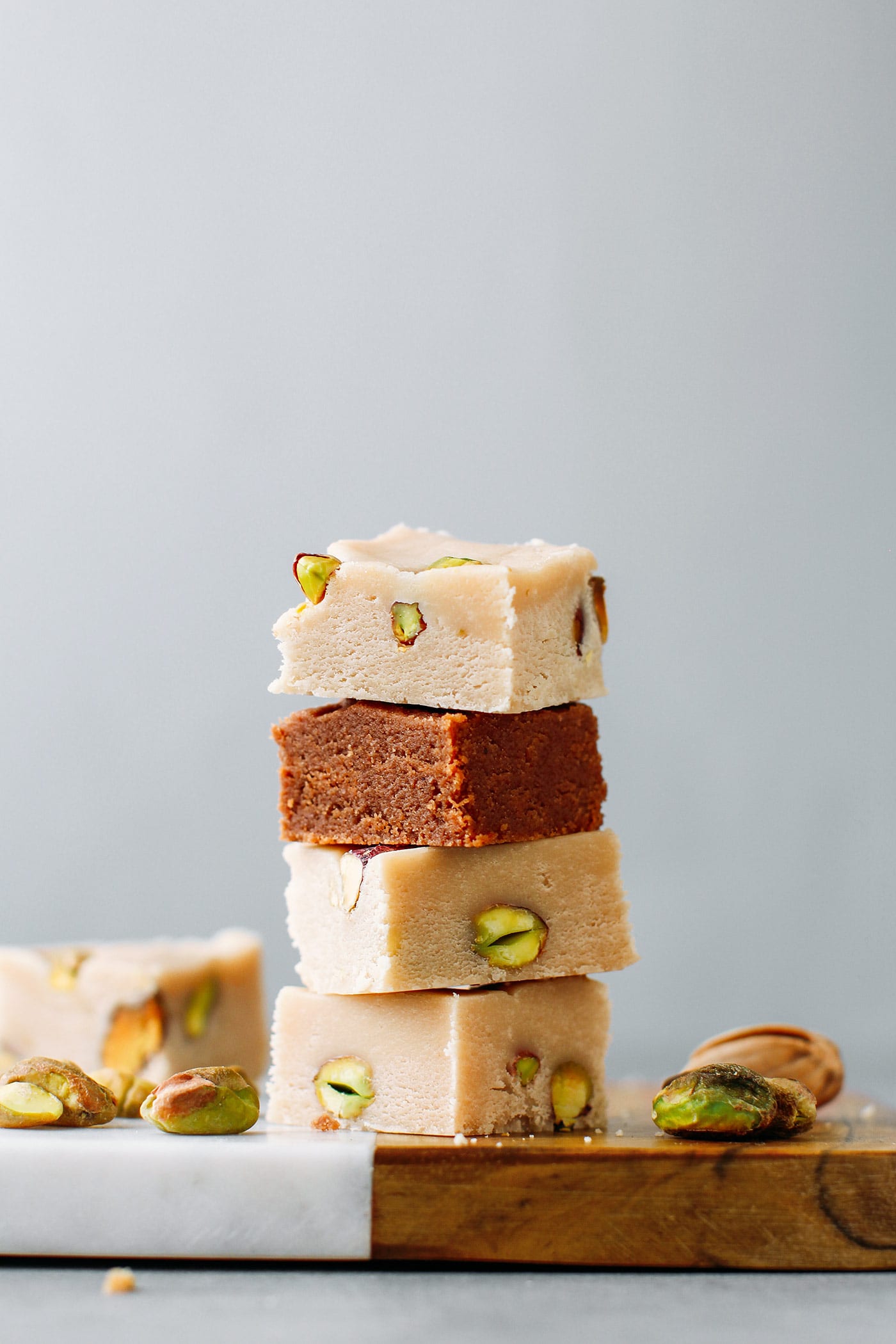 📘 What is Halva
Halva, or halvah, is a middle eastern dessert very popular in Israel, Greece, Turkey, and many other countries. Made with tahini and honey or sugar, it's sweet, nutty, and has a crumbly yet soft texture. It is often served with coffee and makes a delicious afternoon snack!
I love Halva, but I'm not a fan of white sugar, so I had to come up with a healthier recipe without sacrificing on flavor. This 2-ingredient halva is not only vegan but it's also refined sugar-free! AND I'm sharing 5 ways to flavor it! Let's do it!
🍁 Ingredient Notes
The base of this recipe requires just two ingredients:
Tahini – Also called sesame paste, tahini is an essential ingredient in making halva. It brings creaminess, richness, and a nutty flavor. Be aware not all brands of tahini are equal, so try to use tahini that has no bitterness for the best flavor.
Maple syrup – Preferably grade A maple syrup (light or medium amber). I recommend staying away from dark amber maple syrup, as it would overpower the flavor of the tahini.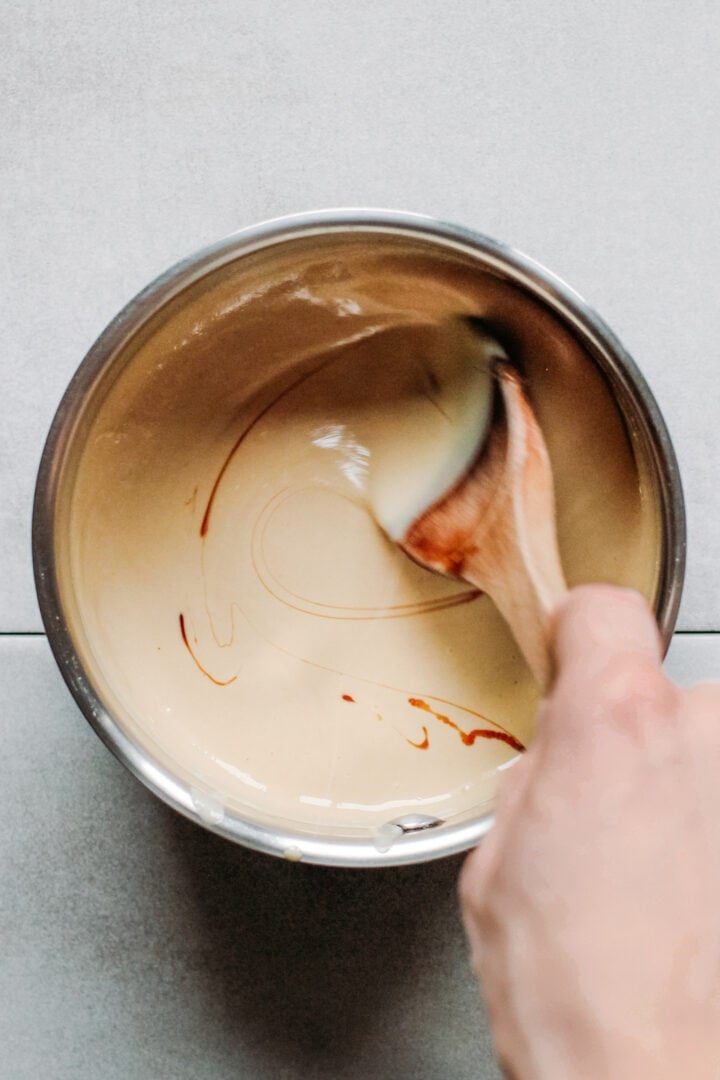 🥣 How to Make Halva
Add the maple syrup to a saucepan and bring it to a simmer.
The secret to getting halva that sets and becomes crumbly is to heat the maple syrup to 266°F (130°C), so you will need a thermometer for this recipe. If you don't boil the maple syrup enough, your halva will have the consistency of nut butter instead of being firm.
Once the maple syrup has reached the correct temperature: remove it from the heat and stir in the warm tahini.
Stir until it thickens and forms a paste. At first, it will be quite liquid but will quickly thicken.
Then transfer to a small baking dish (or greased ramekins). The shape doesn't really matter. Use what you have on hand.
Finally, wait until the halva firms up, which will take about 2 hours at room temperature. Once firm, cut into squares and enjoy!
You can serve this halva with coffee, latte, or tea or use it as a topping in recipes like brownies, cookies, or even ice cream!
🍫 Flavor Ideas
If you are interested in making flavored halva, I have got you covered! Here are 5 other halva flavors:
Vanilla: A classic but one that never disappoints! It makes the tahini flavor shine.
Pistachio: If you are on the crunchy team, this one is for you! Roasted pistachios add more texture and a beautiful green color to the halva.
Chocolate Hazelnut (aka Nutella): This halva is super nutty with a light chocolate flavor. Tahini combined with hazelnut butter and cocoa powder makes this halva super addictive.
Pecan Cinnamon: Probably my favorite! Loaded with candied pecans and full of cinnamon, this halva is the best for the Holidays! Plus, it makes a great gift!
Marble: Melted chocolate swirled into halva? Count me in!
Peanut Butter: It tastes like peanut butter fudge but is more crumbly and has crunchy peanut pieces.
There are many other ways to flavor halva. You can add spices like cardamom, ground coffee, rose extract, and more!
📔 Tips
Be aware this recipe yields halva that is crumbly in texture, just like the real one but doesn't have that crystalized/flaky texture. If you ever had Halva, you probably know what I mean by that. The thing is, it's not possible to achieve such texture without making a very, very large batch (probably hundreds of pounds of halva). It doesn't make it any less delicious, though!
A candy thermometer is essential if you want the best texture.
💬 FAQ
Can I replace the maple syrup with honey?
If you are not vegan, you can use honey instead of maple syrup. Simply change the temperature to 240°F instead of 266°F.
How long does Halva keep?
Halva will keep for weeks stored in an airtight container at room temperature, just like any nut butter. After about a week, it tends to become a bit dryer, though.
I hope you will all love this vegan halva! It's naturally sweetened and has a delicious and nutty flavor. Tahini lovers, definitely try this recipe!
🍭 More Candy Recipes
Let me know in the comments if you try this recipe!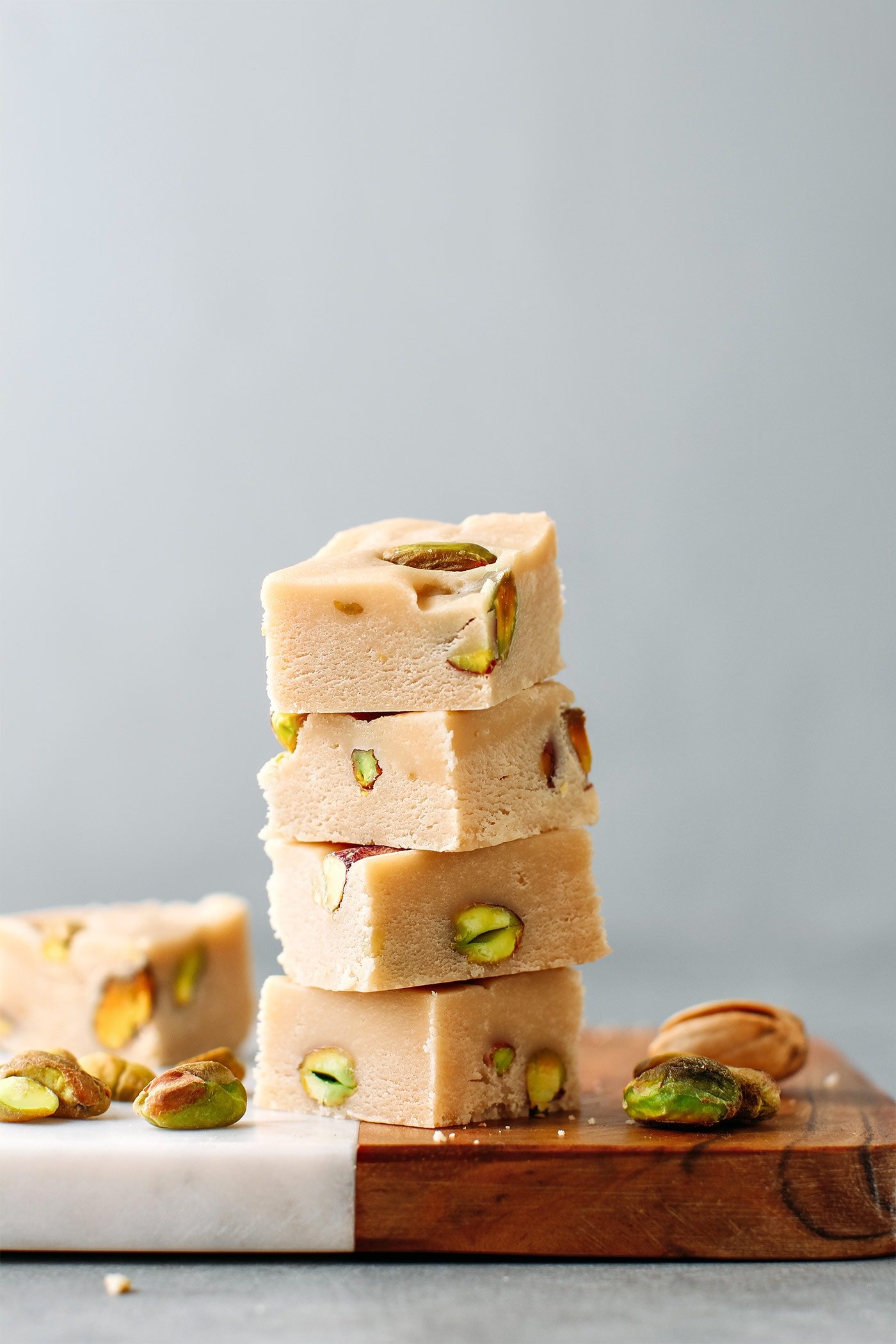 Recipe
Vegan Halva (2-Ingredient!)
Sweet and nutty halva that is naturally sweetened! This one comes with 4 variations! Vegan + GF.
Instructions
Lightly grease a small glass baking dish. You can use a silicone muffin pan if you want. The shape doesn't really matter.

Place the maple syrup in a medium saucepan and heat over medium heat until it reaches 266°F (130°C). The maple syrup will bubble, and some foam will form; this is normal. While the maple syrup is heating, place the tahini, vanilla extract, and pistachios, if using, in another saucepan and warm over low heat. Tahini must be just warm, not hot.

Once the maple syrup has reached the temperature, turn the heat off and pour the warm tahini into the saucepan. Using a wooden spoon, stir until it thickens and doesn't look shiny anymore. You can use an electric beater if you want but do not beat for too long as it thickens very quickly, about 5-10 seconds.

Pour immediately into the prepared dish and spread it into an even layer. Let cool at room temperature for at least 3 hours before removing from the pan or baking dish.

You can then cut it into small squares or make small chunks using your fingers. Enjoy with coffee, tea, or as an afternoon snack!

Halva will keep stored in an airtight container at room temperature for up to 3 weeks.
Notes
For non-vegans, you can substitute maple syrup for honey. If you don't have access to maple syrup, you can use 2/3 cup cane sugar combined with 2 tbsp water, bring it to a temperature of 248°F (120°C), and then stir in the tahini.
Halva flavors
"Nutella": Combine 1/4 cup tahini, 1/4 cup hazelnut butter, 1/2 tsp vanilla extract, and 1 tsp cocoa powder.
Pecan Cinnamon: In a small bowl, coat 1/4 cup pecans with 2 tsp maple syrup, 1/4 tsp oil, and 1/8 tsp cinnamon. Roast for 8 minutes at 350°F (175°C). Add the roasted pecans and 1/4 tsp cinnamon to the tahini.
Chocolate Marble: Melt 3 tablespoons of dark chocolate chips over a double boiler. Prepare the halva as explained above. Stir in the melted chocolate after combining the tahini with the maple syrup. Refrain from stirring too much to keep a nice chocolate swirl.
Peanut: Combine 1/4 cup tahini, 1/4 cup peanut butter, 1/4 tsp vanilla extract, and 1/4 cup roasted peanuts.
Nutrition
Serving:
1
square (without pistachios)
|
Calories:
116
kcal
|
Carbohydrates:
9.3
g
|
Protein:
2.7
g
|
Fat:
8.4
g
|
Fiber:
1.5
g
|
Sugar:
5.4
g
Did you make this recipe?
Tag @fullofplants on Instagram and hashtag it #fullofplants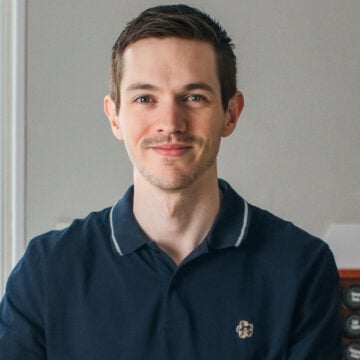 About the Author
Thomas Pagot is the founder, photographer, and recipe developer behind Full of Plants. He created the blog in 2016 as a personal cookbook for vegan recipes. Through years of recipe development, Thomas has successfully grown Full of Plants into a trusted resource for plant-based recipes.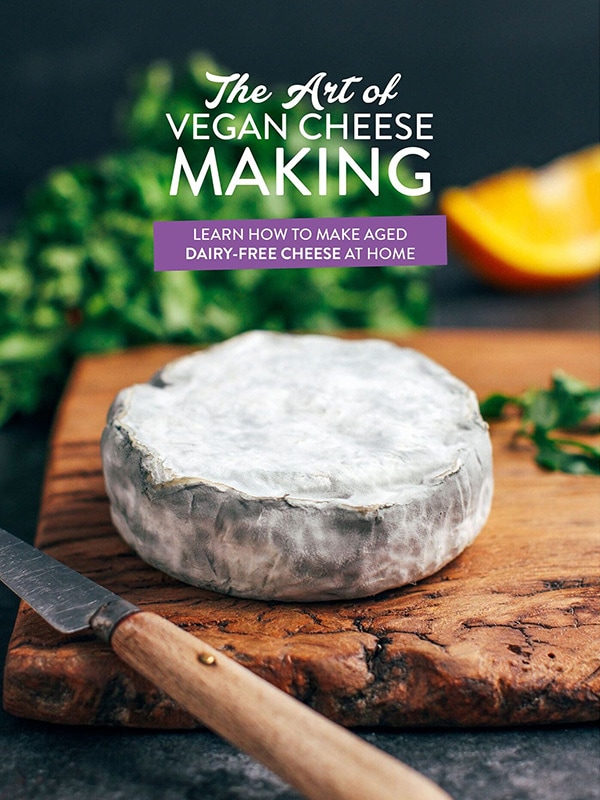 🧀 25 Mind-Blowing Vegan Cheese Recipes!
Sign up for the Full of Plants newsletter and you'll get new recipes delivered by email weekly, PLUS your FREE 100-page printable eBook!