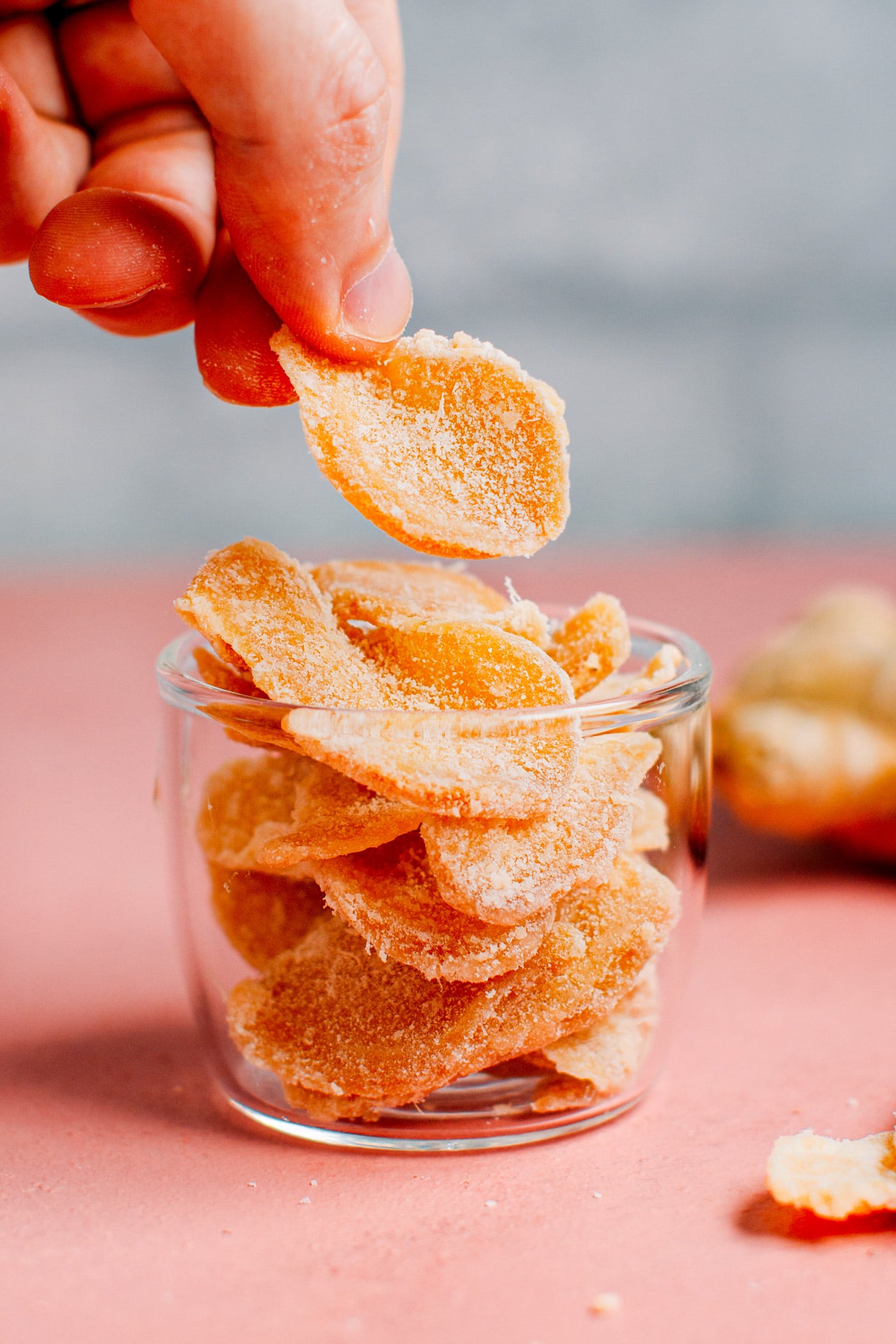 If you ever wondered what to do with that big piece of ginger sitting in your fridge, you are going to love this recipe!
Making your own candied ginger is easy, requires just 3 ingredients, and it has the perfect balance of sweet and citrusy! Let's do it!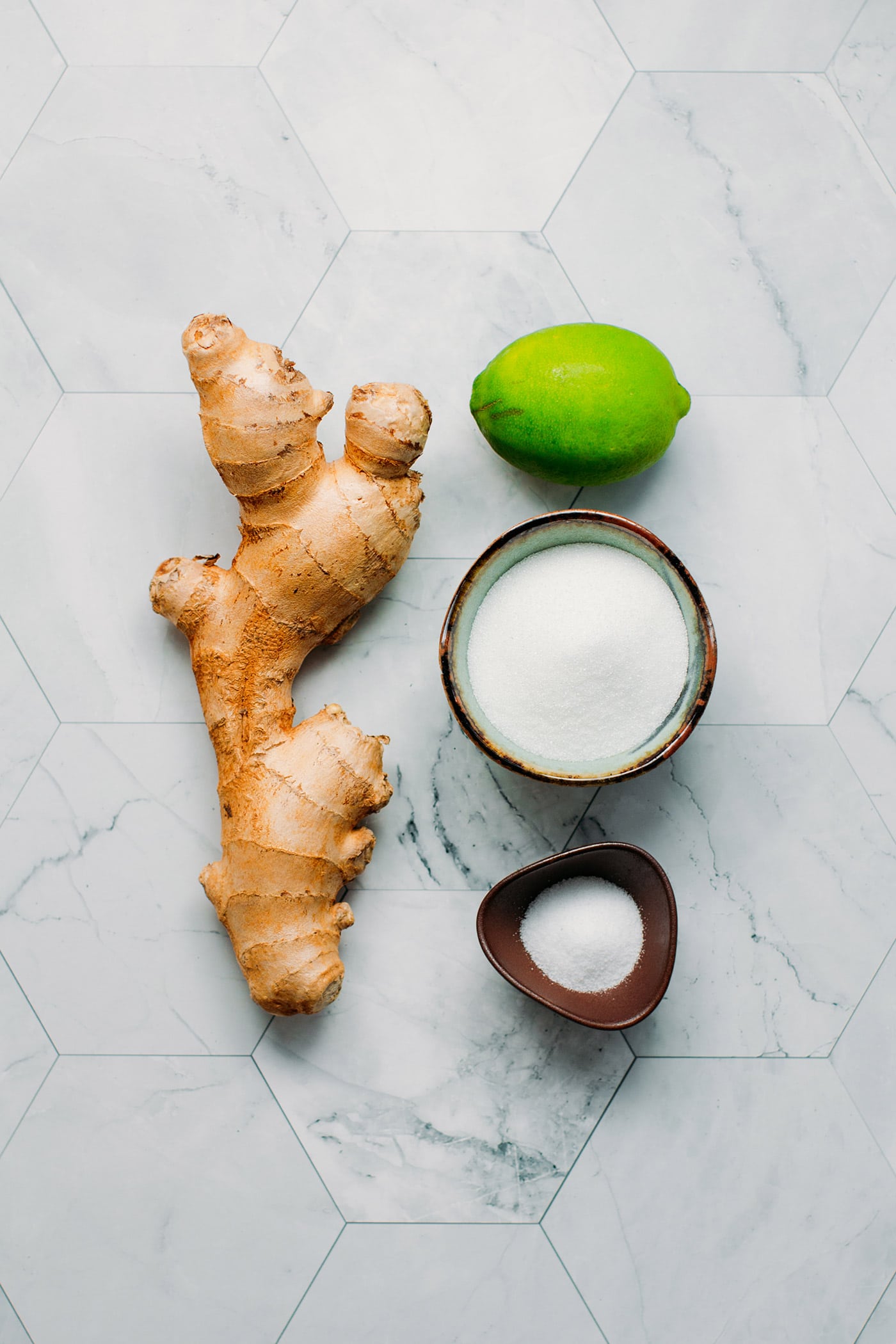 WHAT IS CANDIED GINGER
Candied ginger is fresh ginger that has been cooked in a sugar syrup. It is sweet and spicy with a fresh and zesty flavor. It can be consumed as a candy, or used in other recipes.
The process to make candied fruit appeared during the late Middle Ages, around the 14th century, as a way to preserve fresh fruits. The high sugar content as well as the reduced moisture of candied fruit preserves it from growing mold.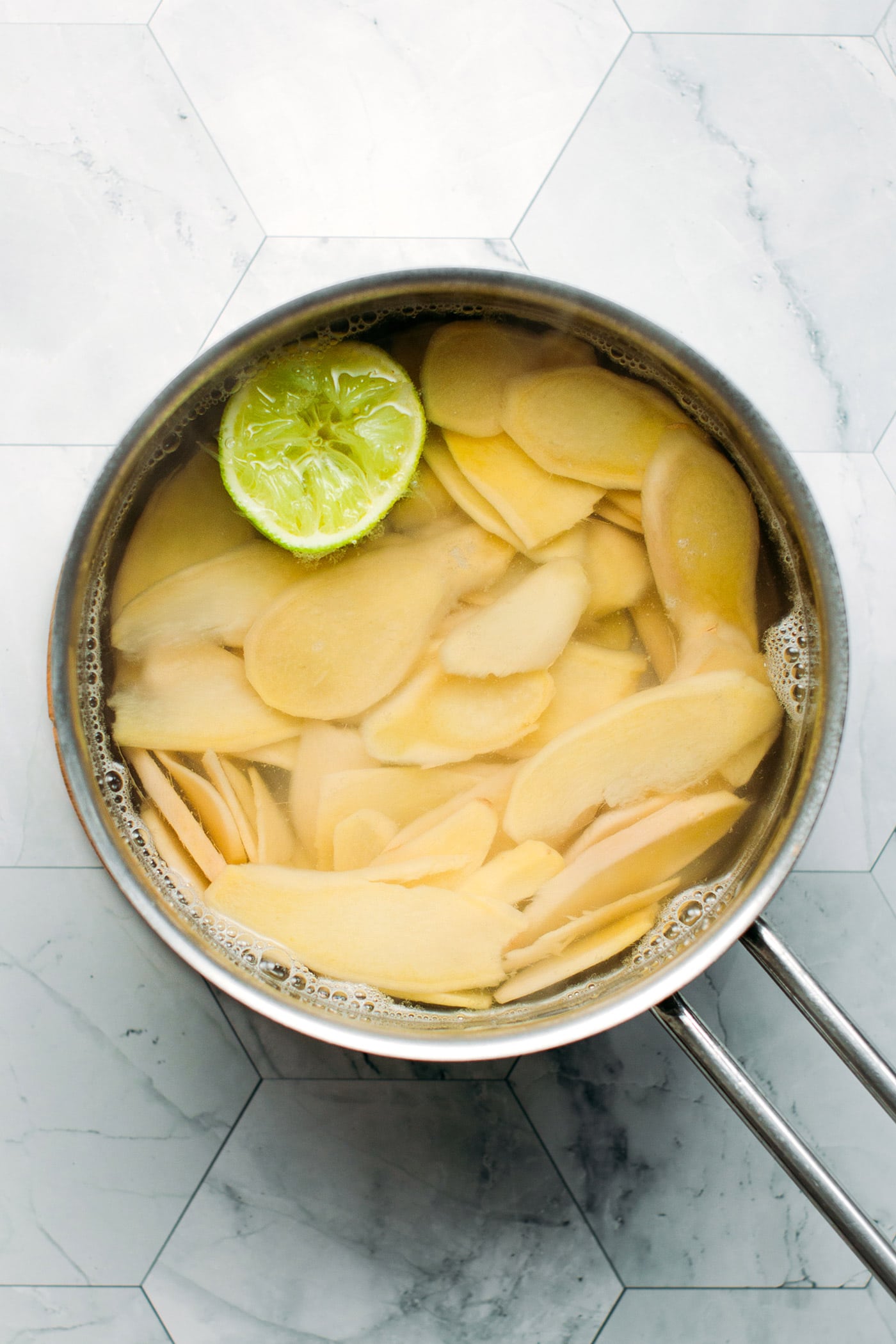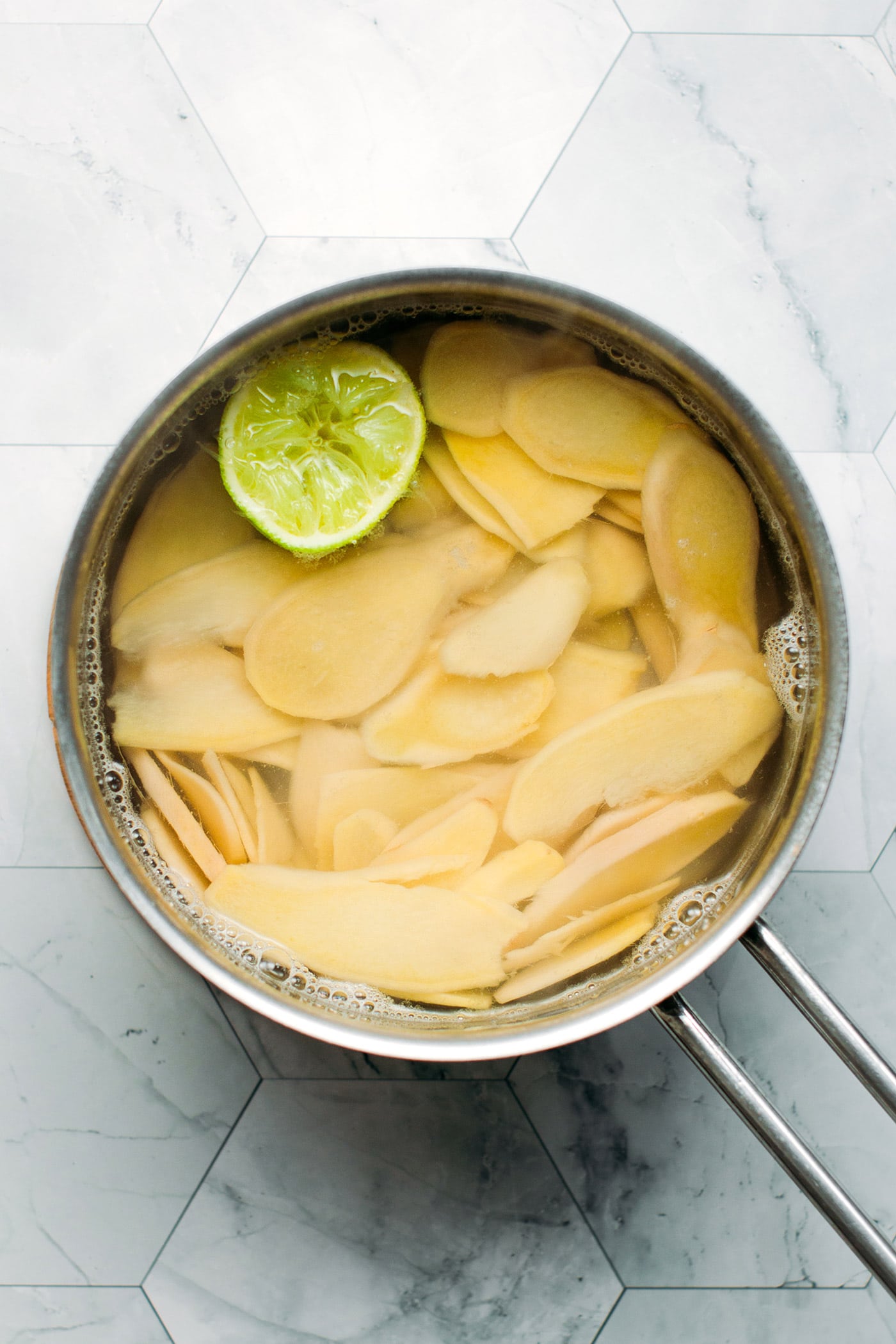 HOW TO MAKE CANDIED GINGER
Preparing candied ginger is much easier than you probably think! It requires just 3 basic ingredients and consists of a very simple process. There are different ways to make candied ginger, here we will be using a Vietnamese-inspired process, which I find the quickest and easiest.
First, you want to peel and thinly cut ginger roots. I recommend using the freshest ginger you can find, not only the flavor will be better, but it will also be easier to slice thinly.
Once done, rinse the ginger and coat it with salt. Let sit for 30 minutes. This step helps remove moisture from the ginger and give it some elasticity.
Next, boil the ginger slices for about 5 minutes.
Why boil? Boiling the ginger will remove some of its spiciness. I usually boil it once, drain it, and boil it a second time. For a spicy flavor, boil just once. However, if you want a sweeter flavor, boil it 3 to 4 times.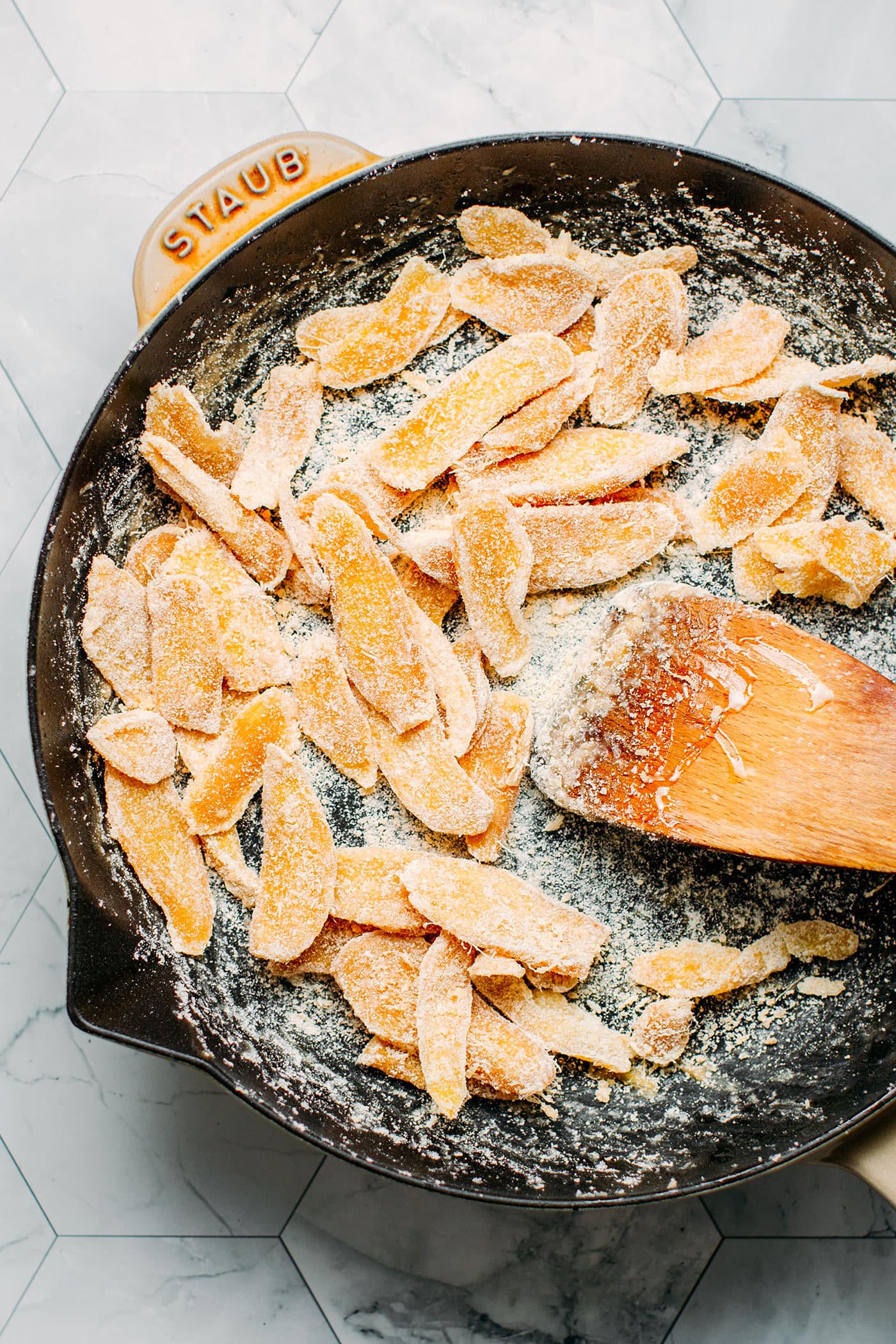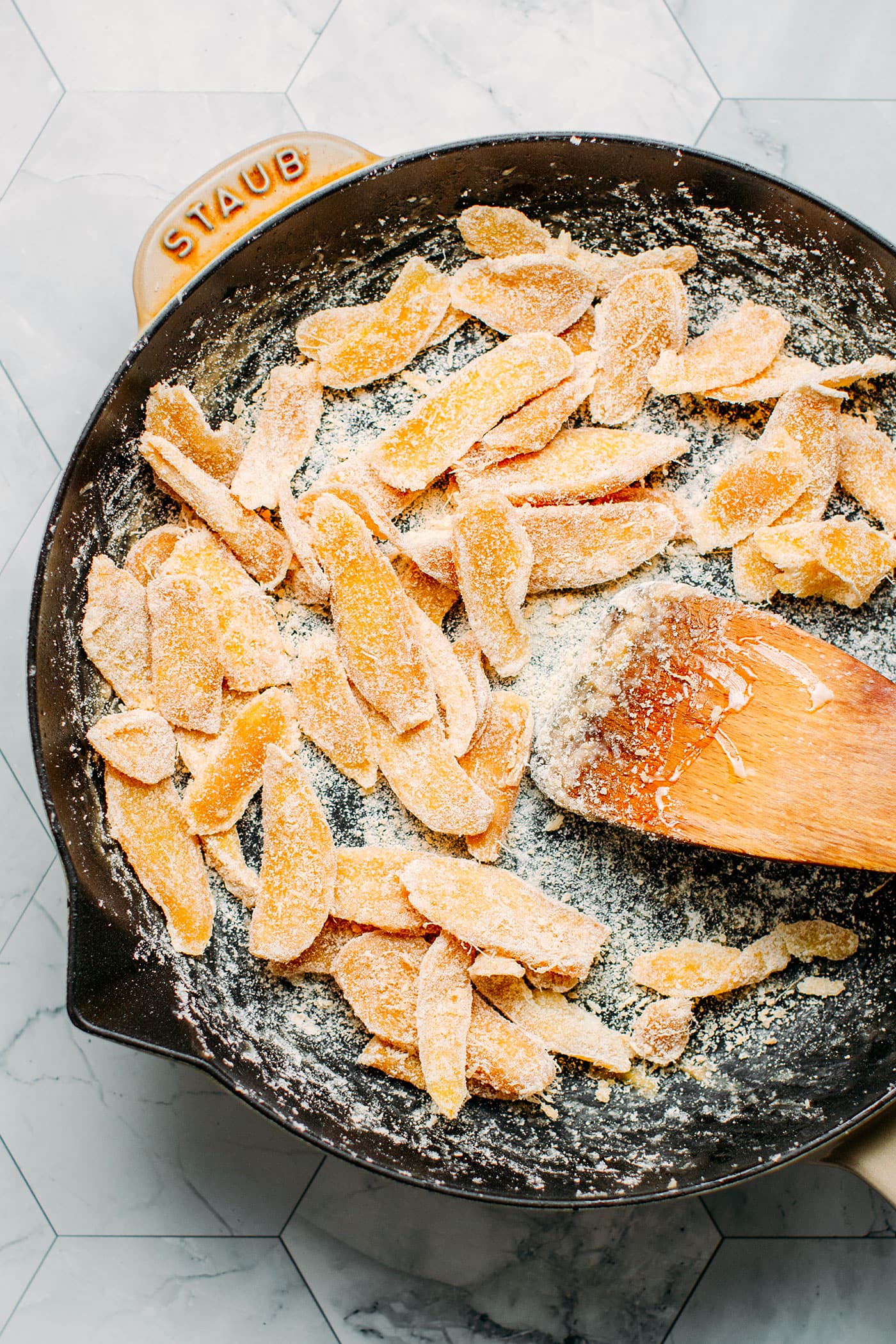 Once our ginger has been drained, coat with sugar and let it sit overnight. The ginger will absorb the sugar and create a syrup.
Finally, heat the ginger with the syrup until no more liquid remains and the sugar crystallizes.
Quick tip: Remove the skillet from heat as soon as there is no more liquid, otherwise it will turn into a caramel and that's not what you want. As it cools down the sugar will crystallize, so make sure you keep stirring until the ginger slices are coated with a powdered sugar.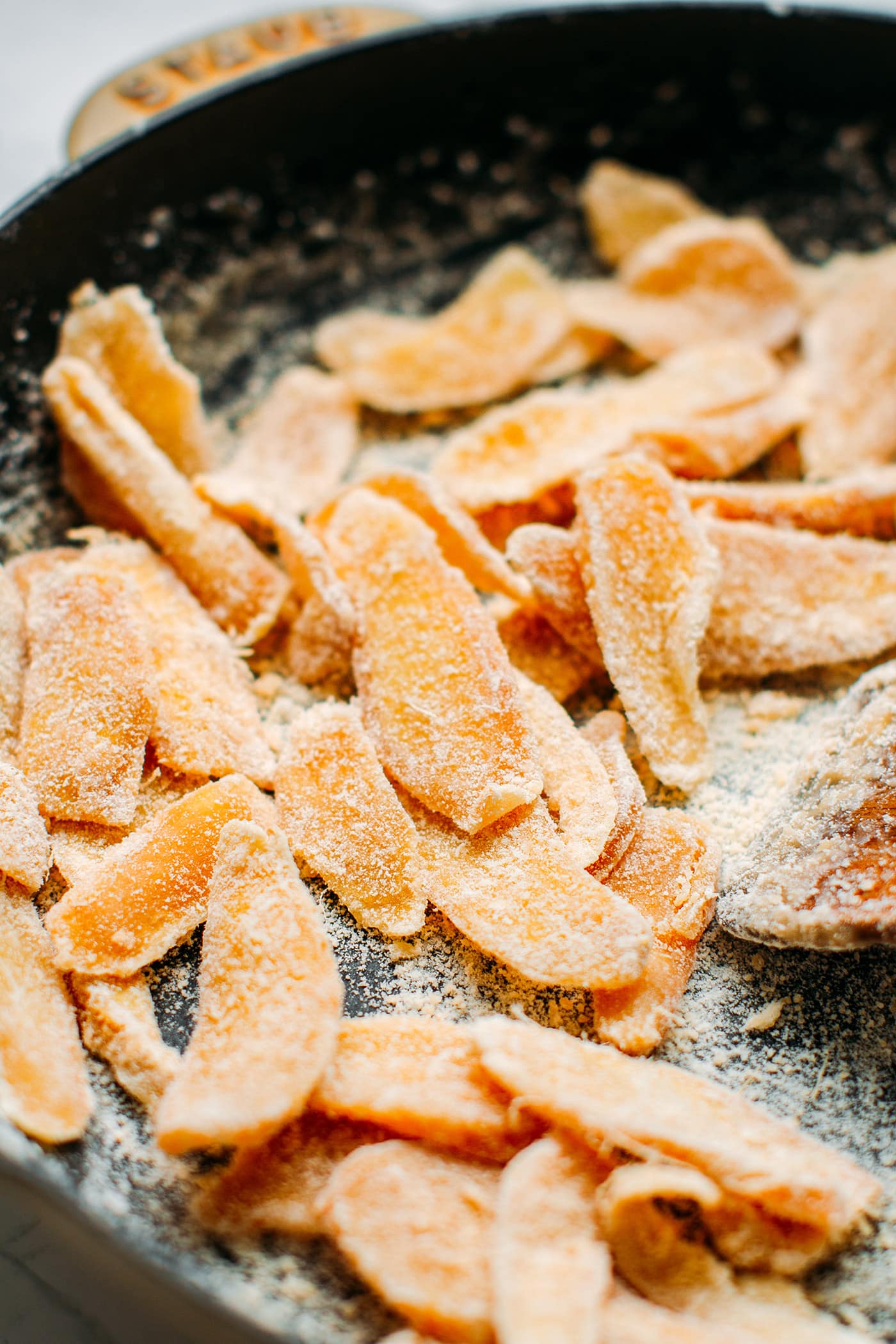 WHERE TO USE CANDIED GINGER
Candied ginger is versatile and can be used almost everywhere:
In cookies, cakes, bread: Especially in Christmas or Thanksgiving desserts, it's perfect to add freshness and spiciness.
As a snack: Enough said.
In oatmeal or granola: Cut into cubes and stirred into your warm bowl of oats, or added to your favorite granola recipe.
To make chocolate barks: Melt chocolate, pour into molds and top with candied ginger, nuts, etc!
In savory dishes: cut it into small cubes to add to your salads or stir-fried rice.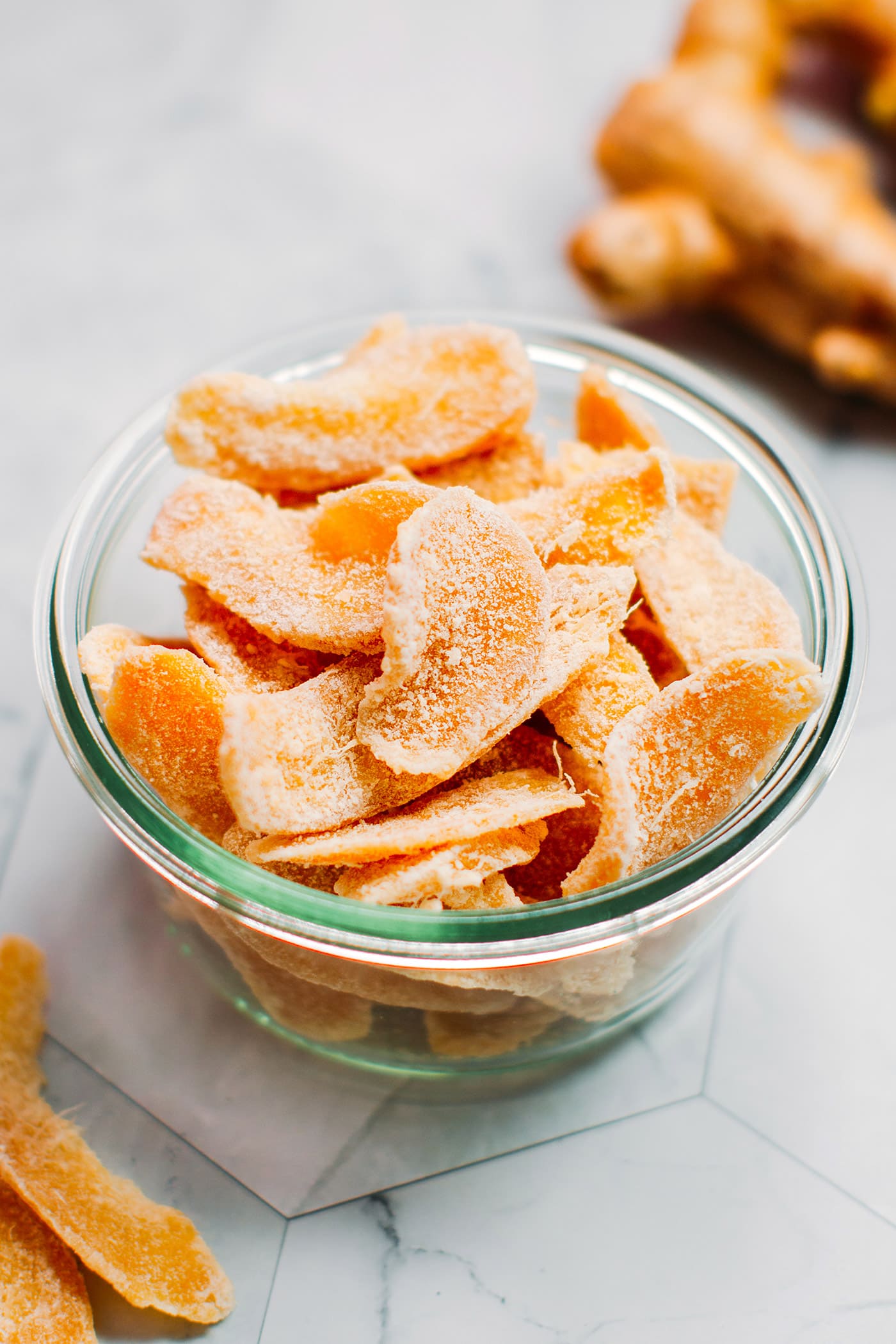 If you love ginger, you definitely have to try this candied ginger! It's tender, super easy to make, and has the perfect balance of sweetness and spiciness.
Let me know in the comments if you try this recipe!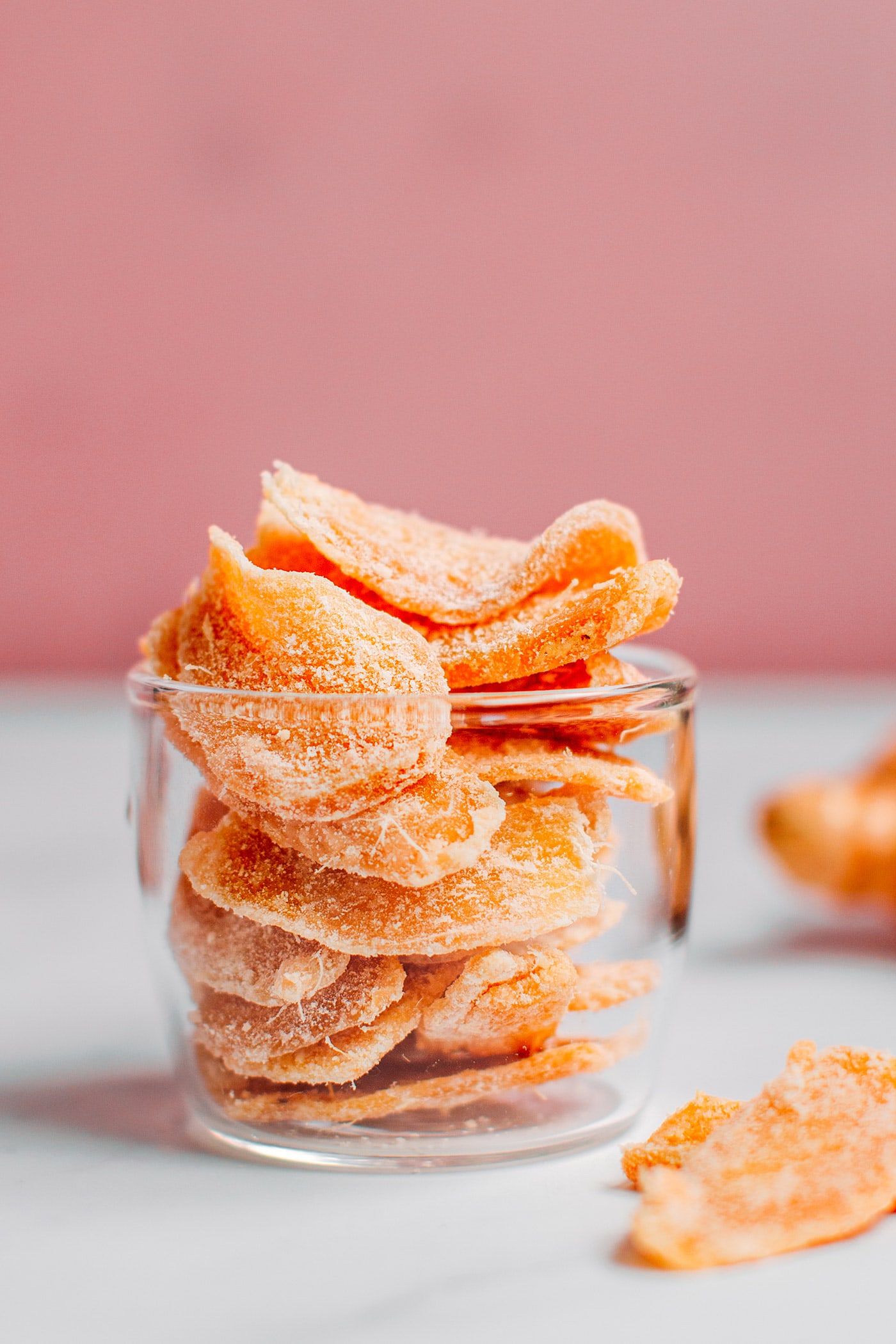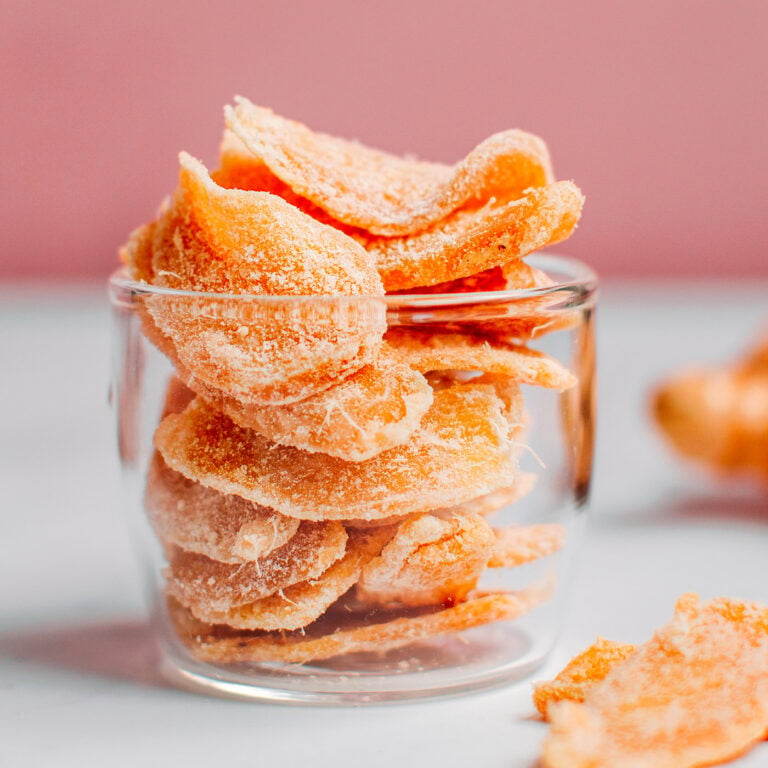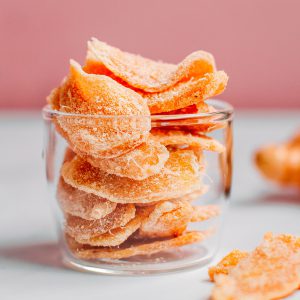 Easy Candied Ginger
Learn how to make your own candied ginger with just 3 ingredients! It's perfectly sweet, citrusy, and tender!
Ingredients
10

ounces

fresh ginger roots

2

teaspoon

salt

1

lime

⅔

cup

sugar
Instructions
Peel the ginger roots using a sharp kitchen peeler. Slice it into ¼-inch thick slices. Some slices will be longer than other, that's okay.

Transfer the sliced ginger to a large bowl and sprinkle with the salt. Stir to coat. Let it sit for about 30 minutes. The ginger will become slightly softer and you should be able to slightly bend the slices without them breaking.

Rinse the ginger well. Fill a large pot of water and add the juice from half of the lime. Bring to a boil. Once boiling, add the ginger slices and boil for about 5 minutes. Drain the ginger and repeat this step once again.

Drain the ginger and transfer to a deep plate or mixing bowl. Add the sugar and stir to coat. Cover with plastic film and let sit on the counter overnight, or for at least 12 hours.

After 12 hours, the sugar will have melted and created a syrup. Add the ginger slices AND the syrup to a non-stick skillet. Heat over medium heat, stirring regularly, until the syrup starts to boil. Once boiling, keep stirring frequently until no more syrup remains (about 20 minutes).

Once there is no more liquid in the skillet, remove from heat and keep stirring using a spatula (or chopsticks). After 3-5 minutes, the sugar will crystallize and you will see some powdered sugar forming. At this point, you can transfer the candied ginger to a cooling rack and let cool completely before transferring to an airtight container.

Enjoy as a snack, or in baked goods, salads, etc! Candied ginger will keep for up to 1 month stored in an airtight container at room temperature. After that it tends to become a little bit firmer.
DID YOU MAKE THIS RECIPE?
Tag @fullofplants on Instagram and hashtag it #fullofplants