These are by far my favorite energy bars recipe on the blog!
You probably know by now that I love snack bars, as you can see with my Healthier Chocolate Candy Bars or these white chocolate macadamia bars. These no-bake granola bars are soft, crispy, not too sweet, and filled with chocolate hazelnut butter!
When I saw that Clif Bar released some nut butter filled granola bars I knew I had to make my own version. To be honest these bars taste even better than the store-bought ones! Nutella lovers: this granola bar is for you!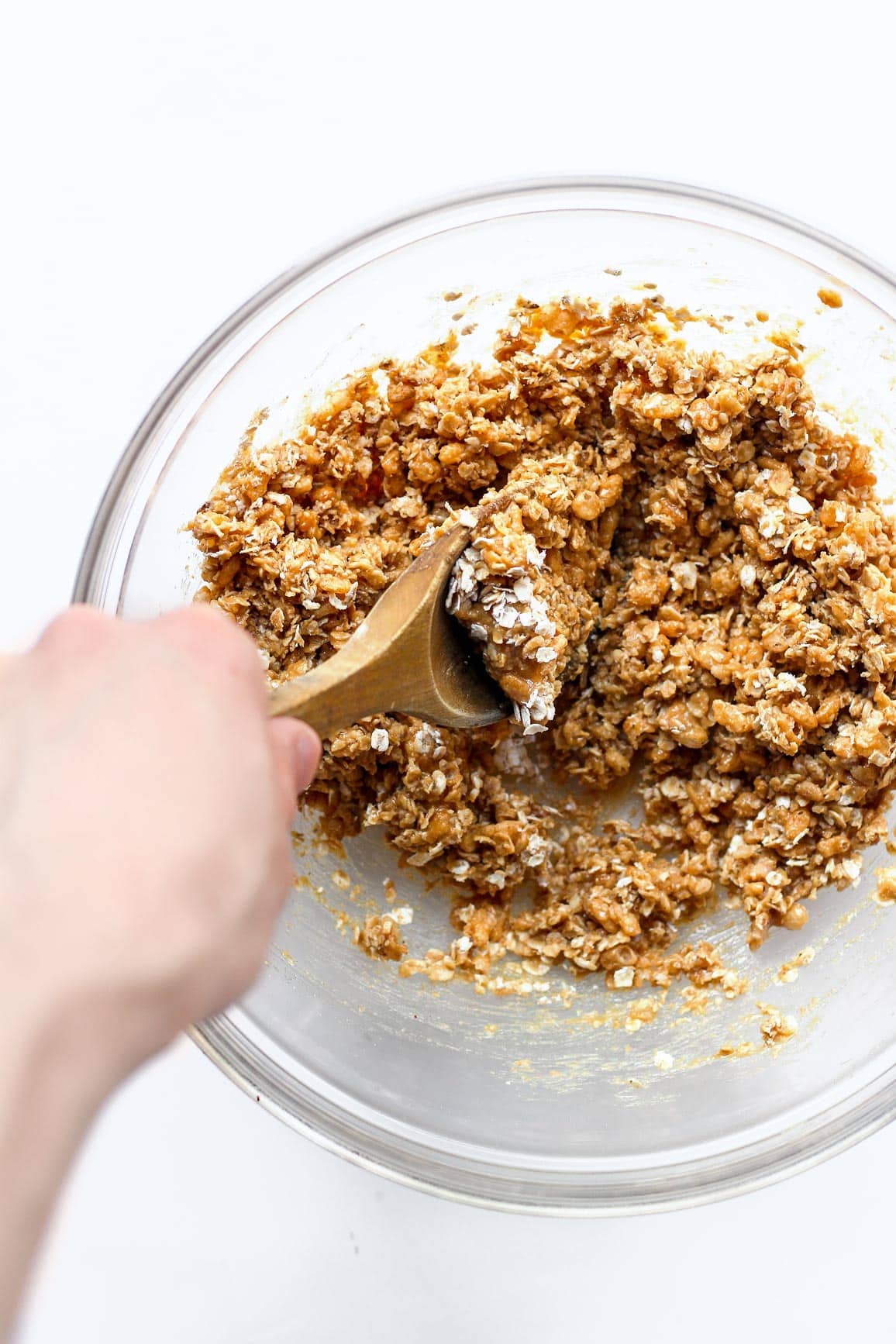 The crust is chewy and crunchy at the same time while the inside is soft, chocolatey and nutty. Wholesome and easy to make, these soft granola bars are also gluten-free and packed with healthy fats to provide lasting energy.
The filling is a simple blend of nut butter and dark chocolate. I used hazelnut butter because hazelnuts and chocolate is a great combo, but you can use any other nut butter. The chocolate is not optional, it helps firm up the filling.
The crust is easy to make, you process the rolled oats, oat flour, and protein powder in a food processor until you get a coarse meal. Then transfer to a bowl and stir in the brown rice syrup, almond butter, and coconut sugar. Brown rice syrup is a thick sweetener and helps bind all ingredients together. You can use coconut nectar but I don't recommend maple syrup or agave nectar, the bars would not hold together well.
Then you add in the rice crisps and carefully mix until just combined.
Roll the dough using a pastry roller and cut it into 12 rectangles. Place a tablespoon of chocolate hazelnut butter on half of them and cover with another rectangle of dough, pressing the sides to close the bars.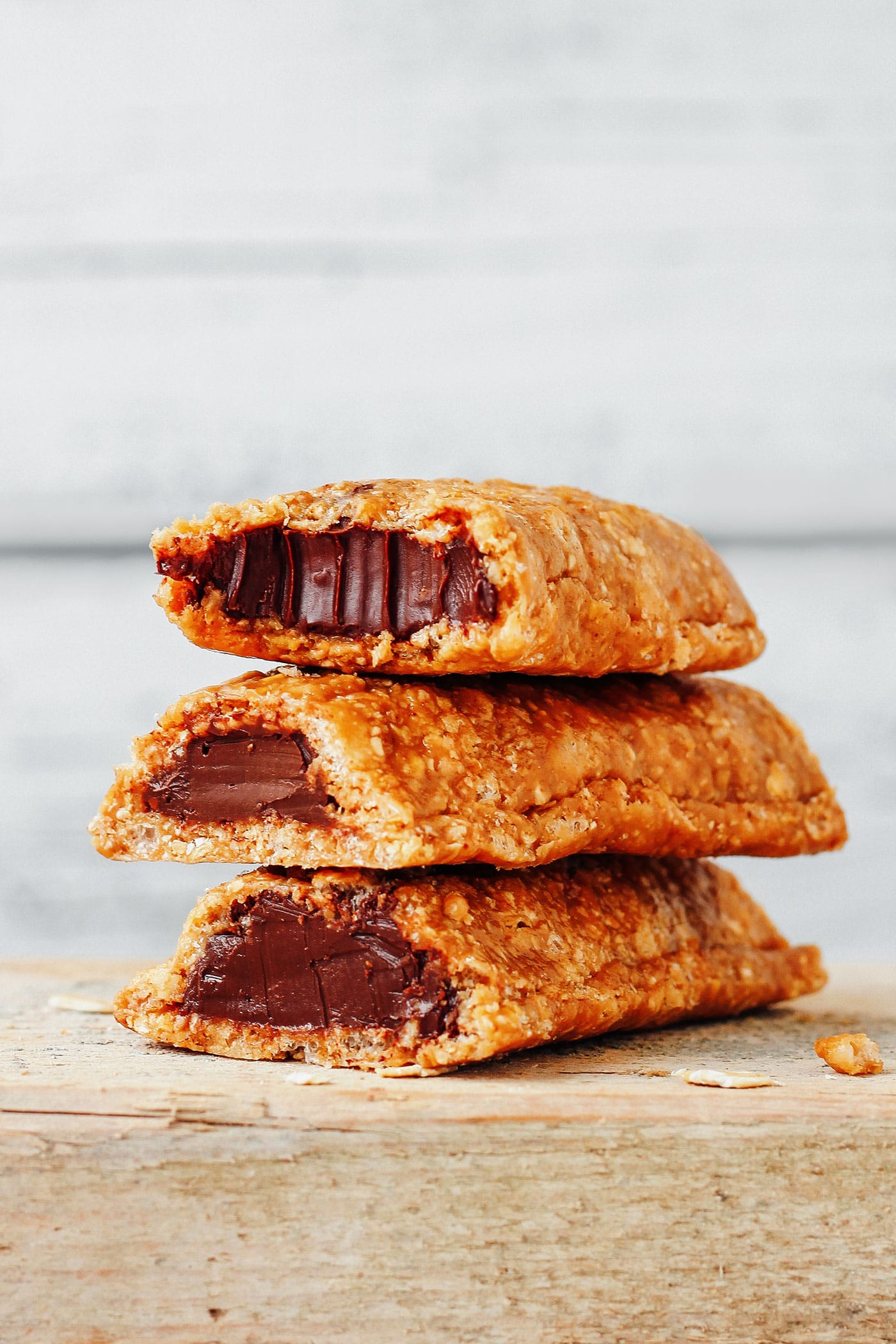 You can keep the bars at room temperature, but if it's 86°F like it was when I took the photos, then the inside will be softer. As you can see in the photo below, the filling is a little bit firmer when the bars are kept at an usual room temperature.
If you like clif bars and nutella, you should definitely try these! The bars are chewy, flavorful and filled with a generous amount of nut butter to keep you full for hours. One bar keeps me full for about 3-4 hours and they are only 225 calories each!
Let me know if you try these super addicting bars in the comment!
📖 Recipe
Nutella Filled Soft Granola Bars
Soft and chewy granola bars filled with a generous amount of chocolate hazelnut butter. Wholesome and easy-to-make, the perfect snack bar!
Ingredients
Chocolate hazelnut butter
Instructions
Chocolate hazelnut butter
Melt the chocolate over a double boiler.

Remove from heat and mix with the hazelnut butter until well combined.

Let it cool at room temperature for a few minutes and place the bowl in the refrigerator for at least 2 hours. Once it is firm, remove from the refrigerator and let sit at room temperature, the hazelnut butter will become a little bit softer and easier to work with.
Bars
Add the rolled oats, oat flour and protein powder to the bowl of a food processor. Process for 3-5 seconds, or until the oats are roughly chopped. Transfer to a mixing bowl.

In a small pan, combine the brown rice syrup, coconut sugar, and almond butter. Heat on medium heat until everything is well combined and the sugar is dissolved.

Pour the brown rice mixture over the oats and protein powder. Stir in the vanilla extract and mix using a wooden spoon or spatula until you get a soft and sticky dough.

Add the rice crisps and mix until they are well incorporated. Do not overmix to keep the crunchy texture.

Place the dough between two sheets of parchment paper and roll it using a pastry roller. You want to have a really thin layer of dough.

Cut the dough into 12 rectangles of about 4x2 inches.

Using your hands, form a small log with the chocolate hazelnut butter (about 1 tbsp). Be careful, if your kitchen is too hot, the hazelnut butter will be really soft. I recommend you keep the chocolate hazelnut butter in your refrigerator if it is the case.

Add the chocolate hazelnut butter log on top of a rectangle, leaving about ¼-inch on the sides. Top with another rectangle of dough.

Carefully press the sides to close bar. Repeat with the next 5 bars.

Place in the refrigerator for at least 1 hour.

The bars will keep at room temperature, or in the refrigerator if it's too hot outside.
Nutrition
Serving:
1
Bar
|
Calories:
225
kcal
|
Carbohydrates:
28
g
|
Protein:
7
g
|
Fat:
9
g
|
Fiber:
3
g
|
Sugar:
14
g
Did you make this recipe?
Tag @fullofplants on Instagram and hashtag it #fullofplants