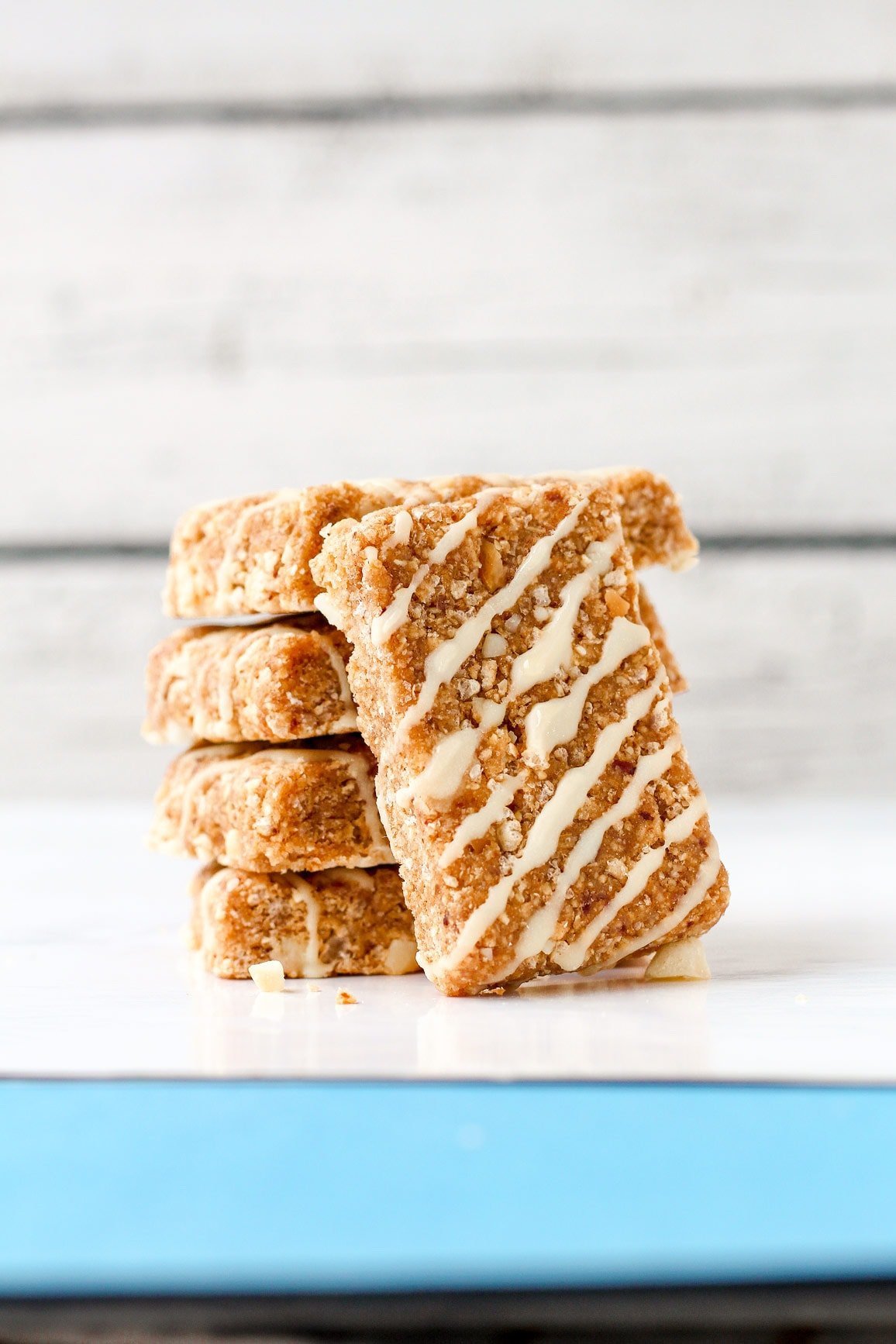 What's your favorite Clif bar flavor? Mine are chocolate chip and white chocolate macadamia. Yeah, I know, nothing really exciting, I stick to the classics. I'm looking forward to taste the carrot cake and pumpkin flavor though.
These no-bake energy bars taste just like white chocolate macadamia clif bars, if not better. The texture is chewy, but firm enough to keep them at room temperature, meaning: you can bring the bars with you when you go mountain climbing.
My first tries were far from being perfect, too chewy, not holding together, bad taste, etc. BUT after wasting 2 boxes of rice crisps I finally cracked the recipe! It requires less than 10 ingredients and it comes together in 20 minutes!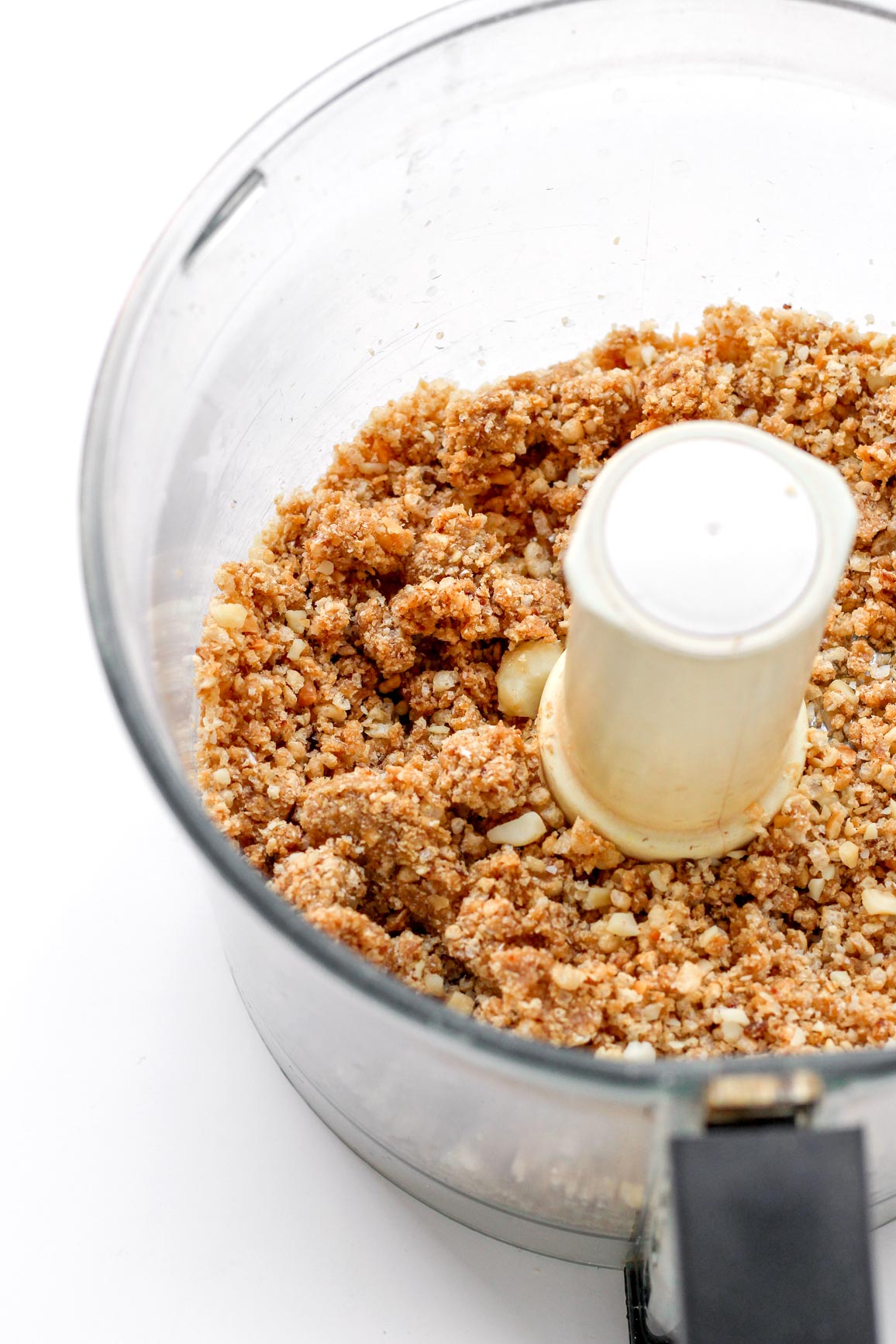 The bars are made with the basic energy bar ingredients: oats, rice crisps, brown rice syrup and nut butter. I also added some oat flour and a few dates to help bind everything together. I also highly recommend you add some white chocolate chips because...well, chocolate makes everything better.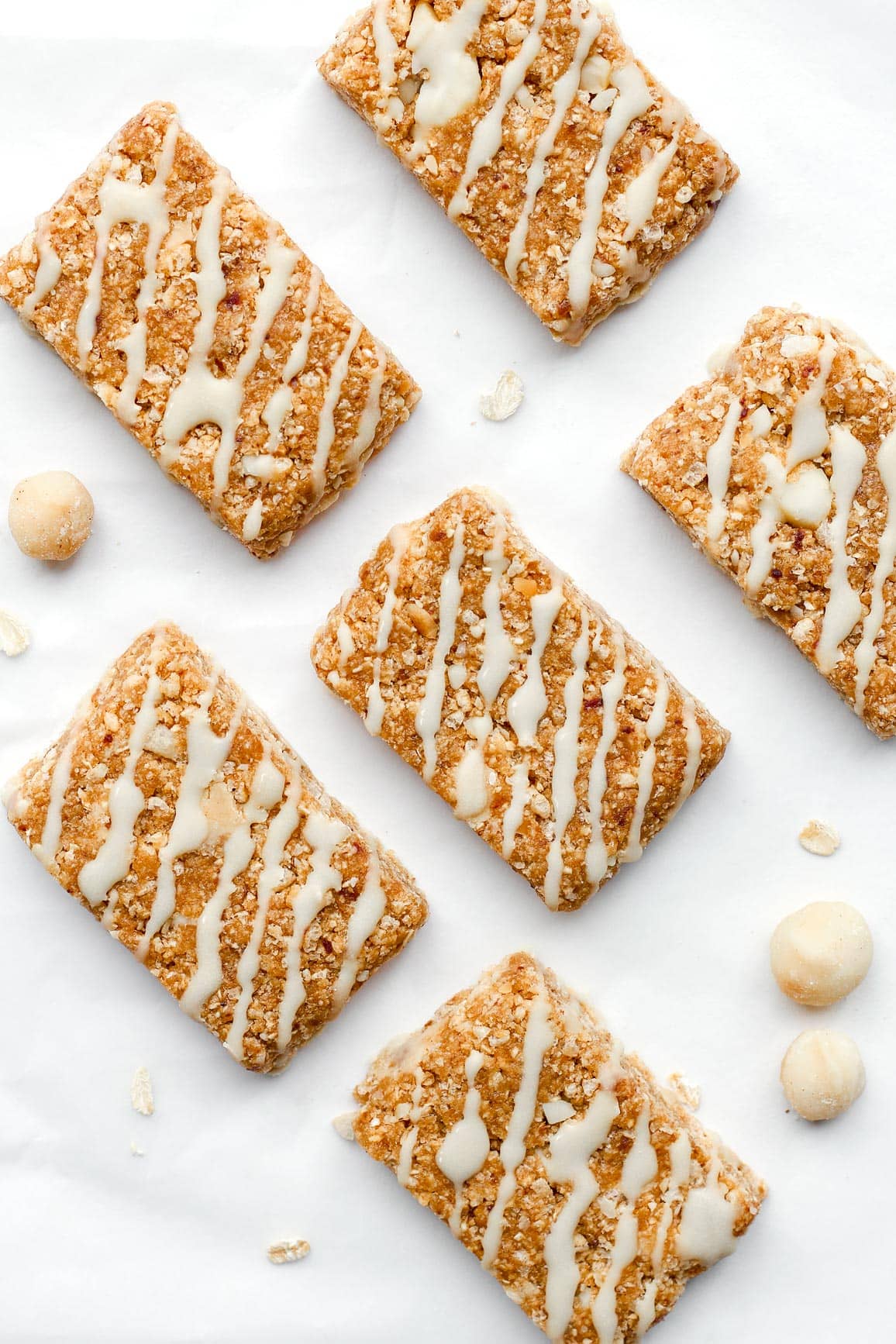 The secret to get the distinctive flavor of the macadamia clif bars lies in the flavorings. I recommend you add some caramel extract, I am pretty sure it is the one used in the clif macadamia bars. I used the Watkins caramel extract, a little goes a long way since just a few drops are enough to add a nice flavor. Considering the low amount used, I don't consider this stuff "unhealthy".
You put everything in your food processor (in the right order), make a dough and then form a log. After about one hour in the fridge you can cut the bars and drizzle with melted white chocolate.
The white chocolate drizzle is made with cocoa butter, powdered sugar, almond butter and vanilla extract. I tried using coconut sugar but it doesn't dissolve as well as powdered sugar. The almond butter is here to help bind everything and add creaminess to the chocolate. If you don't have cocoa butter and want to save time, feel free to use vegan white chocolate and melt it over a double boiler.
Once you bars are generously drizzled with white chocolate, put them back into your refrigerator until the chocolate is set.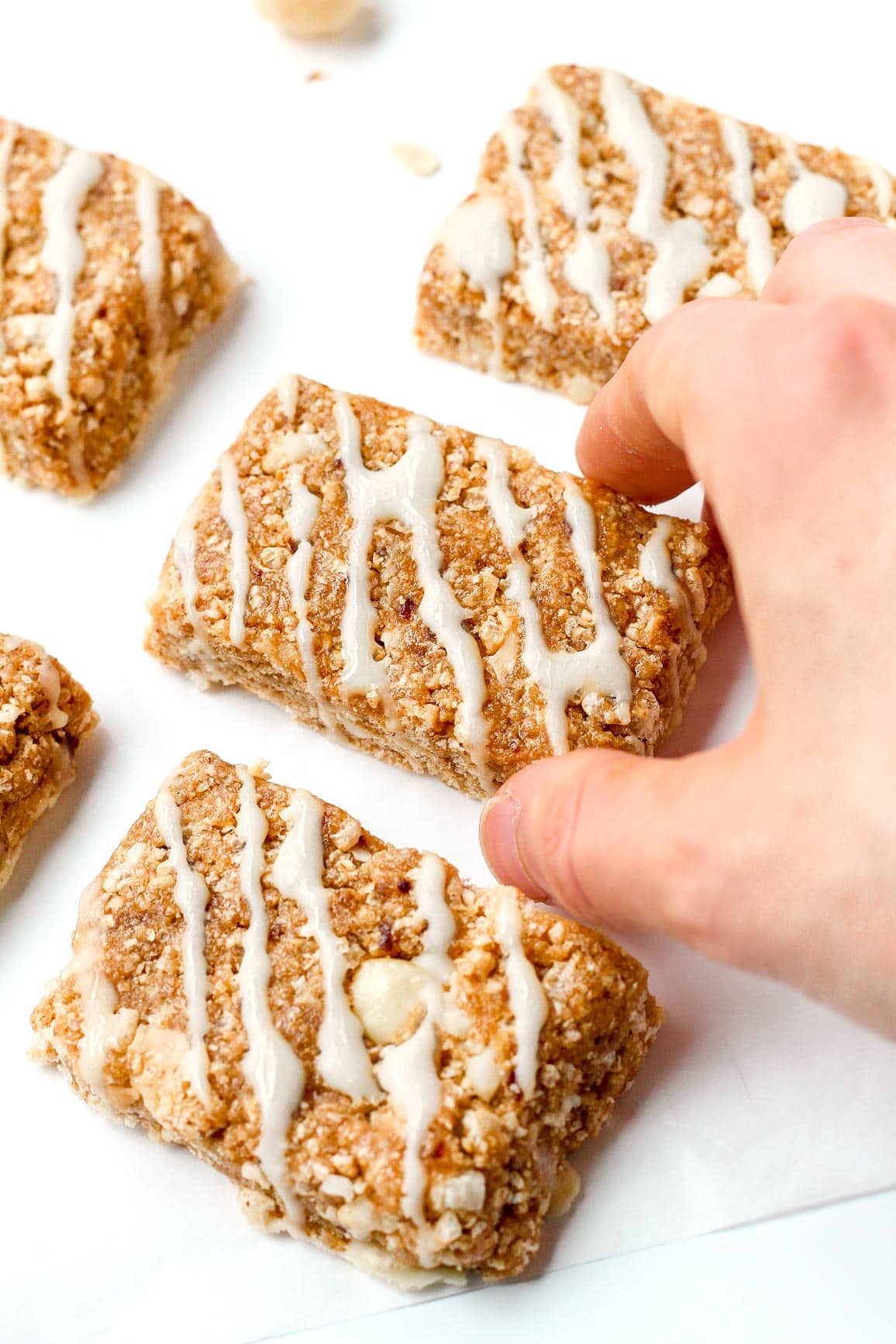 The bars will be a little bit soft at first, but after about 1-2 days they will firm up.
As always, let me know if you try this recipe in the comments!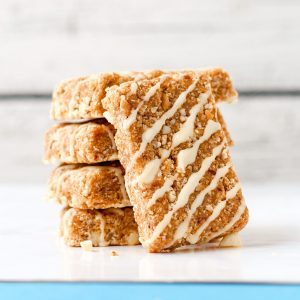 Vegan White Chocolate Macadamia Nut Bar
Chewy no-bake granola bars made with oats, dates, almond butter and macadamia nuts! Plus it's glazed with a vanilla white chocolate glaze!
Instructions
Bars
Add the rolled oats, oat flour and dates to a food processor.

Process for about 10-15 seconds until the dates and rolled oats are finely chopped.

Heat the brown rice syrup, coconut sugar and almond butter in a small saucepan until the sugar is dissolved and small bubbles start to appear.

Pour over the oat and dates mixture and process for another 10-15 seconds until well combined. You will get a sticky and soft dough.

Add the macadamia nuts, brown rice crisps and vanilla/caramel extracts to the bowl of the food processor. Process for a few seconds until combined (you don't want to process for too long to keep a crispy texture). You might have to scrape down the sides of the bowl once or twice. If you want to add chocolate chips: transfer the mixture to a large bowl, add the white chocolate chips and mix with your hands until just incorporated.

Transfer the mixture to a baking pan line with parchment paper. Using clean hands, form a log and flatten until desired thickness. Press the mixture very firmly.

Put in the refrigerator for at least 1 hour. Cut into 6-7 bars.
White chocolate drizzle
Add all ingredients except vanilla extract to a small saucepan.

Heat on low, stirring frequently until the cocoa butter is melted.

Remove from heat and stir in the vanilla extract and mix again until everything is well combined.

Let sit for about 10-15 minutes until the white chocolate is a little bit thicker. Be careful, it can firm up really fast if your kitchen is cold.

Using a spoon, drizzle the bars. Put in the refrigerator until the chocolate is hard (about 30 minutes).

Wrap the bars with plastic wrap and keep in the refrigerator or at room temperature.

The bars will keep for at least 2 weeks at room temperature.
Notes
Oat flour can be replaced with any other flour, or plant-based protein powder if you want to increase the protein content of the bars.
The caramel extract is totally optional, but if you want get the same taste as the real clif bars, I recommend you add it.
Nutritional information is an estimate and includes the white chocolate drizzle. I calculated it based on how much white chocolate I had left after drizzling the bars (about ⅔ of the white chocolate recipe).
If you find the bars a little bit too soft at room temperature, don't worry, they will firm up a little bit more after a few days and get a texture similar to the real clif bars.
You can also use cocoa rice crisps for a chocolate flavored bars.
Nutrition
Serving:
1
Bar
Calories:
232
kcal
Carbohydrates:
32
g
Protein:
4
g
Fat:
10
g
Fiber:
2
g
Sugar:
9
g
DID YOU MAKE THIS RECIPE?
Tag @fullofplants on Instagram and hashtag it #fullofplants