Introducing salted caramel apple pie oatmeal! Tender apples cooked in a salted caramel sauce and served on top of warm and creamy cinnamon oatmeal! A healthy and warming Fall breakfast! Super simple, yet incredibly delicious!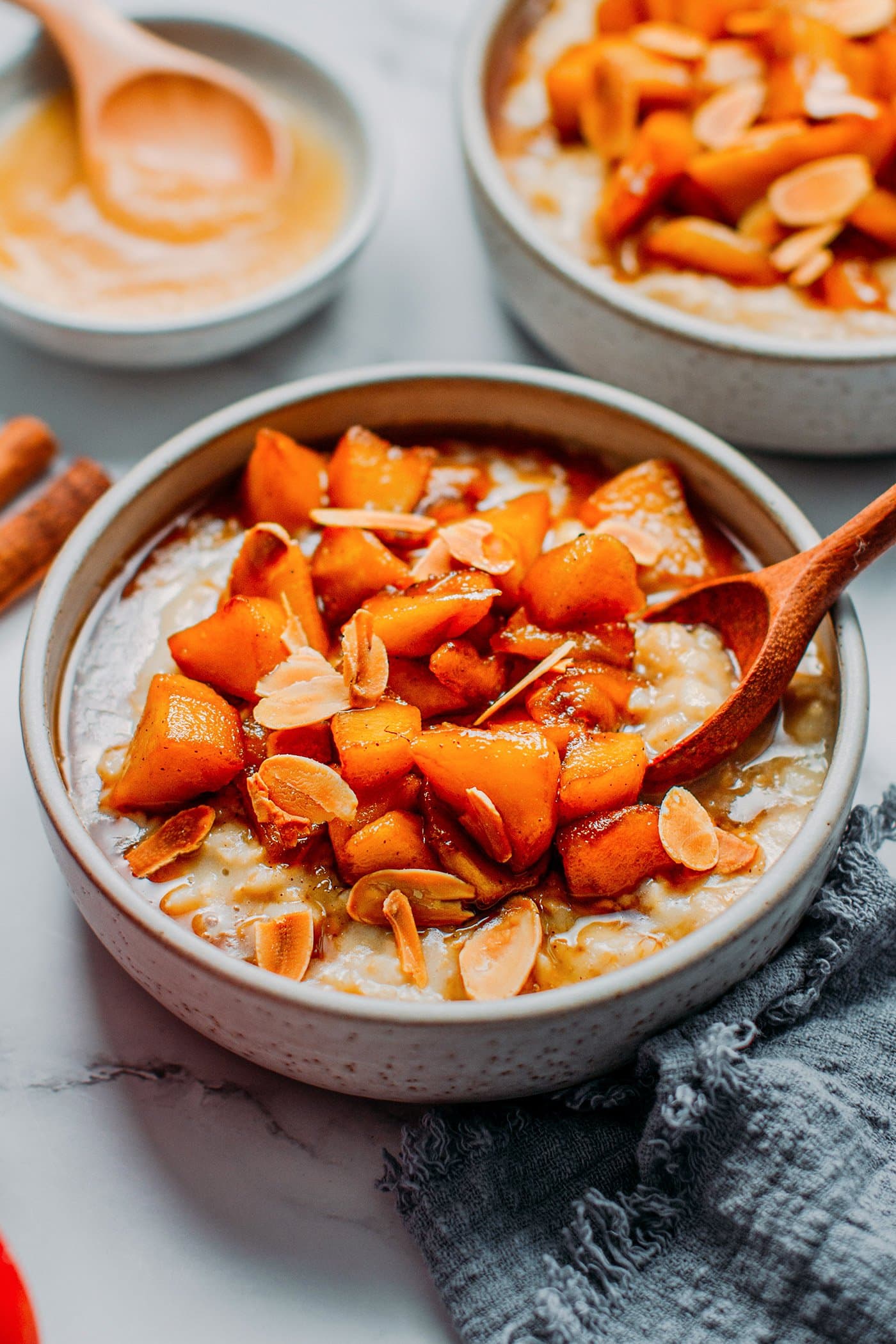 🍎 How to Make Caramelized Apples
First, you want to pick the right type of apples, preferably a variety that will soften and get tender after cooking.
I recommend using Golden Delicious, Honeycrisp, or even Cortland. Do not go with Pink Lady or Granny Smith unless you want a crispy texture.
Start by cooking diced apples in vegan butter until tender and golden brown.
Next, for the caramel, add coconut sugar, maple syrup, and a good pinch of salt.
Let the coconut sugar melt and coat the apples. Finally, deglaze the pan with water to make a syrup, and stir in vanilla extract for extra flavor.
🥣 Oatmeal
Now let's talk about the base: the oats.
Here, we are using rolled oats for a chewy texture, almond milk, cinnamon, and apple sauce to add natural sweetness as well as an extra apple flavor!
Simmer the oats for 5-8 minutes or until tender.
Depending on how you like your oatmeal, feel free to adjust the cooking time. Personally, I don't like the oats too soupy, so I cook them for about 8 minutes.
Finally, divide the oats between serving bowls and top with the saucy caramel apples!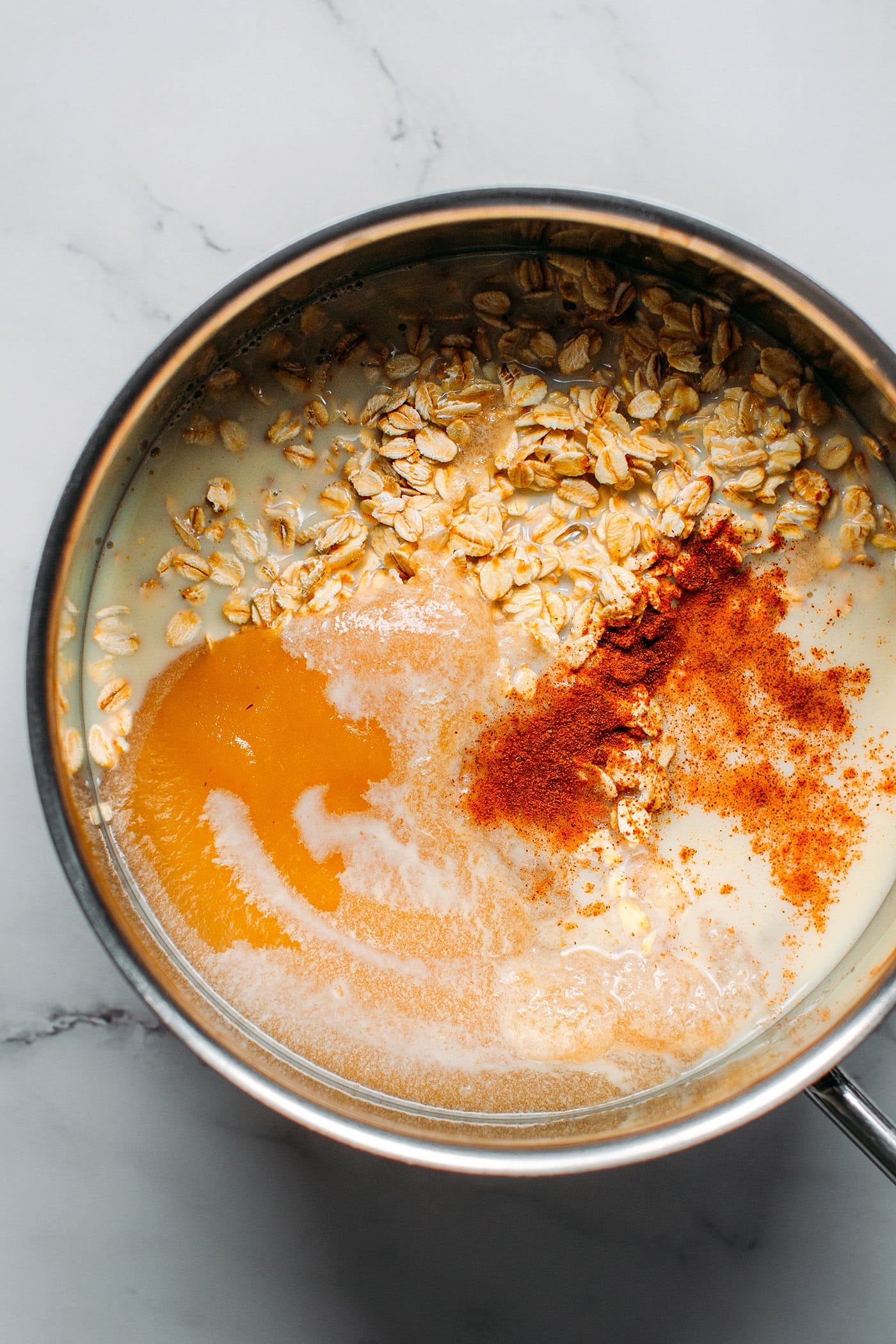 📔 Tips
Use old-fashioned rolled oats: Do not use quick oats, as they would get soggy and too soupy. You can use steel-cut oats, but the cooking time and amount of liquid will need to be adjusted.
Microwave option: If you prefer to cook the oatmeal in the microwave, use the same ratio of ingredients and microwave uncovered, on high, for about 2 minutes.
Serve hot: This oatmeal is best served immediately while the apples are still warm and saucy.
The juicy and a bit salty, caramelized apples make this oatmeal the most comforting breakfast to have during Fall or Winter!
More Healthy Breakfast Recipes
Let me know in the comments if you try this salted caramel apple pie oatmeal recipe!
Recipe
Salted Caramel Apple Pie Oatmeal
Creamy cinnamon-infused oatmeal topped with juicy caramelized apples! A comforting and delicious Fall/Winter breakfast!
Ingredients
Oatmeal
1

cup

rolled oats

1/2

cup

applesauce

1

cup

almond milk

1/8

tsp

cinnamon

a

pinch

of salt

optional: toasted slivered almonds for topping
Instructions
Caramelized Apples
Peel the apples, remove the core, and dice into thick cubes.

Heat the butter in a non-stick pan over medium heat. Once melted, add the diced apples and sauté for 5-7 minutes, or until the apples are tender and slightly golden brown. In the meantime, prepare the oatmeal.

Next, add the coconut sugar, maple syrup, and salt, and stir to coat the apples with the sugar. Cook for another 2 minutes, or until the coconut sugar has melted and the maple syrup has slightly reduced.

Deglaze the skillet with the 3 tbsp of water and stir in the vanilla extract. Cook for another 15-30 seconds, or until the syrup has thickened a little bit. If apples have absorbed all of the syrup, add an extra 2 tablespoons of water.

Remove from heat and cover to keep warm.
Oatmeal
In a medium saucepan, combine the rolled oats, apple sauce, almond milk, cinnamon, and salt.

Bring to a boil, then reduce the heat to low, and let simmer uncovered for 5-7 minutes. Stir regularly to make sure oats don't stick to the bottom of the pan.

Divide between 3 serving bowls and top with the warm caramelized apples! Feel free to add a pinch of extra cinnamon and toasted slivered almonds as well.

This oatmeal is best served immediately but will keep for up to 2 days in the refrigerator. It can be enjoyed as a cold breakfast, or reheated on the stove (you may have to add a little bit more almond milk).
Nutrition
Serving:
1
serving
|
Calories:
284
kcal
|
Carbohydrates:
59.4
g
|
Protein:
4.8
g
|
Fat:
4.7
g
|
Fiber:
7.4
g
|
Sugar:
32.6
g
Did you make this recipe?
Tag @fullofplants on Instagram and hashtag it #fullofplants