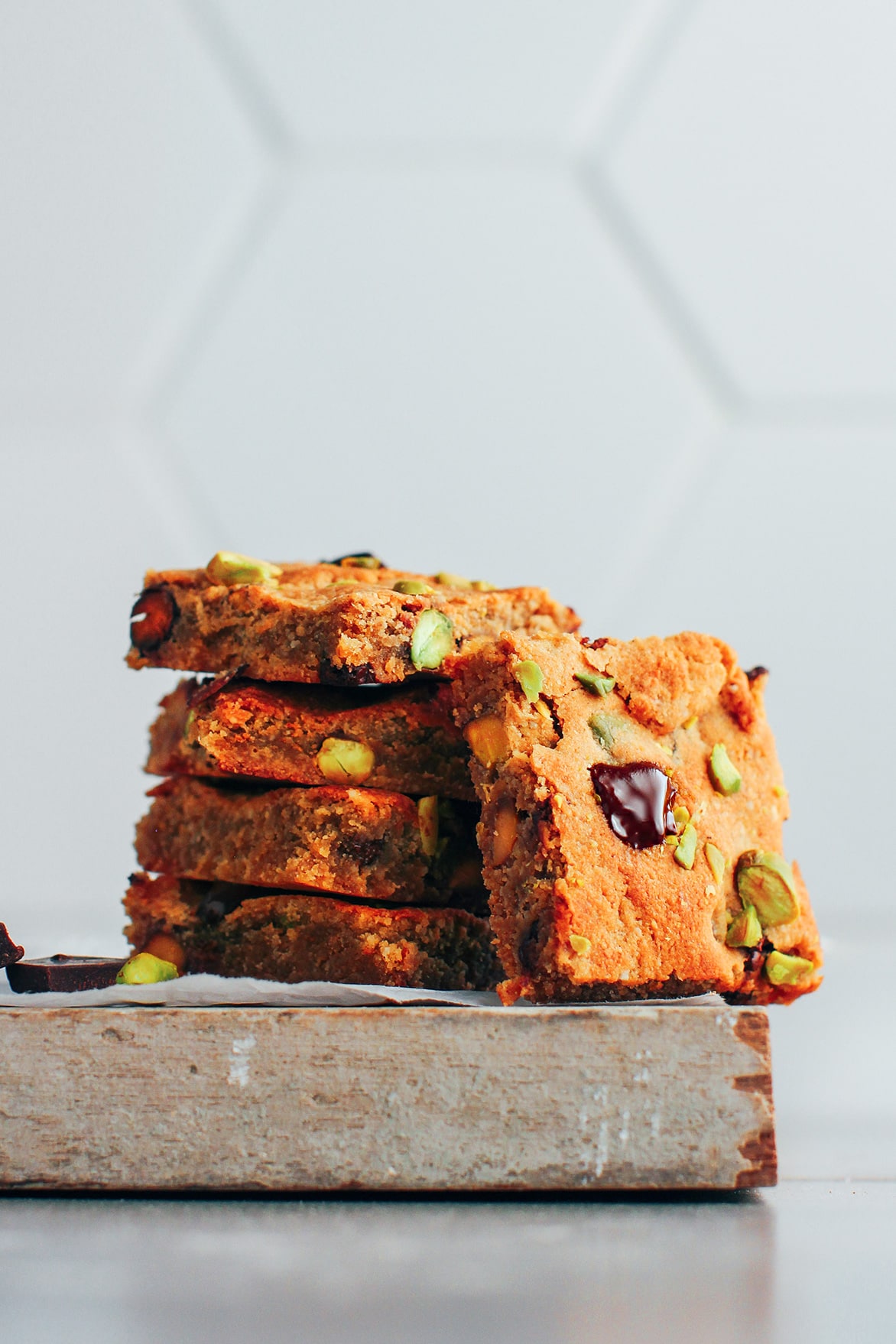 It's baking season and if you are sick of making cookies, it's definitely time to make blondies! These vegan blondies are chewy, moist and loaded with roasted pistachios and chocolate chunks, can it get any better?
Not only these blondies are delicious, but they are also naturally sweetened with coconut sugar, gluten-free, and paleo!
These 10-ingredient blondies are made with a simple mix of almond flour and coconut flour. Then to keep them from crumbling we add a flax egg and a tablespoon of almond butter. For sweetness, I went with coconut sugar so they are refined sugar-free.
Once you have mixed all the ingredients together, it's time for the add-ins: chocolate chunks and roasted pistachios!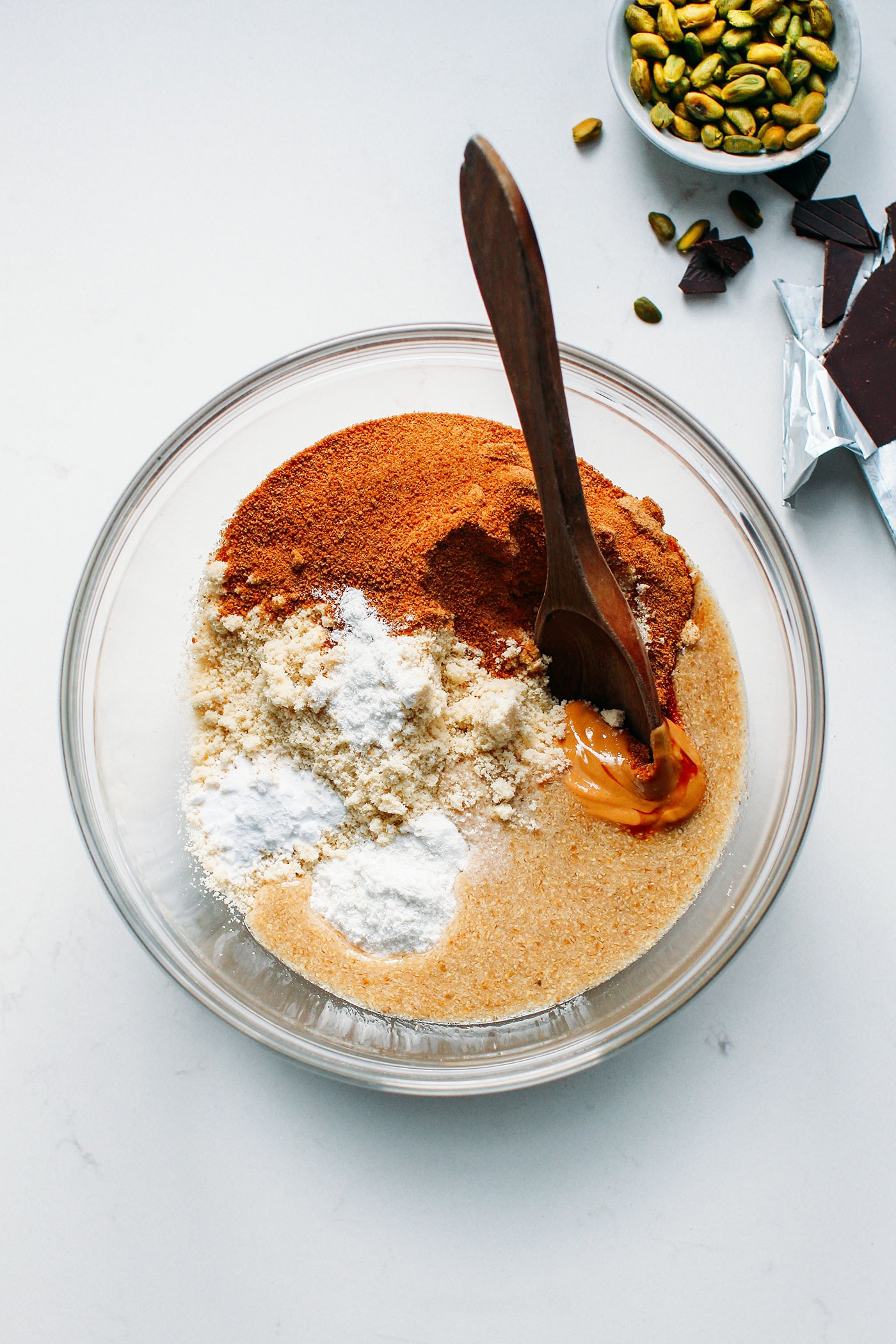 As you can see I made these blondies thin on purpose as they are quite rich and filling. One small square will keep you full for a couple of hours, unlike other blondies that will make you crave more sweets! Delicious + filling = win-win!
If you want thicker ones I would recommend multiplying the recipe by 1.5 or using a smaller pan and increasing the baking time by three to five minutes.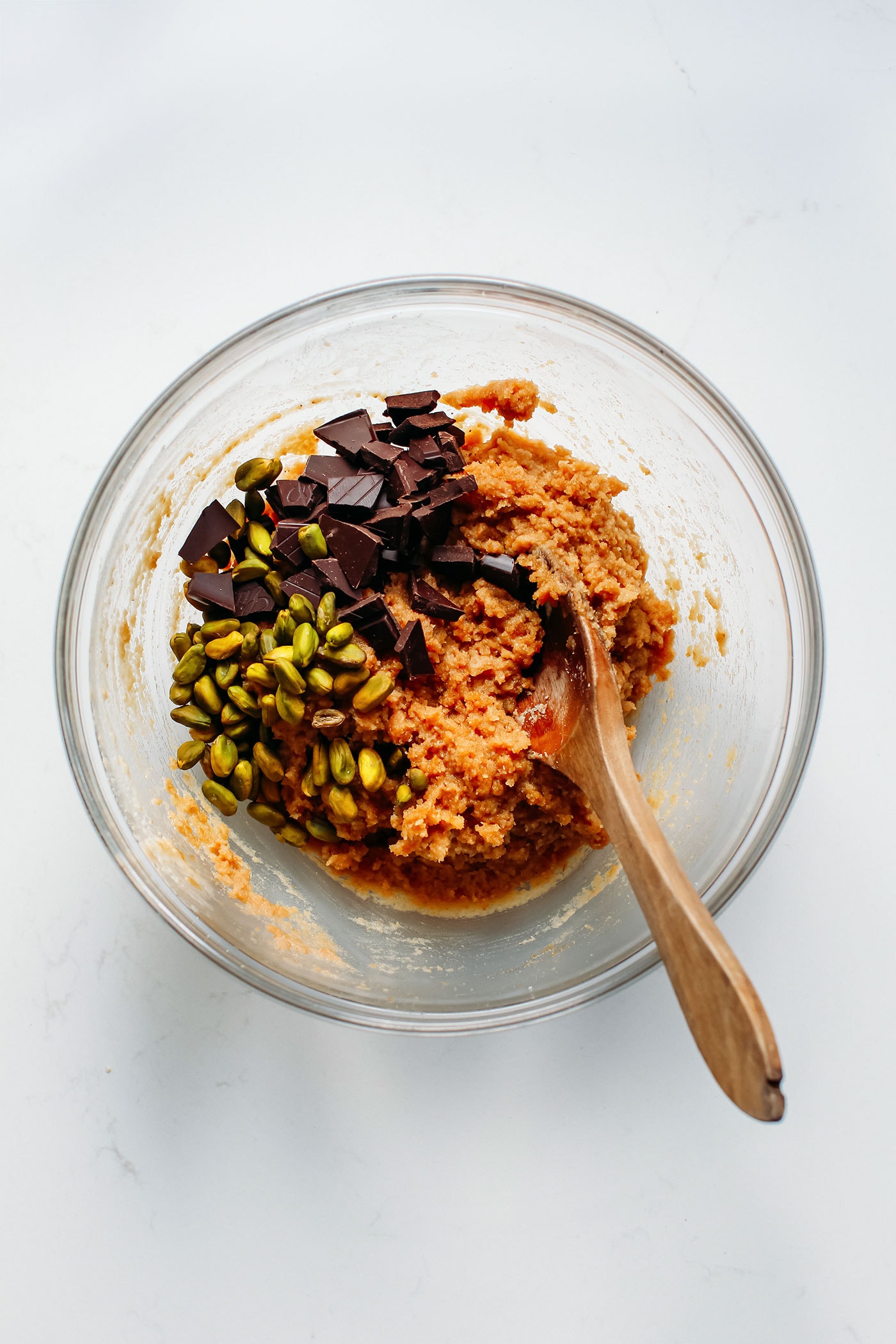 Want to bake them in a cookie shape instead? Do it! They won't spread so make sure you shape them into cookies before baking. Can you see how moist and soft these blondies are?!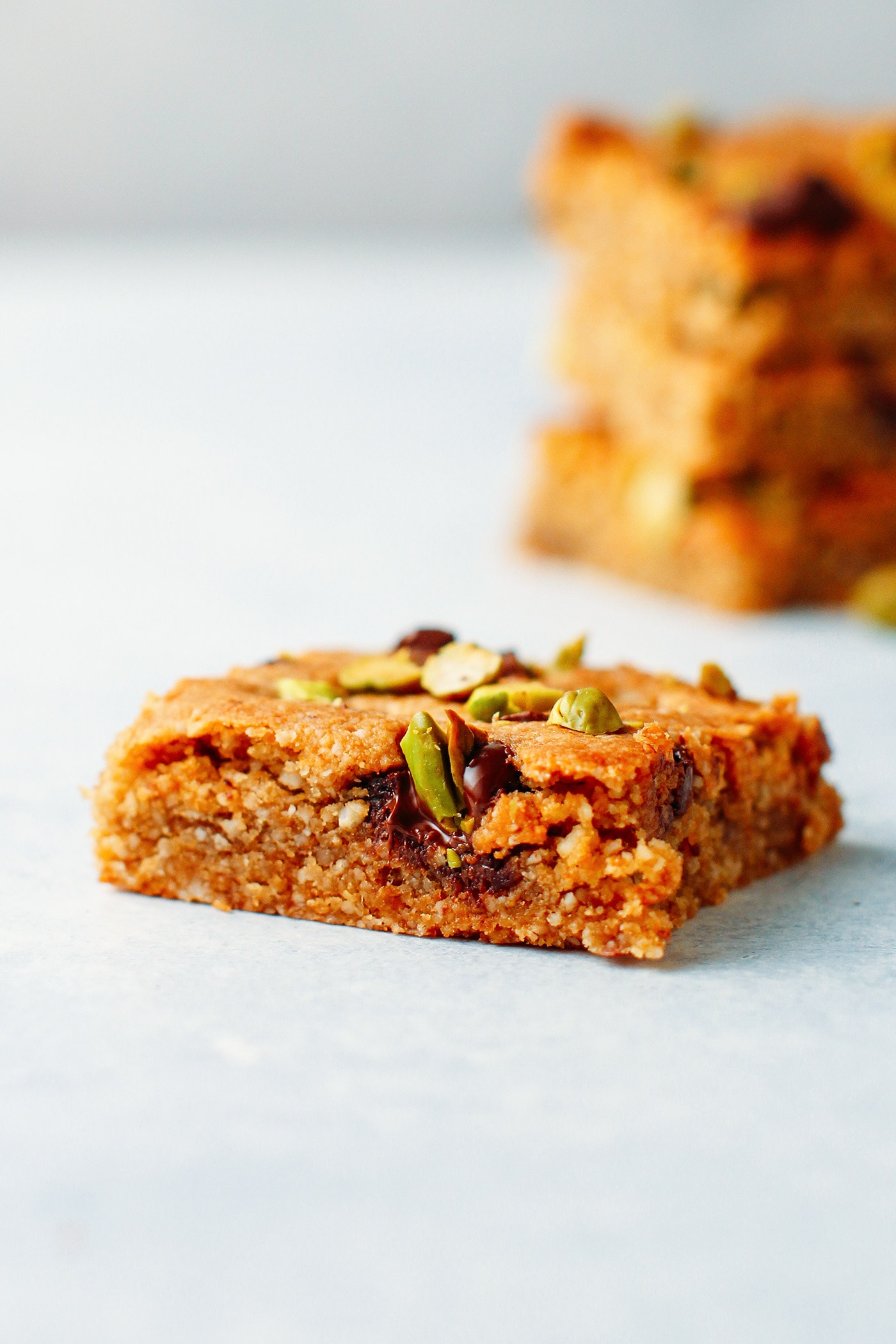 I hope you will all love these blondies as much as I do, they are super easy to make, loaded with gooey chocolate chunks and crunchy pistachios! If you love pistachios, check out these No-Bake Chocolate Pistachio Bars!
Let me know in the comments if you try this recipe!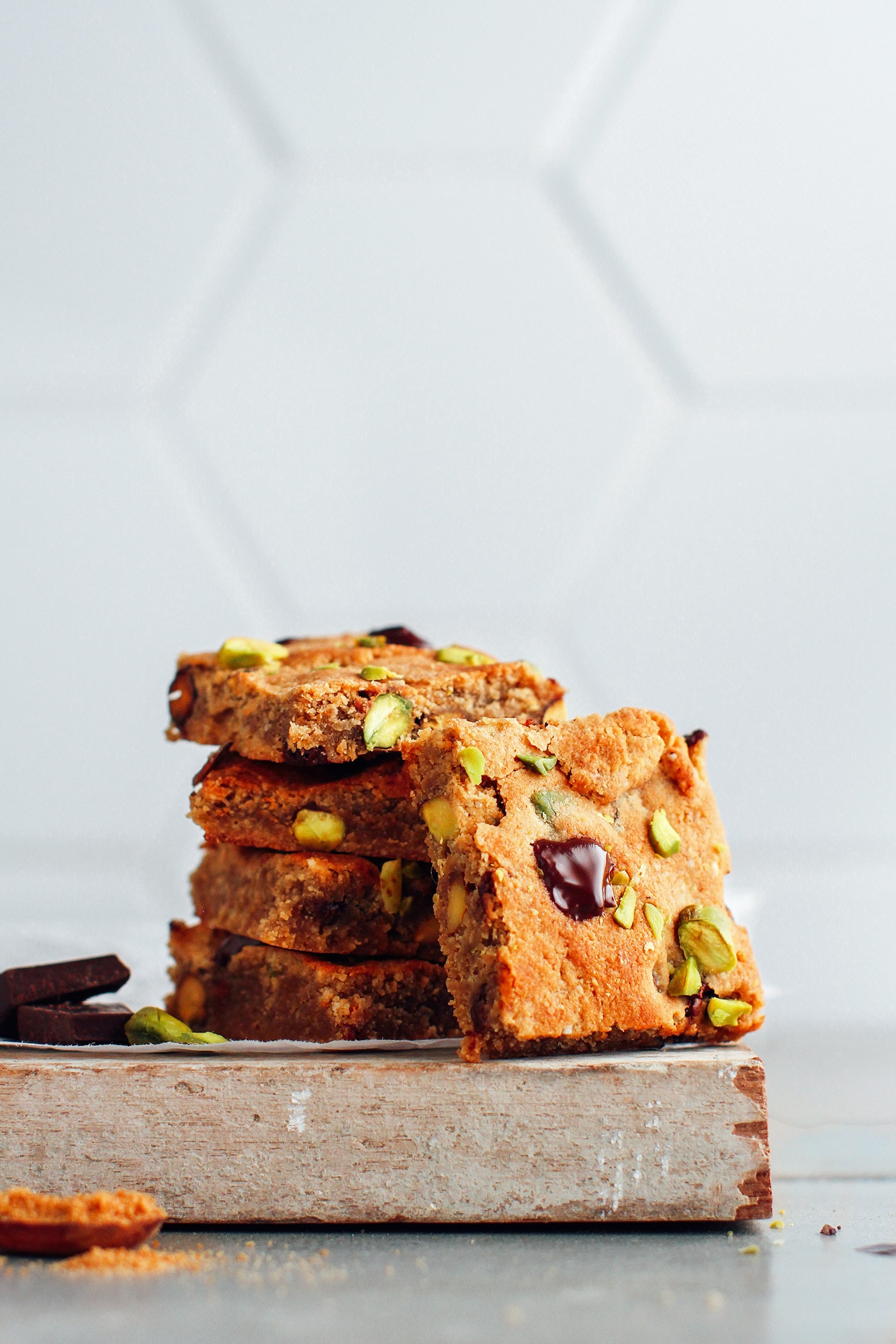 Print
Pistachio & Chocolate Blondies (Vegan, GF, Paleo)
Blondies that are soft, moist, naturally sweetened and loaded with gooey chocolate chunks and roasted pistachios!
1 cup

(

96g

) almond flour

2 tbsp

(

14g

) coconut flour

¼ cup

(

35g

) coconut sugar

⅛ tsp

baking soda

1 tbsp

(

7g

) ground flaxseeds

3 tbsp

(45ml) water

1 tbsp

(

15g

) almond butter

2 tsp

(10ml) coconut oil, melted

1 tsp

vanilla extract

3 tbsp

(

30g

) dark chocolate chunks (or chocolate chips)

2 tbsp

(

15g

) roasted pistachios
Instructions
Preheat the oven to 350°F (175°C) and line the bottom of a 4x7-inch baking dish with parchment paper.
In a small bowl, prepare the flax egg: whisk together the ground flaxseeds with the 3 tablespoons of water and let it sit for 5 minutes. It should become thick and viscous.
In a large mixing bowl, whisk together the almond flour, coconut flour, coconut sugar, and baking soda. Add the flax egg, almond butter, coconut oil, and vanilla extract. Mix using a spoon or spatula until combined. It should have the texture of cookie dough.
Stir in the dark chocolate chunks and roasted pistachios and mix again until combined.
Transfer the dough to the prepared pan and press it down into an even layer. You can use a layer of parchment paper and a glass to press it down if the dough is too sticky.
Bake for 10-12 minutes, or until the top of the blondies is slightly golden brown.
Remove from the oven and let it cool completely before cutting into small squares. Blondies will keep at room temperature in an airtight container for up to 5 days.
Nutrition
Serving Size:

1 square

Calories:

186

Sugar:

7.9g

Fat:

13.2g

Carbohydrates:

14.2g

Fiber:

3.9g

Protein:

4.9g